We've all been there.  Skipping meals because we're running late, in the middle of something, kept back at work, or even skipped meals because we were trying to lose weight.
Sometimes skipping a meal is unavoidable when life gets in the way.  I know that when I've missed lunch or have gone longer than usual without eating, I get the hangries and it's not pretty.  Maybe you can relate.  Empty stomach, haven't eaten in ages, no food within immediate range.  Does not make for a happy camper.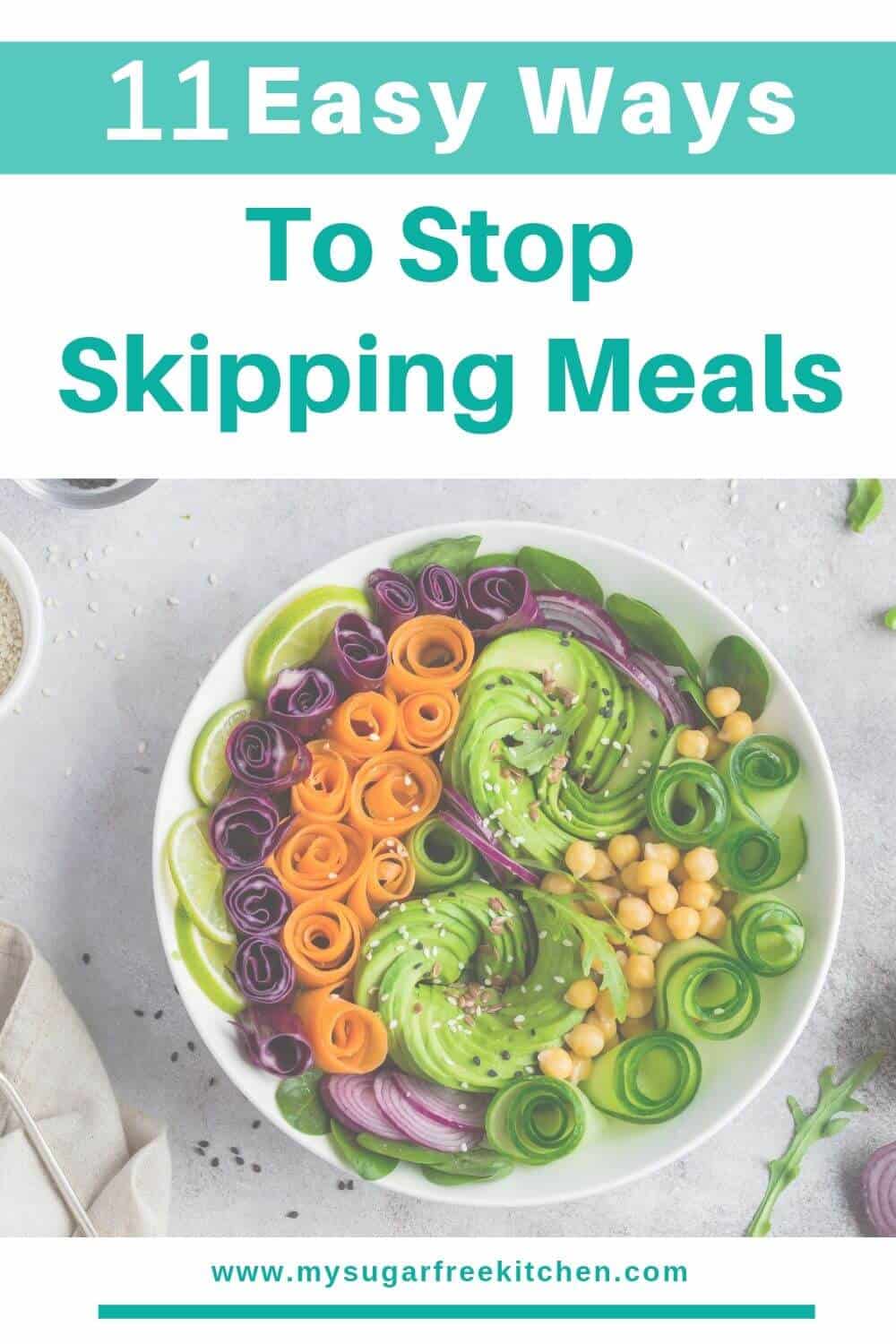 Sometimes we even skip meals out of habit.  Bad habits we've developed over time.  Like not getting up early enough to have breakfast, working through lunch because we think we have too much to do, and not making dinner after a long day at work because we're too exhausted.
Related:  6 Skills You Need To Start Eating More Mindfully
Why Skipping Meals is Bad
You might have noticed that things start to happen to your body and your mind when you skip meals.  Things that are not pleasant, either for you or for the people around you.  Skipping meals is detrimental in a number of ways and can impact your mood, energy, ability to think clearly and even your relationships, be it with those you work with or your loved ones.
When you skip a meal your focus becomes impaired, and concentration becomes a lot harder. Talking to people becomes harder and listening is, well a challenge.
You have no patience and it's easy to become short with people even when you don't mean to.
Skipping meals sends your cravings off the charts.  The desire for something sweet, salty or fatty becomes overpowering.  The urge to reach for chocolate, chips or to swing by the McDonalds drive thru is difficult to ignore.
You end up making decisions that you might not normally make because you're not thinking clearly. These might be food choices, choosing bad unhealthy fatty sugary foods over healthy ones, or it could be bad choices around other things to do with your relationships or work.
You'll end up feeling physically fatigued and the thought of doing any type of exercise is out of the question.
Over the years, I've had my fair share of skipping meals and I've learnt that skipping meals for me doesn't work.  I have to eat regularly, every three to four hours at most.  Because of this, I've developed some tricks and strategies to make sure I don't skip meals, whether it be at work, at home or on the go.
Related:  The Ultimate Simple Clean Eating Shopping List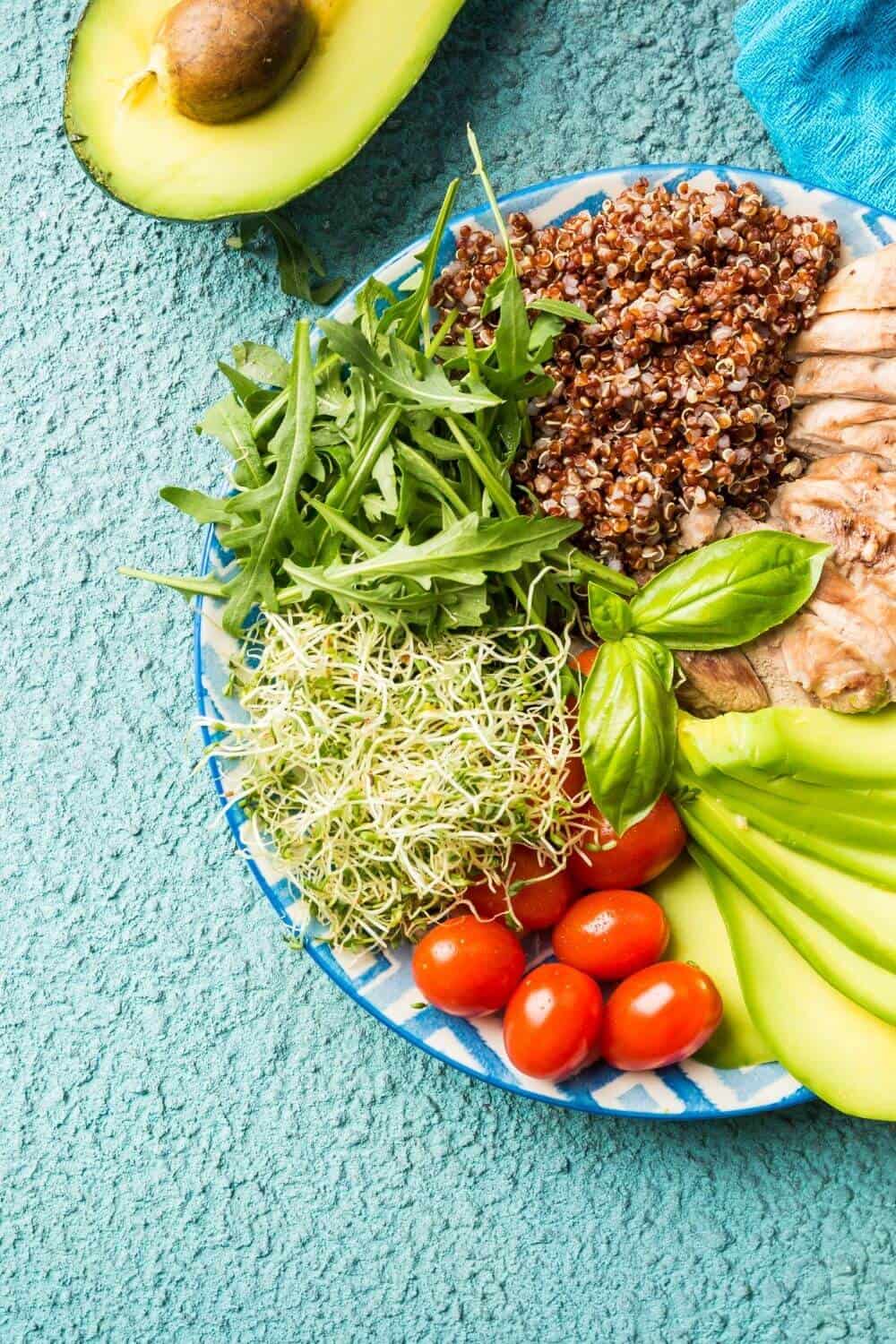 11 Smart Ways To Stop Skipping Meals
At Work 
1.  Keep healthy snacks in your work drawer. This is a must for me.  My favourite snack of choice is almonds.  They stay fresh for ages, can be easily eaten and transported and it doesn't look too weird in meetings to bust out a small container of almonds and chomp on a few mid conversation.
2.  Bring your lunch to work. Four out of five days I bring my lunch to work and it's just become a habit now that I allow myself an extra 10 minutes in the morning to get it ready.  Having leftovers for lunch makes it even easier to grab and go on your way out the door.
3.  Put a timer on your phone to alert you it's lunch. My timer is set for 12.30pm.  This is a simple one, and an effective one.  The other option is to have lunch scheduled as an appointment in your calendar so it can be blocked out.  I personally like both.  Alarm + calendar reminder as it becomes harder to ignore that way.
Related:  6 Steps To Preparing a Mindful Meal And Enjoying Every Bite
4.  Be a meeting Chief at work meetings and if they're running through lunchtime, gently remind the meeting facilitator that a short break might be good to allow everyone to grab a bite to eat. (I've done this numerous times in meetings I've participated in and the facilitator has always been more than open to breaking.  Some of the meetings would have run 6 hours or more without intervention.  I've come to the conclusion that some people are just meeting machines and can go on forever.  Not me.  I need sustenance.  And regularly)
Related:  Master Meal Planning Like A Boss - My Tips and Tricks
 At Home
5.  Get up 10 minutes earlier if you're prone to skipping breakfast. Squeezing in a quick breakfast doesn't have to be hard.   I have this super quick 5 minute mindful breakfast routine I do when I'm pressed for time in the mornings and it always sets me up for a good start to the day.
6.  Plan your evening meals for the weak ahead. Keep it simple and don't overcomplicate it.  The best meal plans are the simple ones that you know you'll follow through on.
7.  Make mealtimes a priority and commit to sitting down at the dinner table and enjoying a meal. Work out in advance for the week what you're schedule looks like so you're not flustering at the last minute with take out or drive thru's.
8.  Liven up leftovers if you'd rather skip dinner that face the thought of eating last nights dinner. Some simple tweaks can make last nights dinner feel new and fresh.
9.  Set aside a little time on a Sunday for Batch Cooking so you have meals on tap for the busy weeknights ahead. This is especially useful if you have activities you do after work and don't get home until later.  If you have healthy dinner's already made and ready t go, there'll be less inclination to skip dinner because you're tired.
 On The Go
10.  Keep healthy snacks handy when you're out and about. I always keep a snack or two in my handbag when out and about.  Often times I end up being out longer than anticipated so having something healthy on hand is very convenient.  My faves are a banana and a small container of almonds – along with my water bottle.
11.  Make a packed lunch if you're travelling. Whether it be for work or personal, and even for 1 to 2 hour trips, I always take a little lunchbox of healthy eats so I don't have to rely on finding somewhere suitable to buy food which may or may not exist depending on where I'm going.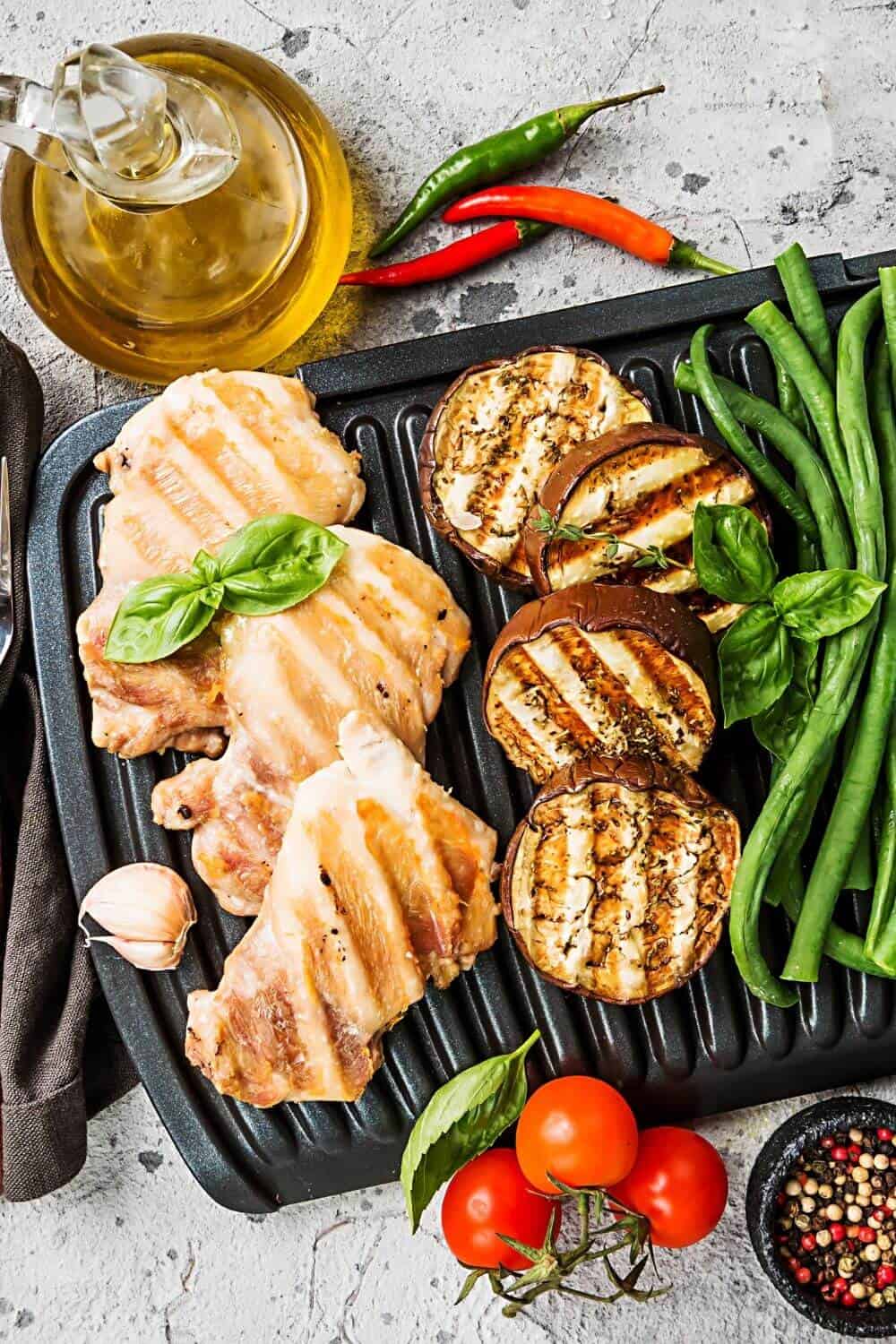 When you have skipped a meal try not to:
Hit up the vending machine
Crack open an energy drink
Pop open the wine first
Go through the nearest Drive Through
Instead try this:
Have a big glass of water
Stop what you're doing
Make a decision about what the best thing is to fuel your body with
Go out and get it
If you can't get it, get the next best thing
Is It OK To Skip Dinner if You're Not Hungry?
Whilst on the odd occasion skipping dinner if you're not hungry may not be an issue, but I would avoid doing it on a regular basis.
Several years ago, I fell into a bad habit of not eating dinner in the evening because my husband was away at work and it was just me.  I thought why bother cooking something for just me – it just seemed like too much effort.  As it turns out, later in the evening I ended up snacking on things I shouldn't of, I slept very poorly, and I put on weight.
Eating a well balanced nutritious meal in the evening I've found impacts my level and quality of sleep significantly, so I now make a point of always eating dinner, even when I don't feel particularly hungry.
Sometimes I just think I'm not hungry, but then I start eating and realise that I'm hungrier than I thought.  Perhaps you've had this experience too.
On days where I don't feel overly hungry in the evenings I'll have something light:
Related:  8 Clever Ways To Improve Your Relationship With Food
Is it Better To Skip A Meal or Eat Unhealthy?
If you need to eat, make the best choice you can.  If it's not what you would usually eat but you need to eat something because the hangries are all consuming or you're going to pass out, then eat whatever is available.
Always remember if you end up making a food choice that is outside of what you would normally make, you can always get back on track tomorrow.  One less than ideal choice, isn't going to undo all your good work on clean eating.  The bottom line is to do what is best for you in that moment.  If you need to eat, make the best choice you can.  If you can wait until you can get your hands on a healthier option, then do that.
To stop skipping meals requires a change of habit and a commitment to doing things differently.  If you find yourself constantly skipping dinner, or you're all over the shop with when you eat, then try out some of the tips mentioned above. Start with one or two that resonate the most and then try one or two more.  Little by little you'll build up new habits, and those old habits of working through lunch, heading out the door without breakfast and going to bed without dinner will be a thing of the past.
And you'll feel so much better for it.