Butter prawns are a flavour packed Asian dish that is sweet, spicy, tangy crispy and crunchy. It takes about 20 minutes to make from scratch and can be made with either fresh or frozen prawns.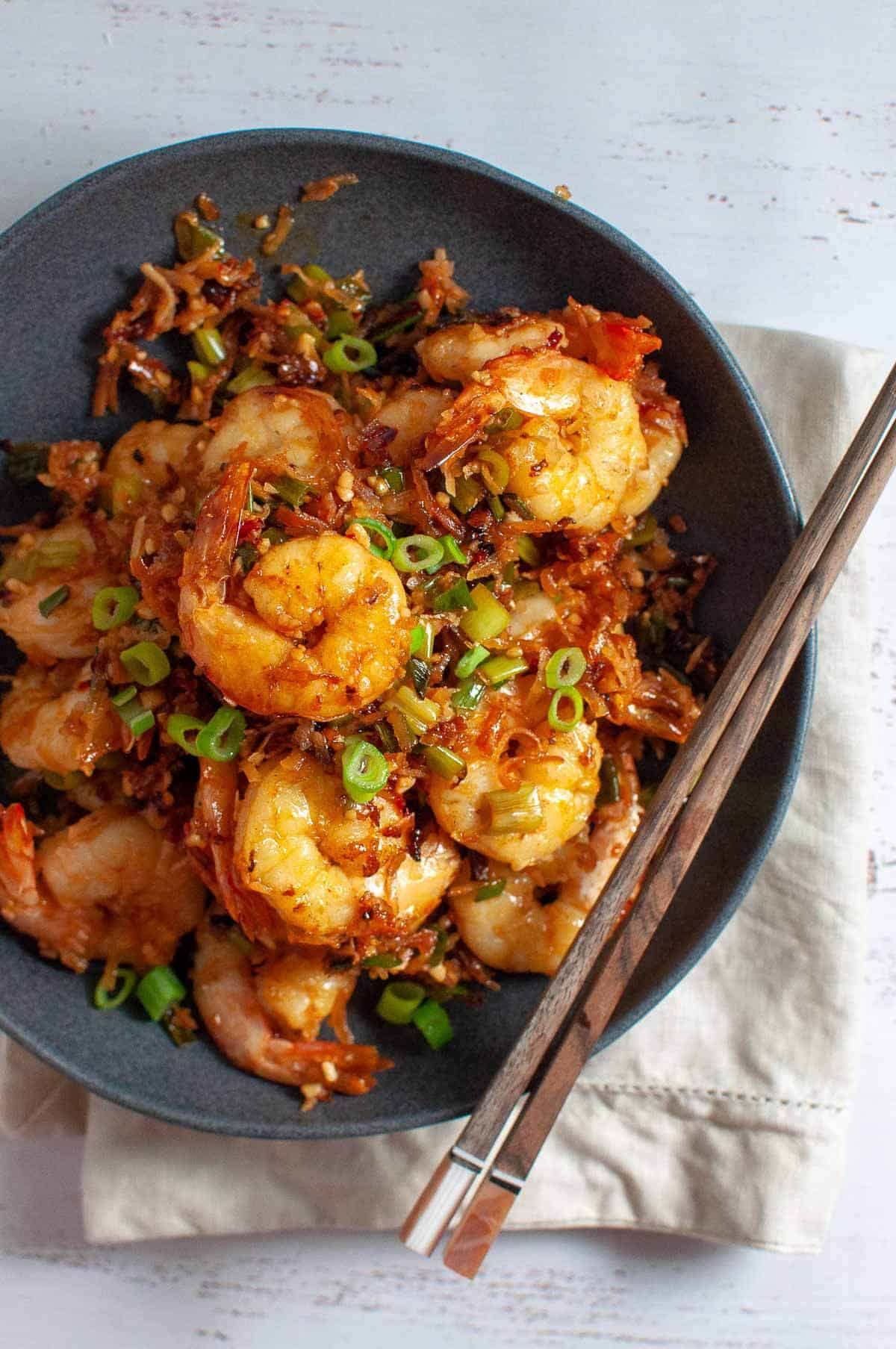 To create the flavour, a combination of crushed garlic, grated ginger, fresh finely diced red chilli, lemon zest, granulated sweetener (eg: stevia or monkfruit), soy sauce and salt. This is what creates that sweet and salty flavour.
The crisp and crunch is achieved by toasting off desiccated coconut along with panko breadcrumbs. It gives a rough texture and creates lots of little extra crumb pieces (or "floss") that are one of the best parts. Don't thrown these away!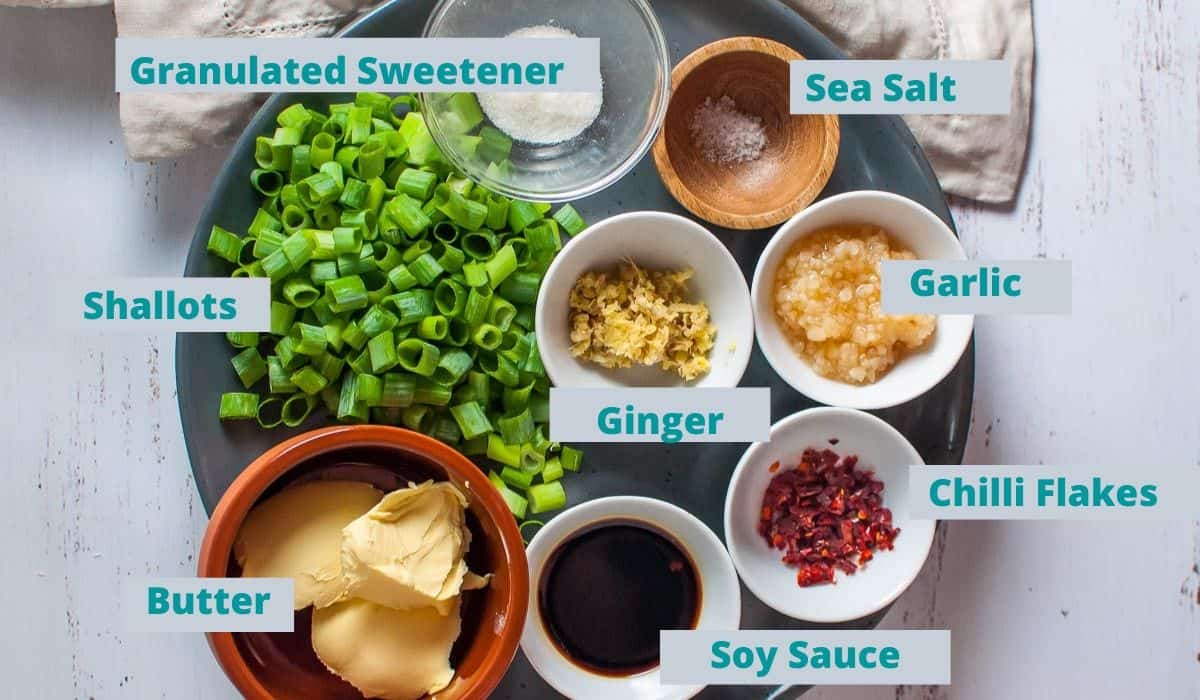 Prawn Tips
If using Frozen Prawns, put them into a bowl, covered with plastic wrap and let them defrost in the fridge. Drain all the excess moisture off. Remove the outer shells and intestinal tract (leaving the tail on)
If using Fresh Prawns, remove the outer shells and intestinal tract (leaving the tail on)
Cooking the Prawns
The oil should be hot before you put the prawns in the pot
The oil will probably spit a little whilst the prawns are cooking
Use a large mesh spoon to put in and remove prawns
Lightly cook prawns in batches
As they are removed from the oil, let them rest on a wire

cooling rack

on top of paper towel/absorbent paper to drain off excess oil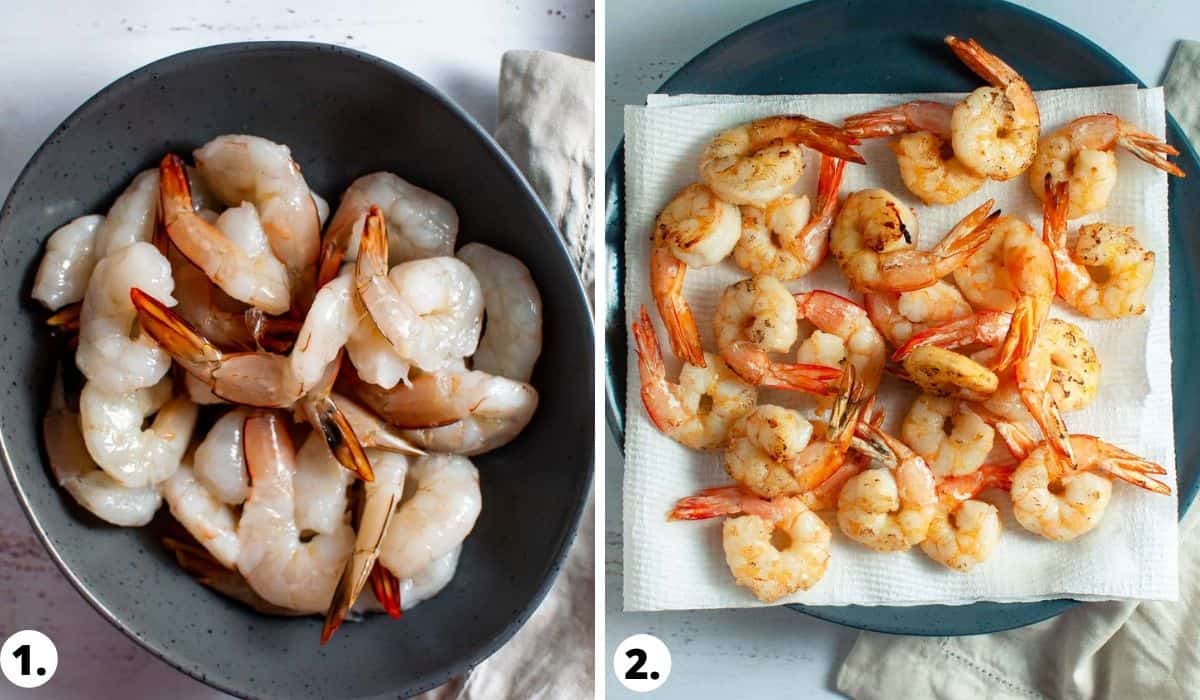 Main or Side?
I personally find this a very rich dish and wouldn't eat it as my main dinner. I think that its best for:
A light dinner on a Friday or Saturday night
A lunch
An Appetizer
As part of a nibbles platter
I also recommend to eat them as soon as they're cooked when they hot. You could certainly eat them cold, but they may loose some of that crunch from the toasted coconut and panko crumbs.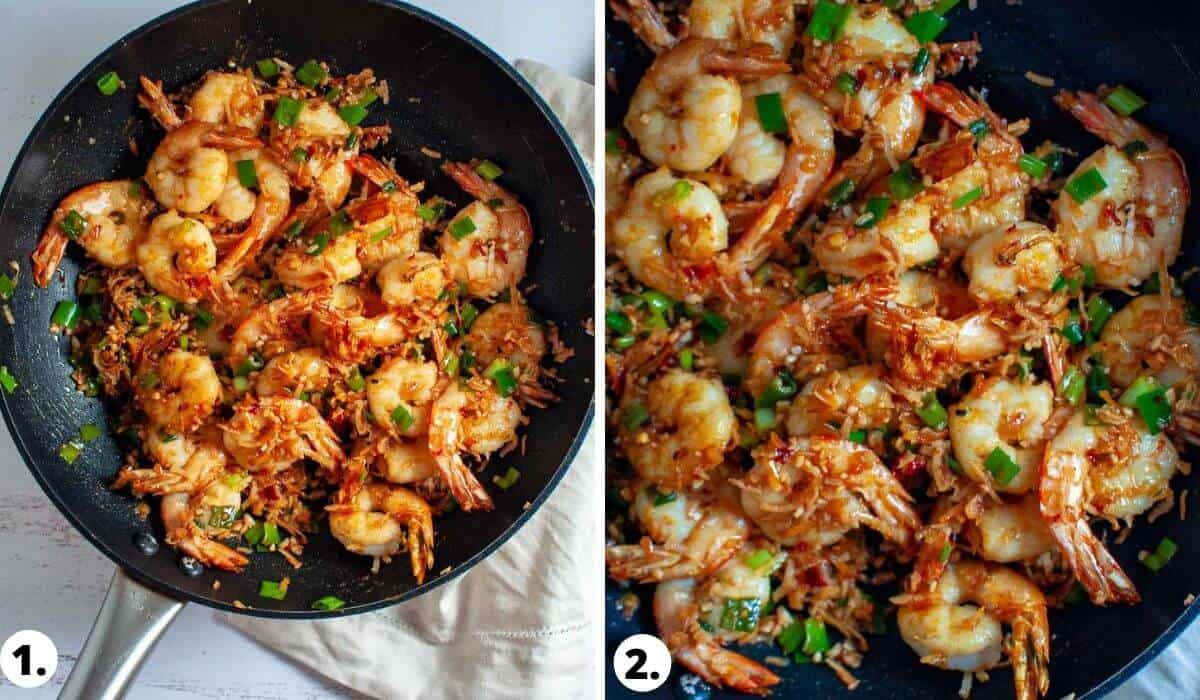 How To Serve With Butter Prawn
There are a few ways to serve this dish. Ultimately I think that because they are quite rich, its best to serve with something plain and simple.
With steamed Jasmine rice (great for a light dinner or lunch)
With lightly fried garlic greens
In green salad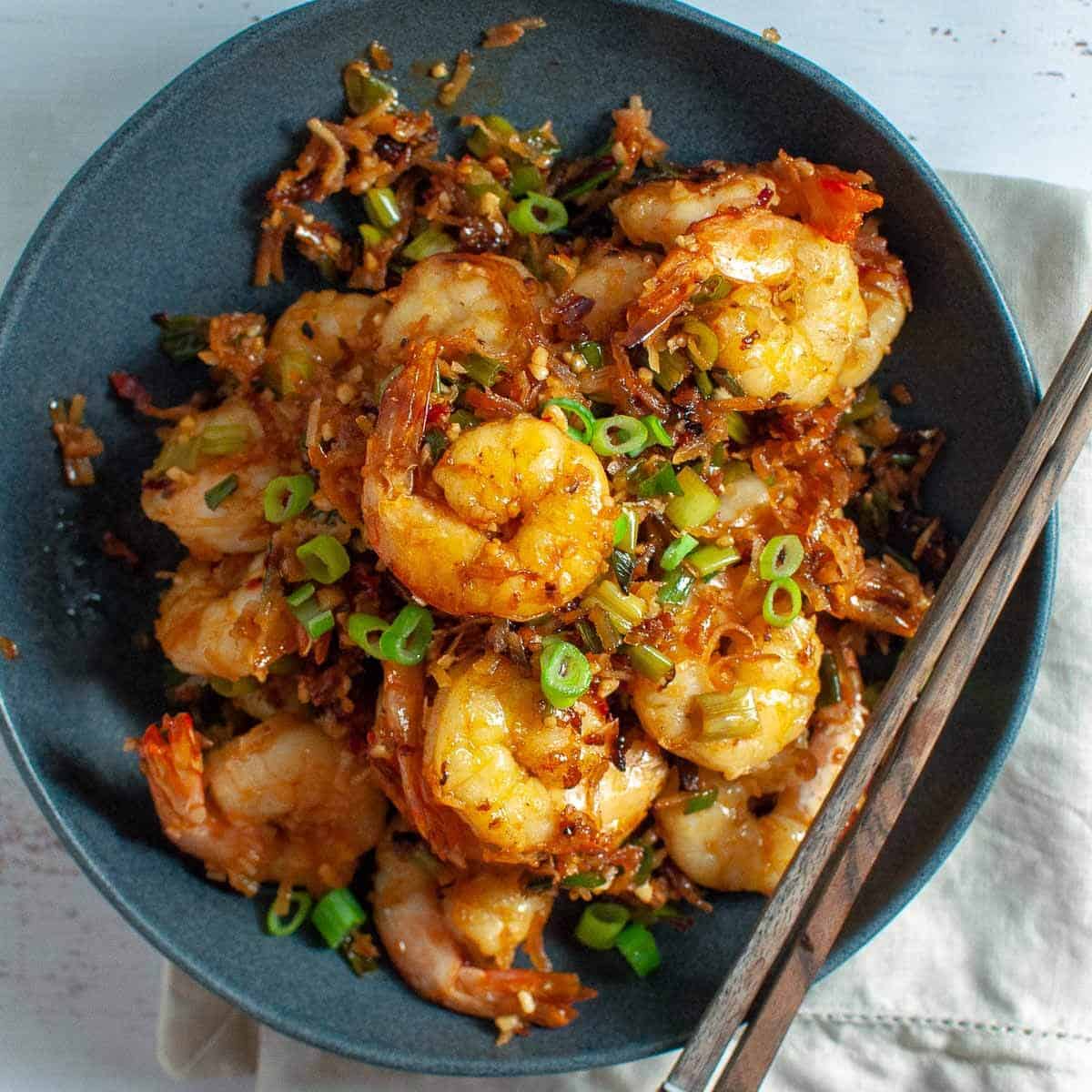 These Butter Prawns are crispy and fragrant with toasted coconut giving it a delicious texture and a soft tender juicy centre.  You can adjust the level of spiciness to suit your taste, but adding more or less chilli and if your looking for something to dip your prawns in check out this Sugar Free Sweet Chilli Sauce – a healthier alternative to store bought ones laden with sugar!
More Prawn Recipes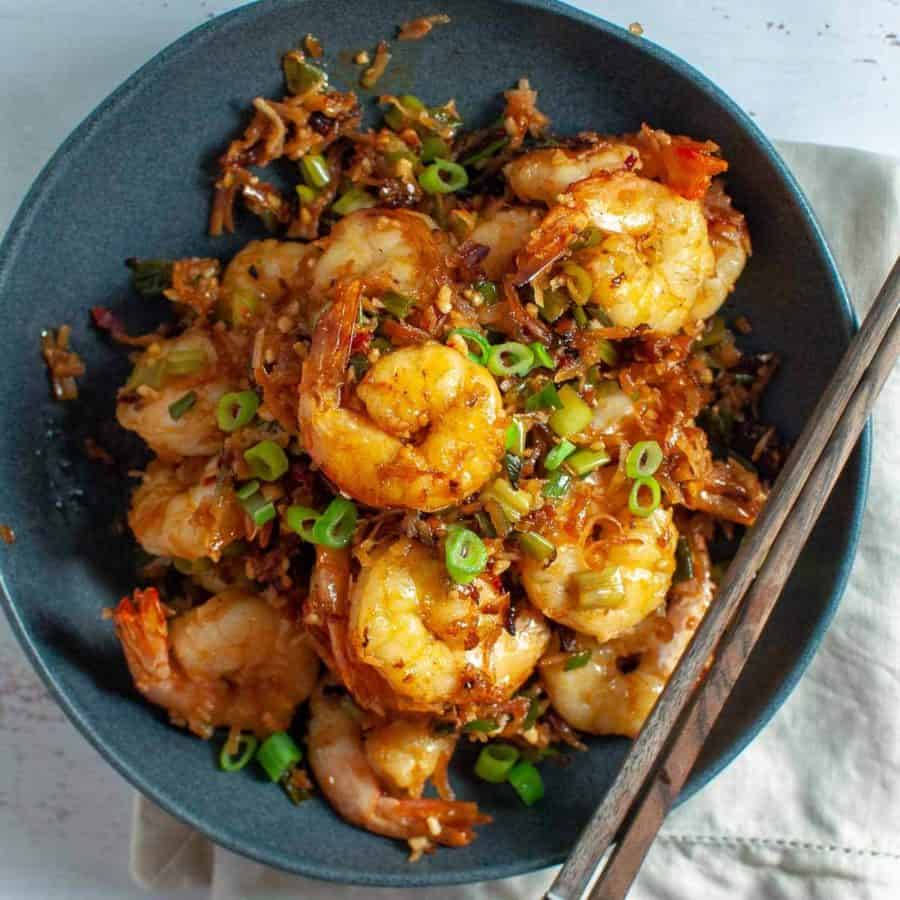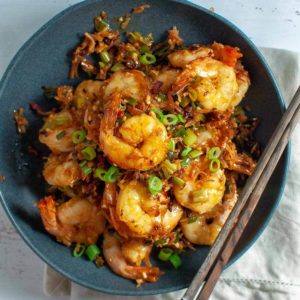 Butter Prawn
Butter prawns are a flavour packed Asian dish that is sweet,spicy, tangy crispy and crunchy.  It takes about 15 minutes to make from scratch and can be made with either fresh or frozen prawns.
Ingredients
500

grams/1 pound of Uncooked Prawns

-

heads removed (see note 1)

¼

cup

Coconut Oil

3

tablespoons

Butter

2

tablespoons

Crushed Garlic

1

tablespoon

Grated Ginger

1

large Red chilli

-

finely diced

1

tablespoon

Light Soy

½

teaspoon

salt

1

cup

Shallots/Spring onion diced

¾

cup

Desicated Coconut

¼

cup

Panko Breadcrumbs

1 ½

cups

steamed Jasmine Rice
Instructions
Heat oven to 180 degrees C / 350 degrees F and toast the coconut and panko crumbs for 10 minutes, then set aside

Add coconut oil to a wok on high heat, and fry off the prawns until they are just cooked, then remove from wok. Drain on paper towel if necessary to remove excel oil.

In a new clean pan, add the just cooked prawns, shallots or spring onions, butter, cooked coconut, panko garlic, ginger, chilli, lemon zest, sweetener, light soy, and salt.

Toss through for 2 minutes until fragrant and serve immediately
To Serve
Divide the prawns into 4 servings, sprinkling any leftover coconut crunchy bits. Definitely make sure you eat all those, they're the best.
Notes
Buy the prawns with the heads already removed if you an as it cuts down on prep time and makes this recipe a whole lot less messy.
If you don't have panko breadcrumbs, you can use regular breadcrumbs. This will result in a slightly finer lot of crumbs or "floss".
Nutritional information does not include rice.
Nutrition
Calories:
491
kcal
Carbohydrates:
11
g
Protein:
35
g
Fat:
34
g
Saturated Fat:
20
g
Fiber:
2
g
Sugar:
5
g
Note: Sugars contained in this recipe are from naturally occurring sugars in fruits, vegetables or other natural sweeteners.
Looking To Cut Out Sugar? Get the FREE Healthy Food Swaps Checklist Pack!
Get your FREE Healthy Food Swaps Checklists with over 65 Healthy Food Alternatives to Help you Ditch The Sugar Without Feeling Deprived.