These low calorie naturally sweetened sugar free bliss balls are super easy to make, use just 5 ingredients and are sure to keep cravings at bay during the day.  Perfect for lunchboxes, to keep the 3pm munchies at bay, as a pre workout snack, or as a sweet treat after dinner.  Thy are the ultimate clean eating snack food you can take with you anywhere.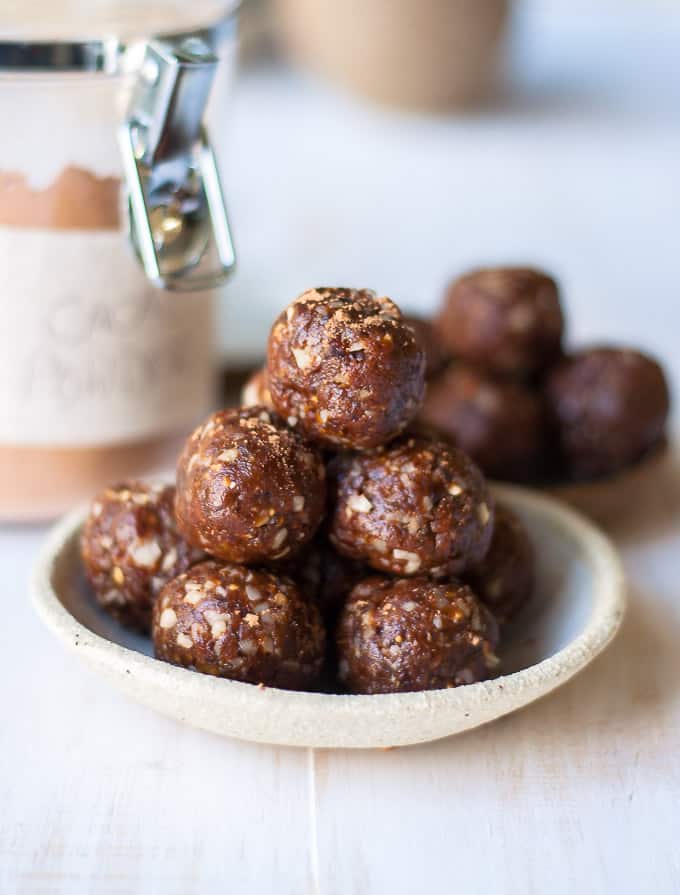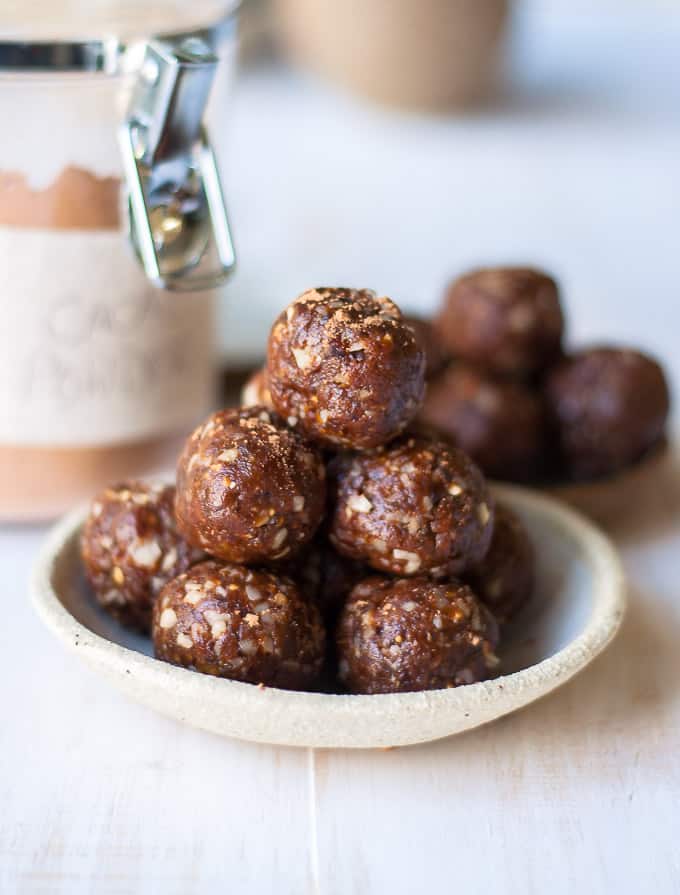 How To Make Sugar Free Bliss Balls
First you'll need 5 simple ingredients: 
1 ½ cups/ 12 Oz. Medjool Dates (at room temperature)
⅓ cup/ 2.5 Oz. Macadamia nuts
1 tablespoon Sugar Free Peanut butter
1 tablespoon Cacao Powder
¼ teaspoon Ground cinnamon
Next, pop all the ingredients into a food processor or high speed blender and blitz till combined.  Then roll into 12 evenly sized balls.  Store in the fridge in an air tight container and you'll have easy sugar free snacks on hand for the week.
Do you have to use Medjool Dates?
No, but I think they are better because they are sweeter and juicer and help to bind all the ingredients together.  You might pay a little more for medjool dates but the end result is better.  If you're using regular dates, you may need to add in a tablespoon of tap water to help bind the balls together as they typically aren't as moist.
Other Low Calorie  and Sugar Free Bliss Balls You Might Like: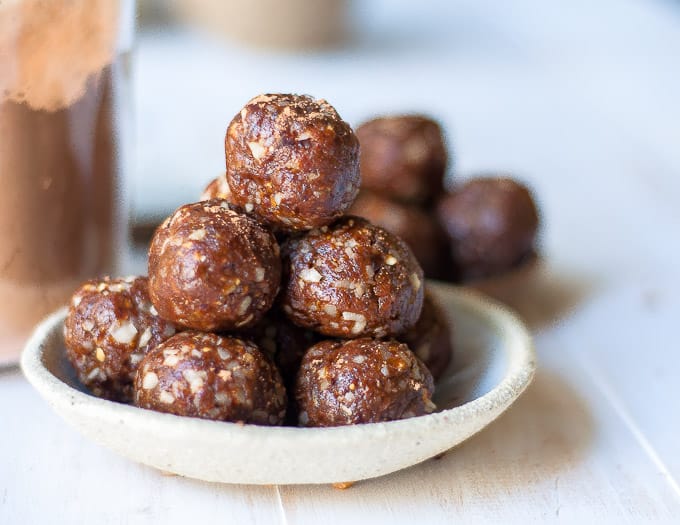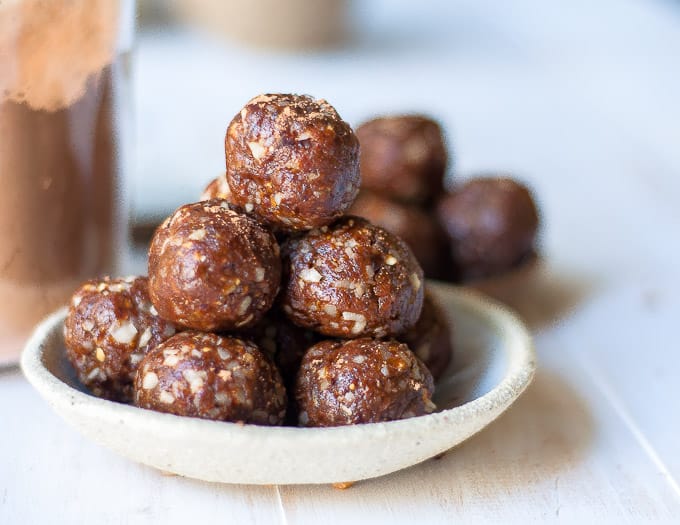 Can you freeze Sugar Free Bliss Balls?
YES!  I often freeze half and put the other half in the fridge as I know I will eat them within the next 5 days.
Silicone ziplock bags, or even regular ziplock bags would work.  Just be sure to lay them flat in the freezer, and that nothing is put on top of them until they are frozen.
The other thing to use are glass or plastic containers with a sealable lid.  With this option there is much less chance of your bliss balls getting squashed.
These low calorie bliss balls really are a winner.  If you have 10 minutes you can easily whip these together and then you have healthy sugar free treats on tap for the rest of the week.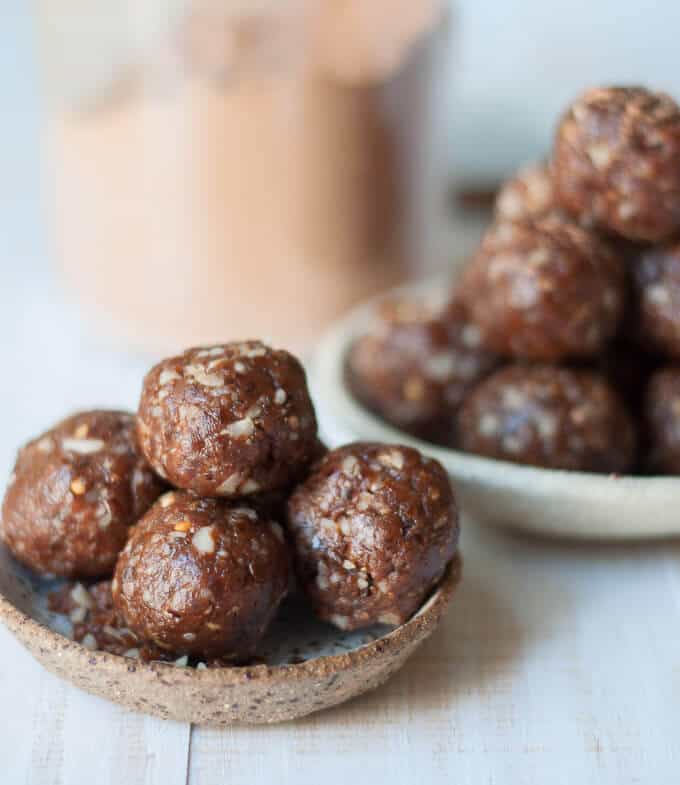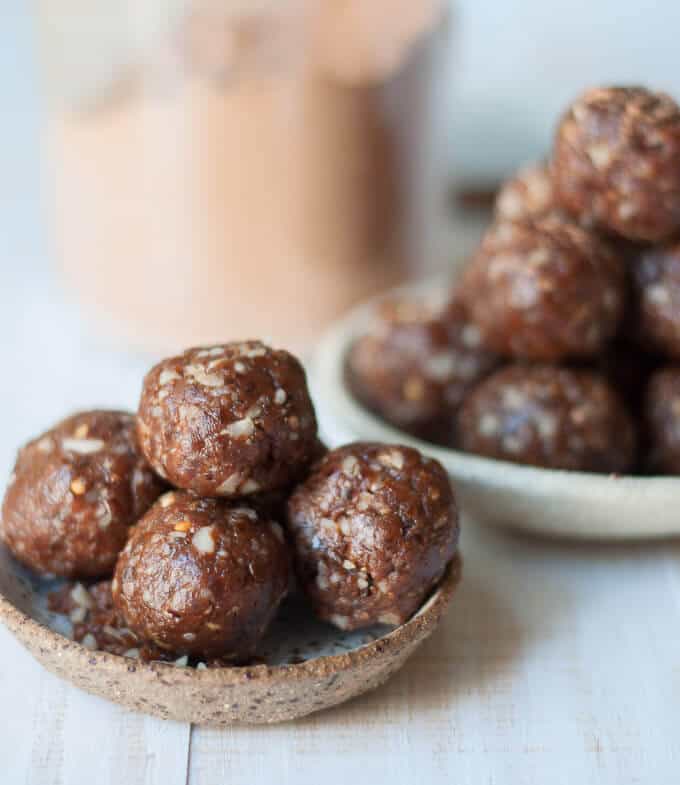 How to Change Up Your Sugar Free Bliss Balls
♦  Instead of using the cocao powder in these low calorie bliss balls, swap it out for your favourite protein powder in the same quantity.  This will increase the protein count significant and instead of sugar free bliss balls, you'll have sugar free energy balls.
♦  Instead of using medjool dates, use a combination of dried figs and apricots in the same quantity.
♦  Instead of using macadamias or cashews, swap them out for either pecans or walnuts.  If using walnuts, you might even want to lightly toast them beforehand for a richer flavour.
Making low calorie bliss balls and sugar free energy balls is easy once you have a base recipe to work with.  If you love the idea of healthy portable snacks you can take with you, this recipe is a great one to keep on hand to use as is, or to mix it up when you feel like a change.
You might notice that in the nutritional information it says that there is 16 grams of sugar per ball.  This is from the naturally occuring sugars in the medjool dates and not from refined sugars.  Refined sugars are the ones that raise you blood sugar levels, make you feel like you're constantly hungry and never full and like you have all the energy in the world one minute and no energy the next.
These low calorie bliss balls have all natural ingredients and good natural sugars and fibre from the dates, protein from the nuts and good fats from the sugar free peanut butter.  I call these my clean eating bliss balls because they keep me full and satisfy my sweet cravings, and for that reason alone I always seem to have some either in the fridge or in the freezer.
I used to be addicted to store bought bliss balls because they were convenient to buy, and they tasted good.  But they were loaded with sugar and they weren't cheap.  Plus I could eat 4 or 5 in a row and still want more.  Not with these.  They are just what you need to keep your clean eating regime on track whilst still enjoying healthy snacks.
Like what you see? Follow me on Facebook or Pinterest! Did you try a recipe? Tag me on Instagram: @mysugarfreekitchen, and leave a comment & star rating!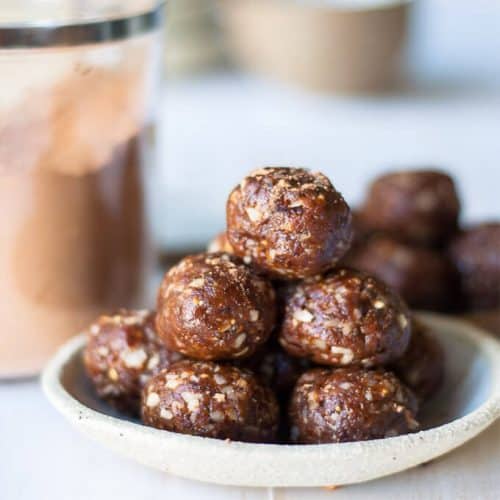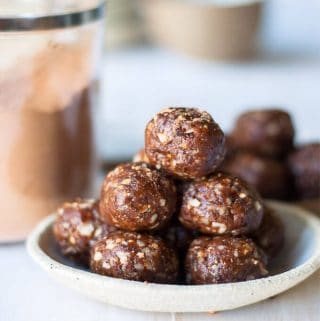 Sugar Free Bliss Balls
These low calorie naturally sweetened sugar free bliss balls are super easy to make, use just five ingredients and are sure to keep cravings at bay.
Instructions
Remove the seeds from the room temperature dates.

Add all ingredients to a food processor or high speed blender and blitz for a minute or two until all combined into a crumb like mixture.

Using slightly damp hands (to avoid mixture sticking) roll into 12 equal sized balls. (I like slightly smaller than golf ball size)

Put into an air tight container to set in fridge for a couple of hours before eating.

Bliss balls will keep for upto 4 days in an air tight container in the fridge.
Nutrition
Calories:
116
kcal
Carbohydrates:
22
g
Protein:
2
g
Fat:
4
g
Saturated Fat:
1
g
Sugar:
16
g
Note: Sugars contained in this recipe are from naturally occurring sugars in fruits, vegetables or other natural sweeteners.
Looking To Cut Out Sugar? Get the FREE Healthy Food Swaps Checklist Pack!
Get your FREE Healthy Food Swaps Checklists with over 65 Healthy Food Alternatives to Help you Ditch The Sugar Without Feeling Deprived.
★ Did you make this recipe? Don't forget to give it a star rating below!