These low calorie naturally sweetened energy balls are easy to make, use just 5 ingredients and are sure to keep cravings at bay during the day. Perfect for lunchboxes, to keep the 3pm munchies at bay, as a pre workout snack, or as a sweet treat after dinner.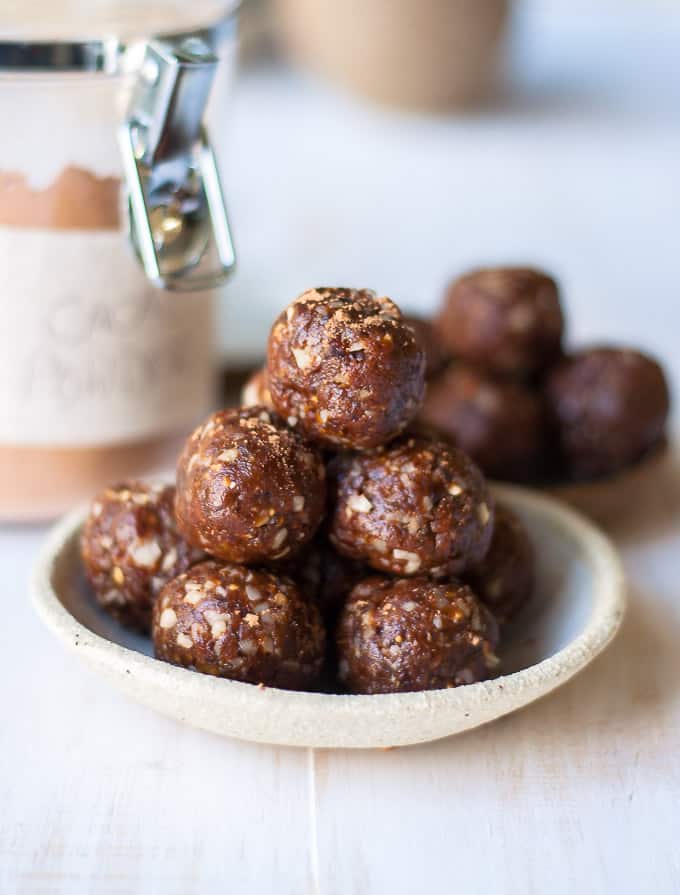 Recipe Highlights
They are under 120 calories per serve, made form all natural ingredients
Naturally sweetened from the dates, so no added sugars
Make them in 15 minutes
You can freeze them and they taste just as good when defrosted
Its the perfect portable snack (or breakfast!)
Ideal for lunchboxes, or to grab and go in the mornings
Goes well with your morning coffee
Will satisfy those 3pm munchies
For something a little more indulgent yet still healthy with no refined sugars, check out these simple homemade Date Snickers.
What You Need
Dates: Medjool dates are best as they are big, plump and have a soft outer skin. They also have a soft and chewy centre and a perfect level of sweetness for healthy energy balls. If you can't find medjool dates, just use whatever you can find, or alternatively you could use raisins or sultanas
Nuts: I used macadamia nuts for these low calories energy balls. Alternatively you could use cashews, almonds, walnuts or pecans.
Nut Butter: An all natural peanut butter provides plenty of flavor and helps the balls stick together. Cashew butter or almond butter can be substituted.
Cocoa Powder: this provides extra chocolate flavor and I recommend not leaving it out. Also use unsweetened cocoa powder as they dates provide all the sweetness needed.
Cinnamon: just a little ground cinnamon provides an extra hint of warmth. It can be left out or substituted with a little ground nutmeg, ground ginger, or a small amount of vanilla essence.
How To Make
There's no getting away from needing a food processor to make these energy balls. Blitzing the dates and nuts will be done in seconds in a food processor and will save a ton of time.
Once the energy ball mixture is formed, remove the blade carefully. Use a dessert spoon and roll into 12 evenly sized balls
Store energy balls in the fridge in an air tight container and you'll have easy sugar free snacks on hand for the week.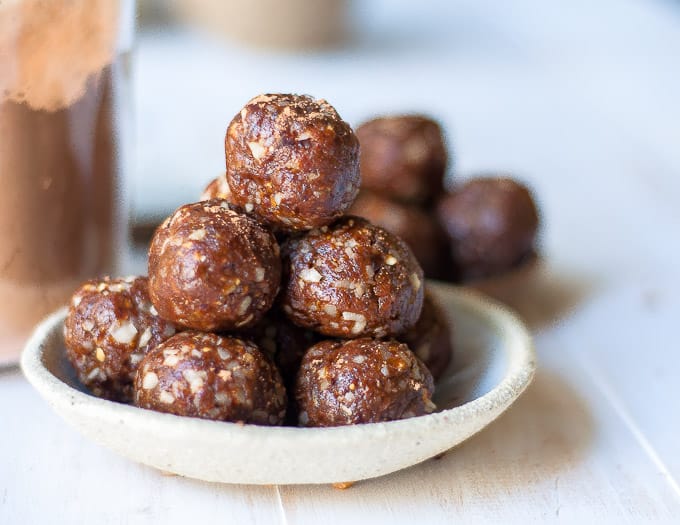 Common Questions
Can you freeze Energy Balls?
YES!  I often freeze the energy balls I make. There are two ways I do it. I'll make 12 balls, and freeze half, or I'll make a double batch (24 balls), freeze 12, and keep 12 in the fridge if I know they will be in demand by other members of the household.

Silicone ziplock bags, or even regular ziplock bags would work.  Just be sure to lay them flat in the freezer, and that nothing is put on top of them until they are frozen.

The other thing to use are glass or plastic containers with a sealable lid to avoid them getting squashed.

To defrost energy balls, get them out and let them come to room temperature naturally, or put them in the fridge overnight to thaw out.
Do Energy Balls need to be refrigerated?
No, but I prefer them to be kept in the fridge as they are firmer and I think they're nicer to eat when they've been in the fridge. I think its really just a matter of personal preference.
Do you have to use Medjool Dates?
No, but I think they are better because they are sweeter and juicer and help to bind all the ingredients together.  You might pay a little more for medjool dates but the end result is better.  If you're using regular dates, you may need to add in a tablespoon of tap water to help bind the balls together they tend to be more fiborous and not as soft.
These low calorie bliss balls really are a winner. If you have 10 minutes you can easily whip these together and then you have healthy sugar free treats on tap for the rest of the week.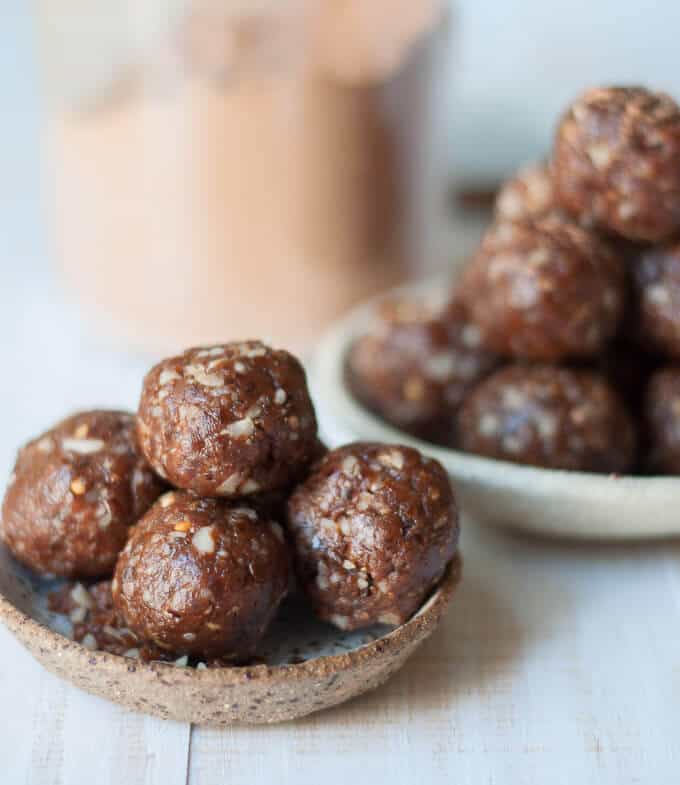 Energy Ball Variations
♦ Instead of using the cocao powder in these low calorie bliss balls, swap it out for your favourite protein powder in the same quantity.
♦ Instead of using medjool dates, use a combination of dried figs and apricots in the same quantity.
♦ Instead of using macadamias or cashews, swap them out for either pecans or walnuts. If using walnuts, you could lightly toast them beforehand for a richer flavour.
Making low calorie energy balls is easy once you have a base recipe to work with. If you love the idea of healthy portable snacks you can take with you, this recipe is a great one to keep on hand to use as is, or to mix it up when you feel like a change.
These low calorie bliss balls have all natural ingredients and good natural sugars and fiber from the dates, protein from the nuts and good fats from the natural peanut butter.
I used to be addicted to store bought bliss balls because they were convenient to buy, and I needed snacks to grab and go. But they were loaded with sugar and they weren't cheap. Making them at home isn't just more cost effective, they taste better too!
More Energy Balls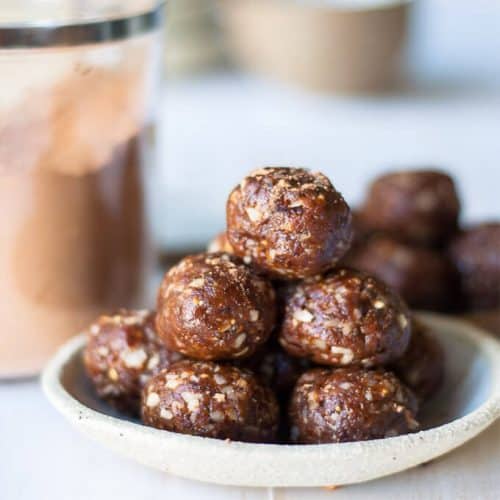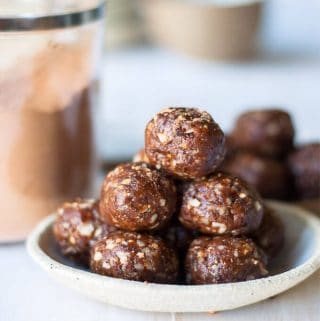 Low Calorie Energy Balls
These low calorie naturally sweetened energy balls are super easy to make, use just five ingredients and are sure to keep cravings at bay. 
Ingredients
1 ½

cups/ 12 Oz. Medjool Dates

⅓

cup/ 2.5 Oz. Macadamia nuts

-

(see note 3)

1

tablespoon

Natural peanut butter

-

(see note 4)

1

tablespoon

Unsweetened Cacao Powder

¼

teaspoon

Ground cinnamon -

(optional)
Instructions
Remove the seeds from the dates. If they are already soft and pliable they are ready to go. If they are hard or firm from being in the fridge or cold weather generally, then soak them in hot tap water for approx 10 minutes until they become soft, but not falling apart. * Important* Use hands to squeeze any excess water from the dates before adding to food processor. If dates are to "wet" it will make the mixture harder to roll into balls.

Add all ingredients to a food processor or high speed blender and blitz for a minute or two until all combined into a crumb like mixture.

Using slightly damp hands (to avoid mixture sticking) roll into 12 equal sized balls. (I like slightly smaller than golf ball size)

Put into an air tight container to set in fridge for a couple of hours before eating.

Bliss balls will keep for upto 4 days in an air tight container in the fridge.
Notes
Freezing:  freeze energy balls in ziplock bags or containers for upto 8 weeks
Defrosting:  let energy balls thaw naturally (avoid microwaving).  Refrigerate overnight to thaw, or get out a couple of hours and set on bench at room temperature to defrost.
Nut alternatives:  cashews, almonds, walnuts, pecans
Nut Butters to Try:  Natural peanut butter, cashew butter, almond butter
The ground cinnamon is optional and can be left out.
Nutrition
Calories:
116
kcal
Carbohydrates:
22
g
Protein:
2
g
Fat:
4
g
Saturated Fat:
1
g
Sugar:
16
g
Note: Sugars contained in this recipe are from naturally occurring sugars in fruits, vegetables or other natural sweeteners.
Looking To Cut Out Sugar? Get the FREE Quick and Easy Food Swaps Checklist Pack!
Get your FREE Quick and Easy Food Swaps Checklists with over 65 Simple Real Food Alternatives to Help you Ditch The Sugar Without Feeling Deprived.
★ Did you make this recipe? Don't forget to give it a star rating below!