Gotta love a Clean Eating Green Thai Curry, loaded with thin slivers of chicken and bright nourishing veges. This is a quick and easy to make curry that's creamy, tangy and true to all the flavours you'd expect from an exciting thai curry. This is serious clean eating that won't weigh you down and is a perfect midweek dinner recipe under 400 calories…YES..even with rice.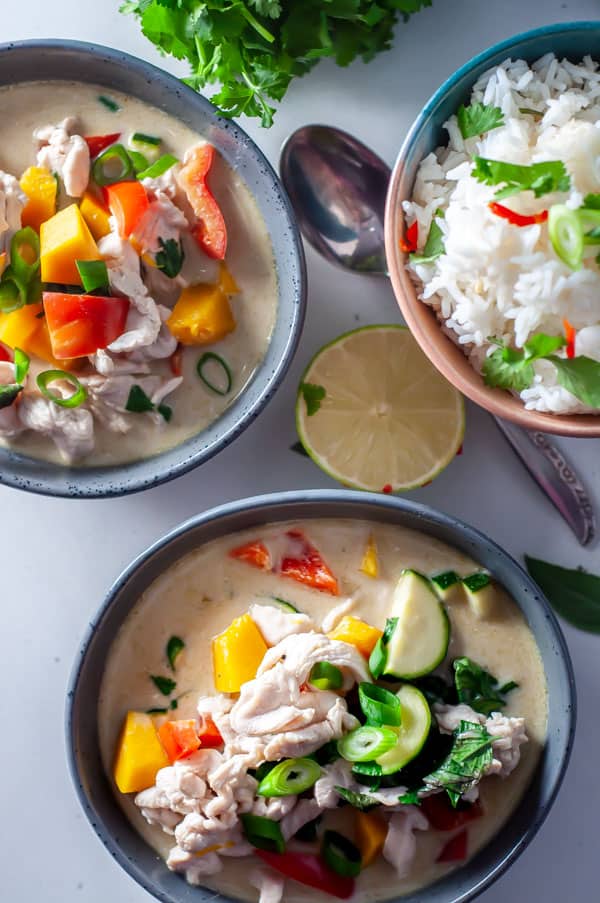 The best type of chicken for this curry is chicken breast, sliced thinly. This helps it to cook quickly, and to thoroughly absorb the curry flavours. But if chunks of chicken is more your thing, that's cool too – just remember it will take a little longer to cook through.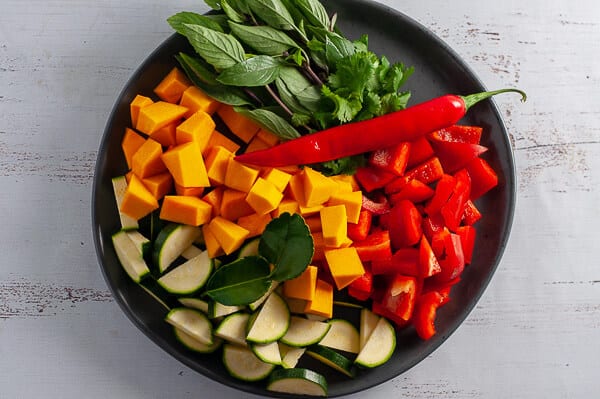 My other little special secret for this recipe is the kaffir lime leaves and the thai basil leaves. I think that these two ingredients are what make this a really authentic thai curry. I'm always excited when I find thai basil leaves in the supermarket and I make a beeline immediately to put them into my trolley because they don't always seem to be available.
What is Thai Basil
Thai basil is a savoury, and fragrant smelling reminiscent of regular basil and fennel combined – that is, basil with a faint hint of aniseed. Thai basil lacks the sweetness of regular basil and has a spicier, bolder flavour. It also has small, thinner and stronger leaves than the more delicate Italian basil. Overall, perfect for dishes where you want to pack a punch.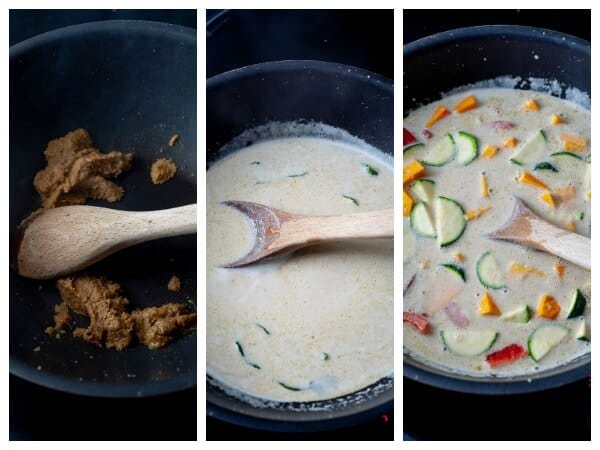 TIP: If Thai Basil is not available in the area you live in, you can achieve a similar result with regular basil. I often use regular basil in my Asian dishes when I have an abundance of it in my garden. Yep, regular basil is not just for Italian recipes.
What are Kaffir Lime Leaves
Kaffir Lime leaves are a strong fragrant lime leaf from the Kiffir lime tree. Kaffir lime leaves seem to be a supermarket staple in most stores I've been in, so no worries there.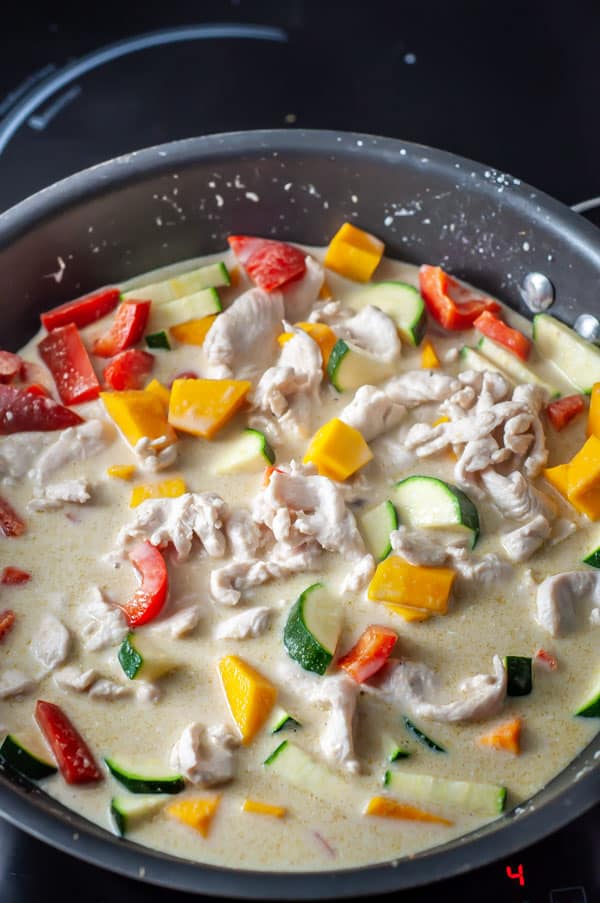 Where To Buy Thai Basil
Big supermarkets or your local farmers markets are the best bet as this can sometimes be a bit of a speciality herb.
A short drive from our house is a regular Sunday morning market that is very small (only about 10 stalls in total), but there is a fabulous Asian stall there that has every Asian herb and vegetable I could possibly imagine.
If you love cooking and eating thai food, I highly recommend checking out your local farmers markets if you can. See what inspires you, and maybe what even looks a bit weird vege wise. I know there are definitely some things at the farmers market that I look at wonder what on earth would you cook with that!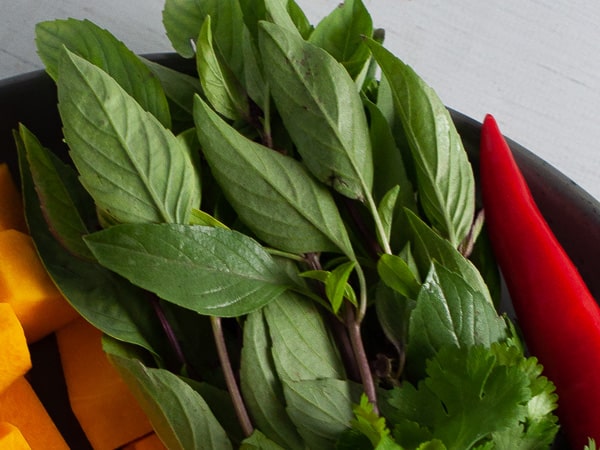 Substitute for Palm Sugar in Thai Cooking
You probably know that palm sugar is also used widely in thai cooking, but for this recipe I skipped it. However, it definitely did need a sweet dribble of something to balance out the savoury flavours. To even it out and hit that perfect note, I added a teaspoon of granulated stevia to the recipe (which serves two). If you were making this recipe for four people you'd double everything in the recipe.
More Thai Dinners ----- >>> Crunchy Thai Beef Salad and this Fish Panang Curry and these delicious Thai Meatballs with Peanut Sauce.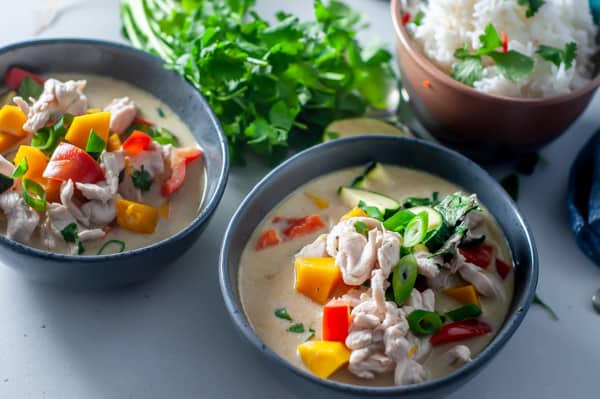 Just a slight bit of stevia did the trick and left me thinking I had found the magic formula for Thai Green Chicken Curry in a clean eating way. I said to my husband that we need never buy thai takeaway curry again.
This is a clean eating thai curry, free from sugar, but packed with protein, veges and authentic thai flavours that make your tastebuds stand up and do a little thank you dance.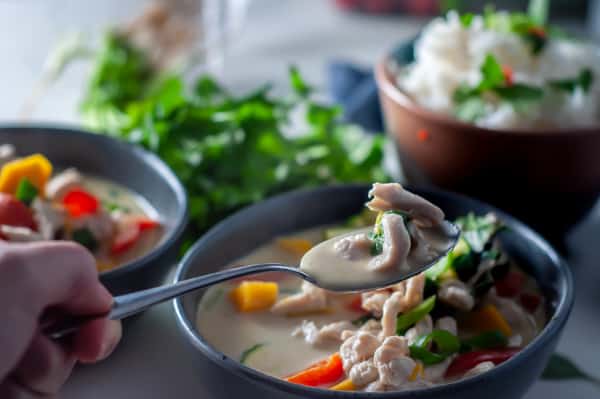 Some of my other favourite clean eating Curries that I make regularly: Clean Eating Butter Chicken, Salmon Curry In A Hurry, and Beef Satay Curry Noodles.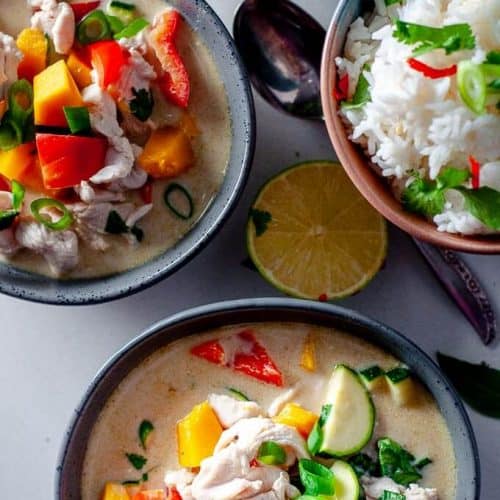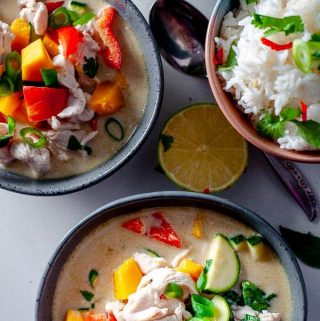 Clean Eating Green Thai Curry
Light, rich, and creamy with authentic Thai flavours. High Protein and Low Calorie Dinner under 400 calories. Loaded with thin slivers of chicken and nutritious colourful veges.
Ingredients
500

grams/1 pound Chicken breast

-

thinly sliced

3

tablespoons

Green curry paste

550

ml

Coconut milk

1

tablespoon

fish sauce

1

tablespoon

Lime juice

6

fresh Kaffir lime leaves

1

teaspoon

granulated stevia

1

cup

Pumpkin

-

diced

1

cup

zucchini

-

diced

½

cup

Red capsicum

-

diced

¼

cup

Loosely packed Thai basil leaves

-

roughly chopped

2

tablespoons

Fresh coriander/cilantro

-

roughly chopped

1

spring onion

-

finely diced.

1

cup

Jasmine rice
Instructions
Cook rice according to packet instructions.

Heat the curry sauce in a large saucepan on medium heat until fragrant

Add the coconut milk and lime leaves, stir and bring to the boil.

Reduce heat and simmer for five minutes, stirring occasionally.

Add the vegetables to the curry sauce, along with the fish sauce, lime juice, stevia

Heat a non stick wok to high, add the chicken and cook until just browned.

Add the chicken to the curry sauce and cover with a lid and simmer for 5 minutes

Add basil, coriander, and spring onion. Stir to combine.

Place curry in serving bowls and serve with steamed jasmine rice
Nutrition
Calories:
340
kcal
Carbohydrates:
30
g
Protein:
42
g
Fat:
6
g
Saturated Fat:
2
g
Fiber:
3
g
Sugar:
7
g
Note: Sugars contained in this recipe are from naturally occurring sugars in fruits, vegetables or other natural sweeteners.
Looking To Cut Out Sugar? Get the FREE Healthy Food Swaps Checklist Pack!
Get your FREE Healthy Food Swaps Checklists with over 65 Healthy Food Alternatives to Help you Ditch The Sugar Without Feeling Deprived.