I love Thai Chicken Meatballs with Peanut Sauce.  The meatballs are lightly spiced, juicy and melt in your mouth, and the peanut sauce is so deliciously moreish you'll want to lick your plate.  A sweet, spicy, tangy, Indian Asian flavour fusion.  This is a perfect midweek dinner for two.  It feels like takeout, but healthier.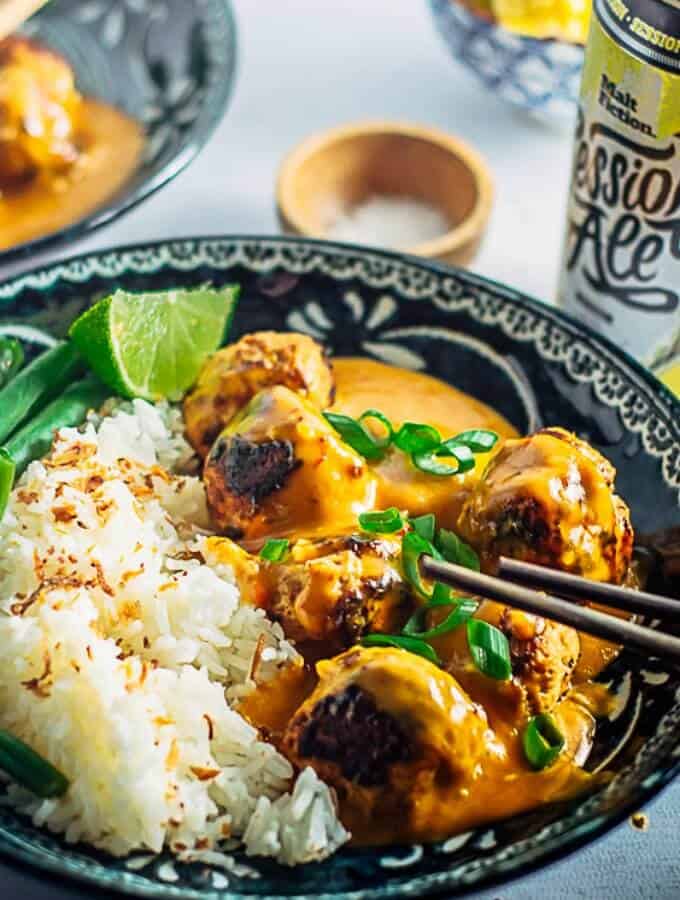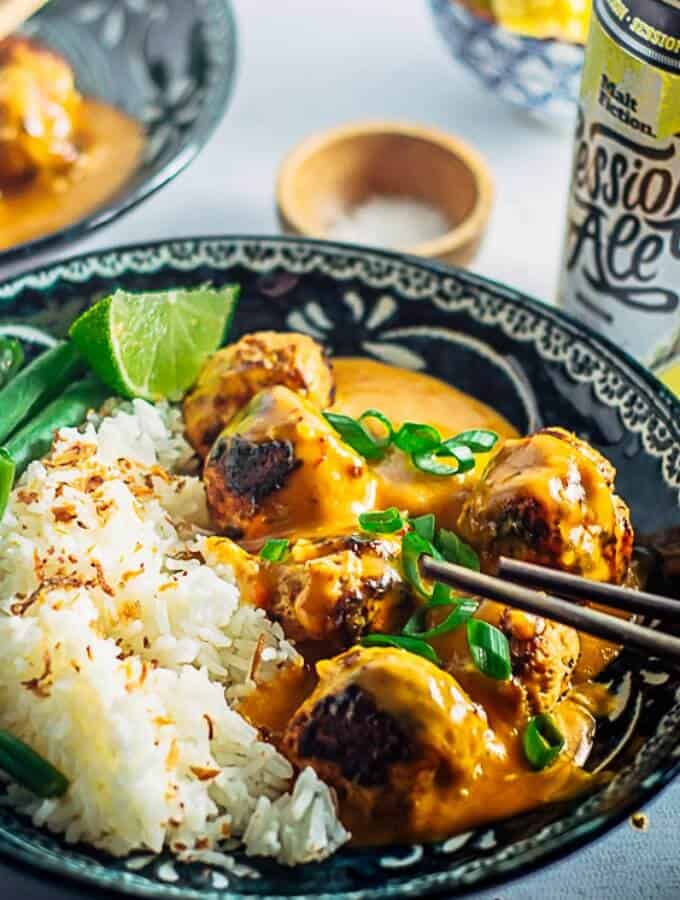 These chicken meatballs are a cinch to whip up after a busy day at work (which I often do), and whilst they are sizzling away in the pan practically cooking themselves, it's simple and easy to throw all the peanut sauce ingredients into another saucepan.  Glass of wine in one hand, wooden spoon in another, gently stirring away, taking in the glorious aromas.
Other recipes you may have missed:  Sticky Chilli Beef and Broccoli and Fish Panang Curry.
Thai Chicken Meatballs with Peanut Sauce Is A Must Make Weeknight Dish
Your house will definitely be filled  with the enticing scent of a welcoming dinner when you make this.  In the event you have an open window in your kitchen where dinner smells can waft over into your neighbours house, you may even have the neighbours asking you "What's for Dinner?"
And it's on the table in under 30 minutes as well.  Actually you could probably even do it quicker than that, especially if you have a helper (hubby/housemate/sibling/child/significant other)  to help you do the meatballs.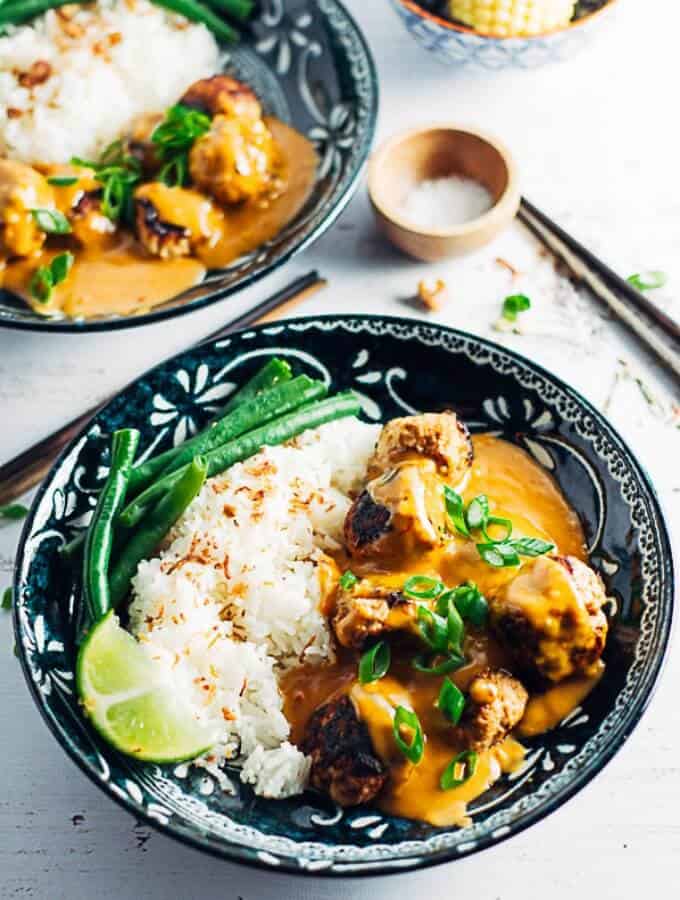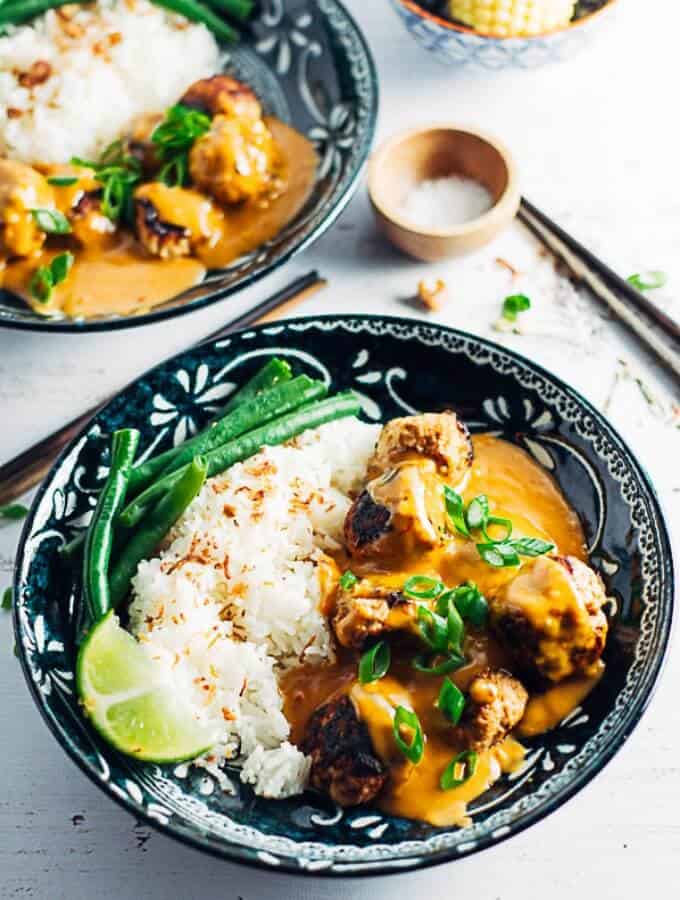 This is a meal to look forward to because it's just so dang tasty.  So tasty, that I have used this addictive peanut sauce in my Beef Satay Noodle Bowls and my Peanut Chicken and Rice dish.
And yes, I love it so much I have a few more up my sleeve too.
This dish is perfect if you are obsessed with peanut butter.
It's perfect if you LOVE meatballs.  Instead of chicken meatballs, why not try home-made beef or pork, or even turkey meatballs.  Whilst I prefer to make my own meatballs, you could make this sauce to go with frozen storebought meatballs if you;re really pressed for time, or don't like making meatballs.
It's a must if you're having guests over for a weekend dinner party.  They will be impressed when they discover how good it tastes and that it didn't come from a jar!
It's a total winner if you're into quick and easy weeknight dinners.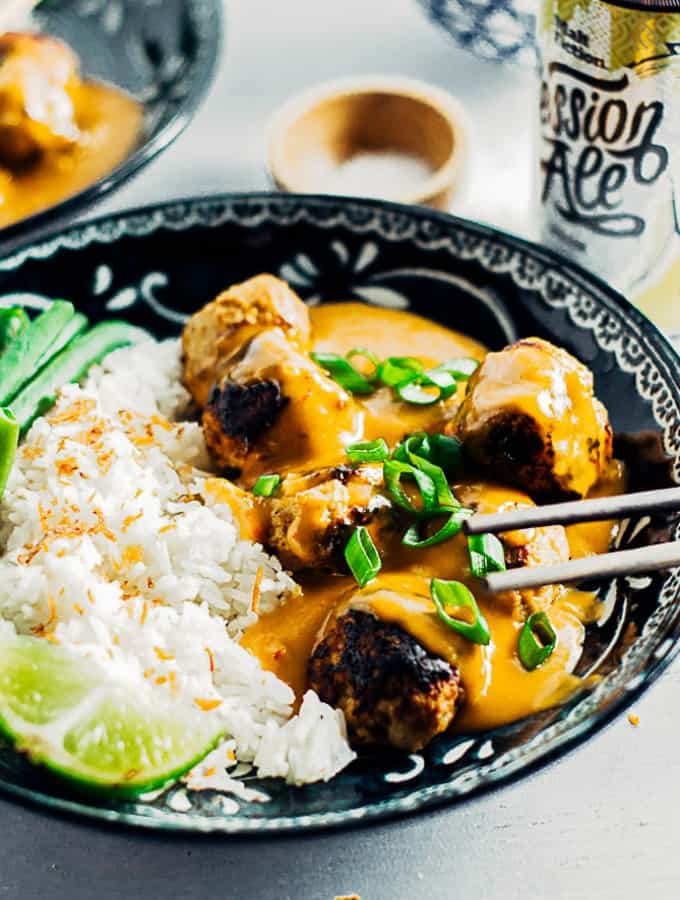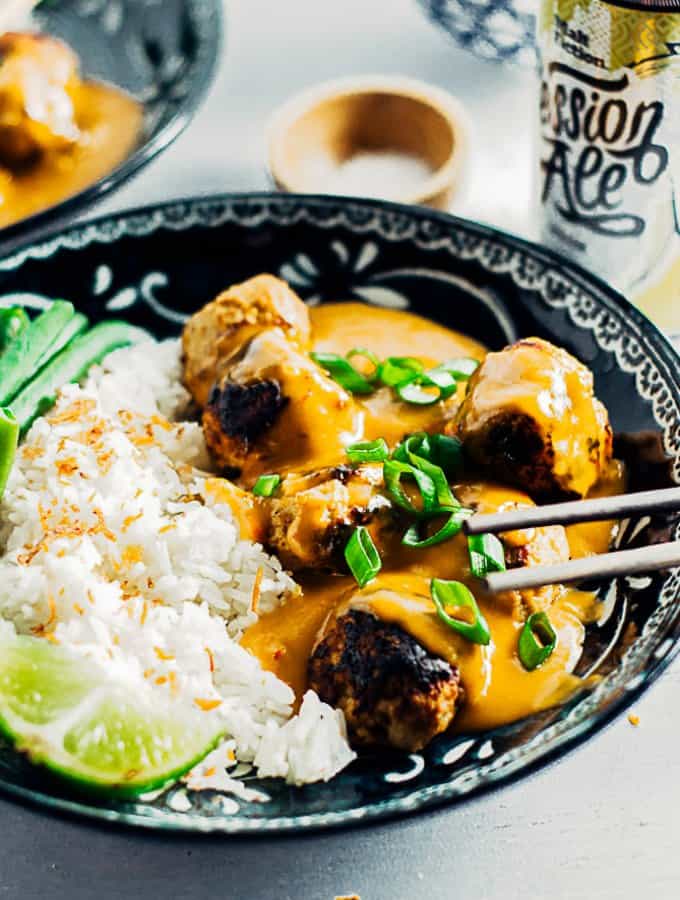 After all, once you know how to make this peanut sauce you'll probably find it sneaking into your cooking repertoire quite often.
Think steak… with peanut sauce, pork meatballs with peanut sauce, chicken kebabs with peanut sauce, baked salmon with peanut sauce.  Even use it as a dipping sauce with sweet potato chips baked in the oven until crispy.   It's just so versatile.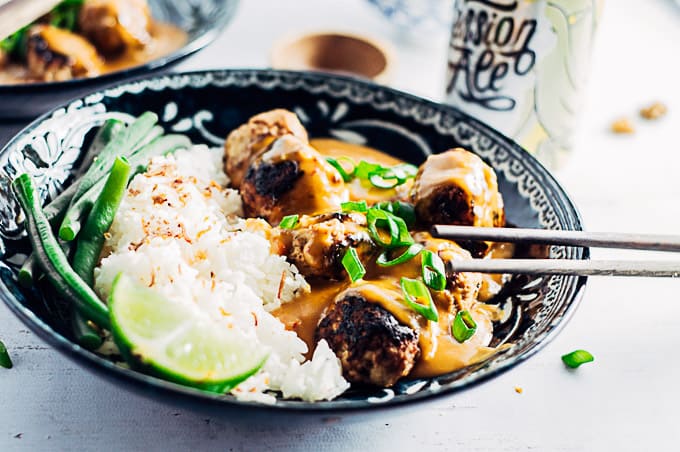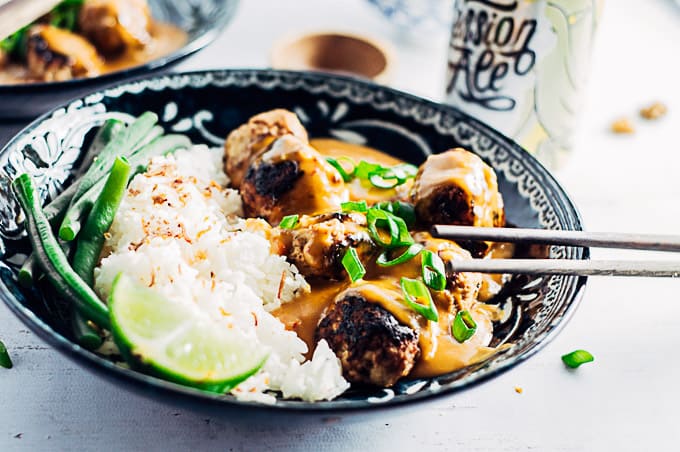 A tip with this recipe
You can totally make these meatballs ahead, lightly precook them, let them cool and freeze them.  If you were looking to get a head start on the week, this could be part of your 1 hour Sunday meal prep session, along with these sugar free banana muffins which also freeze and thaw out beautifully either in the microwave or left at room temperature for half an hour.
Who doesn't love a good healthy muffin for morning tea, especially one that is homemade and good for you.  I definitely do.
Like what you see? Follow me on Facebook or Pinterest! Did you try a recipe? Tag me on Instagram: @mysugarfreekitchen, and leave a comment & star rating!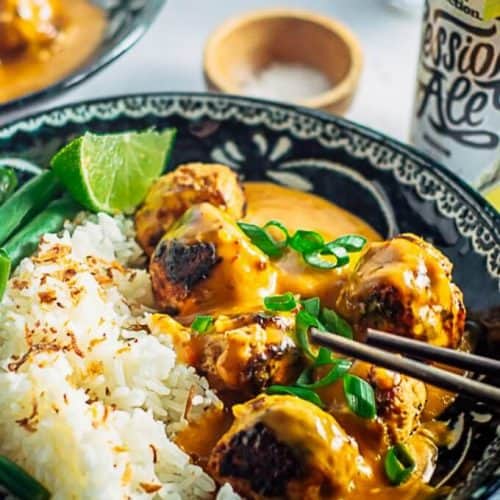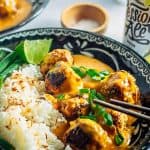 Print
Thai Chicken Meatballs with Peanut Sauce
I love Thai Chicken Meatballs with Peanut Sauce. The meatballs are lightly spiced, juicy and melt in your mouth, and the peanut sauce is so deliciously moreish you'll want to lick your plate. A sweet, spicy, tangy, Indian Asian flavour fusion. Just perfect.
Ingredients
Chicken
400

grams/14 oz. Chicken Mince

1

teaspoon

Crushed garlic

1

teaspoon

Mild chilli paste

1

teaspoon

Minced ginger paste

1

teaspoon

Light soy sauce or Tamari

1

teaspoon

Onion salt

1

cup

Jasmine rice

12

Green beans

Optional: Dried shallots and fresh spring onions to garnish
Satay Curry Sauce
1

garlic clove, crushed

½

teaspoon

Ginger, finely grated

½

tablespoon

mild chilli paste

2

tablespoons

sugar free crunchy peanut butter

(Note 1)

¾

cup

light coconut milk

1

teaspoon

Granulated stevia, that measures like sugar

(Note 2)

1

teaspoon

Light Soy Sauce or Tamari

(Note 3)

1

teaspoon

fresh lime juice

1

tablespoons

Penang Curry Paste
Instructions
Get the rice on, and cook according to packet instructions. (I use a rice cooker)

Boil a saucepan of water ready for the beans.

Making the meatballs: In a bowl, add the chicken mince, ginger, garlic, chilli, soy sauce and onion salt. Divide into 12 pieces and roll into meatballs.

Heat a large non stick frypan on medium heat and add the meatballs. After they have lightly browned, put a lid on to keep the heat in. They should take about 10 to 12 minutes to cook.

Making the Satay Curry Sauce: in a medium saucepan, add the garlic, chilli paste and ginger. Stir for a minute until fragrant.

Add the coconut milk and stir in for 1 minute

Add the peanut putter and stir in until it melts.

Add the curry paste, granulated stevia, light soy, pinch of salt and lime juice. Stir for a minute to mix it all in and then remove from heat

Cooking the beans: While the meatballs and curry sauce is cooking, add the beans to the saucepan of boiling water. Cook for 3 to 4 minutes and remove from the heat

Putting it together: add the rice, meatballs, and pour over the curry sauce. Add the beans, slice of lime, dried shallots and fresh spring onions.
Notes
I use Kraft sugar free peanut butter
The granulated sweetener I use is Natvia Stevia Sweetener.  Natvia Stevia Sweetener is a 100% natural sweetener and has 97% fewer calories than sugar.  Its fructose free, low carb and isn't going to rot your teeth!   I wrote a post about it here.
Tamari is a form of soy sauce that is a better option generally as it contains lower levels of added sugar than Light Soy.  It is usually found in the health food aisle of most supermarkets.
Nutrition
Calories:
594
kcal
|
Carbohydrates:
28
g
(9%)
|
Protein:
37
g
(74%)
|
Fat:
36
g
(55%)
|
Saturated Fat:
20
g
(100%)
|
Fiber:
1
g
(4%)
|
Sugar:
10
g
★ Did you make this recipe? Don't forget to give it a star rating below!