I love Thai Chicken Meatballs with Peanut Sauce. The meatballs are lightly spiced, juicy and melt in your mouth, and the peanut sauce is so deliciously moreish you'll want to lick your plate. A sweet, spicy, tangy, flavour fusion. This is a perfect midweek dinner for two with leftovers for lunch. It feels like takeout, but healthier.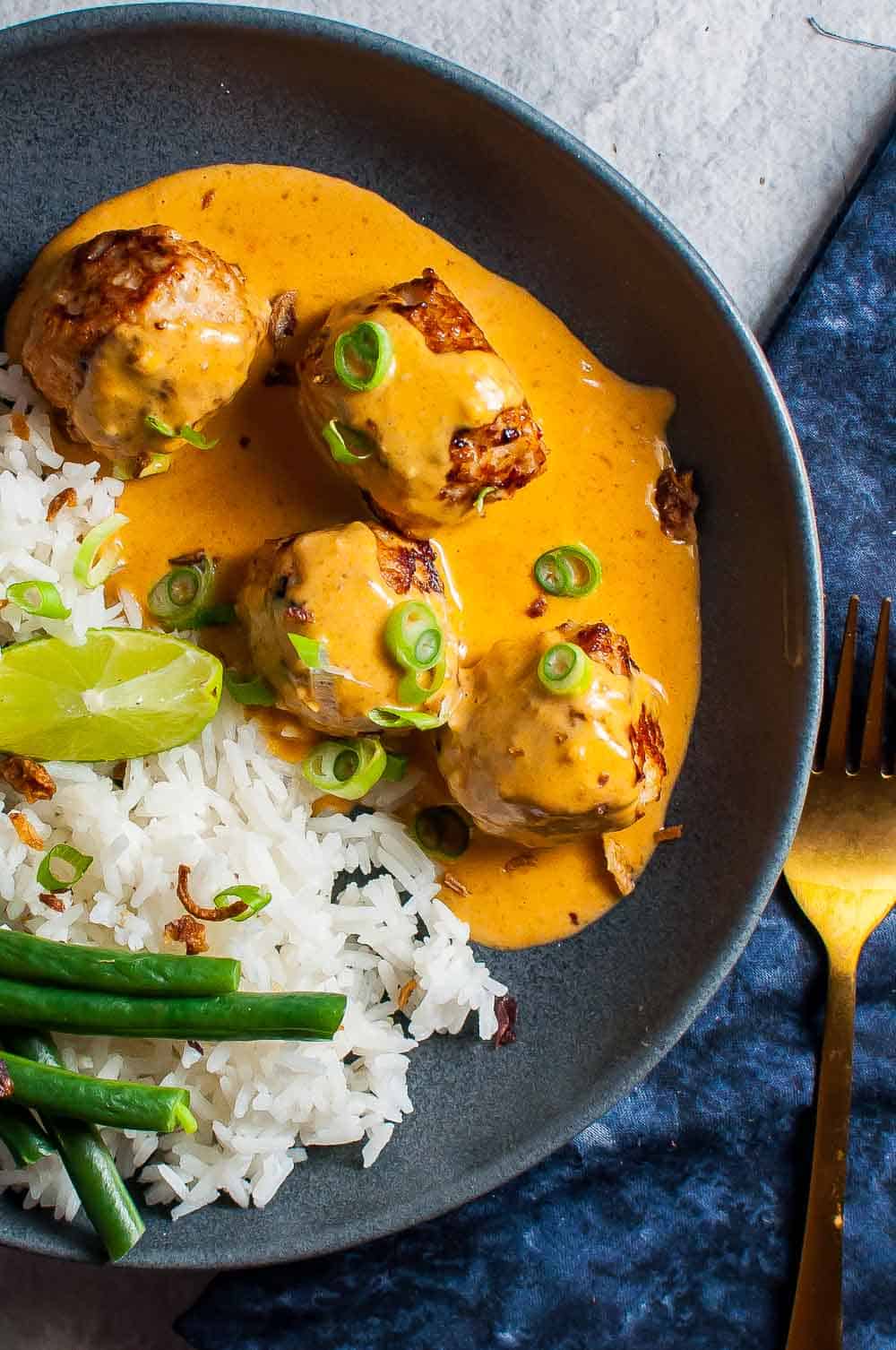 How To Make
Get the Rice On. I use a rice cooker to set and forget and I think this is the easiest way to cook rice!
Make you meatballs . There are only 6 ingredients I use to make moist tasty meatballs with a thai twist. Chicken, minced garlic, grated ginger, a little soy, a little chilli and garlic salt.
Cook the meatballs. Cooking them take 5 to 7 minutes and once they are done you can pop them in te oven on a very low temp to keep warm, or just cover them with a lid whilst you make the sauce
Make the Peanut Sauce. This sauce comes together in about 5 minutes. Its so tasty and you can use it on so many things.
Assemble: Rice + Meatballs + Pour the sauce over. Then garnish to shallots or spring onions.
These chicken meatballs are a cinch to whip up after a busy day at work (which I often do), and whilst they are sizzling away in the pan practically cooking themselves, it's simple and easy to throw all the peanut sauce ingredients into another saucepan.
What's In Peanut Satay Sauce?
1 garlic clove, crushed
½ teaspoon Ginger, finely grated
½ tablespoon mild chilli paste
2 tablespoons sugar free crunchy peanut butter
¾ cup light coconut milk
1 teaspoon Raw honey
1 teaspoon Light Soy Sauce
1 teaspoon fresh lime juice
1 tablespoon Penang Curry Paste
This makes about 1 cup of peanut curry sauce, maybe a bit more. Enough to generously coat the meatballs and have some leftover for the rice as well.
Other clean eating chicken dinners to tempt your tastebuds: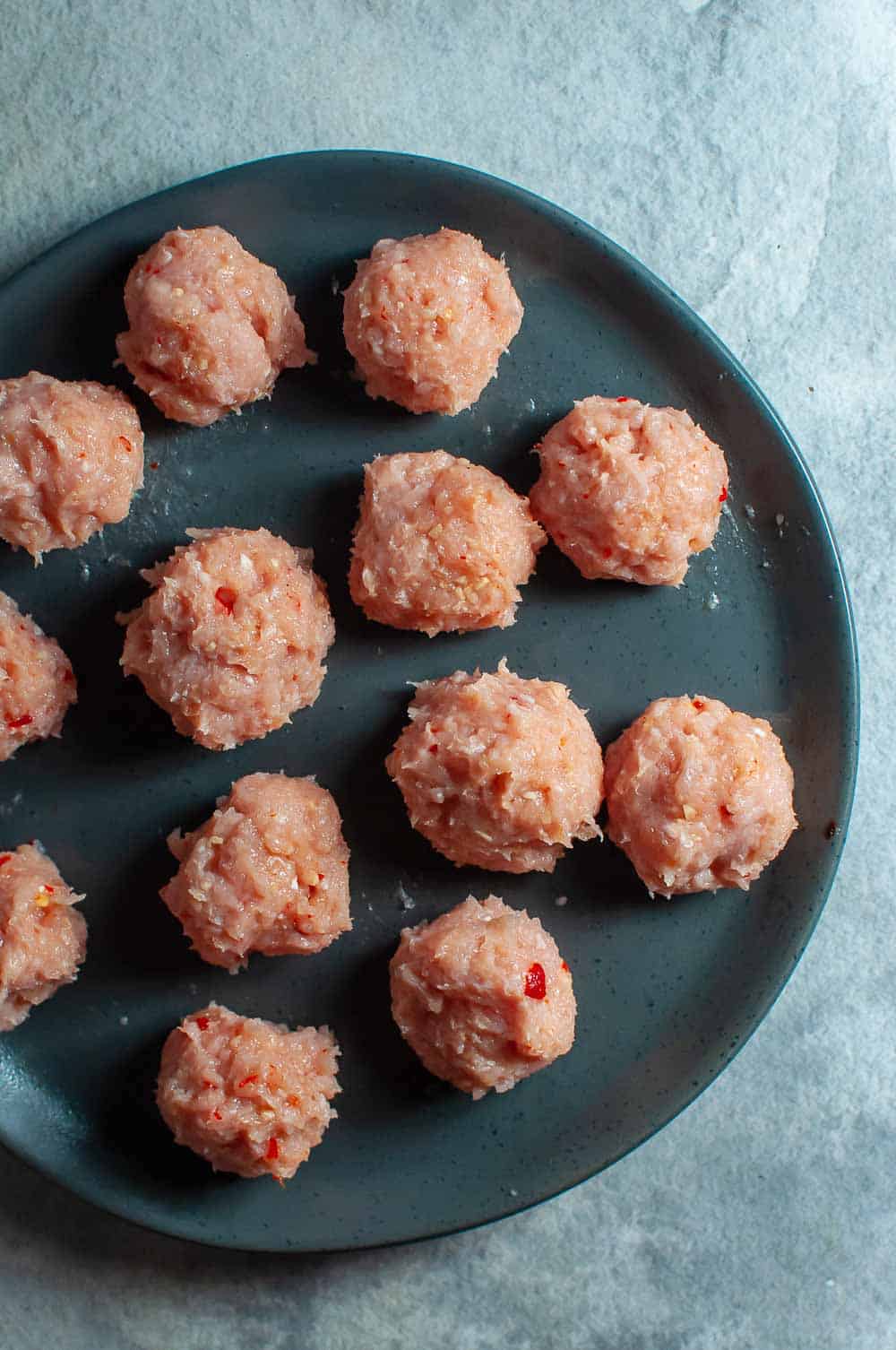 Thai Chicken Meatballs with Peanut Sauce Is A Must Make Weeknight Dish
Your house will definitely be filled with the enticing scent of a welcoming dinner when you make this. In the event you have an open window in your kitchen where dinner smells can waft over into your neighbours house, you may even have the neighbours asking you "What's for Dinner?"
And it's on the table in under 30 minutes as well. Actually you could probably even do it quicker than that, especially if you have a helper (hubby/housemate/sibling/child/significant other) to help you do the meatballs.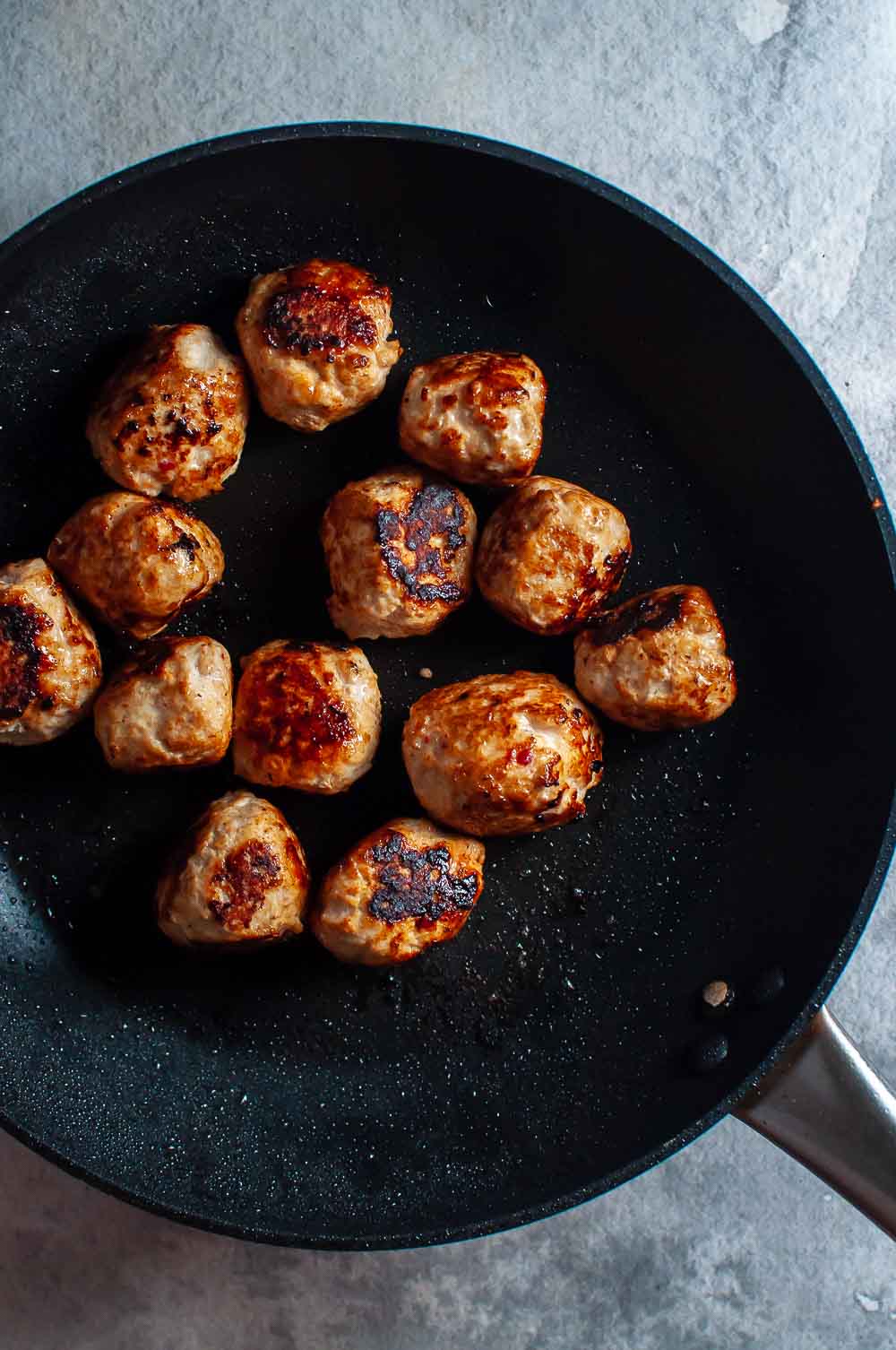 How To Cook Thai Chicken Meatballs
Use a little oil to avoid them sticking (I love to use coconut oil)
Cook on medium to high heat
Once they are a little bit cooked, res them up against each other to try and get them evenly cooked
Give the pan a gentle shake once or twice to move the meatballs around to get even colour and to avoid sticking
This dish is perfect if you love peanut butter and love curry.
Want more simple to make sauciness, check these out:
What to Serve With Chicken in Peanut Sauce:
Rice: Jasmine, or brown rice
Noodles: Egg noodles, Soba noodles, or even Udon noodles. Whatever you have on hand.
Greens: broccoli, zucchini noodles, green beans, or steamed bok choi.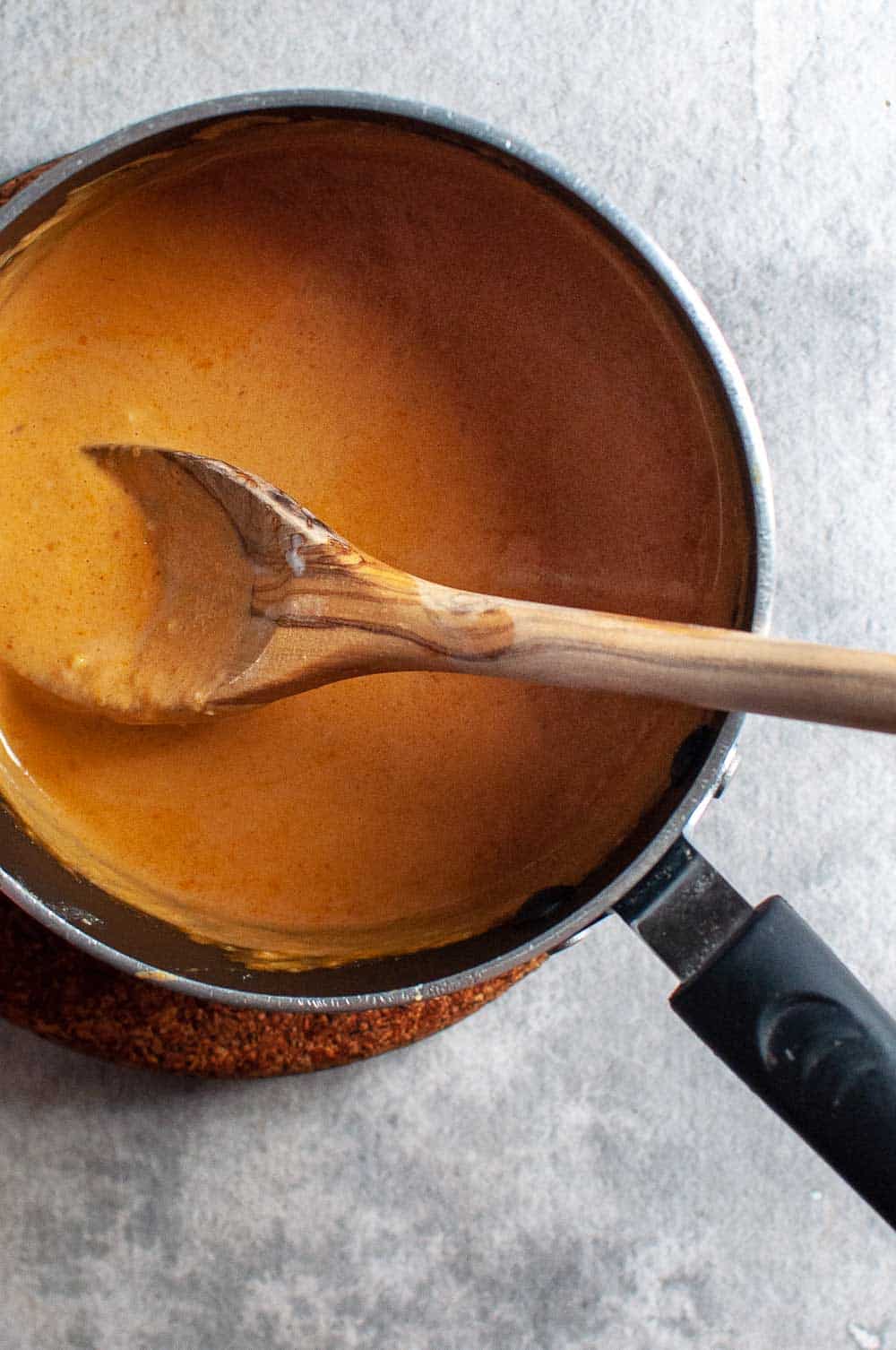 Other Ways To Use This Sauce
Instead of chicken meatballs, why not try home-made beef or pork, or even turkey meatballs. Whilst I prefer to make my own meatballs, you could make this sauce to go with frozen storebought meatballs if you're really pressed for time, or don't like making meatballs.
Cook up your favourite noodles add a few veges and this peanut sauce.
Drizzled over chicken breast, turkey breast or a piece of steak.
Chicken kebabs with peanut sauce, baked salmon with peanut sauce.
Even use it as a dipping sauce with sweet potato chips baked in the oven until crispy.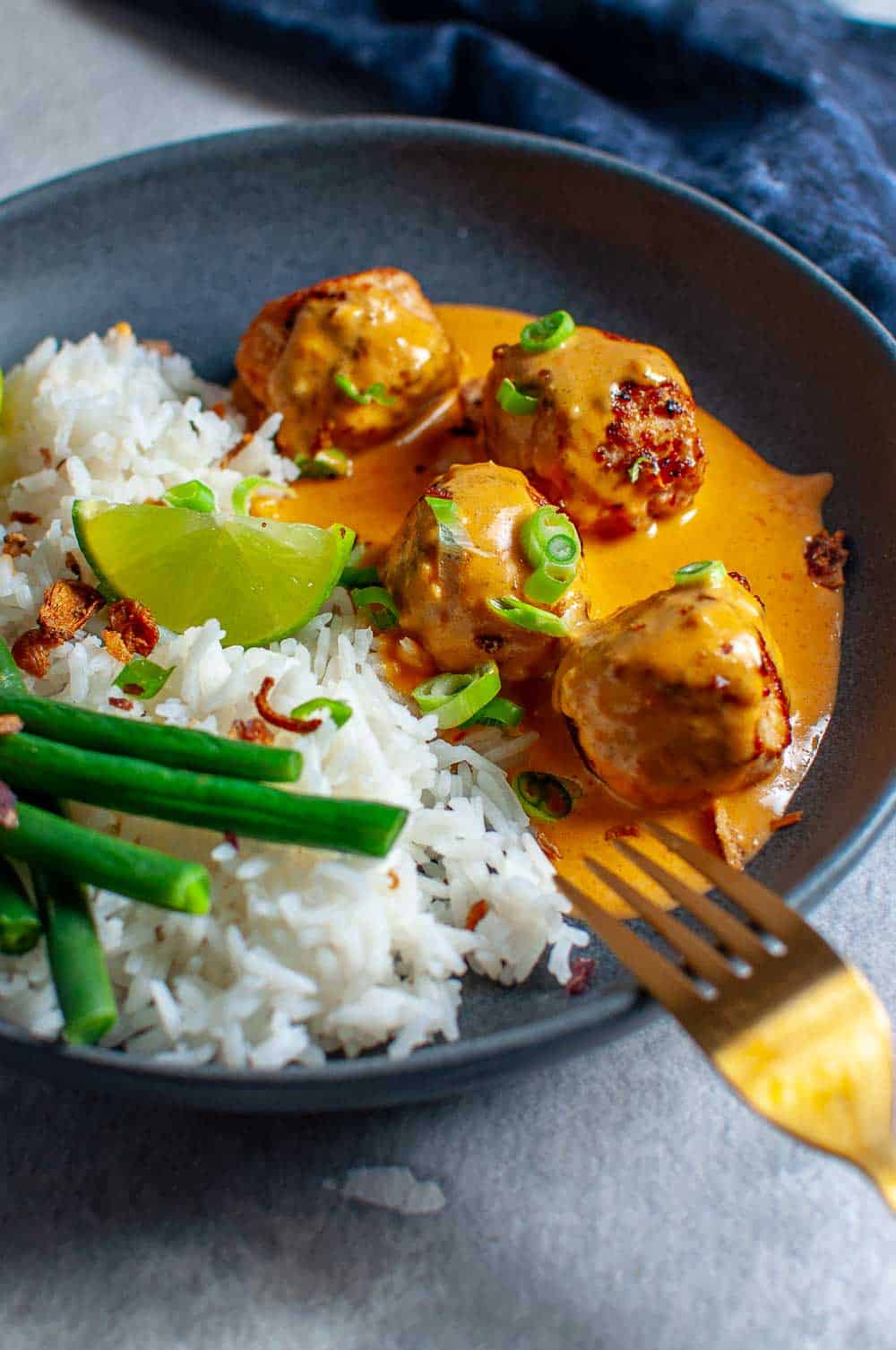 Once you know how to make this peanut sauce you'll probably find it sneaking into your cooking repertoire quite often.
Whilst this recipe calls for Penang curry paste to really bring out that punch thai flavour, if you don't have this, you can use Red Thai Curry paste. It will work just as well, however it may make it a little spicer so use less if you like a milder sauce.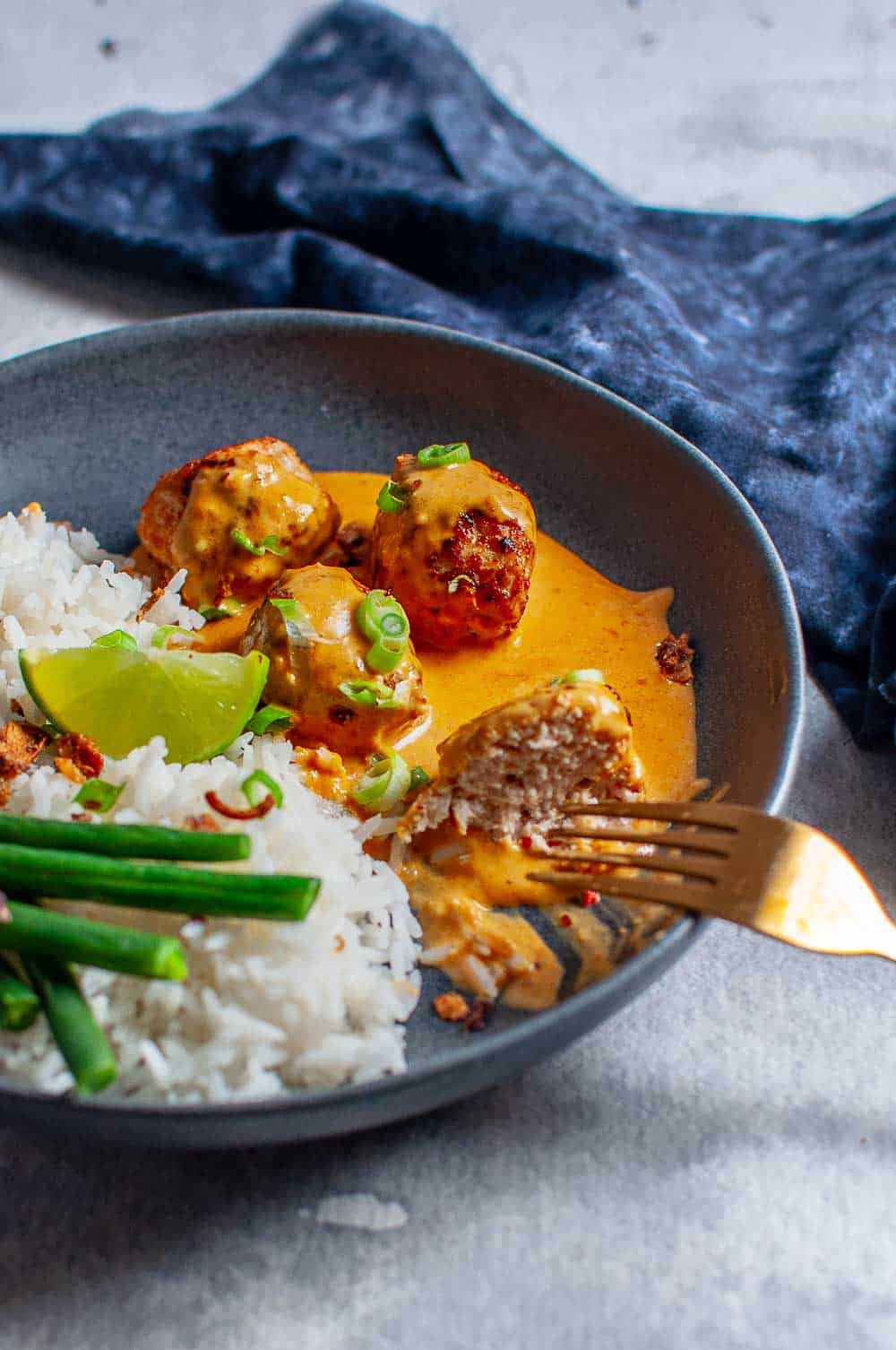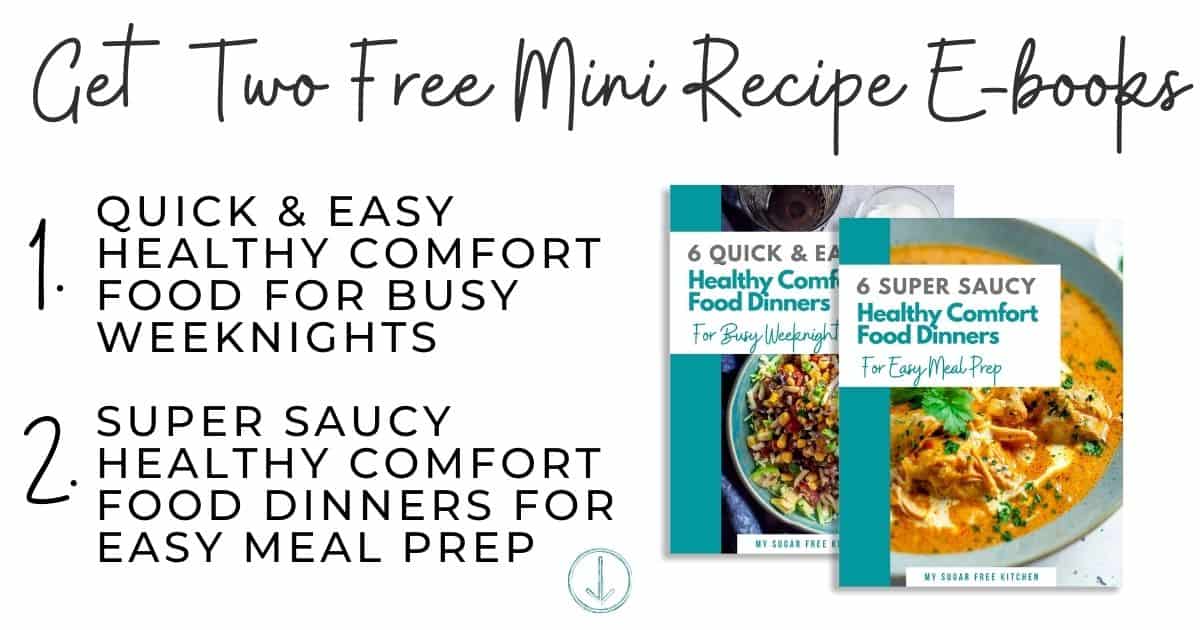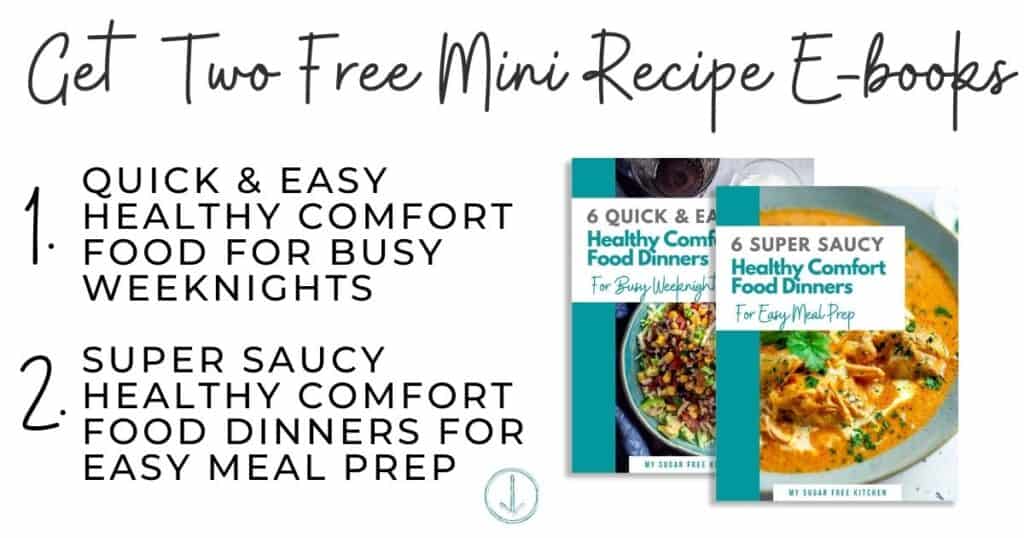 A tip for these Thai Chicken Meatballs
You can totally make these meatballs ahead, lightly precook them, let them cool and freeze them.
More Saucy Chicken Recipes: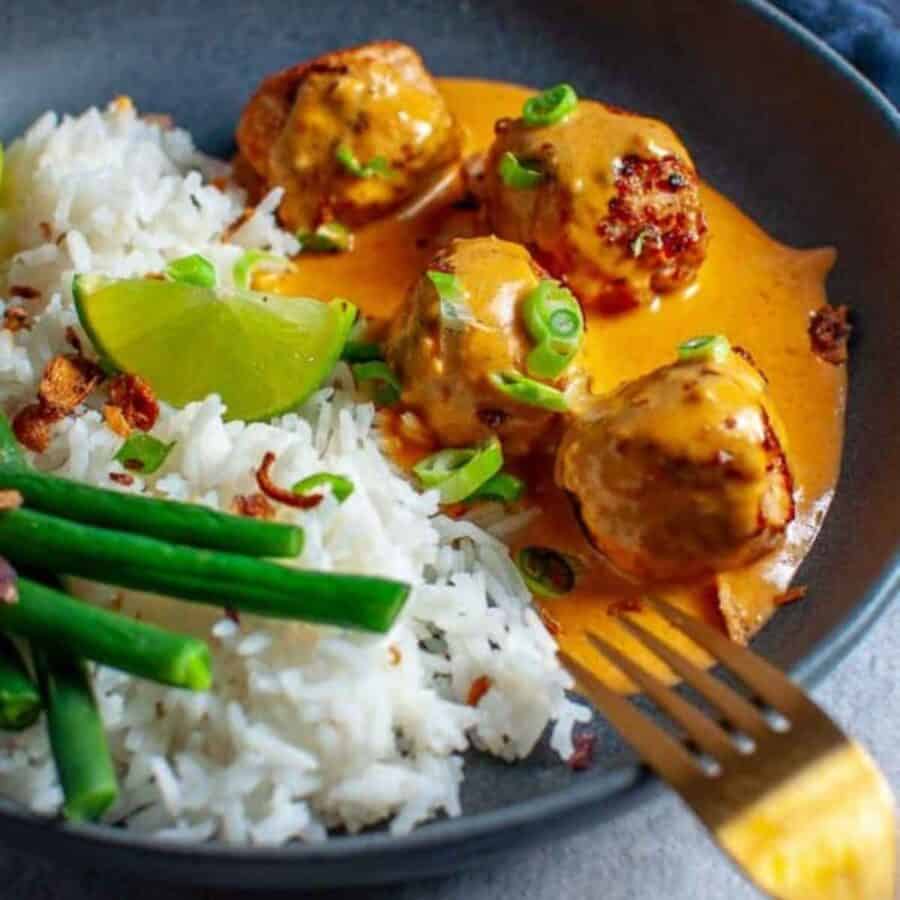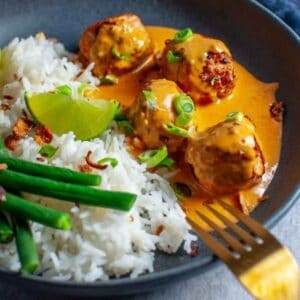 Thai Chicken Meatballs with Peanut Sauce
The meatballs are lightly spiced, juicy and melt in your mouth, and the peanut sauce is so deliciously moreish you'll want to lick your plate. A sweet, spicy, tangy, Indian Asian flavour fusion. Just perfect.
Instructions
Get the rice on, and cook according to packet instructions. (I use a rice cooker)

Boil a saucepan of water ready for the beans.

Making the meatballs: In a bowl, add the chicken mince, ginger, garlic, chilli, soy sauce and onion salt. Divide into 12 pieces and roll into meatballs.

Heat a large non stick frypan on medium heat and add the meatballs. After they have lightly browned, put a lid on to keep the heat in. They should take about 10 to 12 minutes to cook.

Making the Satay Curry Sauce: in a medium saucepan, add the garlic, chilli paste and ginger. Stir for a minute until fragrant.

Add the coconut milk and stir in for 1 minute

Add the peanut putter and stir in until it melts.

Add the curry paste, honey or granulated stevia (depending on which you;re using), light soy, pinch of salt and lime juice. Stir for a minute to mix it all in and then remove from heat

Cooking the beans: While the meatballs and curry sauce is cooking, add the beans to the saucepan of boiling water. Cook for 3 to 4 minutes and remove from the heat

Putting it together: add the rice, meatballs, and pour over the curry sauce. Add the beans, slice of lime, dried shallots and fresh spring onions.
Notes
Chilli Paste:  I used the masterfoods fresh chilli paste in this recipe.  You could also substitute for Sambel Olek - an asian chilli paste (found in the Asian food aisle of supermarkets).  Alternatively you can easily make a chilli paste with long red chilies, pounded in a mortar and pestle until a paste is formed.
Peanut Butter: There are many sugar free peanut butters on  the shelves of supermarkets these days.  Look for one that says "sugar free" on the label, or "natural".  Either way, read the back of the ingredient label and if the only ingredient is peanuts its a winner.
Honey/Granulated sweetener:  I love using a little bit of honey to sweeten this sauce, however you can also use a granulated sweetener that measures like sugar (for example granulated stevia, or monkfruit).  Using a granulated sweetener will slightly lower the calories overall, and still give a great taste without compromising on flavour.
Nutrition
Calories:
594
kcal
Carbohydrates:
28
g
Protein:
37
g
Fat:
36
g
Saturated Fat:
20
g
Fiber:
1
g
Sugar:
10
g
Note: Sugars contained in this recipe are from naturally occurring sugars in fruits, vegetables or other natural sweeteners.
Looking To Cut Out Sugar? Get the FREE Healthy Food Swaps Checklist Pack!
Get your FREE Healthy Food Swaps Checklists with over 65 Healthy Food Alternatives to Help you Ditch The Sugar Without Feeling Deprived.