This is a Clean Eating Butter Chicken dish that packs a punch.  The chicken is marinated in yoghurt, then covered with a spice mix of marsala, ground cumin, ground coriander and sweet paprika, infused with garlic, ginger and onion in a rich creamy tomato base. 
Its made from scratch, nothing from a bottle and once you've had this version, you'll never eat bottled butter chicken sauce again.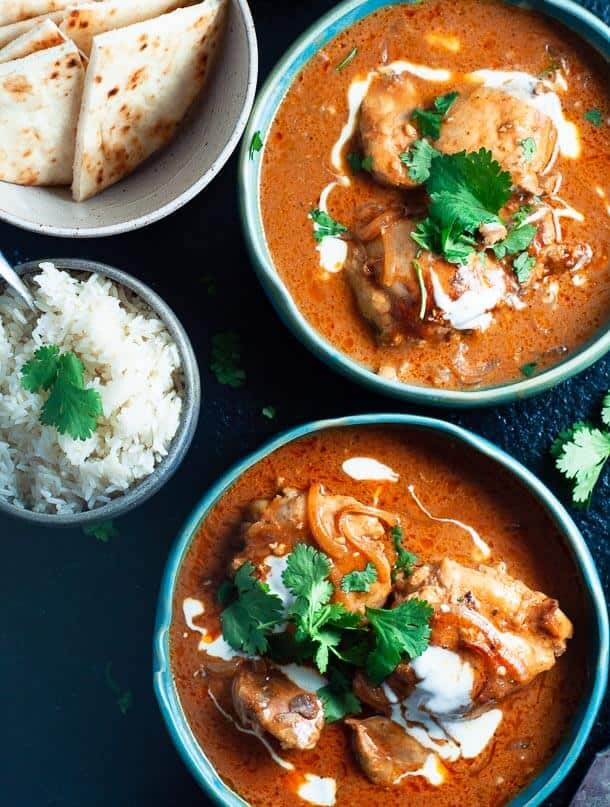 Why Make This?
The flavours are unbeatable – rich, authentic, moreish ---> addictive
Healthier than store bought indian from the supermarket
This dish goes perfectly with any number of sides: white rice, brown rice, potato, cous cous, quinoa, polenta, even pasta.
It is perfect dinner party food, or food for a crowd. People will be asking you if you had it delivered from the posh Indian restaurant up the road
Can be made in the slow cooker or oven
You can freeze leftovers (not that there will be any) and they are just as good as when it was made.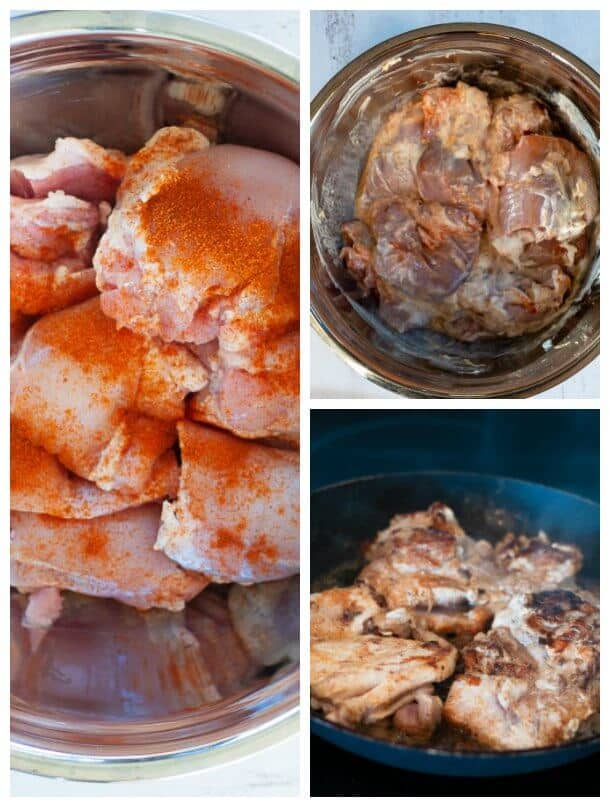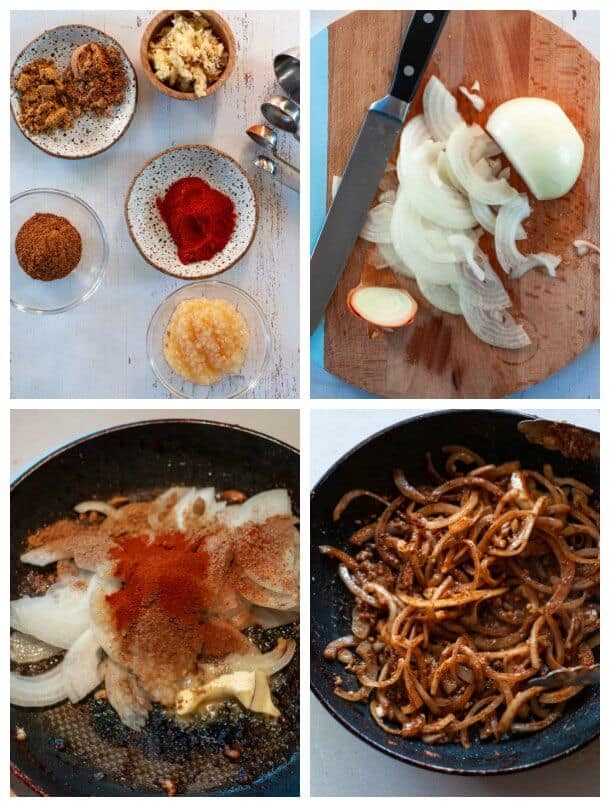 Have you ever made Butter Chicken from scratch? I know I haven't always done it that way. I'll admit there have been times when I used to make it from bottled sauces, mostly because I thought it was easier, and you know, it probably is.
But for me, the flavour and taste is poles apart. I realised now that when I used to make butter chicken from a bottle, it tasted like it come from a bottle with no excitement whatsoever. There was no interesting hidden flavour bombs that explode unexpectedly in your mouth and that's what I really love about Indian food.
If you love Butter Chicken, then check out my homemade Butter Chicken Meatballs recipe. A great alternative to mix things up.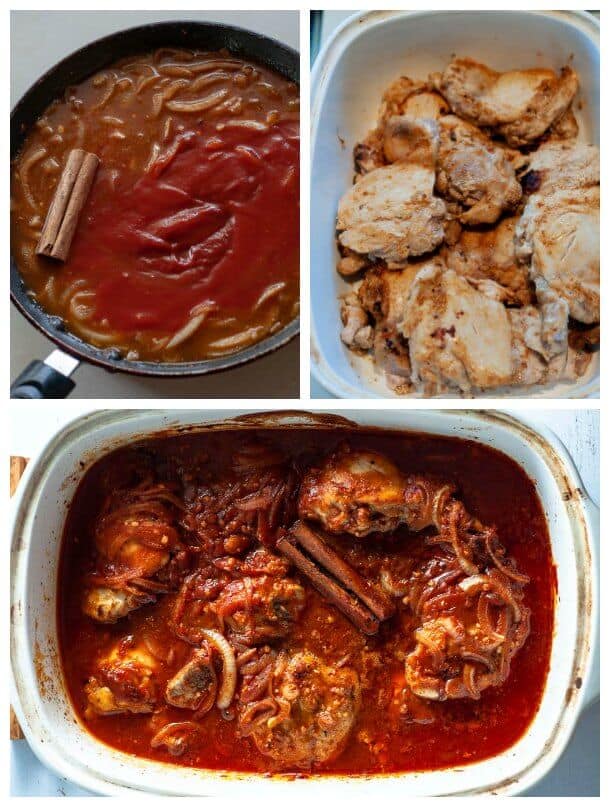 No more store bought jars of Butter Chicken sauce for me. I want to know exactly what is going into my recipe. I don't want it to be laden with sugars you can't see, preservatives that are supposed to do who knows what, and "other" things I couldn't begin to identify or pronounce.
The only way to get a truly clean eating dish is to make it yourself. From scratch.
More Indian Recipes ----->> Get into this Pressure Cooker Chicken Korma Curry, or this Pressure Cooker Chicken Korma Curry

Recipe Tips
Chop the chicken thighs in half before marinating them in the yoghurt. It makes them cook quicker, they are easier to handle and when you go to dish it out it does further.
Don't skip the marinating of the chicken. It makes a big difference. When you are browning then meat off, make sure to get a good bit of colour on the thighs to lock in the flavour.
The honey is optional, but if you are using it, do make the effort to use a good quality raw honey as opposed to those over-processed ones you buy from the supermarket. Raw honey is usually available from health food stores. Raw honey is a form of sugar, however the amount in this recipe overall per serving is minimal. The honey also helps to balance out all the spices and aromatics and adds that final depth and complexity to the dish to take it to the next level.
If the sauce is too runny for your liking at the end of the cooking process, use the cornflour slurry to thicken it up a bit. The cornflour slurry will dampen some of the flavours so only use 1 tablespoon of cornflour/cornstarch to 2 tablespoons of water. No more, no less.

How To Make In The Slow Cooker
After browning off the marinated chicken, place all the ingredients into your slow cooker and cook on low for 8 hours.
I love making this recipe on a Sunday afternoon when I have plenty of time and can relax in the kitchen with my husband over a glass of wine. Whilst it's cooking in the oven, the aroma of Indian Butter Chicken will be hard to resist and the expectation will build as you wait for it to do its magic.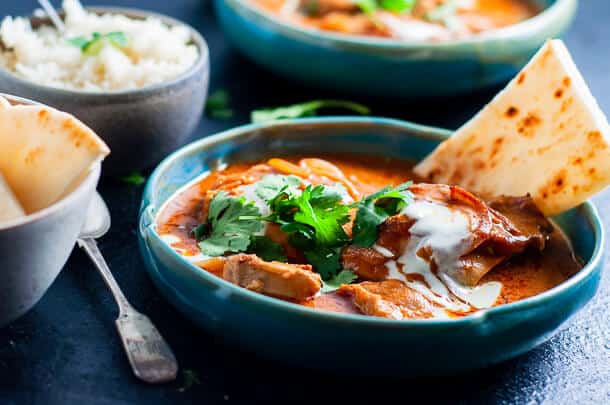 This Clean Eating Butter Chicken is worth the effort, worth the wait and will excite and delight you when you take your first mouthful. You'll relish in the comfort knowing that you just created a dish from scratch that is comfort food that you will come back to time and time again.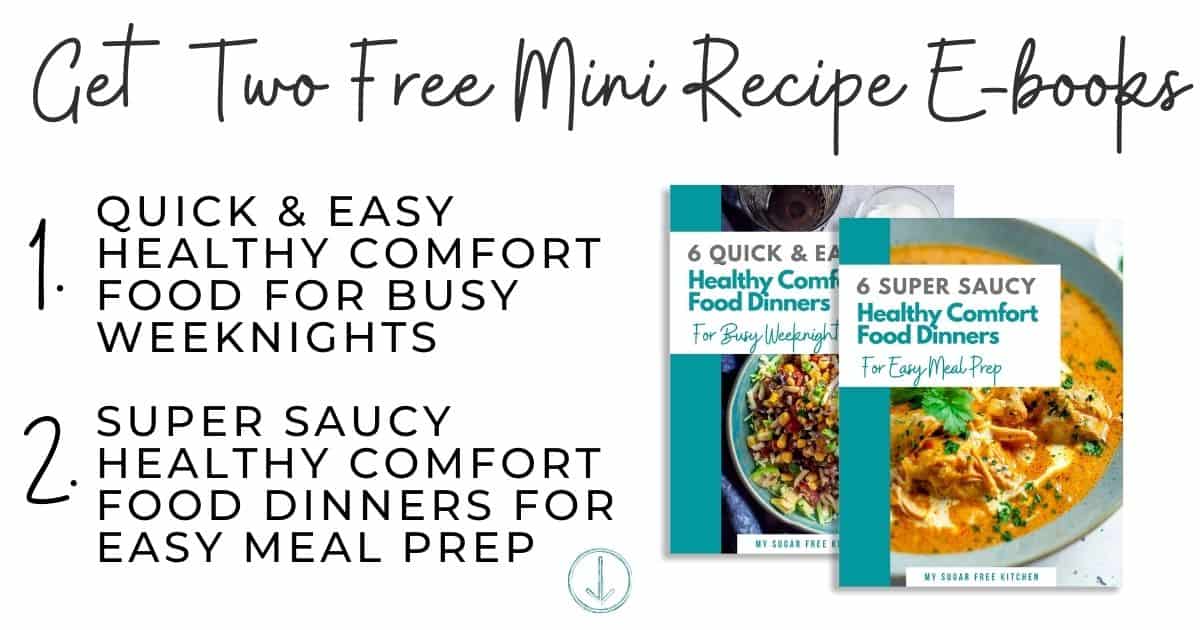 More Healthy Dinners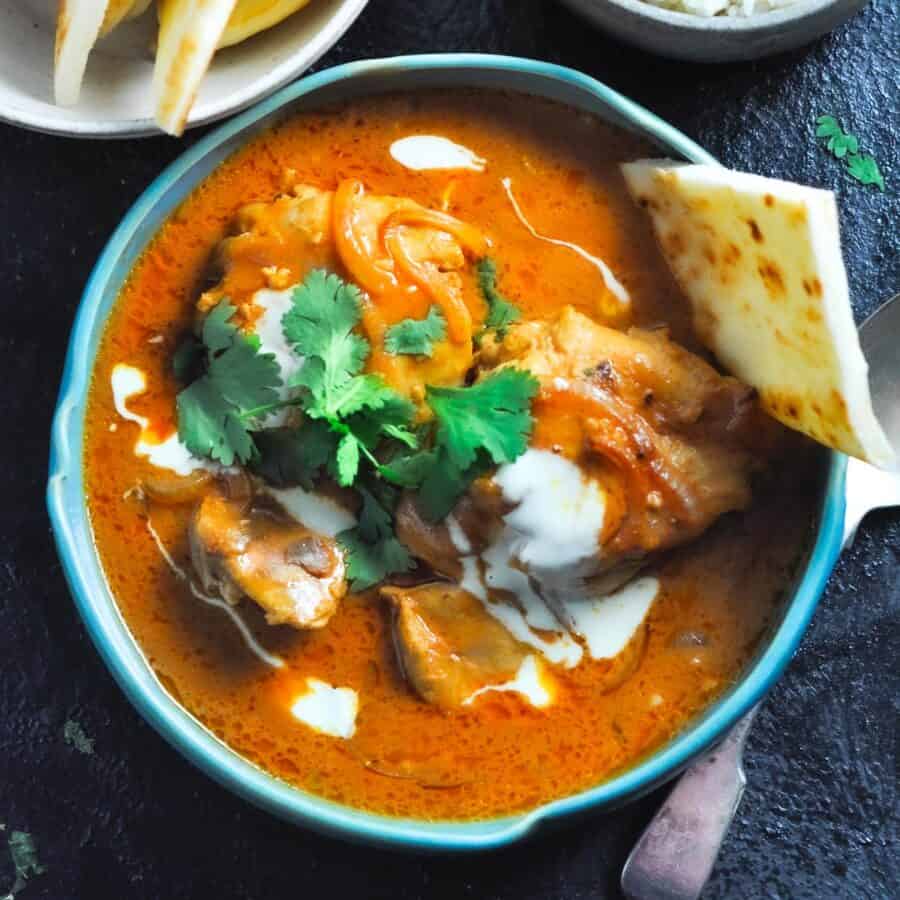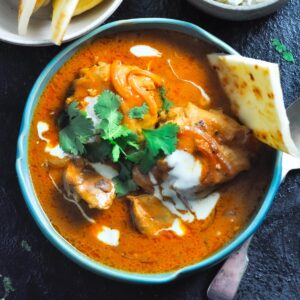 Clean Eating Butter Chicken
This is a Clean Eating Butter Chicken dish that packs a punch. The chicken is marinated in yoghurt, then covered with a spice mix of marsala, ground cumin, ground coriander and sweet paprika, infused with garlic, ginger and onion in a rich creamy tomato base.
Ingredients
12

Skinless and Boneless Chicken thighs

-

[see: Note 1]

2

tablespoons

Lemon juice

1

teaspoon

Chilli Powder

¾

cup

Greek yoghurt

-

(I use Chobani)

2

tablespoons

Ginger

-

freshly grated

2

teaspoons

Garam Masala

1

tablespoon

butter

1

medium Brown Onion

-

sliced thinly

2

tablespoons

Garlic

-

crushed

1

teaspoon

Ground Coriander

1

teaspoon

Ground Cumin

1

teaspoon

Sweet paprika

2

tablespoons

Tomato paste

1 ⅔

cups

Tomato puree

⅔

cup

Chicken stock/broth

1

Cinnamon stick

2

teaspoons

Honey

-

optional [see: Note 2]

⅓

cup

Pouring or Cooking cream

Fresh coriander/cilantro to serve

1

tablespoons

Cornflour/cornstarch

2

tablespoons

water
Instructions
Marinate chicken: In a large bowl, place the chicken, lemon juice and chilli. Stir to combine and marinate in the fridge for 20 minutes.

Remove chicken from fridge after 20 minutes, and add yoghurt, ginger and half of the garam masala spice. Stir with a spoon to mix together.

Preheat a large frypan or skillet on the stove (on high heat), and preheat oven to 180 degrees C (Fan oven) or 350 degrees F.

Add butter to the frypan/skillet, add the chicken pieces in batches and brown them off on each side. As they are browned, place them into a large casserole dish with a lid. Repeat this process until all chicken thighs have been browned.

In the same pan/skillet, add the onion and garlic and cook until garlic becomes translucent and begins to soften. (Don't worry if there are black bits on the bottom of the pan, this adds to the flavour)

Add the remaining garam masala spice, ground coriander, ground cumin and sweet paprika. Stir to mix into the onion and garlic.

Remove the pan from the heat and stir in the tomato paste, tomato puree, stock/broth, cinnamon stick and honey if using.

Pour over the chicken thighs in the casserole dish. Cover with lid or foil and cook for 90 minutes at 180 degrees C (Fan oven) or 350 degrees F

Once butter chicken is cooked, add in the cream and stir in with a spoon.

If further thickening is required, make a cornflour/cornstarch slurry, but adding 2 tablespoons to cornflour/cornstarch to 2 tablespoons water, stir and add in whilst stirring. Continue stirring through to thicken sauce.
Notes
Trim the fat off the chicken thighs and remove any parts you don't want before cooking. I also like to chop the chicken thighs into halves or quarters as this does speed up the cooking process. If you're doing this reduce cooking time by 15 minutes. Alternatively you could use chicken breast chopped into large chunks. Reduce cooking time by 30 minutes for chicken breast.
The honey in this recipe is optional, but it does add a nice balance with the chilli and other spices.
This butter chicken recipe is mild to medium on the hotness scale. If you don't like the hotness, omit the ground chilli at the beginning and don't add the honey.
Nutrition
Calories:
435
kcal
Carbohydrates:
17
g
Protein:
48
g
Fat:
14
g
Saturated Fat:
8
g
Fiber:
1
g
Sugar:
5
g
Note: Sugars contained in this recipe are from naturally occurring sugars in fruits, vegetables or other natural sweeteners.
Looking To Cut Out Sugar? Get the FREE Healthy Food Swaps Checklist Pack!
Get your FREE Healthy Food Swaps Checklists with over 65 Healthy Food Alternatives to Help you Ditch The Sugar Without Feeling Deprived.