This Healthy Butter Chicken dish is made from scratch, marinated in in a mixture of yoghurt and warming spices, baked in the oven with garlic, ginger and onion in a rich creamy tomato base. Its savory, aromatic and a little spicy with a hint of sweetness. (You can even make it in the slow cooker!)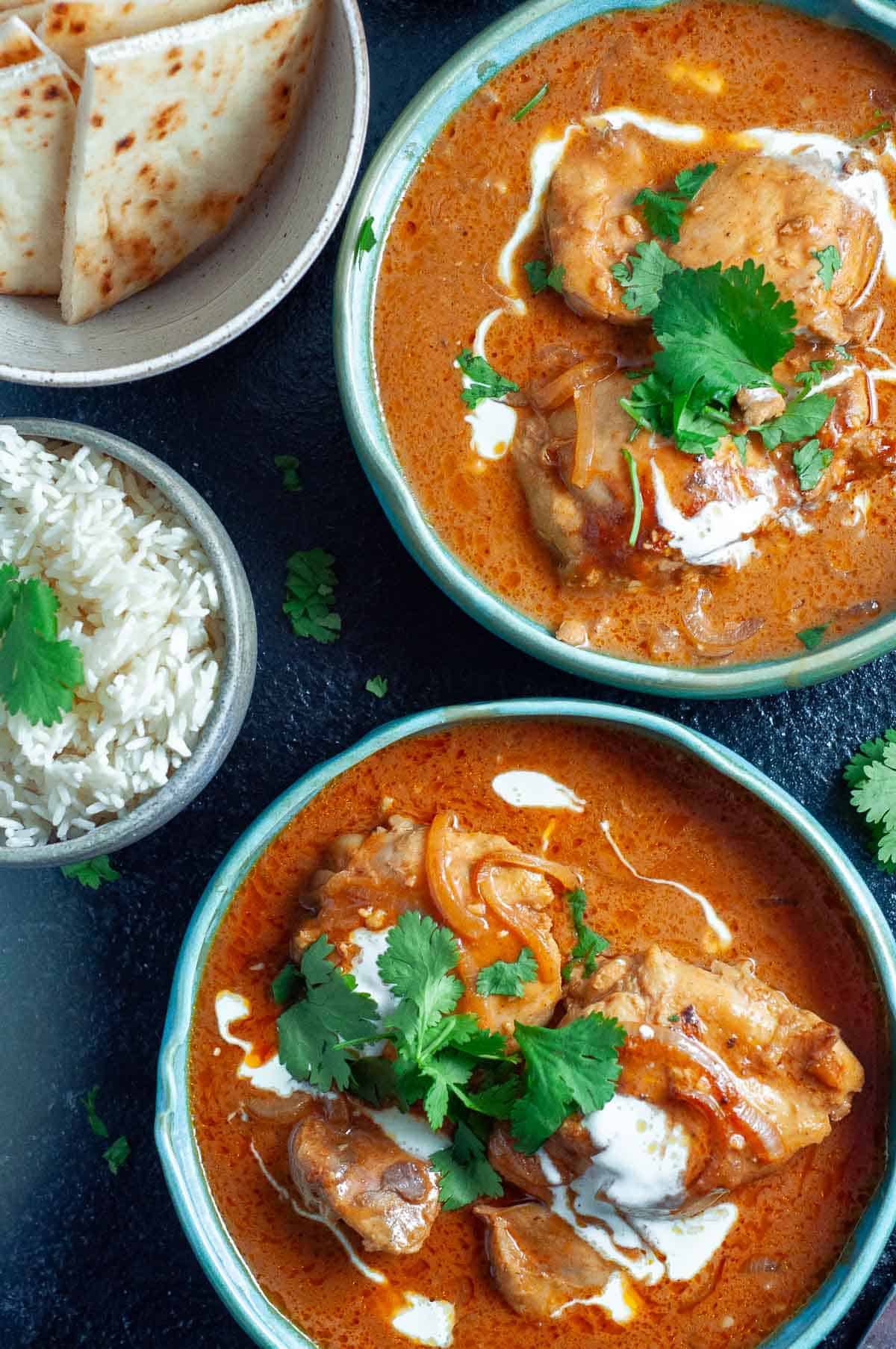 The sauce, while not as heavy as traditional butter chicken, it still creamy and rich. There is a delicate balance of creamy tanginess from yogurt, the warmth of aromatic spices, and the natural sweetness of tomatoes
Despite being a healthier version, the dish still maintains its signature "buttery" essence, which comes from using good quality greek yoghurt and a smaller amount of butter than would be typically used.
Check out this creamy Chicken Pumpkin Curry for a different spin!
Recipe Highlights
The recipe maintains the iconic butter chicken flavors by carefully balancing spices, herbs, and aromatics.
Made from scratch with no bottled sauces
Not too spicy but easy to add additional heat if you want more
Satisfyingly hearty yet light enough to leave you feeling nourished rather than overly full
Can be made in the slow cooker or oven
Perfect for meal prepping
Leftovers freeze well
If you love Butter Chicken, then check out my homemade Butter Chicken Meatballs recipe or this Chicken Korma Curry. A great alternative to mix things up.
Key Ingredients
Chicken: I use skinless chicken breasts as they hold the flavor of the sauce and don't dry out in the oven.
Greek Yoghurt: used in the marinade and sauce for creaminess and tanginess without excessive fat.
Butter: for richness and mouthfeel. Can substitute with olive oil or ghee.
Spices: chilli powder, garam masala, ground corriander, ground cumin and sweet paprika contribute to the dish's complex flavor profile.
Tomato Paste and Tomato Puree: provide the base for the sauce, adding natural sweetness
Onions: sauteed or caramelized to enhance the sauce's flavor and depth.
Garlic and Ginger: aromatic additions that infuse the dish with a rich and warm taste.
Lemon Juice: a touch of acidity that balances the flavors and enhances the overall taste.
These ingredients work in harmony to create a healthier version of butter chicken that's flavorful, satisfying, and mindful of nutritional choices.
How To Make Healthy Butter Chicken
1. Get your spices ready: Add dry spices in a small bowl and mix together
2. Marinate the Chicken: Marinate chicken in the yoghurt, lemon juice, ginger and spice mix for at least 30 minutes, longer if you can.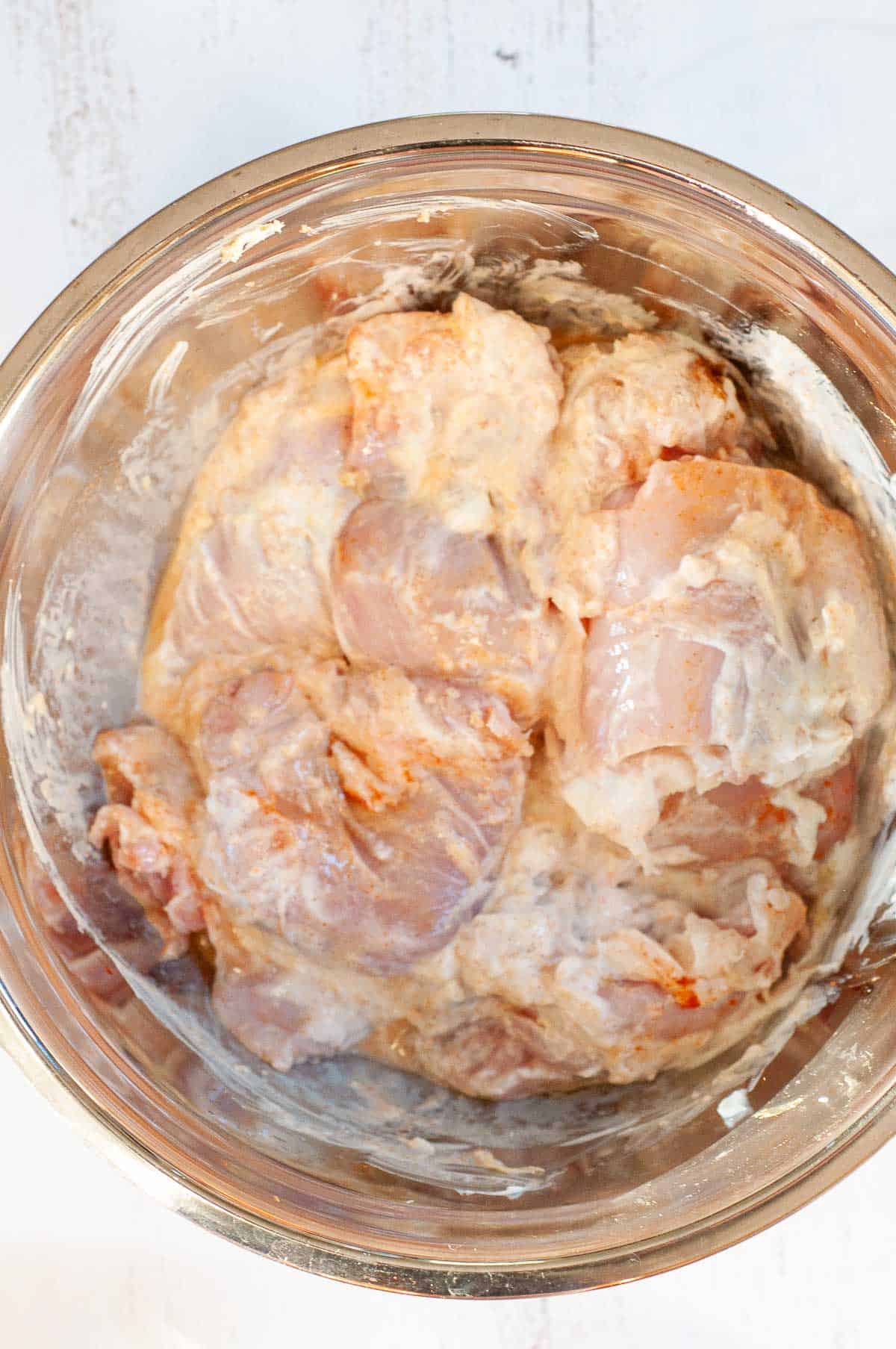 3. Brown Chicken: Cook chicken pieces on medium heat on stove until they are lightly golden and add to a large casserole dish.
4. Cook off the Aromats: In the same pan, cook the onion, garlic and remaining spices until aromatic.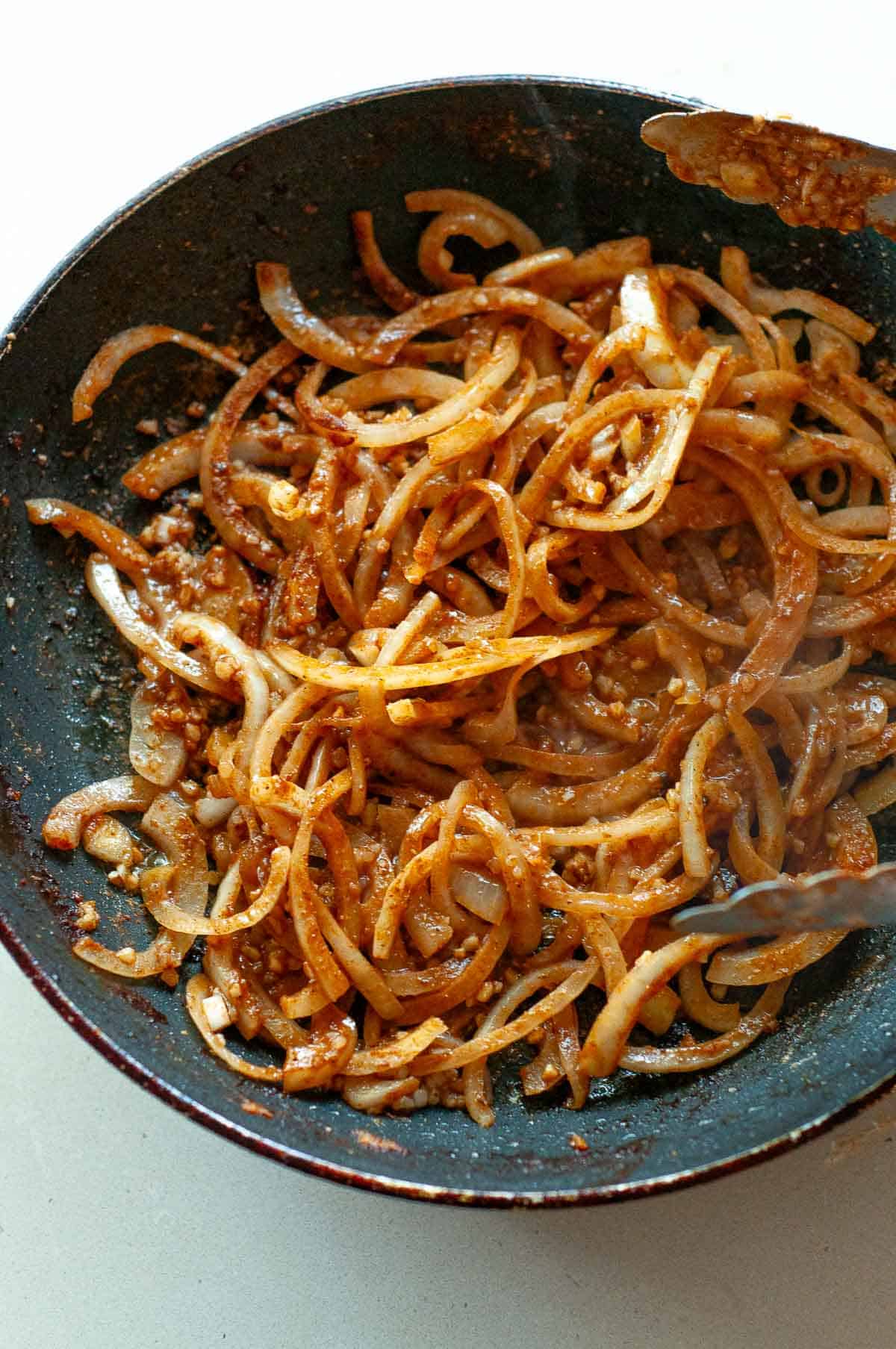 5. Add Base Sauce Ingredients: Add tomato paste, tomato puree and stock to the same pan, stirring until combined.
6. Assemble in Casserole Dish: pour sauce over the chicken pieces in the dish and cook in oven for 30-40 minutes.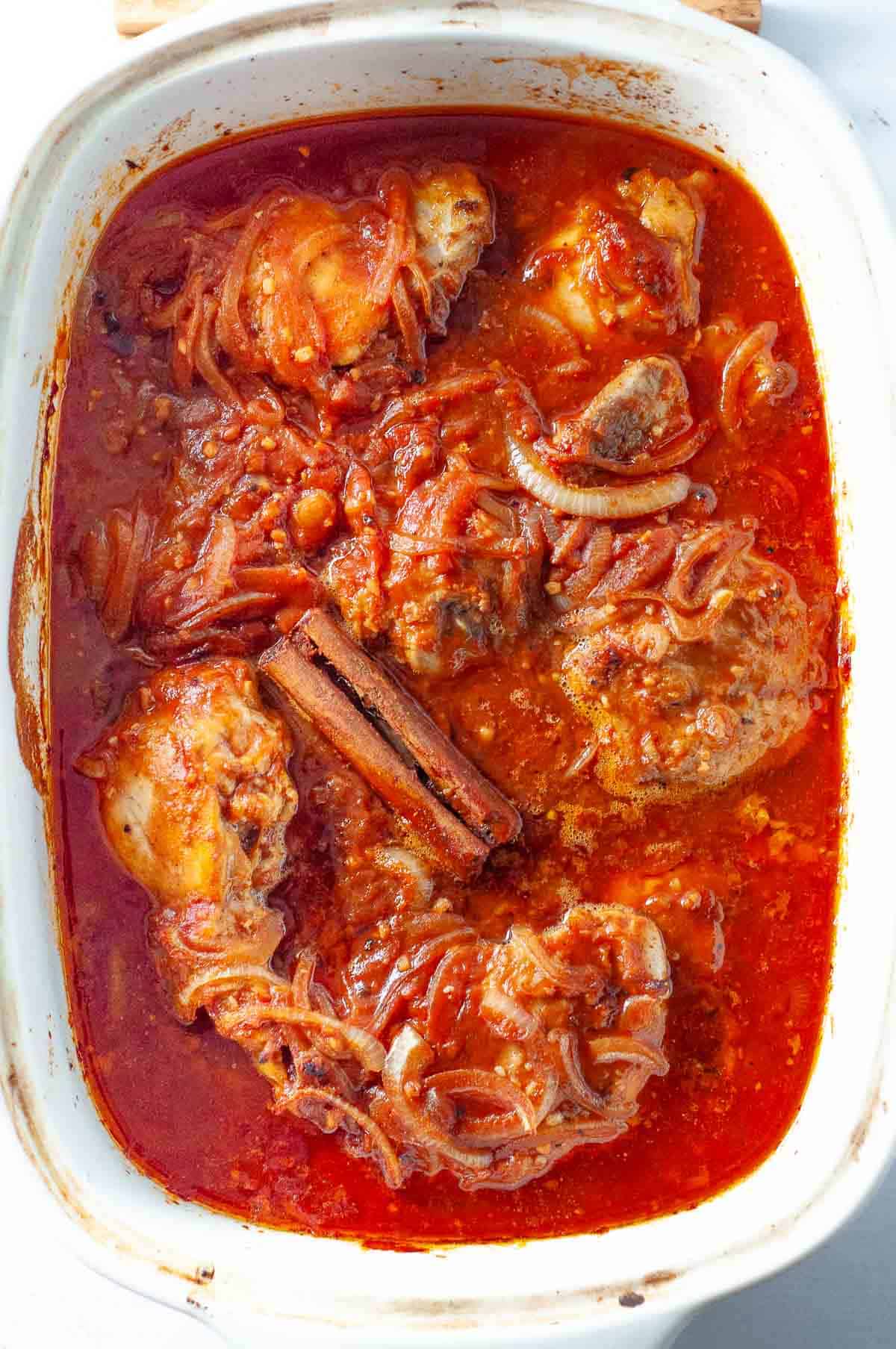 Recipe Tips
Uniform Sizing: Cut the chicken thighs into evenly sized pieces. This ensures that all the chicken cooks evenly and reaches the desired level of tenderness.
Marination for Flavor and Tenderness: Marinate the chicken for an optimal amount of time, usually a minimum of 30 minutes to few hours. This step is crucial for infusing the chicken with flavor and ensuring tenderness. A mixture of Greek yogurt and spices will help to tenderize the meat and add depth of flavor.
Browning Chicken: Place the skinless chicken thighs in the hot pan with enough space between them. Avoid overcrowding the pan as it can lead to steaming rather than searing, which won't give you the desired browning effect. If necessary, work in batches to avoid overcrowding
Sauce to Thin: Sometimes the chicken may release too many juices during the cooking process and make the sauce too thin. If this happens it can be thickened by adding a cornflour slurring which the sauce is hot. (Directions in the recipe for this)
Resting Period: Allow the cooked butter chicken to rest for a few minutes before serving. This resting time lets the flavors settle and redistribute within the dish for a more balanced taste.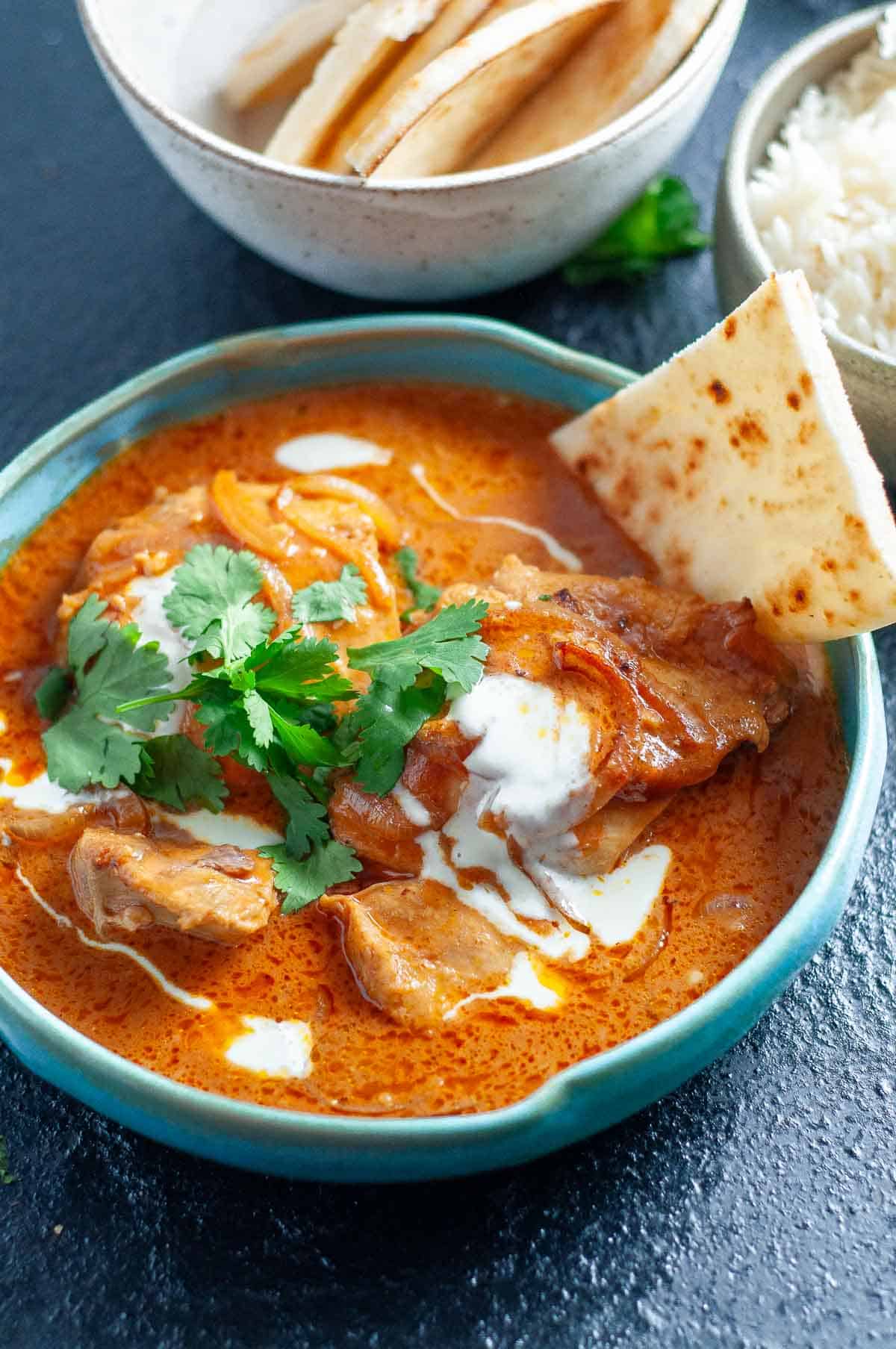 How To Make In The Slow Cooker
Complete all the pre cooking steps as per the recipe then transfer to your slow cooker and cook on low for 8 hours.
The overall taste is savory, lightly spicy with a hint of sweetness from the tomatoes and the sauce is rich, full flavored and creamy. This healthy butter chicken is satisfyingly hearty yet light enough to leave you feeling nourished rather than overly full.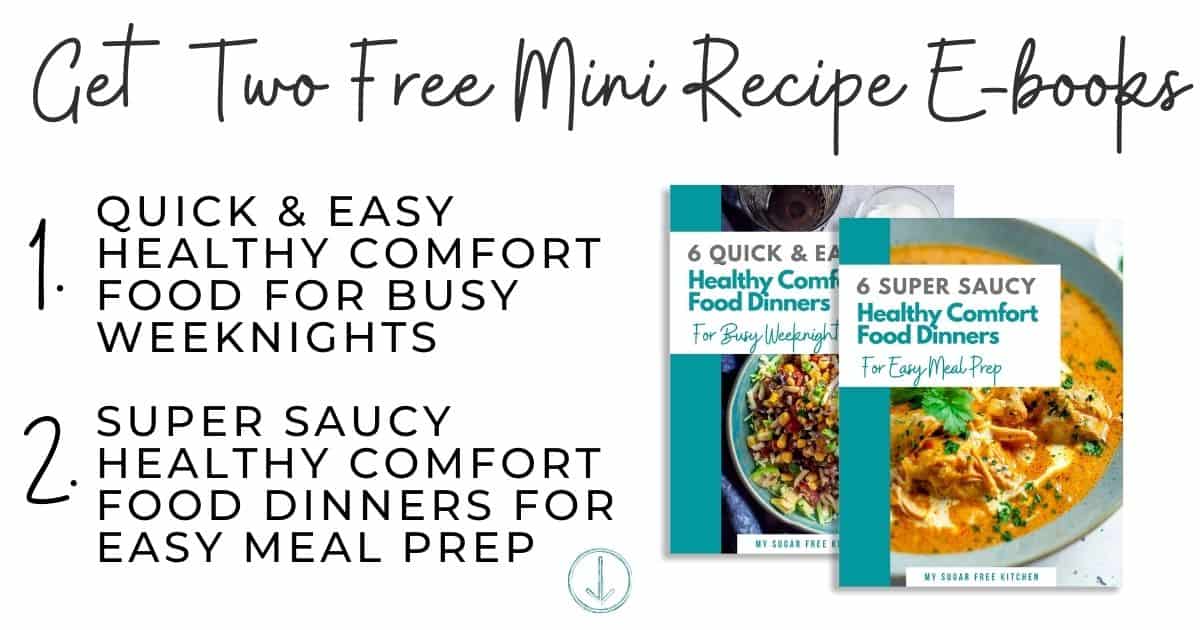 More Healthy Dinners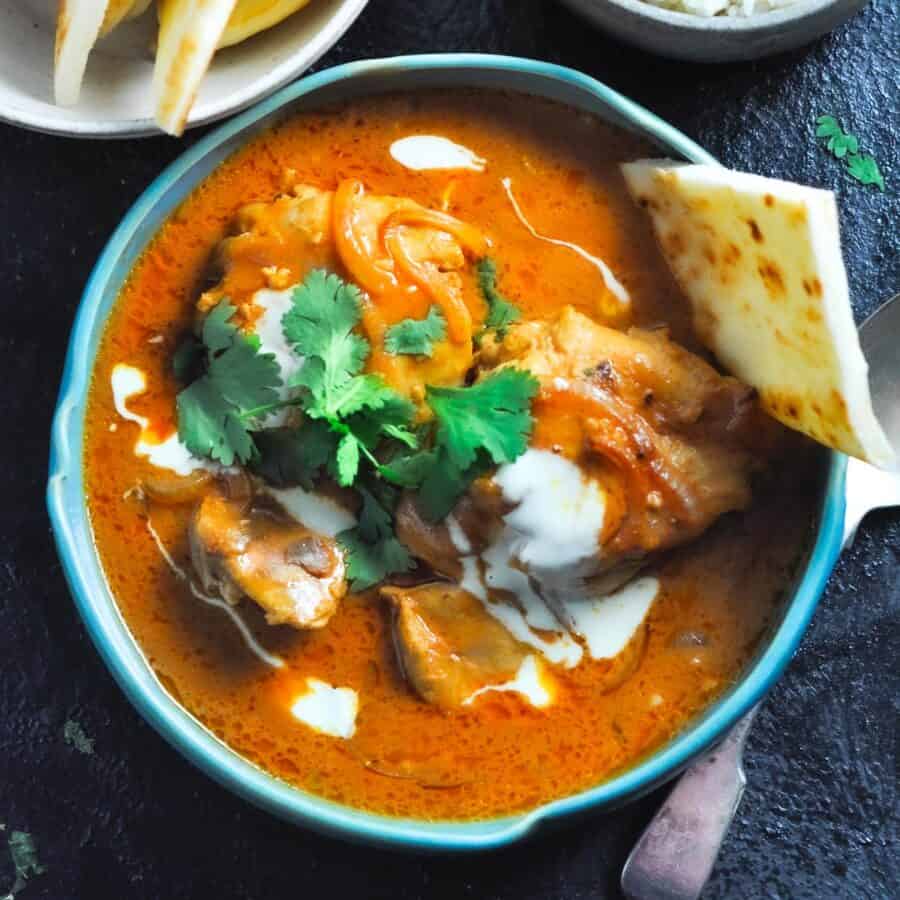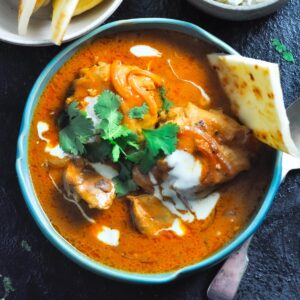 Healthy Butter Chicken
This Healthy Butter Chicken is marinated in yoghurt and a warming spice mix, infused with garlic, ginger and onion in a rich creamy tomato base.  
Ingredients
For Marinating
12

Skinless and Boneless Chicken thighs

-

[see: Note 1]

2

tablespoons

Lemon juice

¾

cup

Greek yoghurt

-

(I use Chobani)

2

tablespoons

Ginger

-

freshly grated
For the Sauce
1

tablespoon

Butter

1

medium

Brown Onion

-

sliced thinly

2

tablespoons

Garlic

-

crushed

1

Cinnamon stick

2

tablespoons

Tomato paste

1 ⅔

cups

Tomato puree

⅔

cup

Chicken stock/broth
For the Spice Mix
1

teaspoon

Chilli Powder

2

teaspoons

Garam Masala

1

teaspoon

Ground Coriander

1

teaspoon

Ground Cumin

1

teaspoon

Sweet paprika
For Serving
⅓

cup

Pouring or Cooking cream

Fresh coriander/cilantro to serve
Instructions
Prepare Spice Mix: Add dry spices in a small bowl and mix together

1 teaspoon Chilli Powder,

2 teaspoons Garam Masala,

1 teaspoon Ground Coriander,

1 teaspoon Ground Cumin,

1 teaspoon Sweet paprika

Marinate chicken: Add chicken, lemon juice, yoghurt, ginger, and half of the spice mix together in a large bowl. Mix together with a spoon until chicken is covered in yoghurt and spices and then cover and refrigerate for minimum 30 minutes.

12 Skinless and Boneless Chicken thighs,

¾ cup Greek yoghurt,

2 tablespoons Ginger,

2 tablespoons Lemon juice

Preheat Oven: Preheat a large frypan or skillet on the stove (on high heat), and preheat oven to 180 degrees C (Fan oven) or 350 degrees F.

Lightly brown off the Chicken: Add butter to the frypan/skillet, add the chicken pieces in batches and brown them off on each side. As they are browned, place them into a large casserole dish with a lid. Repeat this process until all chicken thighs have been browned and in the casserole dish.

Cook onion and garlic: In the same pan/skillet, add the onion and garlic and cook until garlic becomes translucent and begins to soften. Add remaining spice mix to the pan, stirring into the onion and garlic mixture.

1 medium Brown Onion,

2 tablespoons Garlic

Add Liquids to pan: Remove the pan from the heat and stir in the tomato paste, tomato puree, stock/broth, cinnamon stick and honey if using.

2 tablespoons Tomato paste,

1 ⅔ cups Tomato puree,

⅔ cup Chicken stock/broth,

1 Cinnamon stick

Transfer to Casserole Dish and Cook in Oven: Pour over the chicken thighs in the casserole dish. Cover with lid or foil and cook for 90 minutes at 180 degrees C (Fan oven) or 350 degrees F

Serving: Once butter chicken is cooked, add in the cream and stir in with a spoon.

⅓ cup Pouring or Cooking cream

Thickening: If further thickening is required, make a cornflour/cornstarch slurry, but adding 2 tablespoons to cornflour/cornstarch to 2 tablespoons water, stir and add in whilst stirring. Continue stirring through to thicken sauce.

1 tablespoons Cornflour/cornstarch,

2 tablespoons water
Notes
Marination:  minimum time recommended is 30 minutes.  2 hours is great, and overnight if you can.
Spice Level:  This butter chicken recipe is mild to medium on the hotness scale..  To make it spicier with more heat, add additional chili powder.
Slow Cooker:  Complete all the pre cooking steps as per the recipe then transfer to your slow cooker and cook on low for 8 hours. 
Nutrition
Calories:
435
kcal
Carbohydrates:
17
g
Protein:
48
g
Fat:
14
g
Saturated Fat:
8
g
Fiber:
1
g
Sugar:
5
g
Note: Sugars contained in this recipe are from naturally occurring sugars in fruits, vegetables or other natural sweeteners.
Looking To Cut Out Sugar? Get the FREE Quick and Easy Food Swaps Checklist Pack!
Get your FREE Quick and Easy Food Swaps Checklists with over 65 Simple Real Food Alternatives to Help you Ditch The Sugar Without Feeling Deprived.