This Chicken Afritada is a filipino inspired dish similar to a Chicken and Tomato Stew with big rich tomato flavours, colourful veg and juicy chicken pieces. If you love bold saucy dishes this is one to try. With subtle south east Asian flavours, its light, filling makes great leftovers.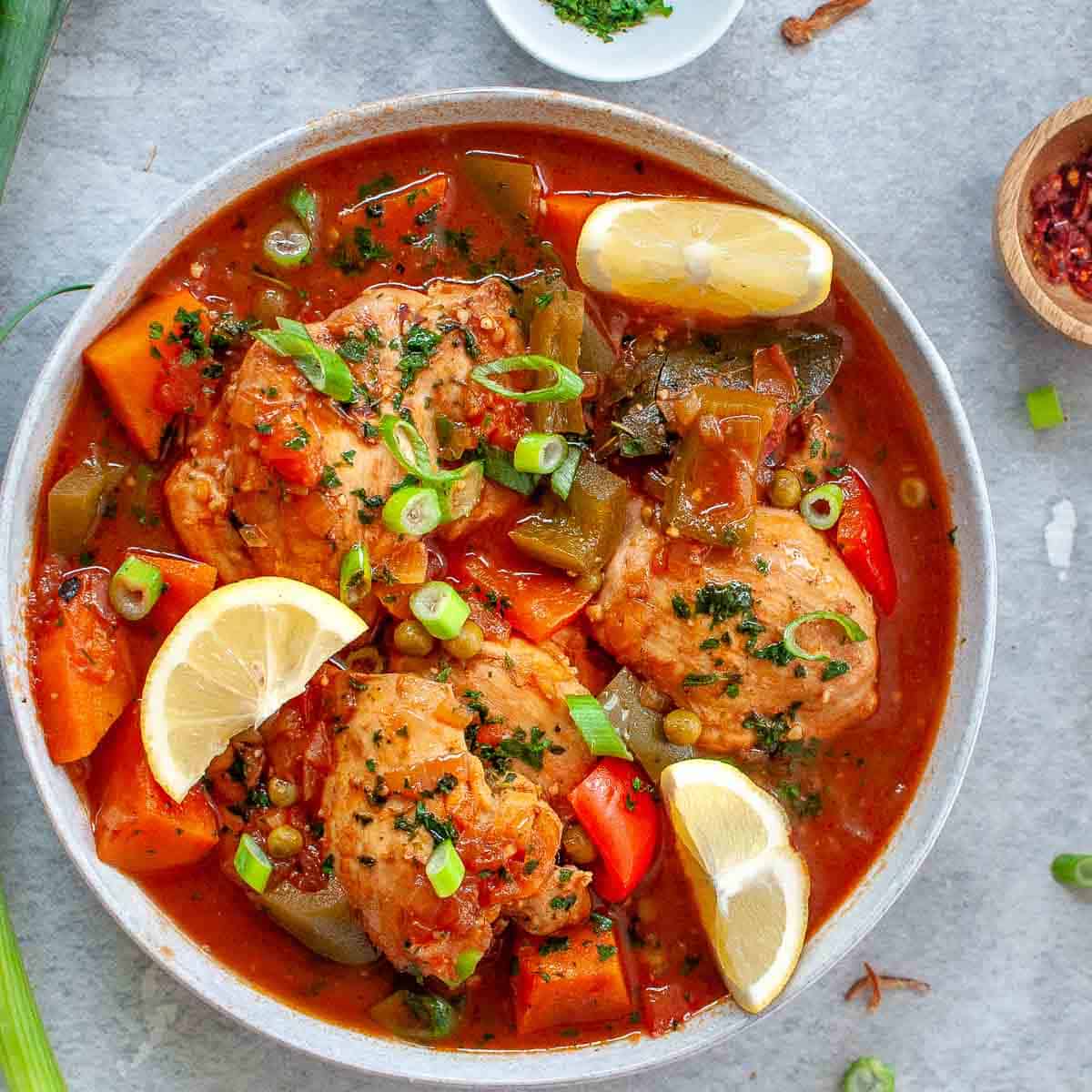 Best Chicken To Use
My preference is to use skinless chicken thighs, however many traditional recipes use chicken with the bone in for extra flavour like drumsticks, or bone in chicken thigh. If you're like me, and don't like meats with bones, skinless chicken thigh produces a full flavoured well rounded stew that is even more delicious the next day.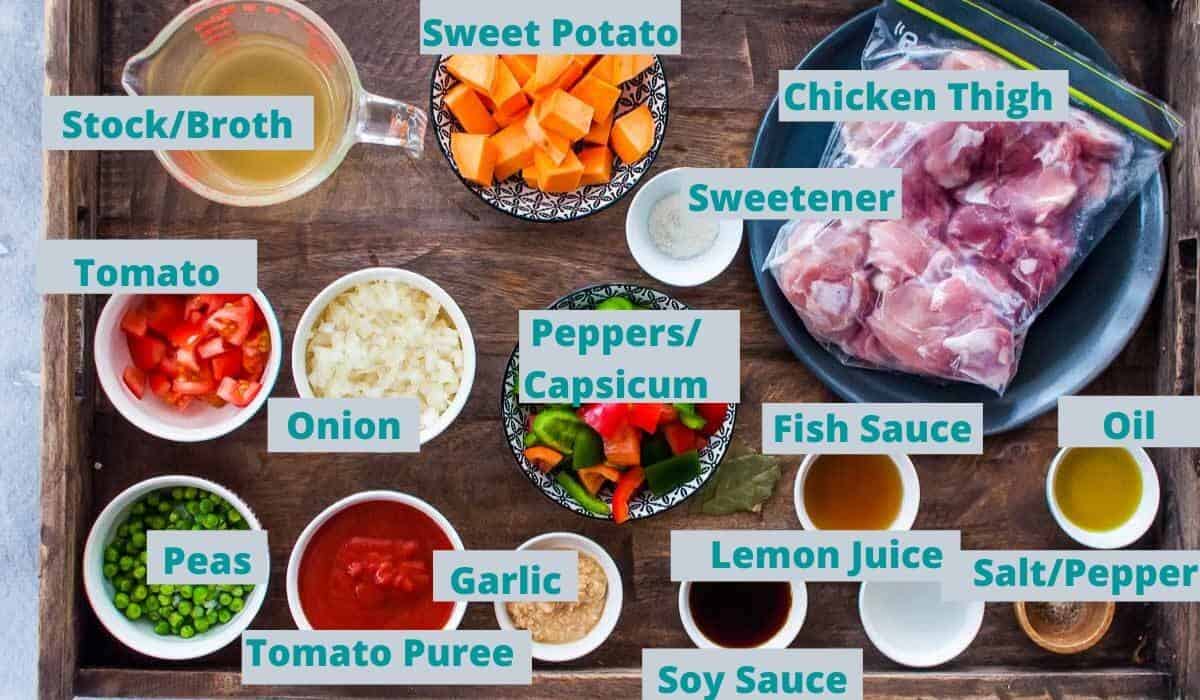 Is It Spicy?
This dish is not spicy. At all. It's a bit unusual for me not to have some kind of heat in a dish, but this one has so much flavour it doesn't really need it.
Plus it's a good dish to make if you have to cater to people who love lots of flavour and those who don't like spice all at one time. It'll satisfy both parties equally.
TIP: To add a little spice to this dish, I recommend ½ a teaspoon of dried chilli flakes stirred though the sauce before baking in the oven. For even more heat, add some fresh diced chilli on top to serve.
What Makes This Chicken Afritada Different?
Traditionally this dish is cooked on the stovetop, but I prefer to bake it in the oven. It means I don't need to be standing over the stove watching it or stirring. I can just do the prep and bang it in the oven to cook and come back when its done.
One thing you can't skip with this recipe, and particularly with it being oven baked, is to brown the chicken pieces beforehand, cooking them to a lovely golden colour before baking them in the oven. This seals in all the juices and helps to create a delicious flavour. Much better than if you just put the chicken into a casserole dish into the oven without precooking. I don't recommend that.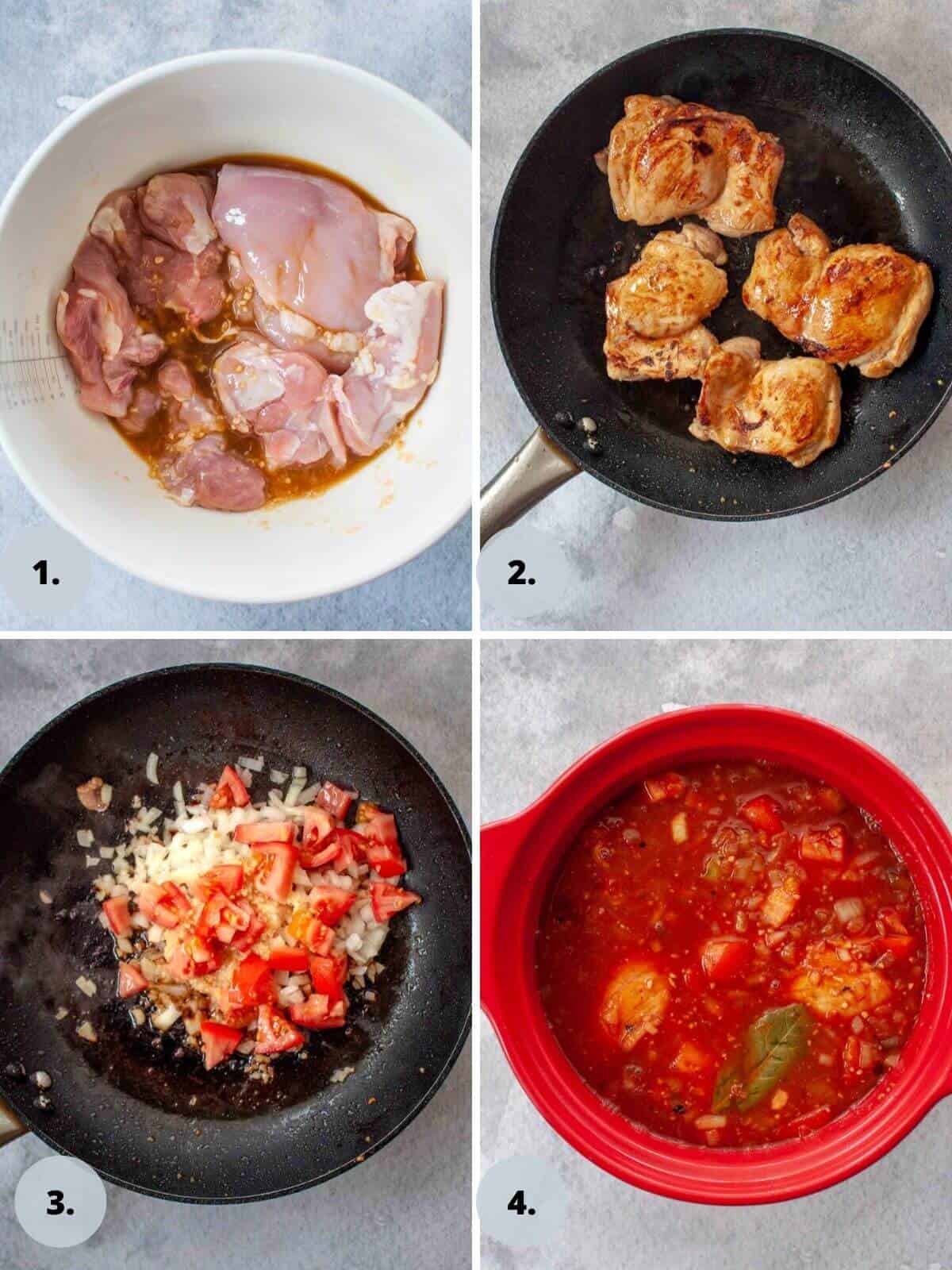 Can It Be Frozen?
Yes! This is an excellent dish to freeze, as are most tomato based dishes. Make sure to portion it out into freezer containers with lids and it will freeze for 8 weeks. Freeze it without rice. Make that as needed.
More Easy Chicken Recipes Made with Pantry Staples:
What to Serve it With?
It's traditional to serve this dish with white rice. However, I tend to serve with brown rice as that's my preference. Some other suggestions are:
Pear/Isralei Cous Cous
Sweet Potato or White Potato Mash
Cauliflower rice
Crusty bread/Garlic bread
Butter Beans (or butter bean mash)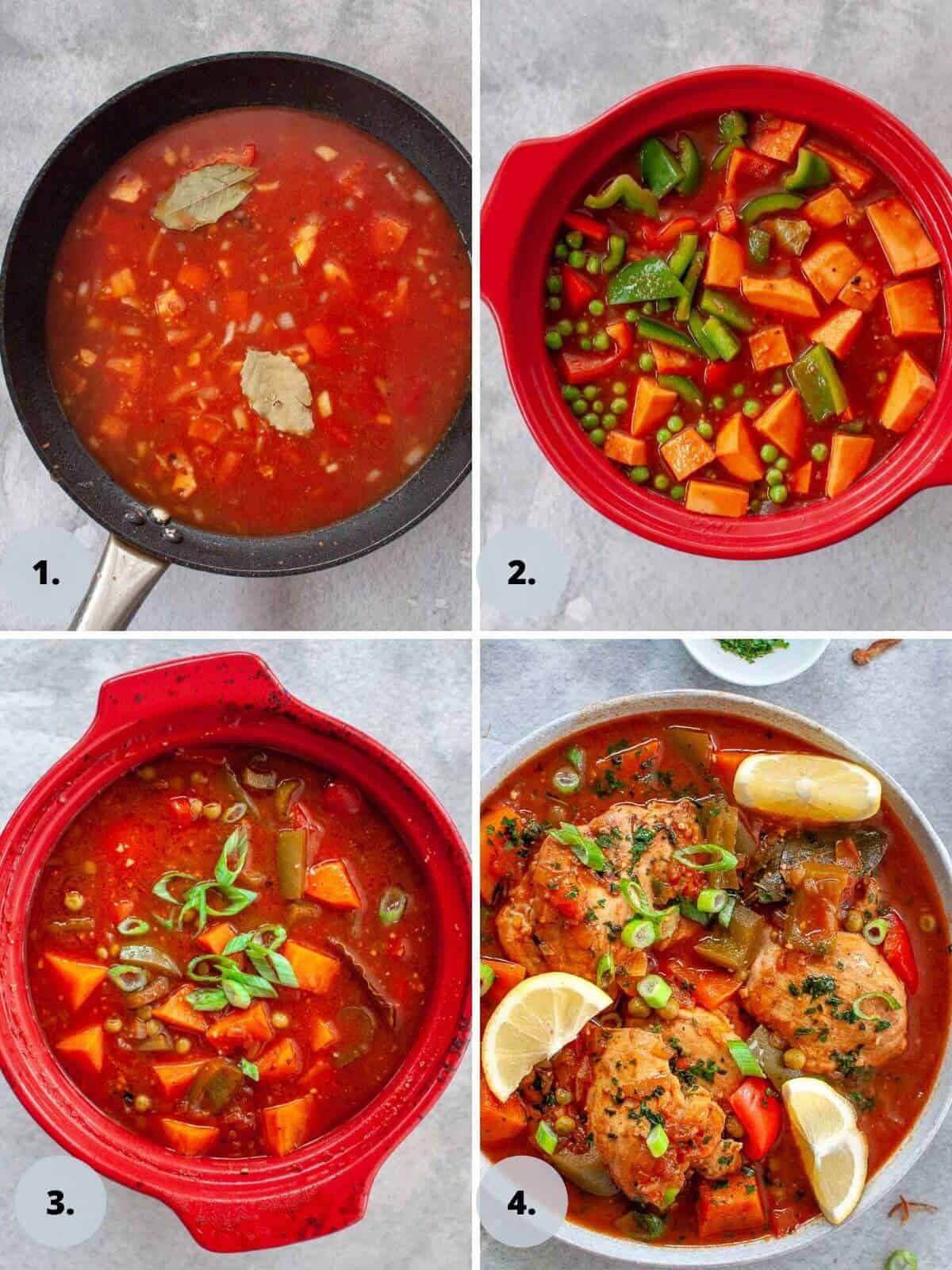 Flavour Boosters
Olives: Green olives (seeds removed) for a Mediterranean twist
Pineapple: fresh or tinned chunks to add a tropical tang
Spices: Paprika for a Spanish twist
Fresh herbs: coriander and mint for an Asian twist, basil or oregano for a Mediterranean twist
Variations and Substitutions
Chicken Drumsticks: Use only drumsticks, or a combination of drumsticks and skinless chicken thigh
Chicken Maryland: these are the bone in variety. Use a combination of these with chicken thighs
Chicken Tenderloins: as tenderloins are small, use the same quantity of these as you would skinless chicken thigh. They do tend to be a bit pricier though so my preference is always thigh.
TIP: I don't recommend using chicken breast as its too big to cook evenly through, and usually ends up tough in some areas and undercooked in others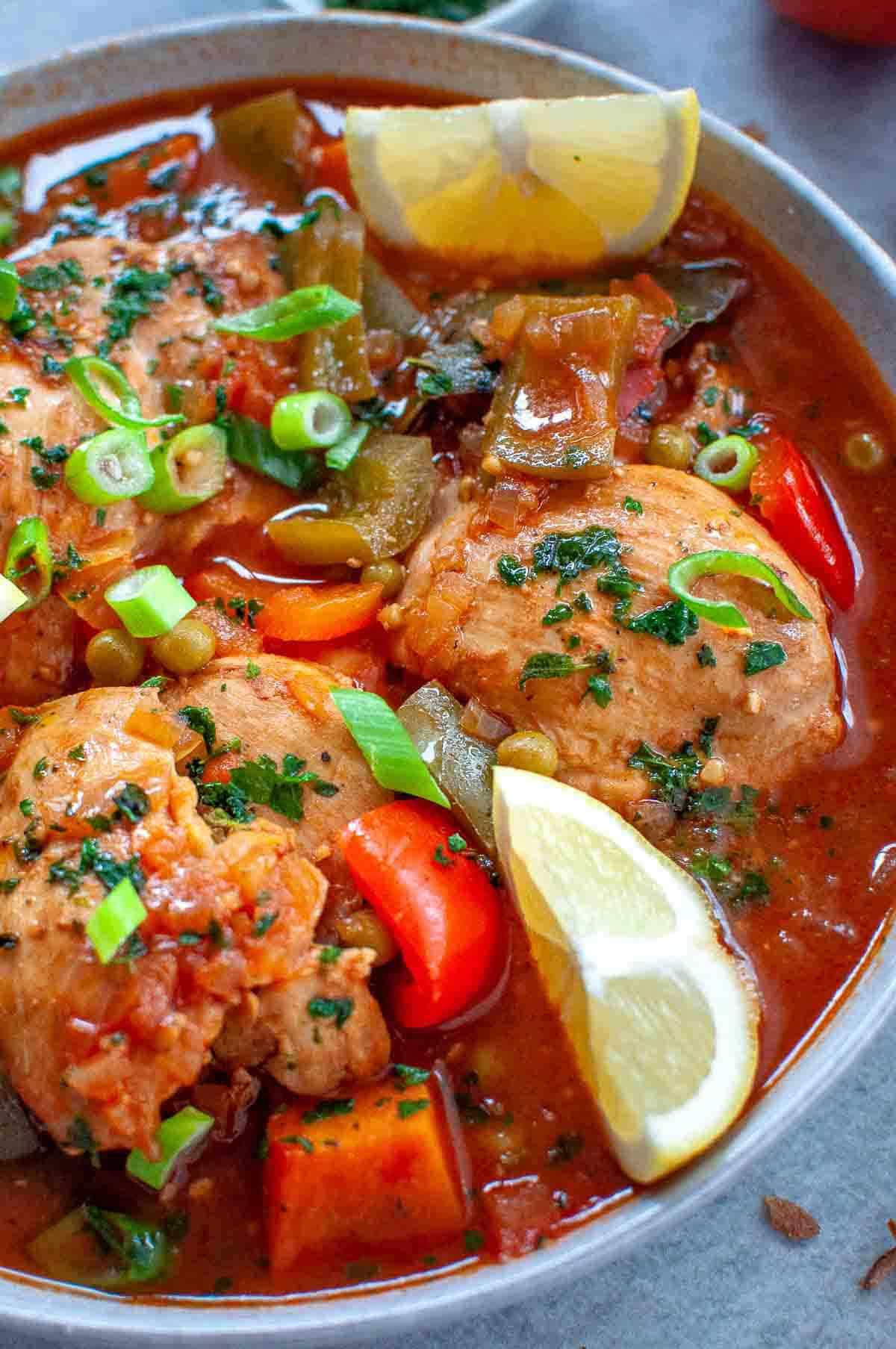 Chicken Afritada aka Chicken Tomato Stew is a dish that can be enjoyed year round. Its not just a winter food. Just because it's a stew don't think its only for cold weather. I make this in summer regularly here in Australia because its high protein, light and healthy.
Its part of my meal prep routine where I make up 4 meals at the beginning of the week, add some brown rice and from there its grab and go, whether it be to take to work for lunch or as a quick and easy dinner midweek.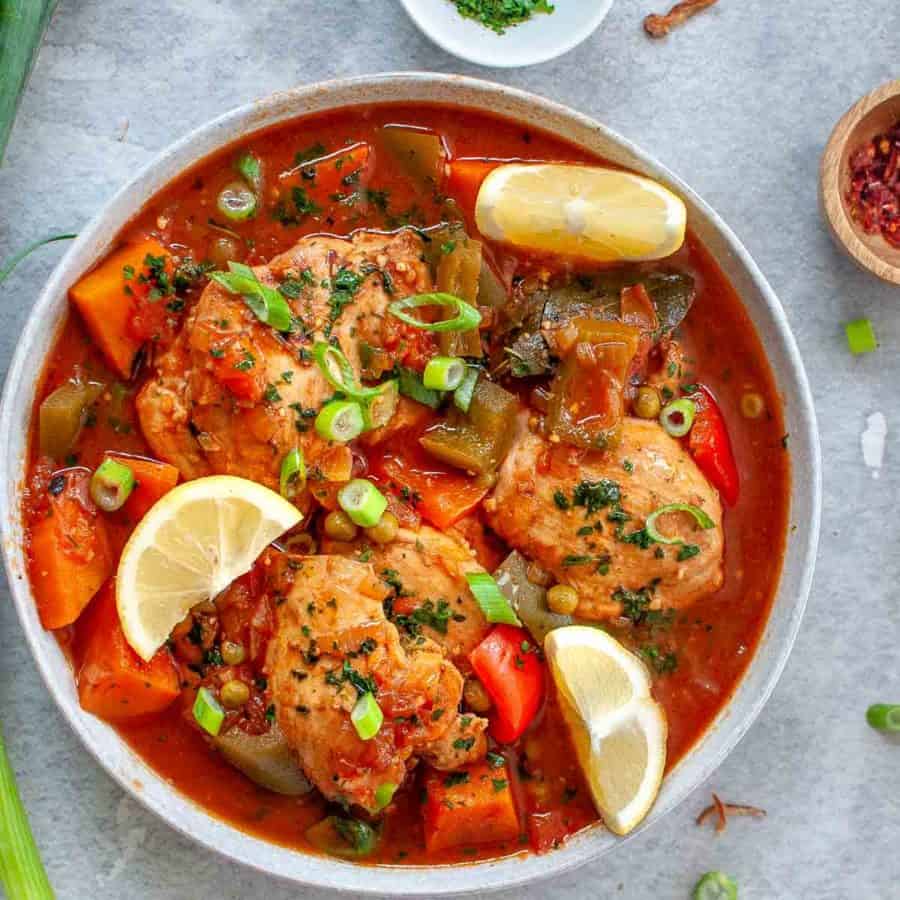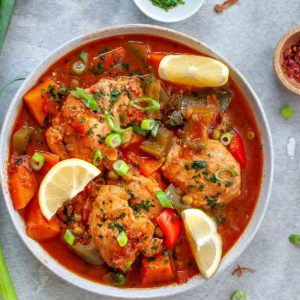 Chicken Afritada
Chicken Afritada is a filipino inspired dish similar to a Chicken and TomatoStew with big rich tomato flavours, colourful veg and juicy chickenpieces. 
Ingredients
500

grams/1 pound of Skinless chicken thigh

1

cup

Chicken Stock/Broth

3

tablespoons

Crushed Garlic

2

tablespoons

Soy Sauce

2

tablespoons

Lemon Juice

2

tablespoons

Fish Sauce

1

tablespoon

Coconut/Olive oil

1

small Brown onion

-

diced

1

Large Tomato

-

diced

1

cup

Sweet Potato

-

peeled and cut into small chunks

1

cup

Red and Green Capsicum/Pepper

-

cut into chunks

½

cup

Frozen green peas

1

Bay Leaf

½

teaspoon

black pepper
Instructions
Preheat oven to 180 degrees C/350 degrees F

Marinate chicken thighs in soy sauce, lemon juice and 1 tablespoons of crushed garlic for 20 minutes. (reserve the remainder of garlic for the sauce)

Add the Chicken thighs and half of the oil into a non stick pan on high heat until it is golden and brown, but not cooked all the way through. Place into a large casserole dish.

Add remaining oil, onions, garlic and fresh chopped tomatoes into the pan and cook on high for 2 minutes or until onion becomes translucent

Add in the fish sauce, tomato puree, chicken stock, Bay Leaf and sweetener to the pan. Bring to a gentle boil and then pour over the chicken into the casserole dish.

Add peas, capsicums and potatoes to casserole dish, stirring through

Cover with foil and cook in the oven for 40 minutes.

Remove foil and let sit for 5 minutes before serving

Garnish with fresh lemon, and fresh diced parsley. Serve on its own, or with brown rice.
Notes
Freezing:  This dish will keep in the freezer upto for 8 weeks.  Store in portion sized servings and defrost overnight in the fridge or microwave.
Different Type of Chicken:  Instead of skinless chicken thigh, you can use the same quantity of chicken drumsticks or marylands (same cooking time), or chicken tenderloins (halve the cooking time)
Servings Suggestions:  Traditionally served with white rice, but I serve with brown rice.  Also cous cous, cauliflour rice, mash, or crusty bread would work.
Heat:  Add chilli flakes in to the pot abd stir through before baking it it the oven.  For even more heat, add additional fresh diced chilli on top.
Nutrition
Calories:
357
kcal
Carbohydrates:
28
g
Protein:
38
g
Fat:
11
g
Saturated Fat:
2
g
Fiber:
5
g
Sugar:
4
g
Note: Sugars contained in this recipe are from naturally occurring sugars in fruits, vegetables or other natural sweeteners.
Looking To Cut Out Sugar? Get the FREE Quick and Easy Food Swaps Checklist Pack!
Get your FREE Quick and Easy Food Swaps Checklists with over 65 Simple Real Food Alternatives to Help you Ditch The Sugar Without Feeling Deprived.