This double layer Clean Eating  Chocolate Avocado Cake is deliciously moist, light and airy.  Made with Raw honey and lashings of rich dark chocolate avocado frosting, this is a refined sugar free  chocolate cake that is Paleo friendly, full of fibre and wickedly moreish.  Much like these Fudgey Chocolate Dairy Free Blackbean Brownies.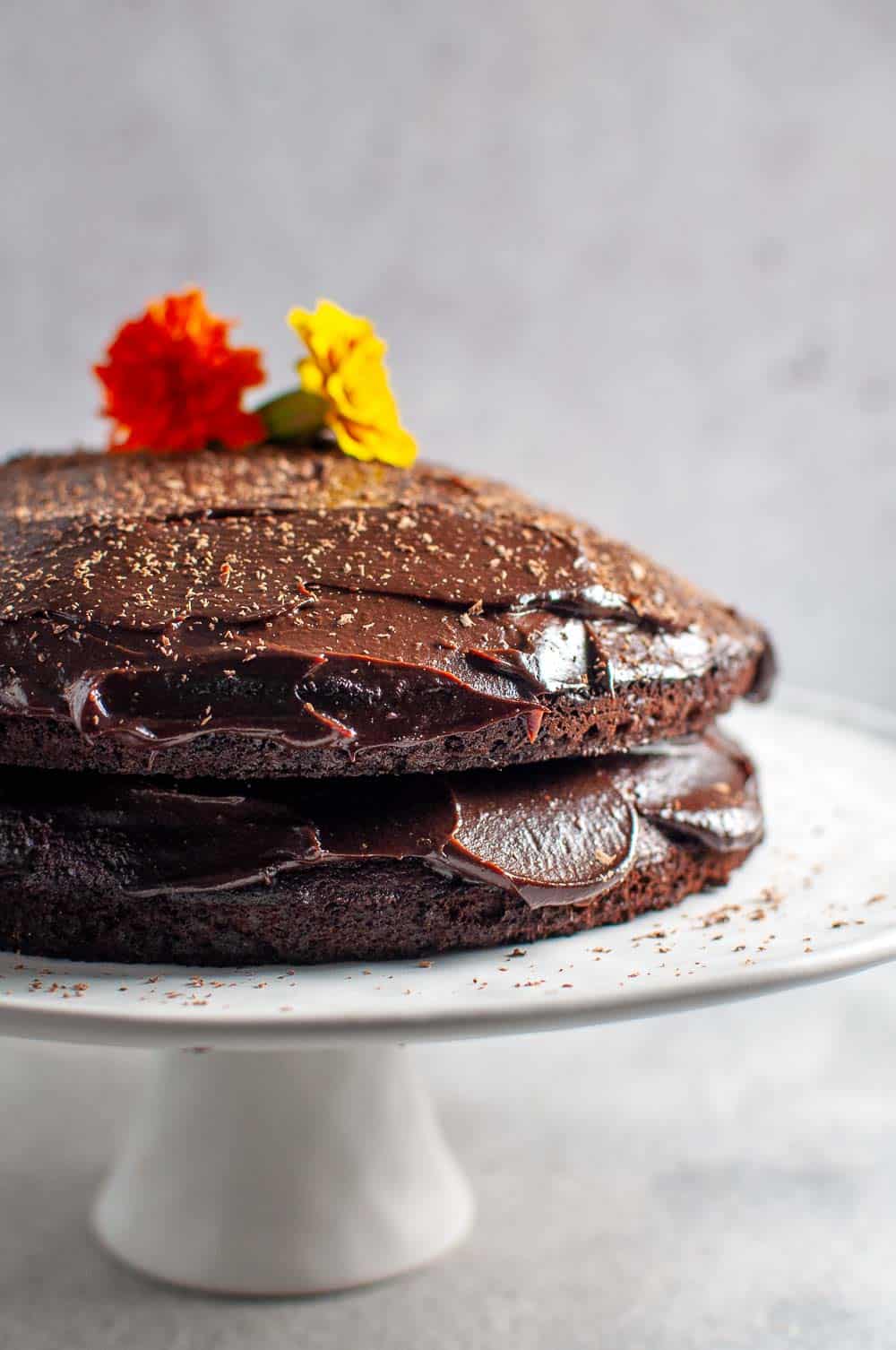 What Makes This Healthy Chocolate Avocado Cake Special?
This is a special chocolate cake I'd been wanting to make for a long time and it's not you're usual run of the mill chocolate you typically find.  This Chocolate Avocado cake is special for three reasons:
This cake is filling, but lightweight which makes is tremendously satisfying to stop at just one piece. Great if you're prone to eating half a cake in one sitting!
The combination of silky smooth avocado frosting and the moist crumb cake texture are perfect to eat with a spoon, either as a desert (with a little ice cream or cream), or as a snack with your morning coffee)
It keeps for a week in the fridge and tastes as good as the day it was made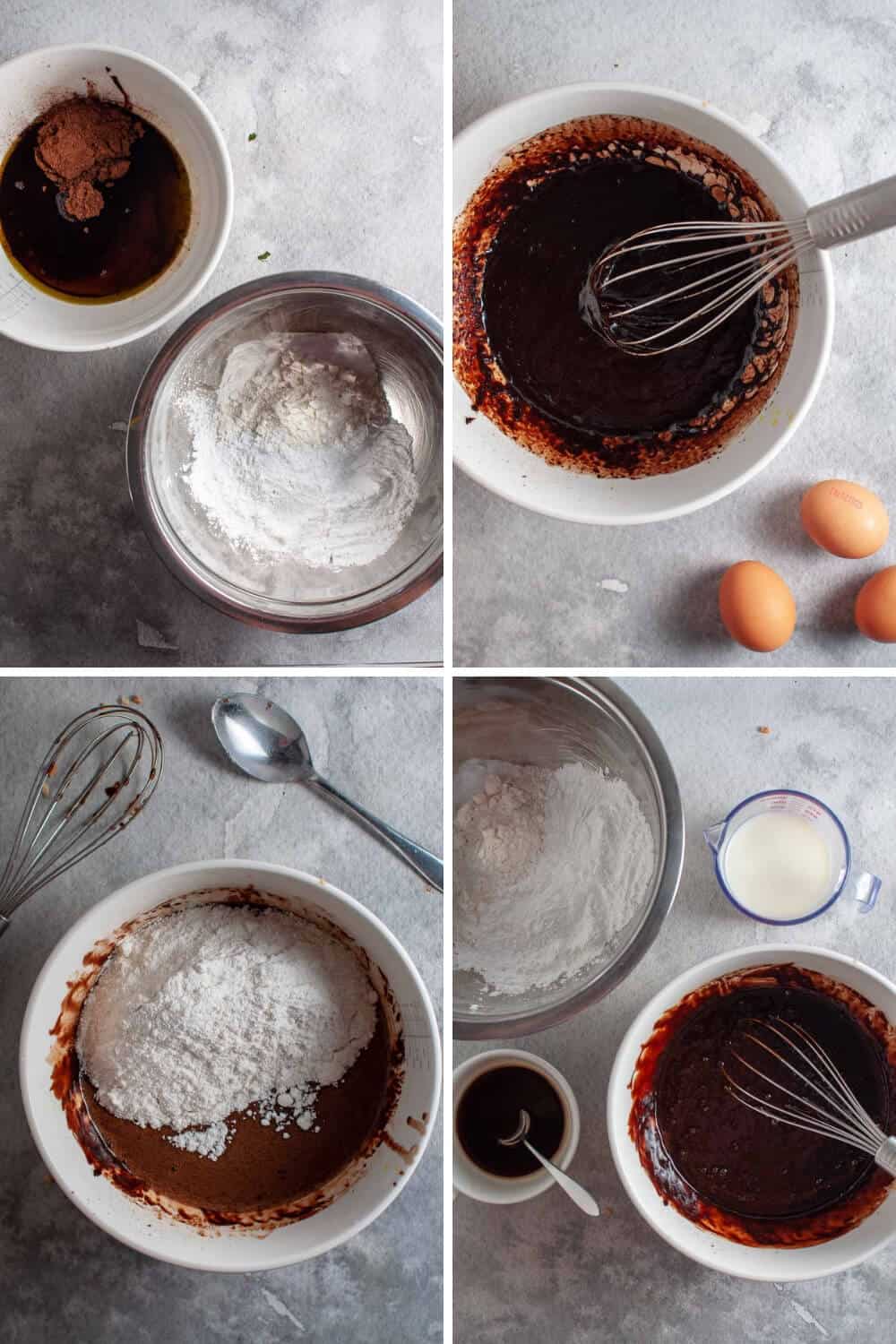 A Clean Eating Chocolate Cake with Benefits.
This cake is also Paleo.  A Paleo Chocolate Cake is a cake that contains no wheat flours, no dairy, and no refined sugars. This cake is make using two types of flour, both of which you can buy from the supermarket.  Coconut Flour and Tapioca Flour.
TIP:  You can also use arrowroot starch instead of the tapioca flour for this recipe.  I've tried both and they both have similar results.
Instead of white and brown sugars, this cake is sweetened with raw honey which is honey that has not been processed or refined.  You can sometimes find good quality raw honey in the supermarkets, but I like to buy mine from the Farmers Markets.
Instead of regular dairy milk, I used unsweetened almond milk for this recipe.
For more dairy free, chocolate goodness, check out this No Bake Chocolate Tart.  Ridiculously Moreish and ideal for those who like desserts that aren't too sweet.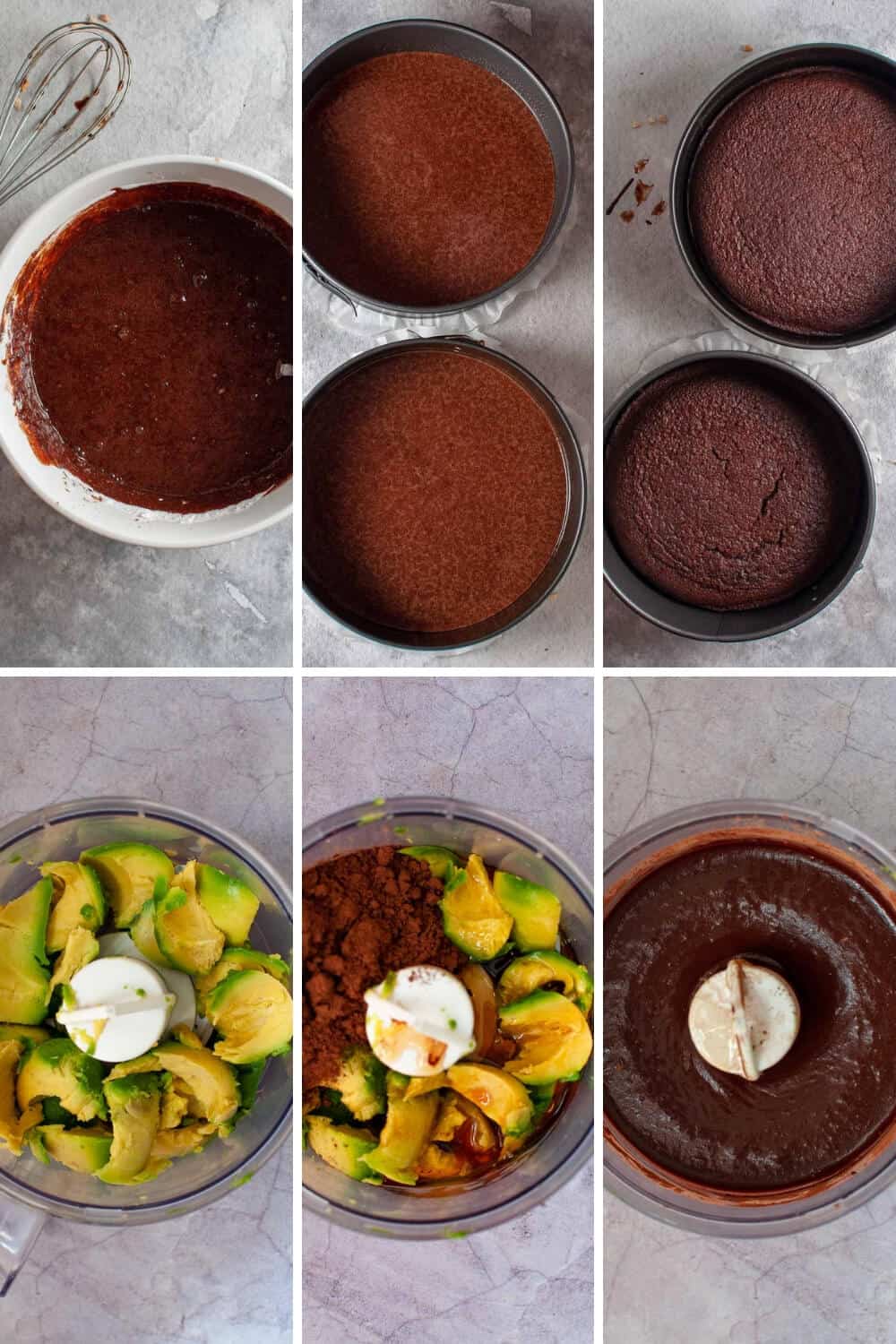 What You Need To Know To Make This Simple Chocolate Avocado Cake
What is Coconut Flour:  Coconut flour is a low carb, high protein (non wheat)  flour and it behaves differently than other flours, meaning you need a lot less of it, compared to other types of flours.  Coconut flour is also a good alternative to use in baking if you have digestive issues, which sometimes I do.  You can read more about coconut flour and it's many benefits here.
What is Tapioca Flour:  Tapioca flour is a healthier alternative to cornstarch/cornflour.  In baking, it's used as a thickening agent so that the cake firms up and becomes light and moist.  Tapioca flour doesn't have any aftertaste, compared to cornstarch/cornflour which makes it ideal in baked goods as it doesn't alter the taste of the end product.
If you love chocolate cake, check out some of my other Sugar Free Chocolate recipes: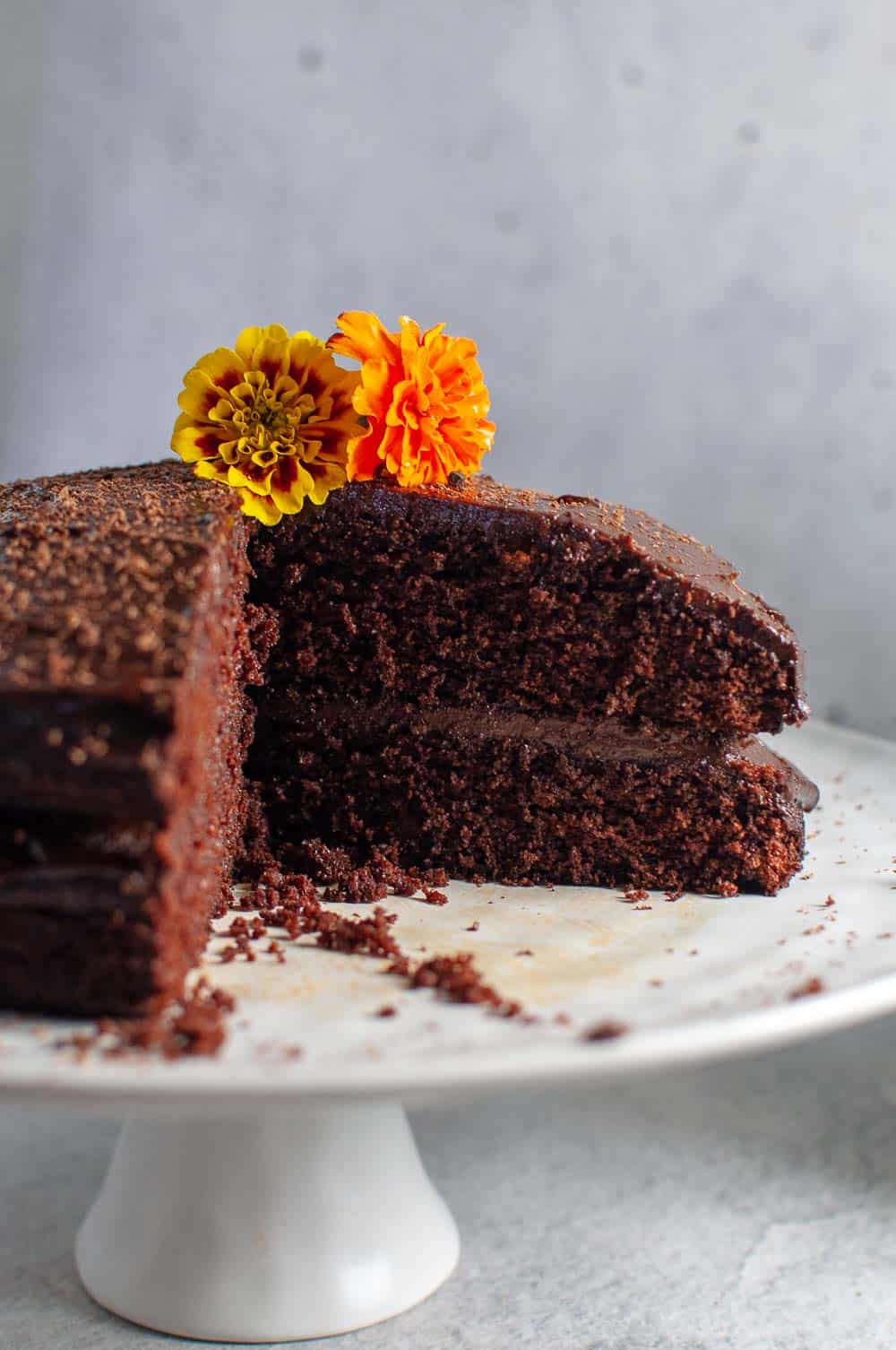 Why the 2 different Flours:  The coconut flour provides the structure of the cake and the arrowroot flour helps to bulk up the structure without weighing it down.  The tapioca/arrowroot flour contributes to creating a  light and airy cake, whereas, if all coconut flour were used, the cake would be more dense, and if all arrowroot flour were used, the cake would not hold together.
Can Coconut Oil Be Used:  Yes you could try using coconut oil, although I have always used Avocado oil which makes it very moist.  Avocado o il is a little more expensive, and if you already have coconut oil on hand, I think you could achieve a similar result with it.
Can I Use Instant Coffee:  Yes, although espresso coffee adds a layer of richness to the chocolate cake.  If you don't have an espresso machine, use the strongest instant coffee you can find.
What Type of Cake Tins to Use:  You'll need two 20 cm/8 inch springform cake tins.
Why is the cake mix so runny:  Coconut flour is very thirsty and needs more liquid than normal flour to bake correctly.  The cake batter might look to runny, but it is fine and the cake will firm up in the over the way it should.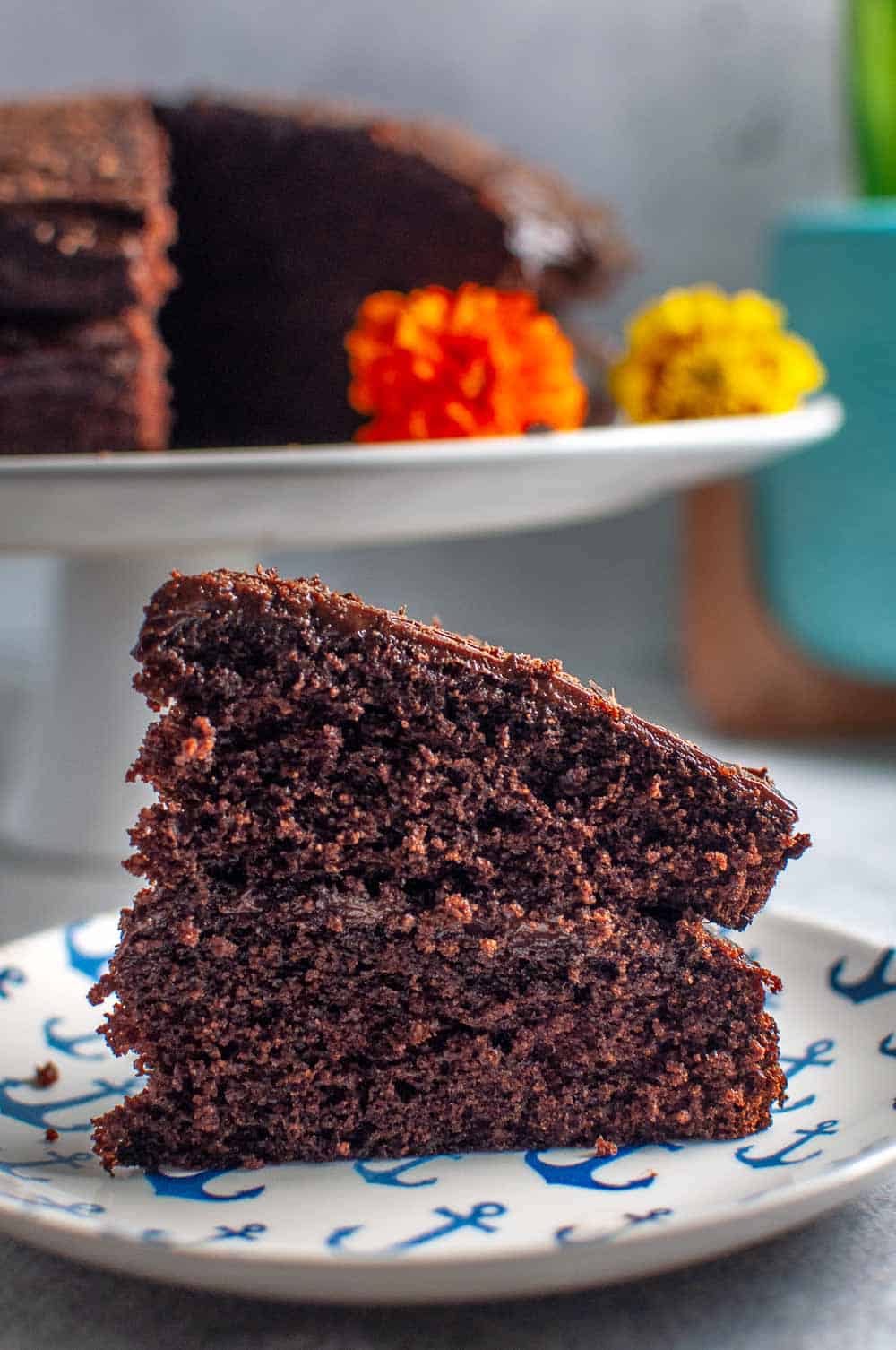 How To Get Chocolate  Avocado Frosting Silky Smooth
Make sure that you use ripe avocados.  You can tell if an avocado is ripe if when you press your thumb on the outside of it, you can feel a little bit of "give".
A food Processor or High Speed Blender is a must to get silky smooth chocolate avocado frosting.  Pulse until all the grainy bits become smooth, spooning down any frosting from the sides until smith.
TIP 1: remove the frosting from the food processor and place into a bowl and put into the fridge for 30 minutes to firm up before slathering onto the cake.
TIP 2:  Make sure the cake is completely cooled before putting on the frosting.
This delicious Chocolate Honey Cake is best stored in an air tight container in the fridge for upto 5 days.
You might also like this Fudgey Chocolate Date Cake with Chocolate Rum Ganache.
5 Ways to enjoy this Ultimate Chocolate Avocado Cake
With a scoop of Sugar Free Vanilla Ice Cream
With half a dozen fresh raspberries or strawberries
With a dollop of double cream
With a side helping of Sugar Free Custard
With even more (sugar free) chocolate
If you love the thought of more chocolate, grab a sugar free chocolate bar, and zest grater, and add as much or as little as you like!
Like what you see? Follow me on Facebook or Pinterest! Did you try a recipe? Tag me on Instagram: @mysugarfreekitchen, and leave a comment & star rating!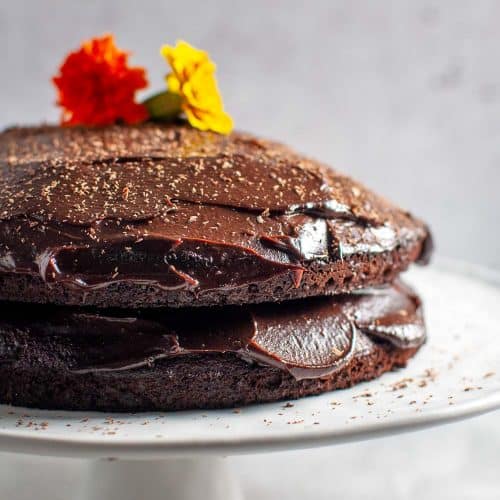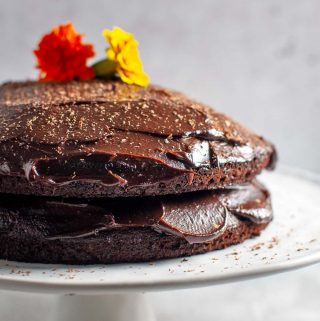 Chocolate Avocado Cake
This double layer Clean Eating Chocolate Avocado Cake is deliciously moist, light and airy. Made with Raw honey and lashings of rich dark chocolate avocado frosting, this is a refined sugar free chocolate cake that is Paleo friendly, full of fibre and wickedly moreish.
Ingredients
¾

cup

100 grams Coconut flour

¾

cup

100 grams Tapioca flour (see note 1)

1 ¼

teaspoon

baking soda

1 ¼

teaspoon

baking powder

⅔

cup

75 grams Unsweetened cocoa powder

3

medium eggs

⅓

cup

+ 1 tablespoon

-

85 grams Avocado Oil

¾

cup

225 grams Raw honey

2

tablespoons

Expresso coffee

-

cooled

1

teaspoon

Vanilla essence

¾

cup

Almond milk

pinch

of salt
Chocolate Avocado Mousse Frosting
2

ripe avocados

½

cup

cacao powder

½

cup

Raw honey

2

tablespoons

Avocado Oil

½

teaspoons

vanilla extract

1

tiny

pinch of salt
Instructions
Preheat oven to 180 degrees C (350 degrees F) and grease 2 round springform tins, with a little coconut oil spray, or butter. Also line the base with greaseproof baking paper.

In a large bowl, mix the coconut flour, tapioca flour, baking soda, baking powder and set aside.

In a second large bowl, add the avocado oil, unsweetened cocoa powder, raw honey, vanilla extract and cooled coffee and mix together until it looks like chocolate.

In the same bowl as the chocolate ingredients, one at a time, add the eggs, stirring after each one.

Add the dry ingredients to the wet ingredients, whisking making sure there are no lumps, and the batter is thick and glossy.

Whisk in the milk until thoroughly mixed in.

Evenly divide mixture between the (20 cm/8 inch) two cake tins and smooth out the top with back of a spoon.

Bake the cakes for 35 minutes. (To test, insert a cake skewer and if it comes out clean, cakes are done)

Once finished cooking, remove from oven and cool in the cake tins for 5 minutes, then release from tin and let cool on a wire rack.

FROSTING: Whilst cake is cooling, make the Chocolate Avocado Frosting. Add the avocado flesh to a food processor and blend until smooth and creamy. Then add remaining ingredients and process until thoroughly combined, scraping down the sides a couple of times to make sure it is all processed evenly.

ASSEMBLY: Place one cake on a plate, and lather ½ of the frosting on the top, then place the second cake on top and lather another ½ of the frosting on top.
Notes
Arrowroot starch can be used is place of the tapioca flour in the same quantity.
Store cake in an airtight container in the fridge for upto 4 days.
The sugars on the nutrition label are from the raw honey used in this recipe.
Nutrition
Calories:
407
kcal
Carbohydrates:
59
g
Protein:
6
g
Fat:
19
g
Saturated Fat:
6
g
Fiber:
9
g
Sugar:
24
g
Note: Sugars contained in this recipe are from naturally occurring sugars in fruits, vegetables or other natural sweeteners.
Looking To Cut Out Sugar? Get the FREE Healthy Food Swaps Checklist Pack!
Get your FREE Healthy Food Swaps Checklists with over 65 Healthy Food Alternatives to Help you Ditch The Sugar Without Feeling Deprived.
★ Did you make this recipe? Don't forget to give it a star rating below!