Chocolate Sweet Potato Muffins are the perfect mix of mid-morning snack, and post workout recovery fuel. These little gems are made with oat flour and mashed sweet potato, are free from refined sugars and dairy free, high in protein and low calorie. Make them in around 30 minutes.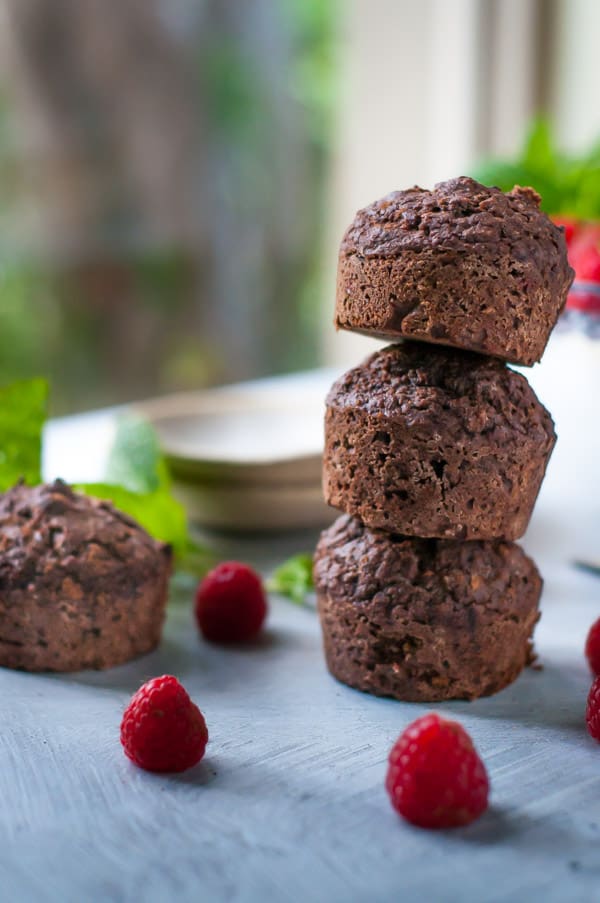 Firm on the outside and lusciously soft and chocolate on the inside with no hint of potato taste. Although the sweet potato does make it moist and rich, almost like you'd put a ton of oil or butter into it.
Just 8 ingredients, and about 25 minutes will see you with a batch of fresh muffins, ready for the week ahead.
Other Healthy Chocolate Recipes You Might Like: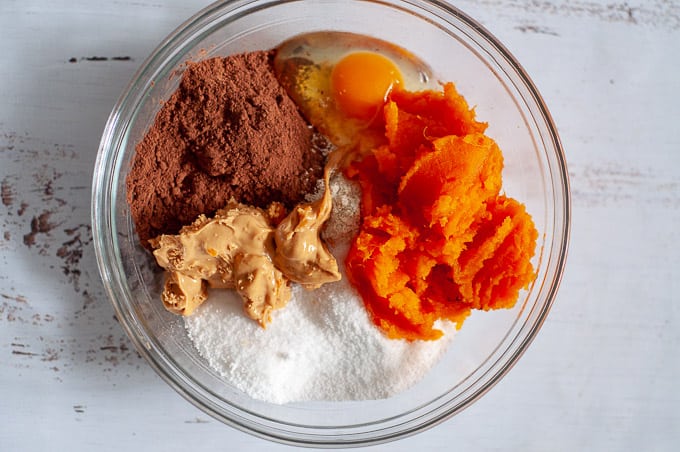 What is Oat Flour?
Oat flour is oats ground into a flour. You can either do this yourself, if you have a food processor, or you can buy already ground oat flour. I use Bobs Red Mill Oat Flour. In Australia, I buy my oat flour from the Health Food store. Its's also available online through Amazon.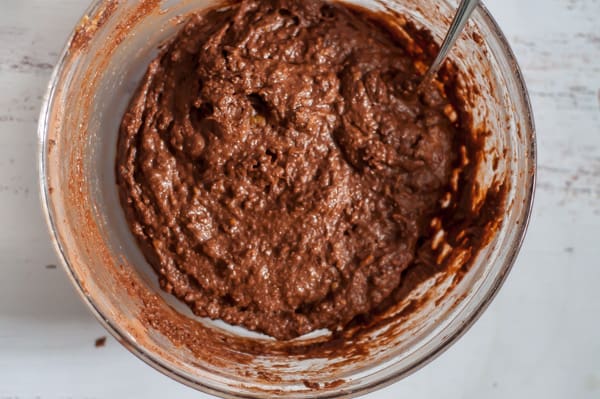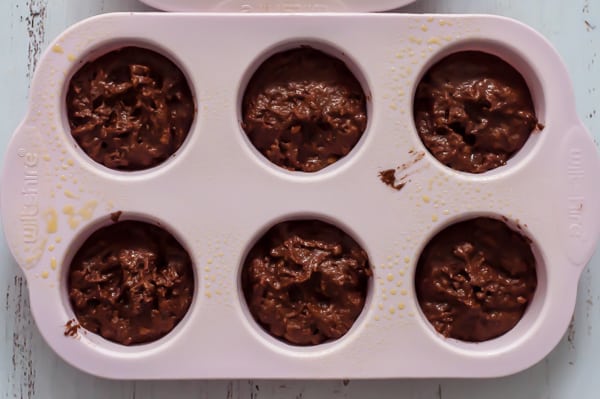 What Type of Sweet Potato?
I used yellow sweet potato for these muffins. You could equally use white sweet potato. The colour of the sweet potato doesn't take away from the rich chocolate colour of the chocolate batter mixture or the cooked muffin. In fact, you wouldn't even know there is sweet potato in these muffins.
How to Make Chocolate Sweet Potato Muffins
Boil up the sweet potatoes and mash with a fork, making sure to remove all the lumpy bits
Wait for it to cool down
Put the dry ingredients into a mixing bowl
Add the wet ingredients, including the cooled mash
Mix thoroughly
Spoon into muffin cases and bake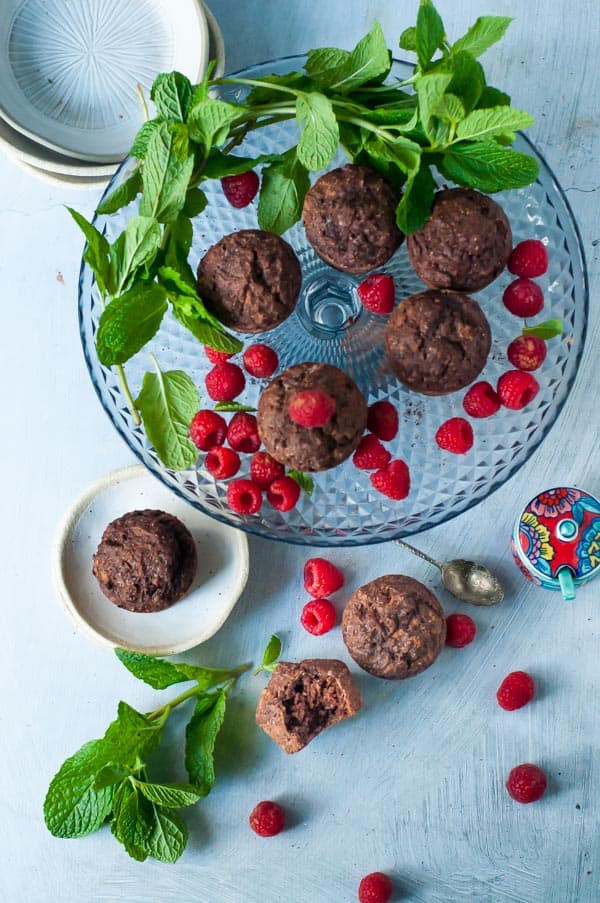 If you buy your Oat flour, there is no need for a food processor. And, if you can't get your hands on Oat Flour, you could substitute it with Spelt Flour or even organic wholemeal flour.
TIP: These muffins freeze really well. If you're not eating them within a couple of days, individually wrap them and freeze for upto 30 days. To defrost, either let the muffin sit at room temperature for about half an hour before eating, or if you're impatient like me, zap it in the microwave for 40 seconds.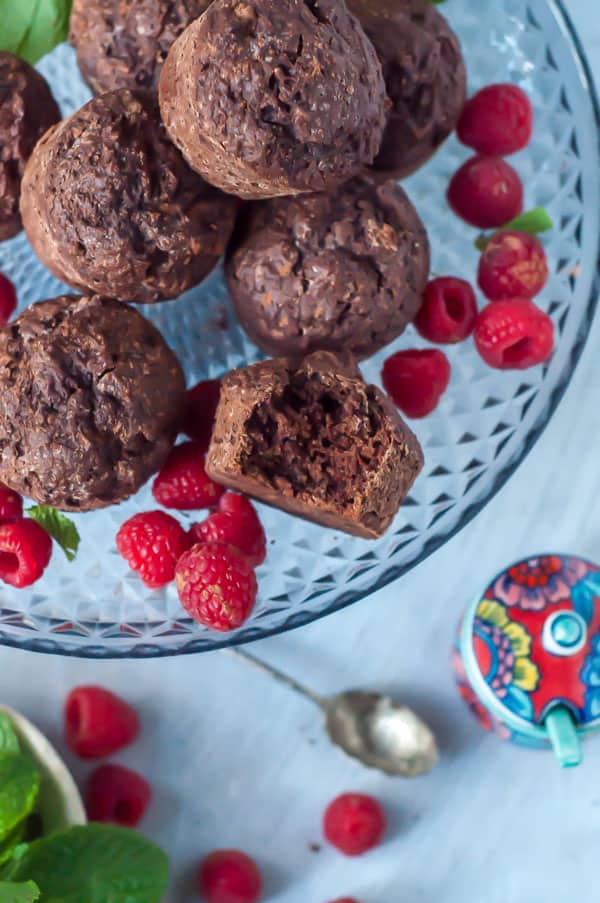 You might also want to try it with a hit of butter, your favourite yoghurt, or even a spoonful of chocolate mousse for that ultimate chocolate bomb.
More Muffin Madness: Sugar Free Chooclate Chip Muffins, Sugar Free Apple Ginger Muffins, Sugar Free Banana Muffins.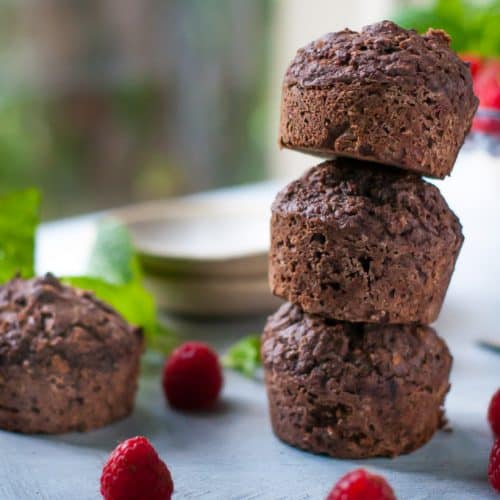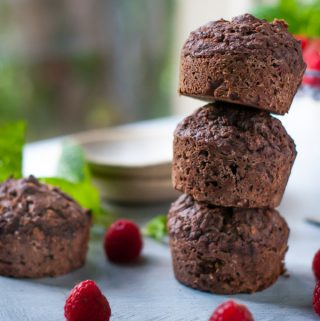 Chocolate Sweet Potato Muffins
Chocolate Sweet Potato Muffins free from refined suga crunchy on top and lusciously soft and chocolate on the inside.

Ingredients
1

cup

Oat Flour

⅓

cup

Cocoa Powder

-

Unsweetened

1

small Sweet potato

-

⅔ cup cooked and mashed

⅔

cup

Granulated stevia

-

that measures like sugar

2

large Eggs

2

tablespoons

Peanut butter -

sugar free

1

teaspoon

Cream of tartar

½

teaspoon

Bicarb soda
Other
Oil spray

Silicone muffin trays
Instructions
Preheat oven. 180 degrees C/350 degrees C for Fan oven.

Fill a medium size saucepan with water and heat on high. Peel and chop the sweet potato and place in the saucepan with a lid. Bring to the boil. Reduce heat and cook until sweet potato becomes soft (use a fork to poke – if soft remove from heat)

Drain the sweet potato and use a fork to mask it up, ensuring all lumps are removed. Set aside to cool.

In a medium sized mixing bowl, add the oat flour, cocoa powder, granulated stevia, cream of tartar and bicarb soda. Mix to combine

Melt the peanut butter in a microwave save jug for 1 minute. Add to the dry ingredients. Do not stir in.

Add the 2 eggs to the bowl and use a spatula to fold in the wet ingredients to the dry ingredients to form a pasty batter.

Once cooled, add the mashed sweet potato and stir in with a spoon until a thick batter is formed.

Lightly spray the silicone muffin trays with oil and spoon the batter across 8 molds, going halfway up in each mold.

Cook muffins for 18 to 20 minutes. Check with a cake skewer before removing to ensure they are cooked.

Leave for 10 to 15 minutes to cool before removing from trays.

Store in an air tight container at room temperature for up to 4 days. Or freeze for up to 4 weeks
Nutrition
Calories:
158
kcal
Carbohydrates:
23
g
Protein:
7
g
Fat:
6
g
Saturated Fat:
1
g
Fiber:
5
g
Sugar:
1
g
Note: Sugars contained in this recipe are from naturally occurring sugars in fruits, vegetables or other natural sweeteners.
Looking To Cut Out Sugar? Get the FREE Healthy Food Swaps Checklist Pack!
Get your FREE Healthy Food Swaps Checklists with over 65 Healthy Food Alternatives to Help you Ditch The Sugar Without Feeling Deprived.