This Sugar Free Chocolate Cake is light, rich and fudgey with real chocolate for that ultimate decadent and indulgent treat that's not too sweet, yet moist and moreish.
Sweetened naturally using Stevia and sugar free chocolate, this is a cake that needs no frosting. It is perfect just on its own.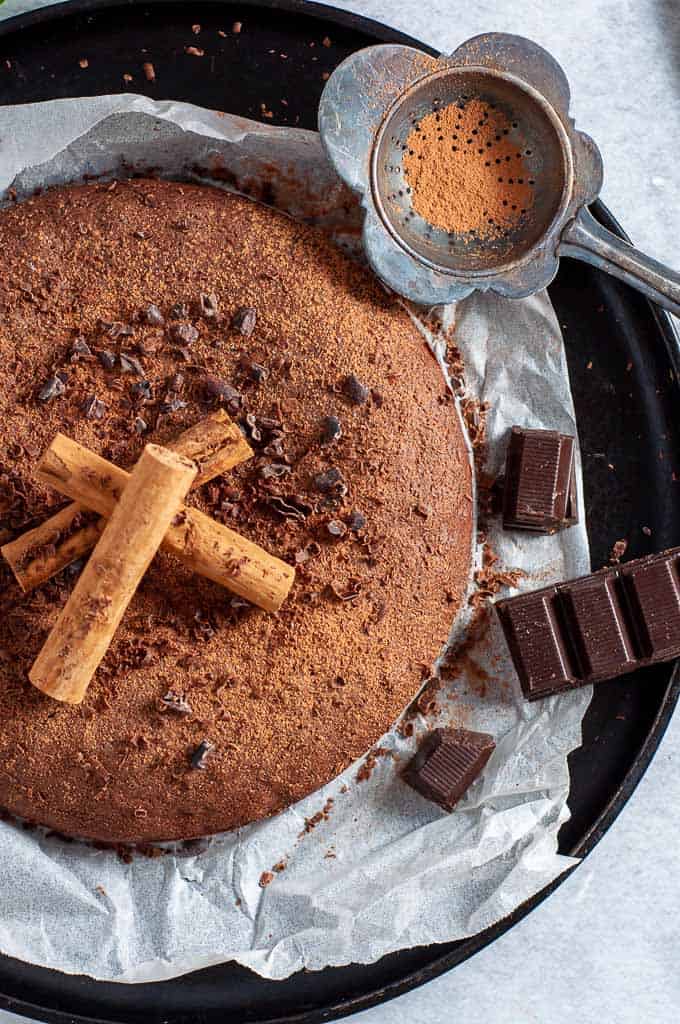 Why Make a Sugar Free Chocolate Cake?
It's simple to make, and from start to finish takes 45 to 50 minutes, including 35 minutes in the oven.
It includes coffee and chocolate - a perfect combination!
Its deliciously moist and light thanks to the sour cream
No weird ingredients - everything is available at the supermarket
It's low calorie
It has more fibre and protein than regular cakes so you'll stay fuller for longer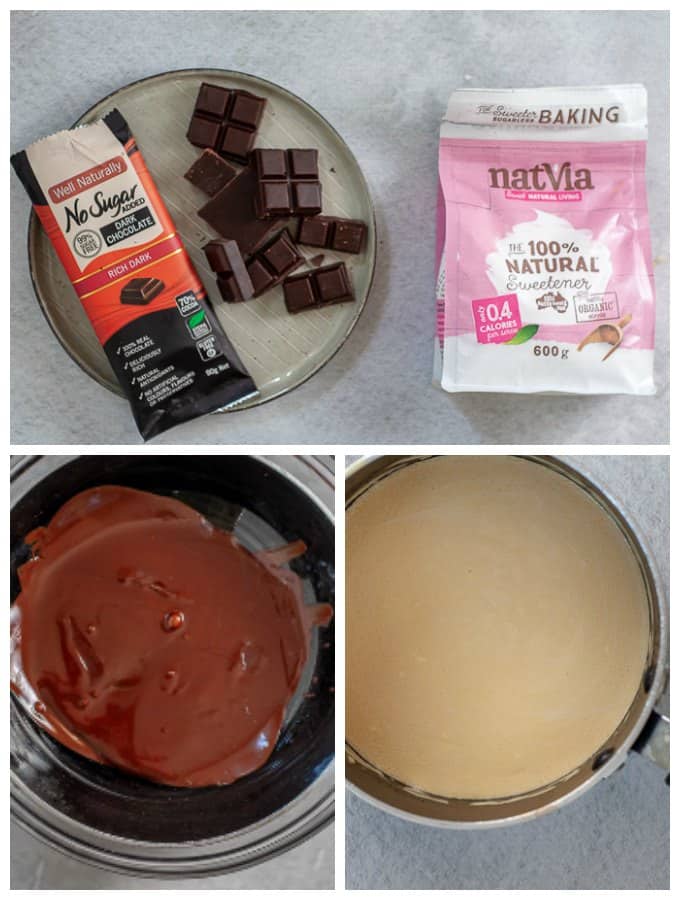 Tools Needed
No special tools are required either to make this beauty. Just a bowl for the main ingredients, a saucepan with a glass bowl to melt the chocolate, and a springform tin lined with baking paper.
This is a classic chocolate cake, even though it's on the healthier side and is free from refined sugars, it tastes like the real deal. This cake isn't going to cause sugar spikes and sugar lows which is a big plus and one of the reasons why I can enjoy one piece with my morning coffee and be happy with just one.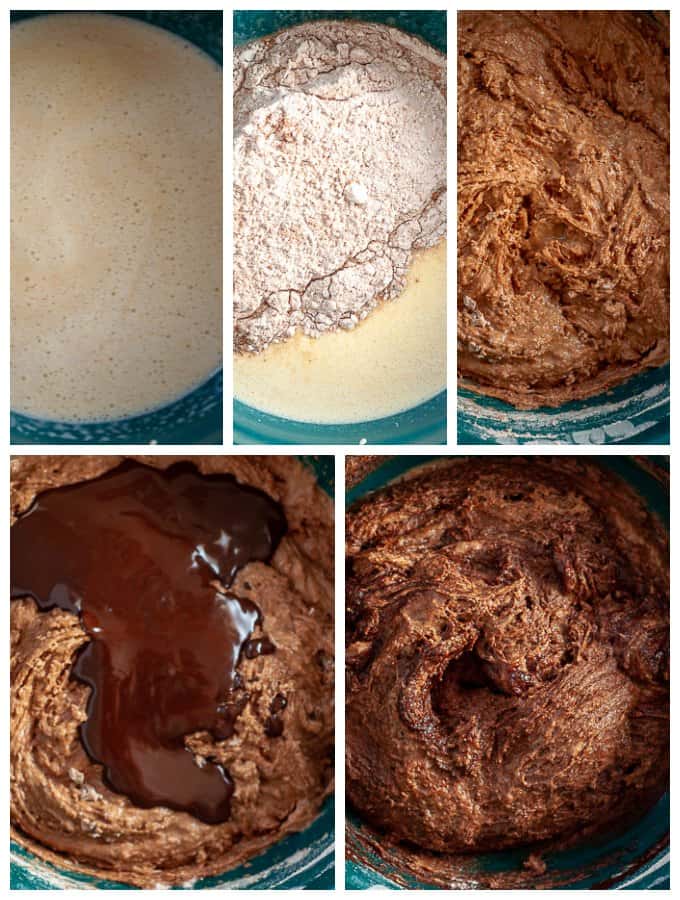 Can This Cake Be Frozen?
This cake freezes perfectly, especially because it has no frosting. Cut this cake up into portions, and pop a few pieces into ziplock bags and freeze for upto 4 weeks. Take is out and let is defrost naturally before eating, or if you can't wait that long, zap in microwave at 50% power for 20 seconds.
If you're like me you probably love a good chocolate cake or chocolate brownie but not the calories or sugar cravings, highs and lows that Come with it. All is good because with some crafty baking, you can have your sweet treats without the sugar, guilt or cravings.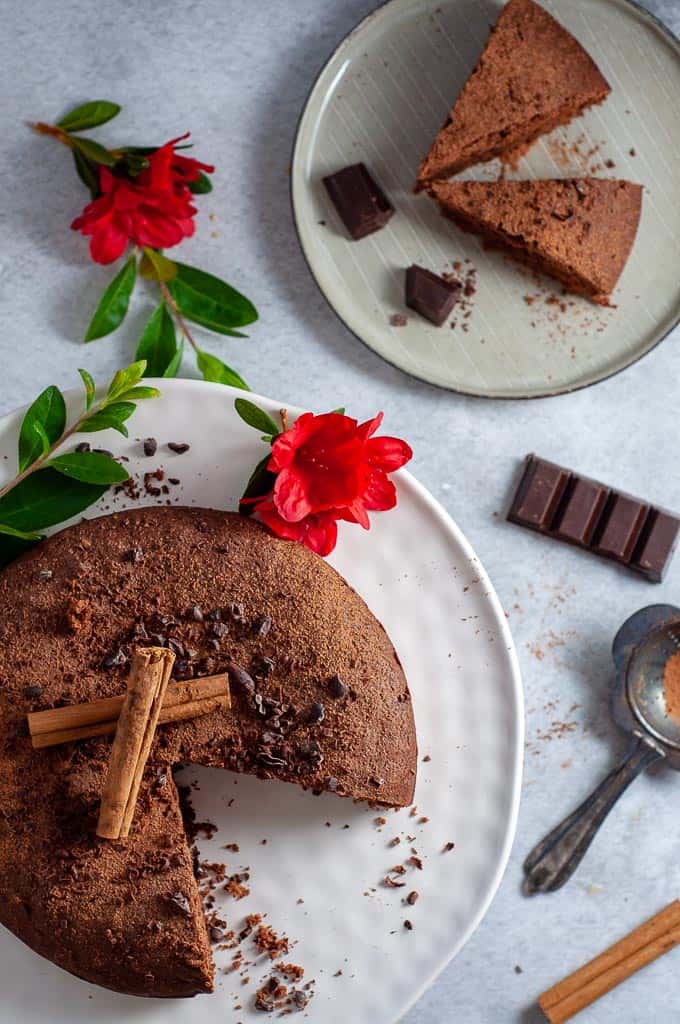 This is hands down my favourite chocolate cake , but sometimes you need a sugar free gluten free chocolate cake for your gluten free friends.
Or you're hankering for a wicked chocolate muffin that is so good for you won't even know it has veges in it like these Chocolate Sweet Potato Muffins
Then again, maybe you need a crowd pleasing dinner party dessert that won't ruin your healthy eating regime, then this Sugar Free Low Carb Chilli Chocolate Cheesecake is one to check out.
3 Ways to Customise Your Cake
Add some Ginger spice, or actual real grated ginger for additional zing into the batter
Add chocolate frosting on top - sugar free of course
Add some of you favourite crushed nuts on top right before baking
Add a few organic dried blueberries (the small ones) into the mix right before baking, or stir through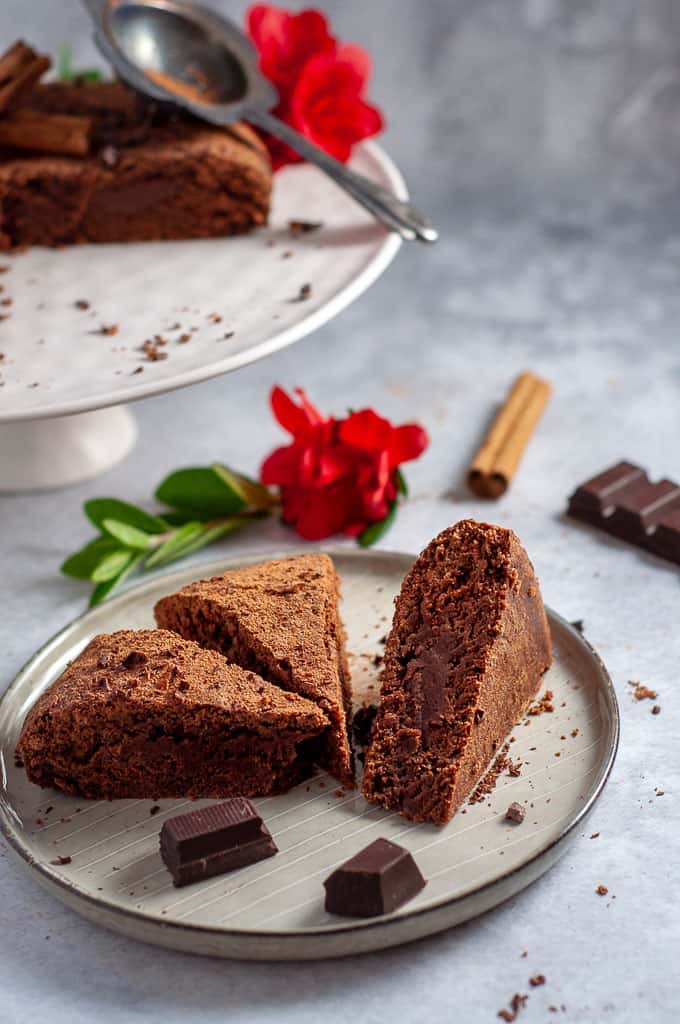 How To Make Sugar Free Chocolate Cake
Get the best sugar free chocolate you can find. In Australia, coles and woollies have sugar free chocolate bars in the health food aisle, or you can order the Well Naturally Sugar Free Chocolate Bar here.
Use a granulated sweetener that measures like sugar and is superfine like caster sugar. My sweetener of choice is Natvia Stevia Baking Blend.
Make a pot coffee and let cool to room temperature. This is a must do, otherwise putting hot coffee into the cake batter may cause your eggs to cook.
Make sure to preheat the oven. Chucking a cake into a cold oven does not make for a good cake.
Put all dry ingredients into a bowl. Melt butter on low heat, adding in sour cream and cooled coffee. Mix dry into wet ingredients
Melt chocolate over a pot of hot water until just melted and gently spoon through the batter
Spoon into a springform tin, lined with baking paper (bottom and sides). Don't skip the baking paper, lest all your hard work might end up sticking to the tin.
Bake in oven for 35 mins at 175 degrees C/350 degrees F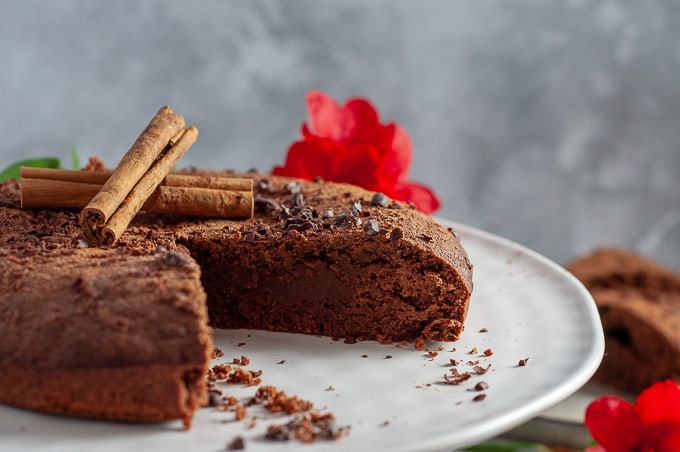 This is a classic chocolate cake, just without any refined sugars. It's a little like a mud cake and has a slightly fudgy texture thanks to that luscious melty chocolate. But it's not a heavy cake – it's actually very light and one piece is surprisingly satisfying and pleasingly low calorie. I'd say it's a winner all round.
It's a cake to have with your morning coffee. Just because.
It's a cake that will impress your friends and leave them asking "Can I have the recipe for that".
It's a cake that will trick your sugar obsessed work colleagues into thinking they are eating something wickedly naughty.
It's a cake that you'll want to make time and time again, because it's just so darn good!
More Sugar Free Chocolate Cake Recipes: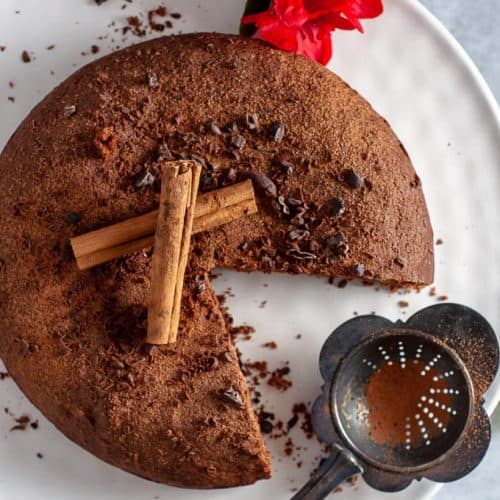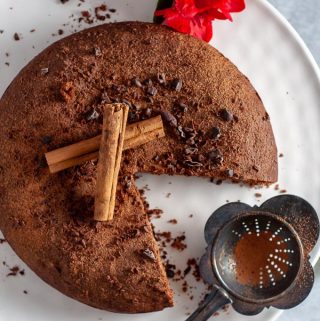 Sugar Free Chocolate Cake
This Sugar Free Chocolate Cake is light, rich and fudgey with real chocolate for that ultimate decadent and indulgent treat that's not too sweet, yet moist and moreish. Sweetened naturally using Stevia and sugar free chocolate, this is a cake that needs no frosting.
Ingredients
1

cup

+ 2/3 cup Plain All Purpose Flour

1

cup

Granulated sweetener

(that measures like sugar) [See note 1]

½

cup

Sour cream

¼

cup

Milk

¼

cup

Unsalted butter

3

medium

Eggs

4

tablespoons

Unsweetened Cocoa Powder

2

tablespoons

Cold instant coffee

2

teaspoons

Baking powder

1

teaspoon

Vanilla essence/vanilla bean paste

1

pinch

Salt

½

cup

Sugar free chocolate buttons/bar finely chopped

[see note 2]
Instructions
Make the instant coffee and put in fridge to cool down

Line a 22 cm springform tin with baking paper.

Preheat oven to 175 degrees C/350 degrees F

In a medium sized bowl, mix together the flour, baking powder, salt and cocoa powder.

Beat together the eggs, granulated sweetener and vanilla until fluffy.

Melt the butter in a saucepan, add in the sour cream and cooled instant coffee. Stir with a spoon until all the lumps are gone and it is smooth and silky.

Blend butter/sour cream mixture into the egg mixture, stirring several times until it is all mixed together.

Spoon the dry ingredients into the bowl with the wet ingredients. Stir gently with a spoon until just combined.

Heat a small saucepan of water on the stove on medium temperature. Set a bowl over the saucepan and place broken up chocolate pieces into the bowl on top until they just begin to melt.

Add the chocolate to the cake batter and gently stir through. Mixture will become a bit gluggy but this is ok.

Add the ¼ cup of milk and stir through with a spoon to loosen up. Make sure all the milk is stirred into the batter and then pour in the cake batter to the can tin.

Bake for 30 to 35 minutes.

Let cool on a wire rack before slicing. Store in an air tight container at room temperature for 3 to 4 days. (See note 3)
Notes
I use Natvia Stevia Baking Blend, available from woolworths. The baking blend is finer than the one used to sweeten tea and coffee which makes it perfect for cakes and baking.
The chocolate I used in this recipe was the brand Well Naturally, and it was the sugar free dark chocolate big bar, available from most mainstream supermarkets in Australia.
Freezing Cake:  Cake can be frozen for upto 4 weeks.  Slice first, and put into ziplock bags so its "grab and go".  To defrost, let it come to room temperature naturally.
To Serve:  Serve in its own or with a dollup of double cream and fresh strawberries.
Nutrition
Calories:
164
kcal
Carbohydrates:
16
g
Protein:
4
g
Fat:
10
g
Saturated Fat:
6
g
Fiber:
1
g
Sugar:
1
g
Pin This Recipe for Later!