This Garlic Prawn and Tomato Risotto is light and creamy with big juicy prawns, bold garlic and rich colourful cherry tomatoes.  It's an easy and warming bowl of seaside seafood on a cool winters night.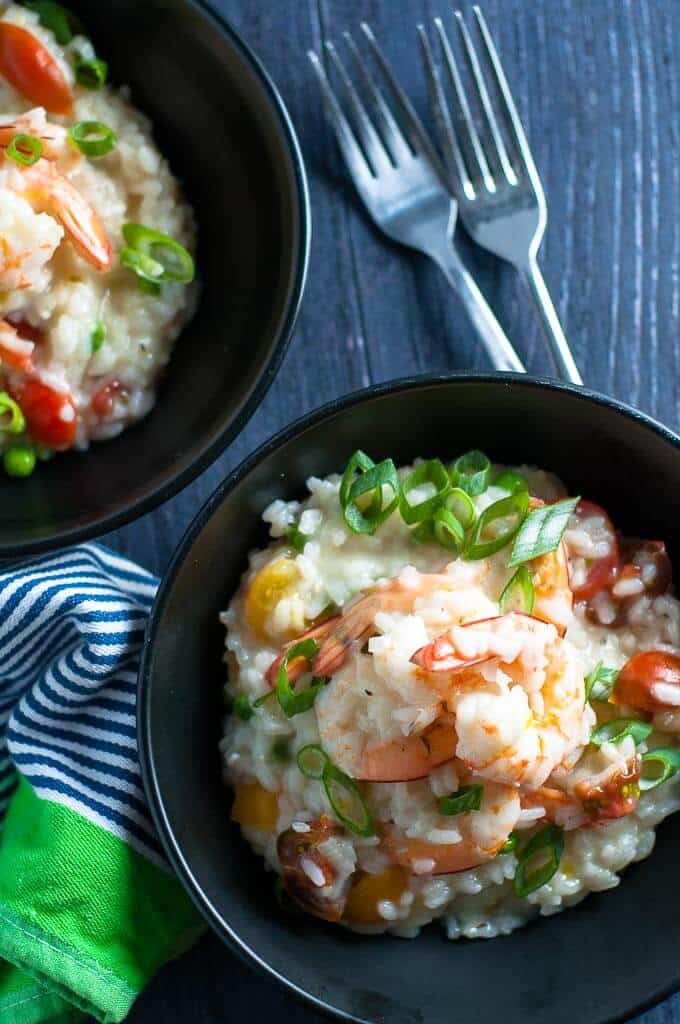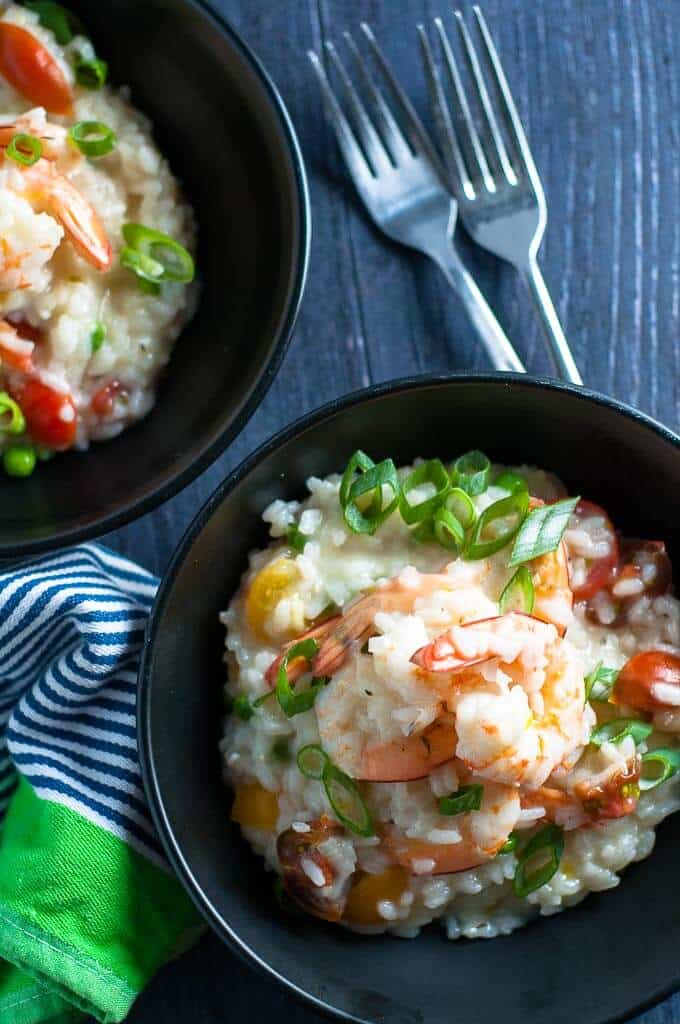 You might have heard it said that Risotto is one of those dishes that is "hard" to make, being that the rice might do all kinds of bad things if you don't know what you're doing and you'll end up with a gluggy, stodgy mess on your hands, hardly worth eating at best, and bin worthy at worst.
Well, I've made my share of Risottos over the years, and while, I'll admit it's not as easy as say a just say cheesy Tuna Mornay Pasta Bake,  a blink and it's done Chilli Basil Chicken Stir-fry, or a Garlic Prawn Pizza on Sunday Nights, this is a dish worth making.  It's a dish that takes a small amount of effort, a couple of pans, lots of prawns and a not obscene amount of cheese.  But you will be rewarded when you sit down to enjoy this meal with family.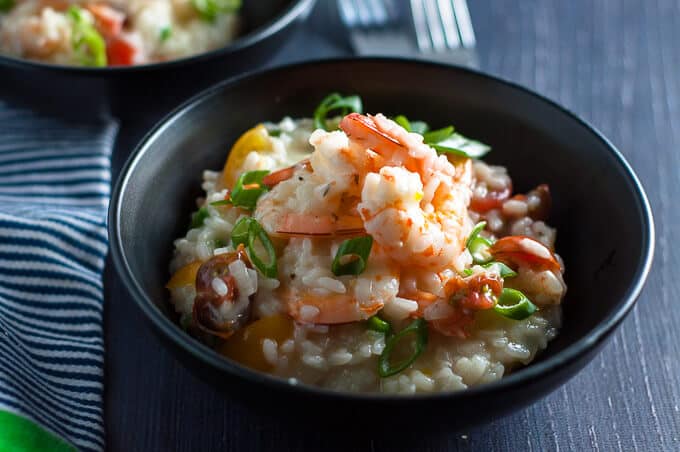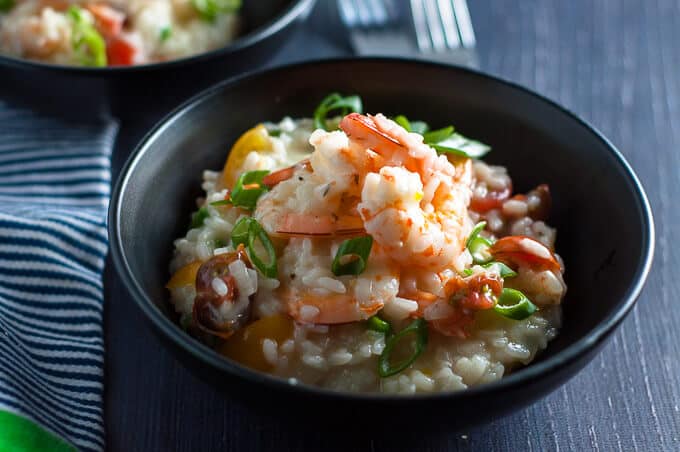 5 Reasons To Put Garlic Prawn and Tomato Risotto On Your Weekend Dinner Menu
Make it a team effort:  Prawns need preparing and onions need chopping.  What better way to get everyone involved and in the kitchen together!
Wine needs to be opened:  You can't have a risotto without wine, so why not have a glass or 2 after you emptied some into the risotto!
Cheese needs grating:  the more parmesan the better.   You have use the fresh stuff.  None of that pre-packaged stuff from the aisle where all the dried spaghetti lives.  No thank you.
Herbs need picking:  Well this is of course if you're lucky enough to have you very own private herb garden in your back yard that your husband built out of reclaimed railway sleepers (all 10 meters of it, Ah, how lucky I am) where you have managed to miraculously grow not only 1 type of herb, but 7.  Thyme being one of them.  Yep, just a few little delicate leaves are needed to lift the earthiness of the dish.
It makes 4 servings!  Calling 3 other people to enjoy this fabulous seafood delight.  And 'jus cause food is always better when you're sharing with someone.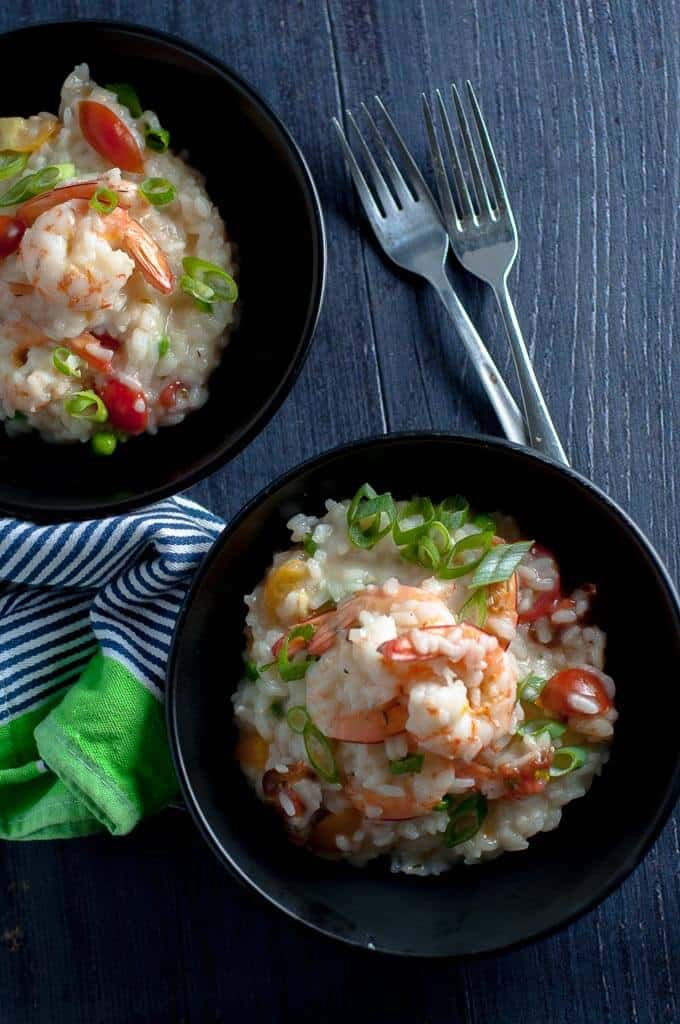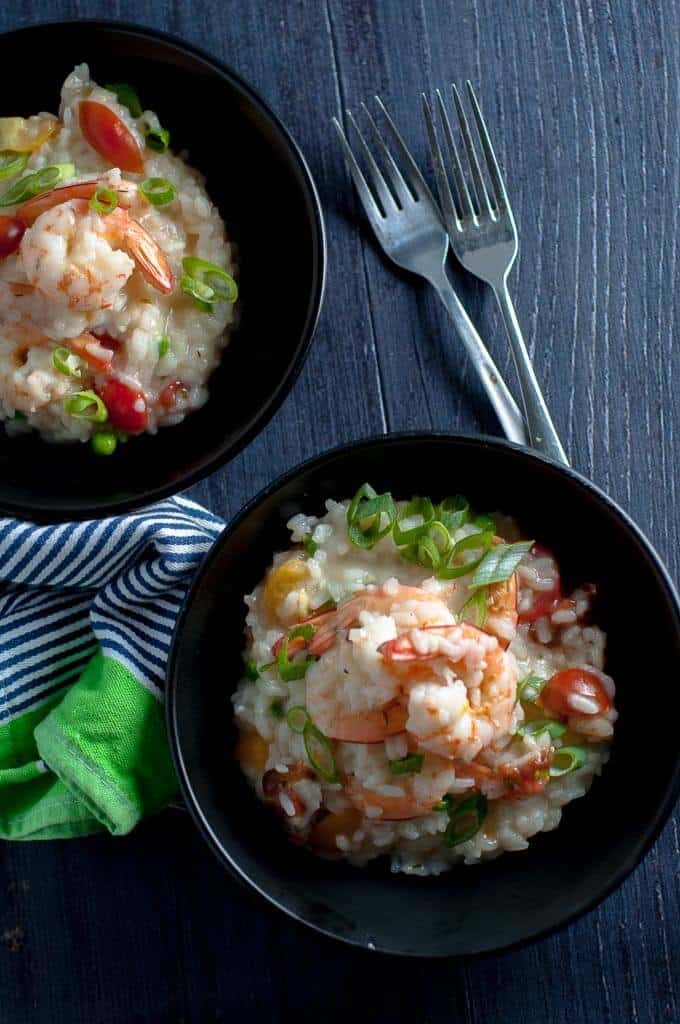 3 Tips For Creating The Perfect Risotto Rice Every time!
Gradually add the stock: I divide the stock into 4 and add a ¼ each time just as the previous stock just starts to bubble.  This keeps the rice cooking evenly without letting the liquid temperature drop too much during the cooking process.
Leave it alone: Avoid the temptation to continuously stir.  It is not necessary and you'd probably be better off having another glass of wine, or if you're a clean freak, start with the washing up or putting things away.  No amount of stirring will make it cook quicker or taste better.
Take It Off At "Soup Like" consistency: Most people leave their risotto on way past when it should have come off.  Take it off the heat when it resembles a thick soup.  Remember it will continue to thicken after it is off the heat and once the lovely delicious parmesan goes in.
Living on Queensland's Sunshine Coast leaves me with no excuse not to use the freshest seafood every time in my seafood dinner recipes, and yes in case you are wondering these prawns were fresh off the trawler from the Mooloolaba Seafood Market, just like when I made my Lemon Garlic Prawns and Spaghetti pasta.
Of course, if you live in a place of perpetual darkness in the middle of a dessert, you could use frozen prawns, but it really does taste the bomb with fresh, just caught rich, juicy and tender prawns!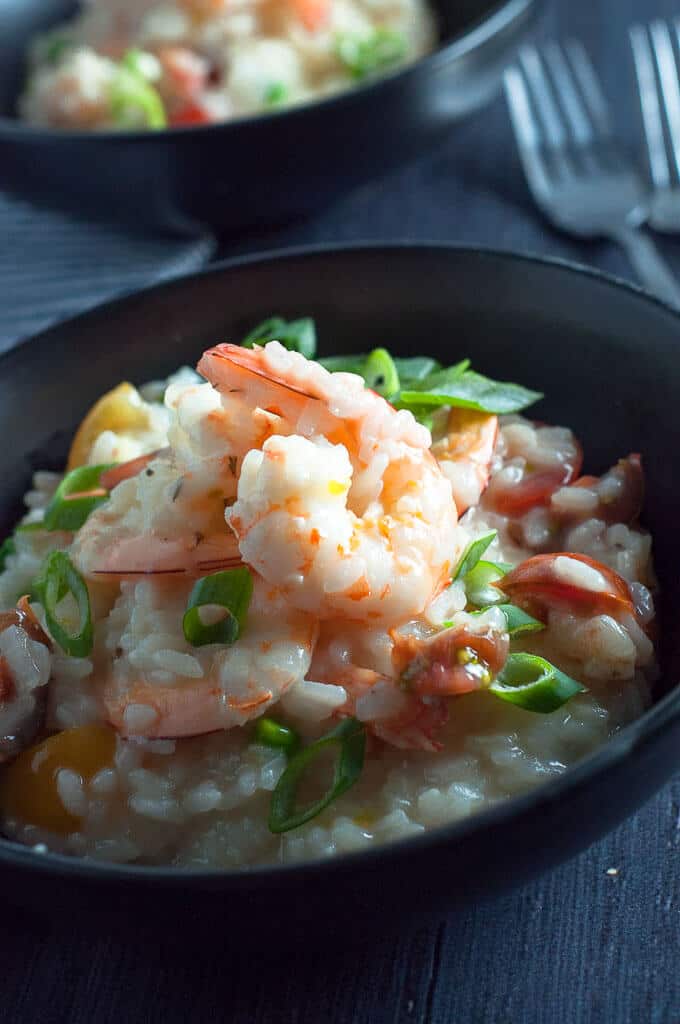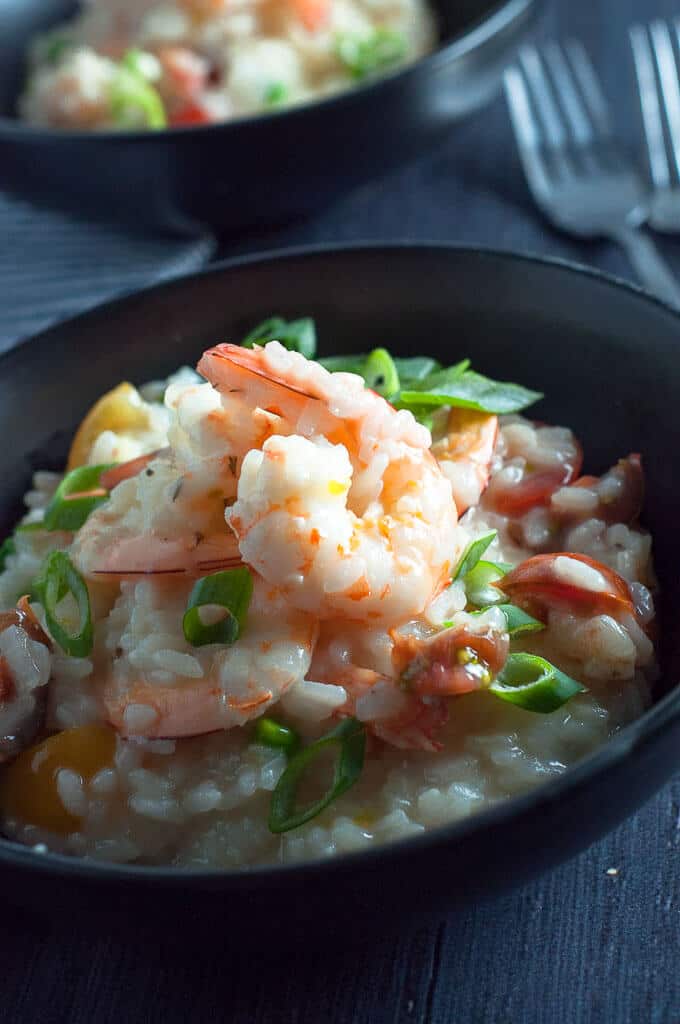 Like what you see? Follow me on Facebook or Pinterest! Did you try a recipe? Tag me on Instagram: @mysugarfreekitchen, and leave a comment & star rating!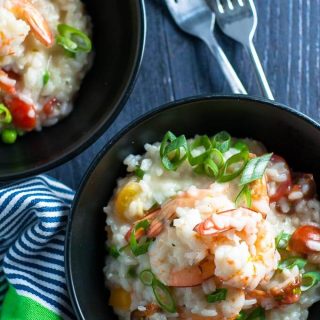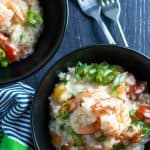 Print
Garlic Prawn and Tomato Risotto
This Garlic Prawn and Tomato Risotto is light and creamy with big juicy prawns, bold garlic and rich colourful cherry tomatoes. It's an easy and warming bowl of seaside seafood on a cool winters night.
Ingredients
500

grams

/ 1.1 lb. Uncooked prawns

(heads removed)

1

tablespoon

Butter

1

medium Onion

2

tablespoons

Garlic

(crushed)

2

cups

/ 200 grams Arborio Rice

4

cups

/ 950 ml Fish Stock

1

cup

Cherry Tomatoes

½

cup

Parmesan Cheese

½

cup

/60 ml White Wine

½

teaspoon

Thyme

(fresh or dried)

¼

cup

Frozen peas

1

teaspoon

salt

1

teaspoon

Chilli Flakes

Lemon wedges to serve
Instructions
Heat a frypan on the stovetop over medium heat and sauté the butter, onion and garlic.

Add the white wine and stir for another 3 minutes.

Add in the rice and coat it all over with the butter mixture for 3 to 4 minutes.

Add 1 cup of stock at a time and bring stir for a minute or two, then add the second cup of stock. Repeat until all stock is added.

Stock should now be very hot. Add the thyme, sale and chilli flakes

Add the uncooked prawns with heads removed. As they cook they will go from translucent to white. Try not to stir them to much after you've added them.

When Risotto has become a thick soup consistency, remove from the heat and add in the parmesan chopped cherry tomatoes and frozen peas. Gently stir these in.

Serve with lemon wedges.

This dish is best eaten at the time it is cooked. However you can keep leftovers in the fridge in an air tight container for 24 hours. Discard after this time.
Nutrition
Calories:
458
kcal
(23%)
|
Carbohydrates:
45
g
(15%)
|
Protein:
39
g
(78%)
|
Fat:
11
g
(17%)
|
Saturated Fat:
4
g
(25%)
|
Fiber:
1
g
(4%)
|
Sugar:
2
g
(2%)
★ Did you make this recipe? Don't forget to give it a star rating below!