I LOVE Garlic Prawn Pizza! Crispy, crunchy base with tangy sundried tomato pesto and tomato paste, with juicy garlic butter prawns, basil and fetta, oh and a touch of basil pesto. YUM!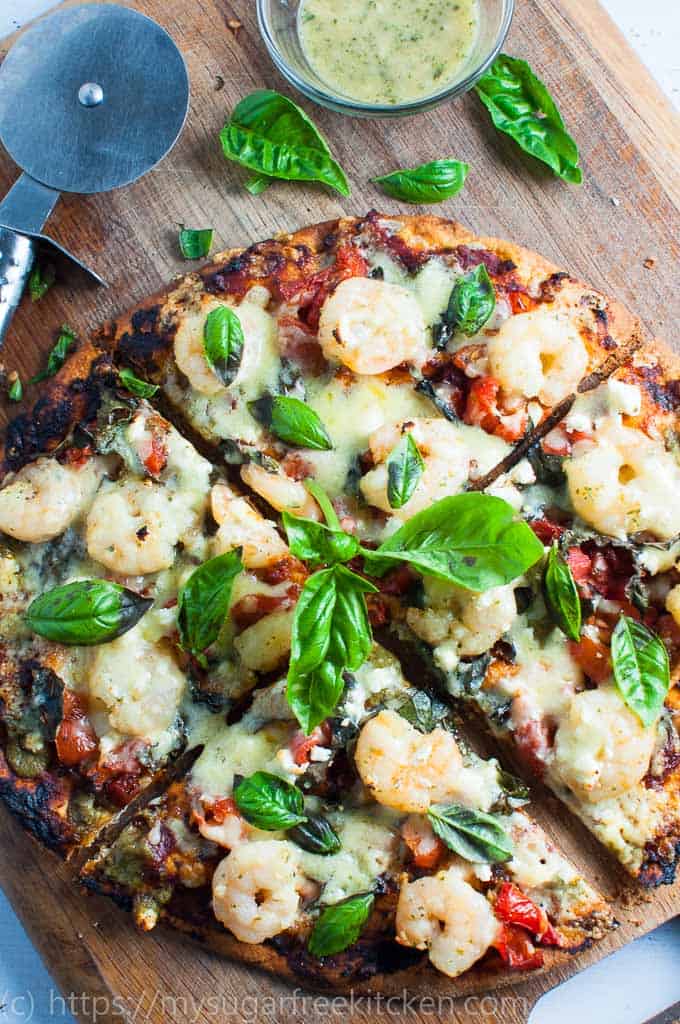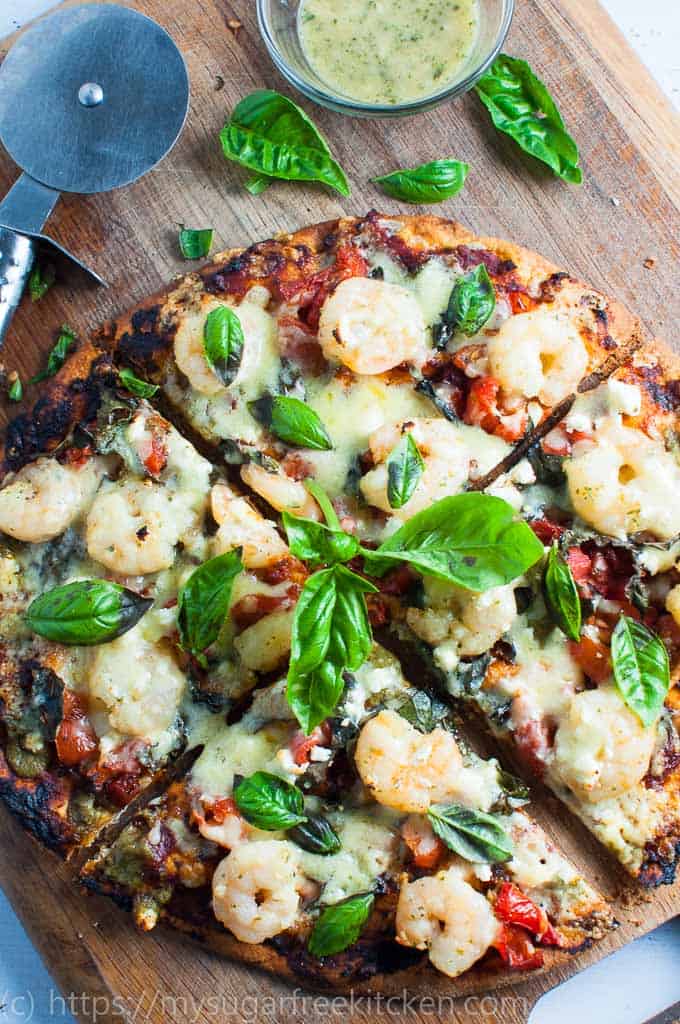 Make this pizza using a store bought base in under 30 minutes!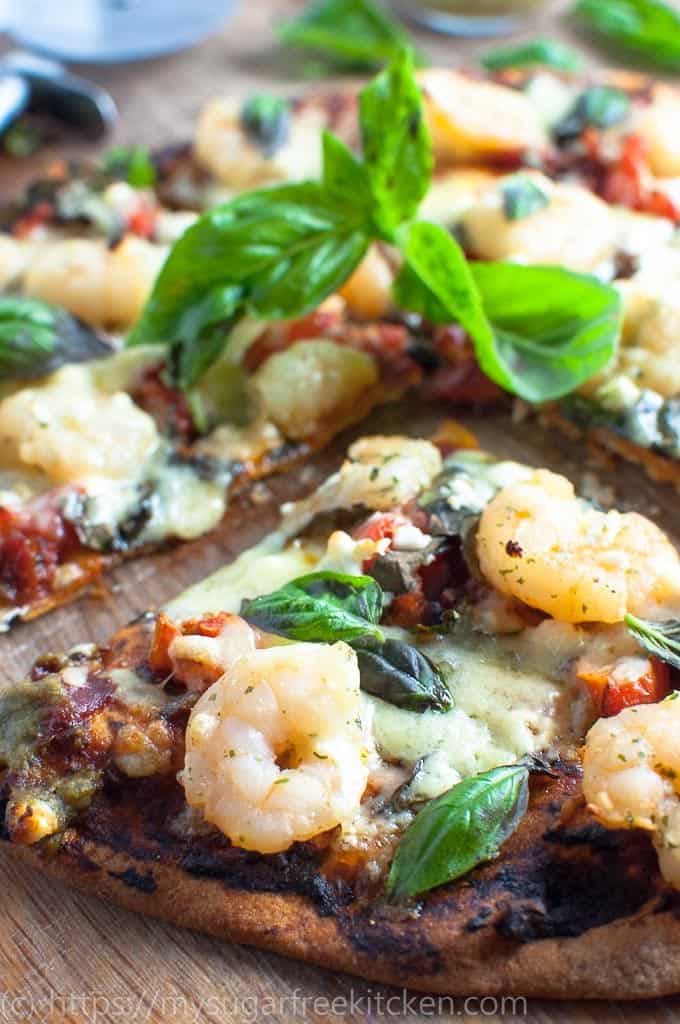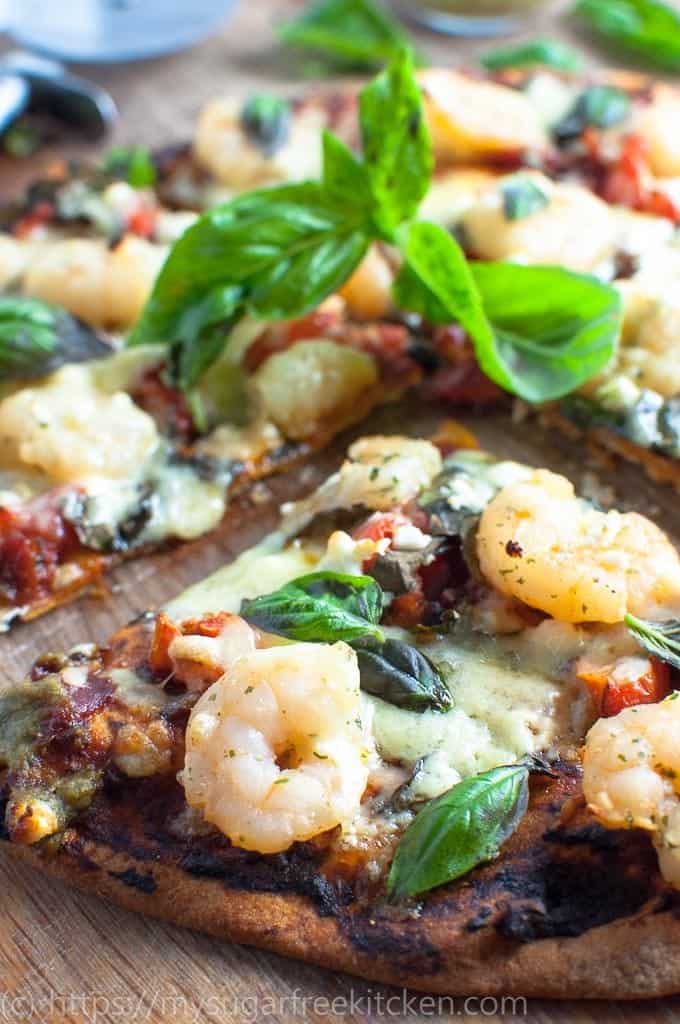 My Other Pizzas: Pocket Bread Pizza with Salami and Pineapple, and Grown Up Lebanese Bread Pizza.
The secret to this Garlic Prawn Pizza
The secret is the base – Its double baked. I used Lebanese bread (2 x 84 grams) which is perfect for the thin crispy base I love. So, I got the Lebanese bread and mixed up the sundried tomato pesto with the tomato paste, spread it over the bread, and then sprinkled about ⅓ of the grated cheese on the sauce and baked it for 10 mins. This is the first bake.
The second bake comes when you have all the topping on the base, where you bake it for another 10 minutes to get that uber crisp, crunchy light base.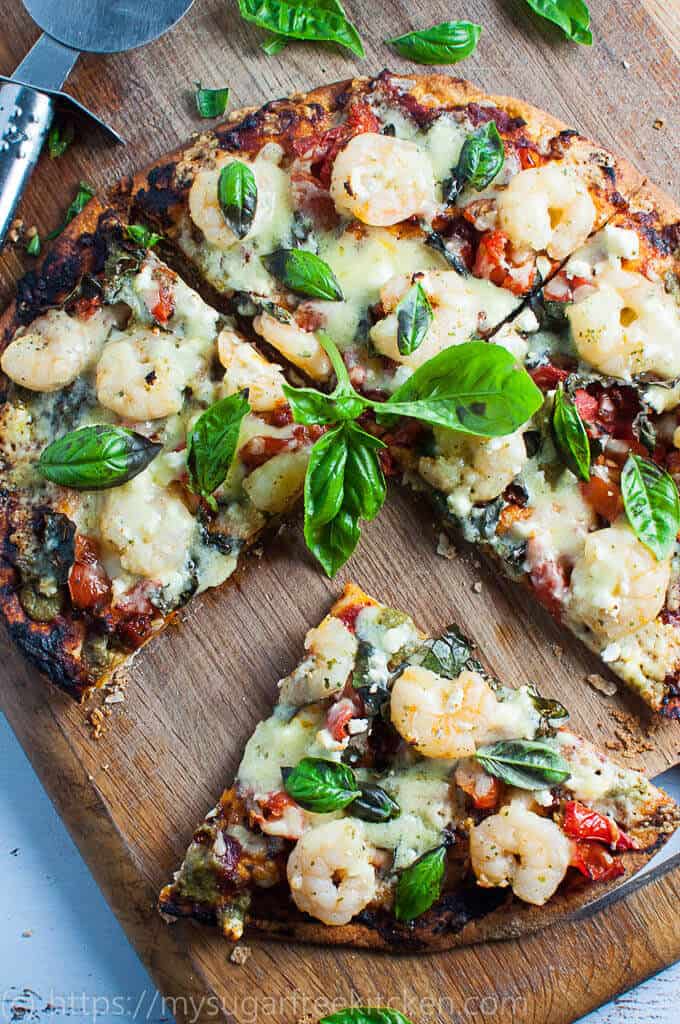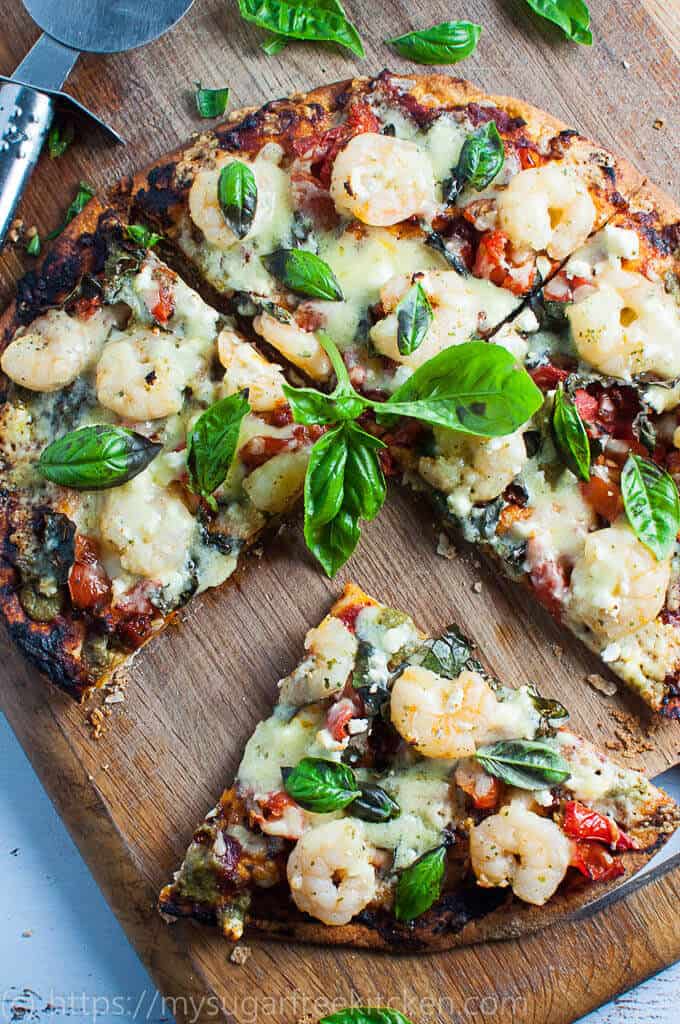 How To Cook Garlic Prawns
Now, to those garlic prawns. You need 3 things. Butter, garlic that's been crushed, and of course the prawns. Ideally the small prawns work best, and you want them green or uncooked. I'm just clarifying this as you can also buy them already cooked, but you don't want that. Buy them uncooked and you'll get a better pizza!
Grab the wok and get it hot, add the garlic and butter and toss in the prawns. They'll cook quickly, so keep an eye on them. Definitely keep the leftover juices. This makes a delicious drizzle to put on the pizza right before serving!
Living on the coast north of Brisbane, there is no excuses for not getting the best prawns possible, but if you live in an area that doesn't have a lot of fresh seafood, you can use the frozen green prawns, just be sure to let them defrost first to get all the water/liquid off. You don't want this in the wok when you're trying to garlic up your prawns, it will just turn into a watery mess.
Fresh Prawns + Twice cooked Lebanese bread base + basil and feta = An awesome Friday night dinner, in front of the TV with a glass of red, with my two best friends, hubby and puppy. This dinner - ready in 30 minutes. Winner.
For more 30 minute dinners, you might fancy something quick and stir fryish, like my Cashew Nut Chicken, or Chilli Chicken Stirfry.
More Garlic Prawn Recipes
Garlic Prawn Pizza
I LOVE Garlic Prawn Pizza! Crispy, crunchy base with tangy sundried tomato pesto and tomato paste, with juicy garlic butter prawns, basil and fetta, oh and a touch of basil pesto. YUM!
Ingredients
2 x

84 gram

/ 2 x 3 oz. Wholemeal Lebanese Bread

300

grams

/ 0.75 lb. Small prawns/shrimp

-

(head and tail removed)

1

tablespoon

butter

2

tablespoons

Crushed Garlic

1

tablespoons

Sun Dried Tomato Pesto

2

tablespoons

Tomato Paste

¼

cup

Low Fat Grated Cheese

1

tablespoon

Basil Pesto

¼

cup

Sun Dried Tomatoes

-

(diced)

2

teaspoons

Crumbled Feta

Handful of fresh basil leaves
Instructions
Preheat oven to 180 degrees C/350 degrees F

Mix the sundried tomato pesto with the tomato paste in a bowl

Spoon the tomato mixture onto evenly over both the Lebanese breads

Use two tablespoons of the allocated low fat grated cheese and divide evenly over each Lebanese bread

Put each on a pizza tray and bake for 10 minutes

Meanwhile, cook the garlic prawns. If you have the larger prawns, chop them up so they go further. Heat a wok and add the butter and garlic and toss prawns until they turn translucent. Keep the garlic sauce as you can sprinkle this over the pizza just before serving

When Lebanese breads are finished baking, remove from oven and lay the cooked prawns over, followed by the chopped sundried tomatoes, feta, remaining grated cheese.

Add a few dobbs of pesto basil before putting back into the oven

Bake again for another 10 minutes

When pizza is out of oven for the second time, sprinkle a few basil leaves over and drizzle the garlic prawn sauce over just before serving.
Notes
Best eaten straight out of the oven
Best eaten the next day for breakfast
Best eaten next day for lunch
Who am I kidding, it's not going to last that long!  
Nutrition
Calories:
394
kcal
Carbohydrates:
40
g
Protein:
32
g
Fat:
11
g
Saturated Fat:
4
g
Fiber:
5
g
Sugar:
5
g
Note: Sugars contained in this recipe are from naturally occurring sugars in fruits, vegetables or other natural sweeteners.
Looking To Cut Out Sugar? Get the FREE Healthy Food Swaps Checklist Pack!
Get your FREE Healthy Food Swaps Checklists with over 65 Healthy Food Alternatives to Help you Ditch The Sugar Without Feeling Deprived.