Pocket Bread Pizza is another one of my favourite Friday night takeout at home dinners.  Its quick, easy and cheap, and really darn tasty!  The Pocket Bread is perfectly crispy, with lightly spiced salami, tangy pineapple and a little bit of zing thanks to my trusty masterfoods dried pizza herbs.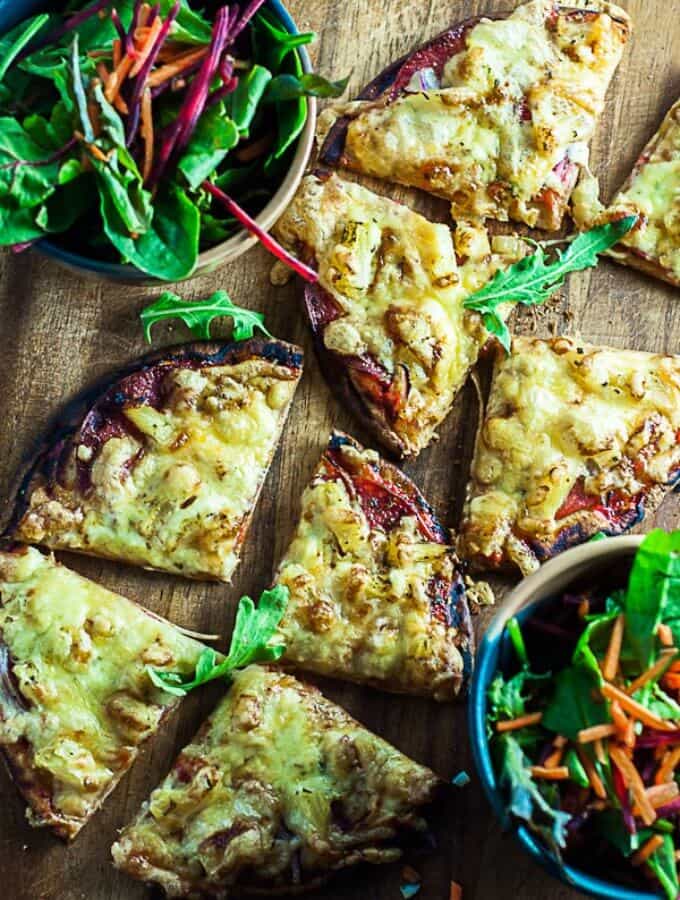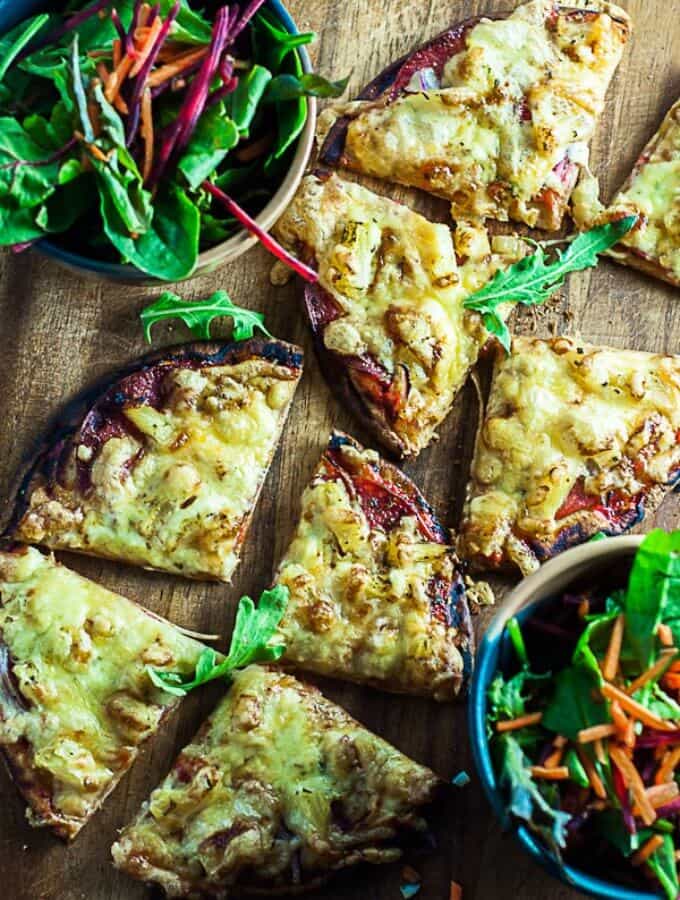 I Eat Pocket Bread Pizza A lot.
By a lot, I mean there are times where I've been known to be so lazy with my food (aka not home from work/gym until after 7pm), I have had this pizza 3 or 4 nights a week, um, in a row.  Ooops.  That doesn't sound too healthy does it.
But wait up a minute.  There is a little trick to being able to eat these addictively simple numbers on more nights of the week, than just Friday's.
It's called salad.  That's right.
See, these pocket bread pizzas are not big.  In fact, they are probably on the smallish side.  That is where the salad comes in.
A nice big salad with leafy greens, juicy tomatoes, crunchy cucumber, and strands of carrot cut with my new toy, the ribbon peeler.  Plus some roasted sweet potato, zucchini and wait for it…. brussell sprouts.  With a small drizzle of balsamic vinegar.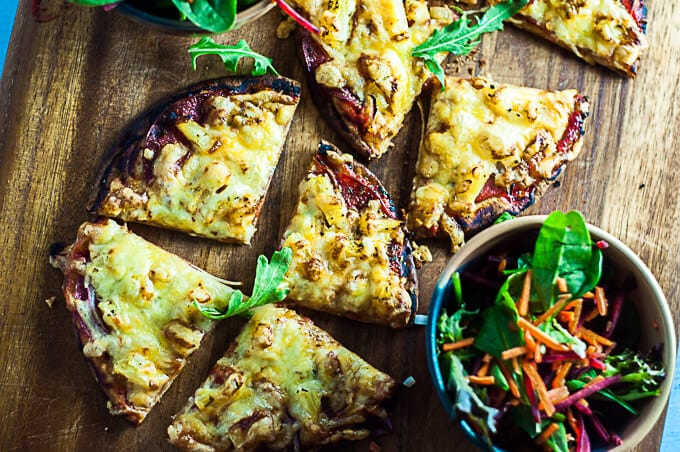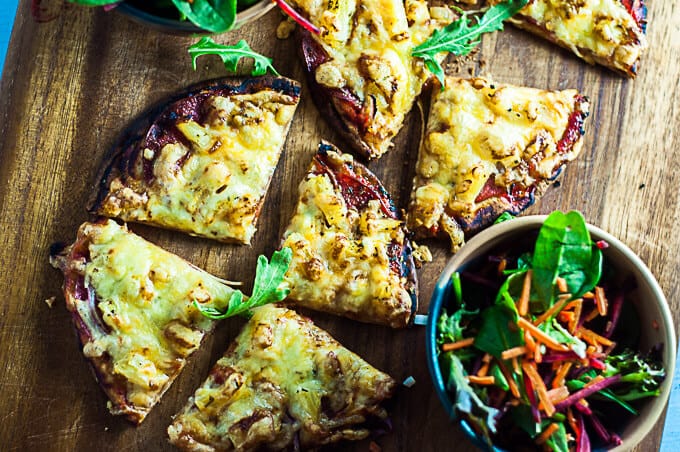 Chop up the sweet potato, zucchini and brussell sprouts into small pieces on a separate balking tray and cook them with your pizza.  Easy.
All this salad goodness does its job of filling you up, along with the pizza so you only want, need one Pocket Bread Pizza, not two, and especially not three.
Although of course you could skip the salad totally and just eat two.  That's cool.
Even if you do, you still aren't going to feel bogged down and heavy afterward because the base is so light.  Almost featherlike, but its not going to crumble in your hands.
It's just going to hold its own when you pick it up.  It won't sag in the middle making the topping fall off, and it won't get stuck in your teeth because the dough is gooey.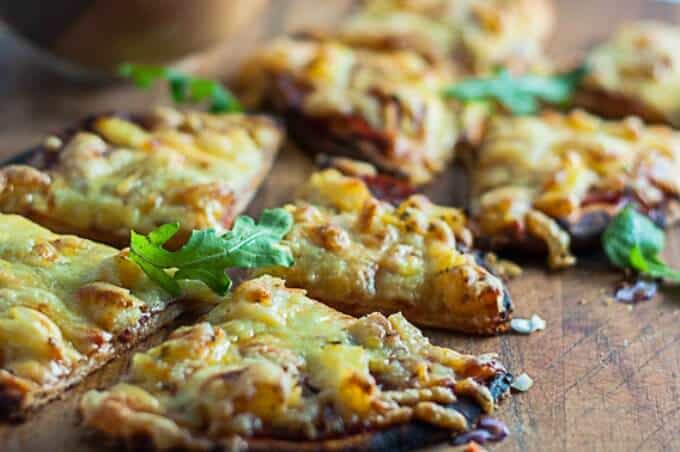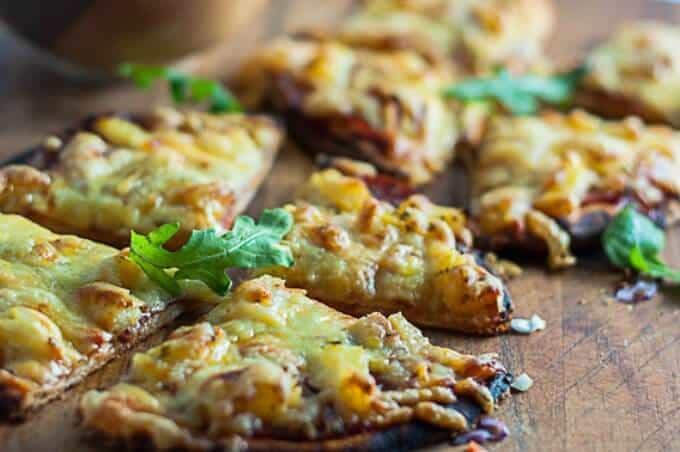 You'll just hear crispy crunchiness, followed closely by the tasty flavours of tomato and salami, with sweet pineapple.
In actual fact, you could put more, or less on this pizza, depending on your mood.
You could change the salami to lean shaved ham to make it even healthier (but really it is so low in calories why would you bother??)
If you're not into pineapple, swap it for real live tomato, sun dried tomato, or apple.  Yes apple.
As for cheese.  Pretty much anything goes so far as cheese is concerned.  Add more.  Skip it altogether and crumble some feta over instead.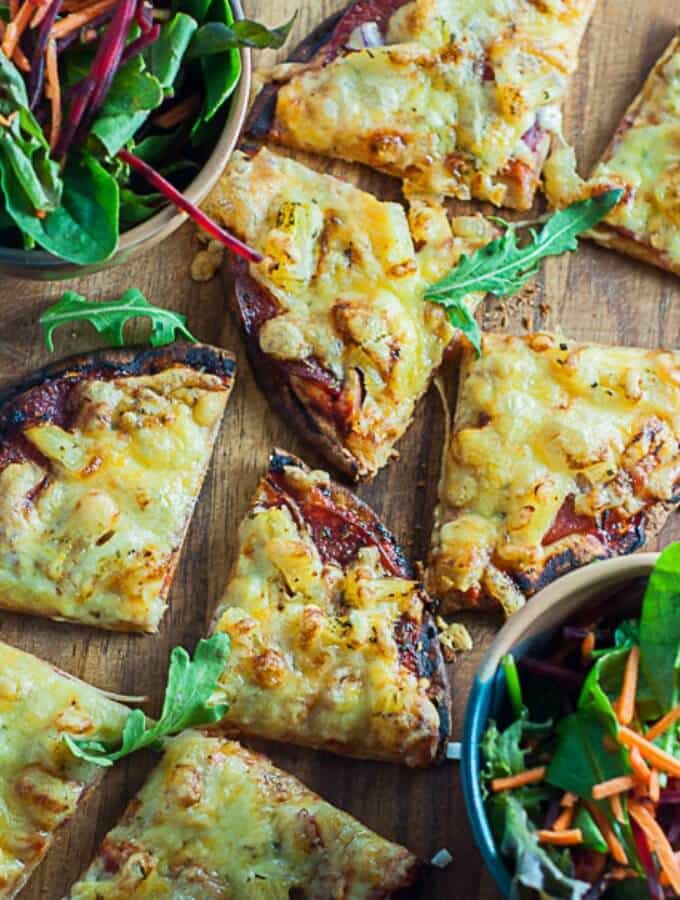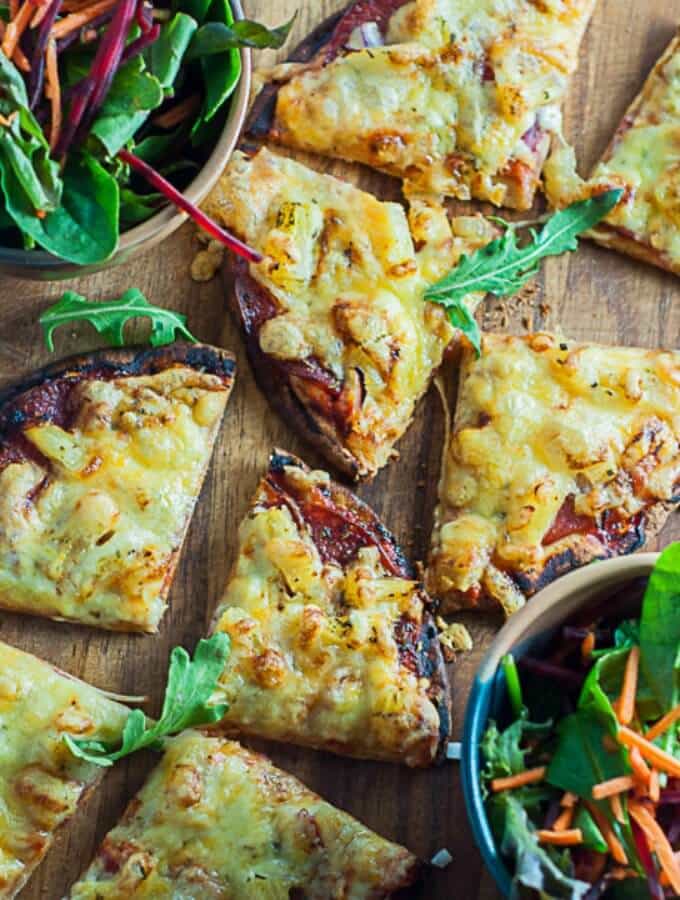 The world is your oyster when it comes to this Pocket Bread Pizza.
In case you're wondering what I'm having for dinner tonight.  Guess what?
Well, I could.  But I won't. It was last night's dinner.  Tonight I'm having Cashew Nut Chicken.
If this Pocket Bread Pizza has tempted you just a little bit, but not totally convinced you that you need to eat pizza tonight, check out my Lebanese Bread Pizza for Grown Ups, and my Spoil Yourself Garlic Prawn (Shrimp) Pizza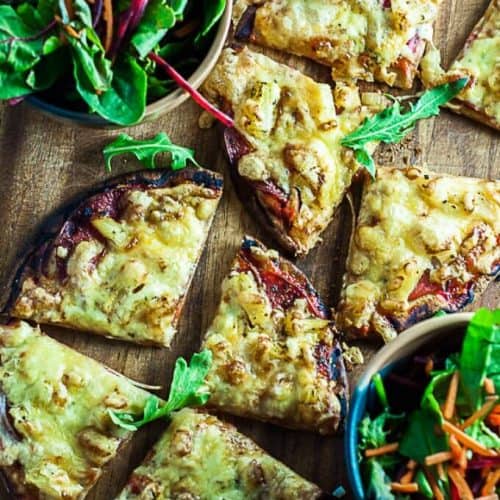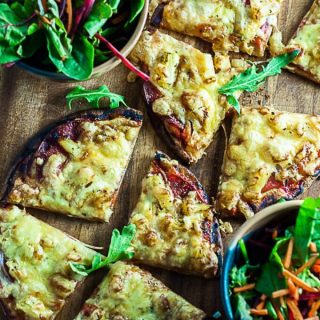 Pocket Bread Pizza With Salami and Pineapple
This Pocket Bread Pizza is perfectly crispy, with lightly spiced salami, tangy pineapple and a little bit of zing thanks to my trusty masterfoods dried pizza herbs.
Print
Rate
Ingredients
2

Wholemeal Pita Breads

-

43 grams/1.5 ounces each

2

tablespoons

Tomato Paste

12-16

slices

Thinly sliced mild salami

¼

sliced Red onion

½

cup

Tinned pineapple cut into pieces

-

or 2 rounds chopped up

1

cup

Grated low fat cheese

1

teaspoon

dried Pizza Herbs

-

I use masterfoods brand (Note 2)
Instructions
Preheat oven to 180 degrees C (350 degrees F).

Spoon tomato paste evenly over pita breads

Add salami, red onion, then pineapple chunks

Sprinkle over the dried herbs

Sprinkle on the grated cheese

Bake at 180 degrees C (350 degrees F) for 15 minutes
Notes
Serve with a side salad. To keep it super easy and quick, serve with a side salad.  I get the ones with spinach, carrot and beetroot for crunch and texture.
You can make your own pizza herbs by adding 1/4 or a teaspoon of dried  basil, oregano, parsley, thyme, and garlic salt
Nutrition
Calories:
379
kcal
|
Carbohydrates:
25
g
|
Protein:
15
g
|
Fat:
13
g
|
Saturated Fat:
4
g
|
Fiber:
3
g
|
Sugar:
11
g
Did You Make This Recipe?
Mention @mysugarfreekitchen or tag #mysugarfreekitchen!