Moroccan spiced skinless chicken thigh slow cooked for 6 hours in a tomato based sauce, infused with garlic, ginger, and chilli. Only 15 minutes of prep, simple ingredients and dinner will cook itself.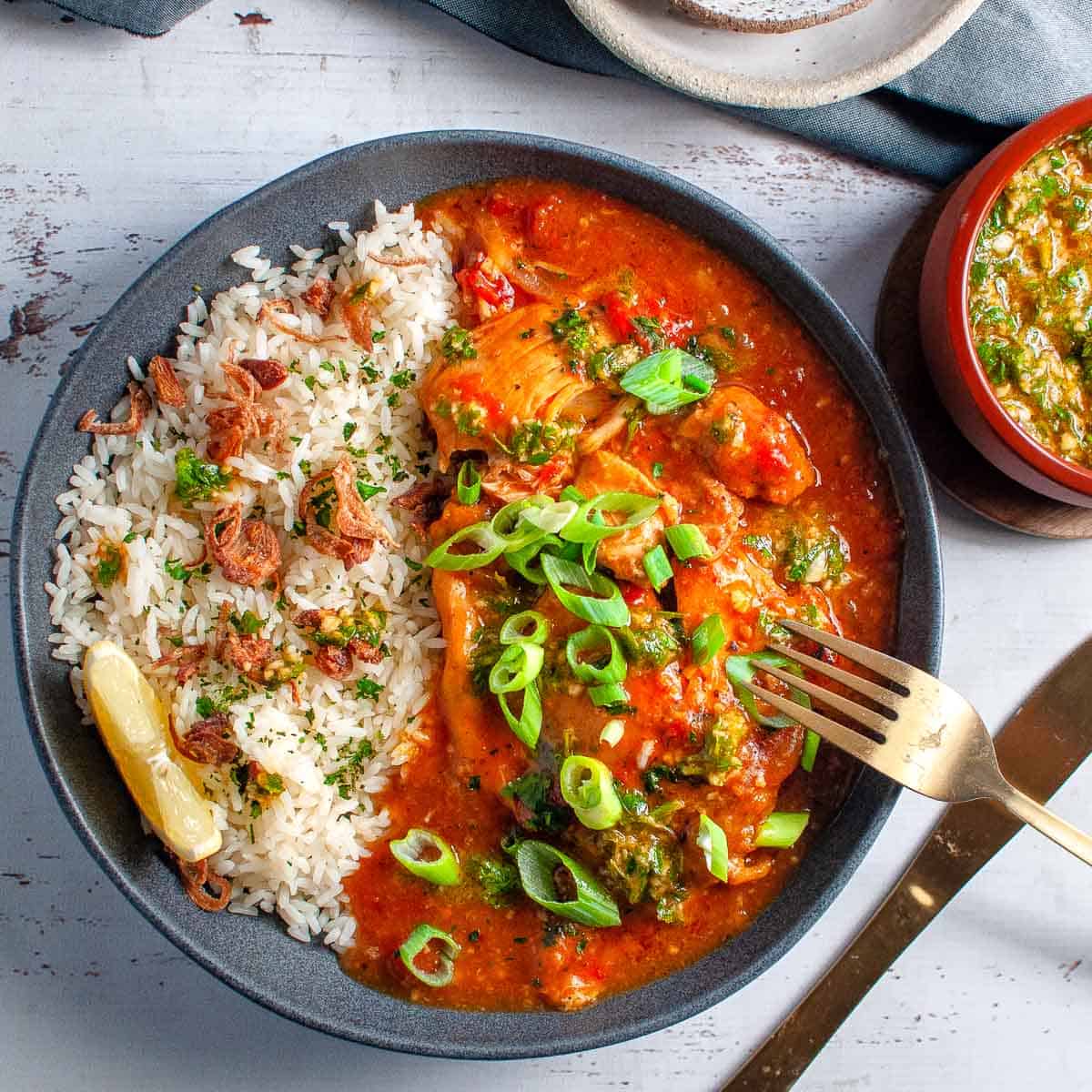 Ingredients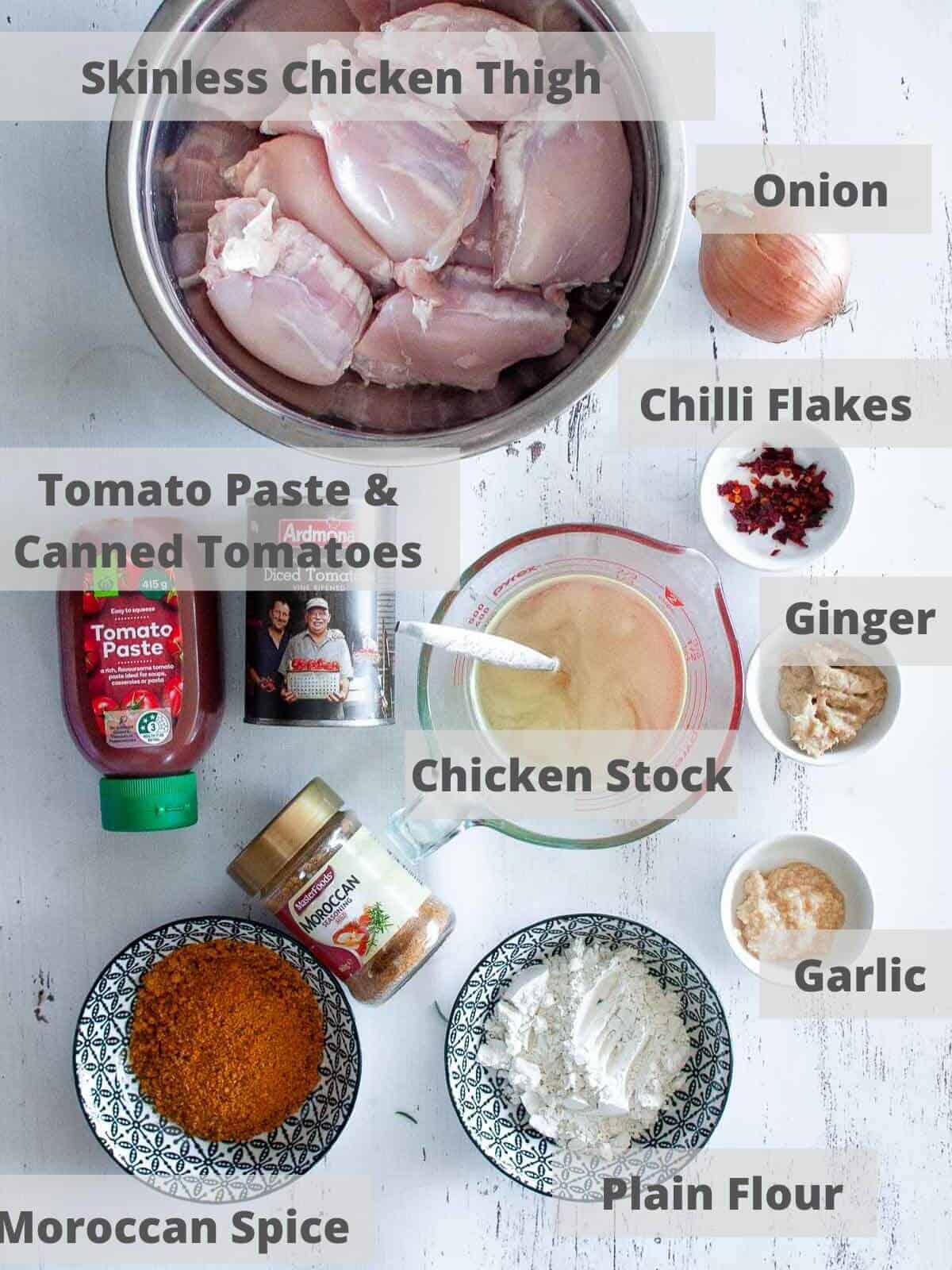 Why Make This Recipe
Minimal prep - only 15 mins
Its deliciously moorish flavours with simple ingredients
It practically cooks itself
Easy to make it less spicy or more spicy depending on who your feeding
Is amazing on its own, or with mashed potato
Freezes well, and will last upto 2 months in the freezer
There's lots of saucy goodness to soak up
Goes perfectly with this quick and easy homemade 3 ingredient flatbread
Make it Low Carb with cauliflower rice
I have been making moroccan chicken thighs in the slow cooker for the last four or five years, and it never gets old. It's an old time favourite and its one of those comforting recipes I often pull out when I'm feeling like I need a giant big hug of goodness!
How To Make This Dish
Place the plain flour and 4 tablespoons of Moroccan seasoning and chicken into a bowl and use tongs to coat the chicken with the flour/spice mix.
Heat a pan on medium high, add the oil, and brown the chicken thighs in batches. As they brown, place them in the slow cooker.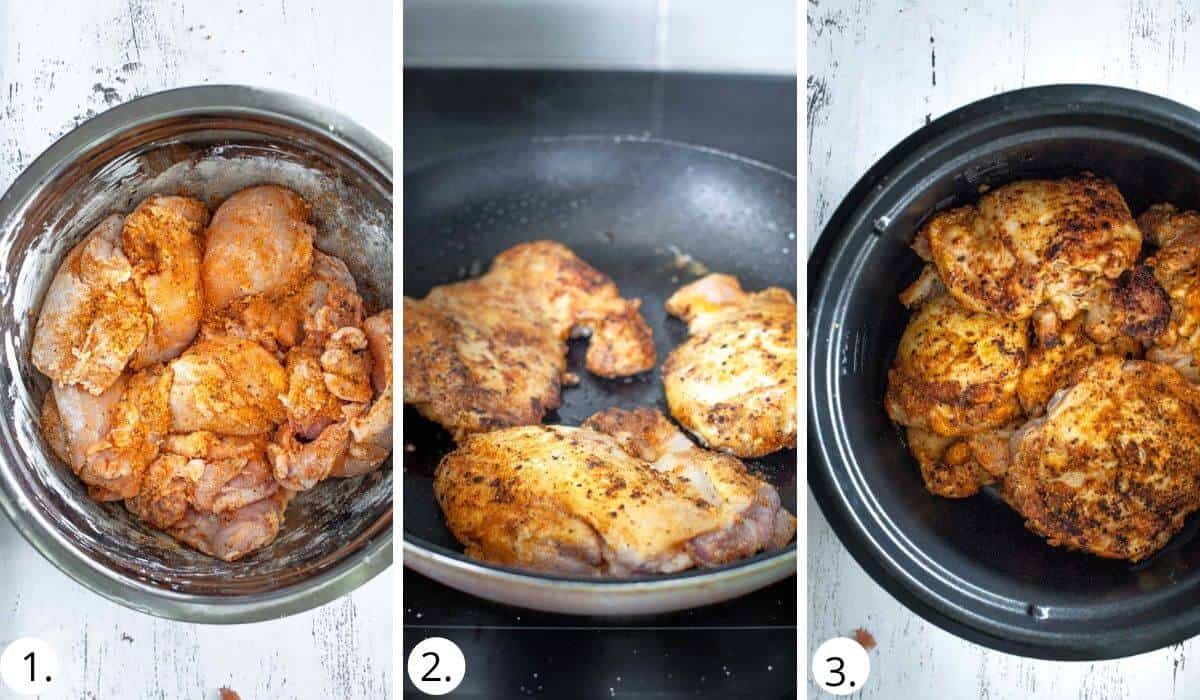 Once chicken is browned, use the same pan - adding onion, ginger, garlic, chilli and 1 tablespoon seasoning and cook until onion softens. Add half the chicken stock/broth and bring to the boil
Add the onion mixture, tomatoes, tomato paste, remaining chicken stock/broth, and 1 tablespoon seasoning
Gently stir sauce through to cover the chicken. Cook on low in Slow Cooker for 6 hours. Remove lid after 6 hours and stir through.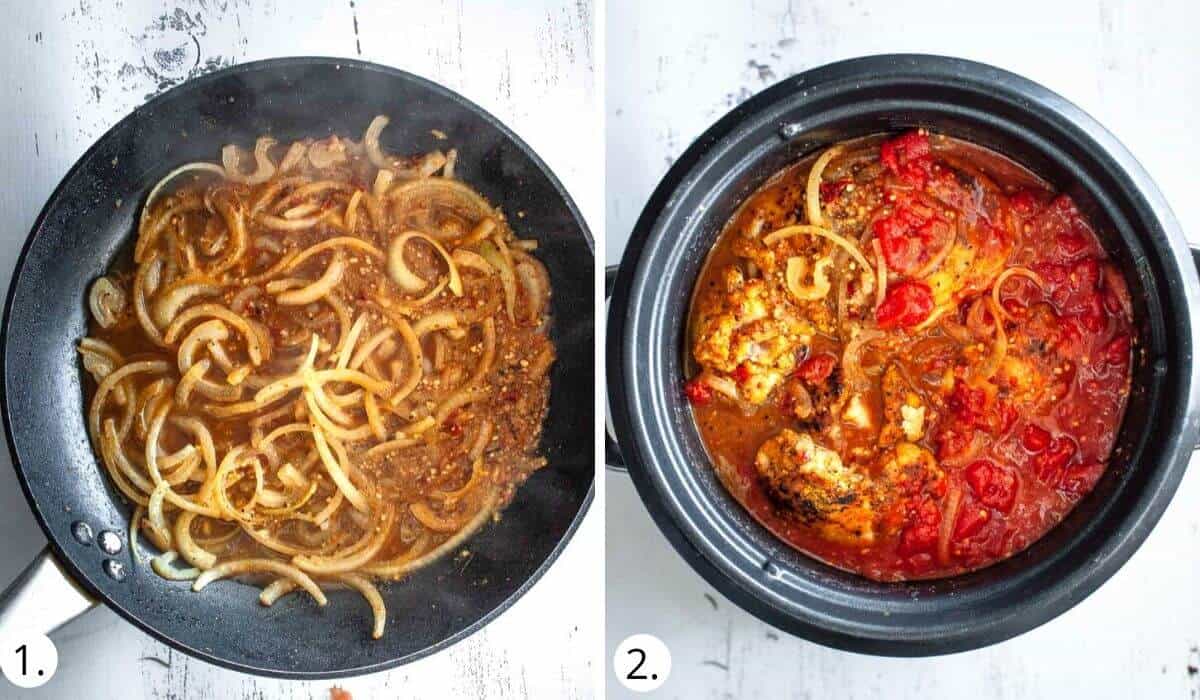 How To Make Gremolata
Add parsley, garlic sea salt and smoked paprika to a food processor or blender. Zest in the lemon, and lemon juice (discard rest of lemon). Pulse until combined.
Pour into a container that has a lid. Spoon over chicken, when about to serve. Store any leftovers in fridge for upto 1 week.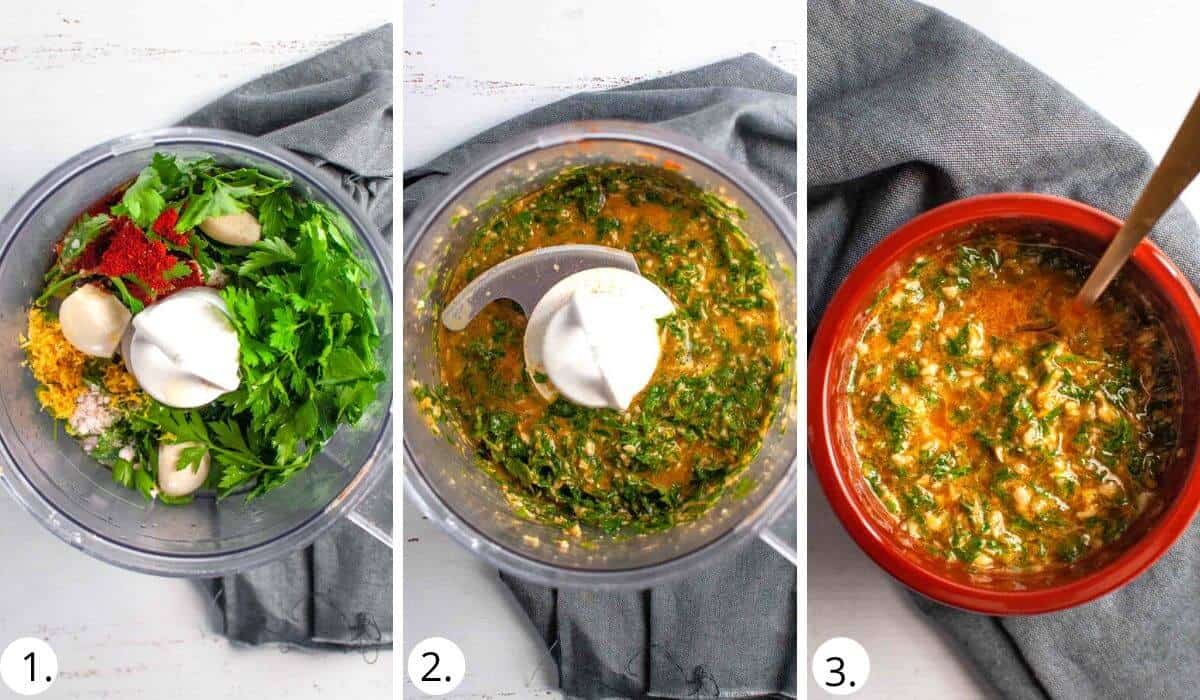 Recipe Tips
To Thicken sauce once cooked, make a cornflour slurry. Add a tablespoon of cornflour and a tablespoon of water to a jug, mix together and then stir through the chicken and sauce and it should gradually begin to thicken.
Moroccan Seasoning – this is an all in one seasoning sold in supermarkets in Australia. I use the Masterfoods brand. If its not available where you live, you can make your own:

1 tablespoon of Tumeric
1 tablespoon Plain Paprika
1 tablespoon Smoked Paprika
1 tablespoon Garlic Salt
1 tablespoon Dried Rosemary
1 tablespoon Dried Cumin
1 tablespoon Ground Corriander

Whilst this recipe is delicious on its own, adding a touch of gremolata really takes it to the next level. Gremolata is a condiment where the main flavours are garlic, salt and lemon. Its easy to make and a few small drizzles on the dish at the end is all you need.
Serving Suggestions
Pearl Cous Cous (lightly boiled for around 10 minutes in a pot of water, then drained)
Steamed Brown Rice, made fresh, or if you're having leftovers or are pressed for time, packet brown rice prepared in the microwave
Quinoa, made fresh or the instant variety that you can microwave for 30 seconds
Sweet Potato, mashed with a little butter and salt
Spaghetti, boiled in a pot of salted water and drained
Polenta, rich and creamy made according to packet instructions
Buckweat noodles for something a little different
FAQ's
Can I use Chicken Breast?
No, I wouldn't recommend using chicken breast, as it will dry out too much. Skinless chicken thigh is ideal for this recipe as it has a little bit of fat to keep the meat moist and succulent during the cooking process.
How Spicy is it?
If you make the recipe to the exact specifications, the level of heat could be described as comparable to a medium thai curry. If you're used to eating mild curries, see below for how to adjust.
How To Make It Less or More Spicy
Less Spicy - leave out the chill flakes. To take it from a medium level of heat to Hot - double the chilli flakes and moroccan spice.
How To Store Leftovers
Store in an air tight container in the fridge. Discard after 3 days.
Can It Be Frozen?
Yes, this recipe freezes well. Store in a suitable freezer container with name of what is is, and label it to be used within 2 months.
More Slow Cooker Recipes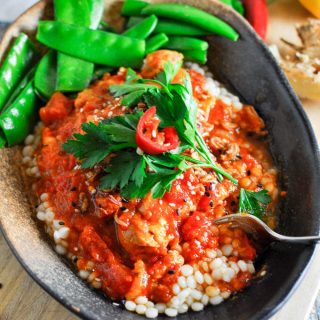 Spicy Chicken Slow Cooker
Moroccan spiced skinless chicken thigh slow cooked for 6 hours in a tomato based sauce, infused with garlic, ginger, and chilli.
Ingredients
1

pound

/ 500 grams Chicken Thigh Fillet

(skin removed)

2

tablespoons

plain flour

4

tablespoons

Morrocan seasoning

(I use masterfoods)

1

medium Brown onion

2

teaspoons

crushed garlic

2

teaspoons

Minced ginger paste

½

Red chilli

(diced, seeds removed)

½

cup

/ 120 ml Chicken stock

(chicken broth)

400

grams

/ 14 oz. Tin diced tomatoes

2

tablespoons

Tomato paste

100

grams

/ 3.5 oz. Pearl cous cous

50

grams

/ 2 0z. green beans
Instructions
Preparation: In a medium size freezer bad, place the plain flour and 2 tablespoons of Moroccan seasoning. Toss and coat the chicken and then shake off excess.

Either in a frypan, or in your slow cooker, brown off the chicken pieces. Place to the side once browned

Add onion, ginger, garlic, chilli and seasoning and cook until onion softens

Add half the stock and bring to the boil

Slow Cooker (or casserole dish with lid if cooking in oven): Add the chicken, onion mixture, the tin tomatoes, tomato paste, remaining chicken stock, and remaining 2 tablespoons of seasoning

Gently stir sauce through to cover the chicken

Cook in your Slow Cooker on low for 6 hours and serve with pearl cous cous, green beans, and a slice of lime. Garnish with chopped parsley. Alternatively, you can cook in the oven for 60 to 70 minutes at 180 degrees C/350 degrees F.
Notes
If you don't have a slow cooker, you can make this recipe using the same preparation method on the stovetop, and then bake for 90 minutes in an oven at 180 degrees C.
If sauce is to liquid, add a tablespoon of cornflour mixed in a tablespoon of water and add to the sauce.  Stir to thicken.
Nutrition
Calories:
385
kcal
Carbohydrates:
32
g
Protein:
36
g
Fat:
13
g
Saturated Fat:
3
g
Fiber:
1
g
Sugar:
6
g
Tried this recipe?
Let us know how it was by leaving a comment below!