This Asian slow cooker lemon chicken and potatoes is simply bursting with flavours and takes just 12 minutes of prep, then its set and forget for 6 hours in your slow cooker. You'll be rewarded with juicy and succulent Asian inspired lemon chicken with a hint of honey and spice that is so moreish this dish will become a regular feature on your menu planning.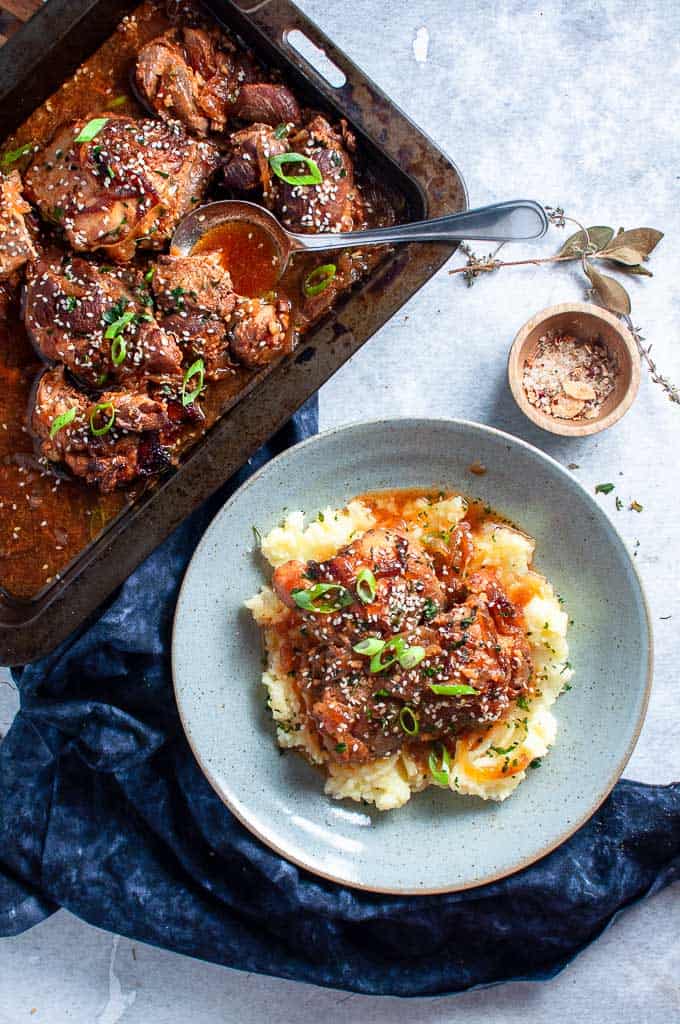 I should point out that this dish isn't overly lemony. Not like Chinese lemon chicken, or even my Healthy Asian Lemon Chicken Tenders. Its got a mild hint of chilli balanced with the coolness of a little honey, pumped up by lemon, garlic, ginger and soy and let me tell you, this combination is one of my favourites.
Spicy and Sweet all at the same time.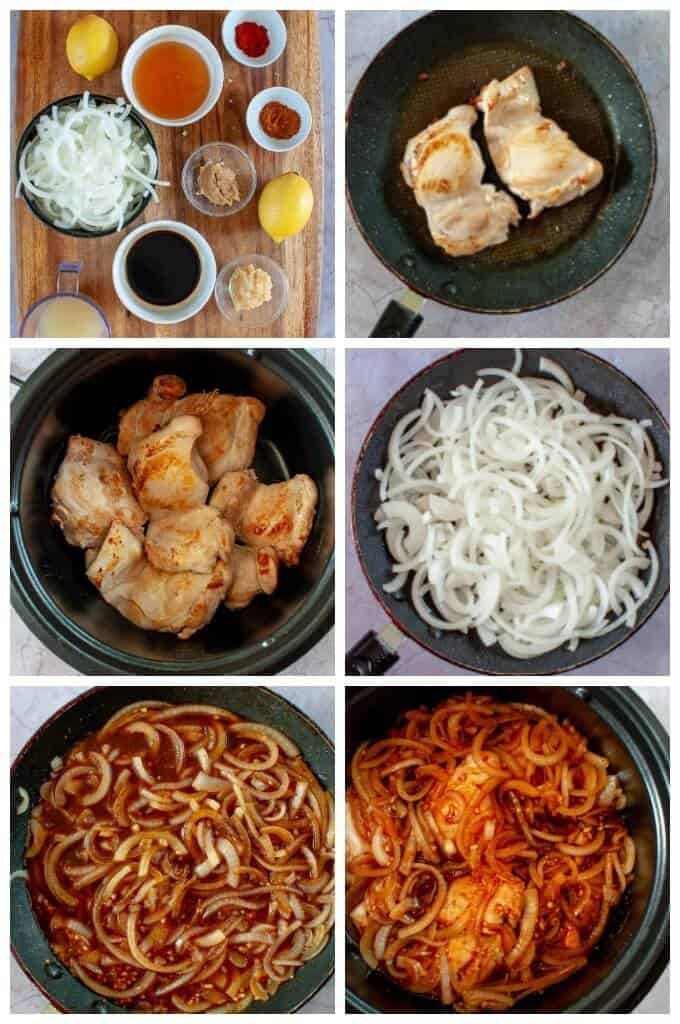 Tips for Making Asian Slow Cooker Lemon Chicken and Potatoes
Chicken: Skinless chicken thigh is best. It's lower in fat and well, the skin is just not really necessary.
Browning: Browning off the chicken thighs in a skillet before you put them into the slow cooker is enough to the create a golden crispness on the outside. This is an essential step to sear the meat and lock in flavour as well as to create those delicious golden crispy bits that will become more amplified during the slow cooker process. (please don't skip the browning!)
Onions: It might look like a lot of onion, but it's not. It adds an enormous amount of flavour during the cooking process and most of it will cook down to barely anything after 6 hours.
Slow Cooking: 6 hours is just the right amount of time on low in your slow cooker. I have a slow cooker without a timer (it defaults to 8 hours) so I have to use another alarm to manually turn it off after 6 hours otherwise the chicken will be too mushy
Spices: If you don't like spice, you can omit the dried chilli powder and smoked paprika altogether, or reduce it to half the amount listed.
Honey: I use raw honey (usually Manuka Honey) as it is honey in its natural state that has not been strained, filtered or processed. I only use small quantities in my cooking but equally you could replace this with a granulated sweetener that measures like sugar, like Stevia for example.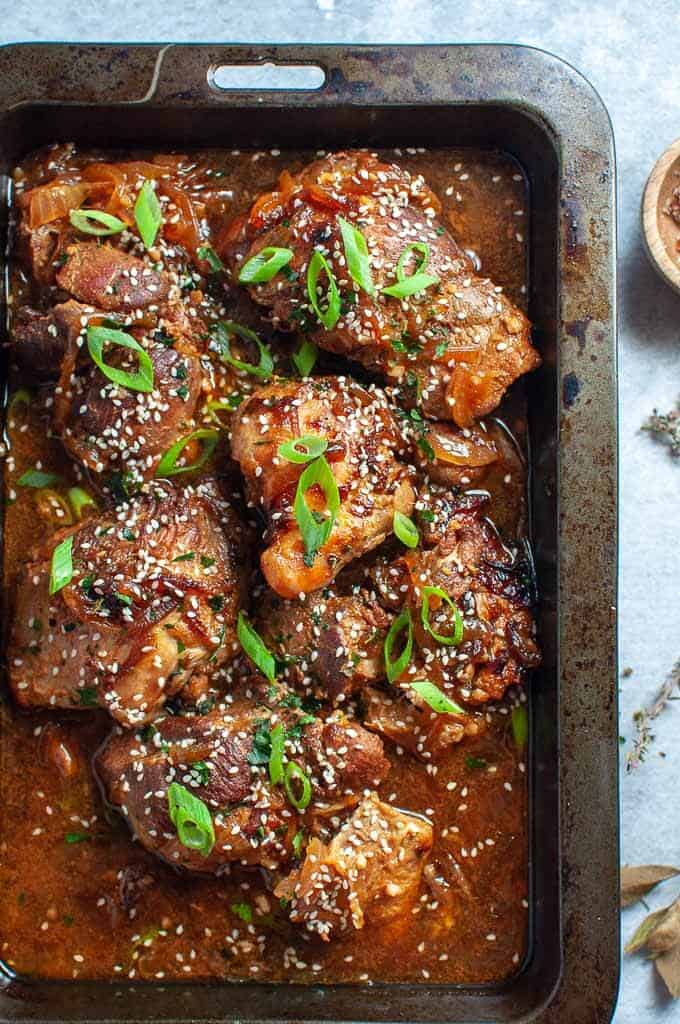 5 Alternatives to serving with Potato
There is a good bit of sauciness with this recipe so it's great to have something to mop it up with. If you're anything like me you don't want to miss out on all that flavour. I actually think the sauce is one of the best parts!
Some suggested alternatives to potato:
Simple and easy brown rice
Wholegrain Noodles, like the Wokka brand
Pearl Cous Cous
Low Carb Option 1: Steamed green cabbage, thinly sliced mixed with a little butter and lemon pepper
Low Carb Option 2: Zucchini Noodles lightly boiled/steamed so they are just softened
You might also like: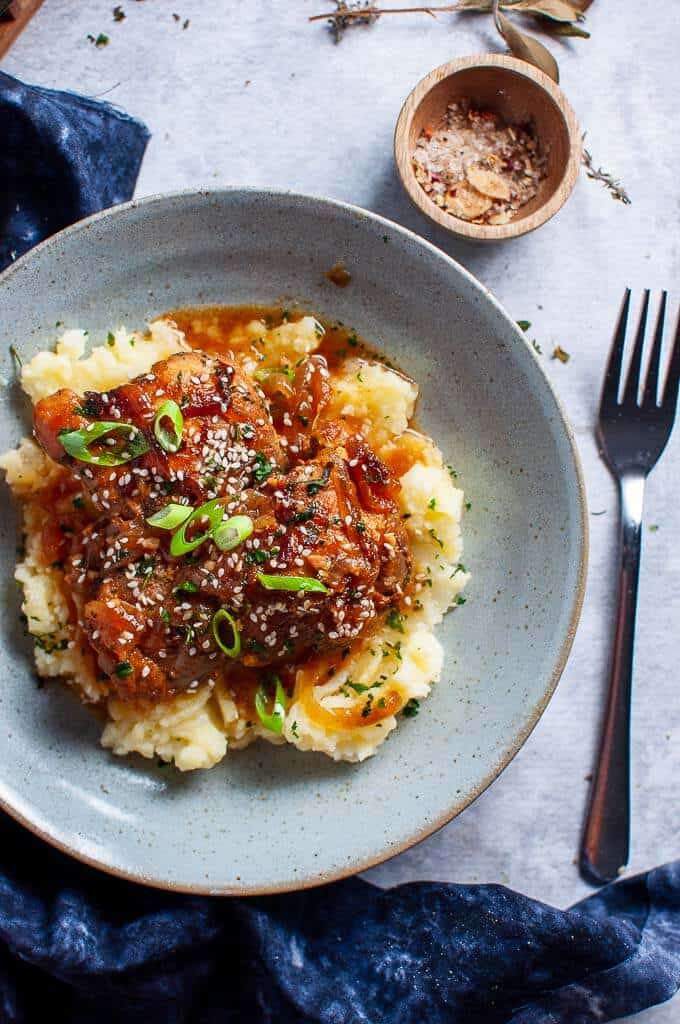 No Slow Cooker?
Make this dish using a casserole dish with lid and bake in the oven at 180 degrees C or 350 degrees F for 50 minutes.
Slow cooker lemon chicken thighs are super easy to make, and it's a budget friendly meal as well.
Its great to take to work as leftovers, it freezes well, and it can be made more or less spicier depending on your preferences. I love this dish and I hope you will too. It's my kind of clean eating comfort food.
More Slow Cooker Recipes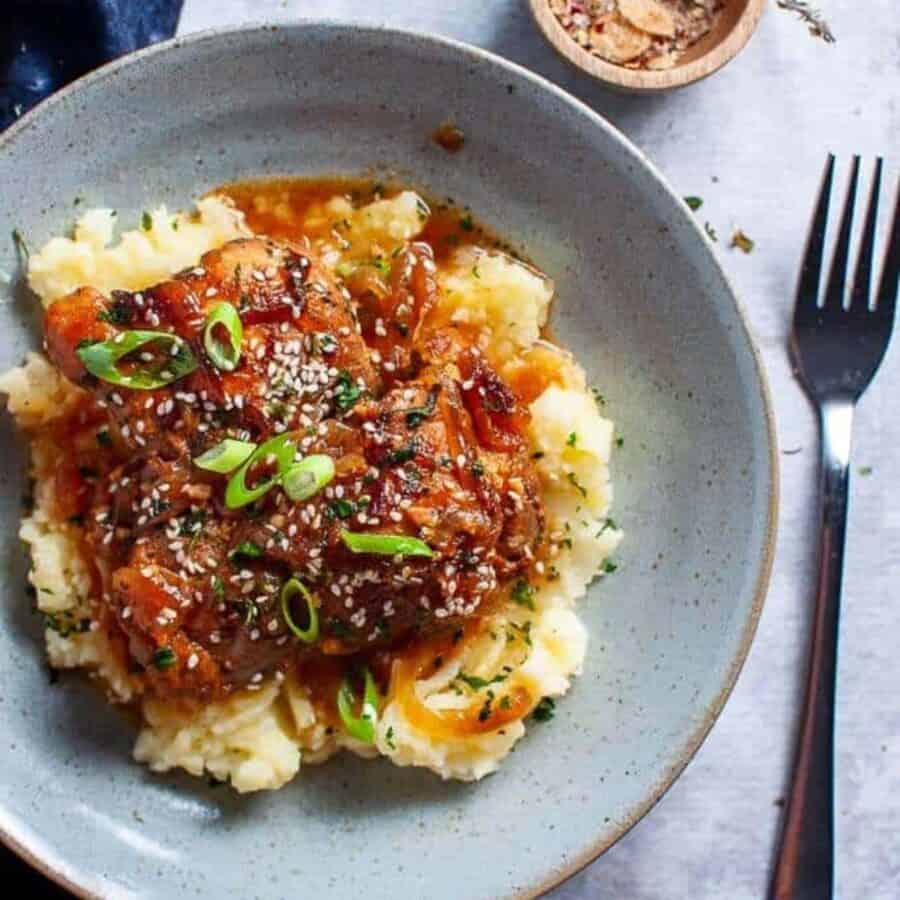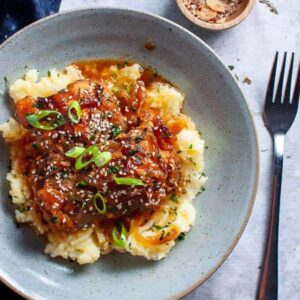 Asian Slow Cooker Lemon Chicken & Potatoes
This Asian slow cooker lemon chicken and potatoes is simply bursting with flavours and takes just 12 minutes of prep, then its set and forget for 6 hours in your slow cooker.
Ingredients
Chicken
1.5

pounds

/700 grams Skinless Chicken thigh

2

medium Brown onions

-

thinly sliced

1

tablespoon

Grated Ginger

1

tablespoon

Minced Garlic

½

cup

Lemon juice

¼

cup

Raw honey

¼

cup

Soy sauce

½

teaspoon

Chilli Powder

½

teaspoon

Smoked Paprika

2

tablespoons

Oil
Optional
2

tablespoons

White sesame seeds

2

Green shallots sliced thinly
Potatoes
3

medium to large white potatoes

2

tablespoons

butter

¼

cup

milk

Salt and pepper
Instructions
In a large non stick pan or skillet, heat one tablespoon of oil of medium to high heat. Add the chicken thighs and cook until brown (around 4 to 5 minutes). Once browned, transfer to slow cooker.

Add the second tablespoon of oil to the pan/skillet and add the sliced onions. Cook until they just start to soften. Then add the garlic and ginger and stir through for 1 minute until fragrant.

Stir through the lemon juice, honey and soy sauce. Add the chilli powder and smoked paprika and stir through. Bring to the boil then remove from heat.

Add the onion mixture to the slow cooker. Put lid on and cook on low heat for 6 hours.

Potatoes: peel and chop potatoes, and add to a pot of tap water, cover with lid and and bring to the boil (make sure water covers potatoes).

Once cooked, drain the water, add butter, milk and a pinch of salt and pepper and mash until combined.
Nutrition
Calories:
553
kcal
Carbohydrates:
48
g
Protein:
42
g
Fat:
22
g
Saturated Fat:
6
g
Fiber:
6
g
Sugar:
18
g
Note: Sugars contained in this recipe are from naturally occurring sugars in fruits, vegetables or other natural sweeteners.
Looking To Cut Out Sugar? Get the FREE Healthy Food Swaps Checklist Pack!
Get your FREE Healthy Food Swaps Checklists with over 65 Healthy Food Alternatives to Help you Ditch The Sugar Without Feeling Deprived.