This Creamy Garlic Mushroom Chicken is a healthy and easy weeknight meal.  It's on the table in under 30 minutes and is a light and creamy mushroom sauce that won't weigh you down.  Paired perfectly with a warm lentil salad, this is a dish high in protein, and low in carbs.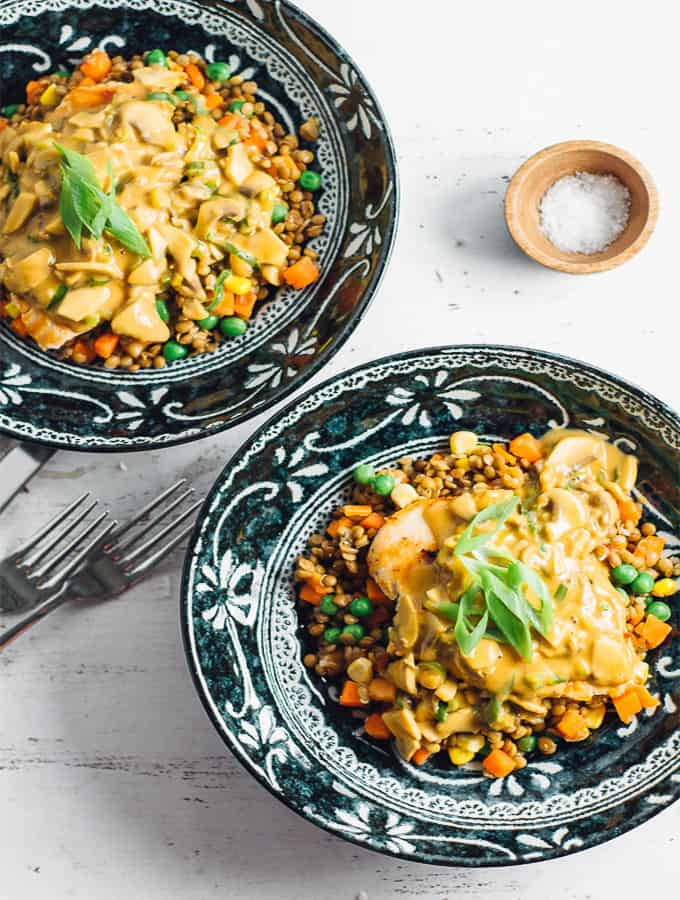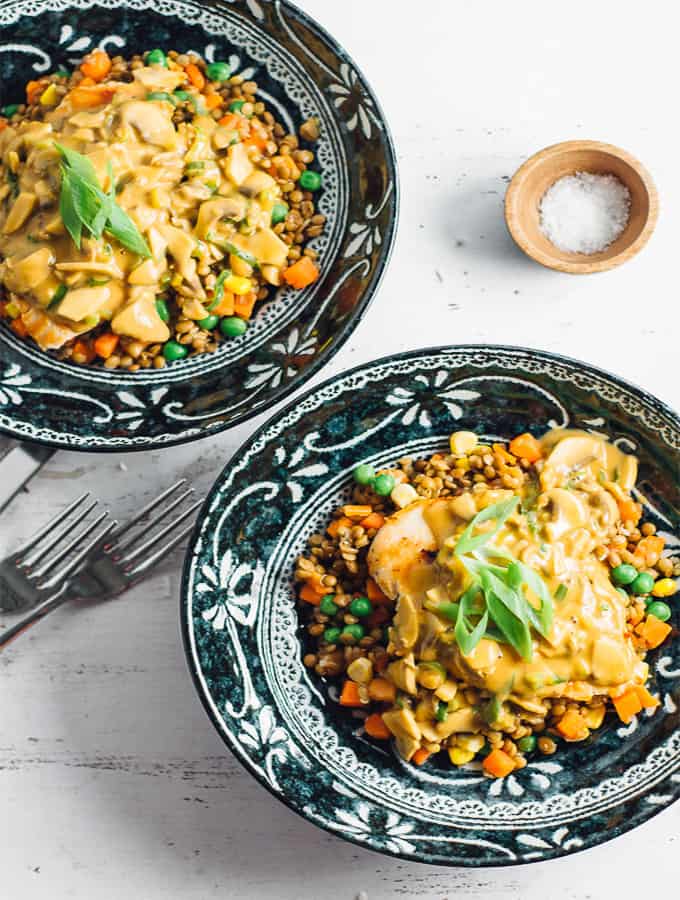 If you love mushrooms, this is a great dish for you with mushrooms being low in calories, naturally high in protein, vitamin C and iron.  I used button mushrooms for this recipe, but you could easily use any type, or even a combination of your favourites.
I often have this meal when I'm desperately seeking something to clean out my system and it's one of my clean eating recipe favourites that I like to throw together after I come home from the gym during the week.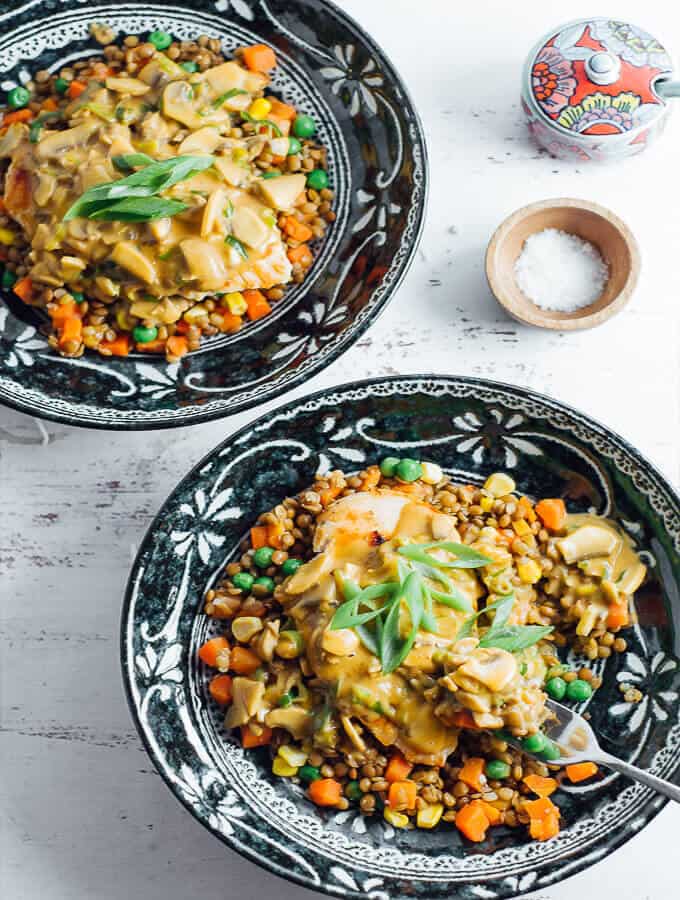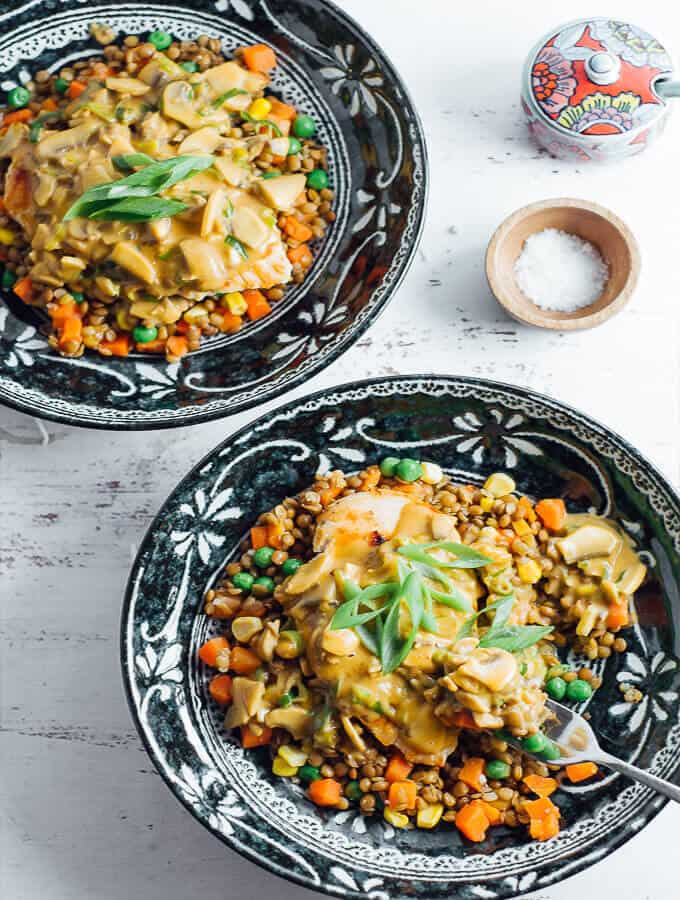 One of the tricks with this one, is to have your Chicken ready.  By this I mean, have the chicken portioned out into 4 pieces.  If it isn't defrosted already, pop it in the microwave on the defrost setting, then flatten it out between two sheets of baking paper with a meat mallet, the heel or your hand, or even the bottom of a jar.  Anything with a bit of force that can thin the meat out, kind of similar to how you would a schnitzel before you crumb it.
Creamy Garlic Mushroom Chicken Makes A Great Work Lunch
This is also one of those meals that reheats well so making an extra portion, or doubling up the recipe for work lunches works a treat.
And, lets face it, when you're at work it's really nice to know you've got something yummy for lunch.  Something that not only tastes great, but is healthy, nutritious, full of protein and low carb so it won't make you sleepy and miss your 2pm meeting with your boss!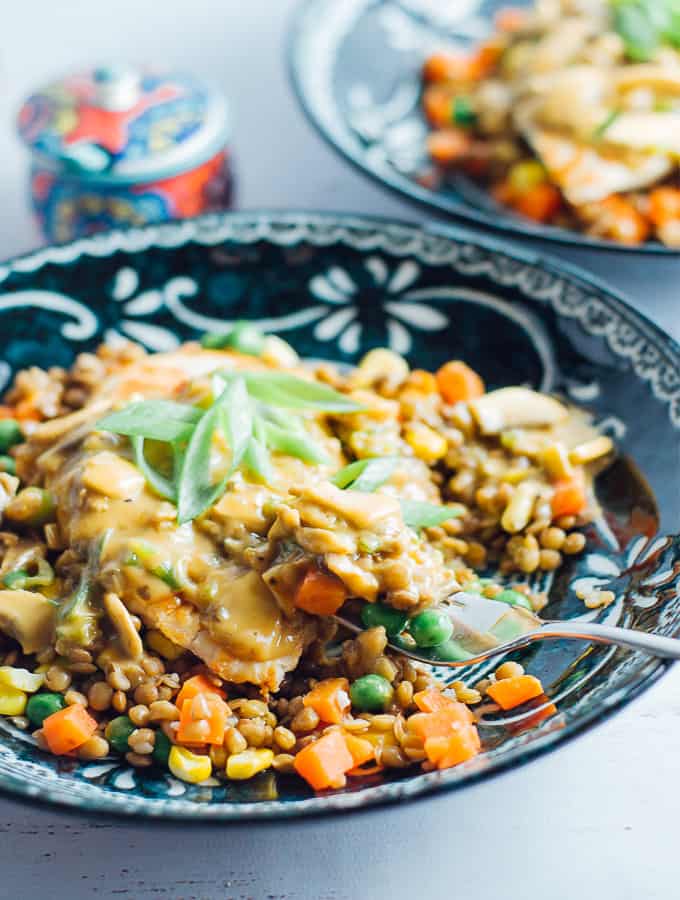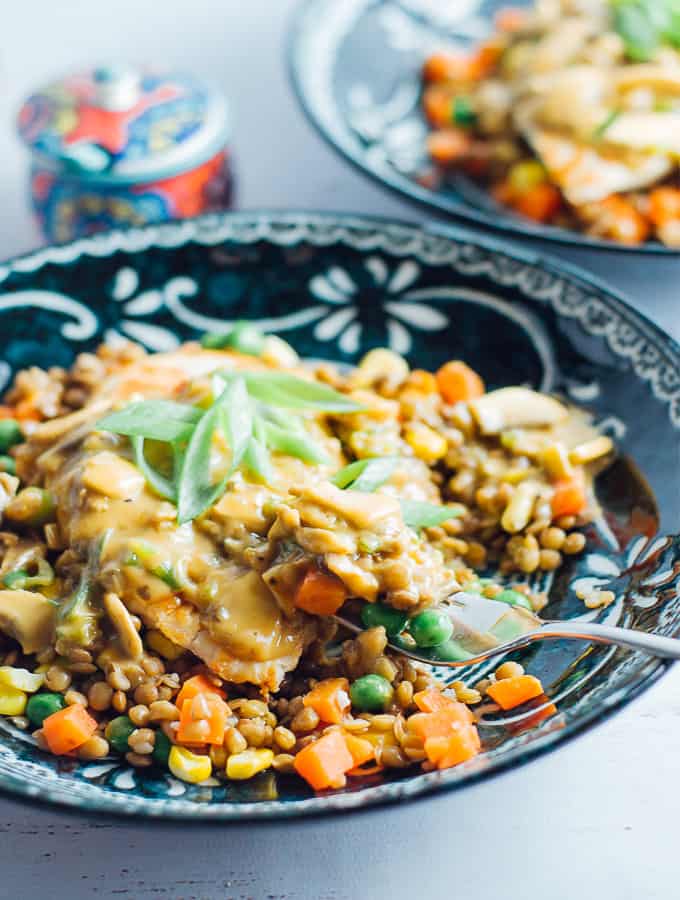 But seriously.  If this isn't on your lunch menu.  It should be, and it should definitely be on your Dinner menu.
Don't like mushrooms?
Use spinach instead to make a creamy spinach dressing.  Add a touch of parmesan to snazz it up and there you have it.  Instead of Creamy Garlic Mushroom Chicken, you have Creamy Garlic Spinach Chicken.
Or why not check out my other Chicken recipes for inspiration:  Easy Chicken Mushroom Filos, Low Carb Chicken Schnitzel, Cashew Nut Chicken, Popcorn Chicken Salad, and this ridiculously tasty Apricot Curry Chicken Casserole.
Me, I could eat any type of mushrooms pretty much on anything really.  Toast, Steak, Burgers, Stews.  My tastebuds know no limits to mushrooms and you can often find me on a Sunday morning whipping up a variety of garlic butter mushrooms with chives, parsley and basil, tossed over some crispy hot buttered Kalamata olive sourdough bread.
If You're into mushrooms, try it.  You won't be disappointed.  If you were to come over to my house, this is what I would make you for breakfast.
Like what you see? Follow me on Facebook or Pinterest! Did you try a recipe? Tag me on Instagram: @mysugarfreekitchen, and leave a comment & star rating!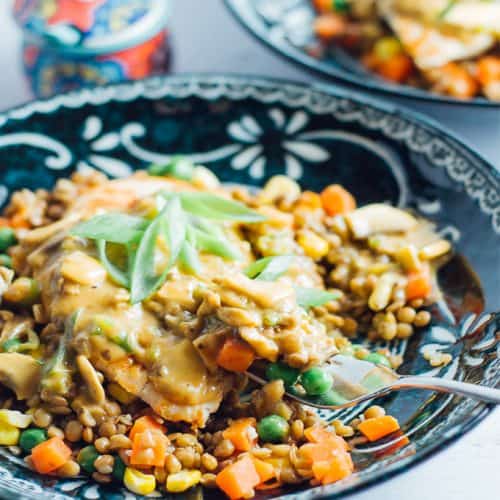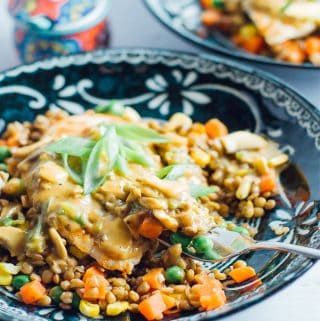 Creamy Garlic Mushroom Chicken
This Creamy Garlic Mushroom Chicken is a healthy and easy weeknight meal. It's on the table in under 30 minutes and is a light and creamy mushroom sauce that won't weigh you down.
Ingredients
Chicken
500

grams

/1 lb. Chicken

-

4 pieces of chicken
Mushroom Sauce
3

tablespoons

Cream

3

tablespoons

Chicken stock

Pinch

Salt

1

cup

Button mushrooms

-

diced

1

teaspoon

Butter

1 - 2

tablespoons

Crushed garlic

⅓

cup

Shallots

-

sliced

1

teaspoon

Cornflour/Cornstarch

½

teaspoon

Lemon juice -

optional
Lentil Mix
240

grams

brown lentils

-

tinned

1

cup

Frozen mix Peas/Corn/Carrot

1

tablespoon

chicken stock

1

teaspoon

Oregano

-

dried

1

teaspoon

Thyme

-

dried
Instructions
Chicken: Place the chicken pieces between cling film and platen out using a meat mallet or by pressing down the heel of your palm.

Cook the chicken pieces in a pan on the stovetop on a medium to high heat for around 4 minutes each side, until golden brown.

Once chicken is cooked, remove from pan as this will be used to make the mushroom sauce. (Place chicken in oven to keep warm whilst making the sauce)

Lentil Mix: Place the tinned lentils, frozen vege mix, stock and dried herbs into a separate saucepan on low heat for 5 minutes, while you make the mushroom sauce.

Mushroom Sauce: In the same pan that the chicken was in, add the teaspoon of butter, garlic, diced mushrooms and shallots. Toss about for a few minutes until just cooked.

Add the optional lemon juice, followed by chicken stock/broth, cream and pinch of salt. Stir to combine until a sauce is formed.

To thicken the sauce, take a tablespoon of liquid from the pan, and mix it with the cornflour to form a slurry, then add it back into the sauce. Stir to thicken.

To Serve: Place the chicken onto of the lentil mix and drizzle the creamy mushroom sauce over. Garnish with additional chopped shallots.
Notes
Whilst this recipe serves 4, if you have a husband anything like mine, who often eats 2 serves of almost everything, you may need to take that into account and double the recipe if need be.  Especially if you're cooking for 4.  If you're cooking for 2, it should be fine as is.
Nutrition
Calories:
252
kcal
Carbohydrates:
14
g
Protein:
38
g
Fat:
4
g
Saturated Fat:
1
g
Fiber:
7
g
Sugar:
3
g
Note: Sugars contained in this recipe are from naturally occurring sugars in fruits, vegetables or other natural sweeteners.
Looking To Cut Out Sugar? Get the FREE Healthy Food Swaps Checklist Pack!
Get your FREE Healthy Food Swaps Checklists with over 65 Healthy Food Alternatives to Help you Ditch The Sugar Without Feeling Deprived.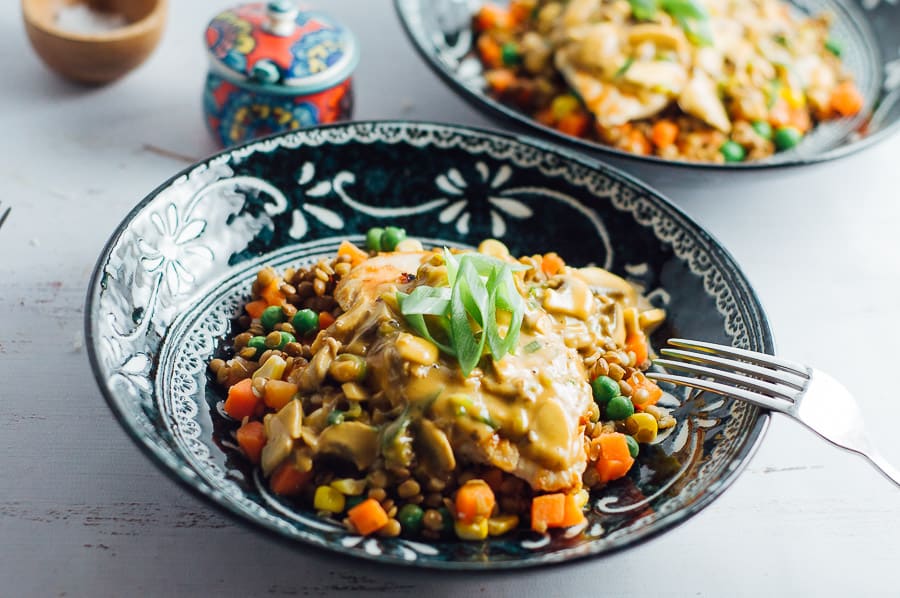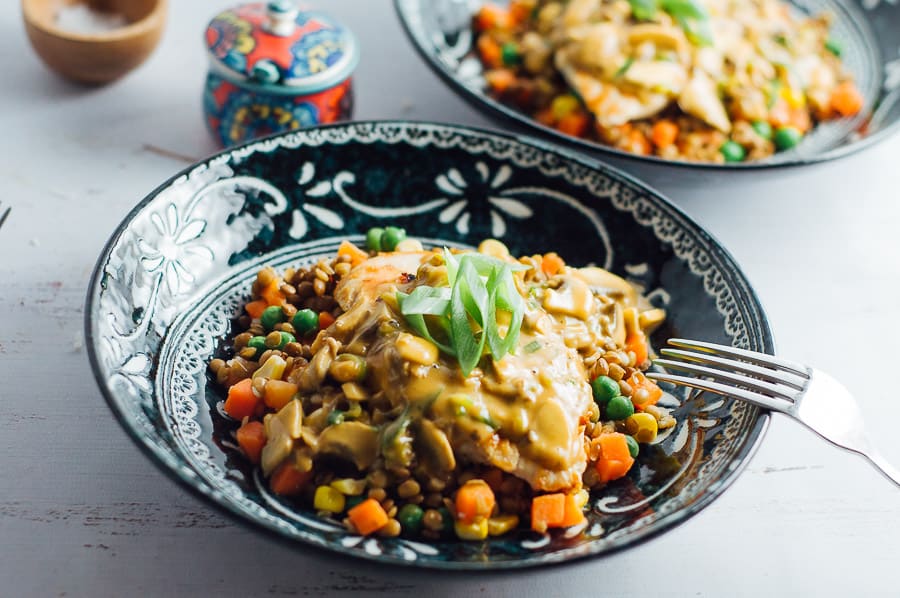 ★ Did you make this recipe? Don't forget to give it a star rating below!