ceThis is a delightfully simple and quick to make healthy sugar free Smoky BBQ sauce.  Its made on the stovetop, no blender or special gadgets required.  This is a healthy sauce with lots of flavour that you can make in minutes and eat right away.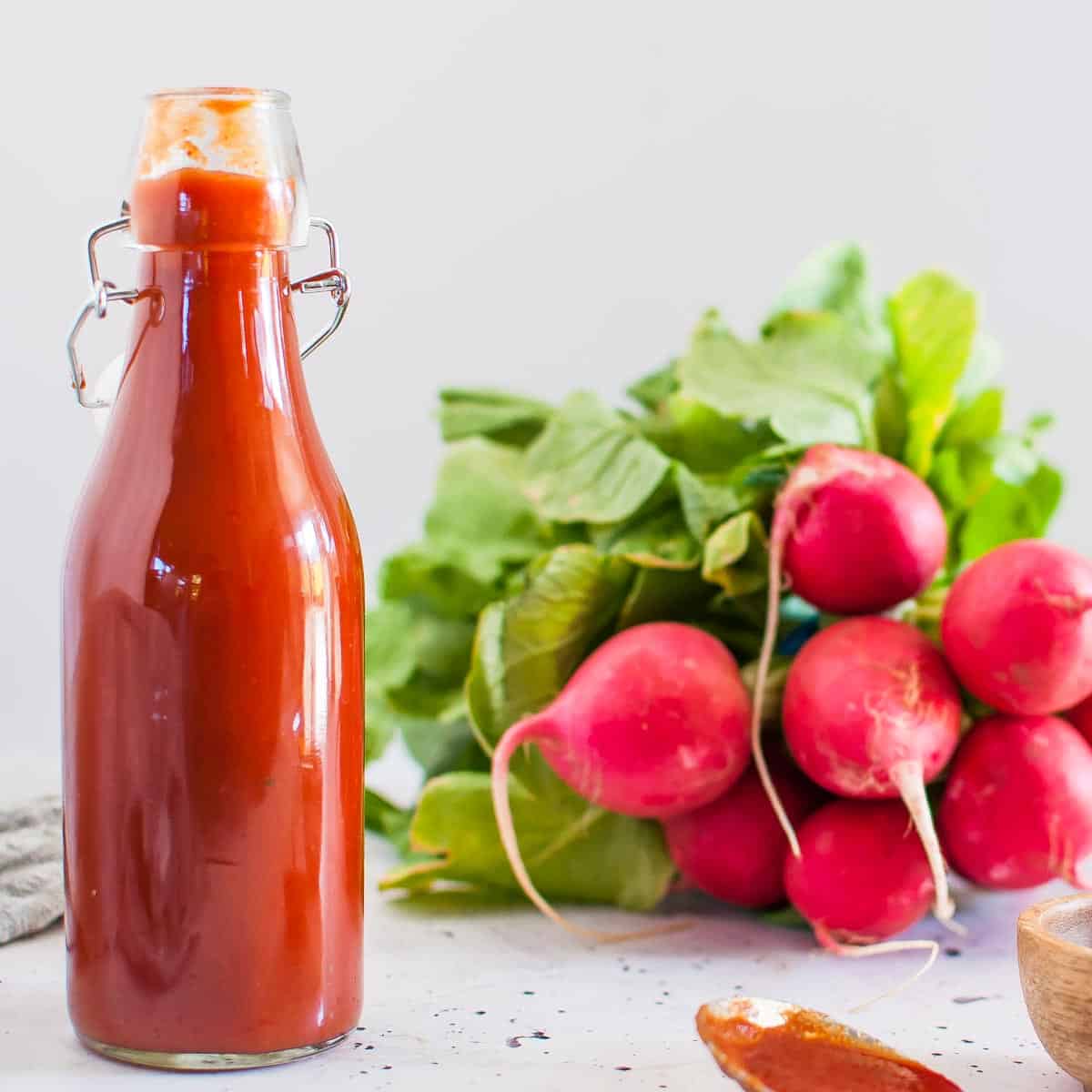 BBQ sauce a staple in most households, but most store bought ones are not very healthy.  Making this one yourself is a sure way to ensure you are enjoying a sauce that is low calorie, low carb and has no refined processed sugars.  This is a perfect sauce for people who like sauce on almost everything.  And yes, it's that good, you'll want to eat it everyday.
This recipe uses similar ingredients to my Sugar Free Ketchup which is just as easy to make on the stove top.  Also there is my Sugar Free Sweet Chilli Sauce is you if you like thins a little spicy.
Ingredients for Smoky Sugar Free BBQ Sauce
Just 11 ingredients, probably many of which you already have in your pantry already.
Tomato puree, sometimes called tomato passata:  This is the base of the sauce and is crushed and pureed tomatoes.  It usually comes in a can or bottle – just make sure to get one where the only ingredient is tomatoes
Unsweetened apple sauce:  This may require a trip to the health food store as apple sauces from regular supermarkets tend to contain a lot of sugar.  For this recipe you are looking for an unsweetened apple sauce that has apples as the only ingredient.  This apple sauce is responsible for the creating that beautiful consistency that makes it just like the ones you're used to
Tomato paste:  This adds to the richness of the sauce.  You can either get a plain tomato paste, or one with herbs.  Both work fine.
Raw honey:  This is honey that is just honey and how the sauce is sweetened.  You may see it as raw honey, pure honey, 100% honey.  Whatever one you buy, honey should be the only ingredient
TIP:  Raw honey can be substituted in the same quantities for pure maple syrup, or brown rice syrup.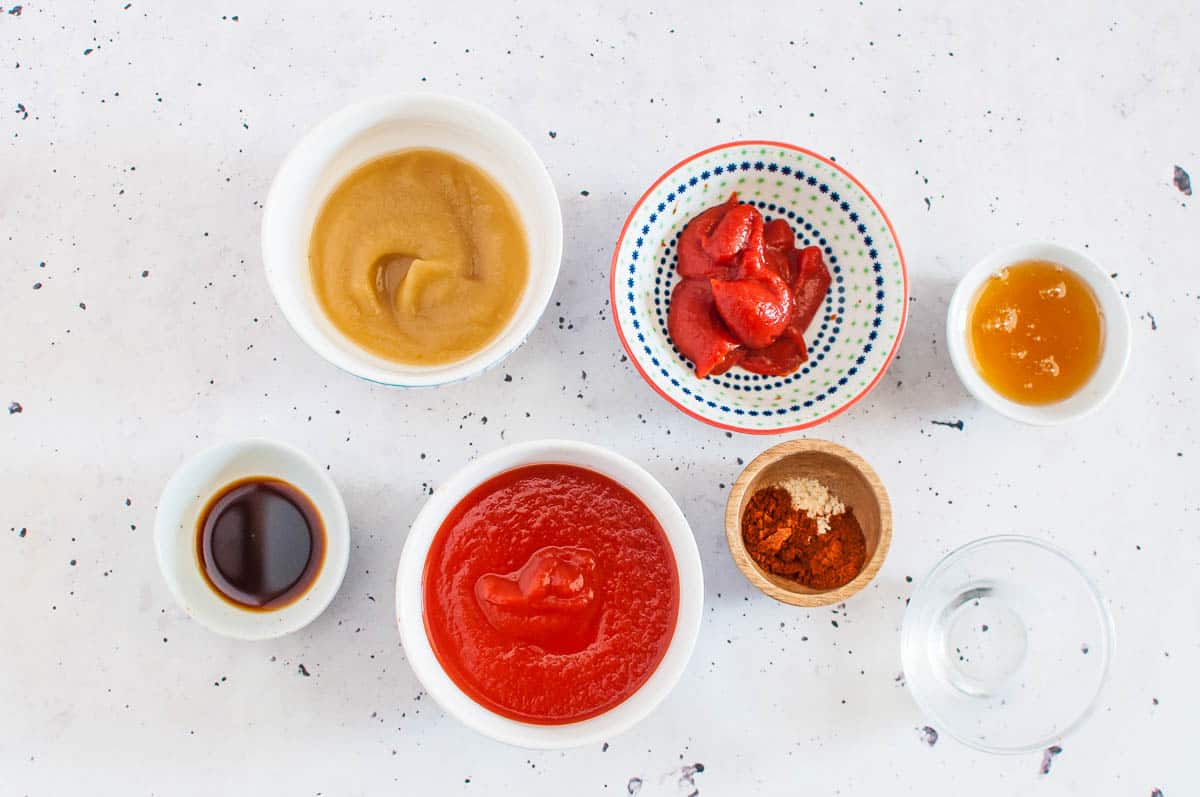 Soy Sauce:  low sodium or Tamari are great options, but really, any soy sauce you have on hand will work.
Worcestershire sauce:  not essential, but recommended as it gives that tanginess that we all know and love
White vinegar:  this helps to balance out the sweet and tang.  Avoid using apple cider or any other type of vinegar.  I experimented with a few, and white was definitely the best.
Garlic salt and onion salt:  The salts help to balance out the flavour to create a well rounded sauce
Ground paprika:  adds to the rich vibrant red flavour
Smoked paprika:  creates that awesome smokiness and makes this sauce deliciously unique
You might also like: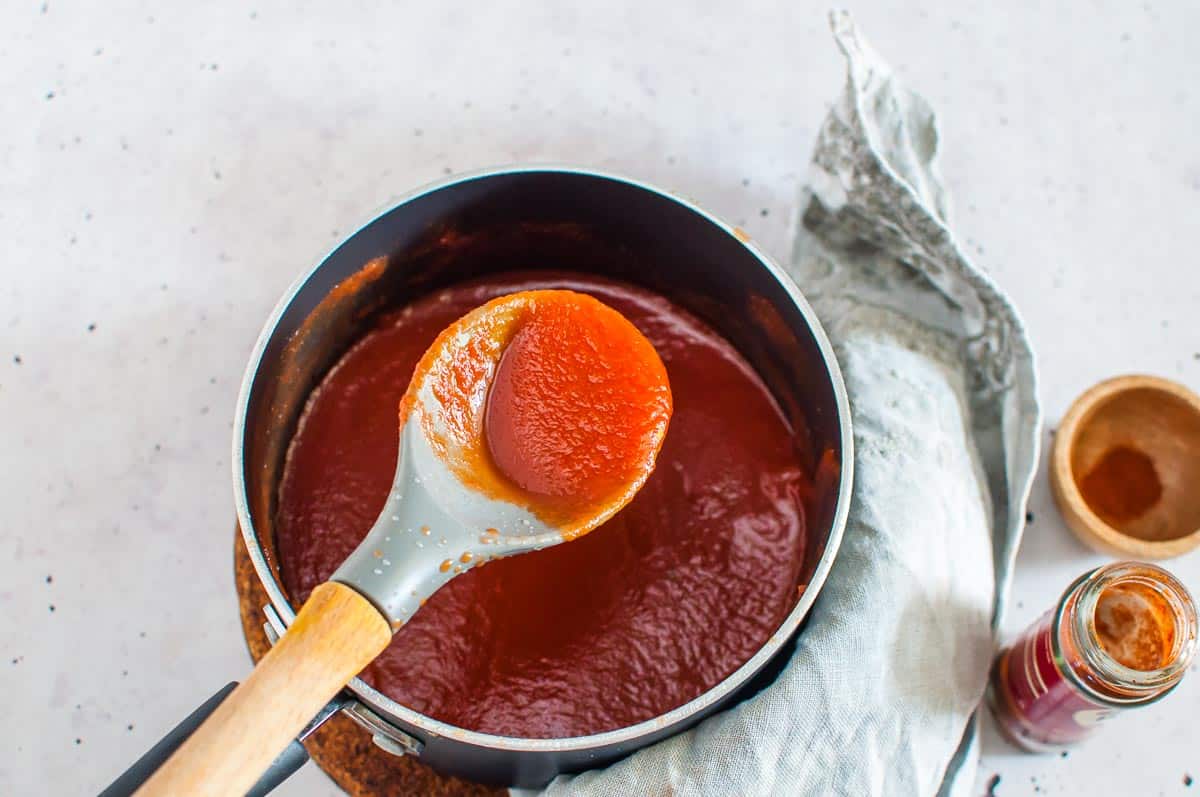 This a Healthy Sauce Alternative For Kids
Not only is this sauce super simple to make in under 10 minutes, its also kid friendly, and you can make as much or as little as you want:  a half batch, full batch, or double batch, depending on how many you have in your household, and what you're making it for.
One of the things that I hate about store bought sauces, and especially BBQ sauces, is that they taste so good, which means I want to keep on eating them!  This is because they are loaded with refined sugars.  You just need to see this by looking at the ingredients label where sugar is usually the first or second ingredient on the list.
TIP:  Ingredients are usually listed on the ingredients label by quantity first.  That is, the closer sugar is to the beginning of the list, the more it has.  If sugar is the first or second ingredient, avoid, avoid, avoid.
Ways to use Sugar Free BBQ Sauce
Enjoy it with your favourite steak
Buy a BBQ Chicken, pull it apart, pour on the sauce and you've got yourself double BBQ chicken
Enjoy it on your favourite fries: chunky chips, wedges, sweet potato fries, zucchini fries
Warmed and poured over shredded pork or beef, thrown ontop a burrito bowl
Lightly brushed over grilled salmon, you end up with smoked BBQ salmon
Use it on your pizza base, and add you favourite toppings
Add it to Tacos, Burritos, Budda Bowls, Bacon and Eggs and anything else you want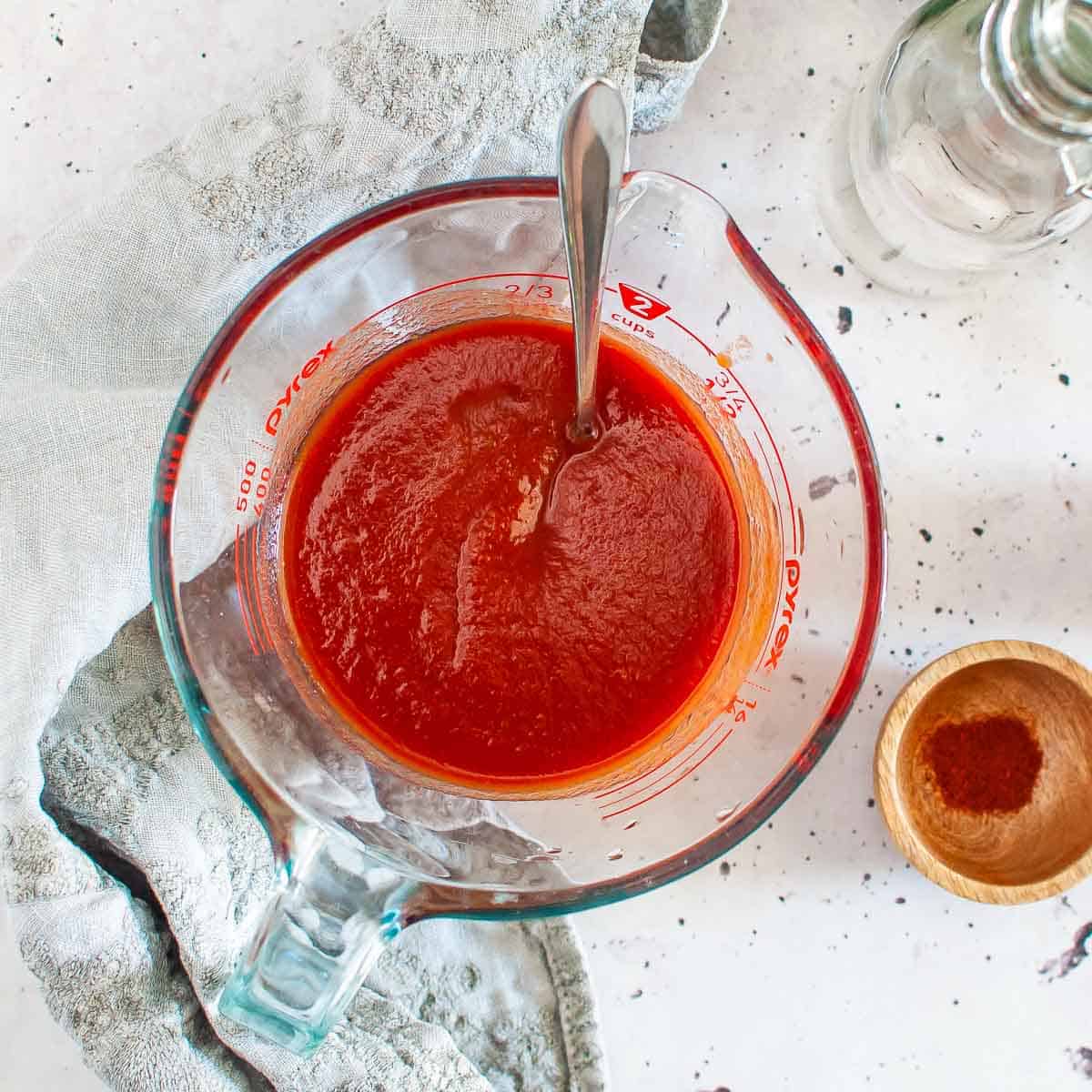 What to Put The Sauce In
You can store this sauce any which way you want, but you need to use an air tight container or bottle of some description.  You don't need fancy sauce bottles with special lids, you can store it in a container you already have.
TIP:  This sauce makes about 1 cup (250 mls)
Long Does the Sauce Keep For
This sauce will keep for 1 week in the fridge.  Because this sauce has no preservatives in it, it should be discarded after 1 week.
Can You Freeze The Sauce?
No, I wouldn't recommend freezing it.  It's so easy to make that I don't think you need to freeze it, and the recipe can be halved, or doubled accordingly, and it will still take about 10 minutes on the stovetop.
Once you've made this sugar free BBQ sauce once, you'll quickly realise how easy it is to make.  You might even wonder, why you hadn't made you own healthy BBQ sauce sooner.
Like what you see? Follow me on Facebook or Pinterest! Did you try a recipe? Tag me on Instagram: @mysugarfreekitchen, and leave a comment & star rating!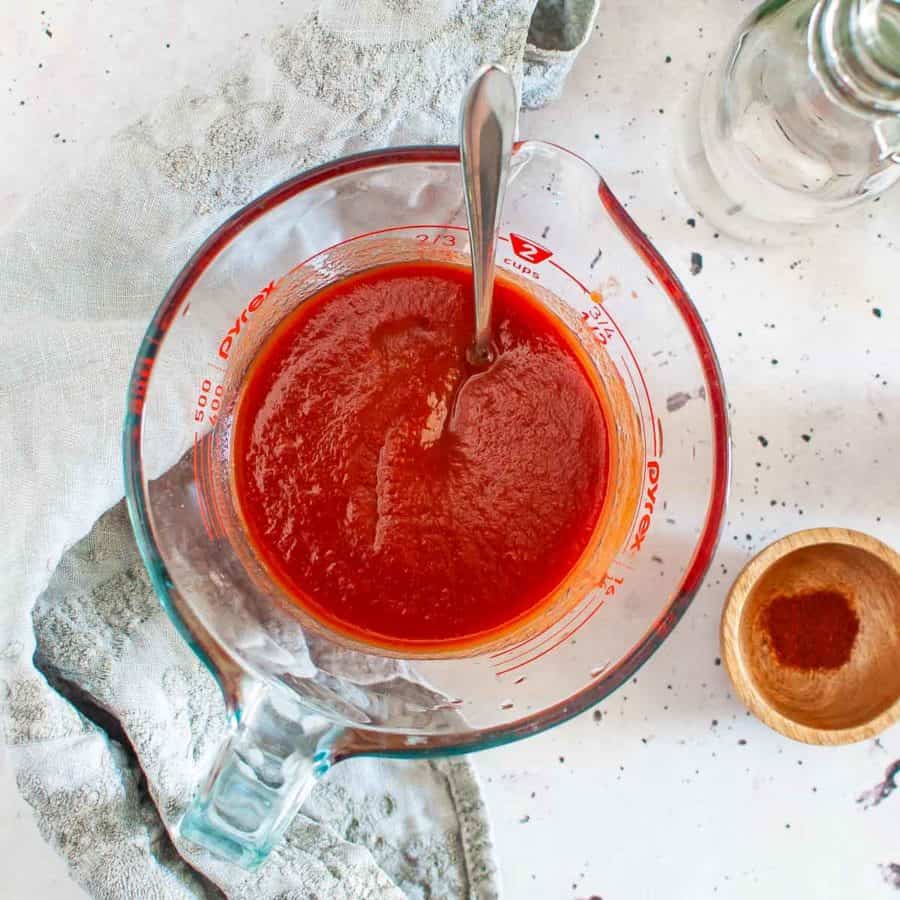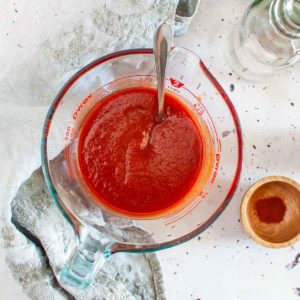 Smoky Sugar Free BBQ Sauce
This is a delightfully simple and quick to make healthy sugar free Smoky BBQ sauce.  Its made on
the stovetop, no blender or special gadgets required.  This is a healthy sauce with lots of flavour that you can make in minutes and eat right away.






Instructions
Add the tomato puree/passata to a pot on medium to high heat, stir for 1 minute until heated

Add the apple sauce and stir through. Next add the tomato paste, honey, soy sauce, worcestershire sauce and vinegar and stir for a further 3 minutes until hot (don't bring it to the boil as this will thin it our too much)

Add the garlic salt, onion salt, ground paprika and smoked paprika and stir through.

Remove from heat and let stand for 10 minutes.

Pour sauce into a jug with a spout and pour into sauce bottle (I used glass, but plastic sauce bottles would work too.) Secure lid tightly and refrigerate overnight before using.
Notes
Quantity: This recipe makes about 1 cup
Storage: Sauce will keep for 7 days in the fridge, in an air tight container or bottle.
Apple sauce/apple puree: avoid buying apple sauce from the big supermarkets as they are loaded with sugar. Instead, you can purchase unsweetened applesauce from most health food shops or you can try making your own.
To Serve: Toss through pulled pork or bbq chicken and made into sliders, with ribs, your favourite steak, and of course meatballs. 
Smokiness: To up the smokiness, add ½ teaspoon of liquid smoke
Freezing:  not recommended
Nutrition
Calories:
53
kcal
Carbohydrates:
13
g
Protein:
1
g
Fiber:
1
g
Sugar:
7
g
Note: Sugars contained in this recipe are from naturally occurring sugars in fruits, vegetables or other natural sweeteners.
Looking To Cut Out Sugar? Get the FREE Quick and Easy Food Swaps Checklist Pack!
Get your FREE Quick and Easy Food Swaps Checklists with over 65 Simple Real Food Alternatives to Help you Ditch The Sugar Without Feeling Deprived.
★ Did you make this recipe? Don't forget to give it a star rating below!