Store bought ketchup is full of sugar which is why it tastes so good. The enormous amounts of sugar and vinegar are designed to preserve it and to leave you wanting more. But it's super simple to make your own version of Sugar Free Ketchup in small batches and keep it in the fridge. There's still definitely sweetness there, but it comes from natural sweetness with nothing artificial.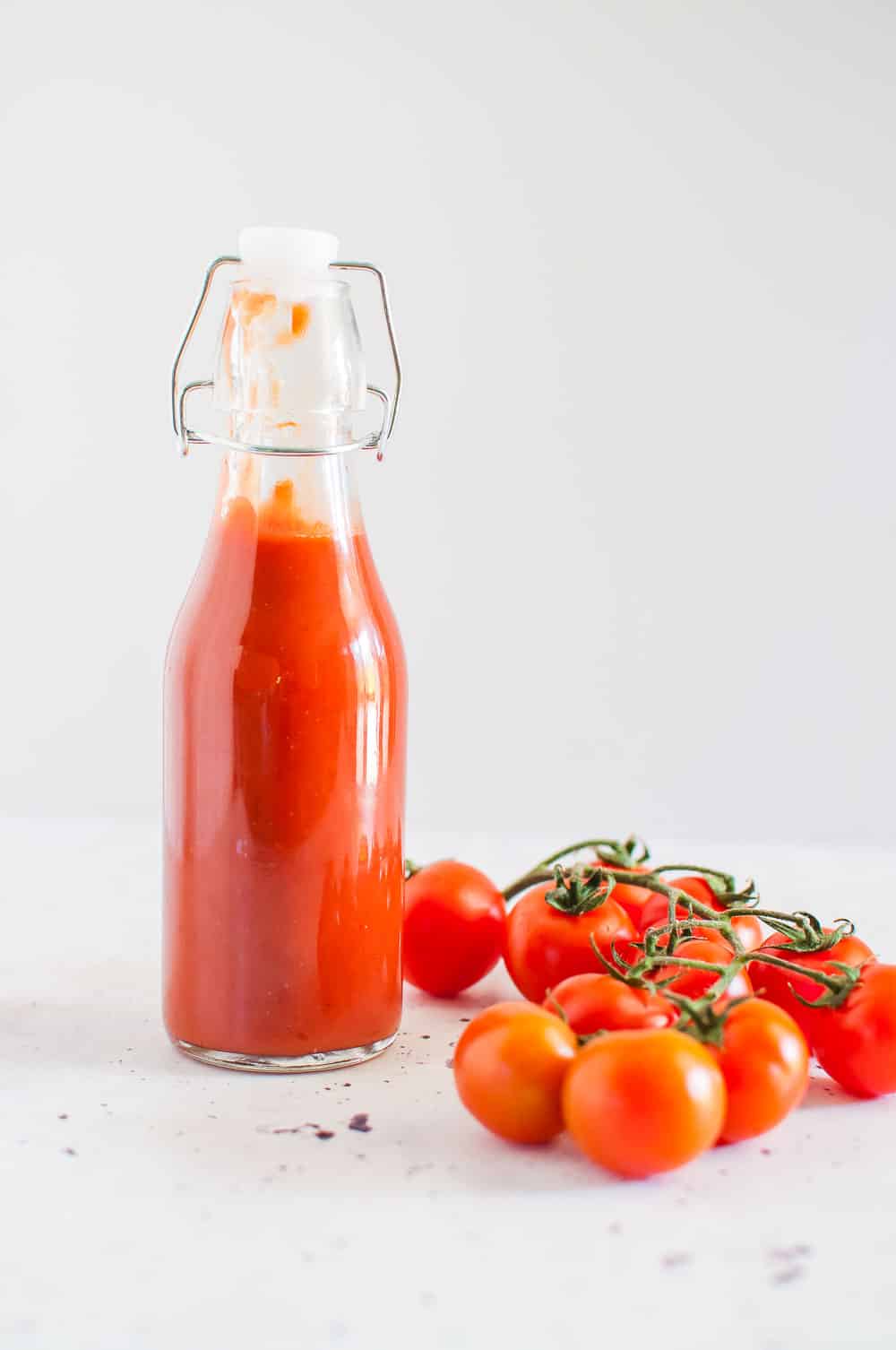 Ingredients you need for 10 Minute Sugar Free Ketchup
This recipe contains 8 ingredients and requires no special equipment. No blender, no food processor, no long cook times. Just simple ingredients that make for a quick and easy healthy Ketchup recipe that you can whip up each week.
Tomato puree/tomato passata
Unsweetened apple sauce/apple puree (see note 3)
Tomato paste
Raw honey or Lakanto Monkfruit Sweetener
White vinegar
Garlic salt
Onion salt
Ground paprika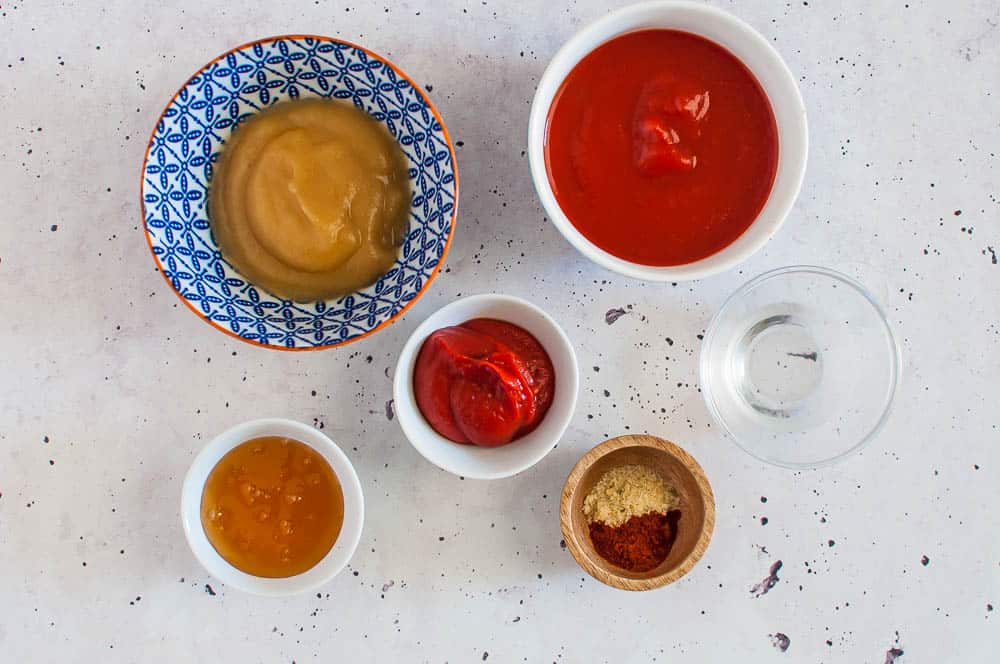 Sweetening Tips
You can make this sauce using either raw honey (pure unprocessed honey, usually available from the health food section of supermarkets), or Lakanto Monkfruit Sweetener (also available from supermarkets – Woolworths in Australia, or Amazon).
I've tried both and there really isn't much difference in the taste.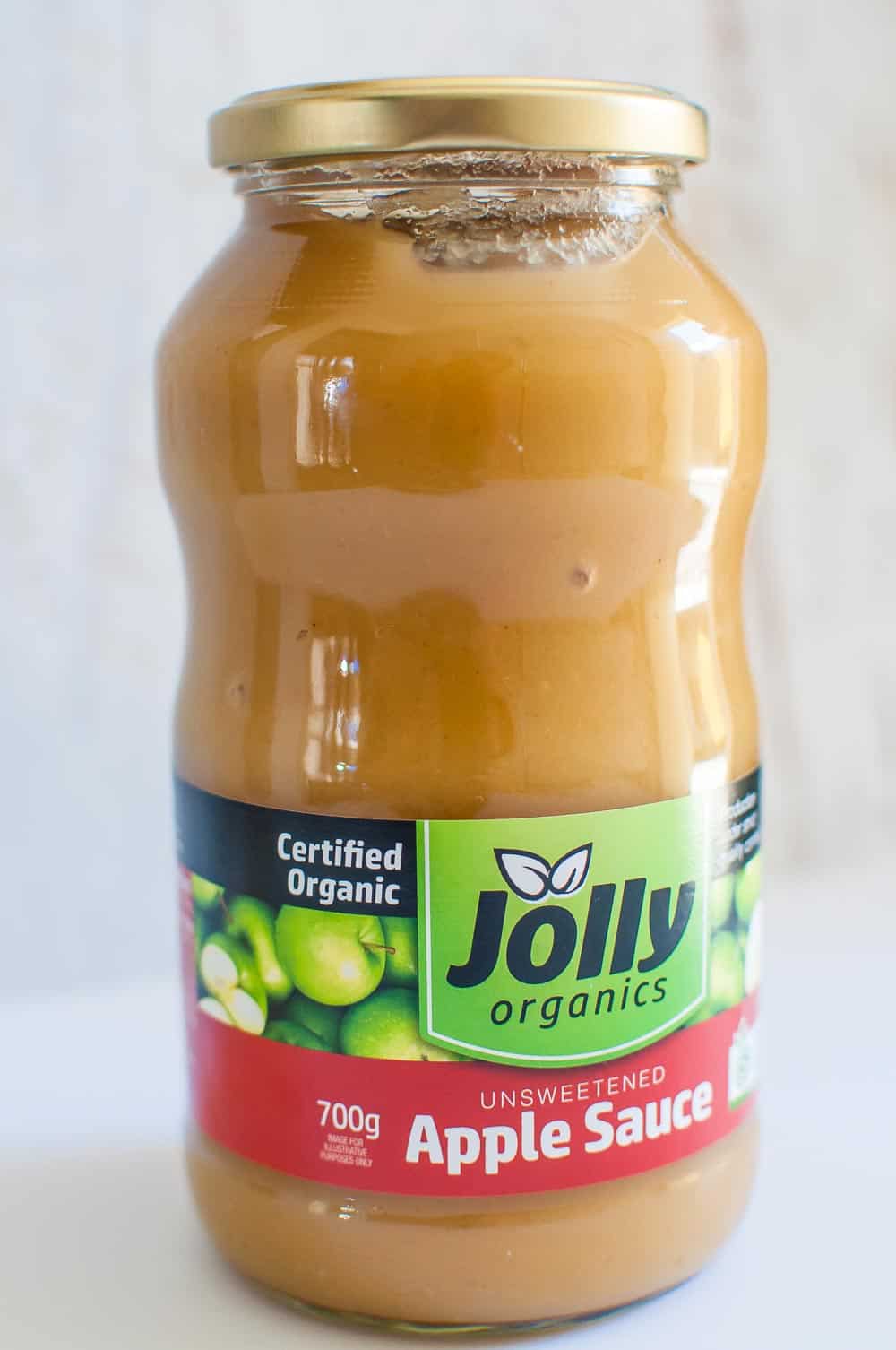 TIP: I would avoid using granulated stevia that measures like sugar in this recipe as it left a weird aftertaste when I was experimenting with it.
More Sugar Free Sauces: Smoky Sugar Free BBQ Sauce, Sugar Free Sweet Chilli Sauce, Sugar Free Sweet and Sour Sauce, and Sugar Free Stir Fry Sauce.
The Secret Ingredient in Sugar Free Ketchup
The secret ingredient to making the homemade ketchup is the Unsweetened Apple Sauce. I bought the unsweetened apple sauce for this recipe from a health food shop, and the only ingredient listing on the label was apples. If you buy apple sauce from one of the larger supermarkets, you'll probably find it is loaded with sugar and other ingredients.
I highly recommend using Unsweetened apple sauce for this recipe as it is thicker (resulting in a better sauce consistency), and it is better for you.
Why You Should Make This Homemade Sugar Free Ketchup
Its super quick and easy to make: in 10 minutes you can have this made and ready to enjoy all week long on your favourite dishes
No special equipment: all you need is a pot and a stove.
It tastes like the real thing but without the calories or loads of sugar you find in store bought ketchups
It's the same texture and consistency of real ketchup! Thanks applesauce!
It keeps for 7 days in the fridge – if it lasts that long – just be sure to store it in an air tight bottle with a seal
You can add you own flair to the recipe by adding extra spices, like a little bit of chilli, smoked paprika, herbs, anything really.
This sugar free ketchup works particularly well on homemade sweet potato fries, over meatballs, steak, Garlic Paprika Chicken, and this Healthy Salt and Chilli Chicken.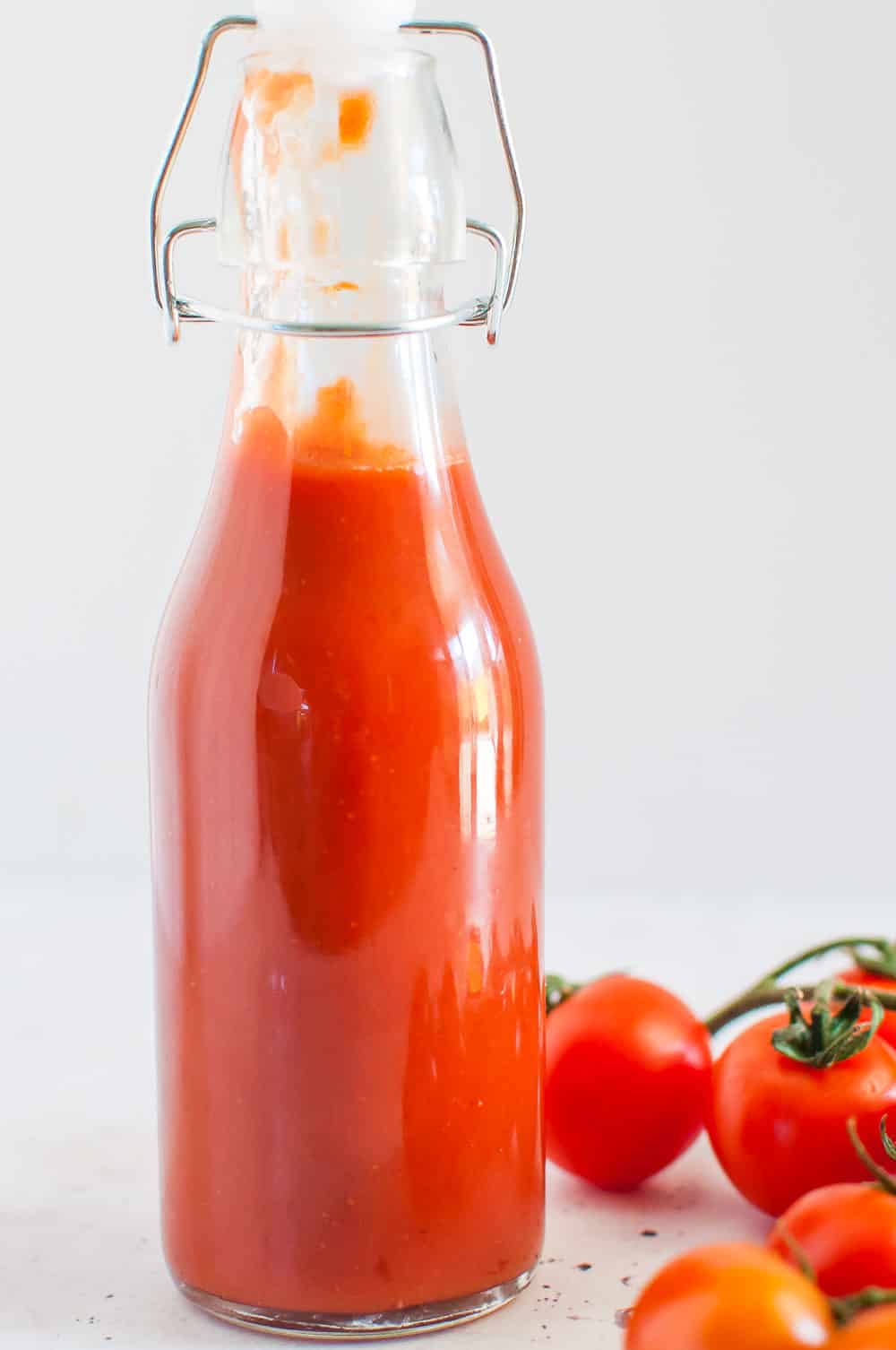 If you're sick of all the preservatives and sugar laden sauces you've been wasting money on for years, try making this Sugar Free Ketchup – it's so easy to make.  If you have a spare 10 minutes you can replace that store bought ketchup with this healthier homemade sugar free ketchup and I'll bet you won't even notice the difference.  !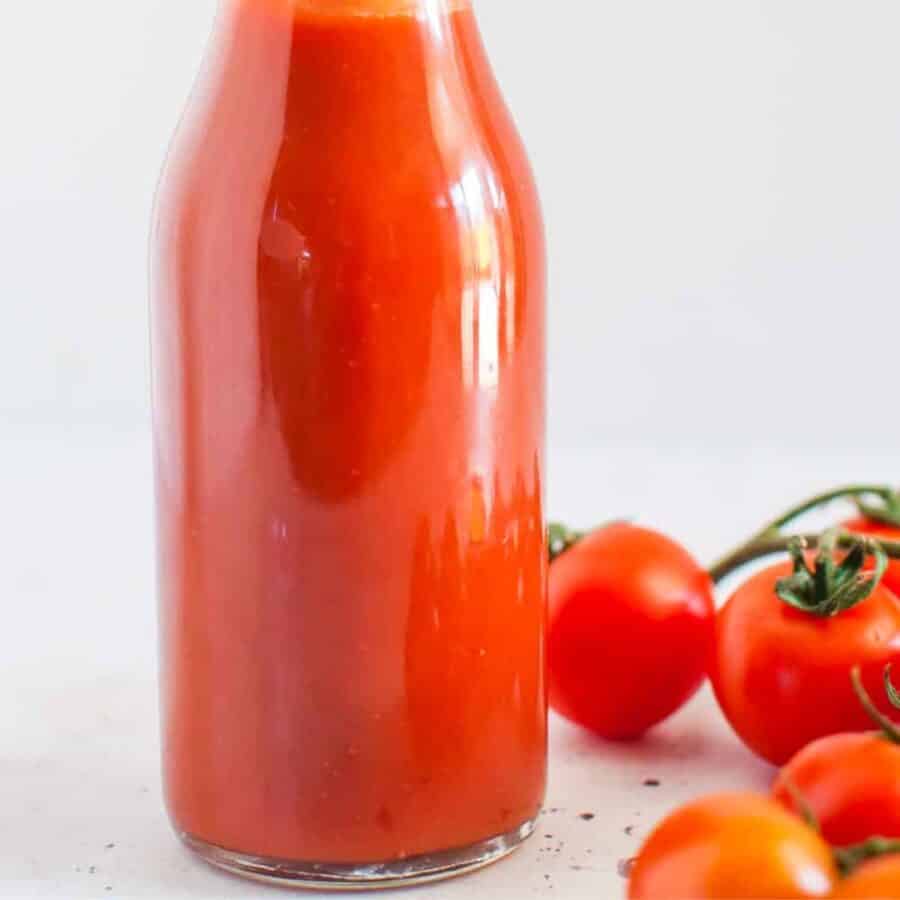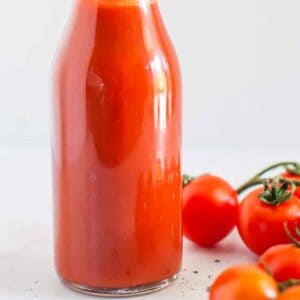 Sugar Free Ketchup
Simple and quick homemade sugar free ketchup, full of tomato flavour.
Ingredients
¼

cup

Unsweetened apple sauce/apple puree

-

see note 3

2

tablespoons

Tomato paste

2

tablespoons

Raw honey or Monkfruit Sweetener

-

see note 5

2

tablespoons

White vinegar

½

teaspoon

Garlic salt

½

teaspoon

Onion salt

½

teaspoon

ground paprika
Instructions
Add the tomato puree/passata to a pot on medium to high heat, stir for 1 minute until heated

Add the apple sauce and stir through. Next add the tomato paste, honey (or lakanto monkfruit sweetener if using that) and vinegar and stir for a further 3 minutes until hot (don't bring it to the boil as this will thin it our too much)

Add the garlic salt, onion salt and ground paprika and stir through.

Remove from heat and let stand for 10 minutes.

Pour sauce into a jug with a spout and pour into sauce bottle (I used glass, but plastic sauce bottles would work too.) Secure lid tightly and refrigerate overnight before using.
Notes
Quantity: This recipe makes about 1 cup, which I broke into 8 servings.  Nutritional information is based on 8 servings, using Monkfruit as the sweetener.  If using honey, the calories will be slightly higher.
Storage: Sauce will keep for 7 days in the fridge.
Apple sauce/apple puree: avoid buying apple sauce from the big supermarkets as they are loaded with sugar. Instead, you can purchase unsweetened applesauce from most health food shops or you can try making your own.
To Serve: Wedges with garlic salt and rosemary, over you favourite steak, on a burger, or anything else that takes your fancy!
Use only the raw honey or the monkfruit sweetener, Do not use both as it will be far too sweet.
Nutrition
Calories:
35
kcal
Carbohydrates:
13
g
Protein:
1
g
Fiber:
1
g
Sugar:
1
g
Note: Sugars contained in this recipe are from naturally occurring sugars in fruits, vegetables or other natural sweeteners.
Looking To Cut Out Sugar? Get the FREE Healthy Food Swaps Checklist Pack!
Get your FREE Healthy Food Swaps Checklists with over 65 Healthy Food Alternatives to Help you Ditch The Sugar Without Feeling Deprived.
★ Did you make this recipe? Don't forget to give it a star rating below!