This Smoked Paprika Chicken recipe is healthy, tasty and so easy to throw together as a convenient weeknight meal.  It takes hardly any time at all to get the spices, salts and breadcrumb mix measured out and into a bowl, then and even less to make a quick and simple egg wash.  Dipping the chicken pieces is the fun part as you can see the spice mix come alive as it colours the meat.
This is my version of a healthy spicy KFC Chicken!  I love making healthy versions of my favourite takeaways at home, like my Chilli Basil Chicken, Chicken Tikka Masala, and Cashew Nut Chicken, as well as this very delicious Fish Panang Curry!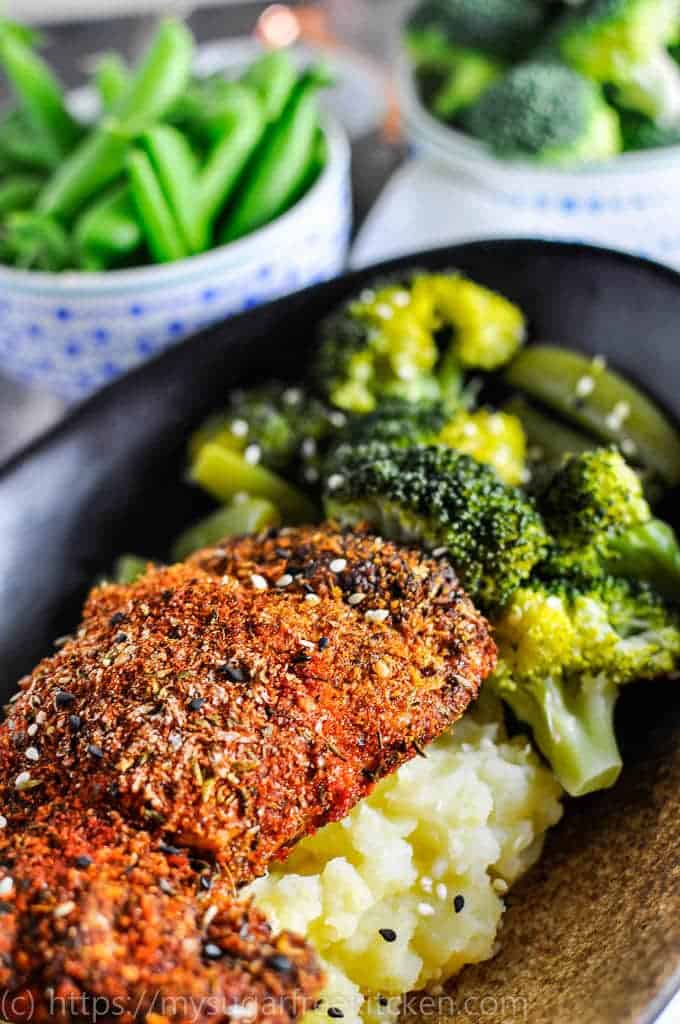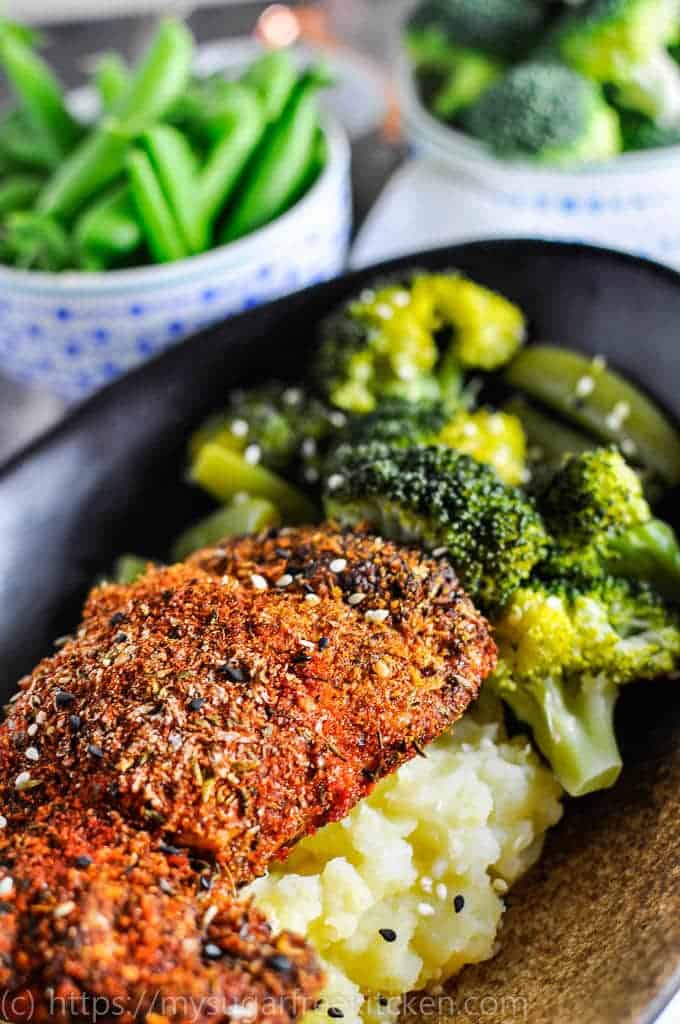 This is one easy dish.  I always have the spices and salts on hand so it's just a matter of bringing it all together and getting it into the oven.
 Paprika chicken with 3 types of paprika is better than 1
This Smoked Paprika Chicken Thighs recipe uses three different types of paprika.  I know why 3, not just 1.  Well the combination of the three, together with the other spices, garlic salt, onion salt, thyme and oregano work together to give it a rich full smoky flavour.
I think only using one type of paprika, say the smokey one, might give it some flavour, but it would be lacking the big rich punchiness of all flavours combined, so absolutely use hot smoked paprika (essential), as well as ground paprika and sweet paprika.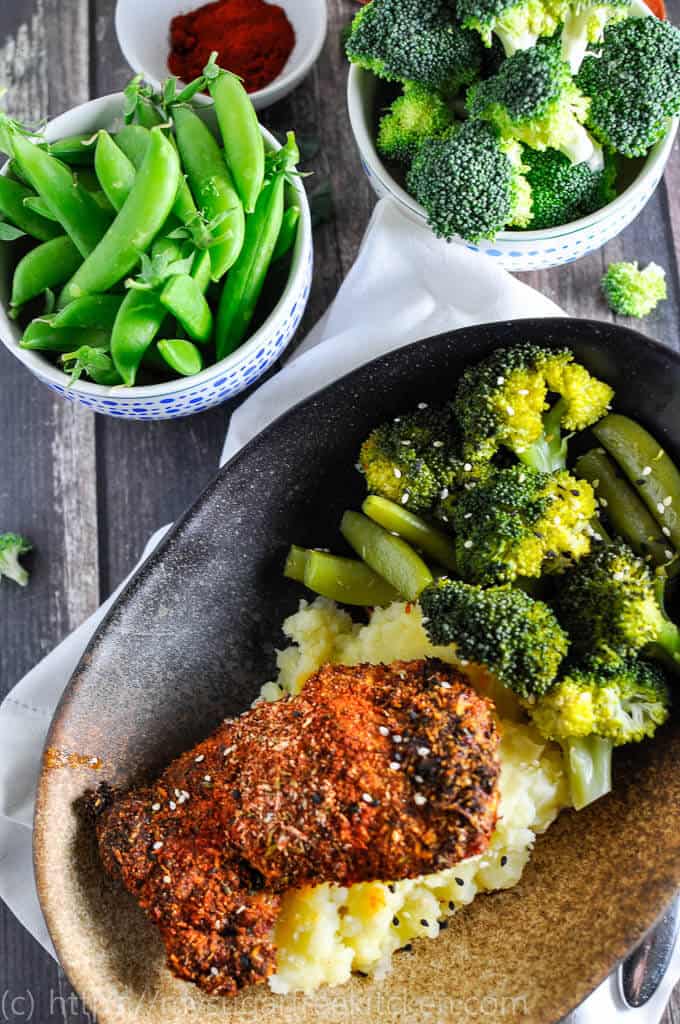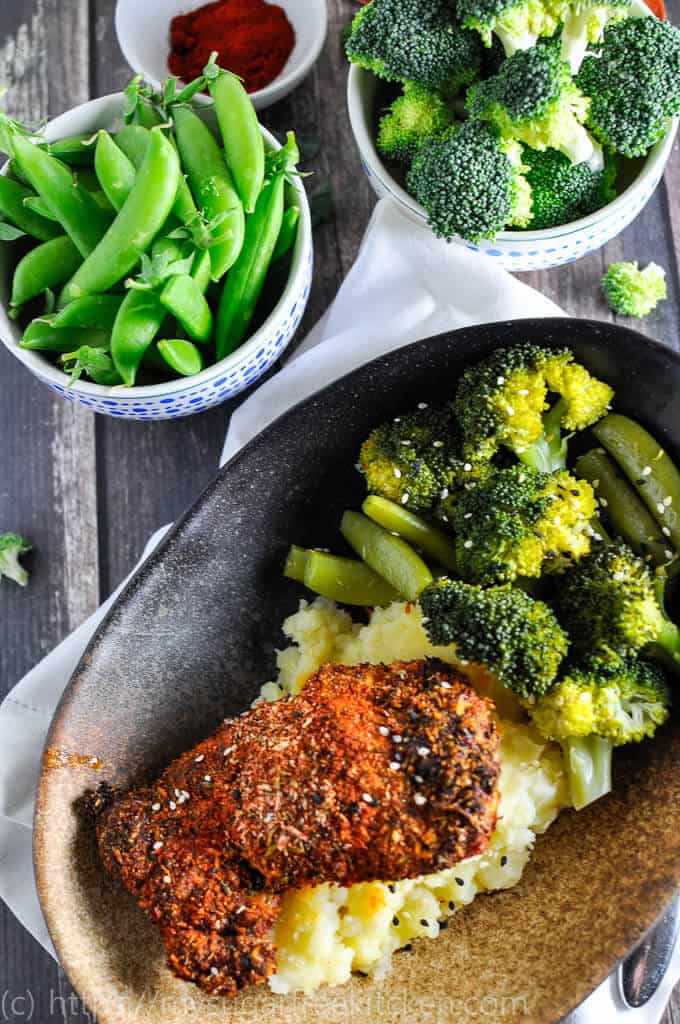 Not only do all the spices smell very aromatic.  As soon as you lay the chicken in the spices and press into those flavours, you know its going to be good because that smokiness comes through right away.  Now when it gets cooking and that aroma starts to fill your house, that's when mouth's will begin to water.
Paprika chicken is a meal the we have in our household at least once a fortnight, often for dinner, or sometimes for a weekend lunch.  You know, when I'm eating it, it does kind of remind me of some kind of takeaway crispy/crunchy/spicy chicken you'd buy, but a 100 times healthier version!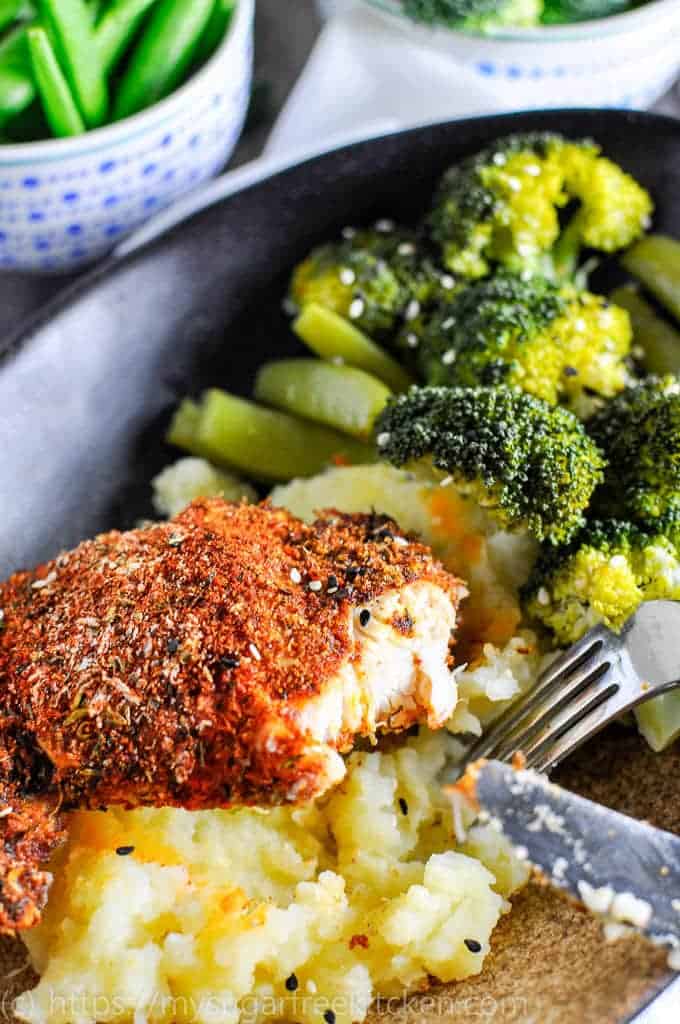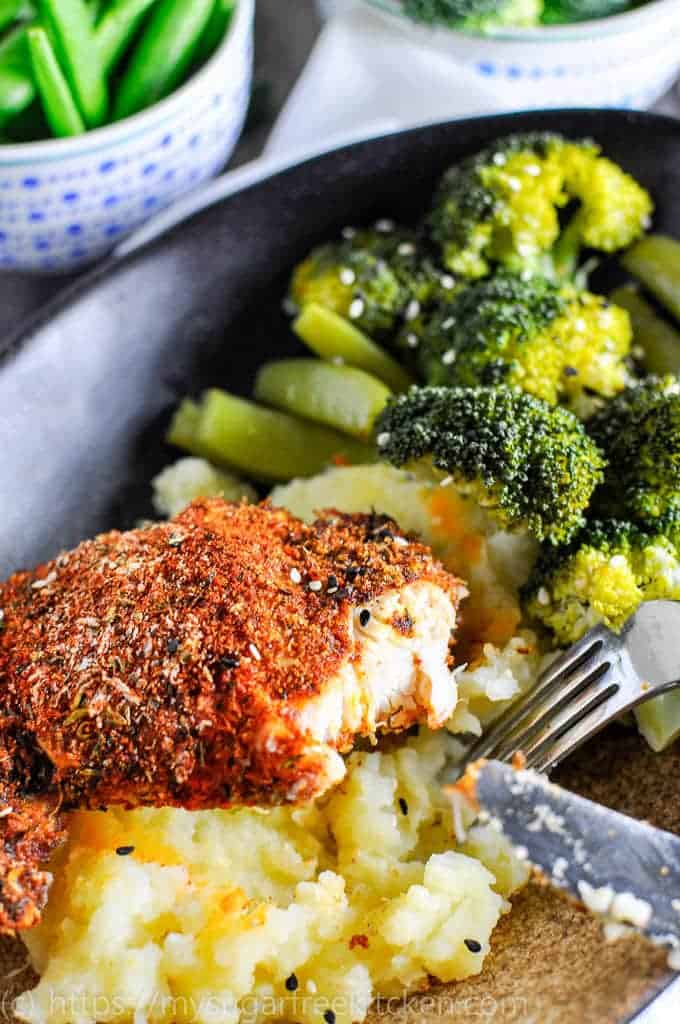 Smoked Paprika Chicken Spice Rub
The spice rub on this smoked paprika chicken creates this bright vibrant and blackened, almost crustiness on the outside of the chicken.  This is from combining the spices with breadcrumbs and dipping the chicken in the egg wash prior to the spice coating.  This really is an essential part of the recipe as the egg wash helps the spices to stick and the breadcrumbs in the spice mix help to create a firm coating of spicy goodness.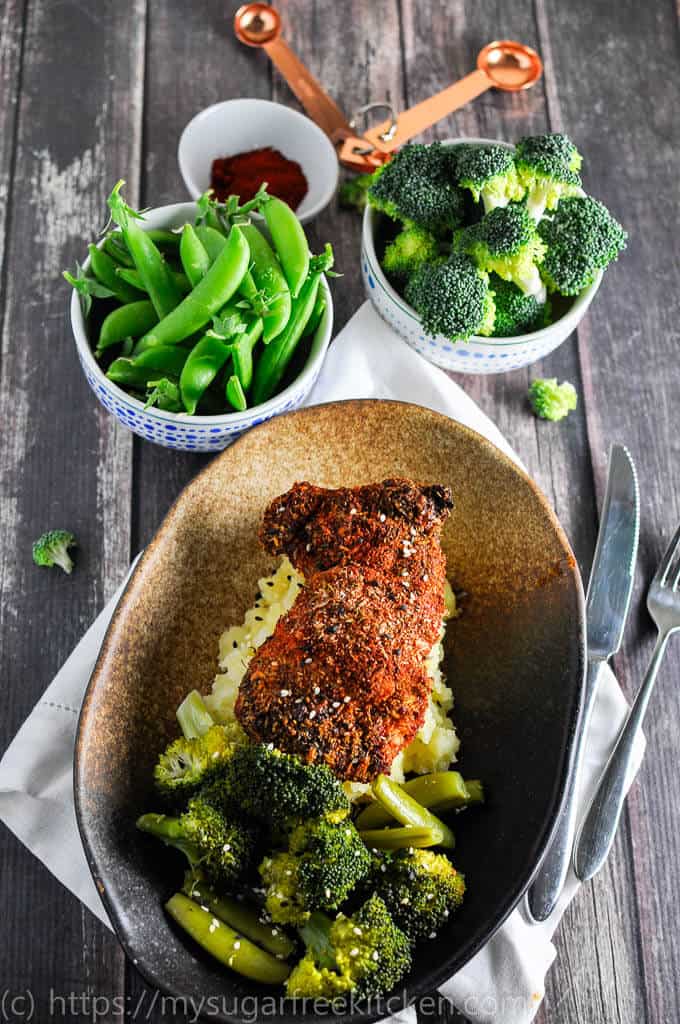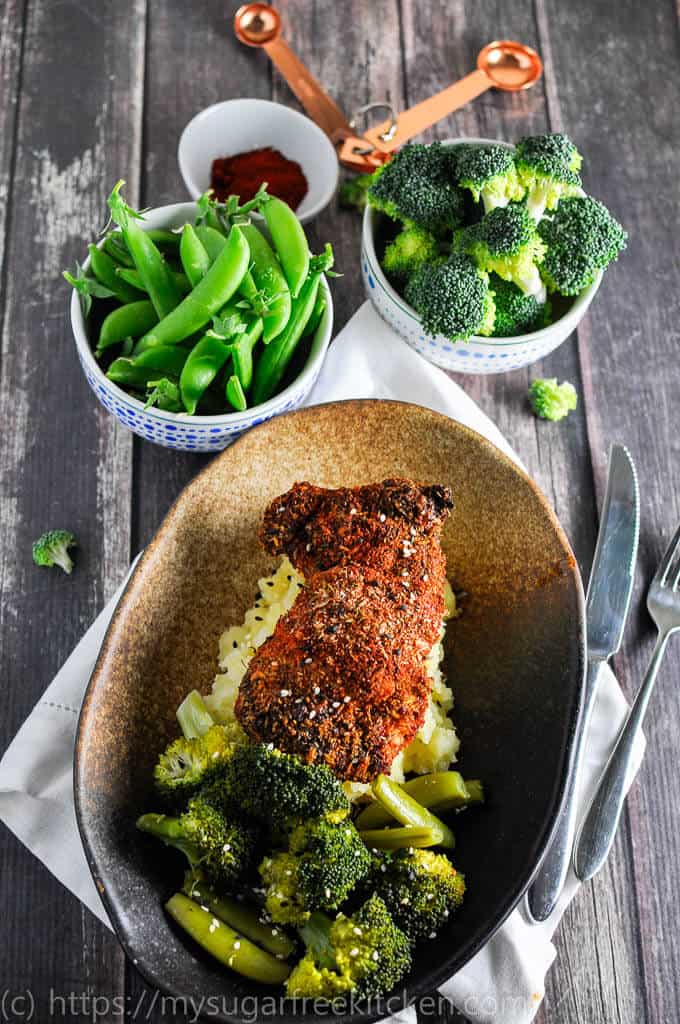 Mt T also loves this dish and says its one of his favourites.  When he is requesting that I make it, I know I'm on to a good thing!  Since usually he is not overly concerned with what's for dinner, but when he has a hankering for my paprika chicken, I love that I can create a dish that is so appreciated, not to mention versatile with the different side combinations you could put with it.  It really is endless.
Craving more? Sign up for a second helping of deliciousness and get my two Complimentary Sugar Free Recipe Books as well as my latest recipe each week delivered straight to your inbox.
Like what you see? Follow me on Facebook or Pinterest! Did you try a recipe? Tag me on Instagram: @mysugarfreekitchen, and leave a comment & star rating!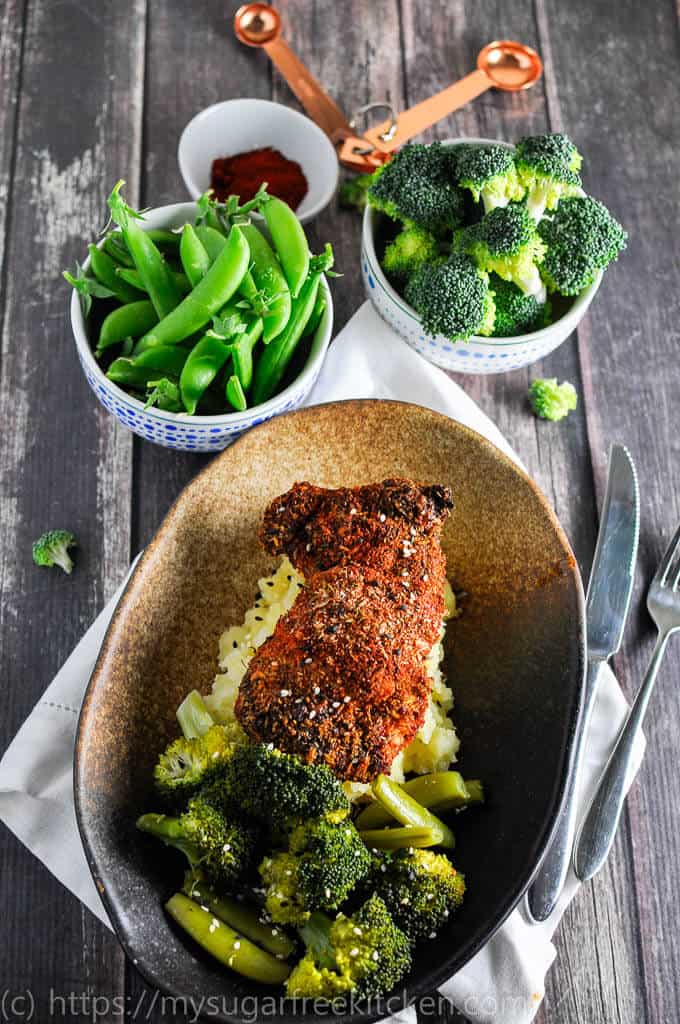 Print
Smoked Paprika Chicken With Mash and Healthy Greens
This healthy clean eating smoked paprika chicken with mash and greens is a perfect weeknight meal for your repertoire. Its easy, Its healthy and it is full or flavour. The great thing is, you can make it more or less spicy by altering the amount of hot paprika! Easy Peasy.
Ingredients
450

grams

/ 1 lb. Chicken thigh

(skinless)

3

teaspoons

Smoked paprika

½

teaspoon

Hot Paprika

1

teaspoon

Sweet paprika

¾

teaspoon

onion salt

1

teaspoon

Garlic salt

½

teaspoon

Thyme

½

teaspoon

Oregano

2

tablespoons

Breadcrumbs

1

medium Egg

1

tablespoon

Milk

1

medium Sweet potato

1

teaspoon

of butter

1

teaspoon

dijonaise

Salt to taste

Green Beans

3

or 4 stems of Brocolini
Instructions
Preheat oven to 180 degrees C/350 degrees F

Spices: Grab all the spices, salts and breadcrumbs and measure out as per above and mix together in a medium sized bowl or plate

Egg Wash: Create your egg wash by mixing together the egg and milk. Whisk until combined.

Chicken: Dip the chicken into the egg wash to coat with the wash.

Chicken: press outside of thigh into the spice mix smooth side down. Press firmly to get a good coating of spices.

Chicken: Grab out your best baking tray and spray lightly with canola oil. Add chicken thighs spice side up and bake at 180 degrees C for 30-40 minutes, depending on how big and or thick the chicken thighs are.

Veges: Whilst chicken is cooking, peel sweet potato and cut into chunks and place in saucepan of water. Once the chicken thighs have 20 minutes left, boil the potato.

When chicken has 10 minutes left, add the broccolini and beans to a steamer and steam for 8 to 10 minutes.

Once sweet potato is soft drain water and mash with fork, adding butter, dijonaise and salt to taste.

When chicken is done, plate it all up – don't forget the greens.
Notes
Preheat the oven before putting the chicken in. Putting chicken into a cold oven won't allow that nice crispy dry coating to develop on the outside.
Nutrition
Calories:
462
kcal
|
Carbohydrates:
25
g
|
Protein:
55
g
|
Fat:
13
g
|
Saturated Fat:
2
g
|
Fiber:
5
g
|
Sugar:
6
g
★ Did you make this recipe? Don't forget to give it a star rating below!