Popcorn Chicken Salad is the perfect crispy, crunchy, light and tangy dinner meal for busy weekday nights after a big day at work.  Its quick to prepare, its fresh and you can make it a team effort with your partner.  You on chicken, them on salad… and getting you a glass of wine.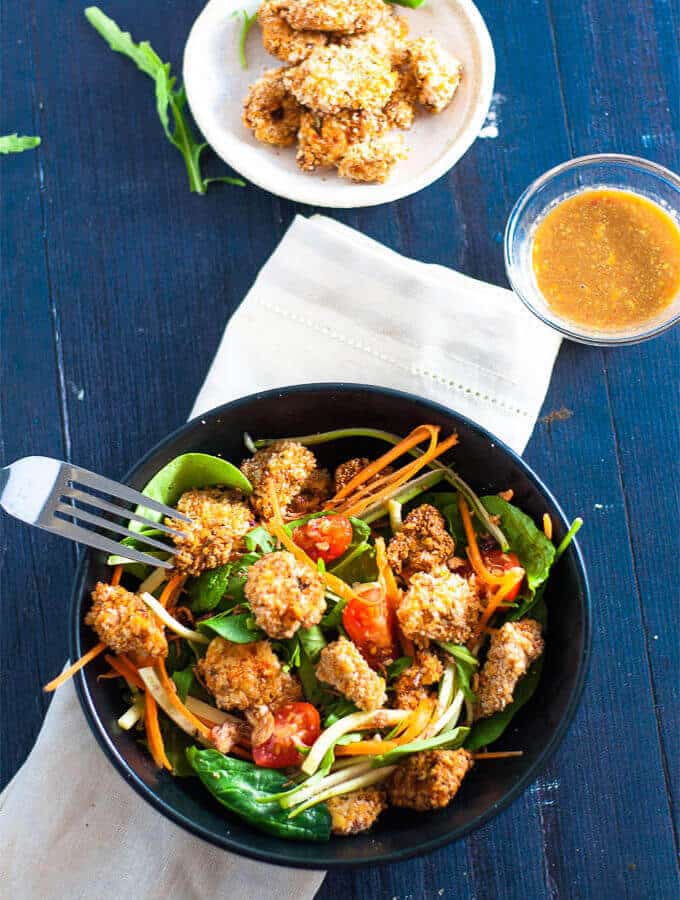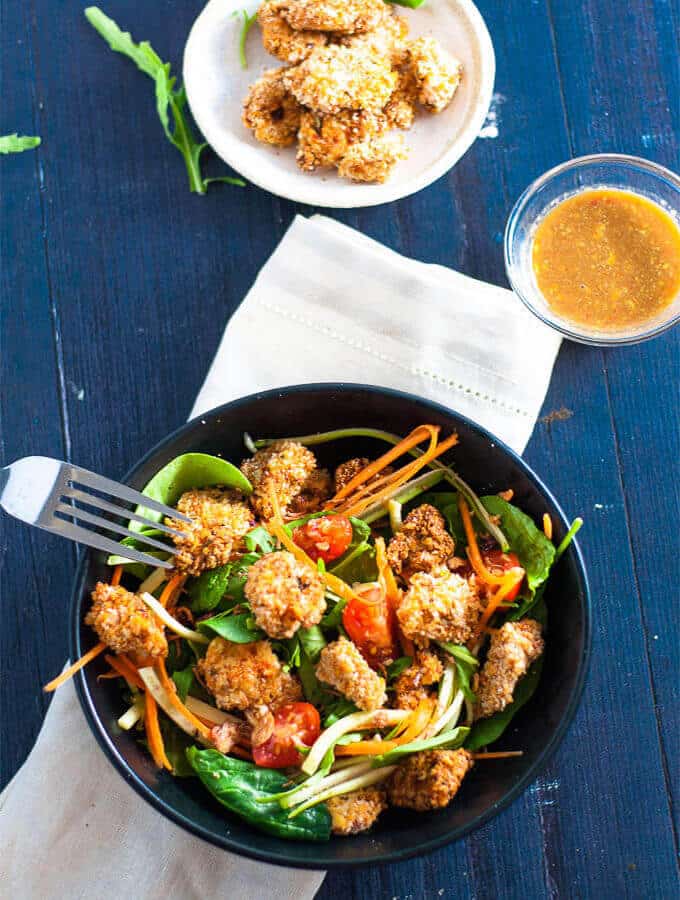 If popcorn chicken salad has peaked your curiosity, your bound to want to try this smoky paprika crumbed chicken.  It's like healthy KFC but tastier and way better.
Crispy Crunchy Popcorn Chicken Salad
The reason I love this dish is obviously because of the crispy and crunchy factor (who doesn't love that), but it's also because of the goodness of crisp spinach leaves, sweet pumpkin, colourful carrot and smooth zucchini.  Not to mention the tangy and tart dressing.
It awakens all the senses. Kind of like this Thai Beef Salad I made.  It has the same "Boom"  effect where you feel your tastebuds tingling for more.
With this recipe I prefer to use chicken breast over thigh, but there's no reason you couldn't use chicken thigh if that is what you have on hand.  Come to think of it, you could even use whatever salad and veg items you already have in the fridge.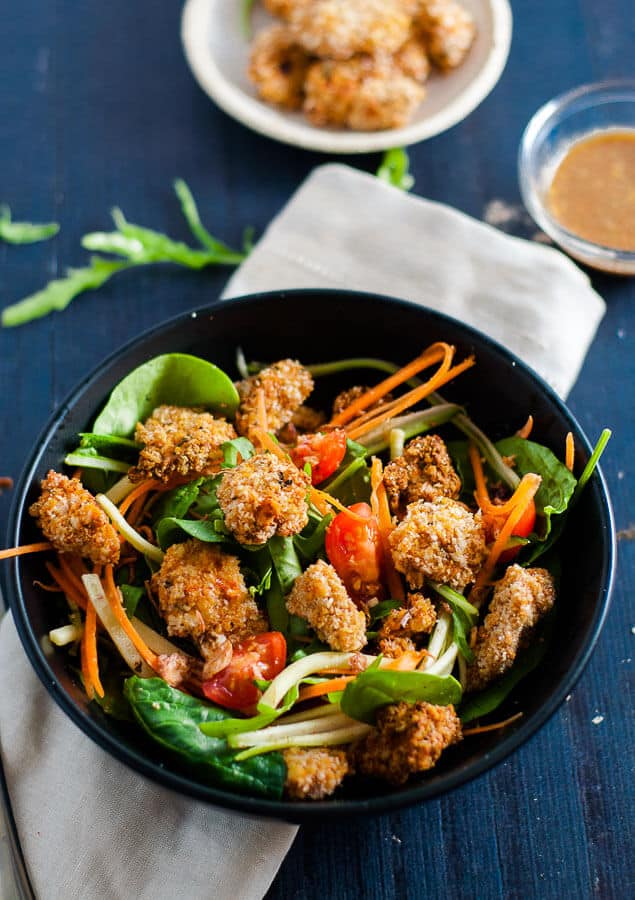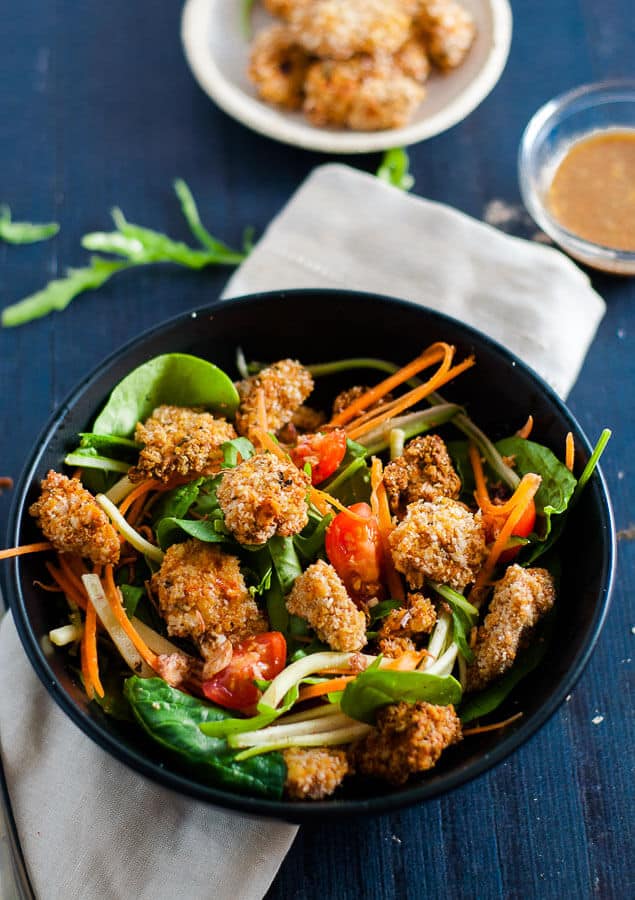 No pumpkin? – use sweet potato or regular potato instead
No spinach leaves?  Use regular lettuce, rocket, or even wombok cabbage
No carrot?  Chop up some fresh tomatoes instead.  They will add the same kind of sweetness.
No Zucchini?  Try mushrooms, fresh or lightly roasted.
You really are limited only by your imagination… and perhaps the contents of your fridge.  But it's sure to get the creative juices flowing.
And hey, in the process you're using up stuff in the fridge you forgot you even bought.
Now the dressing.
While I highly recommend you make your own dressing because well, it only takes 2 minutes, there may be some occasions where a) you're missing a vital ingredient, or b) where you can't be bothered.
In these situations, it is completely fine to keep a backup on hand.  By this I mean a storebought one.  Just make sure before you buy it to read the label to check out how much sugar is in the thing.
You don't want to get home and find you've dressed your salad with 5 teaspoons of sugar.  That would be unpleasant.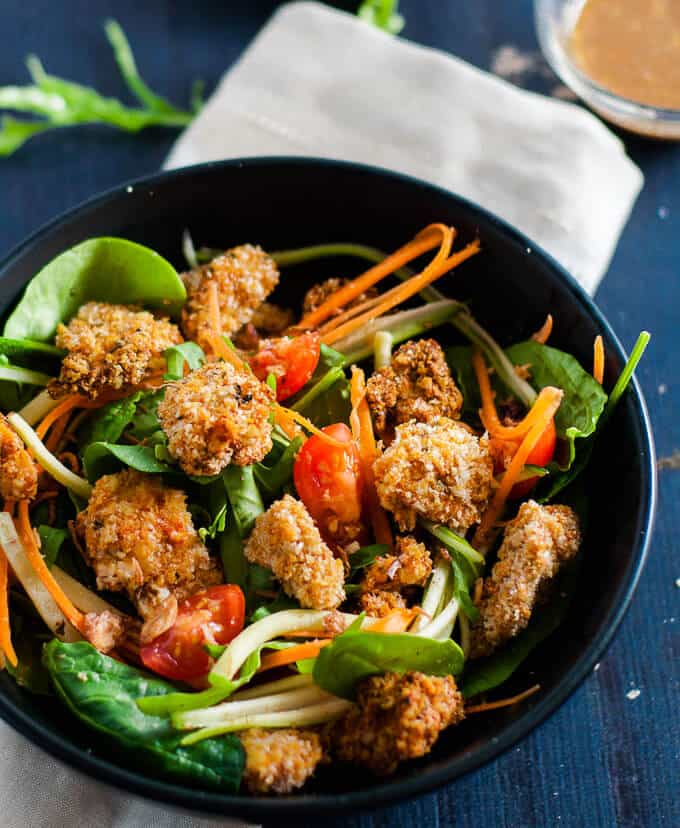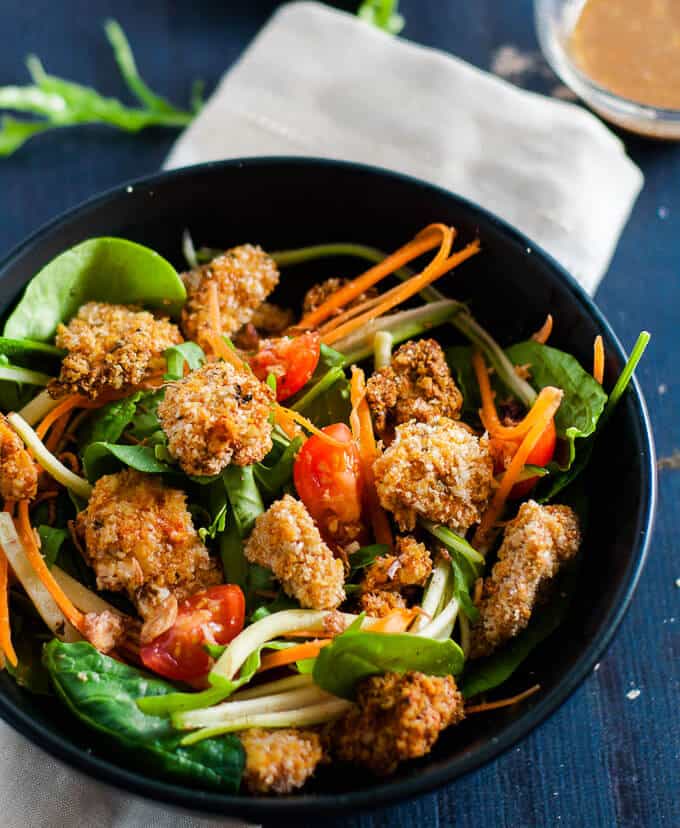 The moral of the story is this.
It's better to take the time to prepare a healthy popcorn chicken salad and use a storebought dressing, than call up the local takeaway at 6pm, or reach to the freezer for something out of a cardboard box.
Sure it would be even better to have that healthy popcorn chicken salad be drizzled with our own home made salad dressing, but we can't be perfect all the time.  Sometimes we might need a little help.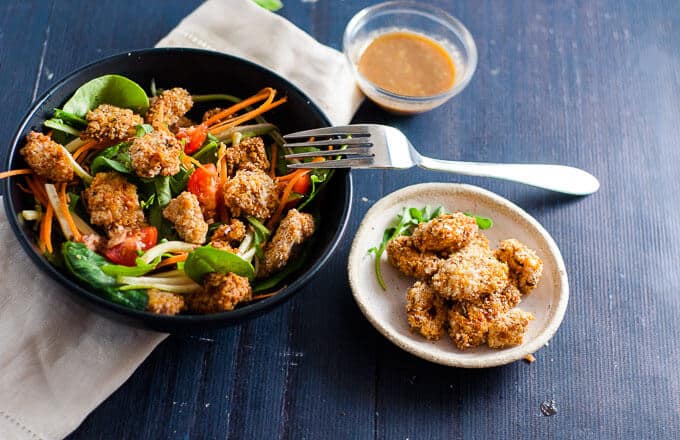 Small steps in the right direction is what it takes to eat well.  Speaking of steps.  I'm off now to the gym for a marathon of a step class.  60 minutes.  Cranking music.  And utterly exhausted at the end.  I'll sleep well tonight.  After my popcorn chicken salad.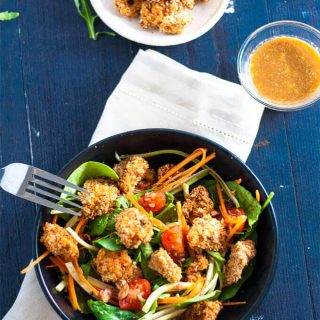 Popcorn Chicken Salad
Popcorn Chicken Salad is the perfect crispy, crunchy, light and tangy dinner meal for busy weekday nights after a big day at work.
Ingredients
200

grams

or 7 oz. Chicken Breast, chopped into 1 cm pieces

1

tablespoon

plain flour

1

medium Egg

2

tablespoons

milk

½

cup

Panko Breadcrumbs

-

(or wholemeal bread crumbs)

½

teaspoon

Onion Salt

½

teaspoon

Garlic Salt

1

teaspoon

Sweet Paprika

1

teaspoon

dried Oregano

Canola oil spray

½

cup

diced pumpkin

2

cups

Fresh Spinnich or Rocket leaves

1

Carrot

-

(chopped into small matchsticks)

1

Zucchini

-

(chopped into small matchsticks)

6

Cherry tomatoes

-

(quartered)
Instructions
Preheat fan oven to 180 degrees C [320 fahrenheit] and prepare a baking tray sprayed with canola oil.

Prep the chicken: Chop the chicken breast into small bit size pieces and place in a bowl.

Organise the Crumb mix: set out 3 bowls on the bench. Bowl 1- Plain flour, Bowl 2- Egg + milk. Stir with a fork to combine, Bowl 3 – Breadcrumbs + onion salt, garlic salt, paprika, and oregano

Crumb the Chicken pieces: put all the chicken pieces into the flour. Use your hands or a spoon to move the chicken around until it is coated. To shake off the excess flour from the chicken, you might like to empty the bowl of chicken and flour into a strainer and shake over the sink.

Once flour has been shaken off, dip the pieces into the egg mixture. I normally do half at a time.

Finally coat the first half of chicken in the crumbs, lightly coating, so there is enough left over for the second half of the chicken pieces

As the chicken pieces are crumbed, spread them out into the oiled baking tray.

Bake the chicken for 15 minutes at 180 degrees C in a fan oven [320 fahrenheit]. Remember to put the timer on.

Place the pumpkin pieces onto a small baking tray and back for 7 minutes.

Dressing: in a jar with lid or container, add mayonnaise, soy, lemon juice and crushed garlic. Shake if in a jar (make sure lid is tight), or use a fork/whisk to combine if in a bowl.

Assembly: In two fresh and clean bowls, evenly divide the salad ingredients + the pumpkin. Drizzle the dressing over the salad. Sit the chicken pieces on top.

To Serve: a nice cold beer, or a tall glass of water
Notes
I have a julienne peeler that I use on carrots and zucchini that turns it into matchstick strips. I bought it from a kitchen shop a while ago and I remember it was pretty cheap.  It really does save time with these types of chopping tasks if you're not a fan of them.
Nutrition
Calories:
462
kcal
Carbohydrates:
98
g
Protein:
32
g
Fat:
13
g
Saturated Fat:
2
g
Fiber:
7
g
Sugar:
18
g
Note: Sugars contained in this recipe are from naturally occurring sugars in fruits, vegetables or other natural sweeteners.
Looking To Cut Out Sugar? Get the FREE Healthy Food Swaps Checklist Pack!
Get your FREE Healthy Food Swaps Checklists with over 65 Healthy Food Alternatives to Help you Ditch The Sugar Without Feeling Deprived.