This Lemon Garlic Butter Salmon dish is an easy and filling clean eating midweek meal. On the table in around 20 minutes, the crispy pan fried salmon sits atop creamy mashed potato with a tangy garlic sauce that is very moreish. It's the perfect dinner for two.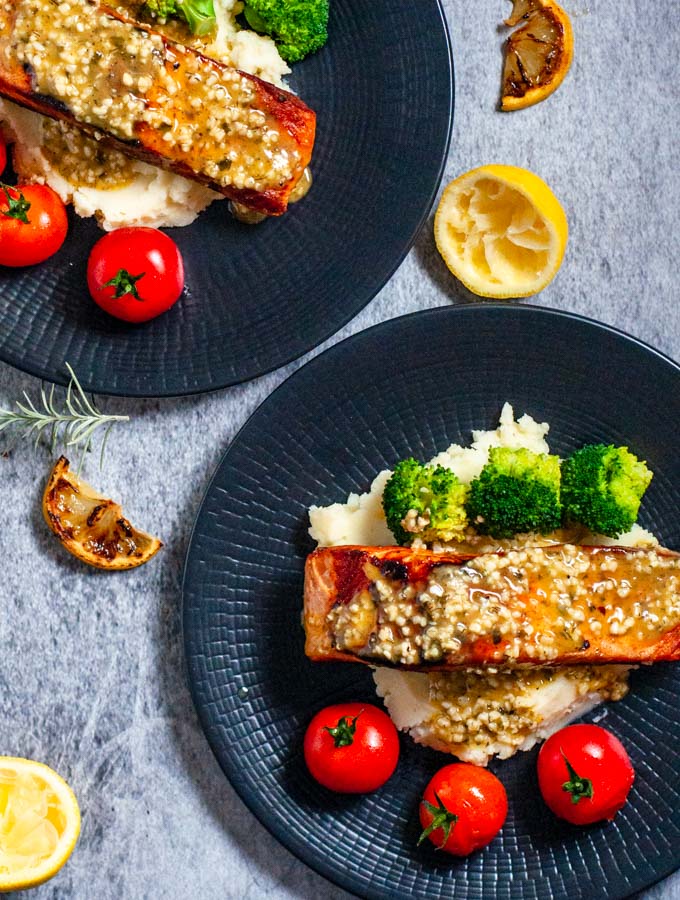 Why You Should Make This Recipe
Make it in around 20 minutes
Its a great recipe to make for date night since it serves 2
It's quick and fresh and full of good healthy omega 3 fats
There's no unusual or hard to get ingredients.
You can use frozen or fresh salmon just like in this Lemon Garlic Salmon Potato Bake
All the sauce ingredients are pantry staples
Use whatever veges you have on hand.
How to Cook Perfect Pan Fried Salmon Every Time
The trick is to make sure the salmon is dry before you put it into a very hot frypan or skillet. I generally pat the salmon dry with some kitchen/paper towel to get rid of any excess moisture so that when it hits the pan I get the instant sizzle!
Skin on, or skin off, it doesn't really matter. Making sure you've patted it dry both sides will work both ways to create that nice golden crust on the outside. For that bit of extra crispiness, lightly salt the fish both sides before putting it in the pan.
I love cooking salmon and include it once or twice a week as part of my dinner meals, with some of my favorites being Teriyaki Salmon Bowls, Asian Glazed Salmon with Mango Salsa, and Salmon Noodles.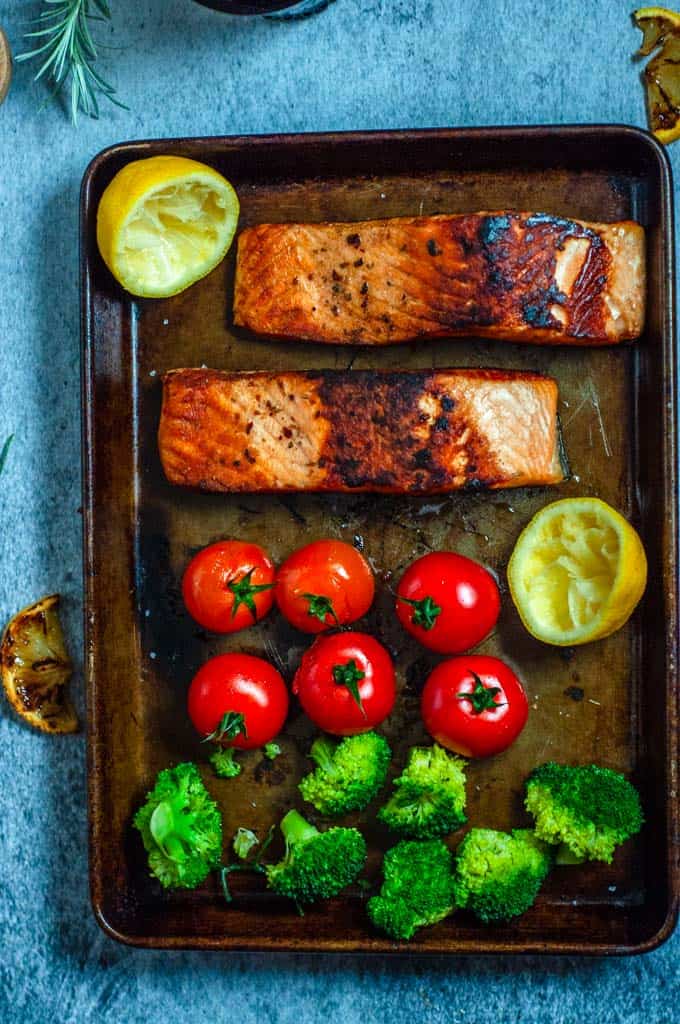 I recommend that you don't turn the salmon once it's in the pan. Cover it with a lid and let it cook for around 4 minutes, then remove the lid, flip it and cook again with lid on for another 3 or so minutes.
TIP: For the ultimate crisp, after salmon has cooked top and bottom, I turn it onto the side to cook it (with lid off) so that it has a nice crust all over. Be careful to watch monitor it as this could have a tendency to dry it out too much if you over do it.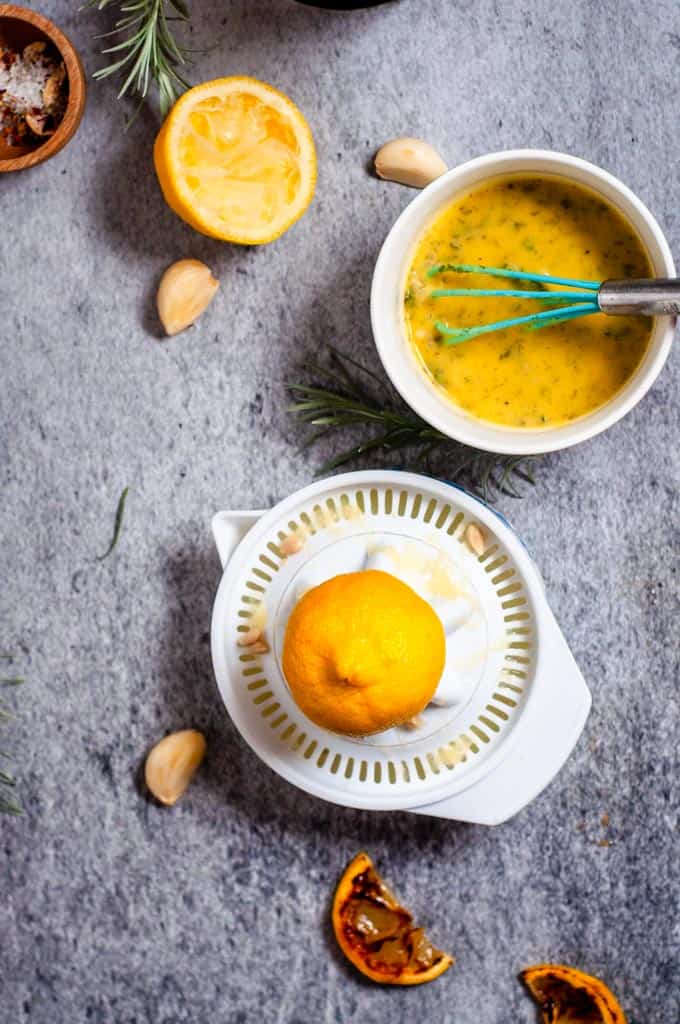 How To Make Healthy Creamy Mashed Potatoes
I like to keep it simple and stick to the basics of potato + a little butter and a few drizzles of milk. And a pinch of salt and pepper if you like. Russet Potatoes are perfect for smooth mashed potato.
I find a ratio of equal parts butter to milk makes for a good consistency, not to clumpy and not to runny and make sure to use a potato masher.
To make these mashed potatoes healthier, use low-fat milk or unsweetened almond milk instead of whole milk or cream, and limit the use of butter or olive oil. This reduces the overall fat content while maintaining a creamy texture.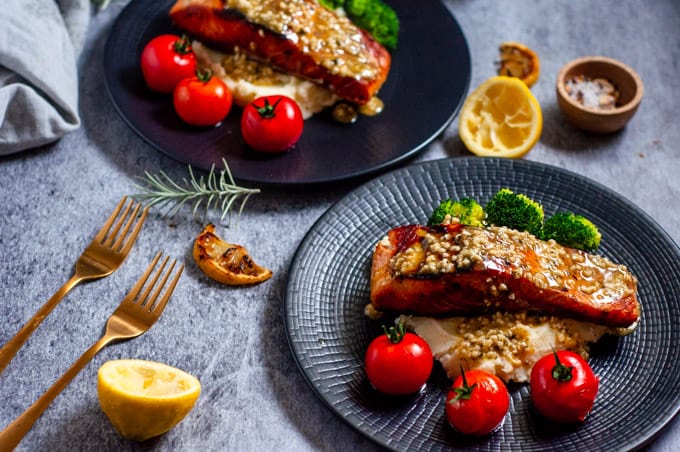 Variations and Substitutions
Instead of salmon, try this recipe with lean chicken or turkey breast.
Instead of white mashed potato, try it with sweet potato.
If you love white mashed potato, add some cooked shredded cabbage and lemon pepper to the mash. This is once of my favourite ways to mix up a boring mash.
Instead of beans, try another green vegetable like broccoli, snow peas, even bok choi or baby spinach.
If you don't have Dijon mustard, you could use wholegrain mustard.
Dried Dill and Dried Chives could be substituted with Basil and Oregano, or Thyme and Oregano.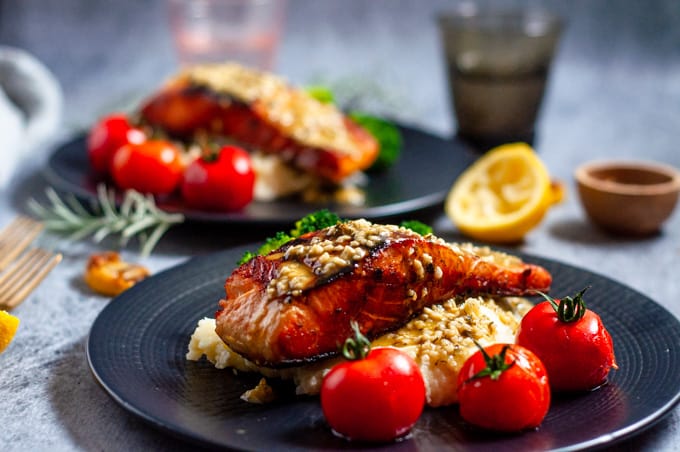 In terms of a healthy and filling easy and quick midweek dinner, this Lemon Garlic Butter Salmon is hard to beat. It has classic flavours, yet looks and tastes impressive, even though you haven't spent a lot of time in the kitchen. If you're not into freezer meals or batch cooking, this is a healthy made from scratch dinner you need to put on your meal plan this week. Or why not check out these Healthy Salmon Burgers for a quick and easy weeknight dinner.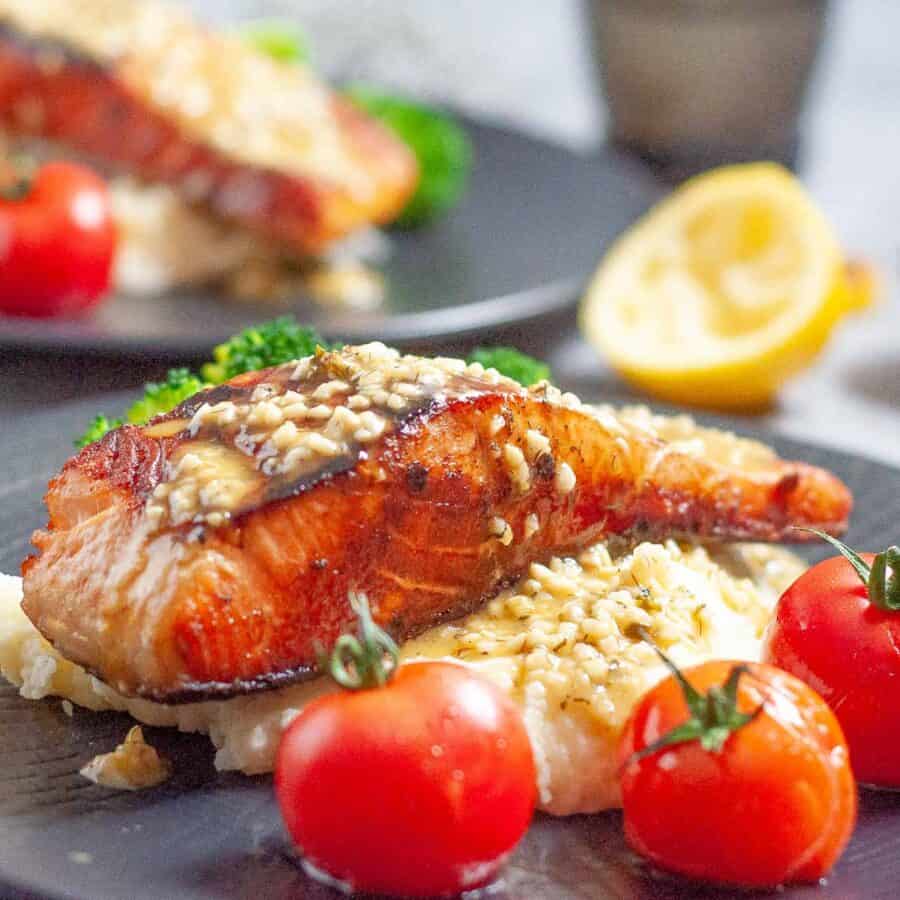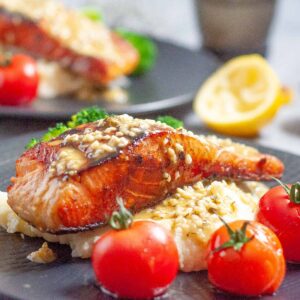 Garlic Butter Salmon with Mashed Potato
Enjoy a quick and hearty midweek meal with Lemon Garlic Butter Salmon. Ready in just 20 minutes, it features crispy pan-fried salmon on creamy mashed potatoes with a tangy, irresistible garlic sauce—a perfect dinner for two.
Ingredients
Main
2

pieces

Skinless Salmon fillets

3

medium

White potatoes, peeled and roughly chopped

2

tablespoons

Milk

2

tablespoons

Butter

16

Green beans, ends removed

Salt and Pepper to taste
Sauce
2

tablespoons

Lemon Juice -

freshly squeezed or bottled

2

tablespoons

Garlic

-

crushed

2

tablespoons

Butter

1

teaspoon

Dijon mustard

1

teaspoon

Dried Dill

½

teaspoon

Sea salt
Instructions
Potatoes: Fill a pot/saucepan with water and heat on the stove on high. Peel and chop the potatoes and add to the water. Cook with lid on for 10 to 12 minutes. Whilst potatoes are cooking, cook the salmon.

Salmon: Pat salmon dry of any moisture using a paper towel/kitchen paper. Heat a frypan/skillet on the stove on medium to high heat. Add the salmon flat side down and cook for 2 to 3 minutes, then flip and cook other side for 1 to 2 minutes (I like to cook my salmon on all 4 sides so its super crispy but this is a matter of personal preference. I cook the additional 2 sides for 1 to 2 minutes each)

Beans: Cook the beans using a steamer on top of the potatoes, or in the microwave. If using the microwave, add ½ cup water to the bowl with the beans and zap for 3 to 4 minutes, depending on how crunchy you like them. If using a steamer, steam for 3 to 4 minutes and remove and set aside.

Potatoes: Test potatoes to see if cooked by prodding with a skewer or sharp knife. If soft, remove from heat and drain the water. Mash the potatoes using a masher or fork and adding the butter and milk - salt and pepper to taste.

Heat Sauce: add butter, garlic, lemon, and dijon mustard to the pan and heat through until butter has just melted. then remove from heat.

Serving: Divide mashed potato evenly between 2 plates, add the salmon on top, drizzle with garlic butter sauce over the salmon and serve the beans on the side.
Nutrition
Calories:
557
kcal
Carbohydrates:
47
g
Protein:
46
g
Fat:
29
g
Saturated Fat:
7
g
Fiber:
5
g
Sugar:
16
g
Note: Sugars contained in this recipe are from naturally occurring sugars in fruits, vegetables or other natural sweeteners.
Looking To Cut Out Sugar? Get the FREE Quick and Easy Food Swaps Checklist Pack!
Get your FREE Quick and Easy Food Swaps Checklists with over 65 Simple Real Food Alternatives to Help you Ditch The Sugar Without Feeling Deprived.