Chilli Soy Salmon with Sesame Noodles is an easy go to weeknight dinner packed with flavour bombs, omega 3's, and sesame noodle goodness.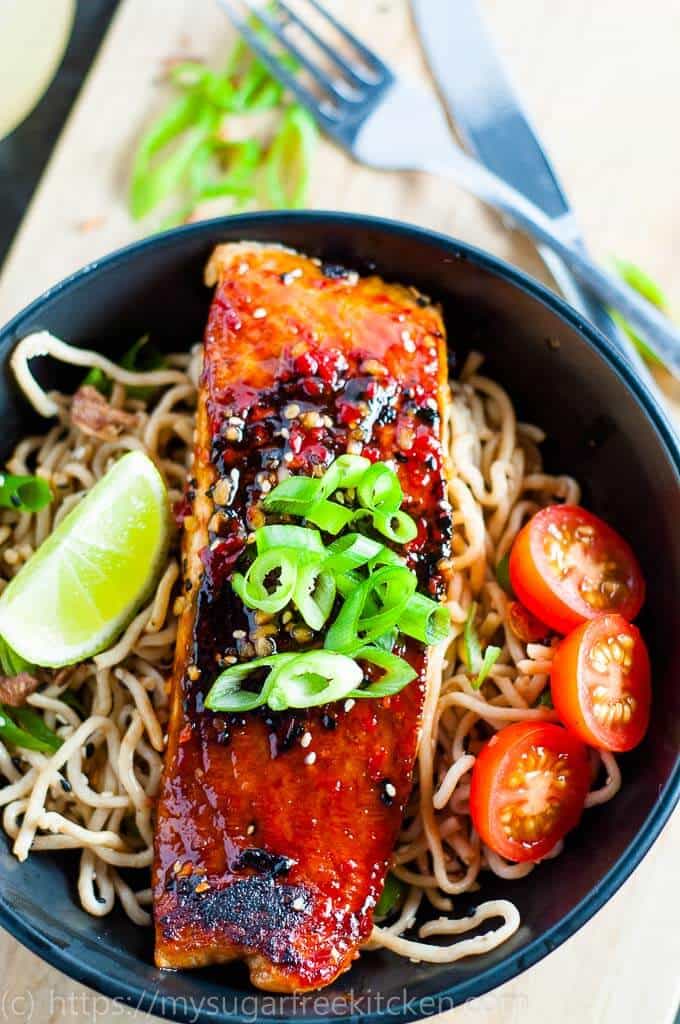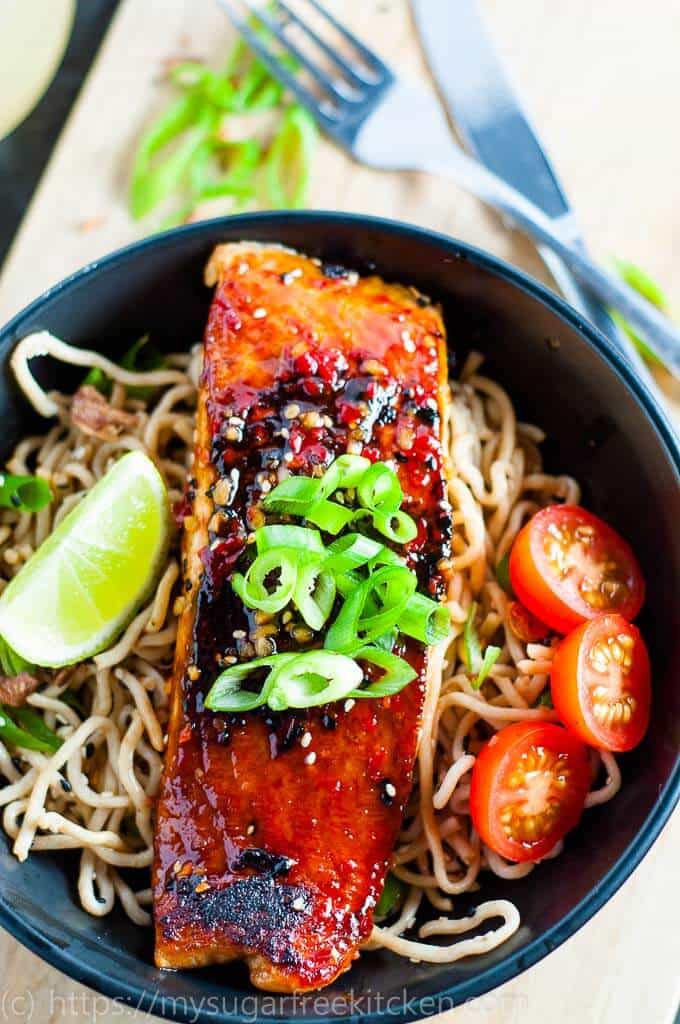 How to cook the perfect pan fried Chilli Soy Salmon
The trick is to do the salmon first and apply the glazed at the end. Let me explain.  Heat a non stick frypan up – no oil needed as the oil from the salmon will be more than enough to create the golden brown crustiness on the outside of the salmon.
Once you have the pan heated, salt the salmon using a pinch or two of sea salt and make sure to pat dry if there is a lot of moisture.
Place the salmon flat side down and put a lid half on , half off to trap some of the heat so that it cooks through evenly. I usually use a medium high heat and leave it on the first side for a good 5 to 7 minutes.
Try not to keep turning it. I find it crisps best when you leave it one side down, allowing all the heat to seep through.
Once the first side is browned, use tongs or an egg flip to turn it over, making sure to half cover with the saucepan lid to retain the heat – again for about 5 minutes or so, depending whether you like it a bit underdone in the middle, or you prefer it completely cooked through
For more Asian inspired dishes, you  might like to check out my Cashew Nut Chicken, or my Chicken Chilli Stirfry!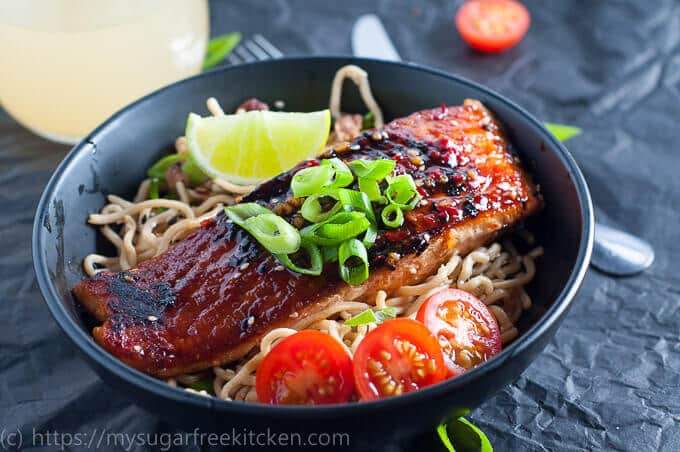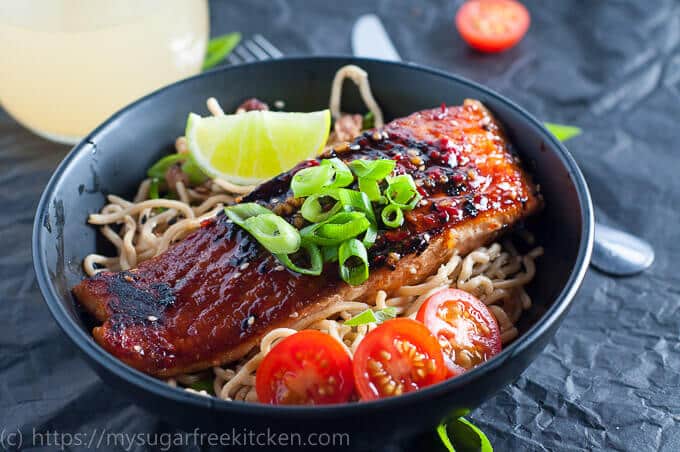 Salmon is one of those proteins that works really well as an Asian dish I think, and I especially love it spiced up, with noodles and a bit of greenery!
There are literally dozens of different types of noodles you could use with this dish from the ones you find in the cold section, to ones in the pantry isle, to ones you get from a specialised Asian grocer.
For me, I like to keep things simple and I always have wonka noodles in the cupboard and the wholemeal ones worked a treat in this dish.
I've actually recently taken to buying my salmon from the local seafood market rather than from the supermarket where I do my normal weekly shop.  I find that it's a bit more expensive, but the freshness is better, and since we live right on the coast in one of Queensland's most beautiful spots, really there is no excuse for not buying right off the boat!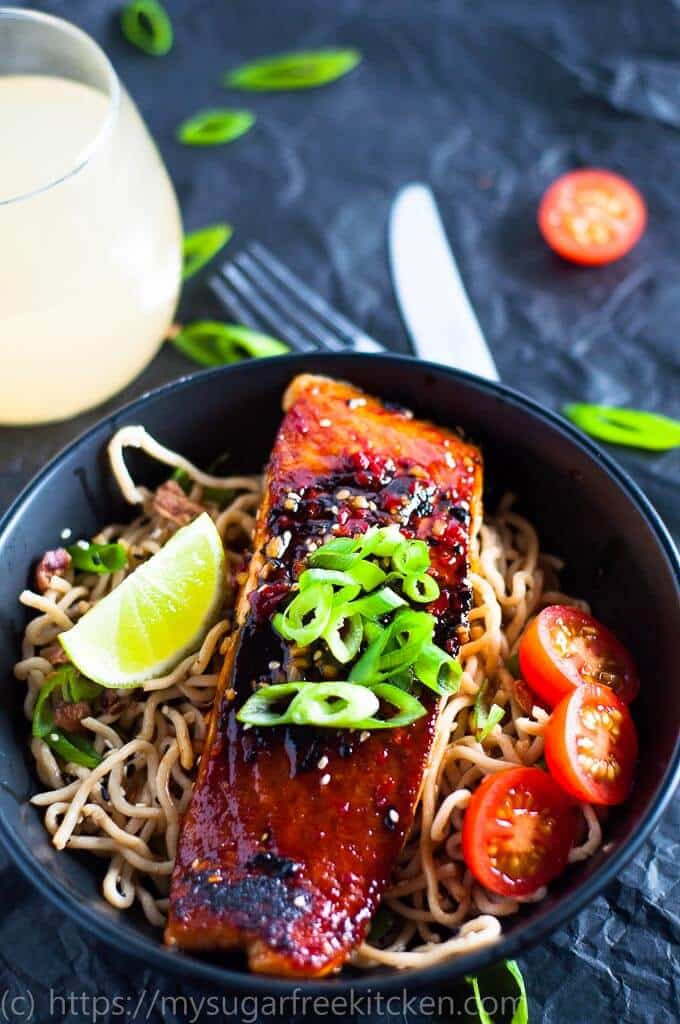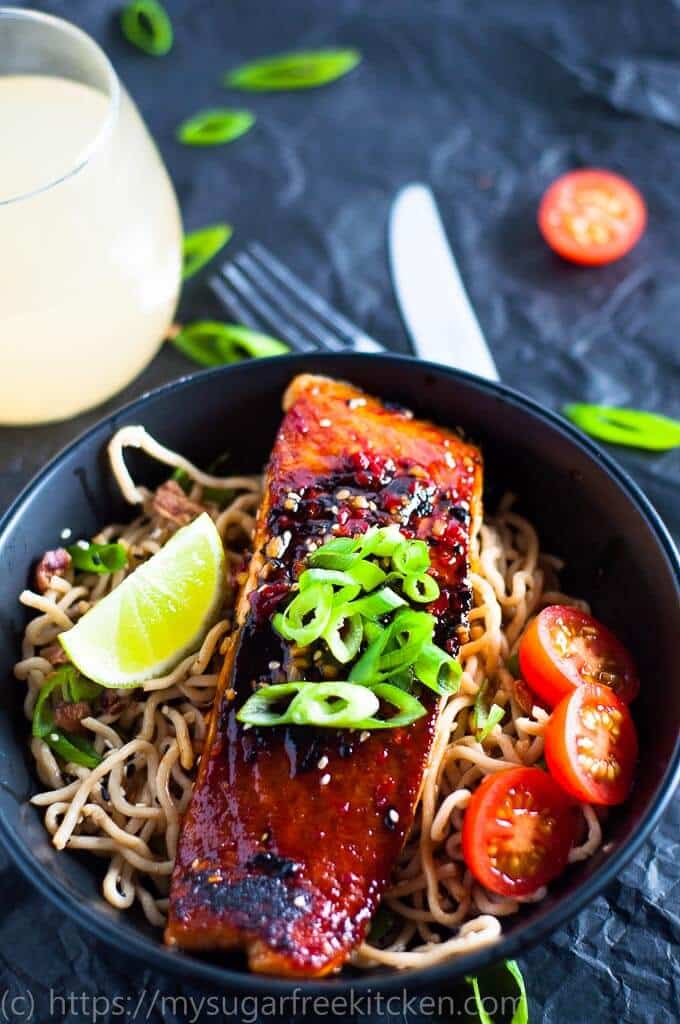 Speaking of boats, I hope to be able to report soon that the boat my husband has been restoring will be ready for its first test on the water since it has been re-kitted out.  I am so excited at the prospect of (hopefully) having a freezer full of seafood on tap – some of which with any luck I will have caught myself!
That's the plan anyway.  I'm sure there will be a learning curve since my fishing experience is practically zero, my boating experience not much better.  Oddly enough though I do have a boat license that enables me to drive a boat out on the water.  Not sure I remember all the road  water rules though.  Might need to brush up on those if I'm to catch me a fish masterpiece!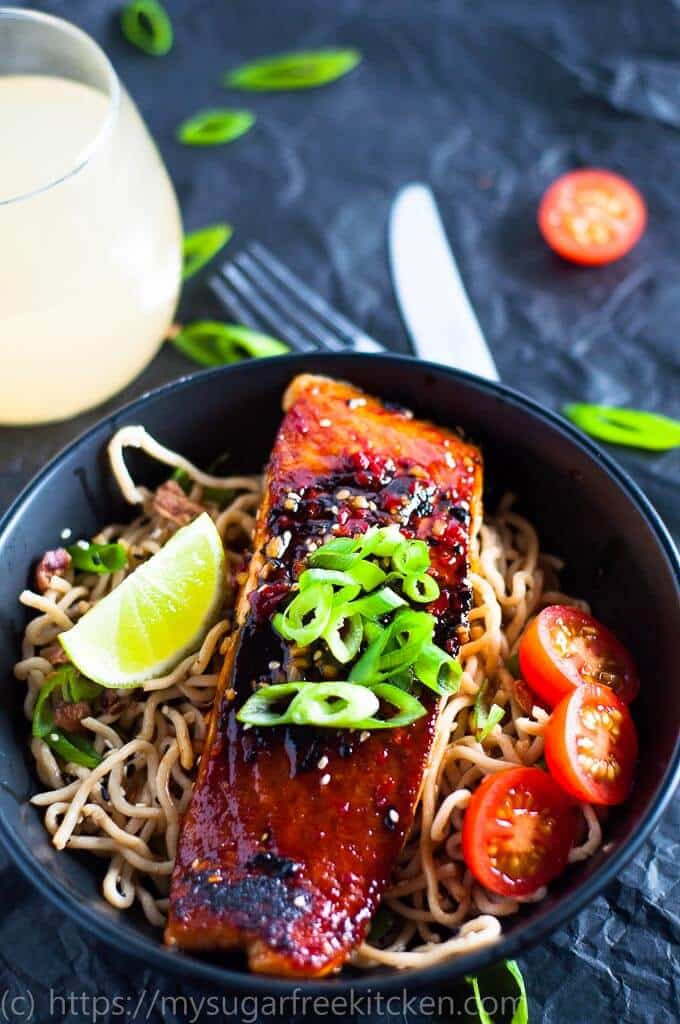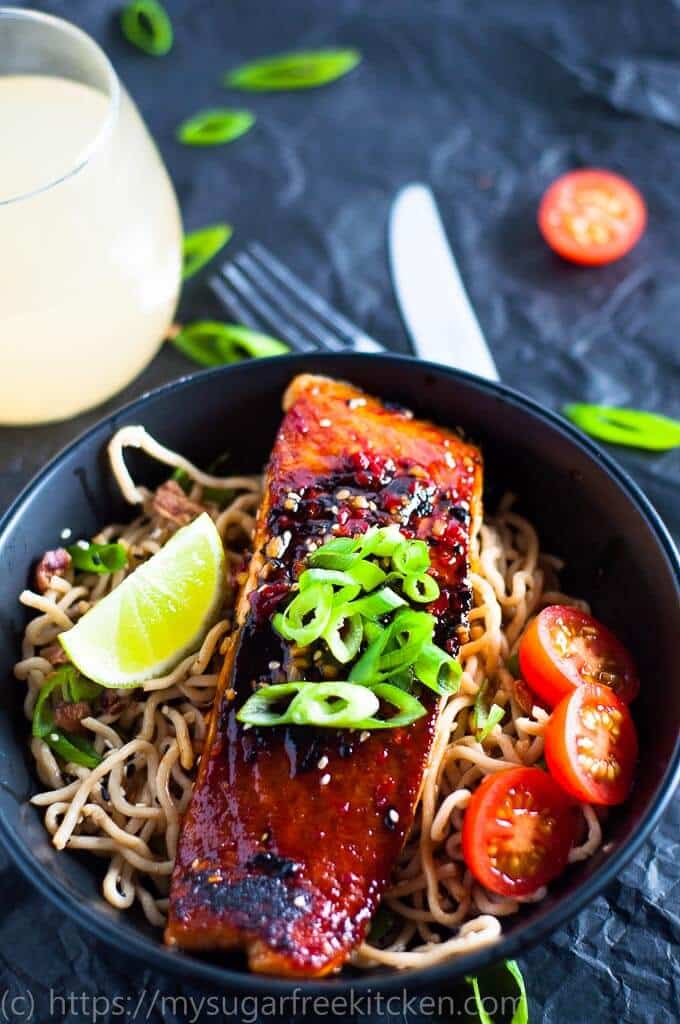 Not a salmon fan?  I dare you then to try this blow your socks off Fish Stew!  Ready in 30 minutes and perfect to satisfy those cravings for a warming and hearty weeknight meal.  The fish used in this dish, my husband caught when he was out on a fishing charter day trip.  There really is something to be said for hunting and gathering your own food, and serving up to those close to you.
Even the four legged ones.  Yep.  That's the way it rols in our household.  Our furkid Charlie loves cooking days, baking days, breakfast time, BBQ lunches, dinner parties – anything really that involves food.  Can't blame him really.  He's just like his mum!
Like what you see? Follow me on Facebook or Pinterest! Did you try a recipe? Tag me on Instagram: @mysugarfreekitchen, and leave a comment & star rating!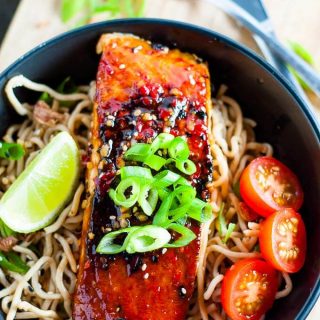 Chilli Soy Salmon with Sesame Noodles
Healthy, hearty and Asian inspired Chilli Soy Salmon with Sesame Noodles has bags of flavour. On the table in 20 minutes.
Print
Rate
Ingredients
2 x 225

gram

portions/ 2 x 0.5 lb. portions Fresh Salmon

3

tablespoons

Light Soy

2

teaspoons

Black Sesame Seeds

1

tablespoon

White Sesame Seeds

1

tablespoon

lime juice

1

teaspoon

Mild chilli paste

1

teaspoon

crushed garlic

2

Fresh shallot

200

grams

/ 7 oz. wholemeal ready made wok noodles (I use Wokka brand)

-

Dried Shallots to garnish
Instructions
Heat frypan on medium heat and pat salmon dry with paper towel

Place salmon flat side down in frypan with a lid over and cook for about 10 minutes

Make the chilli soy glaze: in a small measuring cup, place 2 tablespoons of light soy, 1 teaspoon chilli paste, 1 teaspoon of garlic paste, 1 teaspoon each of white and black sesame seeds. Stir to combine.

Turn salmon over and cook the other side. On flat side up of salmon, using a glazing brush (I have a silicone one), brush on the glaze. Also brush on the sides

Leave salmon to cook on the second side for about 6 to 7 minutes, depending on how well done you like it.

Meanwhile, in a small saucepan, add the noodles, 1 tablespoon of light soy and 1 teaspoon each of the black and white sesame seeds. Heat through and stir until all combined. Ad in some chopped shallots at the end for colour.

Once salmon is done, remove from heat. Place noodles in bottom of bowl and lay salmon on top with some more fresh shallot, and dried shallot if you have it.
Nutrition
Calories:
490
kcal
|
Carbohydrates:
28
g
|
Protein:
44
g
|
Fat:
23
g
|
Saturated Fat:
8
g
|
Fiber:
3
g
|
Sugar:
4
g
Did You Make This Recipe?
Mention @mysugarfreekitchen or tag #mysugarfreekitchen!
★ Did you make this recipe? Don't forget to give it a star rating below!