Salmon Stir fry is a fresh and flavourful Asian inspired dish, with an easy to make stir fry sauce, simple vegetables and it's on the table in 15 minutes. This is a quick and easy dinner dish perfect for busy weeknights and once you know how to make the sauce, it becomes such a versatile recipe that you can create many different variations from.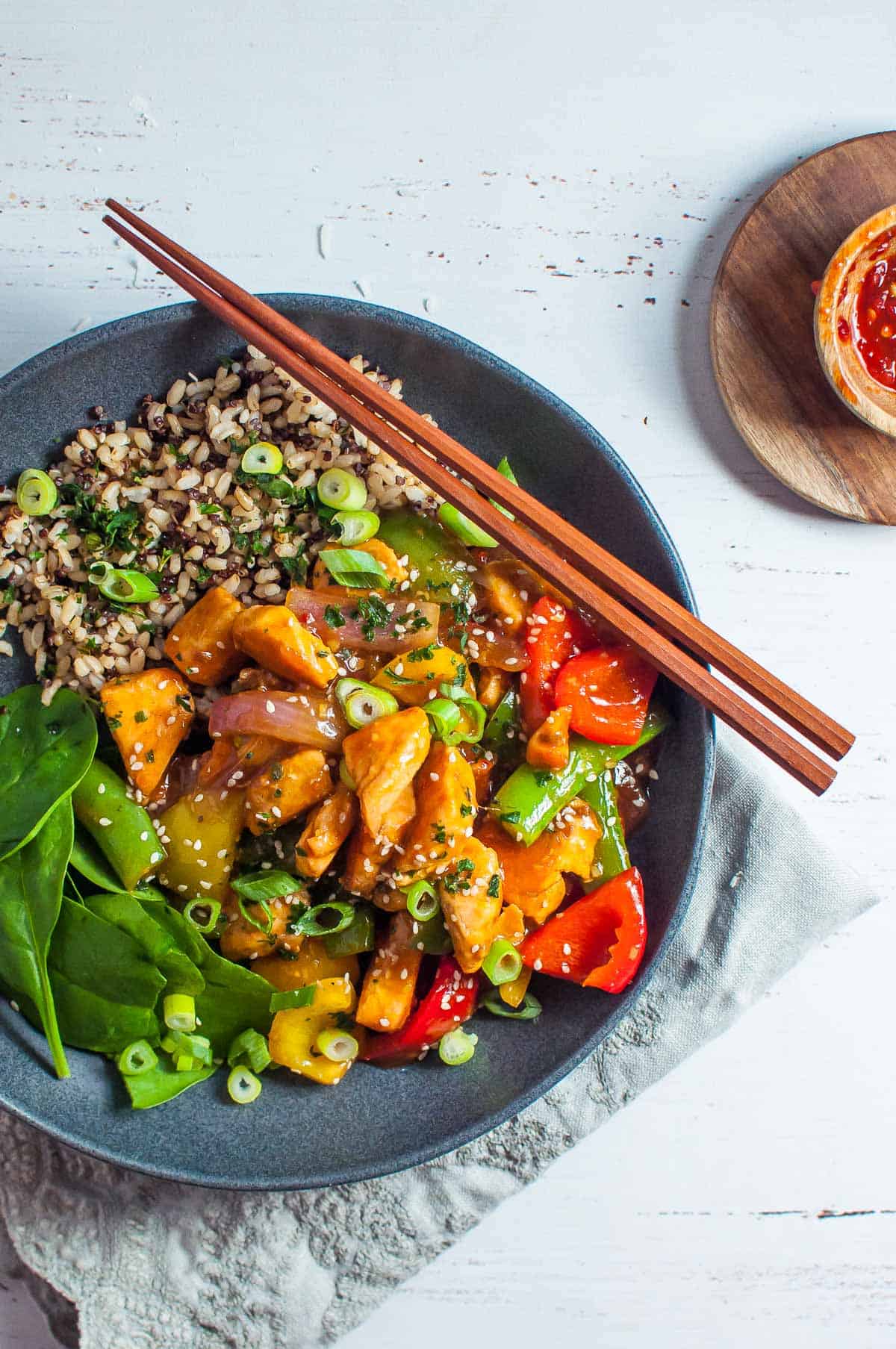 What Type of Salmon To Use
Fresh salmon is best, and I prefer to use skinless salmon portions. The ones I buy are in rectangular portion sizes and I dice them at home so I can get the size I want.
Fresh salmon that has been frozen is also an option. Just make sure to either take it out the night before and let it thaw in the fridge, or defrost it in the microwave. This way it makes it nice and easy to chop into chunks. Make sure though to pat the salmon dry with paper towel before chopping it up as it tends to quite wet when it's been frozen and defrosted. Patting dry with paper towel removes excess moisture and helps it to cook better more evenly.
Canned or tinned salmon is not suitable for this recipe, and it tends to be to flaky and turns to mush.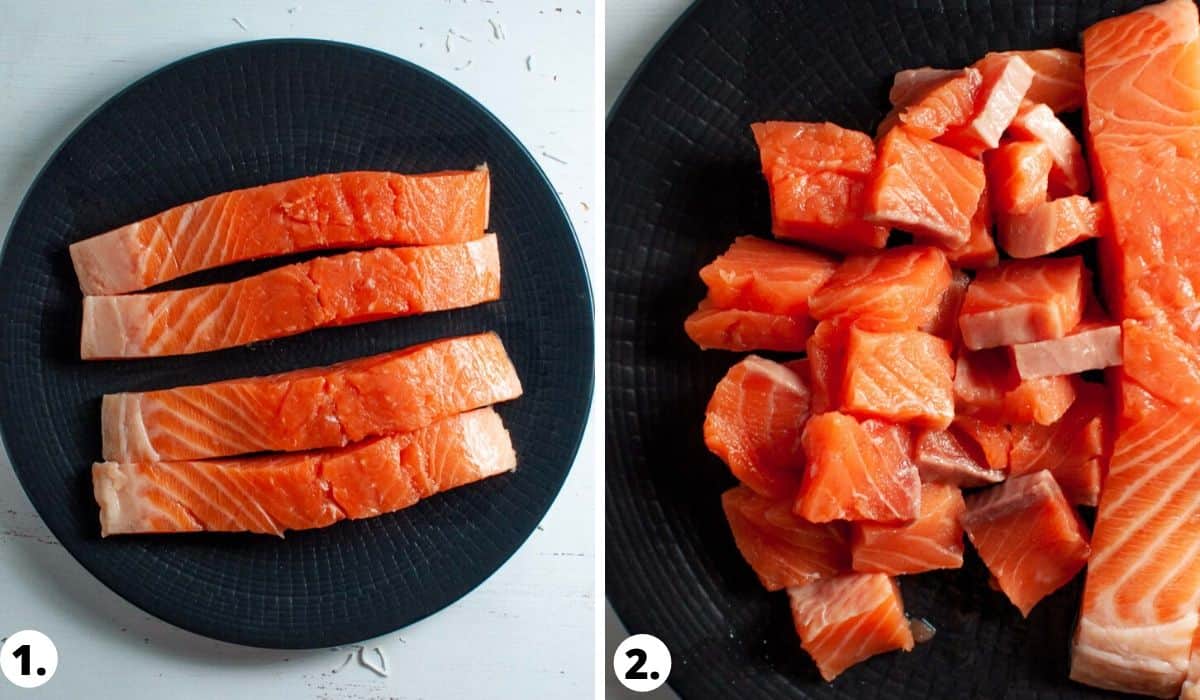 How To Cook The Salmon
Once the salmon is chopped into chunks, add it to the wok on medium high heat with a little oil. Stir through for 3 to 5 minutes until cooked to your liking.
Remove salmon from the wok once cooked and put to the side on a plate whilst you cook the veges.
Do be gentle with the salmon as its quite delicate. Its best to use either a wooden or silicone spoon. Avoid using tongs and they are a bit too rough.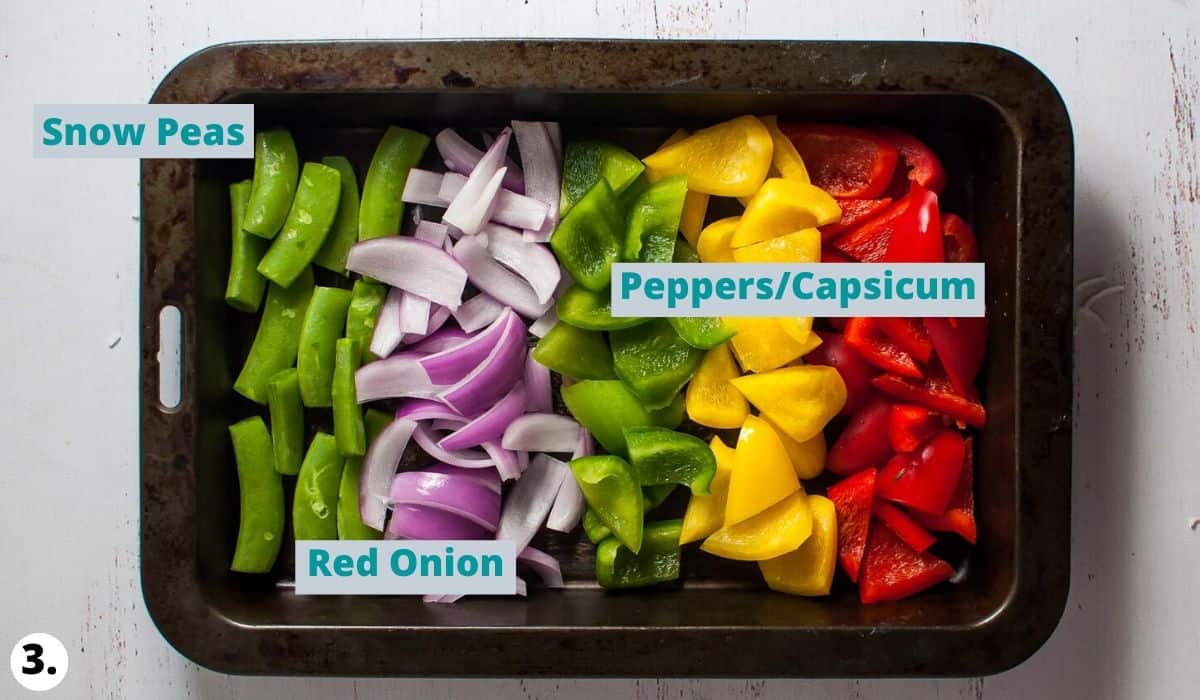 Stir Fry Salmon Sauce Ingredients
½ cup Vegetable Stock/Broth (or water)
2 tablespoons Cornflour
1 tablespoon Light Soy Sauce
1 tablespoon Ginger freshly grated
1 tablespoon Crushed Garlic
1 tablespoon Lemongrass Paste
1 tablespoon Raw Honey
½ teaspoon Chilli sauce (Sirrarcha/Sambel Olek)
Basically this is a combination of sweet, salty, bitter and savoury. Its not too overpowering, yet its very flavourful and just right with the delicate salmon.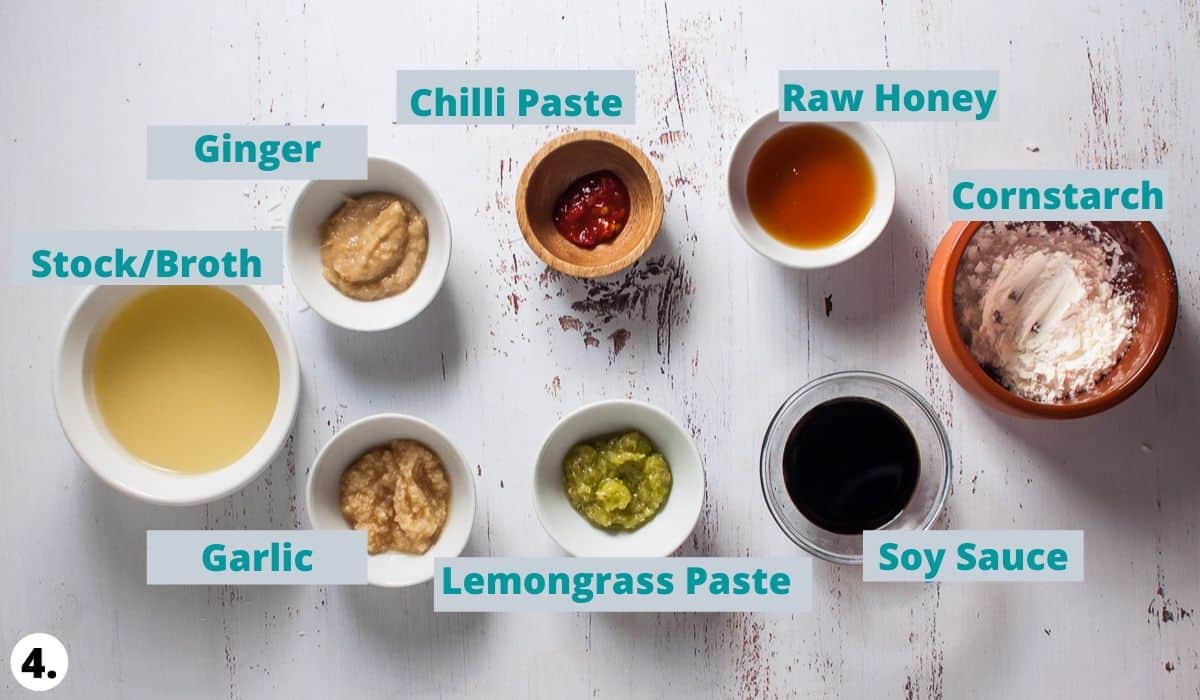 How Spicy Is This Dish?
Based on the measurements provided for the stir fry sauce, it is a mild dish, like my Lemon Garlic Butter Salmon. However, if you like things a bit spicier, you can easily add a bit more heat by increasing the amount of chilli sauce to taste.
Alternatively if you're making the recipe for some who want more heat than others, you can make the sauce per the recipe, and then add some fresh or dried chilli flakes at the end as a garnish.
More quick and Easy Salmon Recipes:
What Vegetables Work Best
Keep it as simple as possible. I love colour and crunch:
Snow Peas
Red Onion
Red, Yellow and Green Capsicum/Peppers
But really anything green and leafy, such as kale, spinach leaves or bok choy, and shallots also work really well.
TIP: If you're not feeling in the mood for vegetables, or don't have any on hand, you can instead use packet noodles, so you end up with a Salmon Noodle Dish covered with the delicious sauce.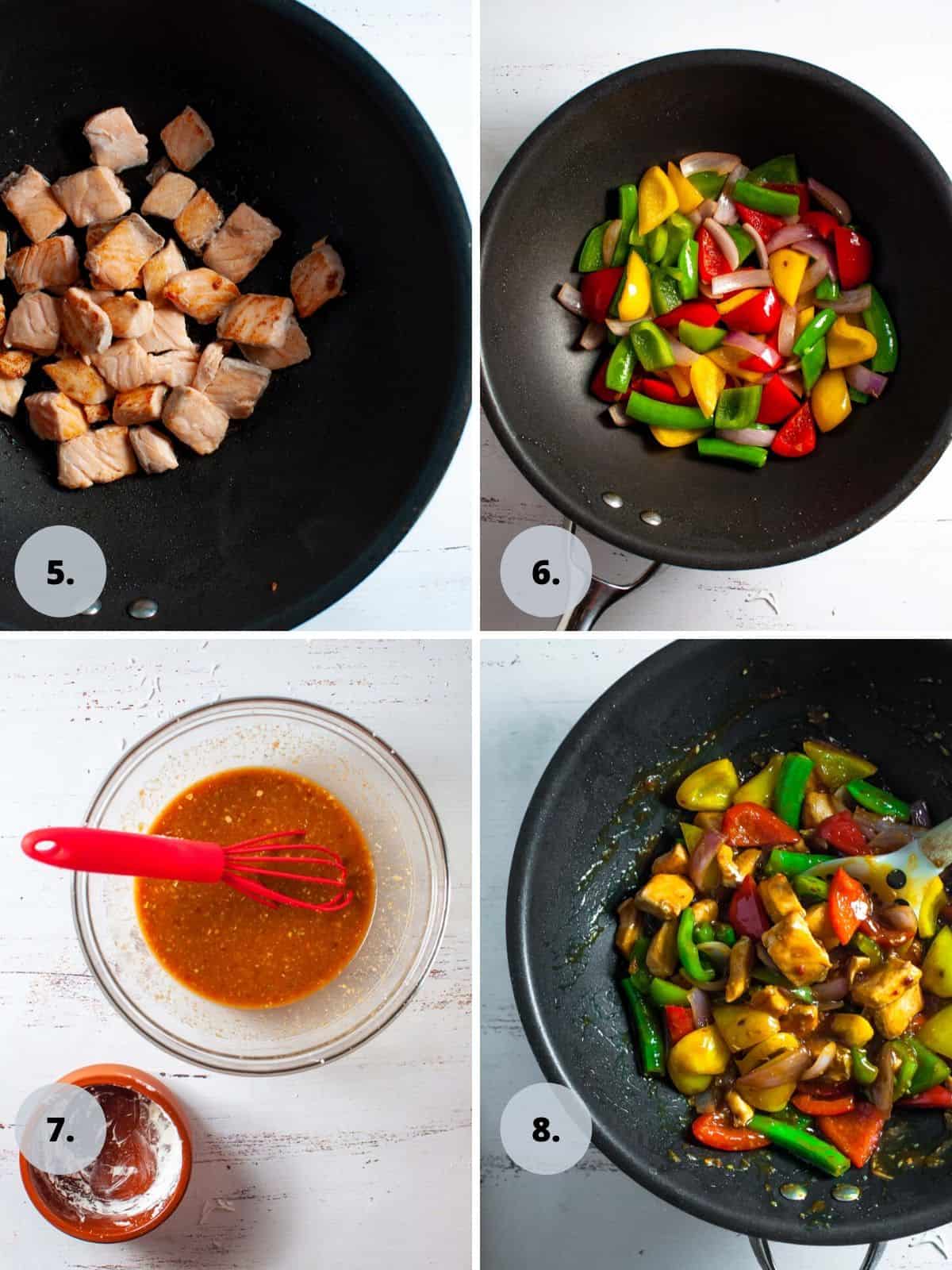 Other variations on Wok Tossed Stir Fried Salmon
Swap the salmon for diced chicken or beef
Swap the salmon for prawns/shrimp
Skip the Salmon and add chickpeas/tofu instead
Recipe Tips For Making Salmon Stir Fry
Fresh salmon will get you the best crispy and crunchy version of this dish. Try to avoid using canned salmon, you'll likely be disappointed.
Cook the salmon first and get it crispy and crunchy, and set it aside whilst you work on the sauce.
Use the Siracha hot sauce sparingly, unless you have an extra high tolerance for spiciness. A little goes a long way.
Use a Wok to cook the salmon first, then remove it, and cook the vegetables. No need for 2 separate pans!
Don't dump all the ingredients into the wok at once and attempt to make it into a stirfry. You won't get the crispy salmon effect and you'll end up with some things undercooked and other thigs overcooked.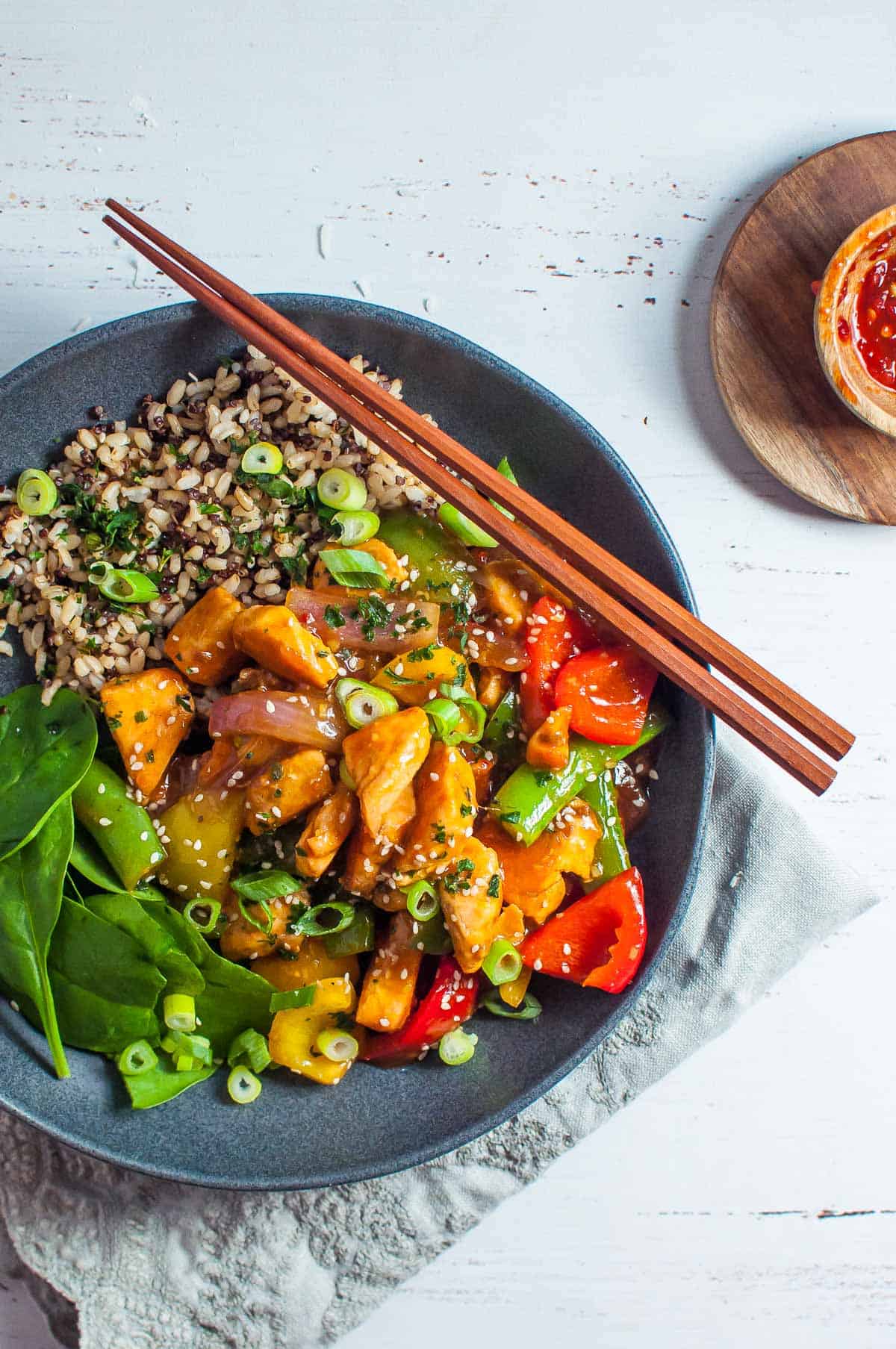 This is a super quick recipe to make and definitely one for busy weeknight dinners. Salmon cooks quicker than chicken, it takes only a couple minutes to make the sauce, and chop the veges and the whole dish comes together in under 15 minutes. Its quick, tasty, full of flavour and makes perfect leftovers for lunch the next day.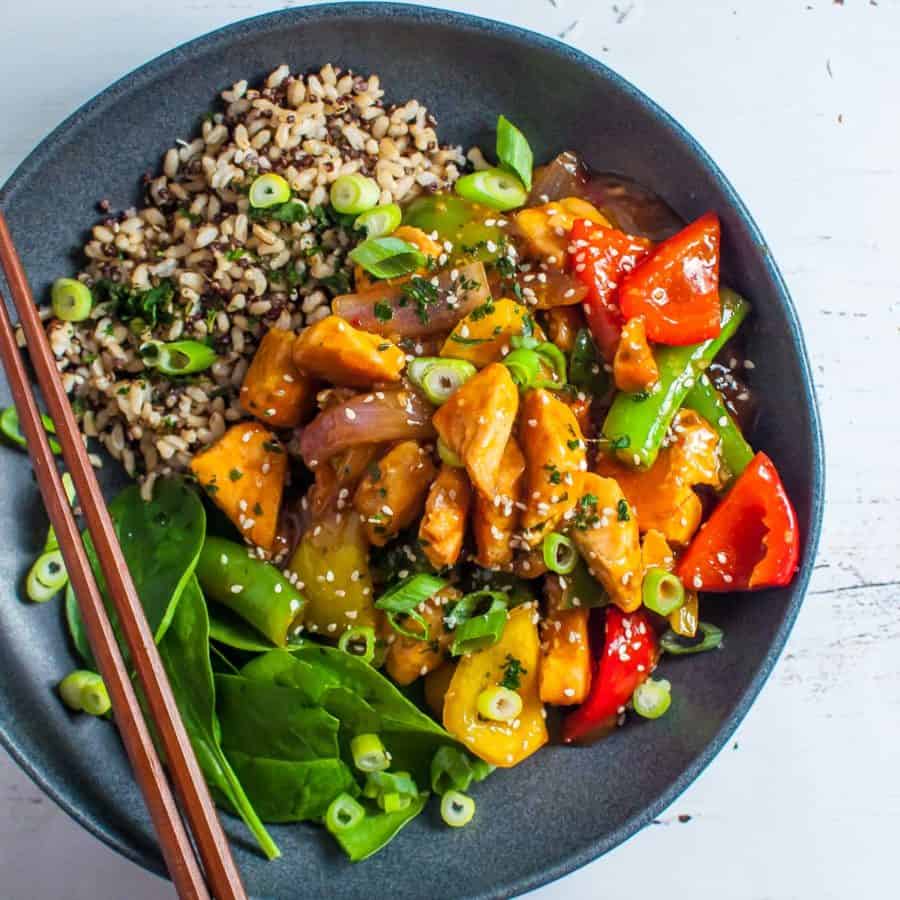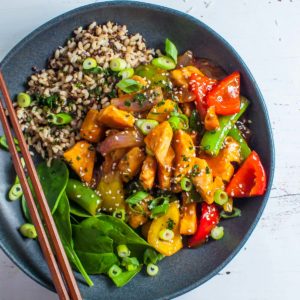 Salmon Stir Fry
Salmon Stir fry is a fresh and flavourful Asian inspired dish, with an easy to make stir fry sauce, simple vegetables and it's on the table in 15 minutes. 





Ingredients
Salmon
250

grams

Fresh Salmon Fillets

(equiv. to ½ a pound)
Vegetables
1

medium

Red onion chopped into chunks

(chopped into chunks)

2

cups

Red, yellow, green Capsicum/Pepper

(chopped into chunks)

½

cup

Snow peas

(chopped into 2 cm pieces)
Optional - to serve
1

tablespoon

White sesame seeds

2

cups

Jasmine Rice/Brown Rice

(cooked)
Instructions
Cut the salmon into cubes (about 2cm x 2cm is ideal)

Prepare the stirfry sauce. In a small jug/bowl, add all of the sauce ingredients and whisk together.

Heat a work on medium high heat, and add the salmon. Use a silicone or wooden spoon to stir about until cooked through. Be gentle with it – as the salmon cooks it will become more delicate. Generally about 3- 5 minutes is enough.

Remove salmon from wok and put on a plate to the side.

Add the vegetables to the wok and stirfry for 2 to 4 minutes

Add the stirfry sauce and toss through until it starts to thicken slightly, then add the salmon back in. Stir through for a further minute and serve immediately.

Sprinkle sesame seeds over salmon, and serve with your favourite rice.
Notes
Chilli Sauce: I use either Sirrarcha or Sambel Olek, depending on what I have on hand.  They both work and are available from the Asian food aisle in supermarkets.  Alternatively you could use chilli paste in a jar which I have seen next to the jars of garlic and ginger in supermarkets.
Salmon:  Fresh salmon is best, and I prefer to use skinless salmon portions.  The ones I buy are in rectangular portion sizes and I dice them at home so I can get the size I want.
Vegetables: keep it to 3 or 4 different kinds.  Snow peas, red onion, capsicum/peppers, kale, bok choi, spinach, zucchini, work well
Lemongrass paste: I buy mine in a tube from the fruit and vege section of Woolworths and Coles in Australia. I've also seen it from sale online at amazon.
Spiciness:  Based on the recipe above, I woudl consider this dish to be "mild".  FOr more heat, add extra chilli paste to the sauce, or add fresh diced chilli to serve, or chilli flakes on top.
Noodles:  to make this dish go futher, double the quantity of sauce, and add a packet of pre cooked noodles.
Nutritional information includes salmon stirfry served with ½ cup jasmine rice.
Nutrition
Calories:
315
kcal
Carbohydrates:
41
g
Protein:
22
g
Fat:
9
g
Saturated Fat:
5
g
Fiber:
2
g
Sugar:
7
g
Pin This Recipe for Later!