This Healthy Asian Salmon Salad is a quick and easy weeknight dinner. The salmon is glazed with soy, garlic, ginger, chilli and raw honey for that ultimate moreish flavour.
Lightly pan fried, the salmon is golden and crispy on the outside and soft on the inside. Paired with a brown rice, butter bean and herb salad, this is a nutritious meal packed with good for you omega 3 fats that will keep you fuller for longer and cravings at bay.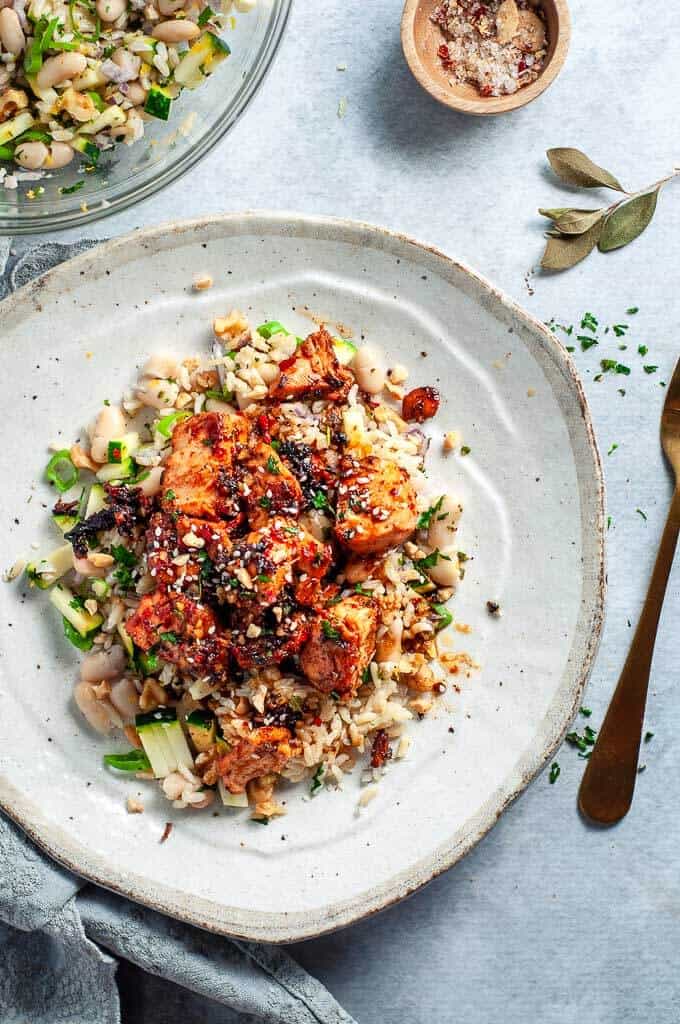 I love making asian salmon salad for dinner, because it's jut so quick and easy to make - perfect for weeknights. Generally, I pan fry skinless salmon fillets as I find it is the quickest way and while it's cooking, I make up a side to go with it, like this crispy salmon with zesty mango salsa.
Ingredients in Asian Salmon Salad
Salmon (I prefer skinless)
Soy Sauce and Honey
Garlic, Ginger and Chilli flakes
Cooked brown rice and canned Butter Beans
Red/spanish onion, Shallots and Zucchini
Corriander/Cilantro, Mint
Sesame seeds
Some of the healthy salmon salad dishes I make on a regular basis are:

How Do You Pan Fry Salmon Without Skin So It's Crispy
Heat a pan on high heat, and light spray with olive oil (not too much as there will be some oil that comes out of the fish)
Put fish flat side down, cover with a lid and cook for 4 to 5 minutes
Remove lid and turn fish gently onto one side, cook for 1 minute, then repeat other side
Cook fish on remaining side, covered for 2 minutes
TIP:  Try to turn fish as little as possible and cooking with a lid on helps to speed up the cooking process.
This is the exact technique I use to cook my Thai Sweet Chili Salmon to get it crispy on the outside so the sauce coats it beautifully without sliding off.

How Do You Make Asian Glazed Salmon
The best Asian glaze includes ingredients that are savoury, spicy and sweet to get that good balance of flavour. To make a simple Asian glaze use ⅓ cup soy sauce, 2 tablespoons raw honey, 2 tablespoons crushed garlic, 1 tablespoon grated ginger, and 1 tablespoon of chilli flakes.
For an even quicker asian glaze with just 3 ingredients, check out this Asian Glazed Salmon with Pineapple Salsa!
TIP: This Asian glaze is versatile and can also be used on chicken, or beef in stir-fries, pasted on whilst frying, or pasted on and then baked in the oven.
What To Serve With Asian Salmon
Here are my top 3 things to serve with salmon:
Brown Rice with Butter Beans Herbs: Very simple to make and includes ingredients that can all be kept in your pantry (brown rice, a can of butter beans, chopped and lighted roasted cashews or walnuts, plus dried herbs such as mint, coriander, basil and a little chilli). For that extra freshness, add in diced red/Spanish onion, and zucchini.
Mash: straight up sweet potato mash, sweet potato and carrot mash, or potato mash with shredded steamed cabbage mixed through (this is a good one).
Fresh Salad: Either a homemade garden salad, or pop into the store on the way home from work to grab a bag of prepared salad mix. Toss in some of your favourite legumes (chickpeas, lentils, blackbeans), and add a quick homemade dressing. 2 tablespoons Hummus + 1 tablespoon Soy Sauce, 2 + tablespoons good quality Extra Virgin Olive Oil. Mix it all together and drizzle over.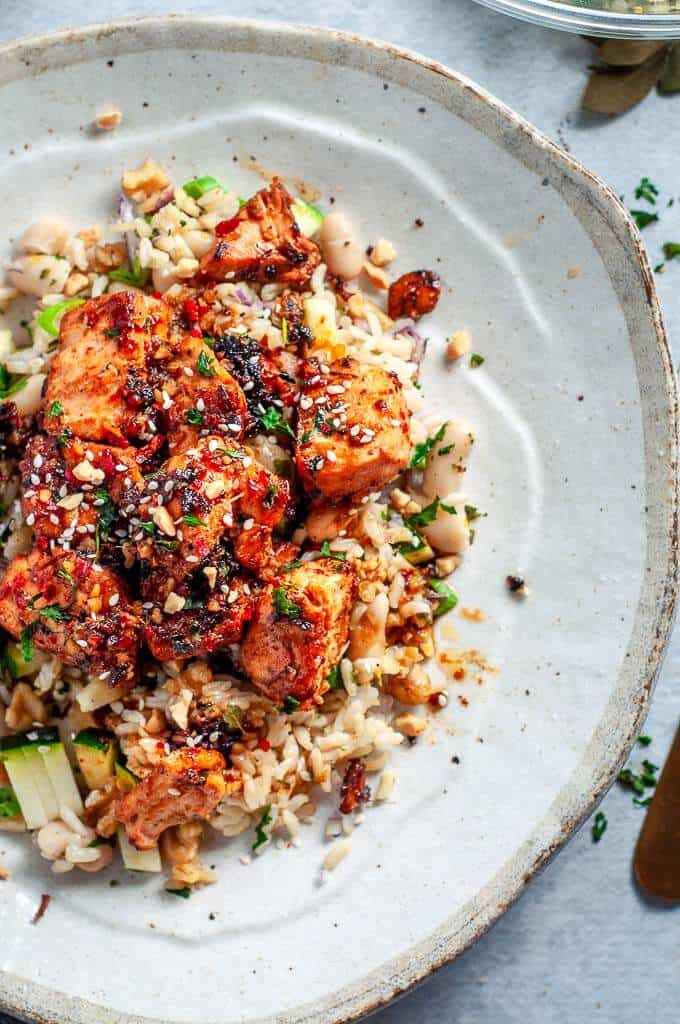 A healthy Asian salmon salad is great for summer and those in between months where you want something filling and light. This dish also makes for tasty leftovers to take to work the next day, eaten either hot or cold.
Not only is it filling, it can be on the table in 15 minutes if you take a couple of shortcuts like buying pre-cooked rice. If you're wanting to get more salmon into your diet this is a good recipe to try out, and especially if you like Asian flavours. It's a simple and easy no fuss tasty dish that will satisfy your tastebuds and keep cravings at bay.
More Salads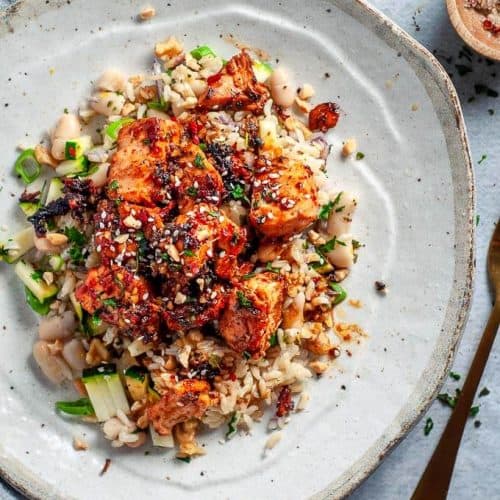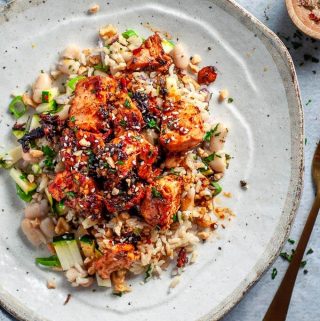 Healthy Asian Salmon Salad
This Asian Salmon Salad is a quick and easy weeknight dinner. The salmon is glazed with soy, garlic, ginger, chilli and raw honey for that ultimate moreish flavour. Lightly pan fried, the salmon is golden and crispy on the outside and soft on the inside.  
Ingredients
Salmon
2

pieces

skin off salmon

-

approx. 120 grams
Rice Salad
1

cup

Brown rice

-

Cooked

1

cup

Butter beans

-

or cannellini beans

2

tablespoons

Red Onion

-

finely diced

2

Spring Onions/Shallots

-

chopped small

½

medium Zucchini

-

diced

2

tablespoons

Mint

-

finely chopped

2

tablespoons

Coriander

-

finely chopped
Other
Spray oil

Shallots/spring onions to garnish

Sesame seeds to garnish
Instructions
Place all the marinade/sauce ingredients into a bowl or jug and whisk to combine.

Heat a skillet on high heat. (Spray lightly with oil)

Place the salmon fillets into the skillet and spoon on 3 to 4 tablespoons of the marinade. Cook the salmon on one side covered with a lid for 3 to 4 minutes. If you salmon portions are on the thick side, cook for a little longer.

Remove the lid and use a spatula to "chop" the salmon pieces into chunks. Gently move the pieces around in the pan with the spatula for a few more minutes. Add another couple of tablespoons of marinade/sauce and move about the pieces around until coated. Remove salmon pieces from heat.

Place all the ingredients for the rice salad into a bowl and stir with a spoon to mix it all together

Divide the rice salad between 2 or 3 bowls and spread the salmon pieces over the top.

Heat the remaining marinade/sauce in the microwave (15 seconds) or on the warm skillet, then drizzle over the dish to finish it off.

Garnish with finely chopped shallots and sesame seeds.
Nutrition
Calories:
591
kcal
Carbohydrates:
55
g
Protein:
38
g
Fat:
17
g
Saturated Fat:
5
g
Fiber:
9
g
Sugar:
16
g
Note: Sugars contained in this recipe are from naturally occurring sugars in fruits, vegetables or other natural sweeteners.
Looking To Cut Out Sugar? Get the FREE Healthy Food Swaps Checklist Pack!
Get your FREE Healthy Food Swaps Checklists with over 65 Healthy Food Alternatives to Help you Ditch The Sugar Without Feeling Deprived.