This Summer Sausage Salad is summery, fresh and zesty. On the table in under 20 minutes, it's an easy to pull together weeknight dinner, or weekend lunch. This healthy sausage salad is light with a little bit of crispyness, crunch all wrapped up in a citrus tangy homemade dressing.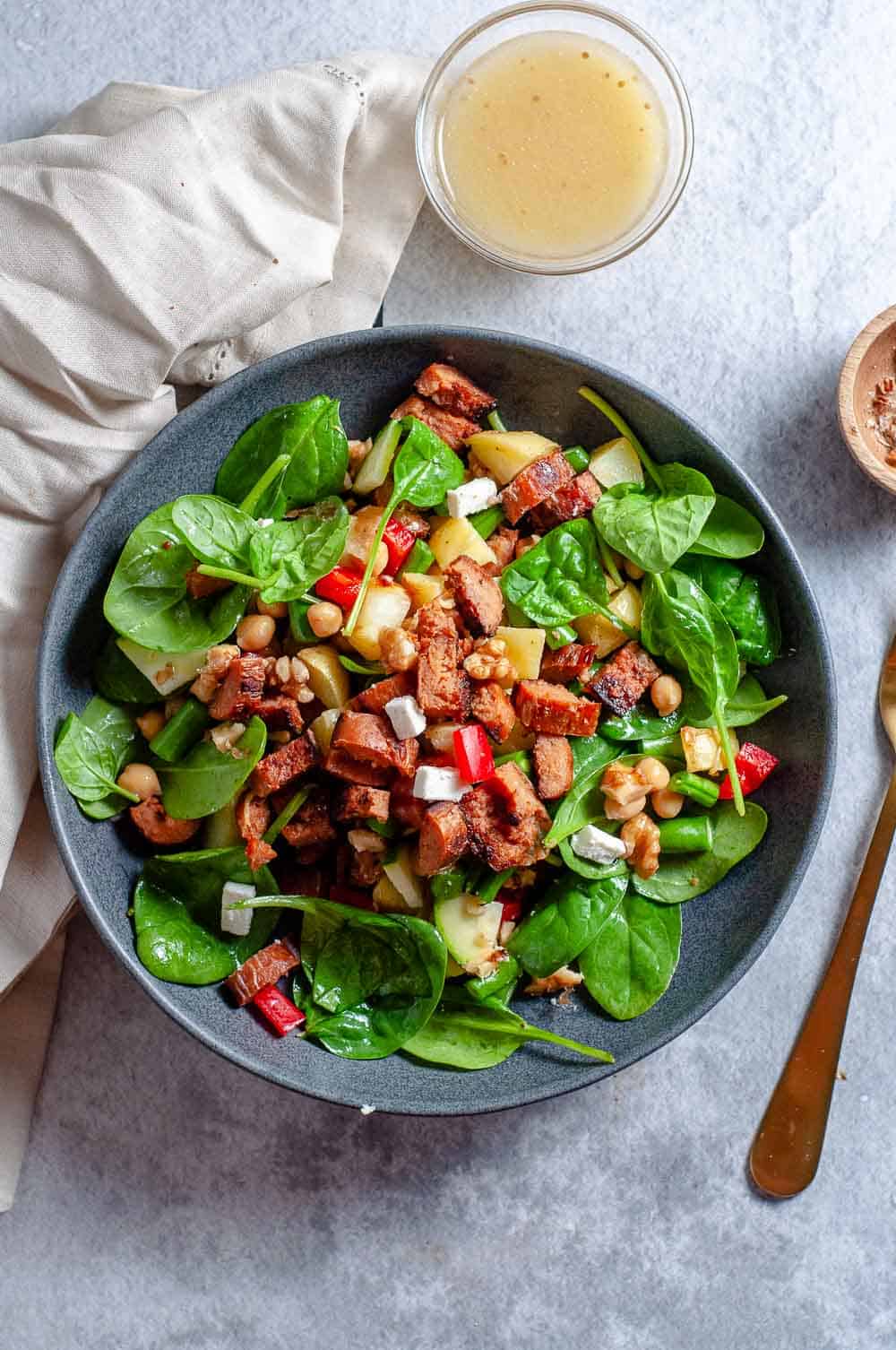 What is a Summer Sausage Salad?
It's a beef sausage salad that is healthy with lots of colour, fibre and a good mix of protein. There's chickpeas, spinach, toasted walnuts, feta, zucchini, green apple, capsicum (peppers), and diced green beans. Mixed through the salad is lean beef sausage chopped into bite sized pieces and dressing of Dijon mustard, soy, lemon juice, raw honey and garlic.
Summer Sausage Salad is a superfood salad that will fill you up and won't leave you hungry. In fact, it keeps me full for hours after. There'll be no after dinner sweet cravings coming on after you've eaten this one.
Other Easy and Healthy Salads: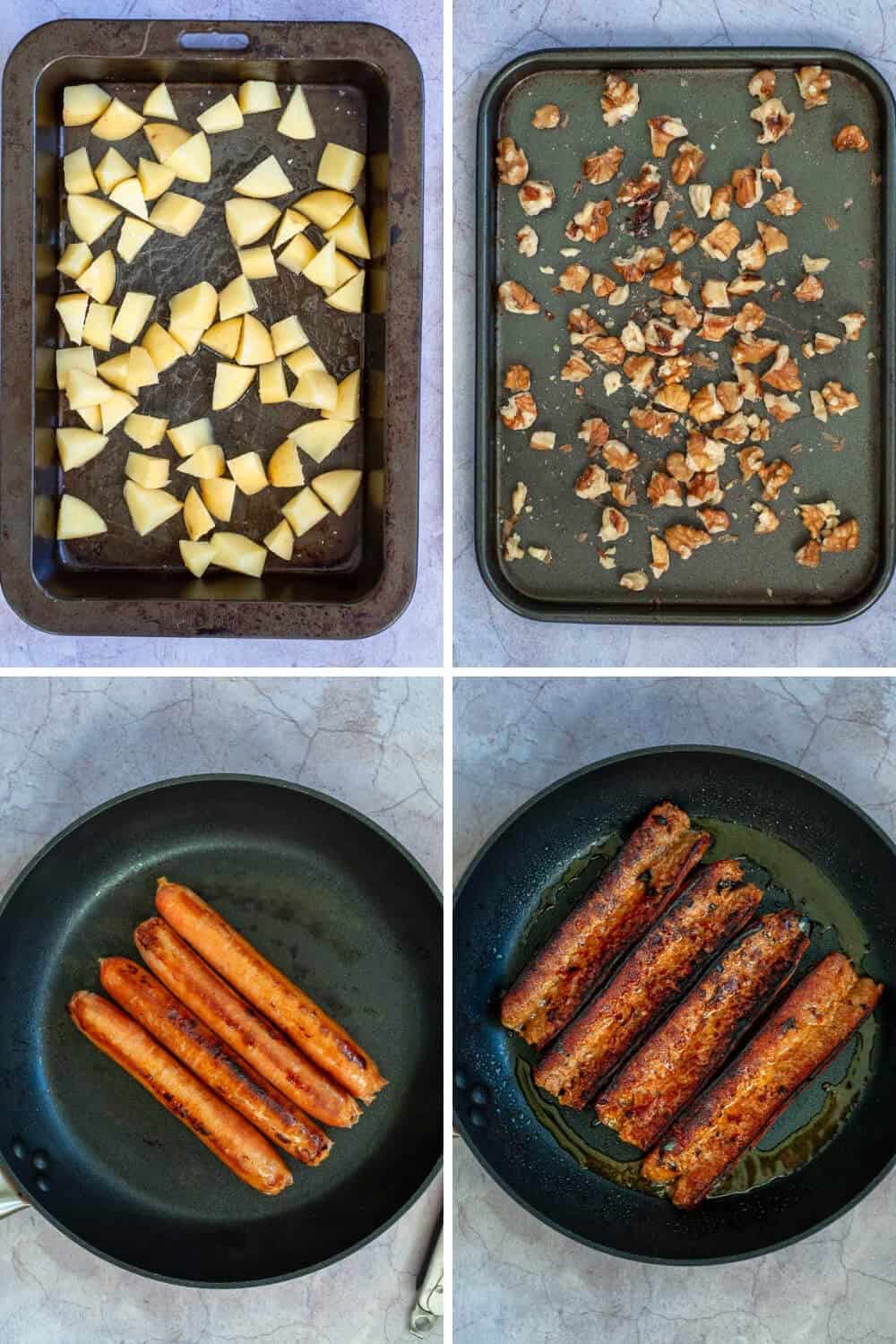 What Type of Beef Sausages to Buy?
I recommend buying thin beef sausages and the leanest, lowest fat ones you can find. They might not always be the cheapest, but I think it's worth paying a little more for a quality sausage that is better for you and it's going to taste better as well.
I mostly by my lean beef sausages from the meat section of the supermarket, but sometimes I'll go to a speciality butcher as well. I have to be honest though, I haven't really found too much difference in taste or quality.
Tips for Making Crispy Sausages
A pan on high heat on the stove is essential. Cook the sausages until they are approximately ⅓ cooked, turning regularly to brown all over.
Butterfly the sausages to achieve maximum crispiness. Butterfly one sausage at a time. Remove from pan, and place on a board. Use tongs in hone hand to hold the sausage down, and a knife in the other hand to split the sausage in half form end to end. Place back in the pan and press down. Cook again on both sides until crispy and cooked to your liking.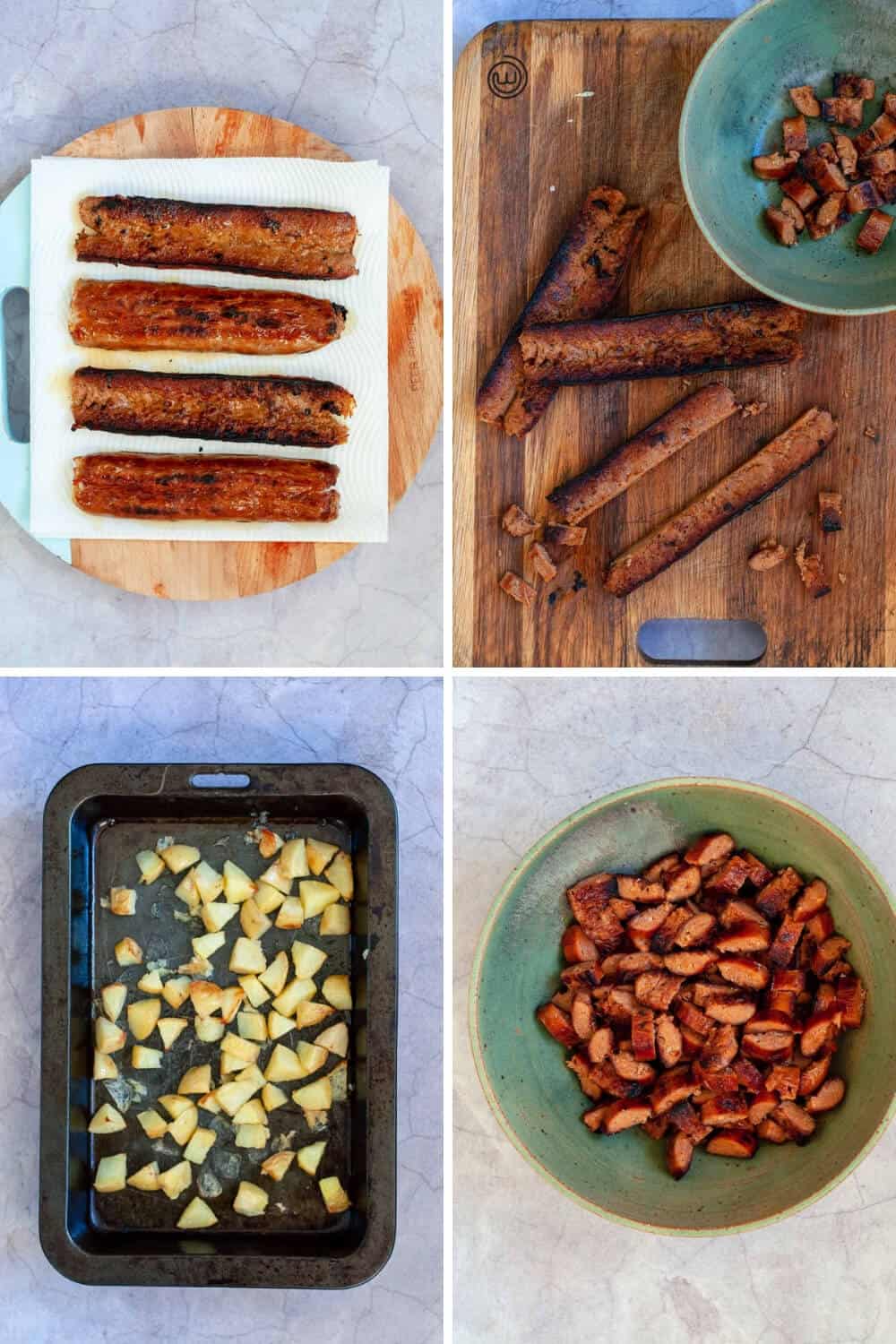 How To Make a Healthy Sausage Salad
Roast the potatoes in the oven. Chop potatoes add some oil, salt and pepper, and roast in a baking tray on high heat for 15 to 20 minutes.
While potatoes are cooking, cook the sausage. Cook whole, then butterfly as above. Pat dry with paper towel to remove excess oil. Chop into bite-sized pieces. Cover and set aside and make the salad.
Make the rest of the salad. Grab a large bowl. Drain and rinse the chickpeas, add spinach leaves, add diced beans, feta, walnuts, zucchini, green apple, red capsicum/pepper. Use a spoon to toss, or your hands.
Make the salad dressing. Whisk all 5 ingredients in a bowl or shake in a jar with a lid and you're done.
Plating up: Add the roasted potatoes into the salad and stir through. Add a little dressing and stir through. Spoon salad into serving bowls, add sausage on top, and drizzle more zesty dress and you're ready to eat!
TIP: Lightly toasting the walnuts adds a nice warmness to the salad.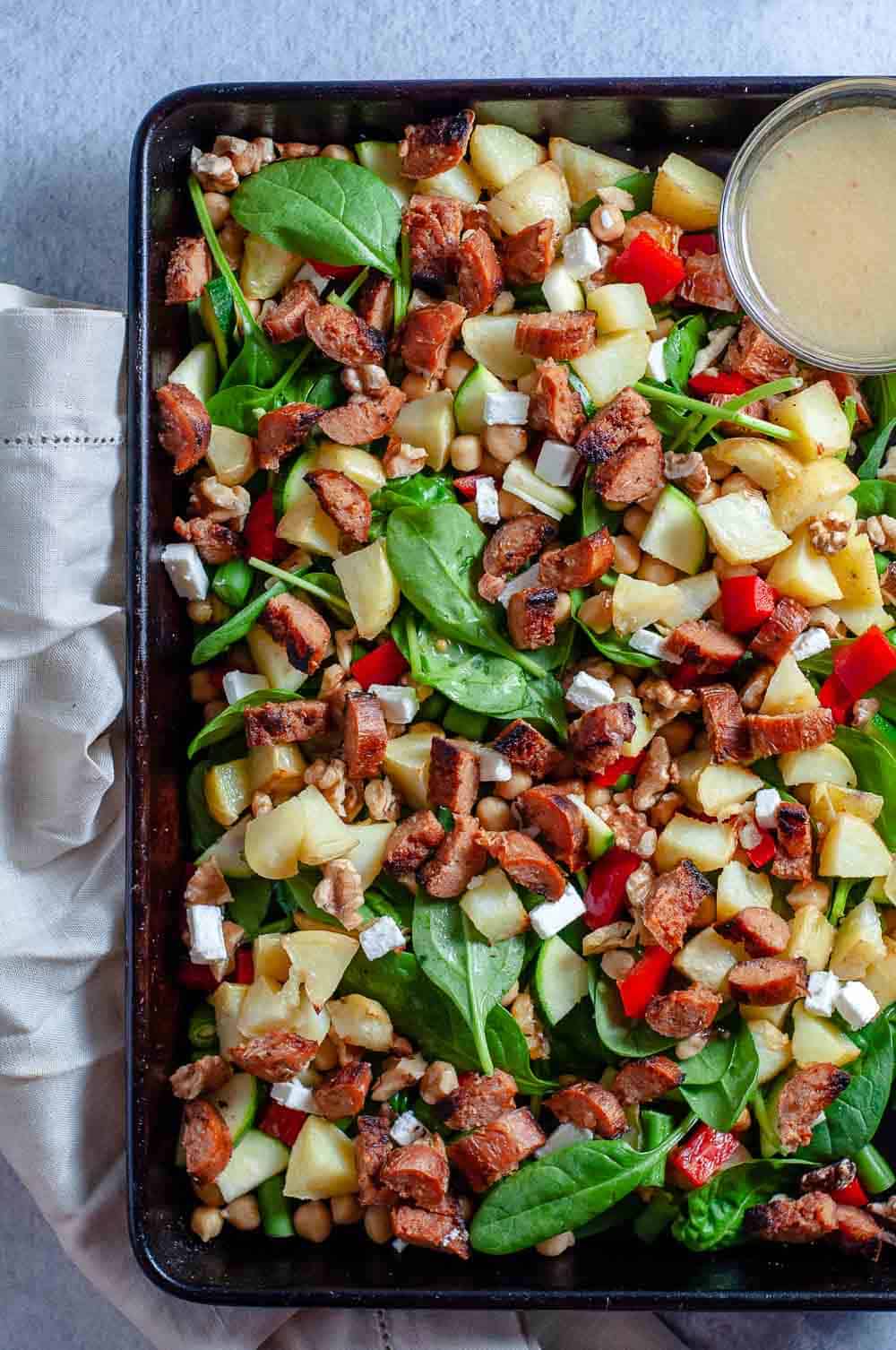 Alternatives to Using Sausage
I get that some people don't like sausages, and the great thing is that this is a recipe that you can keep up your sleeve to use any meat with. For example you could use:
Shredded roast chicken tossed through the salad
Baked chicken tenders
Meatballs! Chicken, Turkey or Beef (homemade or store-bought)
You could even have a piece of steak with the salad and dressing
So versatile, which is why I love this dish and make it often.
Where Else To Use This Yummy Dressing
Don't ditch your leftover dressing. Store it in the fridge in a sealed jar or plastic bottle that is air tight and use it in a stirfry, as a flavour booster to any kind of saucy meat dish, or as a drizzle over simple chicken and rice which makes for a great work lunch.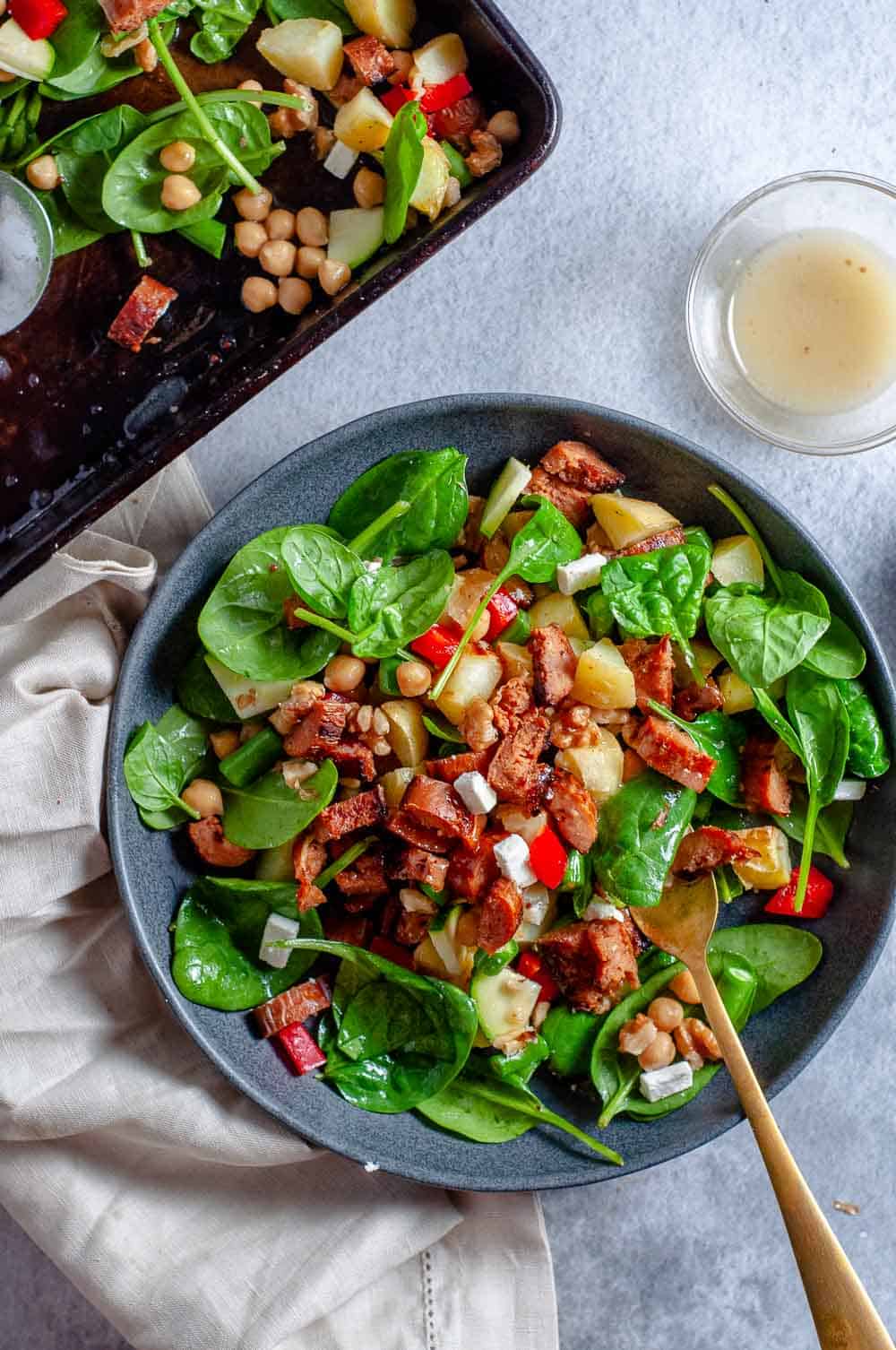 Variations and Substitutions To Jazz up or Change the Salad
Change the regular roasted potato chunks to roasted sweet potato, pumpkin or beetroot.
Instead of walnuts, use cashews or pistachios
Instead of baby spinach, try wild rocket
Add fresh, finely diced herbs, pumpkin seeds, or chia seeds.
Instead of chickpeas, try butter beans or black beans
If you've never considered a Summer Sausage Salad before, I think you'd be surprised with how tasty, healthy and quick it is. It's filling and packed with so many colours that give it crunch, softness and delicious texture. Not to mention that tangy and zesty multi-purpose dressing, and the roasted vegetables with the feta, that is comfort food right there.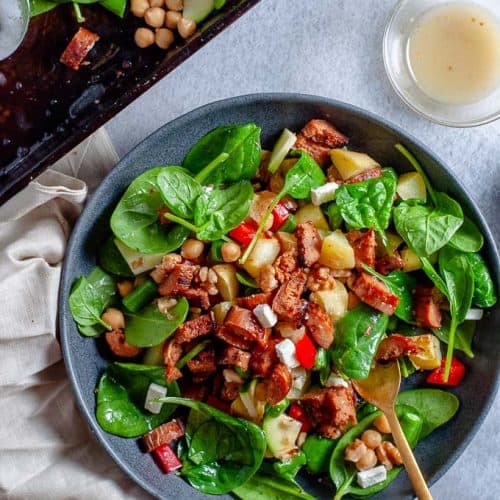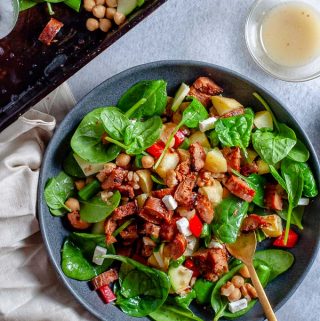 Summer Sausage Salad
This Summer Sausage Salad is summery, fresh and zesty. On the table in under 20 minutes, it's an easy to pull together weeknight dinner, or weekend lunch. This healthy sausage salad is light with a little bit of crispyness, crunch all wrapped up in a citrus tangy homemade dressing.
Ingredients
Salad
250

grams

lean beef sausages

-

4 sausages usually does it

2

cups

potatoes

-

cut in squares

¼

cup

Chickpeas

-

drained and rinsed

3

cups

Baby spinach

¼

cup

Zucchini

-

diced

1

small Green Apple

-

diced

Red Capsicum/Pepper

-

diced

¼

cup

Green beans

-

sliced in 1 cm lengths

1

tablespoon

Feta cheese

2

tablespoons

Walnuts
Instructions
Make the Dressing: Combine all ingredients into a bowl and whisk together. Cover and put in fridge.

Potatoes: Heat oven to 180 degrees C/320 degrees F and place the potatoes and pumpkin onto a baking tray lined with baking paper. Lightly spray with oil and sprinkle some salt over. Bake for 15 - 20 minutes. Once cooked, remove from over and set aside.

Walnuts: crumble the walnuts with your hands and put on a baking tray. Light toast with the potatoes for 3 to 4 minutes, then set aside to cool.

Sausage: Add the sausages to a non stick pan on high heat and cook for 3 to 4 minutes until they have some colour. Butterfly the sausages, by cutting them in half lengthways, but don't cut all the way through. Do this for all 4 sausages. Continue to cook the sausages until dark and crispy.

Once cooked, drain sausages on paper towel to remove any excess oil. One at a time, cut the sausages in half lengthways, and slice into pieces approx. 1cm x 1cm. Set aside while you prepare the salad.

Salad: Drain the chickpeas and add them to a salad bowl, along with the baby spinach, zucchini, green apple, capsicum/pepper, green beans, walnuts, feta, and half of the sausage. Add the dressing and use your hand or salad spoons to gently toss through.

Plating up: Divide the salad amongst 2 bowls, and add the remaining chopped sausage on top. Garnish with fresh chopped parsley, salt and pepper and enjoy.
Notes
Salad is best eaten fresh when it's made.  Leftovers will keep for 24 hours.  Discard after this time.
Nutrition
Calories:
586
kcal
Carbohydrates:
95
g
Protein:
35
g
Fat:
50
g
Saturated Fat:
5
g
Fiber:
11
g
Sugar:
7
g
Note: Sugars contained in this recipe are from naturally occurring sugars in fruits, vegetables or other natural sweeteners.
Looking To Cut Out Sugar? Get the FREE Healthy Food Swaps Checklist Pack!
Get your FREE Healthy Food Swaps Checklists with over 65 Healthy Food Alternatives to Help you Ditch The Sugar Without Feeling Deprived.