Sometimes you just need a light, filling and super tasty Healthy Burrito Bowl to get yourself back onto the clean eating wagon after the weekend.  This is that dish.  It's is an easy to make weeknight meal, lightly spiced with all the usual Mexican suspects to create the perfect amount of seasoning, sauciness, crisp and crunch from the salad – all mixed in with some good old brown rice, black beans, avocado and if you're feeling game, some sour cream on top.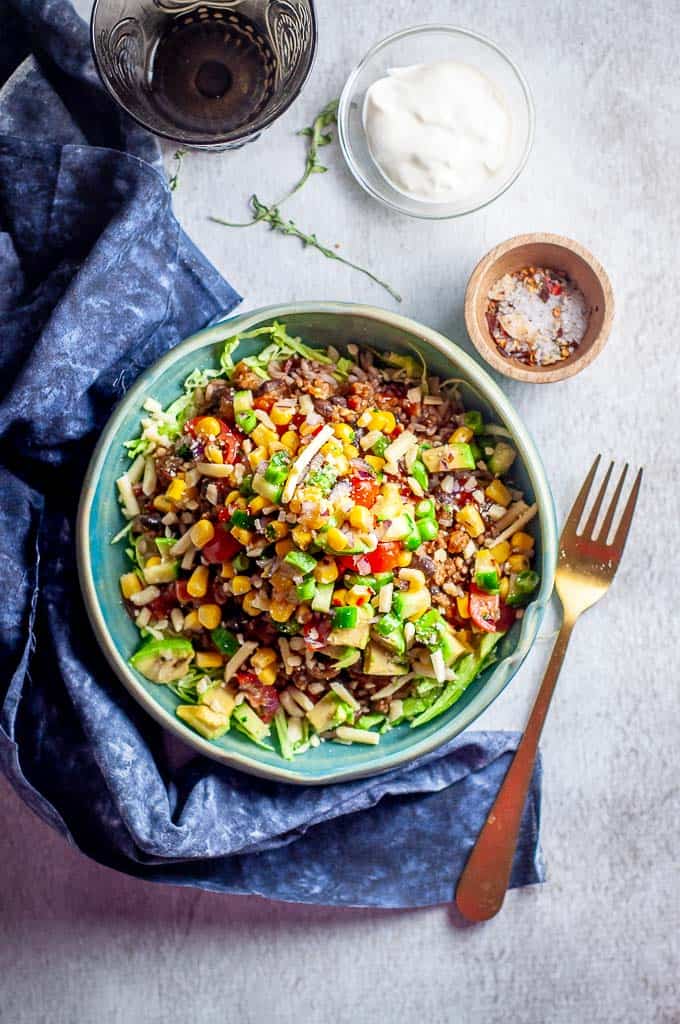 This is healthy comfort food you'll want to eat over and over again. It'll satisfy you're craving for Mexican, but you won't feel the need to undo a few buttons before you get up from the dining table.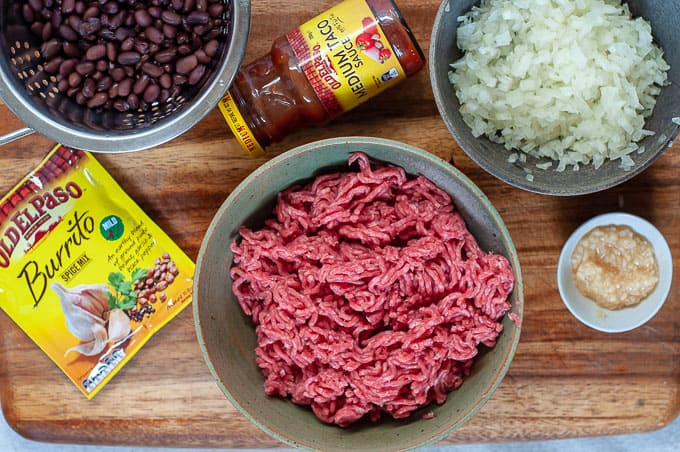 How To Make A Healthy Burrito Bowl
Here's what you'll need: ground beef, a packet of your favourite taco seasoning and taco sauce, onion, garlic, precooked tinned black beans and olive oil
Use a skillet or frypan to brown the onions and garlic, then add the meat. Ad the seasoning to a cup of water and pour in, along with half of the taco sauce.  Mix it all together for a few minutes, and add the tinned black beans (make sure you've drained and rinsed them first).  Stir them in and meat is done.
For the rice, you can either make it, or use a pre cooked rice that you reheat for a minute or two in the microwave. If you're pressed for time, go the convenience option.
Chop the lettuce into thin strands, chop the 3 salsa ingredients: cherry tomatoes, red onion, cucumber and add to a bowl with the tinned corn. Stir and done.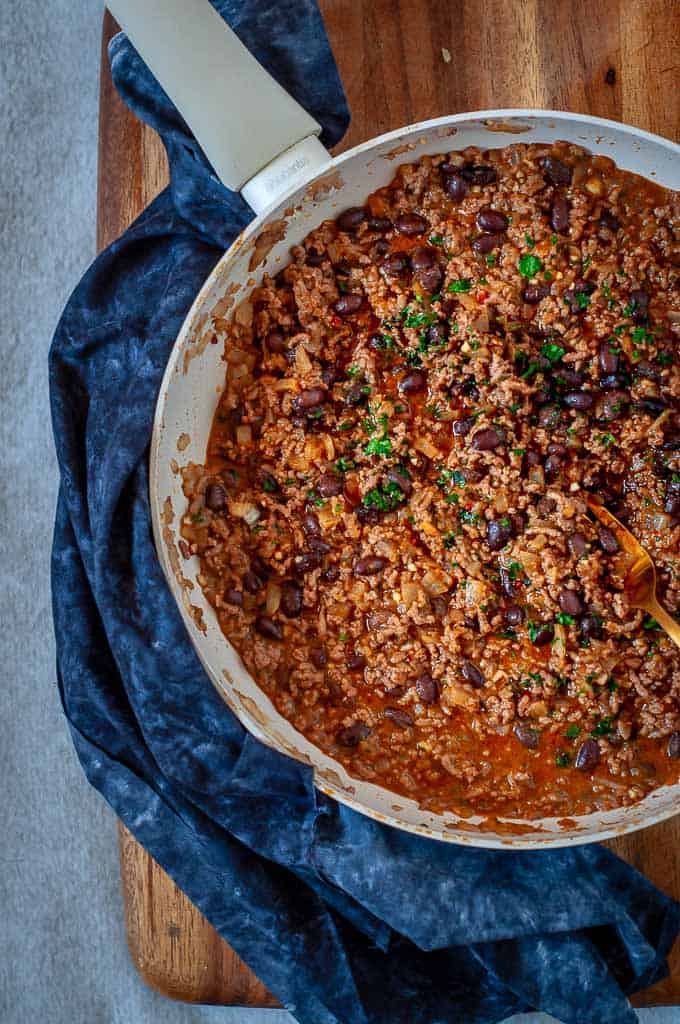 Building your Healthy Burrito Bowl
This is my favourite way to build my burrito bowl with lots of layers:
Rice on the bottom
Strands of lettuce (as much as you like)
A dollop of taco sauce
Beef mixture
Another dollop of sauce
Salsa mix
Your favourite grated cheese, but not too much
Chopped chunks of ripe avocado
A squeeze of lime juice
A dollop of Sour cream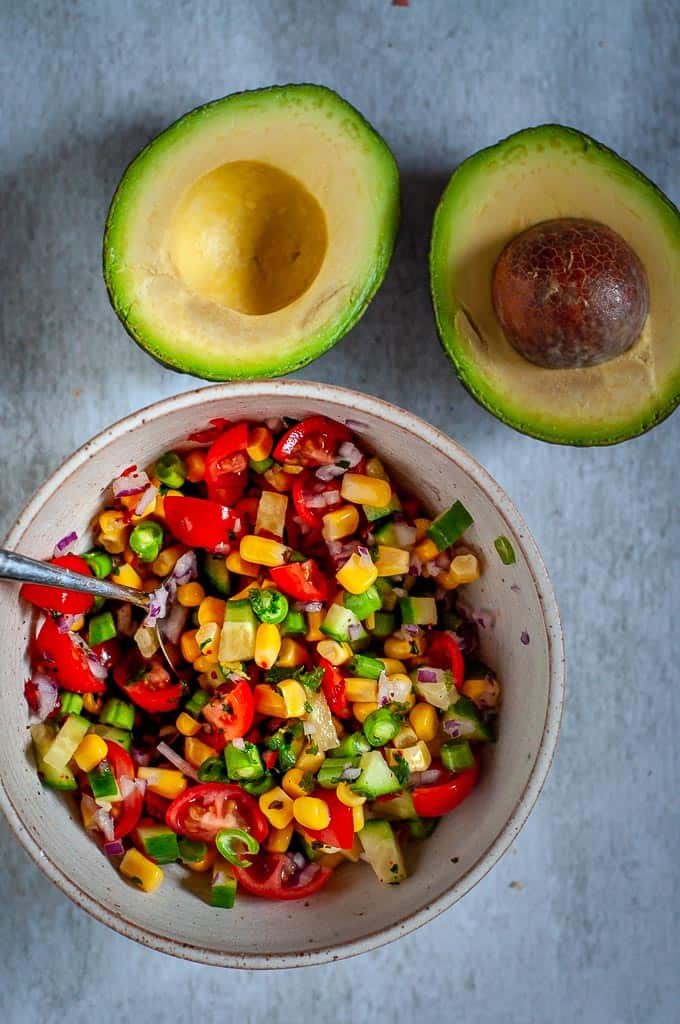 The best thing?  Digging your fork in and messing it all up!  Moving all the flavours around so that everything is working together.  You've got crunch from the lettuce, spiciness from the meat, soft grains of rice, tangy salsa, zingy lime, and the smooth creaminess of avocado, sour cream and the cheese.
What to do With Burrito Bowl Leftovers
This dish makes for great leftovers.  Put the meat in a re-heatable container, and the rice, lettuce, salsa and cheese into another container.  This is the minimum I would go with.  If you can, I highly recommend getting some sauce containers: one for the  taco sauce, one for the sour cream.  It makes the wait for your lunch all the more better.
When lunchtime rolls round, reheat your meat in the microwave, add it to the salad, mix it in to gently heat through, and dollop on the taco sauce and sour cream.  Yum.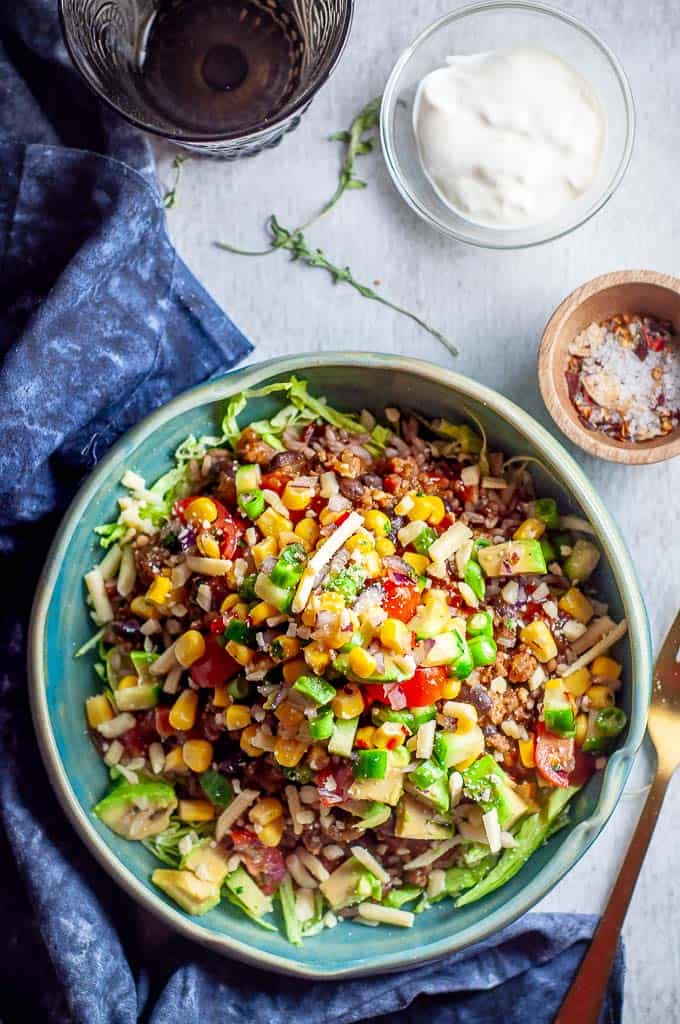 Variations and Substitutions
For this recipe you could use any type of ground meat: I typically use beef, but you could use ground chicken or turkey as well.
For a vegetarian option, you could use florets of cauliflower chopped small. (remember to season with salt and pepper)
If you like you burrito extra spicy, so for the medium or hot taco sauce.
If you're making this recipe and some like it hot and some don't, use the mild taco sauce, and add some sriracha over the top of yours at the end.
I always tend to use brown rice however you could use quinoa as a substitute
You don't have to put the black beans into the ground beef, they could be completely separate and used as a layer on their own.
Instead of black beans, you could use chickpeas.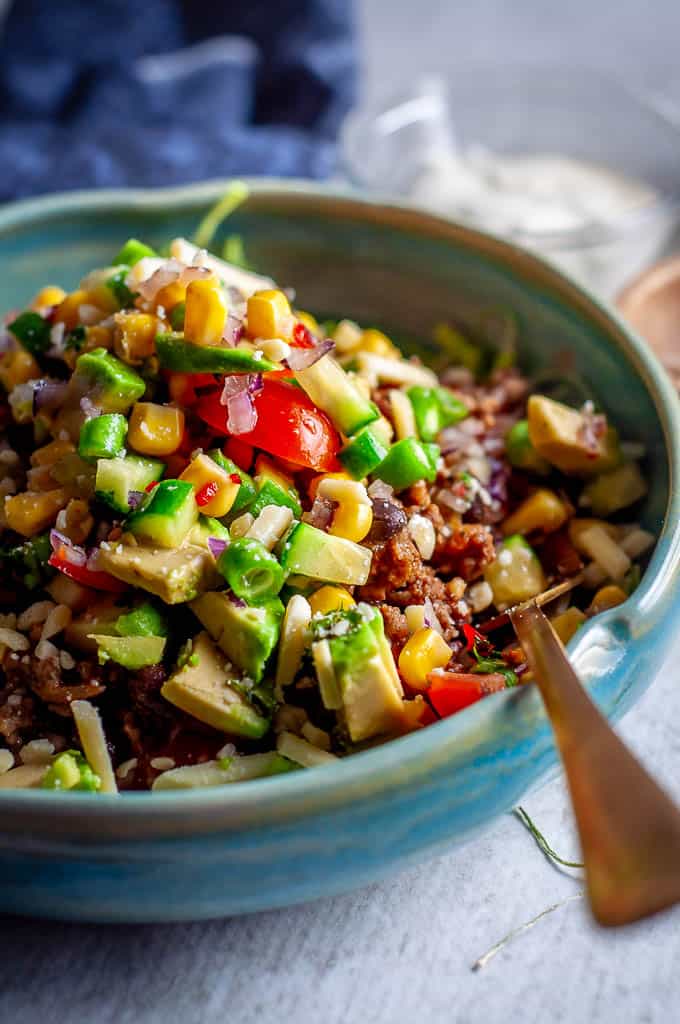 Healthy burrito bowls are the go if you're looking to get a healthy Mexican fix at home.  You can get them on the table in under 30 minutes, they make great leftovers for lunch the next day and it's a bowl of superfood goodness packed with protein, fibre and good fats, keeping you fuller for longer.  It'll also work double time to keep your cravings at bay.  Bonus!
Like what you see? Follow me on Facebook or Pinterest! Did you try a recipe? Tag me on Instagram: @mysugarfreekitchen, and leave a comment & star rating!
★ Did you make this recipe? Don't forget to give it a star rating below!