This fresh and colourful Healthy Burrito Bowl is quick and easy to prepare, made with ground beef and a few simple ingredients that come together to make a delicious, saucy, spicy mexican favourite. There's a perfect amount of salad crunch, soft black beans, ripe avocado and luscious sour cream to top it off.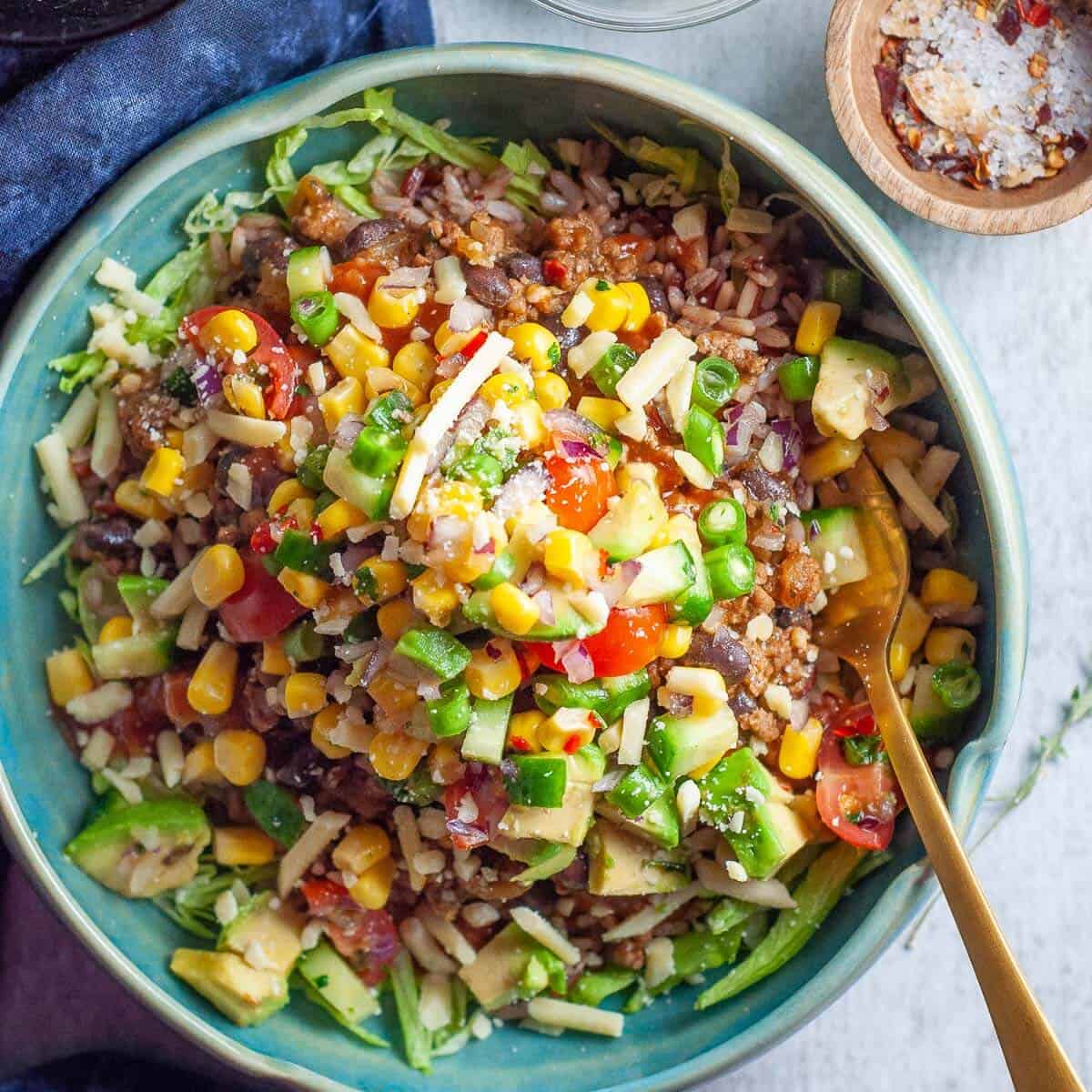 Why Make This Recipe?
This is healthy comfort food you'll want to eat over and over again. It'll satisfy you're craving for Mexican, but you won't feel the need to undo a few buttons before you get up from the dining table.
Only 15 minutes of prep and its on the table in under 30 minutes
Multiple uses for the beef: Use it in burritos, tacos and fajitas
Makes great leftovers for lunch the next day
Easy to make more or less spicy depending on your preferences
Easy one bowl dinner or lunch, using premade spice mix and salsa
Its healthy, fresh, colourful, with loads of texture for crunch, and that unbeatable combination of avocado and sour cream
Easy to make at home and better for you than buying takeout
Ingredients For Ground Beef Sauce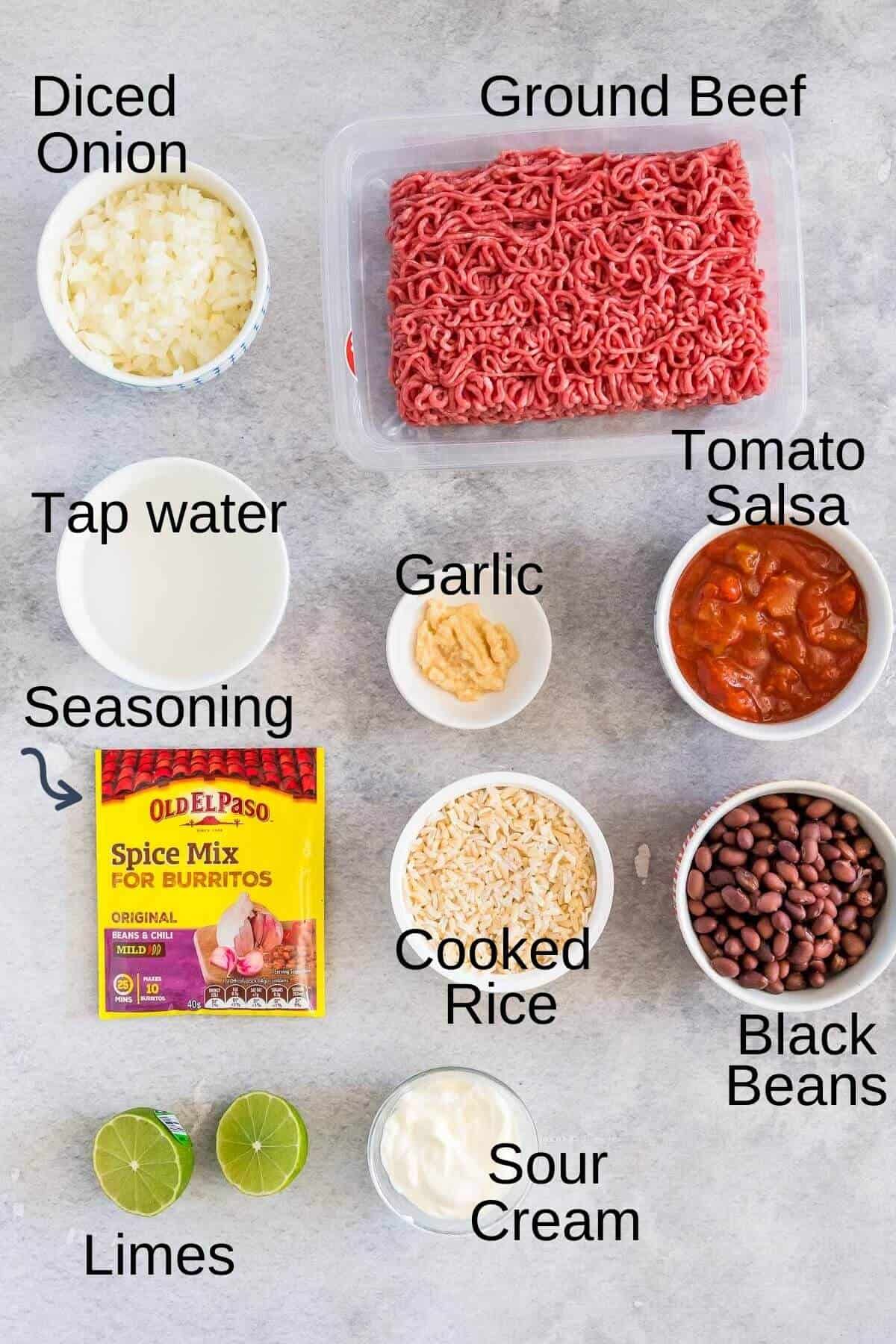 Ingredients for Fresh Salsa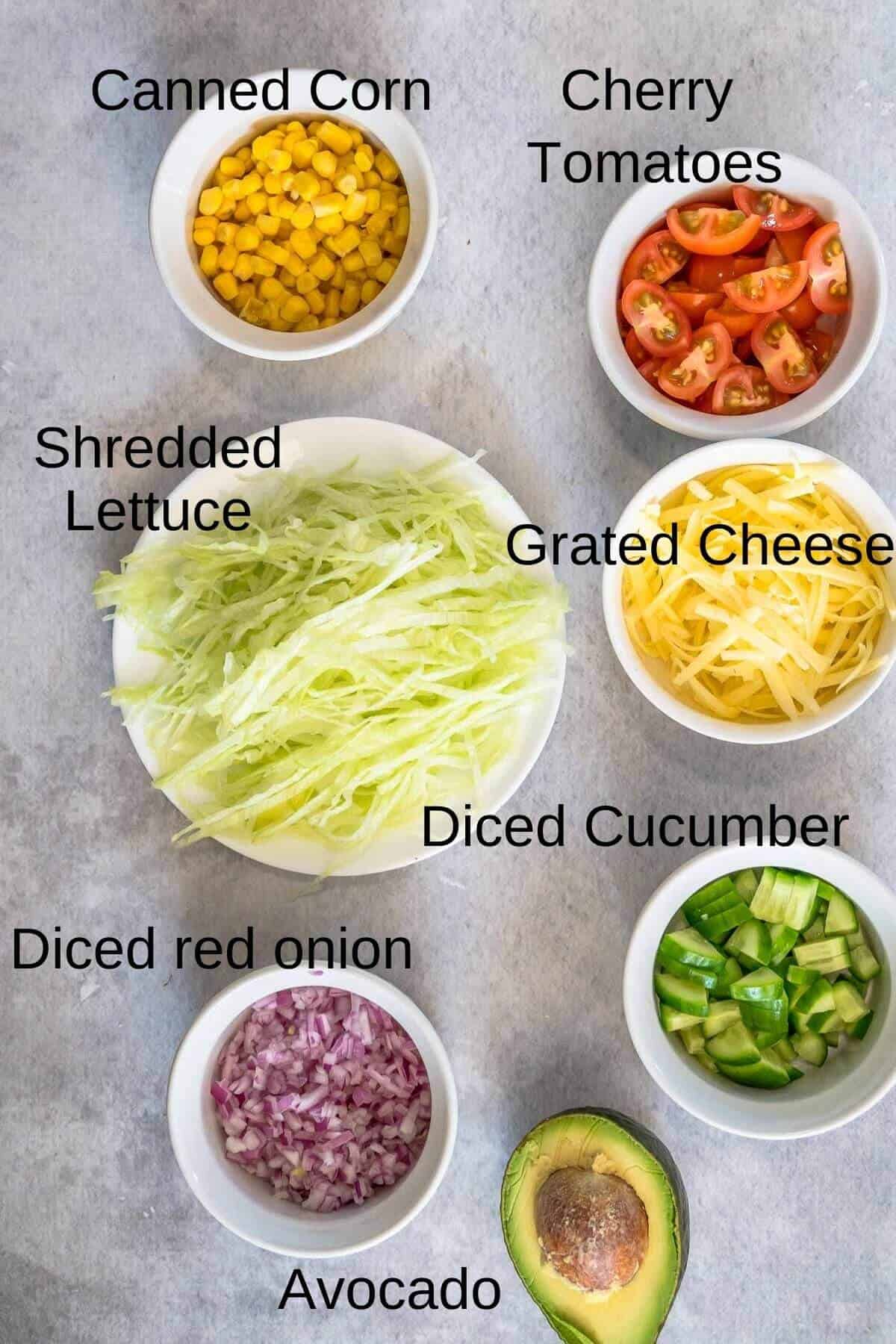 How To Make A Healthy Burrito Bowl
Use a skillet or frypan to brown the onions and garlic, then add the meat.
Add the seasoning to a cup of water and pour in, along with half of the taco sauce. Mix it all together for a few minutes, and add the tinned black beans (make sure you've drained and rinsed them first). Stir them in and meat is done.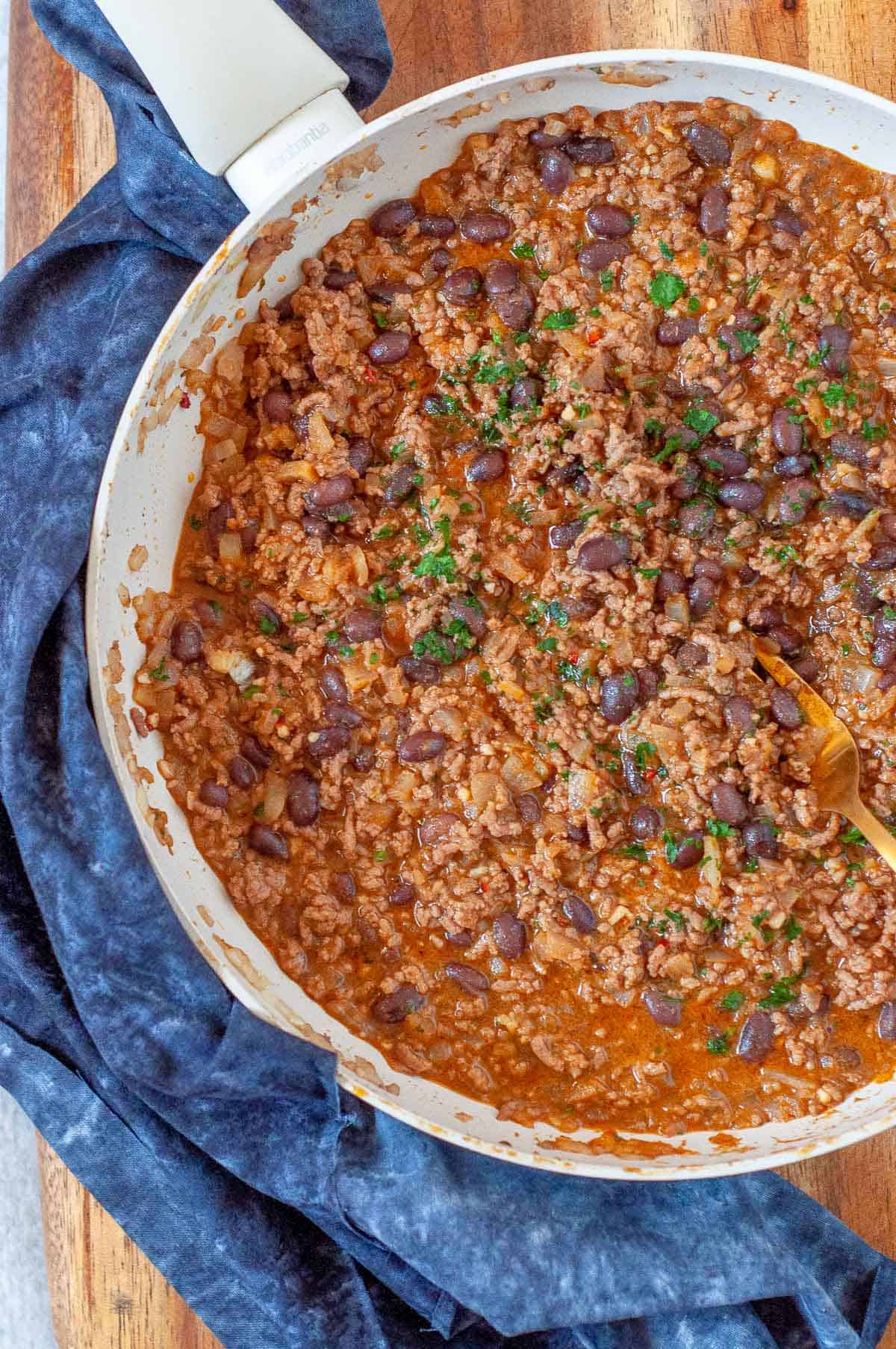 For the rice, you can either make it, or use a pre cooked rice that you reheat for a minute or two in the microwave. If you're pressed for time, go the convenience option.
Chop the lettuce into thin strands, chop the 3 salsa ingredients: cherry tomatoes, red onion, cucumber and add to a bowl with the tinned corn. Stir and done.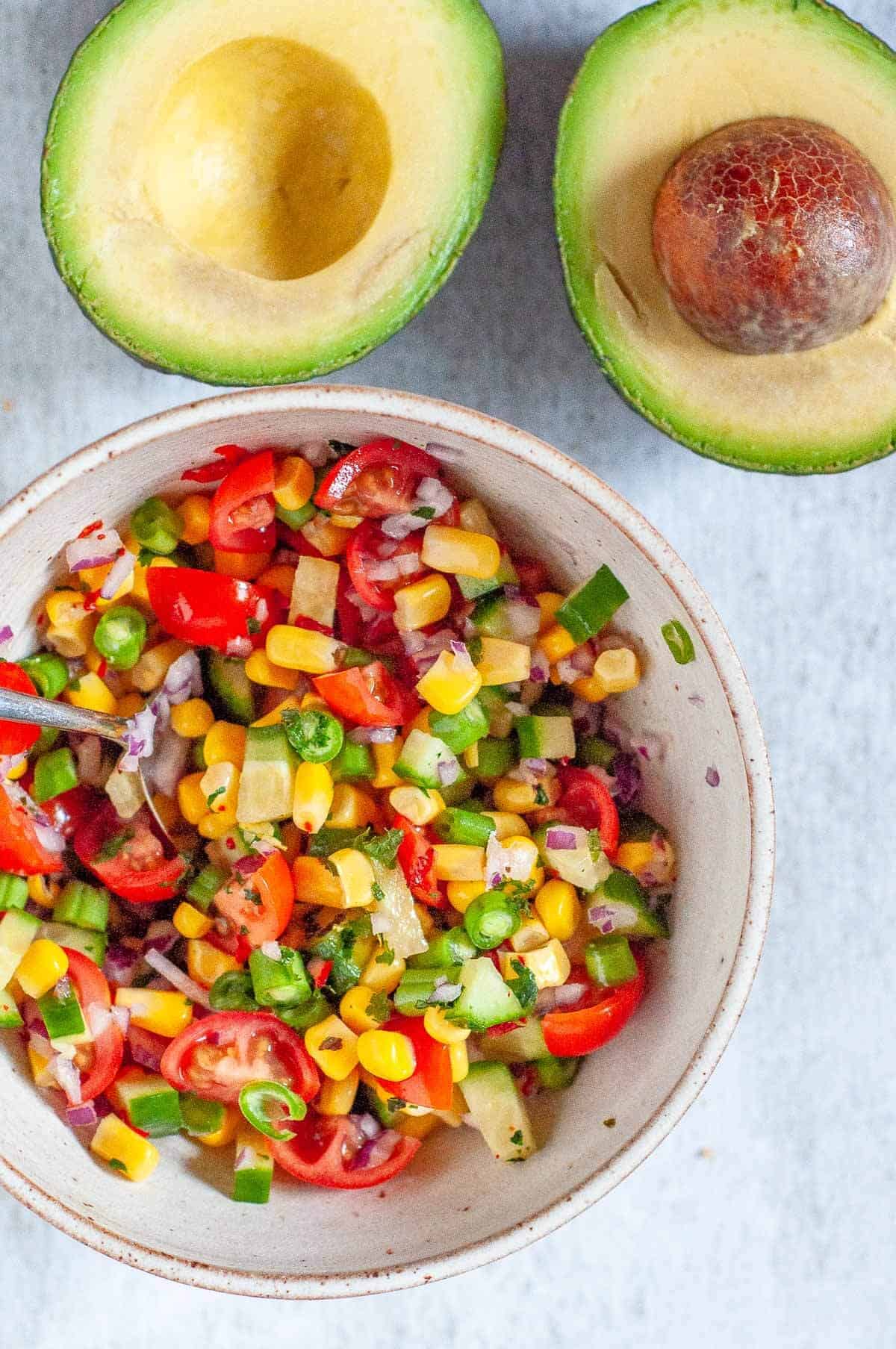 How To Build A Burrito Bowl
This is my favourite way to build my burrito bowl with lots of layers:
Rice on the bottom
Strands of lettuce (as much as you like)
A dollop of taco sauce
Beef mixture
Another dollop of sauce
Salsa mix
Your favourite grated cheese, but not too much
Chopped chunks of ripe avocado
A squeeze of lime juice
A dollop of Sour cream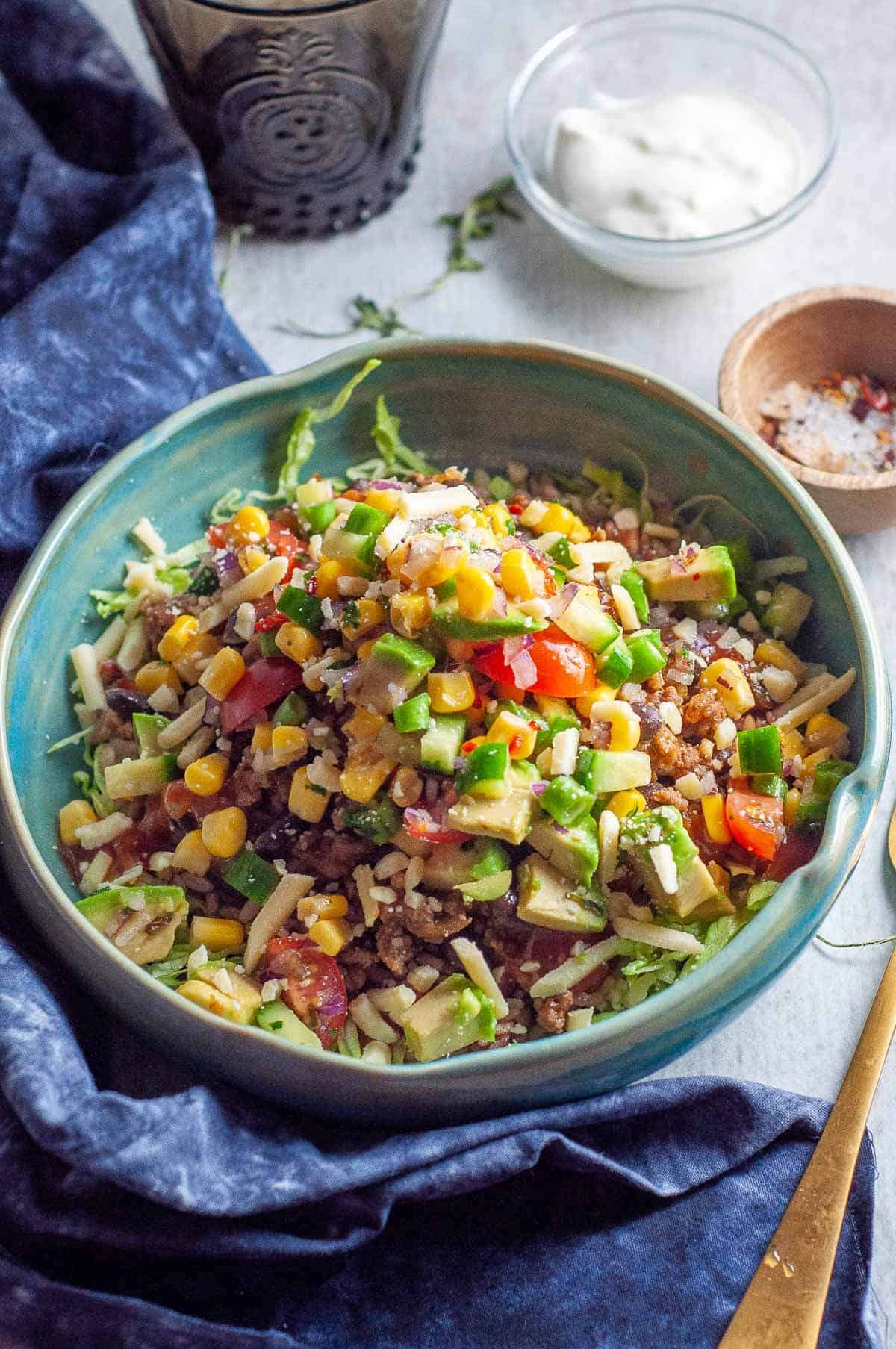 The best thing? Digging your fork in and messing it all up! Moving all the flavours around so that everything is working together.
You've got crunch from the lettuce, spiciness from the meat, soft grains of rice, tangy salsa, zingy lime, and the smooth creaminess of avocado, sour cream and the cheese.
Variations and Substitutions
MEAT: For this recipe you could use any type of ground meat: I typically use beef, but you could use ground chicken or turkey as well.
LOW CARB Instead of regular rice, use cauliflower rice. I love the convenience of frozen cauliflower rice you can buy at the supermarket. Just a few minutes in the microwave and its done.
MORE HEAT: If you like you burrito extra spicy, so for the medium or hot taco sauce.
LESS HEAT: If you're making this recipe and some like it hot and some don't, use the mild taco sauce, and add some sriracha over the top of yours at the end.
GRAINS: I always tend to use brown rice however you could use quinoa as a substitute
BEANS: You don't have to put the black beans into the ground beef, they could be completely separate and used as a layer on their own. Instead of black beans, you could use chickpeas, or canned butter beans.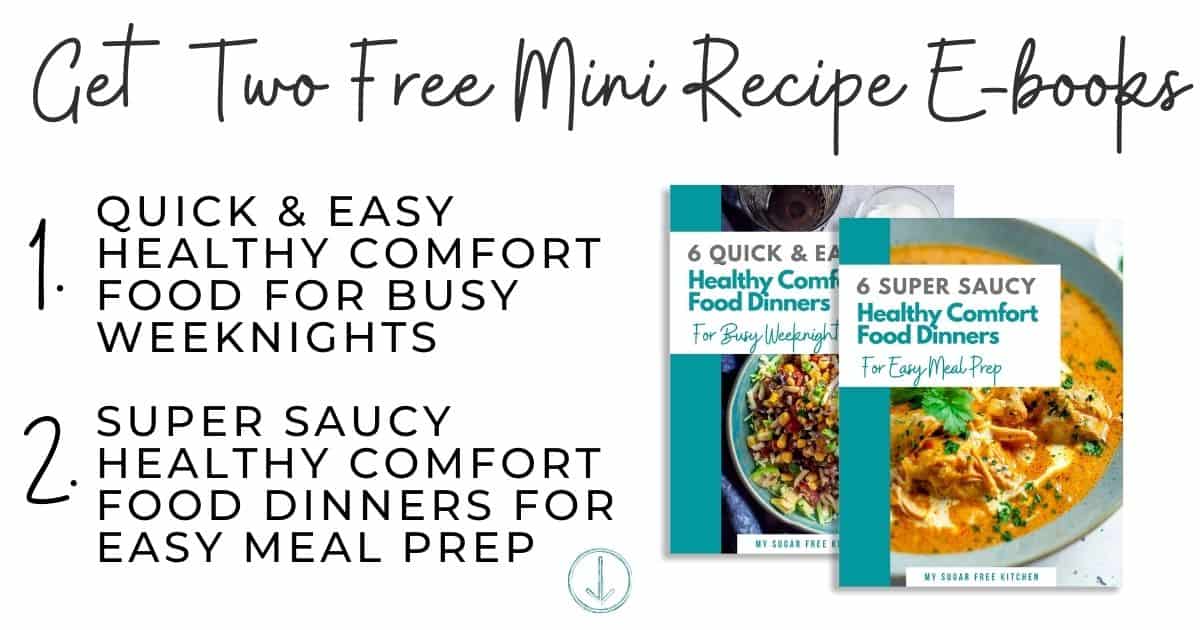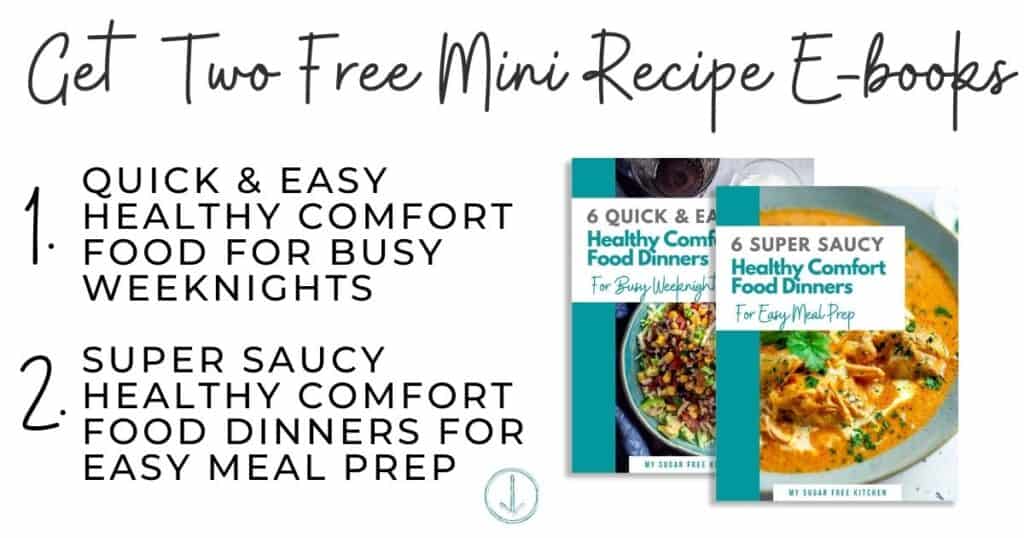 Expert Tips
Storing Leftovers: Store the meat separately from the salad and sauce ingredients, so that it can be easily reheated. The meat can be kept in the fridge for 2 days.
Reheating Leftovers: reheat the beef in the microwave, in a microwave safe dish for a couple of minutes, then add the build your bowl, and layer in the condiments.
Freezing: this beef sauce freezes well and is a great idea for easy and convenient weeknight meals as it has a multitude of uses.
Avoiding lumpy meat sauce: use a spatula to press out and lumps and I find using a chopping action with the spatula really works to stop the meat from clumping.
5 Additional Way to Use Burrito Mince
Use it in tacos with a quick and easy slaw
Use it in enchiladas, fajitas, and wraps
Eat it on toast or with eggs
Add a jar of bolognase sauce and some spaghetti for a quick spag bol
Turn it into a mexican pasta bake with your favourite pasta and some cheese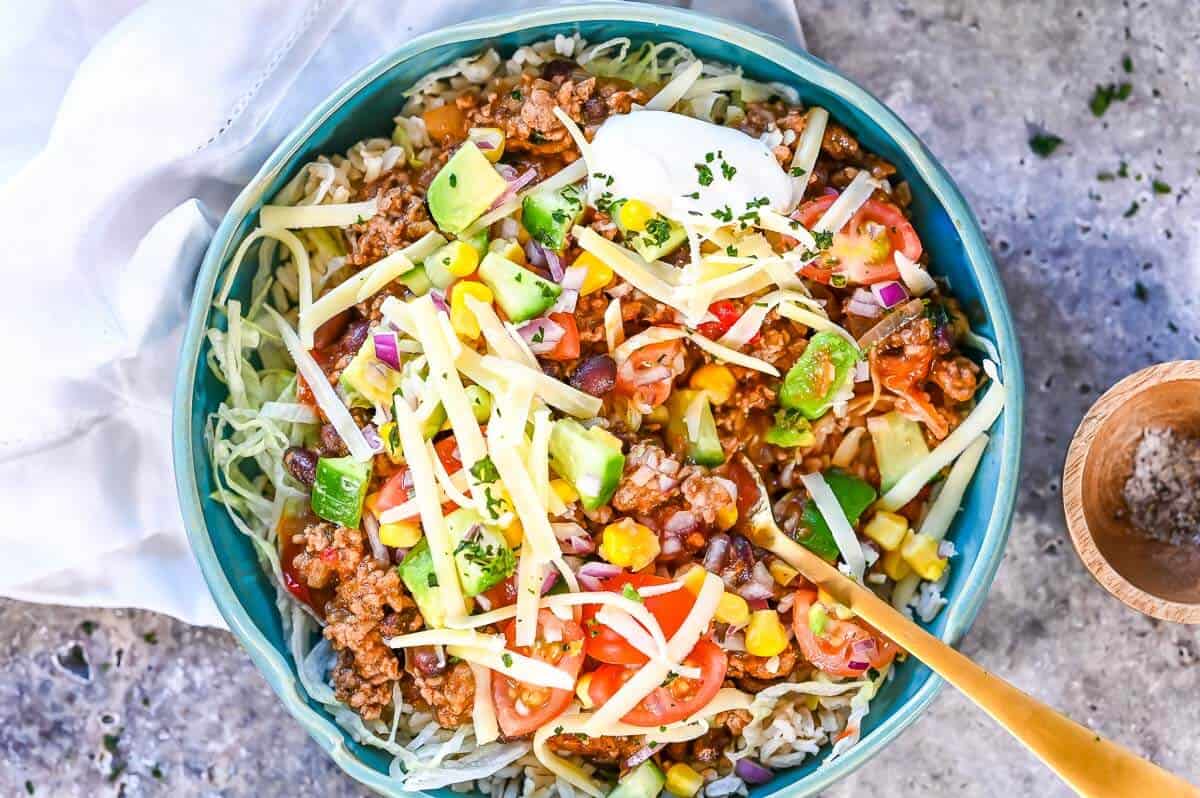 Healthy burrito bowls are the go if you're looking to get a healthy Mexican fix at home. You can get them on the table in under 30 minutes, they make great leftovers for lunch the next day.
It's a bowl of superfood goodness packed with protein, fibre and good fats, keeping you fuller for longer.
Other Mexican Recipes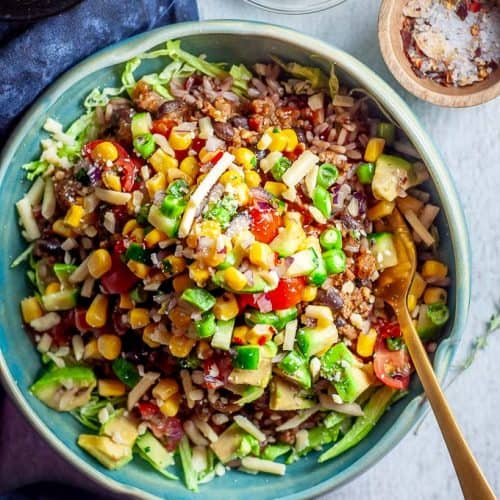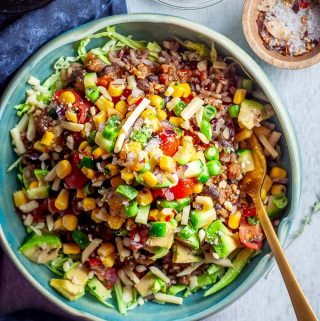 Healthy Burrito Bowls
Light and healthy clean eating burrito bowls made with ground beef, brown rice, old elpaso taco seasoning and sauce. An easy mid week meal that is filling and makes for great leftovers to take to work the next day.
Ingredients
Meat
500

grams/1 pound Minced

-

ground beef, chicken, or turkey

1

tablespoon

Olive oil

1

medium onion

1

tablespoon

Garlic

-

crushed

400

gram

can of Black beans

1

packet of Elpaso Burrito seasoning

1

cup

tap water

1

jar Elpaso Taco sauce
Rice
1 ½

cups

Cooked brown rice
Salad
2

cups

Iceberg lettuce

-

finely chopped

8

Cherry tomatoes

-

quartered

1

small red onion

-

finey diced

1

cup

Corn kernals

-

from a can is fine

½

cup

cucumber

-

chopped small

1

medium Avocado

½

cup

Grated cheese
Instructions
The Meat: Heat a medium sized pan/skillet, on high temperature on the stove. Add the olive oil, onion and garlic and stir with a spatula until onion becomes translucent.

Break up the ground meat and stir it into the garlic mixture with the spatula, browning the meat off.

Measure 1 cup tap water and add the burrito seasoning, stirring it into the water. Pour over the meat and stir through.

Add ¼ cup of Taco Sauce to the meat and stir through.

Rinse and drain the black beans so all the liquid is gone. Add the beans to the meat and stir through.

The Salsa: All the quartered tomatoes, diced red onion, corn, cucumber and avocado to a bowl, and sprinkle with a little salt and pepper. Mix to combine. A squeeze of lemon juice is optional.

Assembly: In each bowl, lay the finely chopped cabbage, followed by ½ cup cooked brown rice, then ¼ of the meat mixture, a couple of tablespoons of taco sauce, then some salsa, followed by a little grated cheese. Sour cream optional.
Nutrition
Calories:
577
kcal
Carbohydrates:
54
g
Protein:
39
g
Fat:
24
g
Saturated Fat:
5
g
Fiber:
11
g
Sugar:
14
g
Note: Sugars contained in this recipe are from naturally occurring sugars in fruits, vegetables or other natural sweeteners.
Looking To Cut Out Sugar? Get the FREE Healthy Food Swaps Checklist Pack!
Get your FREE Healthy Food Swaps Checklists with over 65 Healthy Food Alternatives to Help you Ditch The Sugar Without Feeling Deprived.