These Fish Tacos with Pineapple Salsa have a deliciously crispy crumb on the outside and big chunks of white fish on the inside.  A little bit spicy from the combination of different herbs used to coat the fish, a little bit tangy from the pineapple, chilli, tomato and lime,  and a whole lot of summer together in a lightly grilled soft mini taco.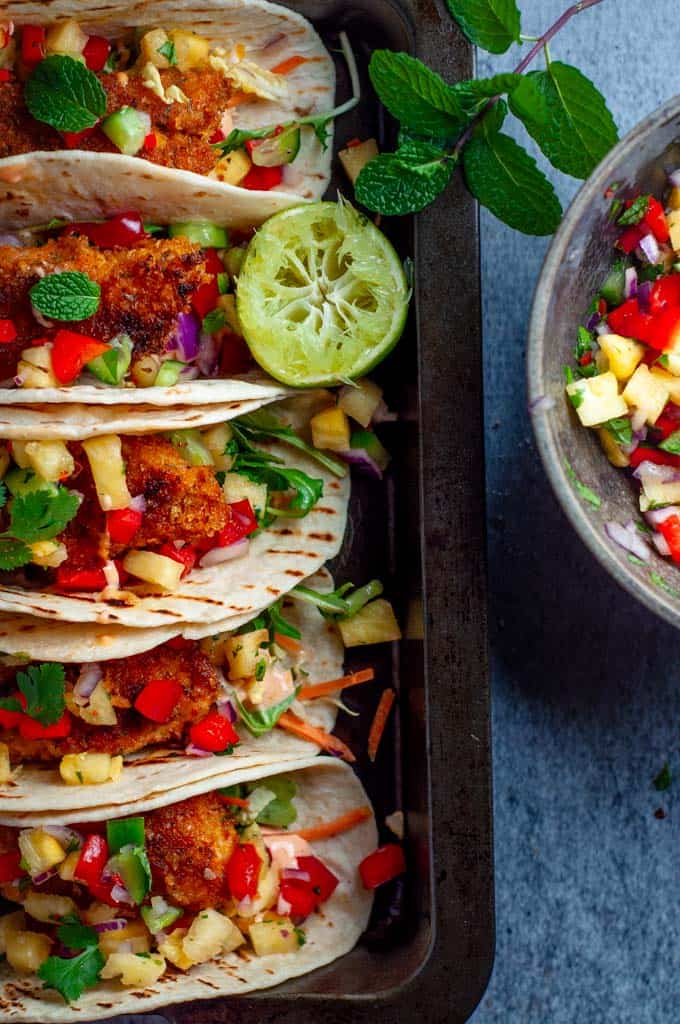 To make the perfect fish taco, you need to have the right kind of fish, which is a firm white fish.  For this recipe I used snapper – a mild tasting meaty fish.  Other types of fish that would work well would be Ling, Mahi Mahi and Cod.
I used 500 grams (1 pound) of fish which was just the right side to feed four people with 2 or 3 tacos each.
Why These Fish Tacos with Pineapple Salsa are Special
The thing that makes these Fish Tacos stand out is the special mix of herbs and spices to create that crispy and crunchy, sweet, salty and tangy flavour.  I used a combination of 7 different dried herbs in different quantities:  Smoked paprika, Hot Paprika, Sweet paprika, onion salt, Garlic salt, Thyme and Oregano.  This was then mixed with Panko Breadcrumbs which is what really creates that crispy golden crumbed that fish tacos are known for.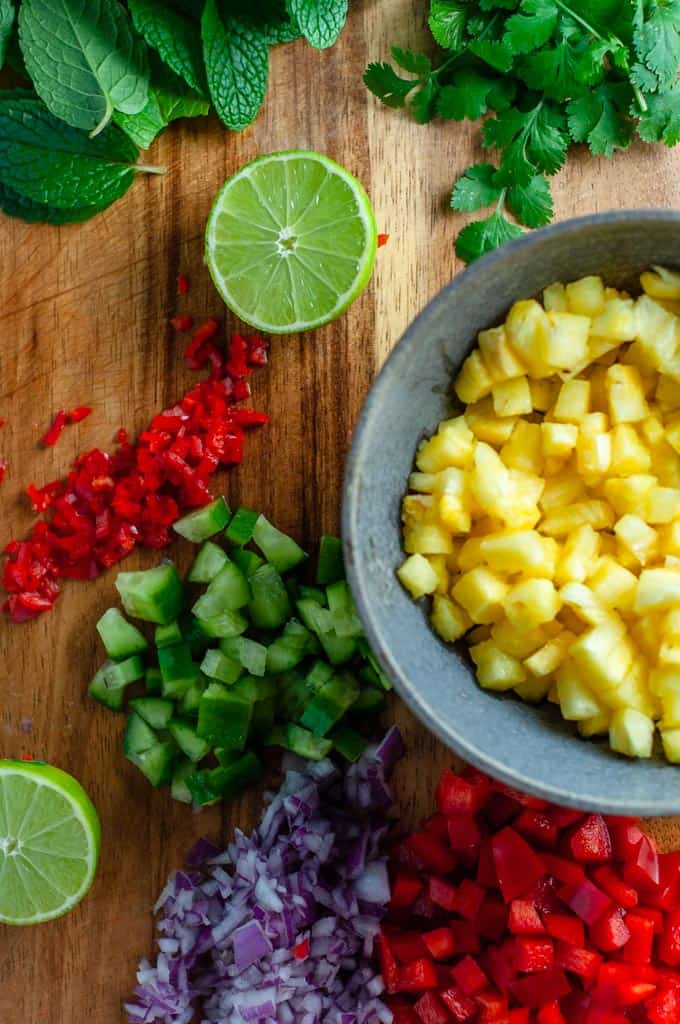 If you're not familiar with Panko Breadcrumbs, they are Japanese breadcrumb, that is more course in texture than other breadcrumbs.  They are readily available at mainstream supermarkets here in Australia in the Asian food aisle.  They are a great change from standard breadcrumbs if that is all you've ever used!
TIP:  The spice mix I use in this recipe is also great for using as a rub on chicken, or for crumbing chicken, and as a seasoning in meatballs.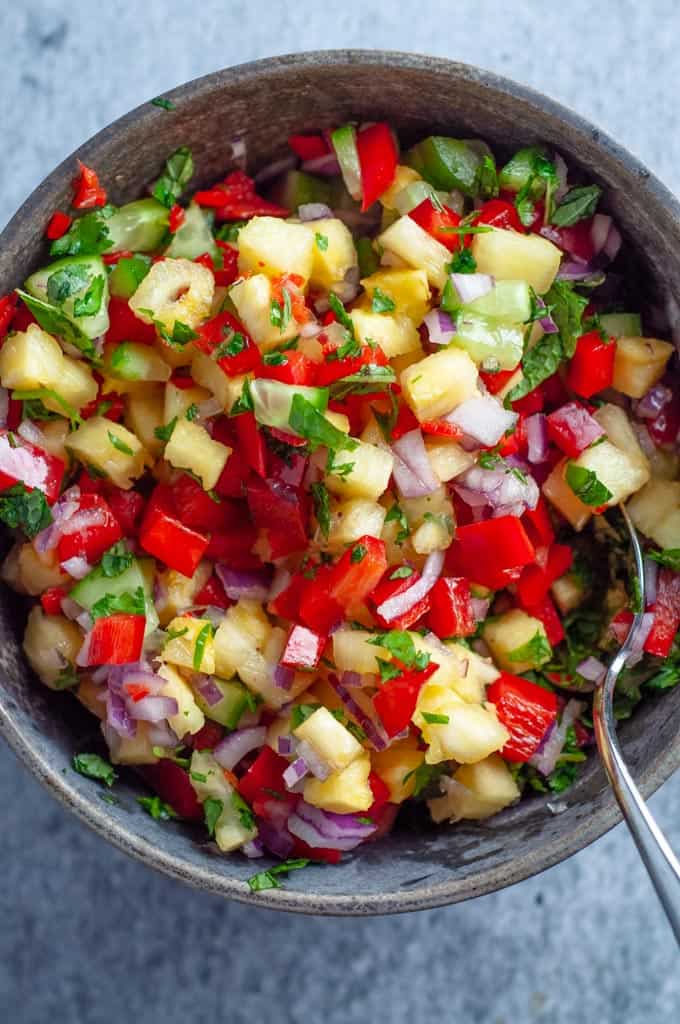 Over the years my husband and I have eaten lots of fish tacos.  At cafes, at markets and from food trucks at festivals!  We just love them.  So needless to say we have high standards when it comes to making them at home.
Even after eating many dozens of fish tacos in the past, this was the first time I'd made them at home and they were a complete hit.
How to Make The Perfect Pineapple Salsa
The perfect pineapple salsa needs a few things:  pineapple obviously, but not the tinned stuff.  You'd be doing yourself a disservice if you went to all this effort and used tinned pineapple.  It just wouldn't be the same.  Instead, buy a fresh ripe pineapple and you'll be amazed at the difference.
The other things you'll need are capsicums or red peppers, red onion, coriander/cilantro, mint, fresh chilli, cucumber, limes, and salt and pepper.  With these round up of ingredients you could already see what a colourful accompaniment this is to the crispy fish and soft taco.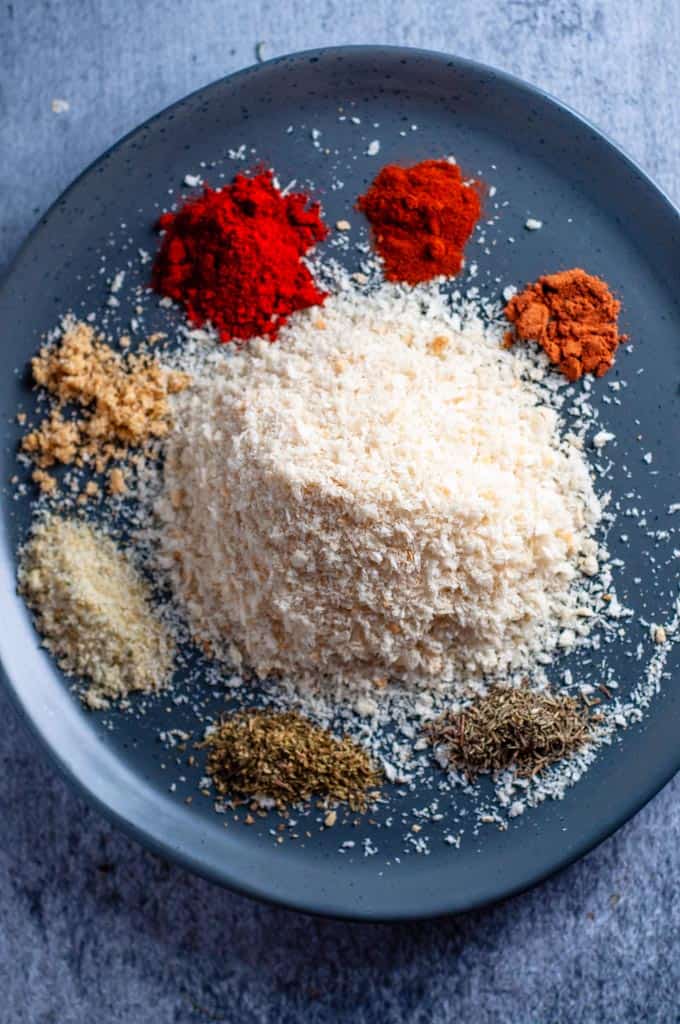 More  Seafood Dinner Recipes — >>> Salmon Curry In A Hurry, Garlic Prawn and Tomato Risotto, Rich and Creamy Seafood Chowder and this Simple and a little Spicy Salmon Stirfry.
How to make a Spicy Taco Sauce in 30 Seconds
You'll need two things.  Full fat mayonaise and Sriracha sauce.  You'll only need a little Sriracha sauce (unless you like it super hot).  This is one of my secret go to's to create a well rounded dish that has texture, crunch, sweetness, spiciness, saltiness, and softness.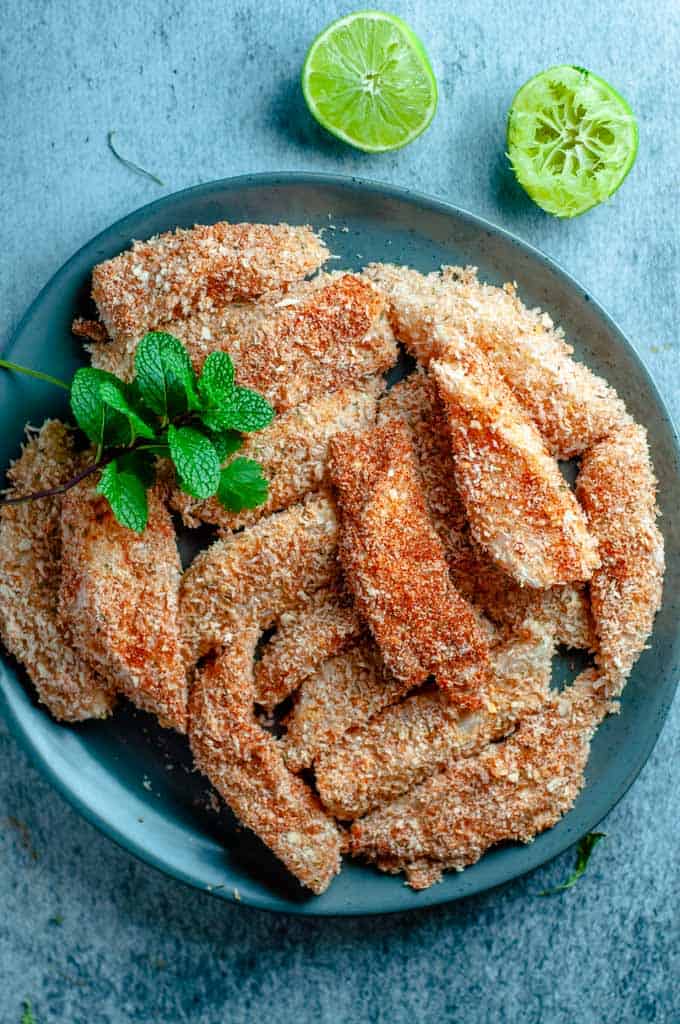 TIP:  Heating a grill pan on the stove on the highest temperature (without oil) and placing the soft tacos one at a time for 10 to 15 seconds each side is highly recommended and really adds to the overall flavour.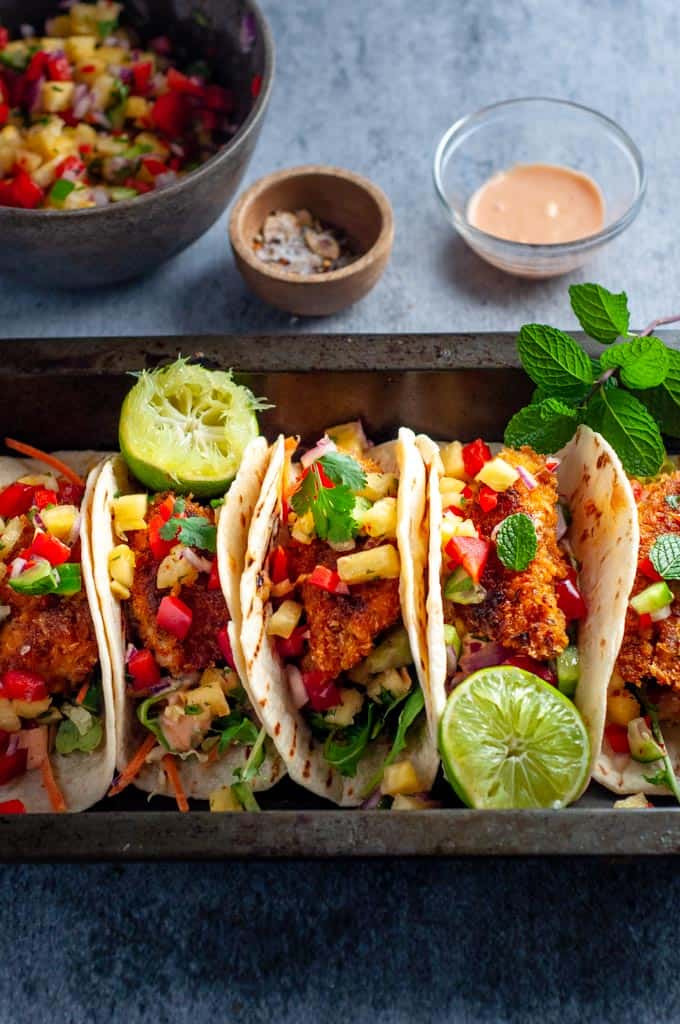 How To Assemble You Fish Taco with Pineapple Salsa
Hold soft taco in hand
Lay a little shredded carrot and or cabbage
Spoon a little sauce
Add a little pineapple salsa
Add your fish
Add a little more sauce
Add a little more pineapple salsa
Eat and make another one!
You won't regret making these fish tacos with pineapple salsa.  In fact you might just forget about all the other tacos you've ever eaten because these will become your new go to favourite as they have done in our household.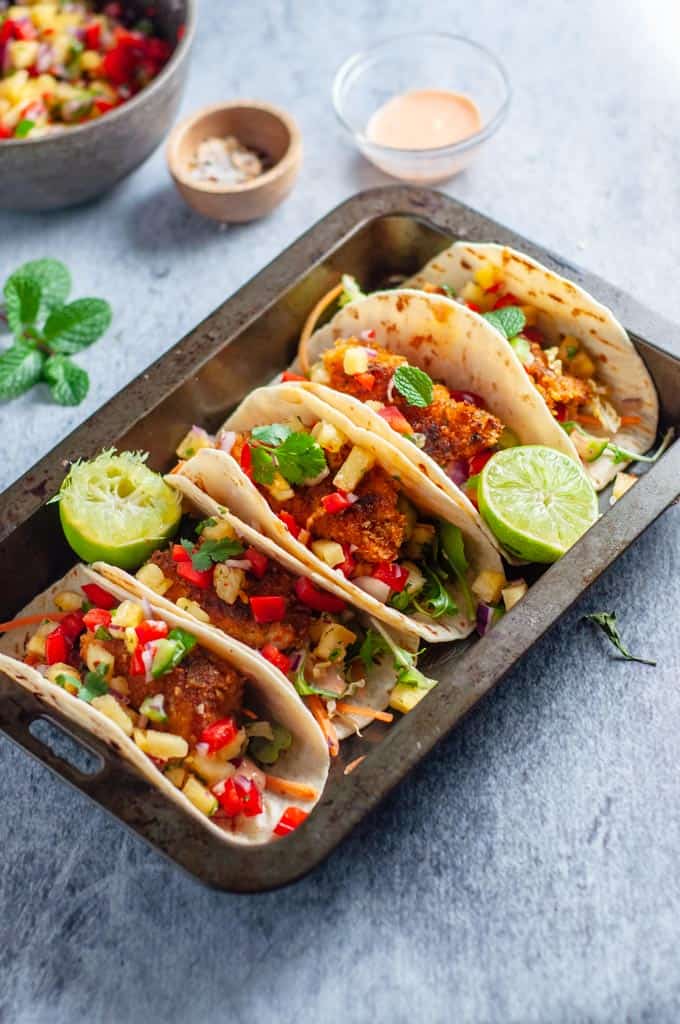 Like what you see? Follow me on Facebook or Pinterest! Did you try a recipe? Tag me on Instagram: @mysugarfreekitchen, and leave a comment & star rating!
★ Did you make this recipe? Don't forget to give it a star rating below!