These Fish Tacos with Pineapple Salsa have a deliciously crispy crumb on the outside and big chunks of white fish on the inside. A little bit spicy from the combination of different herbs used to coat the fish, a little bit tangy from the pineapple, chilli, tomato and lime, and a whole lot of summer together in a lightly grilled soft mini taco.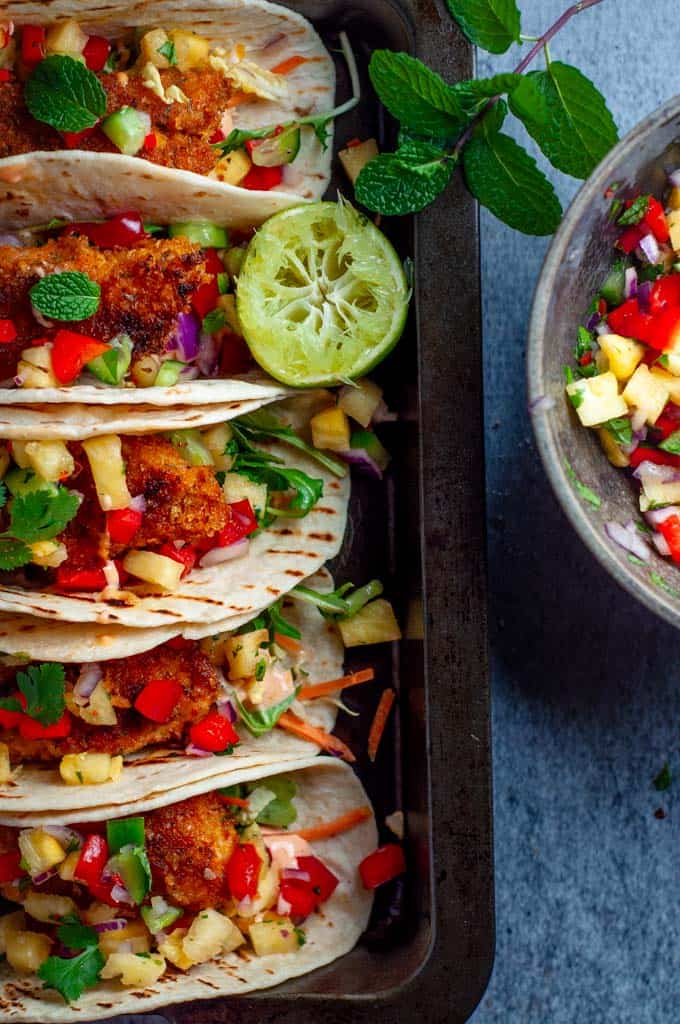 If you have an Air Fryer, you might like to check out how I make fish tacos in the Air Fryer. Or if you love pineapple salsa, check out this Asian Glazed Salmon with zingy pineapple salsa.
Type of Fish
To make the perfect fish taco, you need to have the right kind of fish, which is a firm white fish. For this recipe I used Snapper – a mild tasting meaty fish. Other types of fish that would work well would be Ling, Mahi Mahi and Cod.
I used 500 grams (1 pound) of fish which was just the right side to feed four people with 2 or 3 tacos each.
Why Make Fish Tacos?
The thing that makes these Fish Tacos stand out is the special mix of herbs and spices to create that crispy and crunchy, sweet, salty and tangy flavour.
I used a combination of 7 different dried herbs in different quantities:
Smoked paprika
Hot Paprika
Sweet paprika
Onion salt
Garlic salt
Dried Thyme
Dried Oregano.
This was then mixed with Panko Breadcrumbs which is what really creates that crispy golden crumb that fish tacos are known for.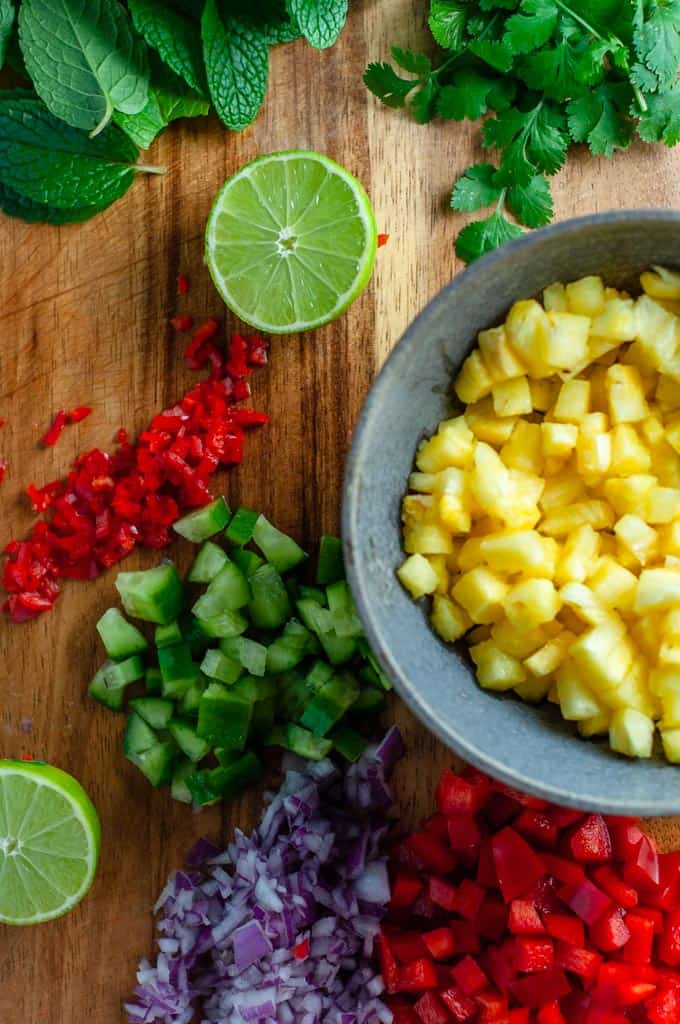 If you're not familiar with Panko Breadcrumbs, they are Japanese breadcrumb, that is more course in texture than other breadcrumbs. They are readily available at mainstream supermarkets here in Australia in the Asian food aisle. They are a great change from standard breadcrumbs if that is all you've ever used!
TIP: The spice mix I use in this recipe is also great for using as a rub on chicken, or for crumbing chicken, and as a seasoning in meatballs.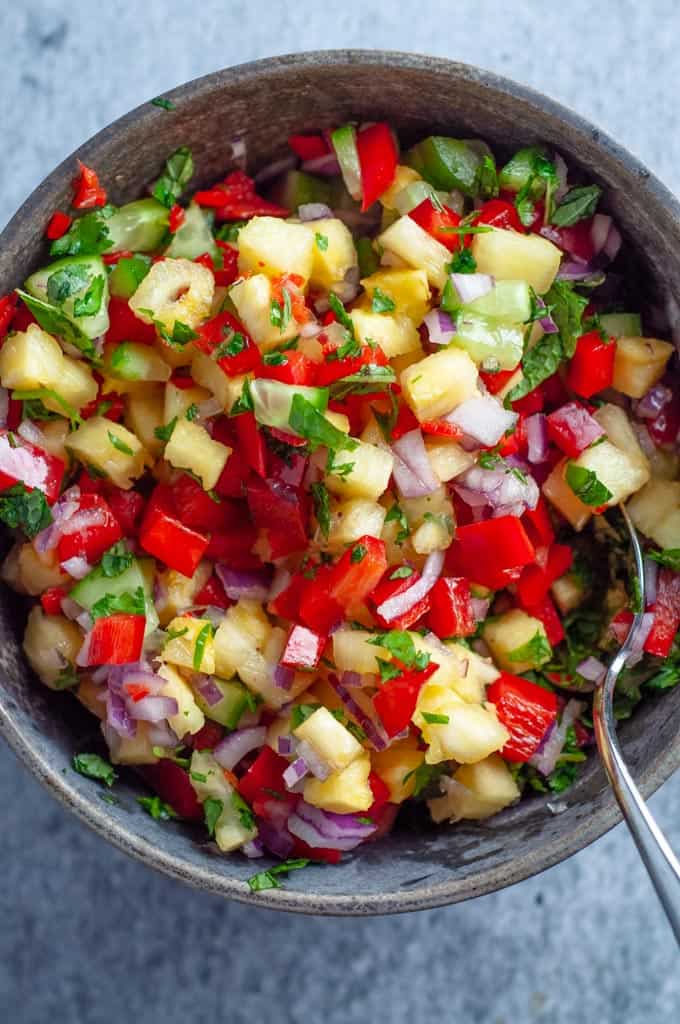 Over the years my husband and I have eaten lots of fish tacos. At cafes, at markets and from food trucks at festivals! We just love them. So needless to say we have high standards when it comes to making them at home.
Even after eating many dozens of fish tacos in the past, this was the first time I'd made them at home and they were a complete hit.
How to Make The Perfect Pineapple Salsa
The perfect pineapple salsa needs a few things: pineapple obviously, but not the tinned stuff. You'd be doing yourself a disservice if you went to all this effort and used tinned pineapple. It just wouldn't be the same. Instead, buy a fresh ripe pineapple and you'll be amazed at the difference.
The other things you'll need are capsicums or red peppers, red onion, coriander/cilantro, mint, fresh chilli, cucumber, limes, and salt and pepper. With these round up of ingredients you could already see what a colourful accompaniment this is to the crispy fish and soft taco.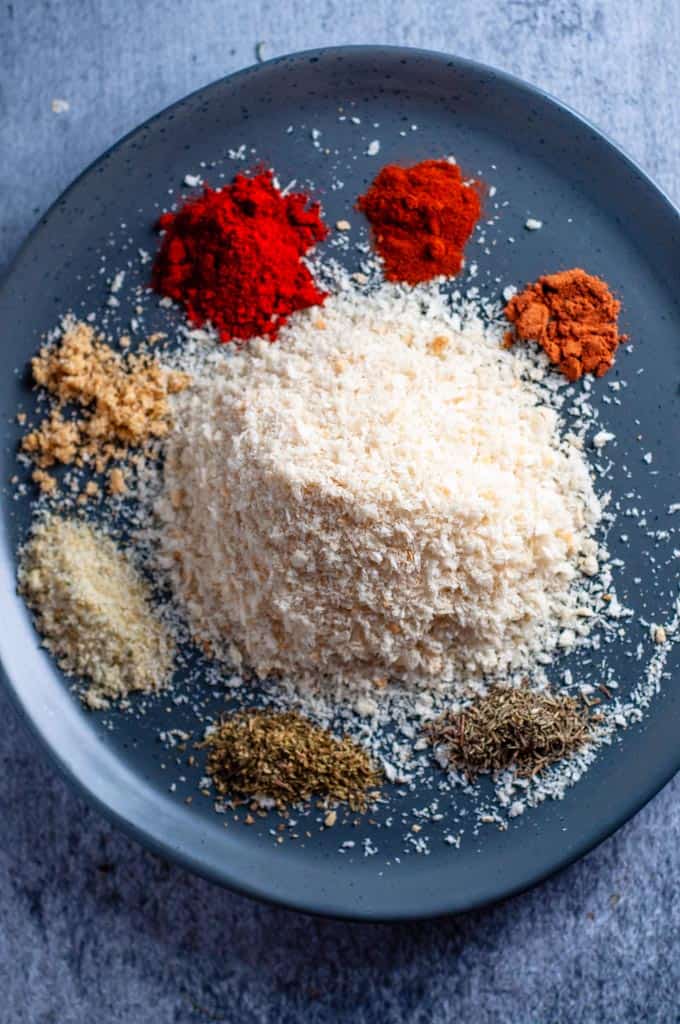 How to make a Spicy Taco Sauce in 30 Seconds
You'll need two things. Full fat mayonaise and Sriracha sauce. You'll only need a little Sriracha sauce (unless you like it super hot). This is one of my secret go to's to create a well rounded dish that has texture, crunch, sweetness, spiciness, saltiness, and softness.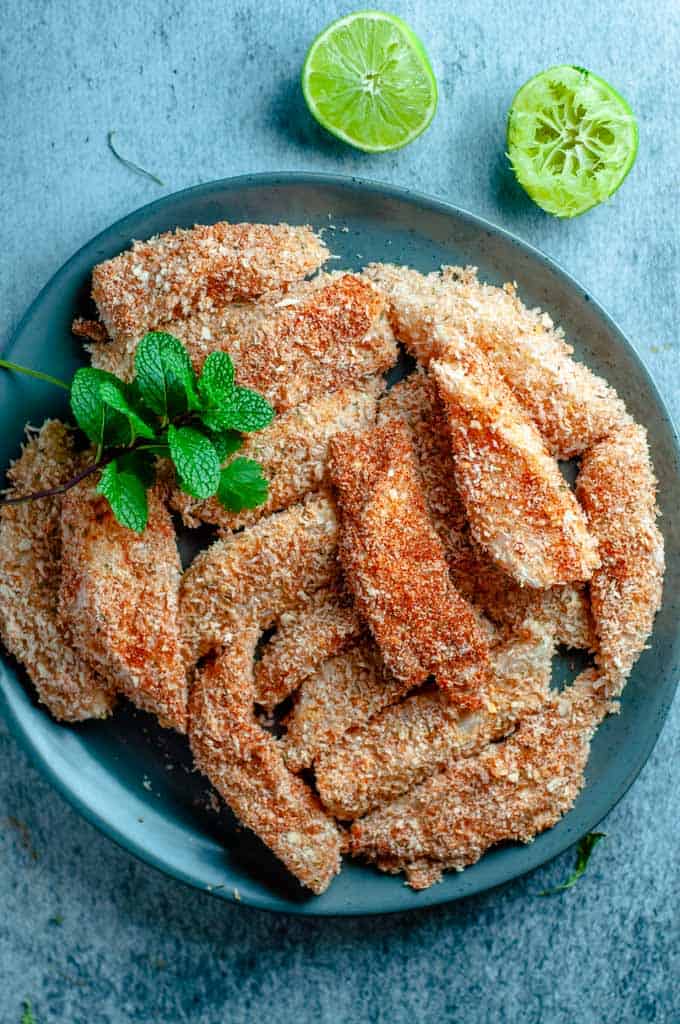 TIP: Heating a grill pan on the stove on the highest temperature (without oil) and placing the soft tacos one at a time for 10 to 15 seconds each side is highly recommended and really adds to the overall flavour.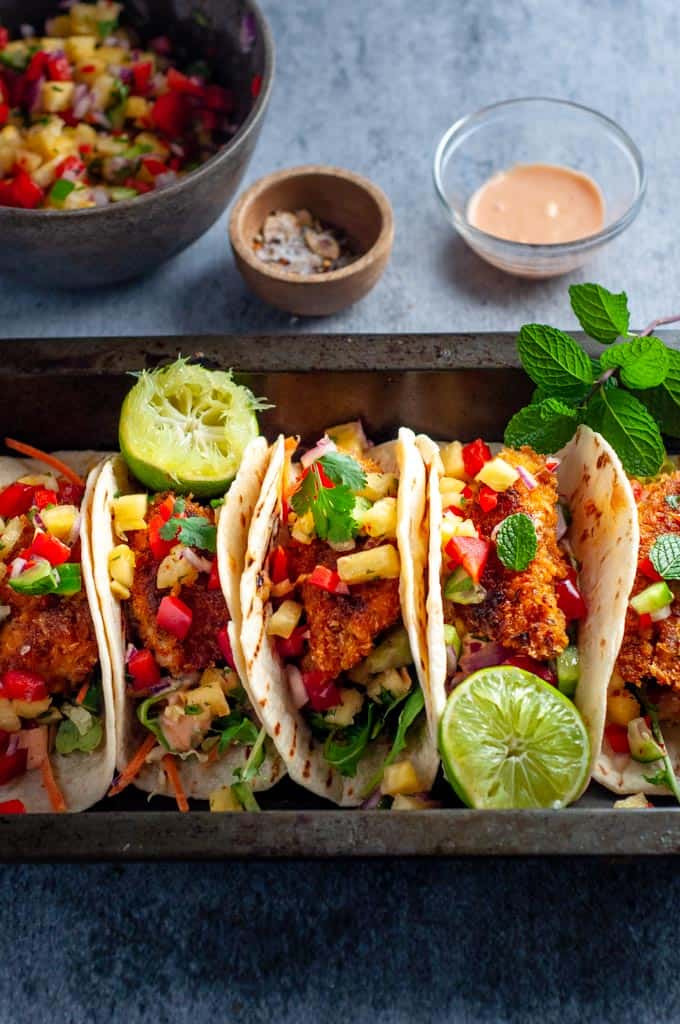 How To Assemble Fish Tacos
Hold soft taco in hand
Lay a little shredded carrot and or cabbage
Spoon a little sauce
Add a little pineapple salsa
Add your fish
Add a little more sauce
Add a little more pineapple salsa
Eat and make another one!
You won't regret making these fish tacos with pineapple salsa. In fact you might just forget about all the other tacos you've ever eaten because these will become your new go to favourite as they have done in our household.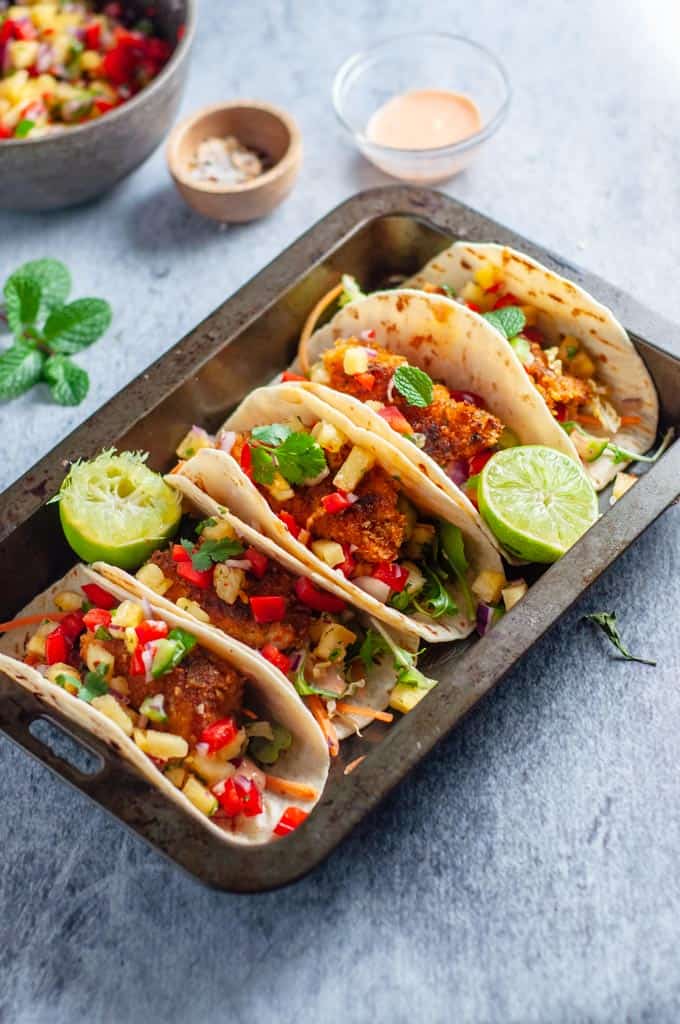 More Seafood Dinner Recipes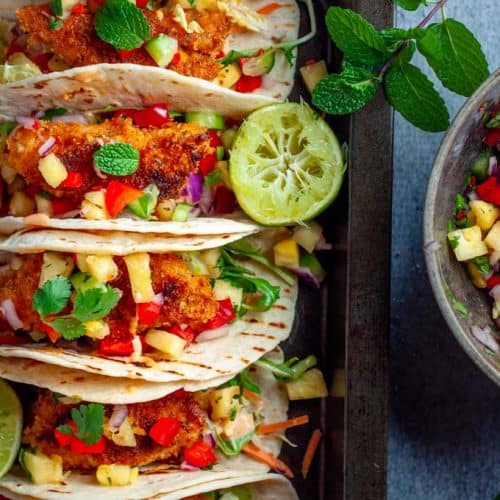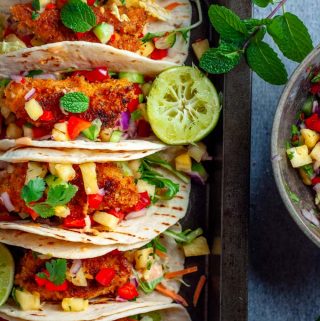 Fish Tacos with Pineapple Salsa
These Fish Tacos with Pineapple Salsa have a deliciously crispy crumb on the outside and big chunks of white fish on the inside. A little bit spicy from the combination of different herbs used to coat the fish, a little bit tangy from the pineapple, chilli, tomato and lime, and a whole lot of summer together in a lightly grilled soft mini taco.
Ingredients
Fish
500

grams/1 pound firm white fish

-

cut into strips approx. 2cm wide

1

cup

Panko bread crumbs

2

teaspoons

Smoked paprika

¼

teaspoon

Hot Paprika

½

teaspoon

Sweet paprika

¾

teaspoon

onion salt

1

teaspoon

Garlic salt

½

teaspoon

Thyme

½

teaspoon

Oregano

1

Medium egg

2

tablespoons

Milk

⅓

cup

Plain flour

2

– 3 tablespoons Extra Virgin Olive Oil
Pineapple Salsa
1½

Cups

Diced Pineapple

½

Cup

Capsicum/Red pepper

-

diced

¼

Cup

Red onion

-

diced

2

tablespoons

Corriander/Cilantro

-

finely diced

2

tablespoons

Mint

-

finely diced

1

tablespoon

Red or green chilli

-

finely diced

¼

cup

Cucumber

-

diced

Juice ½ Lime

Salt and Pepper
Extras:
Corn Tortillas

-

warm or lightly grill before serving or Lettuce Wraps for low carb

Shredded Cabbage/Carrots

¼

cup

Mayonaise

-

full fat

1

tablespoon

Sirracha

-

see note 1
Instructions
Pineapple Salsa
Can be pre made several hours ahead. Add all ingredients to a large mixing bowl and stir to combine. Cover with a lid or plastic wrap until ready to serve. Make sure to add salt and pepper to taste.
Fish
Prepare 3 bowls. Add the plain flour to the first bowl. To the second bowl, add the egg and milk and whish until combined. To the third bowl add all the spices and panko breadcrumbs.

Making sure your fish pieces are no more than 2cm wide in strips, take one piece at a time and dip in flour, shaking off excess. Next dip in the egg wash. Finally press firmly into the crumb mixture, turning and pressing firmly a few times to coat thoroughly. Place crumbed pieces onto a clean plate. Repeat process until all the fish has been crumbed.

Cooking the fish: Heat a large pan with the olive oil on medium to high heat. Place the fish pieces into the pan for 3 to 4 minutes each side, or until golden brown.

Once cooked, remove from heat and remove fish from pan. Optional – drain on kitchen paper/paper towel.
Sauce
In a small mixing bowl, place the mayonnaise and sirracha. Mix with a spoon until all combined.
Tacos
Heat a griddle pan on high and place one tortilla at a time for 30 to 40 seconds each side until the char marks appear and the tortilla is warm. Repeat for remaining tortillas.

Assembly
Grab a tortilla in one hand. Add some shredded cabbage and/or carrot. Add sauce. Add pineapple salsa. Add the fish. A little more salsa. Optional more sauce on top if you like.
Notes
Add 1 tablespoon of siracha to the Mayonaise for a medium level of heat in the overall sauce. For a mild taco sauce, reduce to 1 teaspoon of siracha (same quantity of mayo).
Nutrition
Calories:
518
kcal
Carbohydrates:
64
g
Protein:
34
g
Fat:
13
g
Saturated Fat:
3
g
Fiber:
4
g
Sugar:
10
g
Note: Sugars contained in this recipe are from naturally occurring sugars in fruits, vegetables or other natural sweeteners.
Looking To Cut Out Sugar? Get the FREE Healthy Food Swaps Checklist Pack!
Get your FREE Healthy Food Swaps Checklists with over 65 Healthy Food Alternatives to Help you Ditch The Sugar Without Feeling Deprived.