This Seafood Chowder with Cream Cheese is rich and silky with soft melt in your mouth seafood pieces. It's a tasty and heart-warming bowl of creamy soup with prawns, salmon, fish, calamari and mussels infused with aromatic garlic, thyme, paprika, parsley and a hint of chilli flakes. This is a sophisticated soup for grown ups.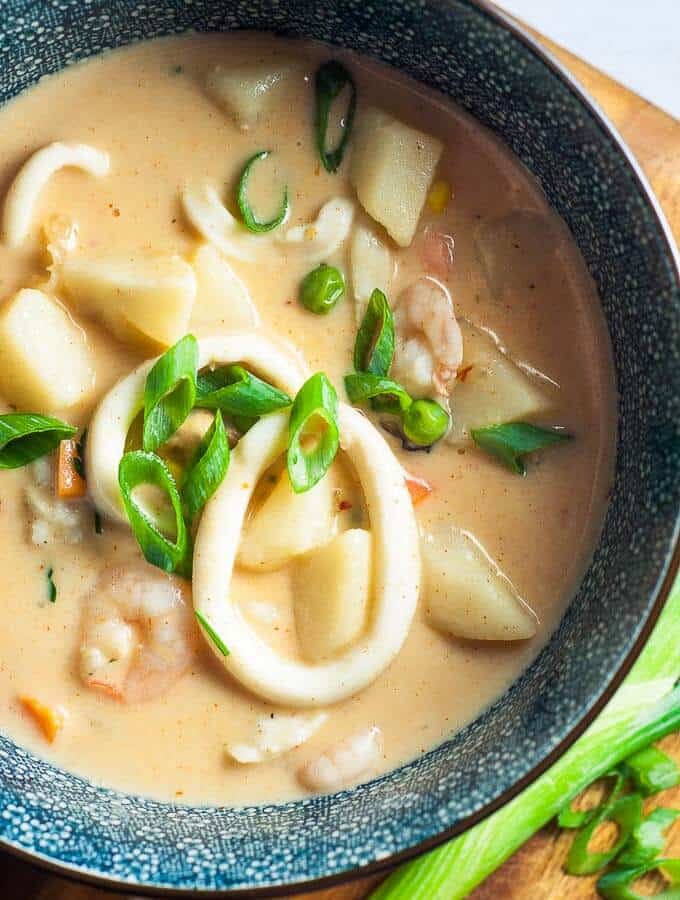 I love soup recipes, and my roasted cauliflower soup and summer corn chowder are perfect for any time of the year!
Growing up in Australia, I had never heard of Seafood Chowder.  The soups we ate were always the same and pretty standard.  There was tomato soup, pea and ham soup, minestrone soup and sometimes chicken soup.  But never a seafood soup and certainly not in the regional parts of central and outback Queensland.
Everything was pretty straight and standard in the 80's and you guessed it most soups were from a tin.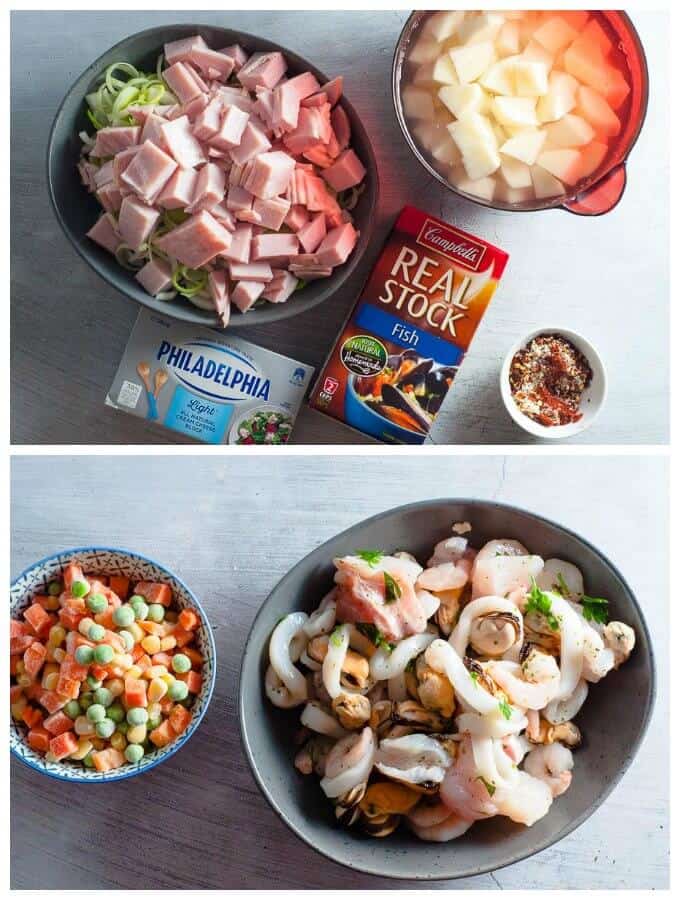 So how did this Seafood Chowder come about? Well, it all started with a trip…
My husband and I took a trip a couple of years ago to Tasmania (mostly to drink as many wines a humanly possible in 7 days). It was there in Tasmania, that I discovered the most luxurious rich and creamy seafood soup ever, in a tiny little family run eatery that we stopped in at on a Sunday evening after an enormous day driving our bus around to all the different wineries in the region.
I remember the place being old with frilly curtains and people were jammed in. Those really are the best kind of places when you happen upon them on a trip totally unexpected.
More recipes like this one: Easy and Hearty Vegetable and Barley Soup, Roasted Cauliflower Soup, and these Healthy Porcupine Meatballs with loads of soupiness!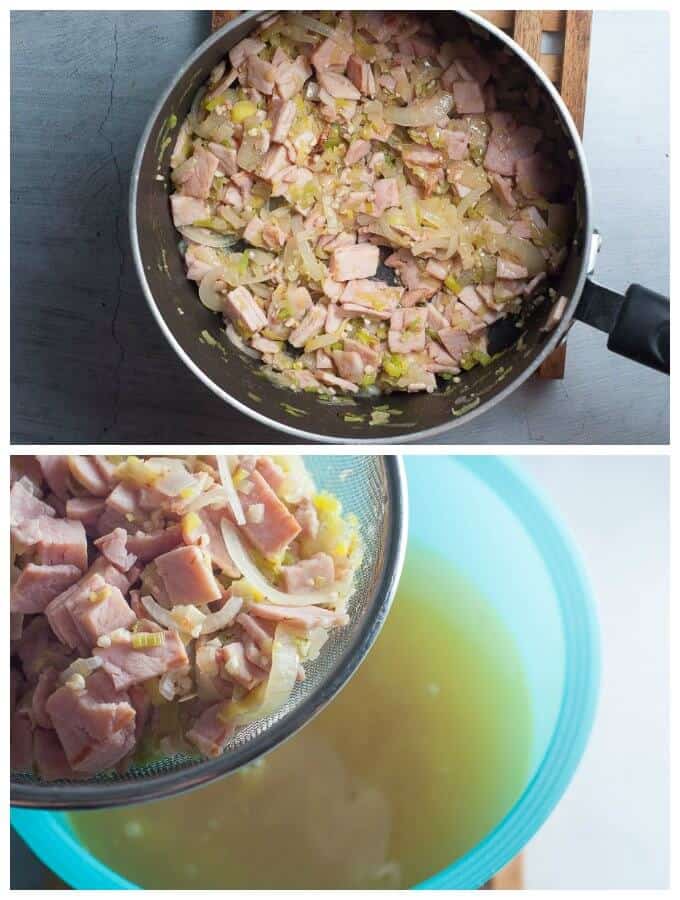 I still didn't really even know what it was when we sat down at our table. What I did know though, was that it was cold outside and I wanted something to warm me up! And it was on the specials menu. Anything on the specials menu has to be good right? That's my theory anyway.
What is Seafood Chowder?
Seafood Chowder is a creamy soup, made with fish stock/broth and either one type of chopped up seafood (maybe prawns or fish), or a combination of a few different seafoods (fish, prawns, calamari, octopus, squid, clams, mussels). It also has a bunch of other different flavours (herbs, spices, aromats) to balance out the fishiness so that you're left with a seafood soup that doesn't taste fishy, just utterly delicious.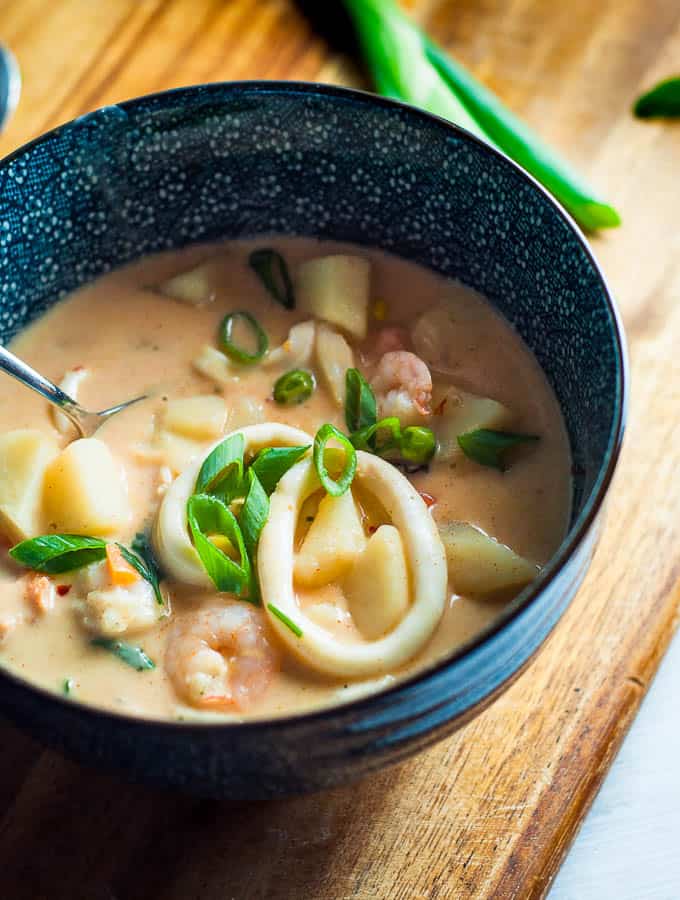 Tips for Making A Rich Creamy Seafood Chowder
Definitely use a fish stock/broth if you can. I have tried it with a vegetable stock and the flavour just wasn't there. Since seafood is quite delicate, you really need the fish stock/broth to create the flavour base.
Use the bacon, onion and leek as aromats only. Don't be tempted to leave them in as they will distract from the final dish and it will loose its smooth velvet quality. If you can't bear to throw them away, keep them in the fridge and use them the next night in a stew or casserole.
Chop the cream cheese into squares and bring to room temperature before adding to the soup. Then stir continuously with a whisk until it completely dissolves into the stock/broth for a smooth rich finish.
For convenience, buy a marinara mix for the local supermarket or fish shop. The one I buy is from Woolworths in Australia and has

fish, salmon, prawns, calamari and mussels

.
If you love your seafood, you may consider buying extra marinara mix from the supermarket. The quantity that I use for this recipe is 500 grams/1 pound which allows for much more soup than seafood as that is how I like to eat it (so I can dip my toast in). But adding more seafood would definitely make this a more substantial meal.
You don't need to cook the potatoes before adding them to the soup. Chop them up into chunk sized pieces and they will cook in the soup liquid.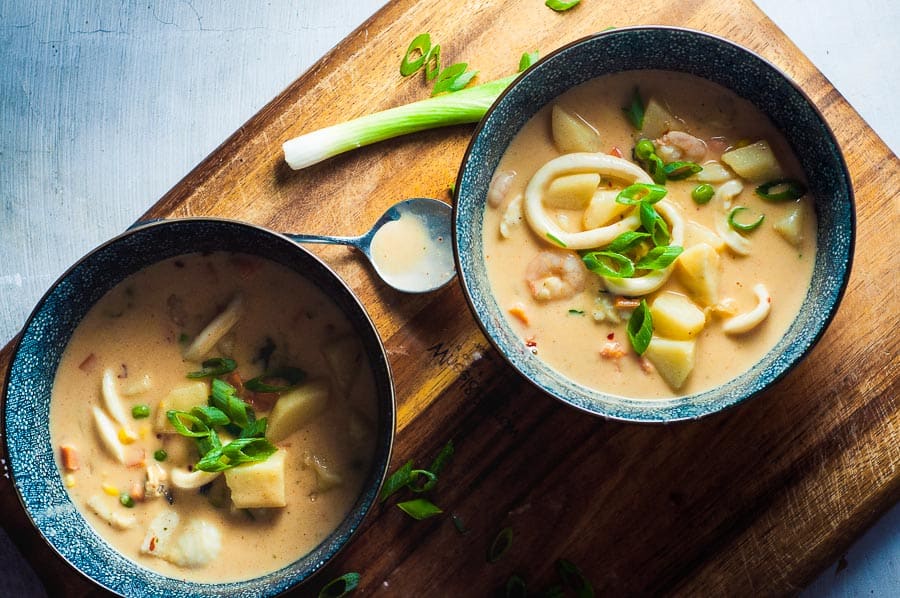 Other Seafood Recipes you should check out--->> Salmon Burrito Bowl, Seafood Marinara Pizza, Garlic Prawn and Tomato Risotto, Spicy Fish Stew, and Tuna Mornay Pasta Bake.
This really is a simple soup to make – don't be alarmed by the list of ingredients. Most of them are aromats and spices, many of which you probably use already, and if not, they are readily available at supermarkets.
If you've never tried Seafood Chowder, give this easy recipe a go. You'll be rewarded with a tried and true soup dish that you'll crave in the cooler months where you can dip in your garlic toast to soak up the creaminess of the soup.
Coincidently each time I eat this soup I am reminded that soup out of a tin should only ever be reserved for emergencies and that creamy seafood chowder is simple and healthy comfort food that should be on the menu at least one Sunday night out of our during the winter months.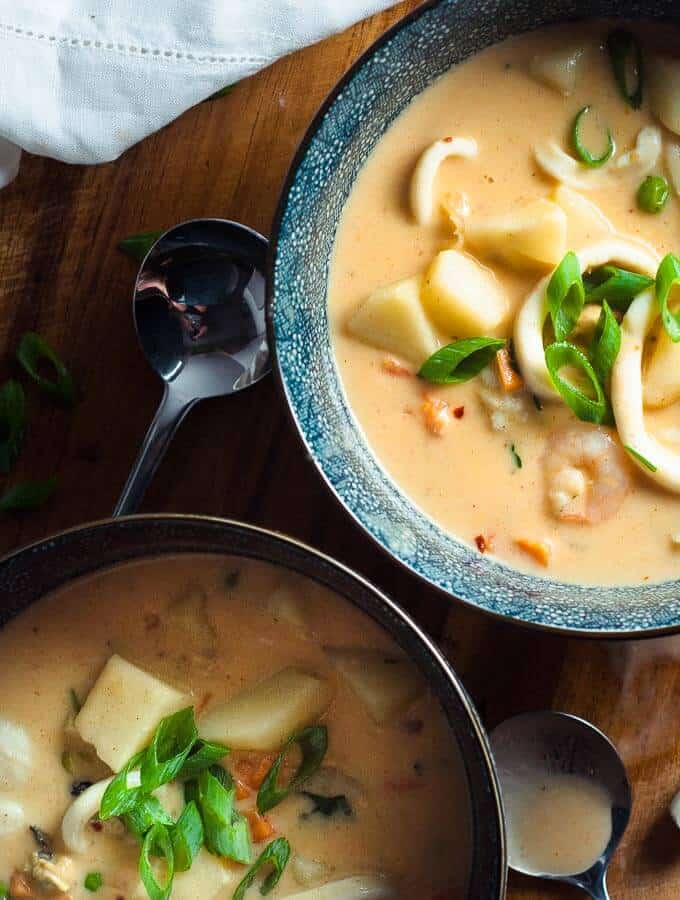 How about you… Have you ever eaten a Seafood Chowder? Have you ever made one from scratch? Leave me a comment. I'd love to hear about the first time you tried it, or better yet made it at home.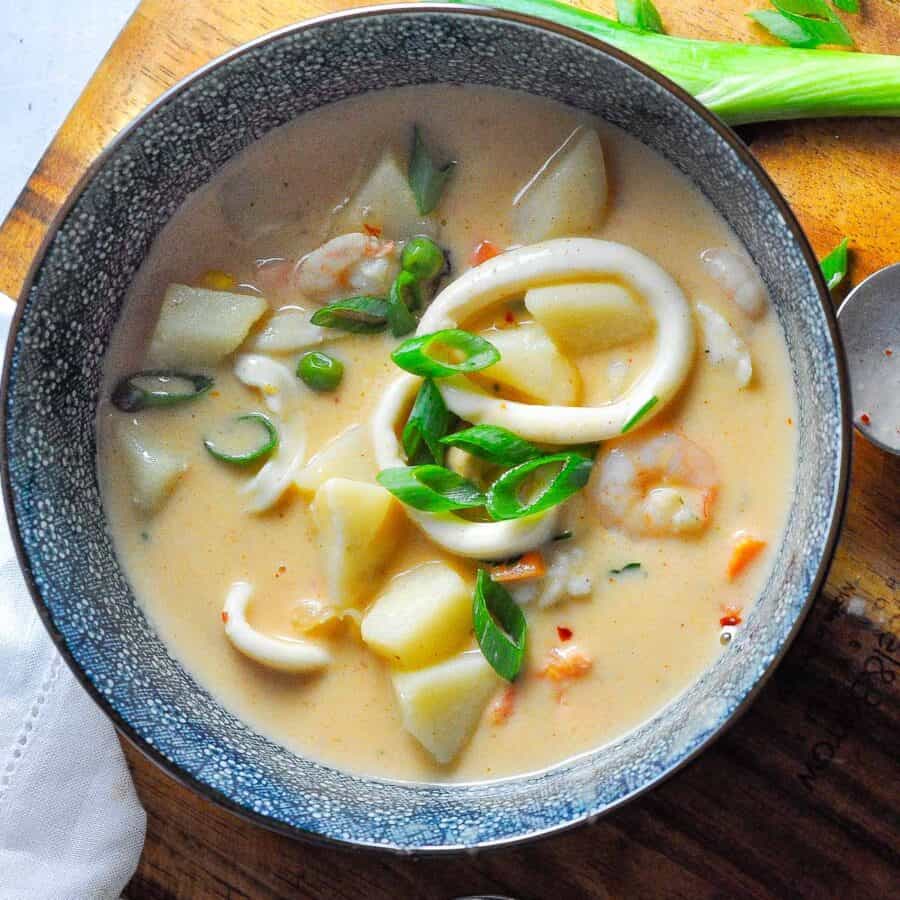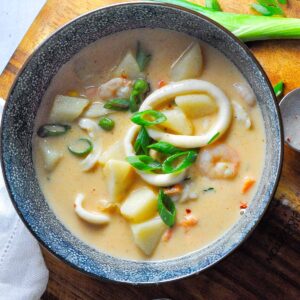 Seafood Chowder With Cream Cheese
This Seafood Chowder with Cream Cheese is rich and silky with soft melt in your mouth seafood pieces. It's a tasty and heart-warming bowl of creamy soup with prawns, salmon, fish, calamari and mussels infused with aromatic garlic, thyme, paprika, parsley and a hint of chilli flakes.
Ingredients
500

grams/1 pound Seafood Marinara Mix

250

grams/9 ounces cream cheese

3

cups

Fish or Seafood Stock/Broth

1

tablespoon

butter

100

grams/3 ½ ounces Bacon

-

chopped small

1

medium Leek

-

thinly sliced

1

medium Brown onion

-

diced

½

teaspoon

Chilli Flakes

1

teaspoon

Garlic Salt

2

cloves

Garlic

-

crushed

1

teaspoon

Ground Paprika

½

teaspoon

Smoked Paprika

1

tablespoon

dried parsley

3

medium sized potatoes

-

chopped into bite sized chunks

½

cup

Frozen Diced Corn

-

Pea and Carrot mix

3

tablespoons

of cornflour/cornstarch

2

tablespoons

water

Salt and pepper to taste
Instructions
Remove cream cheese from fridge to let it soften.

Heat a large sized non stick saucepan on the stove on high heat. Add the butter, chopped bacon, chopped leek and diced onion. Cook whilst stirring for 4 to 5 minutes until onion is translucent and bacon is cooked

To the same saucepan, add the fish stock bring to just before boiling.

Using a fine metal strainer, strain the bacon, leek and bacon pieces from the fish stock and put them off to the side. Put the fish stock back into the saucepan on medium to high heat.

Add the potatoes to the fish stock and let them cook for 5 minutes

Add the mixed vegetables and cook to 2 minutes.

Add the chilli flakes, garlic salt, crushed garlic, ground paprika, and smoked paprika and stir in.

Cut the softened cream cheese into 4 pieces with a knife and add the stock. Stir in with a large stirring spoon until it starts to melt and thicken the stock. His should take about 10 minutes and you will need to stir continuously. It might look like it is curdling, but it is not. It is just the cheese breaking up as it melts, the liquid will turn creamier.

Once the cheese has melted, add the marinara mix and cook for 3 to 4 minutes until seafood turns from translucent to white/coloured depending what is in your mix.

At this stage, the chowder might be a little thin. If you want a richer, and thicker soup, make a cornflour slurry with the cornflour and water and add. Stir it in to thicken. If it is still not thick enough, make another cornflour slurry and add gradually until desired thickness is reached.

Stir in the dried parsley and do a taste test before serving. Does it need more salt? Does it need pepper? If, so, add to your liking.
Notes
Store any leftover chowder in the fridge in an air tight container and eat within 2 days. Not suitable to freeze.
Nutrition
Calories:
392
kcal
Carbohydrates:
43
g
Protein:
37
g
Fat:
8
g
Saturated Fat:
5
g
Fiber:
2
g
Sugar:
7
g
Note: Sugars contained in this recipe are from naturally occurring sugars in fruits, vegetables or other natural sweeteners.
Looking To Cut Out Sugar? Get the FREE Healthy Food Swaps Checklist Pack!
Get your FREE Healthy Food Swaps Checklists with over 65 Healthy Food Alternatives to Help you Ditch The Sugar Without Feeling Deprived.