Seafood Marinara Pizza for one is an easy and healthy Friday night make at home take out. It's made using a Lebanese Pita Bread base, and sundried tomato pesto for a flavour hit with a mix of fresh and dried herbs, olives, feta, tasty cheese and the marinara mix, consisting of prawns, fish, calamari and mussels.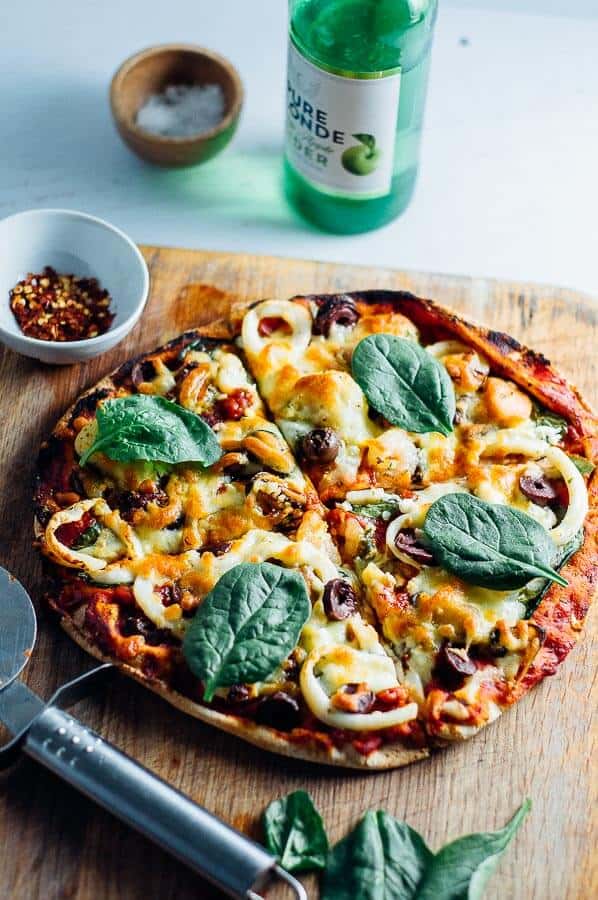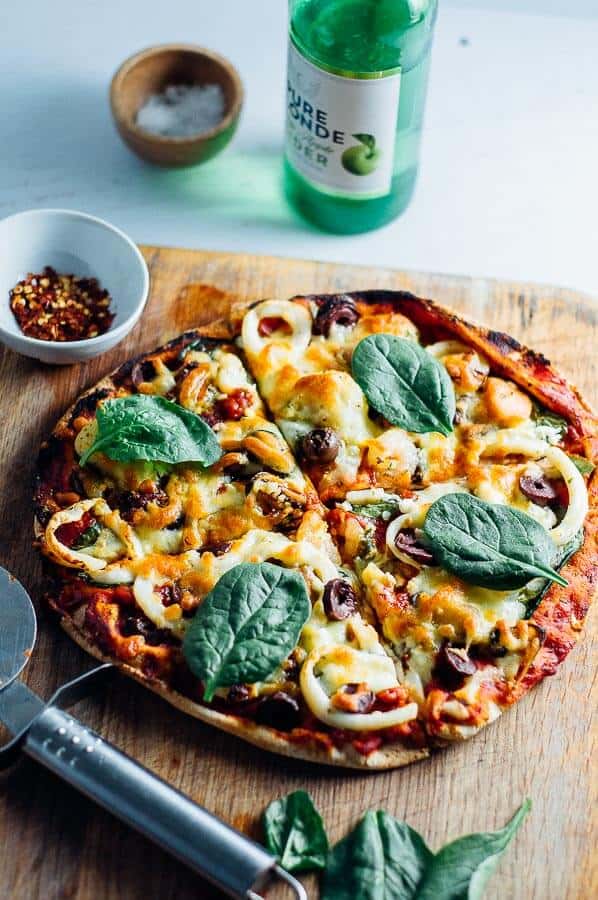 Best sauce for a Seafood Marinara Pizza
There are a few different options here if you looking to stick to as little added sugar as possible. I've listed some of the main ones out with a few notes. If you're interested in understanding how to read the sugar content on Food Labels, there is a trick to it that makes it really easy. Find out my tips for reading food labels quickly and easily here.
Sundried Tomato Pesto: this is my favourite because of the flavour it gives the pizza overall. It's also a little bit tangy and a little bit spicy which always add to the flavour profile.

Tomato Paste: Ok, so this is probably the default pizza sauce, but to be honest, I find it a bit boring with a seafood pizza as it just doesn't have enough flavour with the delicateness of the prawns, fish, calamari and mussels.

Tomato Passata: This is a safe option, and adds a nice rich tomato flavour. Admittedly its also a cheaper option than the pesto.
Basil Pesto: This is great for something different, and offers a fresh and lively take on the traditional tomato base. I've used this as a base occasionally when I haven't had any other "tomato" type bases in the fridge, and it was very summery and light.

Olive Tapenade: Try this only if you really open to surprising your pallete and go easy on spreading it out, it's pretty strong, but decidedly moreish once you start eating it.
These ideas would also work well as a base on my Air Fryer Pizza Rolls instead of the usual tomato paste.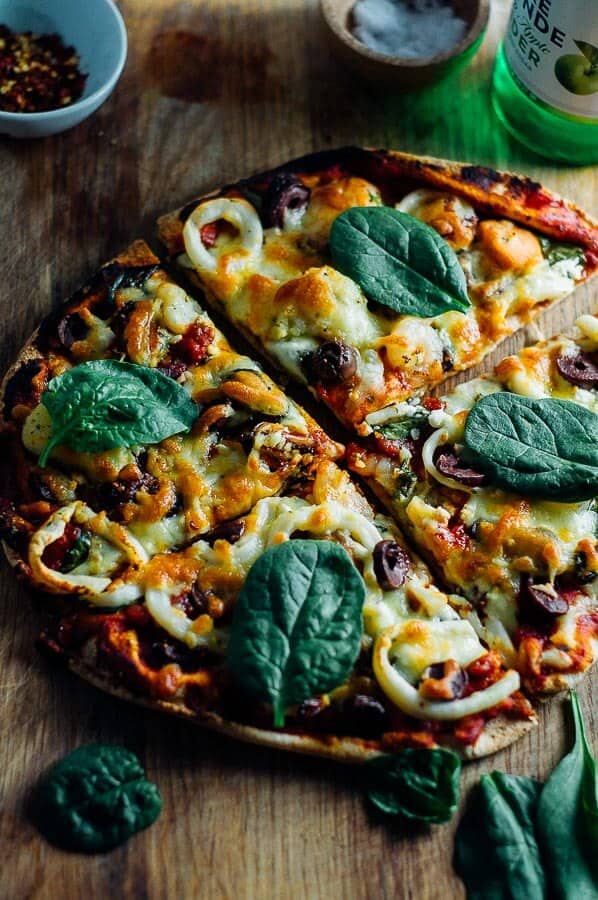 Or, why not try some combinations as your base. Here are some of my favourites, usually mixed at about half and half.
Sundried Tomato Pesto + Tomato Passata
Sundried Tomato Pesto + Tomato Paste
Olive Tapenade + Basil Pesto, Tomato Passata + Basil Pesto
What others can you think Of?
Pizza is absolutely one of my go to Friday night dinners. In fact my husband and I have a little ritual of Friday night pizza, glass of wine, movie and popcorn. Kind of like a date night at home.
But often when he is away working, Pizza is still my go to food on a Friday night, so I often find myself cooking and eating for one on a regular basis.
When you're home alone, it can be easy to overindulge mindlessly in front of the TV. I know. I've done it in the past. But now I like to be a bit more mindful of what I'm eating when it's just me and this Pizza does the trick, being low carb and under 450 calories. Yep, for the whole pizza.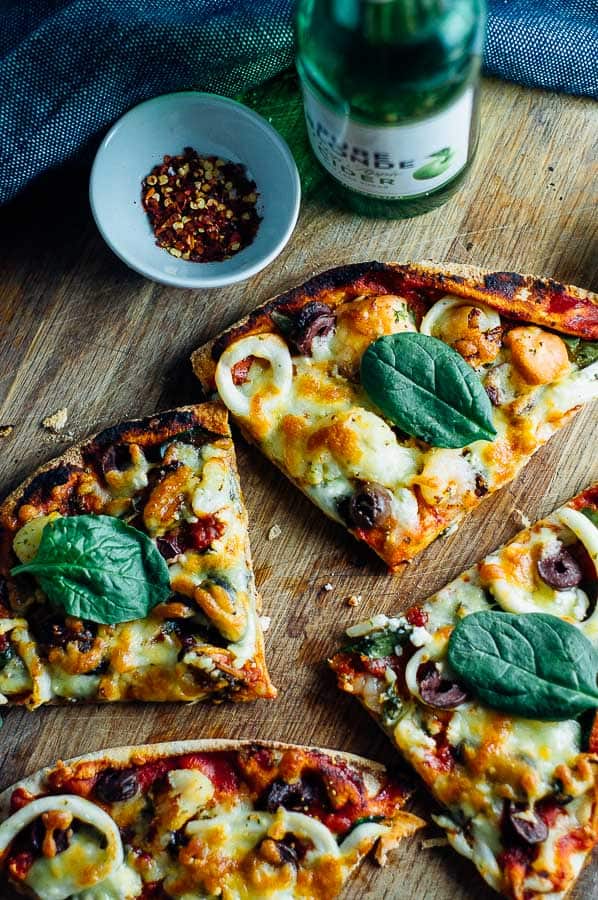 Really what makes this a low carb pizza is the Lebanese bread base and I use them almost exclusively for my pizza making.
Now I know some people can be a bit funny about the marinara mix from the supermarkets, but I buy mine from the local Woolworths and it has always been really fresh and tasty.
All the marinara mixes I've ever bought seem to have pretty much the same four things: prawns (shrimp), white fish, calamari, and mussels. I also find that it is pretty economical to buy as you only need a small amount.
Suspicious about pre-made marinara mix?
Or don't like mussels, there are two options:
You could either

pick out the things you don't like

and disgard them; or

Make your own marinara mix

but buying a few small prawns, and small piece of fish (like whiting), and a small calamari tube.
Other Pizza Recipes: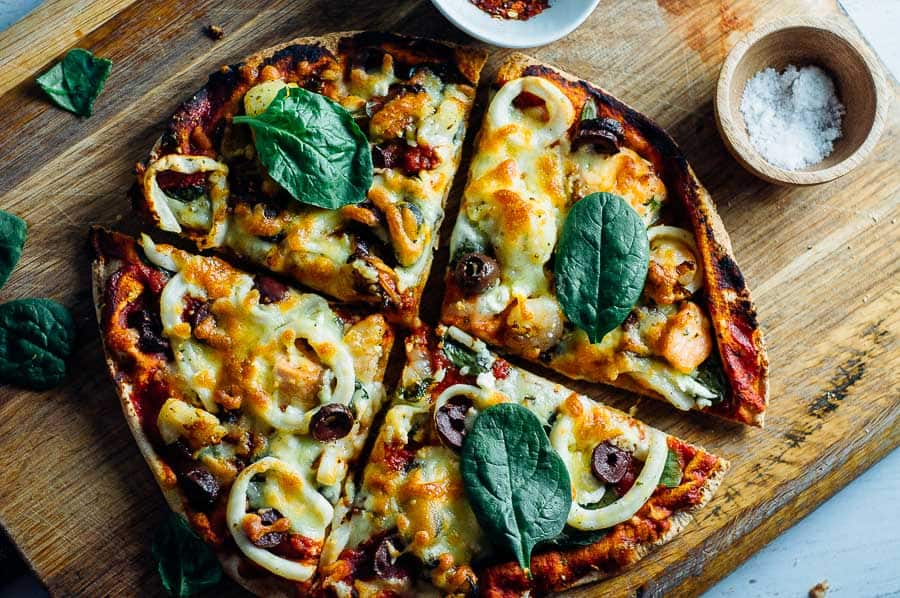 Do You Need To Cook seafood before putting it onto a Pizza?
The answer is "Yes". I always cook it off first in a wok with some butter, dried parsley, basil, and crushed garlic. Usually I find this takes about 3 to 4 minutes. I really wouldn't recommend putting the marinara mix uncooked directly onto the pizza. It might still cook OK, but I haven't tried it.
Pre-cooking it also reduces the time it takes in the oven, even though it creates an additional dirty pan to clean! It is worth the extra effort.
How to Enjoy Your Seafood Marinara Pizza For One
Alone. On a Friday night in front of the TV

Lights dimmed, candle lit

With a glass of good quality Red Wine

With your feet up and possibly snuggled up to your four legged friend (or is that just me?)
And, because it's just you, leave the dishes until the morning. They're not going anywhere.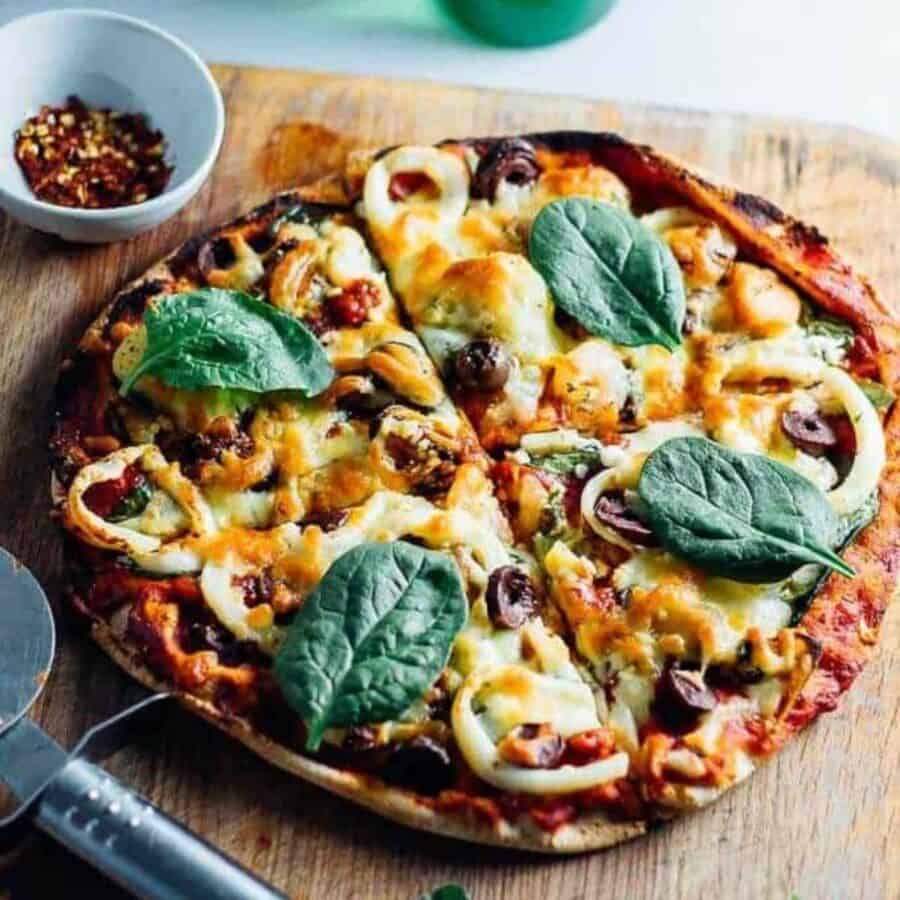 Seafood Marinara Pizza for One
Seafood Marinara Pizza for one is an easy and healthy Friday night make at home take out. It's made using a Lebanese base, and tomato pesto for a flavour hit with a mix of fresh and dried herbs, olives, feta, tasty cheese and the marinara mix, consisting of prawns, fish, calamari and mussels.
Ingredients
1

x 82 gram or 2.9 oz. Lebanese bread

1 

tablespoon 

Sundried tomato pesto

¼

teaspoon

Dried Basil

¼

teaspoon

Dried Oregano

¼

teaspoon

Dried Parsley

150

grams/ 5 ounces Seafood Marinara Mix

6

Kalamata Olives

-

seeds removed and diced

1

teaspoon

Fetta

2

cloves

Garlic

-

crushed

1

teaspoon

Butter

¼

cup

Grated Cheese

-

I used low fat
Instructions
Heat oven to 180 degrees C/350 degrees F

Cook the seafood. In a pan on medium to high heat, add the garlic and butter, followed by the marinara mix (you could add some additional dry herbs if you want some extra flavour). Cook for 3 to 4 minutes until prawns and fish turn translucent. Remove from heat.

Prepare the base. Spoon over the sundried tomato pesto and dried herbs.

Place the spinach leaves down first, and then arrange the cooked marinara mix over the top.

Add the chopped Kalamata olives and sprinkle the feta over.

Finally add the grated cheese.

Put it in the oven and bake for 15 to 17 minutes at 180 degrees C/350 degrees F
Notes
Seafood marinara mix is general available from the seafood counter at your local supermarket and consists of fish, salmon, squid rings, prawns and mussels.
Nutrition
Serving:
1
pizza
Calories:
438
kcal
Carbohydrates:
12
g
Protein:
37
g
Fat:
21
g
Saturated Fat:
8
g
Fiber:
3
g
Sugar:
3
g
Note: Sugars contained in this recipe are from naturally occurring sugars in fruits, vegetables or other natural sweeteners.
Looking To Cut Out Sugar? Get the FREE Healthy Food Swaps Checklist Pack!
Get your FREE Healthy Food Swaps Checklists with over 65 Healthy Food Alternatives to Help you Ditch The Sugar Without Feeling Deprived.