These Peanut Butter Bliss Balls are made with Medjool dates, natural no added sugar peanut butter, almond meal, walnuts, shredded coconut, and unsweetened Cocoa Powder.  They are healthy, filling, free from refined sugars, and will keep you fuller for longer.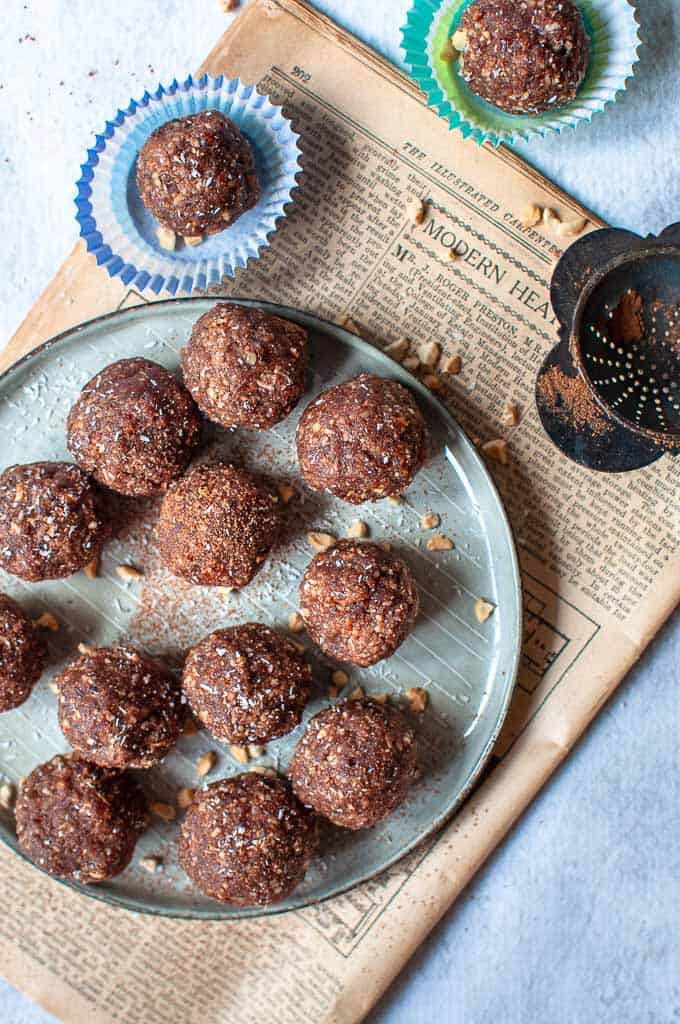 What is a bliss ball
A Bliss Ball is a ball shaped snack that is easy to make, portable, and can be eaten in 2 or 3 bites.  Generally about the size of a golf ball or a little smaller, they can come in all manner of flavours and textures.  Some of my favourites are Lemon Cheesecake Bliss Balls, Apricot Bliss Balls, Cocoa Bliss Balls, Sugar Free Bliss Balls, and these Date Free Bliss Balls
Other healthy clean eating Bliss Balls you might like:
How do you make bliss balls stick
The easiest way to get your bliss balls to stick together is to add water.  If you've added the wet ingredients to the dry ingredients and the consistency is still too dry, try adding one teaspoon of water at a time until you can scrunch a golf ball size amount and it stays together without liquid seeping out.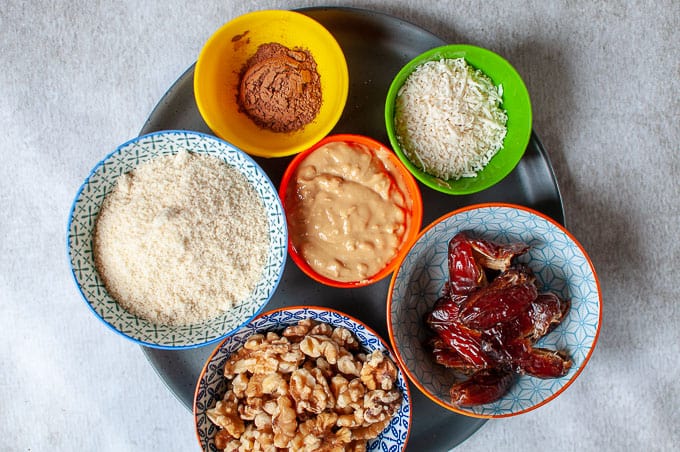 If water is not helping, the other options are adding a couple of room temperature softened dates blitzed in a food processor, blender or mortar and pestle.  A second option is a small drizzle of raw honey, and the third option is a small amount of nut butter of some description (cashew nut butter, almond butter, peanut butter)
Can Bliss balls be frozen
Yes, bliss balls can be frozen.  I do this all the time.  I like to make a batch and store them in Chinese food containers.  I find they keep well for upto 4 weeks.  To defrost, let them come to room temperature naturally before eating, or put them in the fridge overnight to thaw out.  I would avoid microwaving them.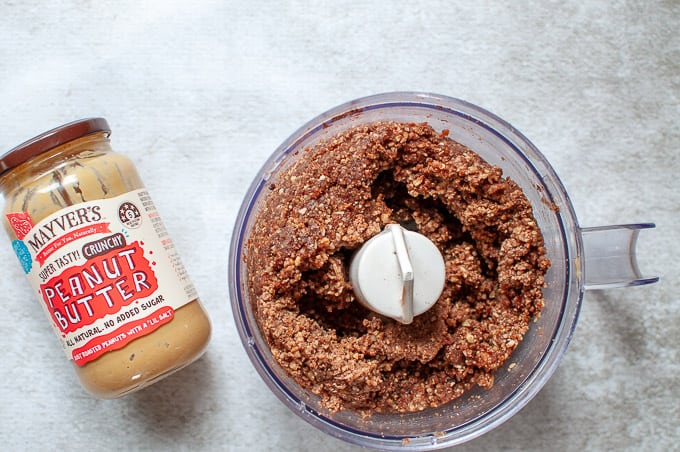 How do you make healthy chocolate balls
To make healthy chocolate balls the essential base ingredients are ingredients are cocoa powder, nuts (eg: walnuts, pecans, cashews), you favourite nut butter, and almond meal.  These ingredients provide the base flavour, texture and binder, whilst also avoiding refined sugars but ensuring a nice amount of protein.
Related:  Peanut Butter Date Cookies
Tips for making bliss balls without a food processor
Put the nuts into a ziplock bag between a folded tea towel and roll a tin over to break them up.
Soak the dates in warm water for a few minutes and let them drain thoroughly. Then put them into a bowl and mash them into a paste with a fork.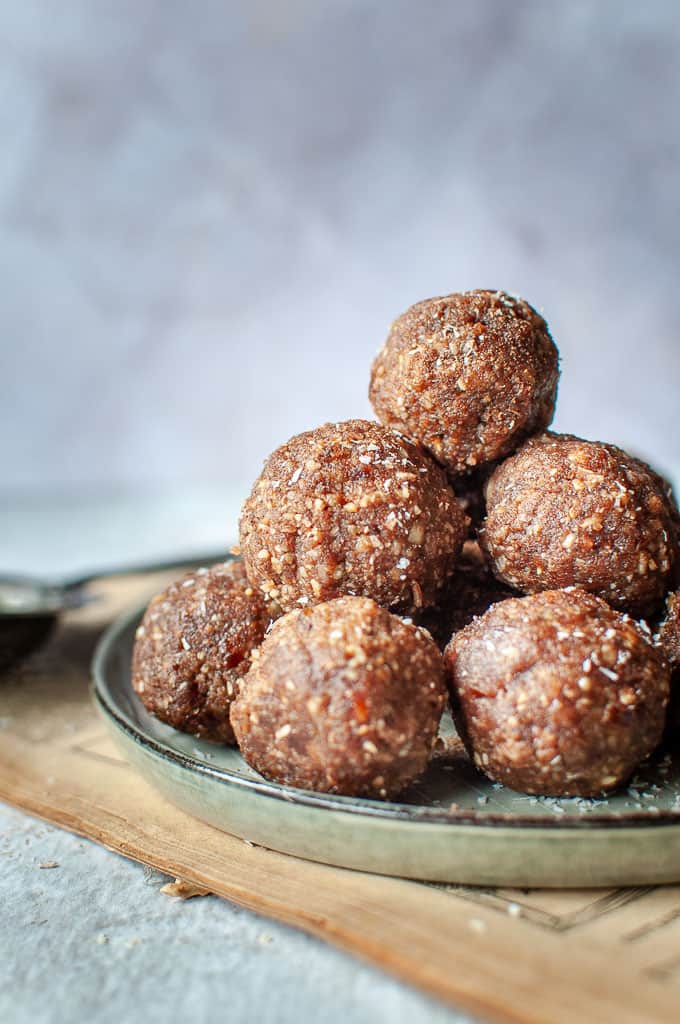 My favourite thing about these chocolate peanut butter energy balls is that you can really taste the peanut butter.  It is definitely the hero ingredient which is a big plus if you love peanut butter like I do.  Each bliss ball also has 6 grams of protein, is low in carbs and fat.
These tasty versatile snacks are quick and simple to make, they freeze well, and they're a healthier alternative to processed store bought snacks.
These bliss balls are for you if you like easy quick wins in the kitchen, want to plan ahead to have snacks at the ready and if you love peanut butter and chocolate together.
Like what you see? Follow me on Facebook or Pinterest! Did you try a recipe? Tag me on Instagram: @mysugarfreekitchen, and leave a comment & star rating!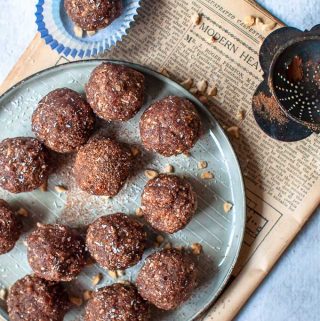 Peanut Butter Bliss Balls
These Peanut Butter Bliss Balls are made with Medjool dates, natural no added sugar peanut butter, almond meal, walnuts, shredded coconut, and unsweetened Cocoa Powder.
Ingredients
½

cup

Peanut Butter

1

cup

Almond Meal

8

Medjool Dates

room temperature, seeds removed

1

tablespoon

Unsweetened Cocoa Powder

1

cup

Walnuts

¼

cup

Shredded Coconut

2

tablespoons

water
Instructions
Place the almond meal, walnuts, coconut and cocoa powder into a food processor and blitz for 10 seconds.

Add the dates, peanut butter and water. Blitz for 20 to 30 seconds or until broken down.

Remove mix from the food process or and place into a bowl

Roll into 14 evenly sized balls (a little smaller than a golf ball).

Refrigerate (covered) for 1 hour or more before eating.

Store in an air tight container in the fridge for 5 days. Or freeze for upto 4 weeks. If freezing, I recommend letting bliss balls defrost naturally before eating, or let them thaw out in the fridge overnight before eating.
Nutrition
Calories:
233
kcal
Carbohydrates:
15
g
Protein:
6
g
Fat:
18
g
Saturated Fat:
5
g
Fiber:
3
g
Sugar:
10
g
Pin This Recipe for Later!
★ Did you make this recipe? Don't forget to give it a star rating below!