Who doesn't love a chocolate treat that is healthy, nutty, coconutty and tastes really good!  That is what these chocolate nut cups are.  They are free from refined sugars and are very easy to make.
All you need is  4 ingredients, a food processor, saucepan, bowl and muffin tray.  This whole ensemble can be put together in about an hour and then you will have healthy and delicious after dinner sweet treats for a whole week wrapped up.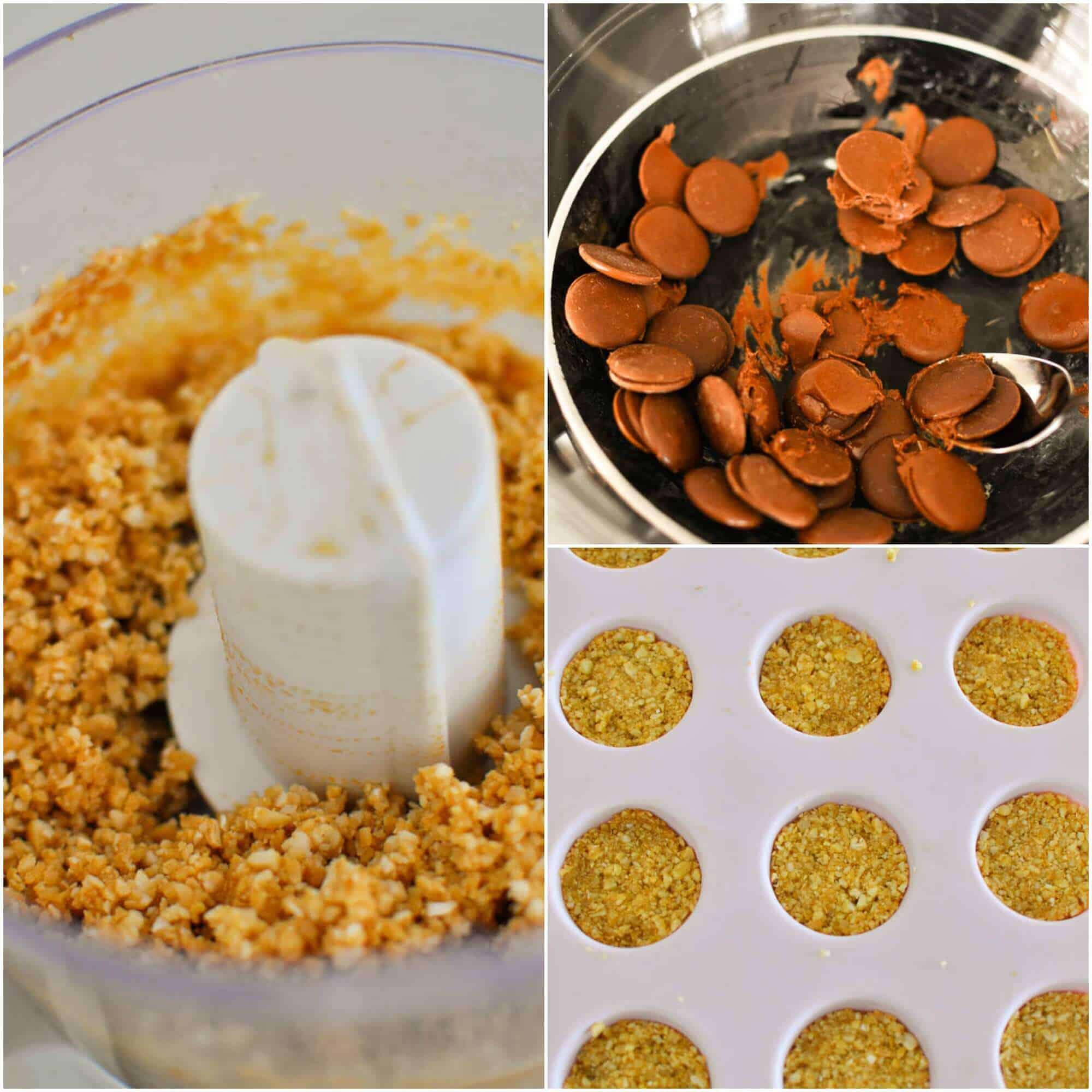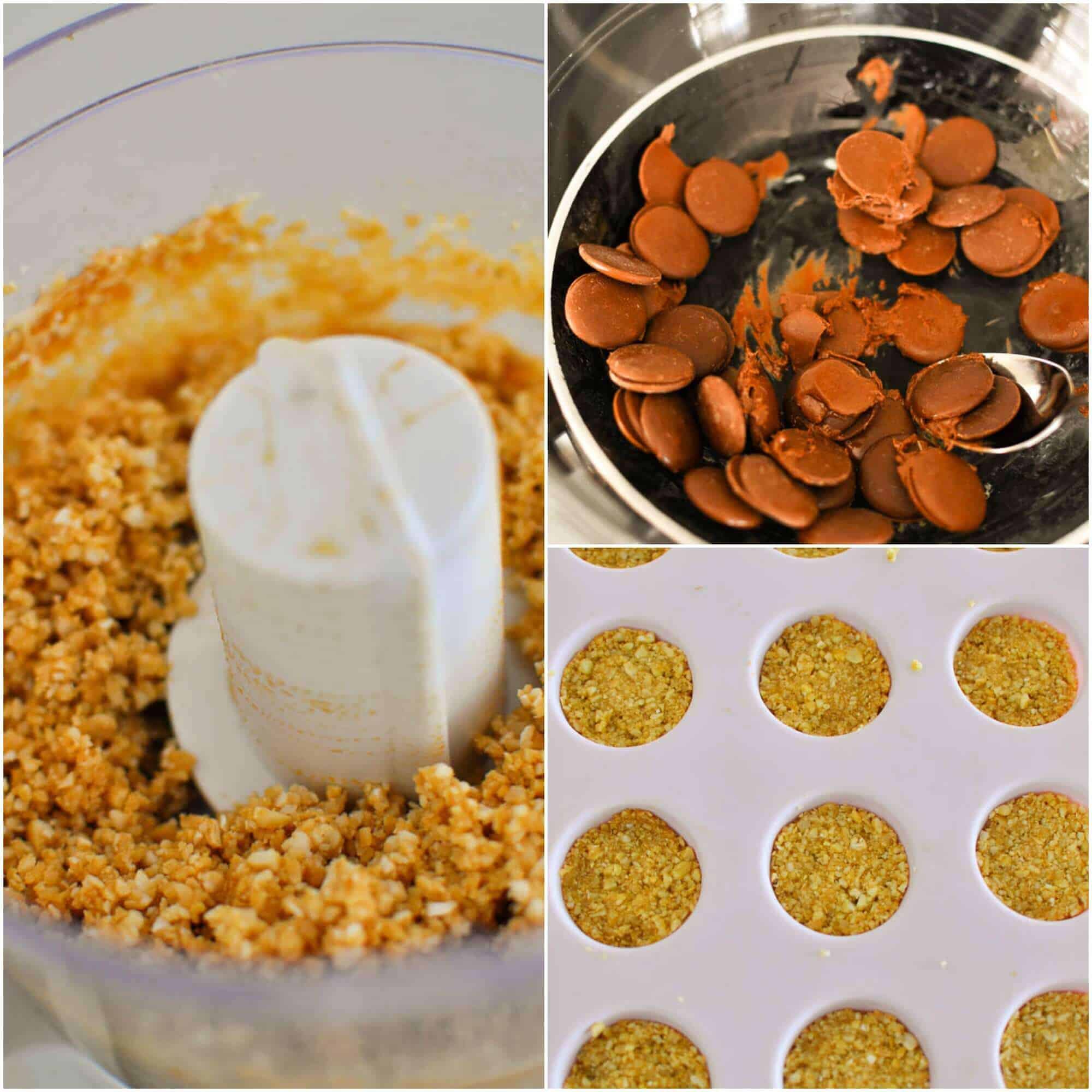 I don't know about you, but after dinner no matter how full I am I can always find room for something sweet.  I know I want satisfy my sweet cravings, but I don't want it to come with a side of calories or an awful sugar high that will soon thereafter make me feel guilty and regretful for indulging.
I use cashew nuts for these chocolate nut cups because they are easy to get where I live and not too expensive.  But equally you could use hazelnuts, brazil nuts or probably even walnuts.  Let's face it, most nuts taste good when covered in chocolate!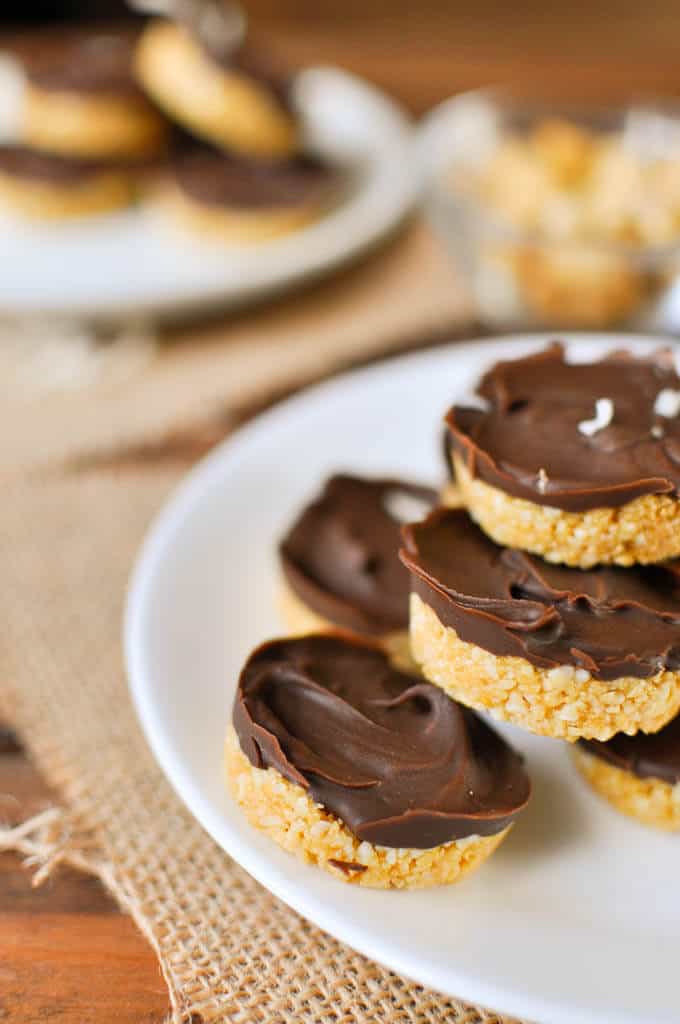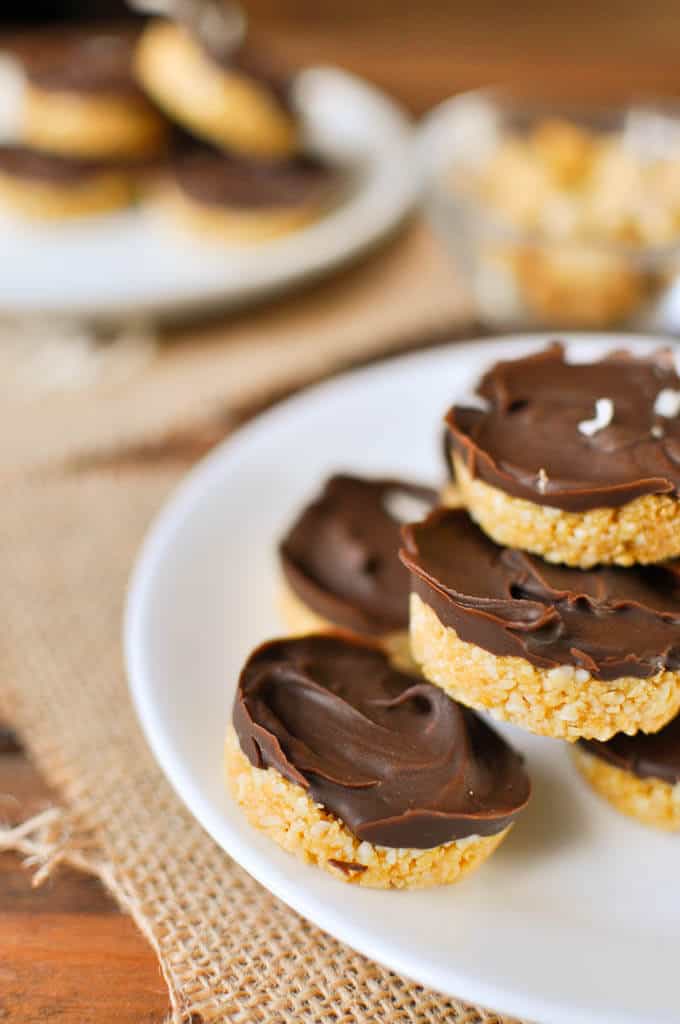 What are Cashew Nuts
Cashew Nuts have a buttery, sweet, and salty taste, an unmistakable shape, and they are an excellent source of vitamins and minerals. They grow on cashew nut trees, which are native to subtropical climates and are abundant in Queensland where I am from.  Cashews are e.v.e.r.y.w.h.e.r.e
Chocolate nut cups  are something I have made time and time again as they are the perfect size – portion controlled, and even though they are a small package in terms of dessert, having just one, is oddly filling.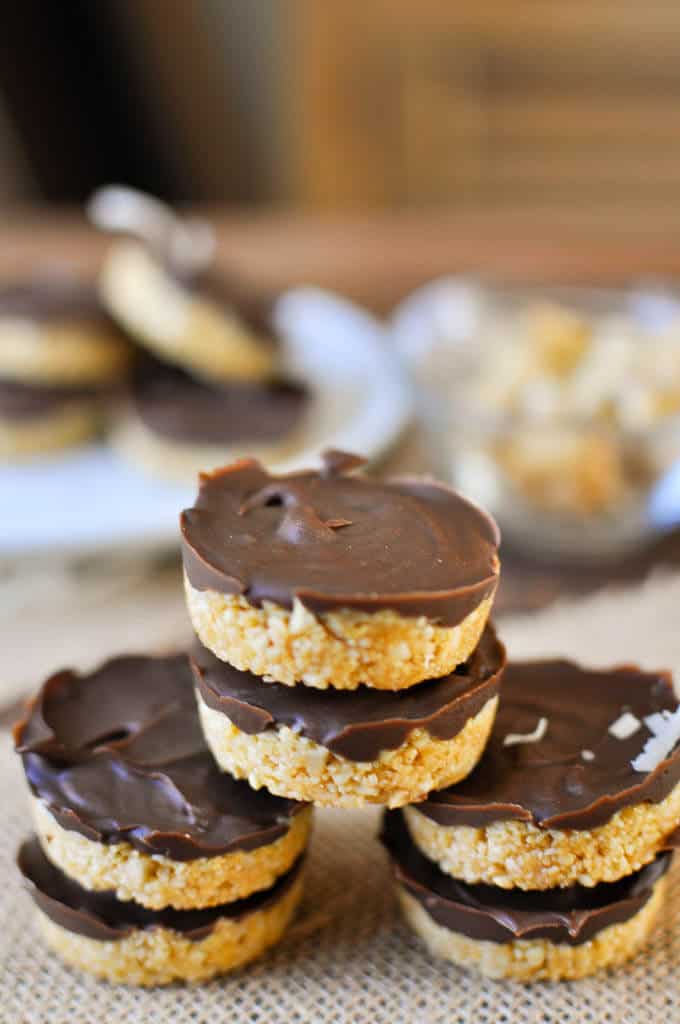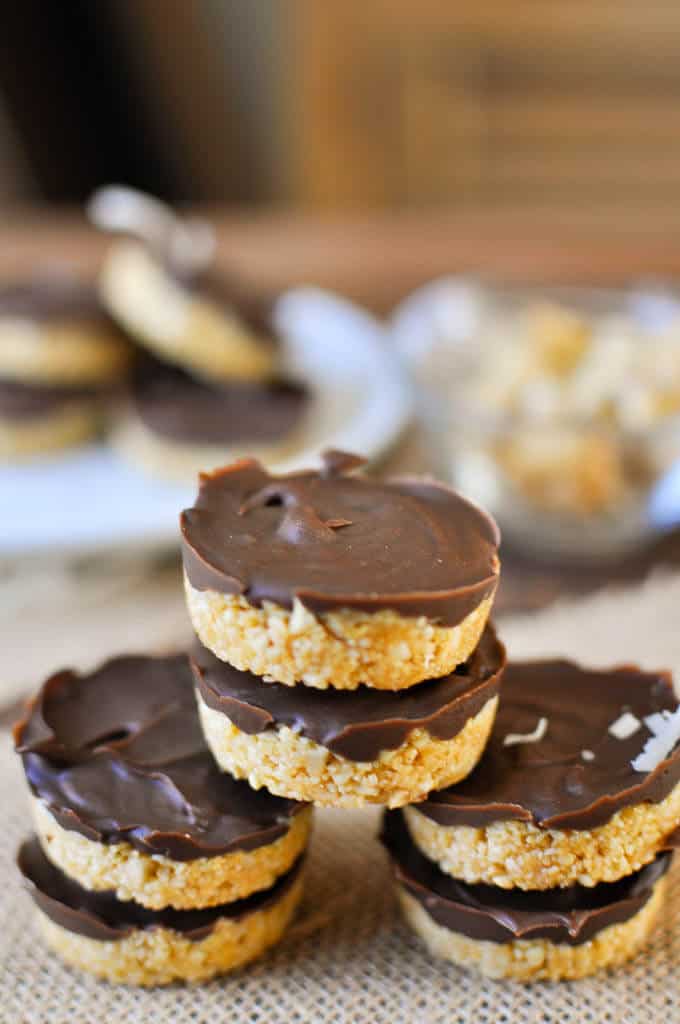 I think I'm becoming a little bit obsessed with these sugar free chocolate cups because I keep coming up with all these new flavour combinations that I want to try and I have been keeping a list of all the ones I want to try making like cherry ripe, coconut bounty, macadamia and apricot, strawberries and cream.
I just have to remember not to get too carried away and make them all at once!
Checkout some of my other sugar free chocolate desserts: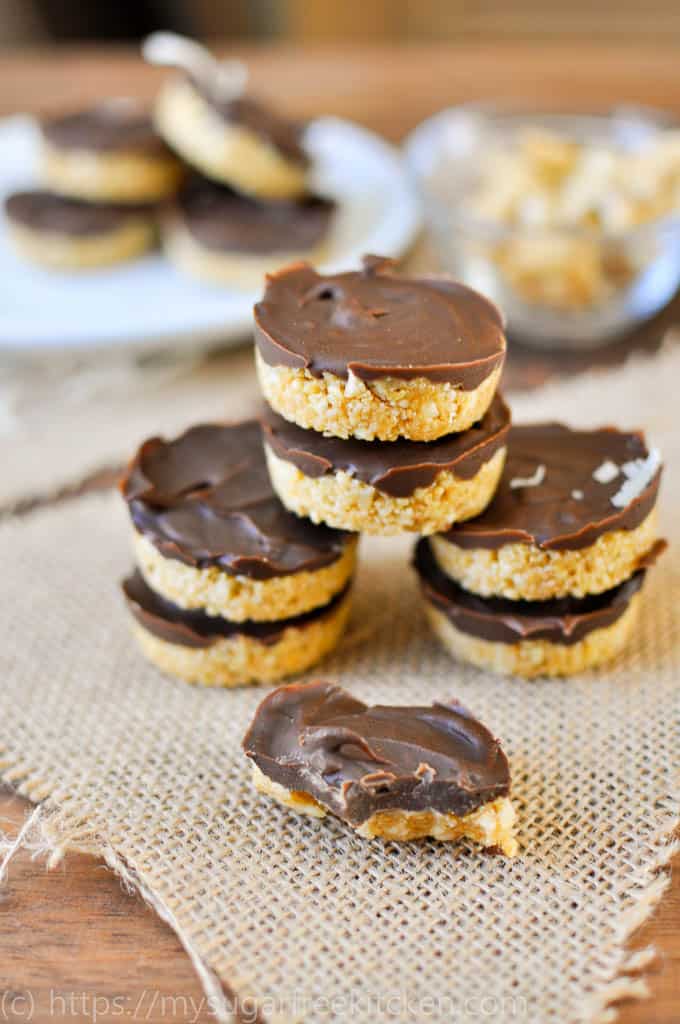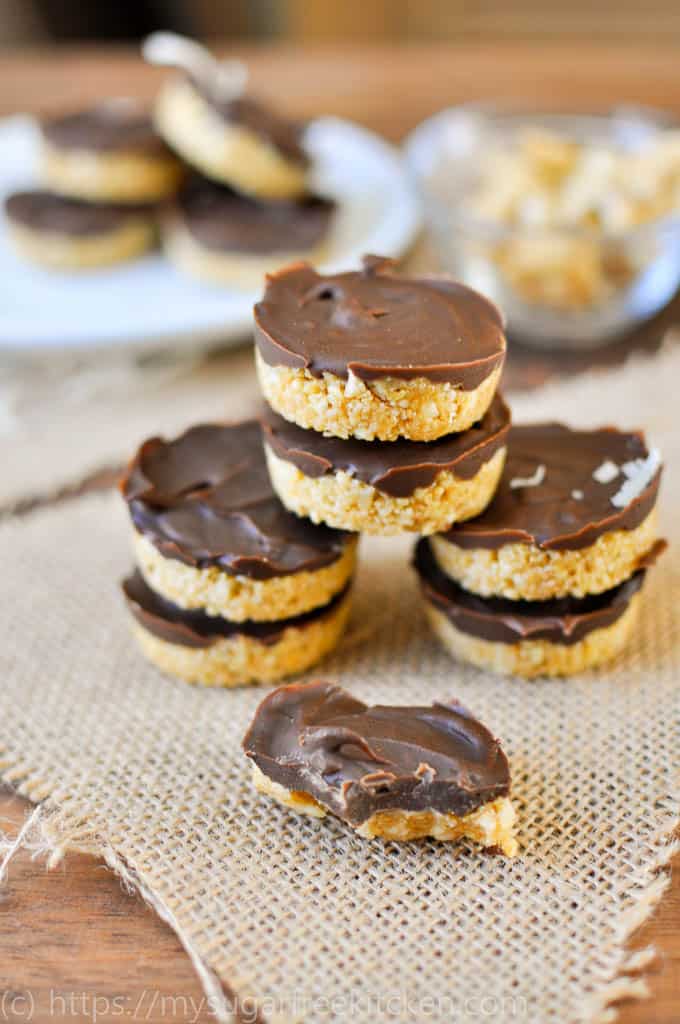 The good thing is now I know that I have my after dinner sweet tooth sorted cause I can whip up these little gems in under an hour and have them on tap, waiting for me…
Like what you see? Follow me on Facebook or Pinterest! Did you try a recipe? Tag me on Instagram: @mysugarfreekitchen, and leave a comment & star rating!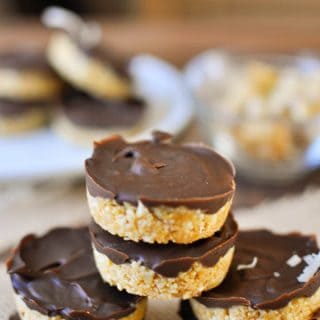 Chocolate Nut Cups
These chocolate nut cups are super easy to make and it tastes delicious. Cashew Coconut and Chocolate are what you need to cure your after dinner sweet craving and at just 86 calories and free from refined sugars, what could be better!
Print
Rate
Ingredients
1/2

cup

Sugar Free Chocolate

1/2

cup

Cashews

2

tablespoons

Shredded Coconut

1

tablespoon

Water

1

tablespoon

Granulated stevia (that measures like sugar)
Instructions
Prepare the Filling: In a blender, blitz the cashews, coconut, water and stevia until it resembles a dough consistency

Separate filling into 12 even pieces

Using a 12 hole silicone mini muffin tray, press each piece firmly of filling into a muffin cup.

Make sure to leave some room at the top of each cup for the chocolate top.

Place in fridge for 15 to 20 mins to firm up.

Melt the Chocolate: On the stove, heat a small pot of water on medium heat and place a glass bowl on top to create a bain maree. Place chocolate in glass bowl straight away (don't wait for it to heat up). The chocolate should melt gradually as the water heats the bottom of the glass bowl. Around 10 mins or so.

Take chocolate off the heat just before it is all melted as it will continue to do the last bit of melting once of the stove from the residual heat of the glass bowl.

Bring it all together: Get the muffin cups out of the fridge and using the tip of the handle of a teaspoon, paint the chocolate onto of the cups so that it comes right to the top. Work quickly to ensure that the hot chocolate doesn't melt the filling.

Once the chocolate is in place, put them back in the fridge to set for 15-20 minutes.
Notes
These chocolate cups should be stored in the fridge in an air tight container and will last for around 5 days
In Australia, you can get sugar free chocolate from most health food stores, or you can buy it off Amazon.
Nutrition
Calories:
86
kcal
|
Carbohydrates:
7
g
|
Protein:
4
g
|
Fat:
12
g
|
Saturated Fat:
5
g
|
Fiber:
2
g
|
Sugar:
3
g
Did You Make This Recipe?
Mention @mysugarfreekitchen or tag #mysugarfreekitchen!
★ Did you make this recipe? Don't forget to give it a star rating below!