Almond Flour Peanut Butter Cookies are the perfect cookies to whip up when you want cookies now and don't want a lot of mess to clean up after!.  Full of peanut butter goodness where you can actually taste the peanut butter in the cookie!  These are dairy free and made with almond flour,  making them gluten-free, low in carbohydrates, high in fiber and a high source of protein!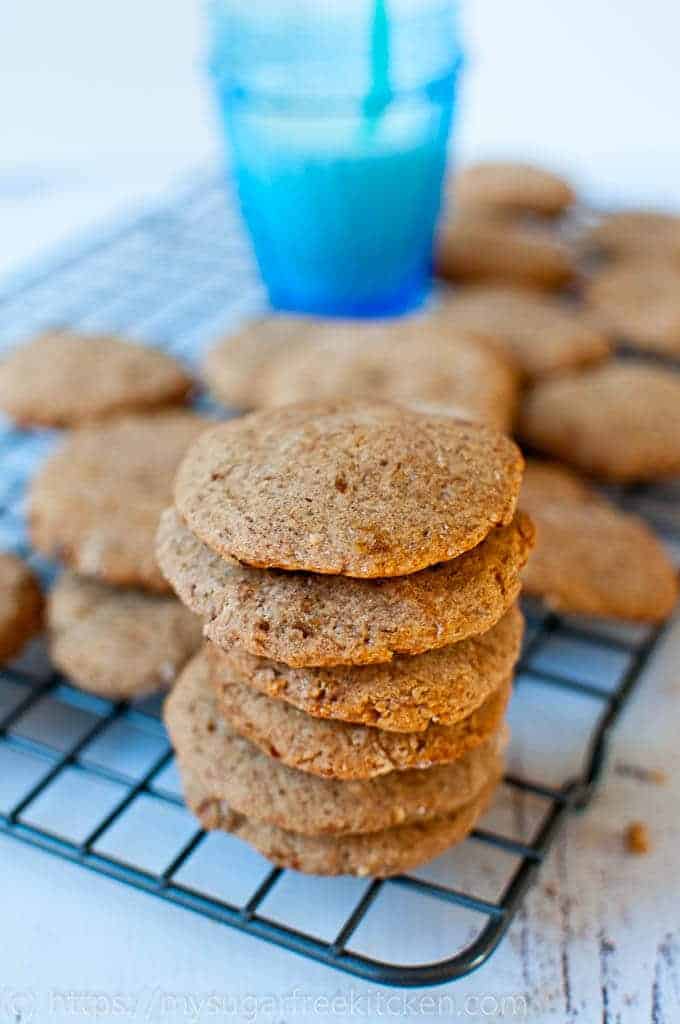 All round winner!  They are just so easy to make, it really is ridiculous.  This was my first time making a peanut butter type cookie and being a devoted fan of the stuff, I wasn't disappointed.
Almond Flour Peanut Butter Cookies are Perfect For "On the Go"
I don't know about you, but I always have to keep snacks in my handbag and in my desk draw because I know at some stage I'm going to get the munchies and I need to have something healthy on hand, or I'll likely be tempted by the ever present vending machine.  These cookies are perfect for:
After Dinner when you need a little something because you're not quite full
Keeping in your desk draw for when you get the 3pm munchies
Keeping in your Handbag when you get the munchies caught at traffic lights
Putting in your kids lunchboxes (or yours, or hubbys)
To tide you over when you leave work to when you get home
After a gym workout to replenish your energy levels
Before a gym workout to get rid of the awful empty stomach feeling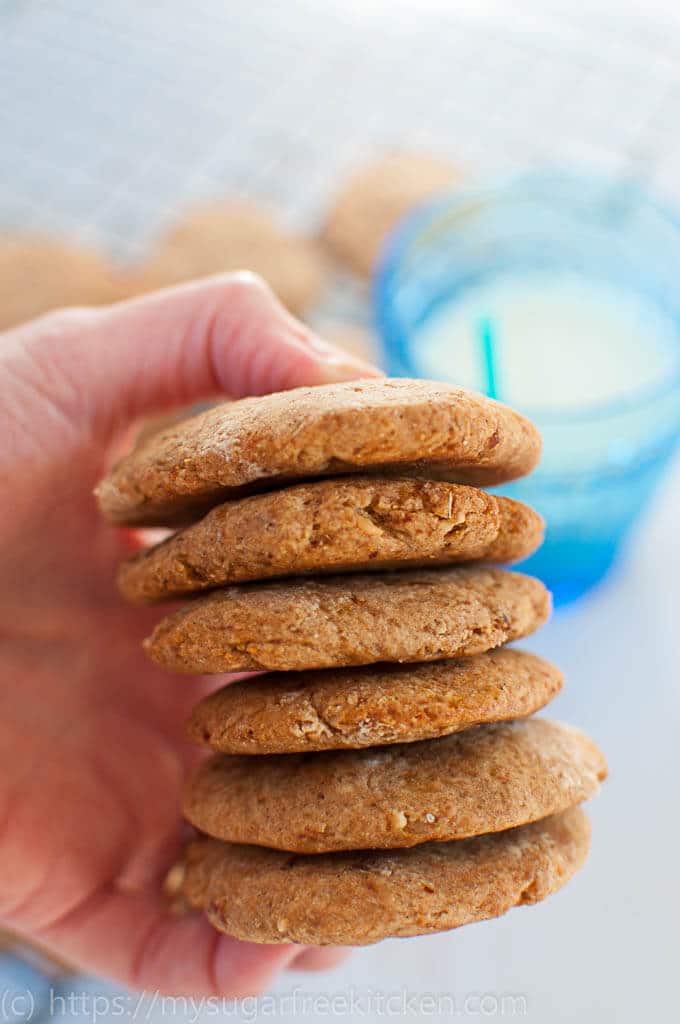 These cookies turned out firm on the outside and chewy on the inside.  The texture is a slight crumble with an unmistakable peanut butter aroma, especially as they come out fresh from the oven!
When choosing your peanut butter, make sure to choose an all natural one with no sugar, and for this recipe, I used a smooth peanut butter as that is what I had on hand, but I think it would actually be awesome with crunchy peanut putter for the added texture.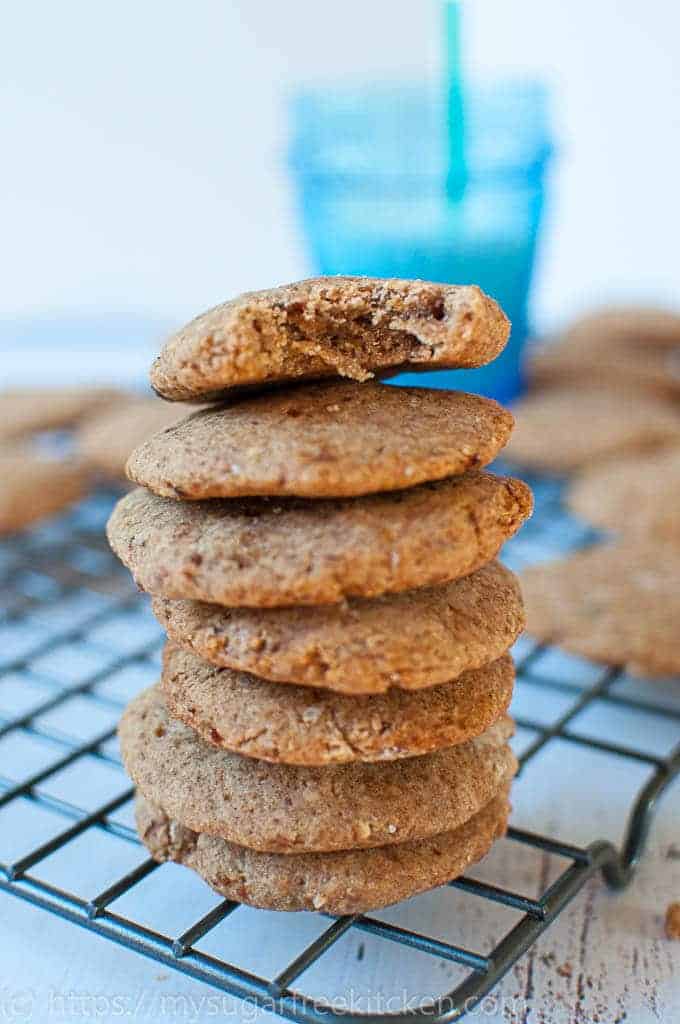 My granulated stevia of choice is Natvia Stevia Sweetener that measures like sugar, which is a big selling point for me, not mention the absence of bitter aftertaste.  You can read more about Natvia Stevia Sweetener here.
I use it in almost all my sweet recipes and even savoury dishes – yes that means Dinners, especially when some kind of sauciness is involved like my Cashew Nut Chicken, or Chicken Chilli with Basil.  Of course I also used it in my Vanillia Oat Protein Cookies as well.  They have an extra protein boost thanks to the addition of the vanilla protein powder I used in conjunction with the flour.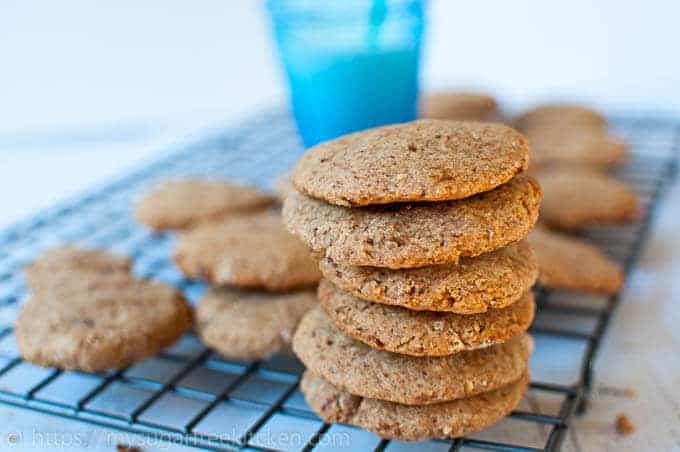 Now, back to my peanut butter babies.  Depending on the size of your oven, you can make 24 on two baking trays (12 on each) at 13 minutes, or if like me you have a smaller oven and have smaller trays, I put 6 on each tray, and did two bakes, which makes it 26 minutes.  Four minutes for the initial prep and you're up 24 cookies in 30 minutes.  Phew, that's a lot of numbers!
Like what you see? Follow me on Facebook or Pinterest! Did you try a recipe? Tag me on Instagram: @mysugarfreekitchen, and leave a comment & star rating!
Print
Almond Flour Peanut Butter Cookies
Full of peanut butter goodness where you can actually taste the peanut butter in the cookie! These are dairy free and made with
almond flour
, making them gluten-free, low in carbohydrates, high in fiber and a high source of protein!
Ingredients
1/4

cup

Dates (roughly chopped)

3

cups

Almond Flour

1

medium Egg

2

teaspoons

Vanilla bean paste

¼

cup

coconut Oil

¼

cup

Granualted Stevia

½

cup

melted peanut butter

(I use Kraft sugar free peanut butter)

Pinch

salt

100

ml

Water
Instructions
Preheat oven to 180 degrees C/350 degrees F

Place all ingredients into a food process and whizz until combined

Divide the cookie dough in half and half again so you have four portions. Each portion will make 6 cookies.

Spray two baking trays or cookie sheet with coconut oil. 2 portions per tray.

Depending how big your trays are, you may be able to do it all in one go. Otherwise start with one portion and separating into 6 smaller balls and placing in the tray gently flattening with the heel of your hand. Repeat with other tray. (So, 12 cookies, 6 on each tray, unless you have 2 huge trays and a huge over and can do them all at once!)

Bake at 180 degrees C (Fan Oven)/350 degrees F for 13 minutes
Notes
The recipe above makes these cookies sugar free and dairy free, however you could replace the coconut oil with butter if you want for a more crumbly texture.
Nutrition
Serving:
1
Cookie
|
Calories:
140
kcal
|
Carbohydrates:
6
g
(2%)
|
Protein:
5
g
(10%)
|
Fat:
12
g
(18%)
|
Saturated Fat:
3
g
(15%)
|
Fiber:
2
g
(8%)
|
Sugar:
2
g
★ Did you make this recipe? Don't forget to give it a star rating below!