These sugar free vanilla cookies are the easiest cookies I've ever made. Not only that, they are dairy free, refined sugar free, each cookie is only 154 calories. Enjoy them soft and chewy or a little firmer.
They are packed with the vanilla, dates and chia and are a good healthy option to store bought sugar laden cookies that make you feel like you want to eat the entire packet.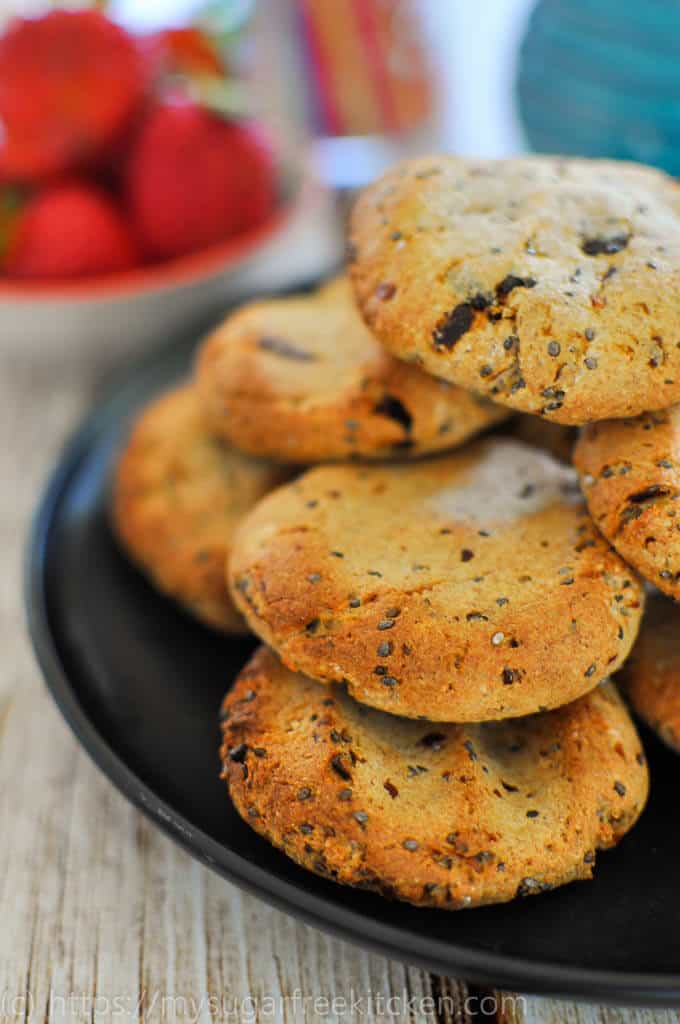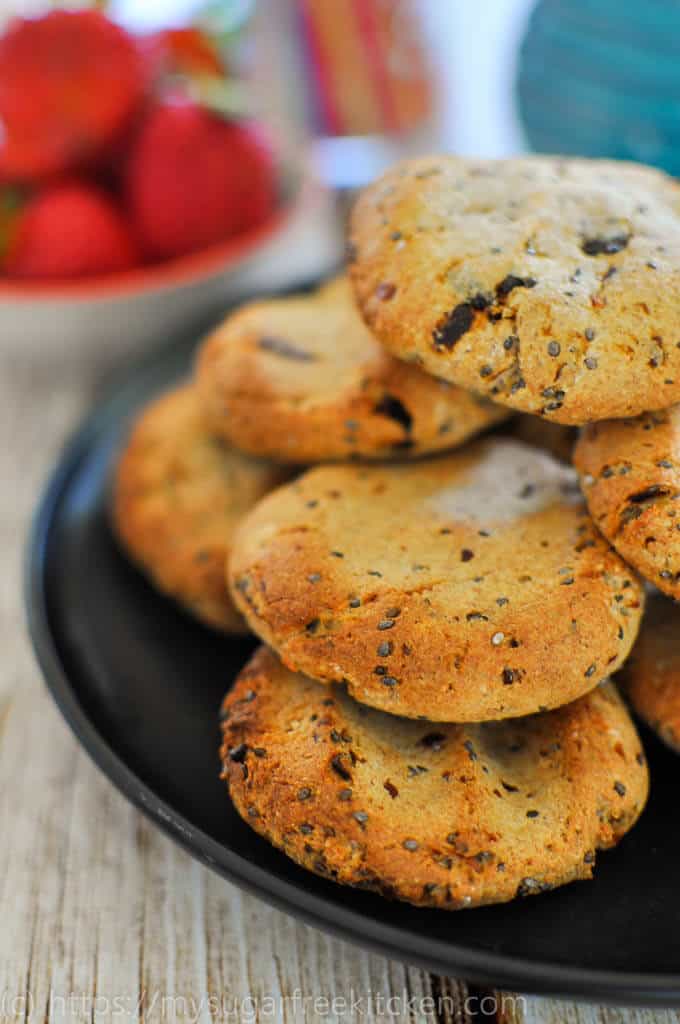 Chia Seeds in Cookies
Chia seeds are perfect to add to cookie dough. They add additional protein to the cookie which helps to keep you fuller for longer and are full of omega 3's, antioxidents and iron.
Making Cookie Dough In A Food Processor
Once the dates are chopped, you just throw all the ingredients into a food processor and blitz until the cookie dough is formed.
Then its onto breaking up the cookie dough into 24 portions and rolling them into bite size yummy balls of goodness, arranging on a cookie sheet lined with baking paper and baking for 13 minutes. Super simple.
I find that I can fit both cookie trays in my oven at once, so in 13 minutes, I have 24 perfectly formed, healthy, high protein sugar free cookies that I can take to work for snacks, eat on the go after gym, or have as a snack with my cup of tea before bed.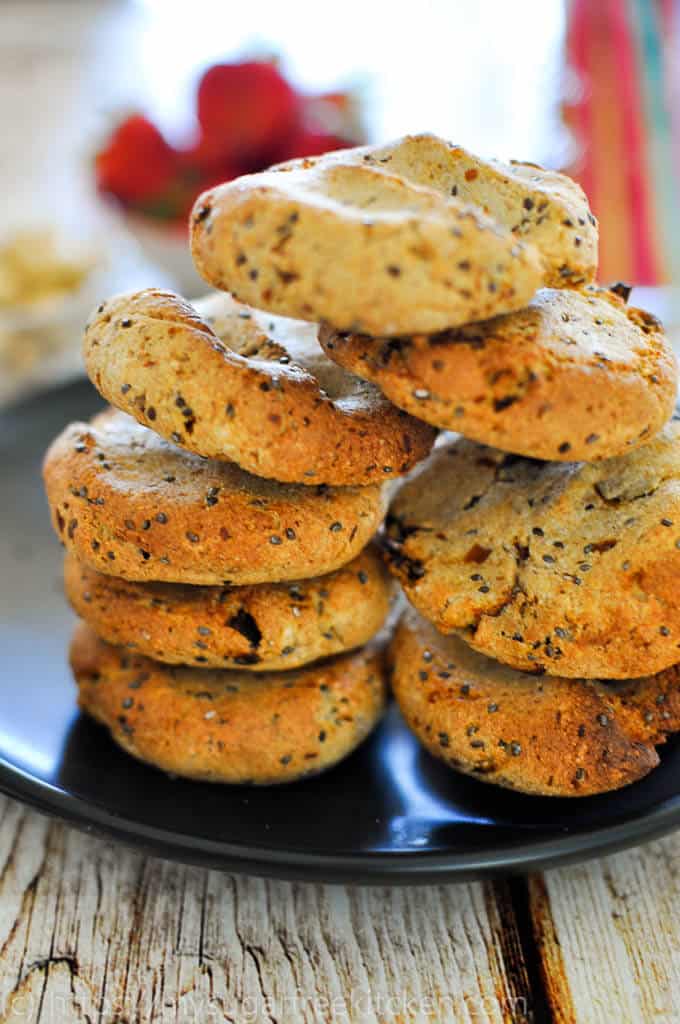 Okay so, I don't have a cup of tea and a cookie every night, especially in summer, but when winter hits, its on! Cup of tea and cookie before bed e.v.e.r.y night – there is just something comforting about it that I find relaxing and calming.
TIP: When I make these, I also usually keep a little plastic container in my handbag with 2 cookies in so that if I get the munchies I have something healthy on hand and don't have to resort to buying something bad, like from a vending machine, or a convenience store!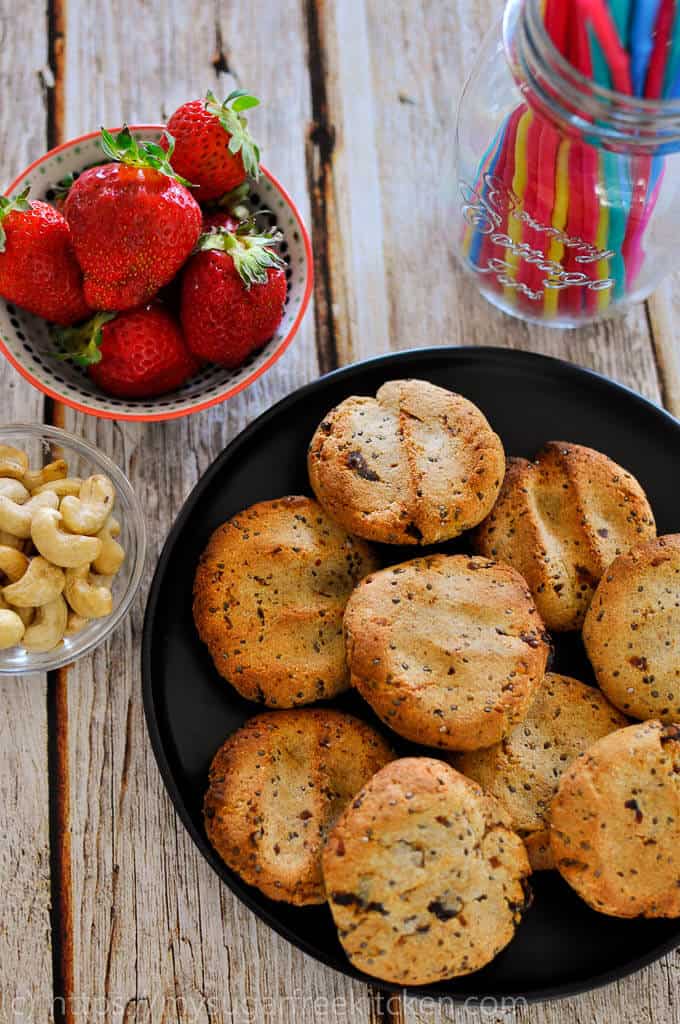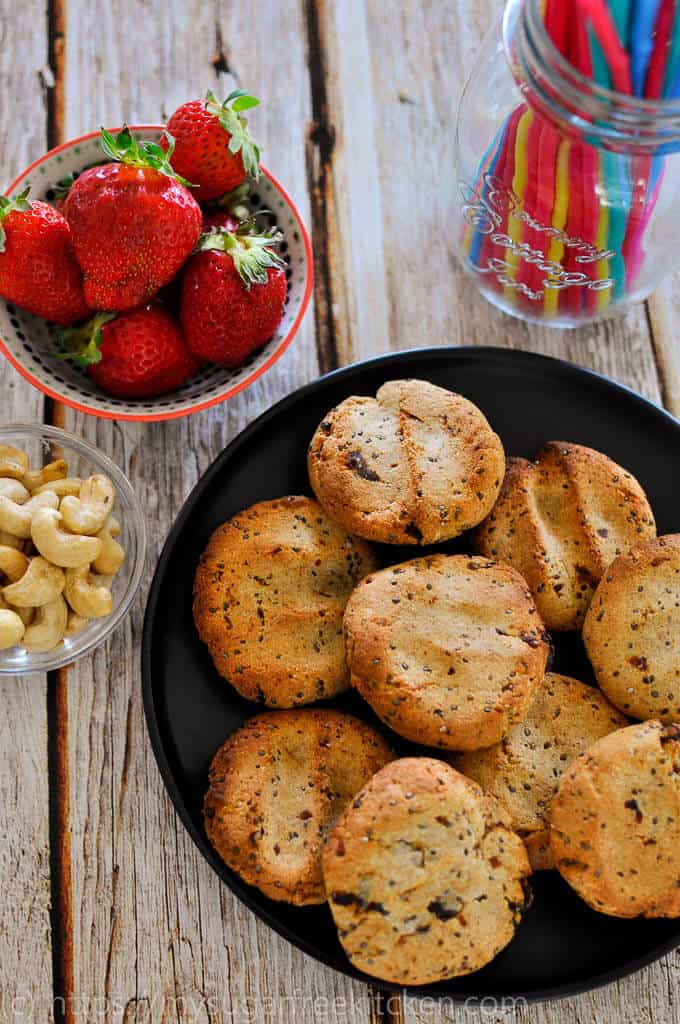 When you bite into these cookies you'll get a real hit of vanilla which I love with the usual crunch and crumble of a bake your own, know what's in it healthy cookie.
TIP: to make these cookies firm all the way through (rather than soft and chewy) you could leave them in the oven once they are finished cooking, but turn the oven off and just let the residual heat do its work – probably an additional 2 to 3 minutes would do it.
Looking for some other healthy sweet treats to satisfy your sweet tooth and keep cravings under control? How about these sugar free ginger biscuits, or sugar free chocolate chip muffins with blueberries, sugar free bliss balls, or sugar free and wheat free banana bread.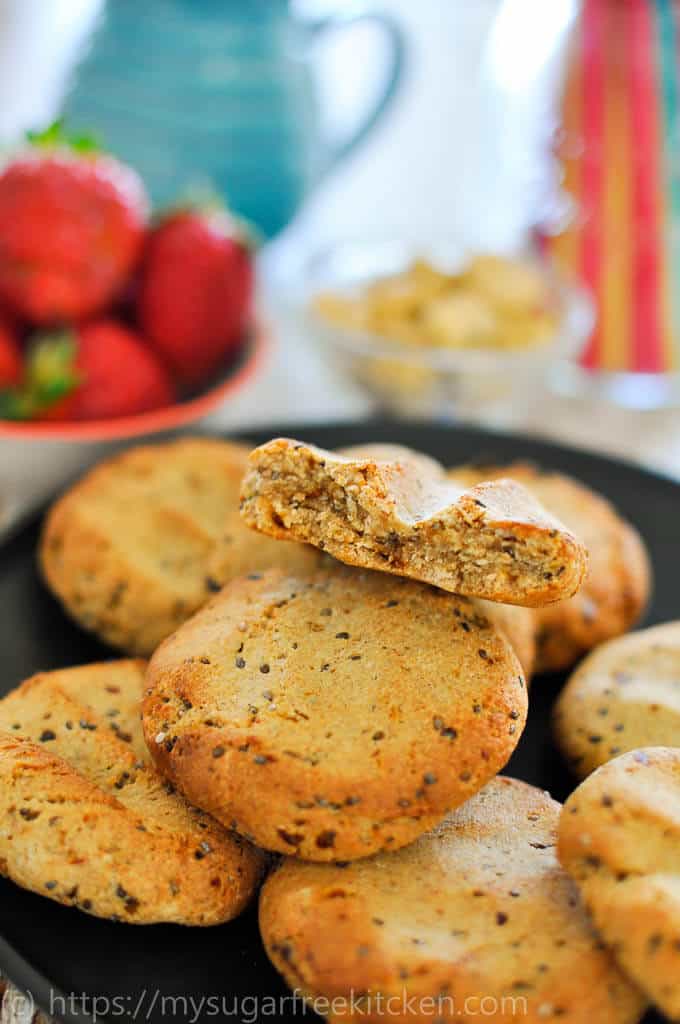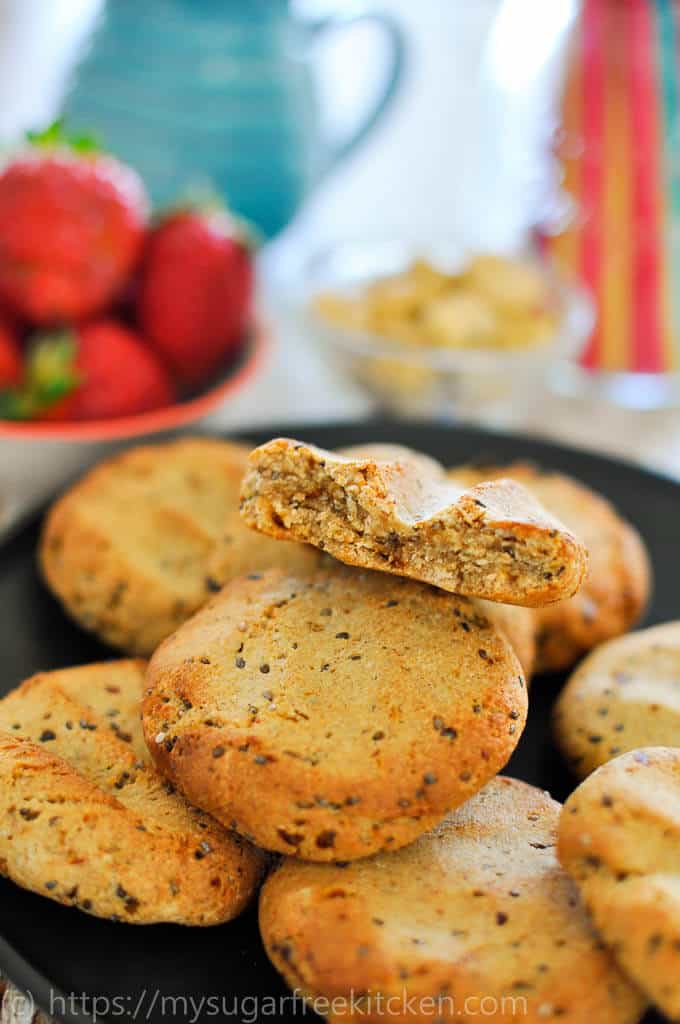 This is one of my favourite cookie recipes because it is so quick and easy to make and the recipe works every time. And sometimes, I confess, I just get sick of cake and muffins and want something with a crunch and crumble and a different texture. These fit the bill perfectly!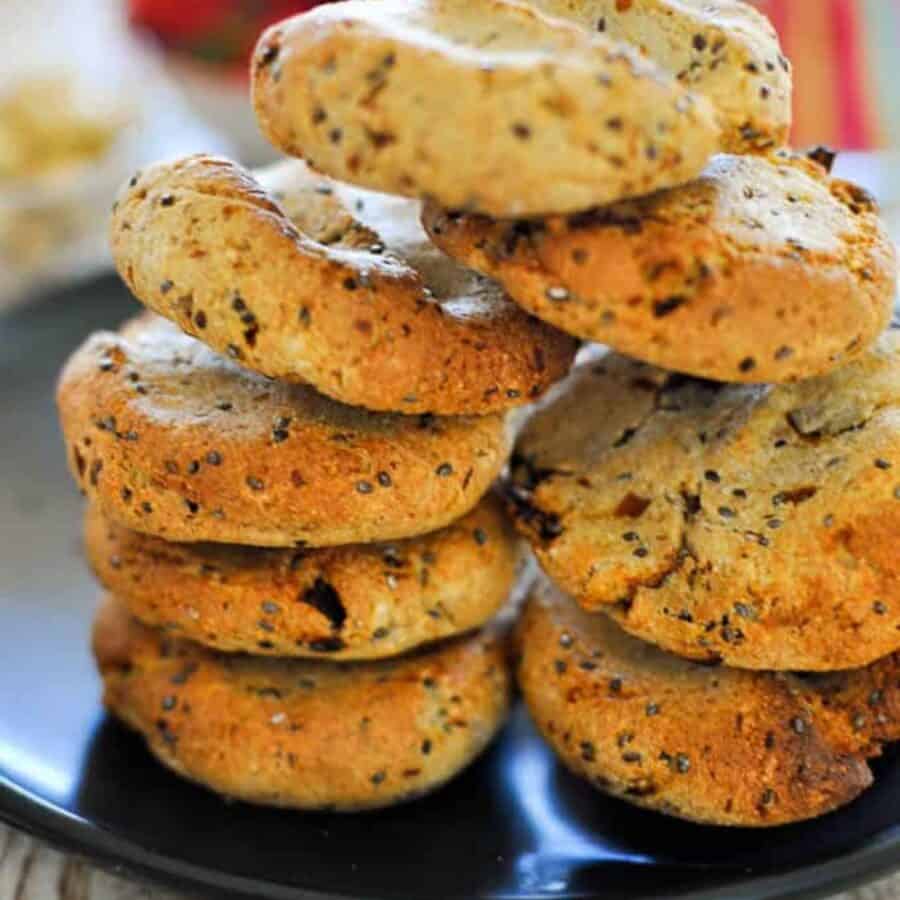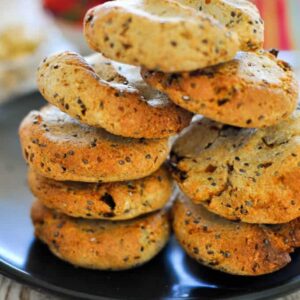 Sugar Free Date, Almond and Vanilla Protein Cookies
There is nothing better than home made cookies, especially ones that are healthy and have that irrisistable vanilla aroma, and then of course there is the chewy moreishness that makes it so difficult to have just one. Well don't stop at one with these healthy little numbers - 154 calories and 8 grams of protein per serve
Ingredients
½

cup

Dates

2

cups

Almond meal

¼

cup

Chia seeds

Pinch Salt

1

medium Egg

2

teaspoons

Vanilla extract

¼

cup

Coconut oil

¼

cup

Granulated Stevia that measures like sugar

3

drops of Vanilla flavoured stevia drops

-

(Note 1)

2 - 3

tablespoons

Water

-

(Note 2)
Instructions
Preheat oven to 180 degrees C and line 2 large oven trays or cookie sheet trays with baking paper

Finely chop dates.

Place all ingredients into a high speed food processor – yes everything, including the chopped dates.

Blitz for a couple of minutes until cookie dough has formed.

Remove cookie dough and break out into 24 pieces. Roll each one into a ball and place 12 balls on each tray. Gently flatten with hand, or with fork, if you like that look.

Bake in oven at 180 degrees for 13 minutes

Once cooked, remove from oven and let them cool to room temperature before removing them from the cookie tray

Store cookies in an air tight container for upto 4 or 5 days .
Notes
Vanilla Stevia Drops are available from most Health Food Shops.  You could use 1 - 2 tablespoons of granulated stevia instead.  
First add 2 tablespoons of water and test first.  If mix is still to dry or crumbly, add another tablespoon of water a little at a time until the consistency is right to roll the dough into balls.
Nutrition
Calories:
154
kcal
Carbohydrates:
15
g
Protein:
8
g
Fat:
8
g
Saturated Fat:
3
g
Fiber:
3
g
Sugar:
8
g
Note: Sugars contained in this recipe are from naturally occurring sugars in fruits, vegetables or other natural sweeteners.
Looking To Cut Out Sugar? Get the FREE Quick and Easy Food Swaps Checklist Pack!
Get your FREE Quick and Easy Food Swaps Checklists with over 65 Simple Real Food Alternatives to Help you Ditch The Sugar Without Feeling Deprived.