These Healthy Anzac Biscuits are free from refined white and brown sugars, are chewy and taste very similar to the traditional ones I grew up with.  They're big, packed with oats, not too sweet, and just as mooreish as my Anzac Slice that contains a special ingredient you wouldn't expect!
Perfect with your morning coffee, these biscuits take a mere 10 minutes to pull the ingredients together, and then its into the oven with that unmistakable anzac biscuit aroma wafting through the house.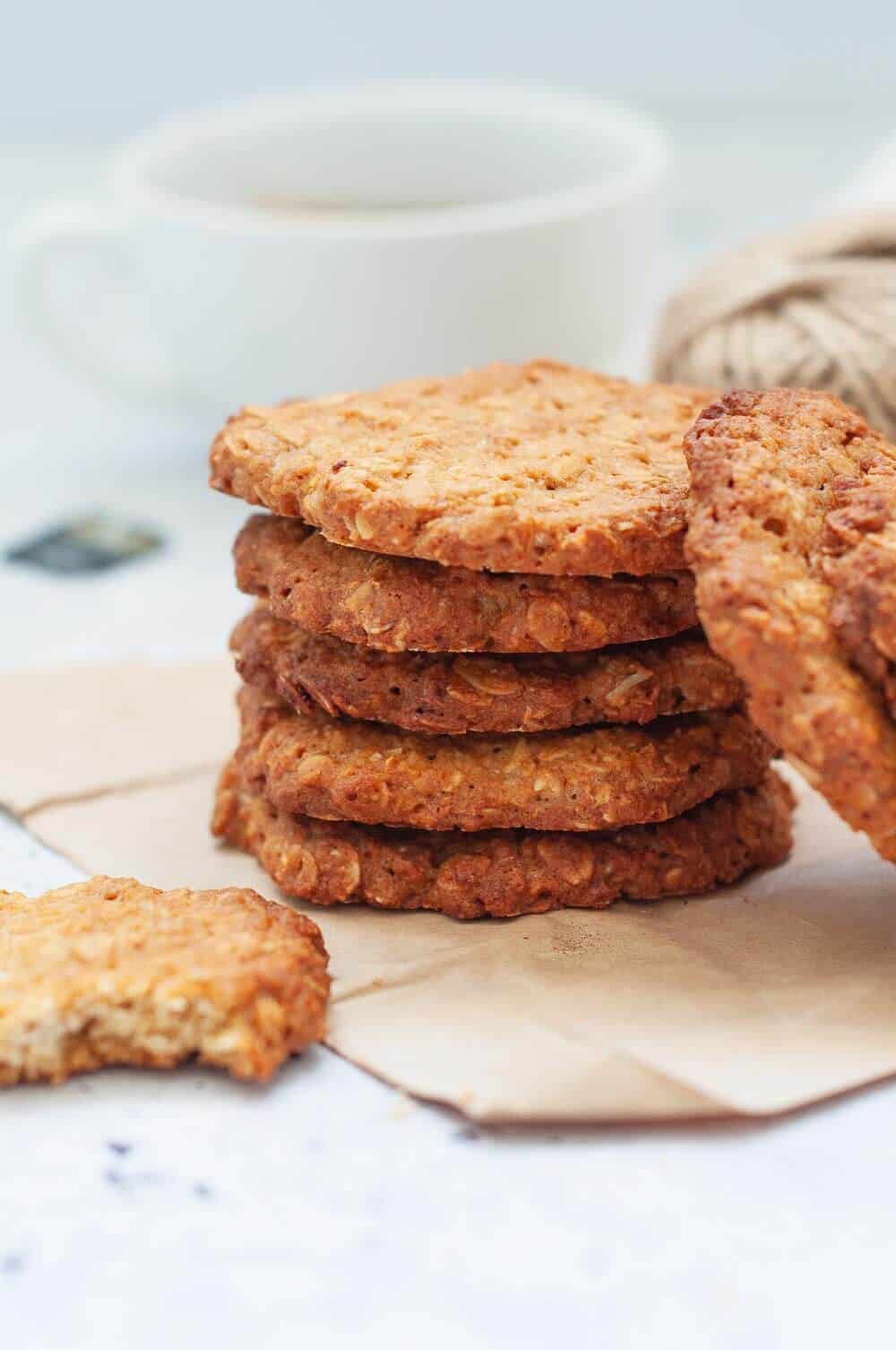 What Makes These Anzac Biscuits Healthier?
So traditional Anzac biscuits are really not the healthiest and the most widely known recipe uses 2 things that I don't use. Golden Syrup and Brown Sugar. I don't use these ingredients because they are highly refined and processed sugars that I don't personally like the taste of, they spike my blood sugar levels, make me feel awful and like I have to eat 10 in a row to feel satisfied.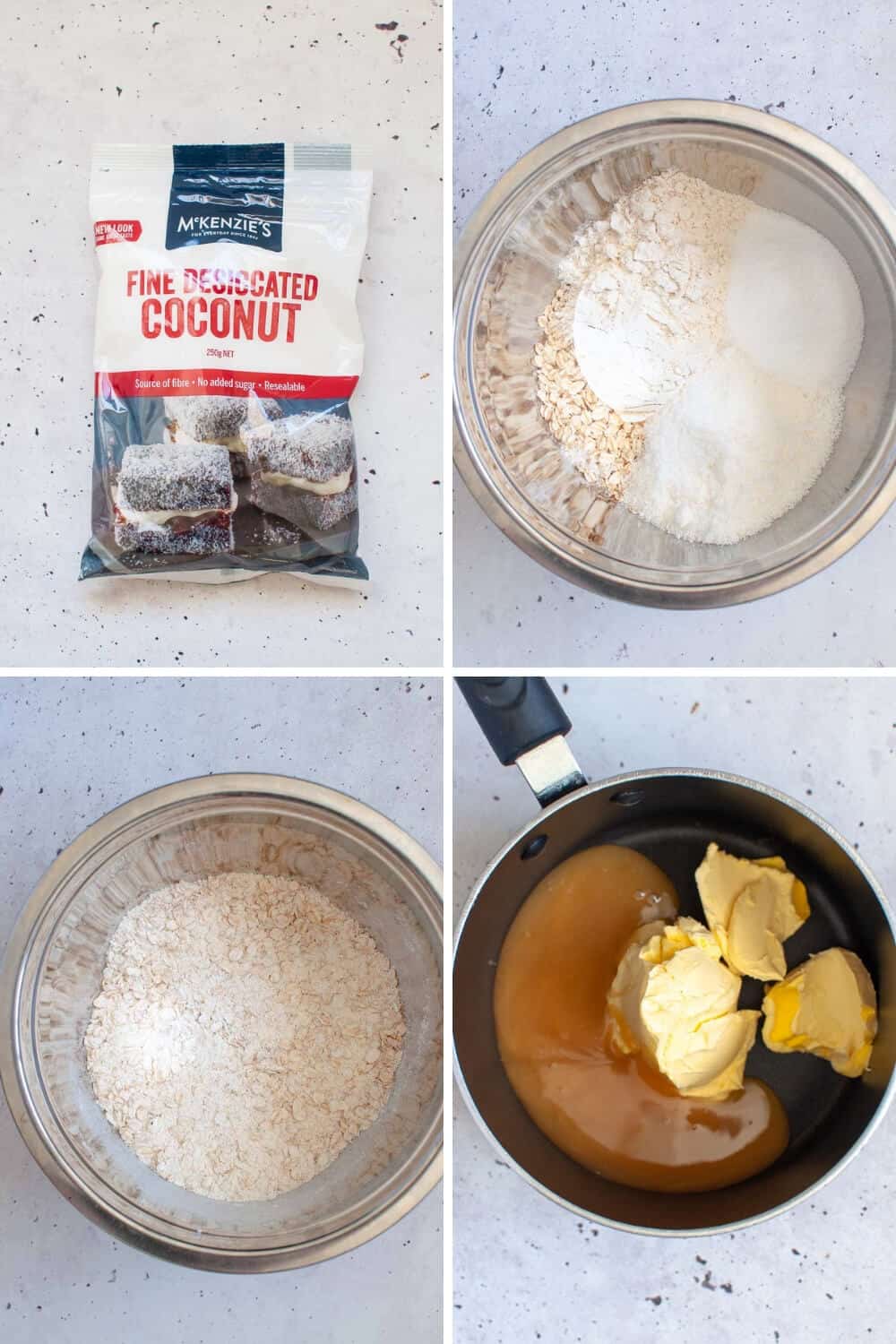 In place of the golden syrup and brown sugar, I used Raw Honey and Coconut Sugar which is lower GI than sugar and not nearly as processed. This combination tends to make the biscuits not overly sweet, although they still have a good amount of sweetness which is just the way I like them.
Note that raw honey is different to many of the standard supermarket ones which have other things added. The raw honey I use is 100% pure honey with nothing added and no processing, and I buy local organic raw honey from my farmers markets just to be sure.
To increase the healthiness a little more, I also use Spelt flour instead of refined white flour. Spelt flour has a higher vitamin and mineral content, contains more fibre and is more easily digestible than white flours.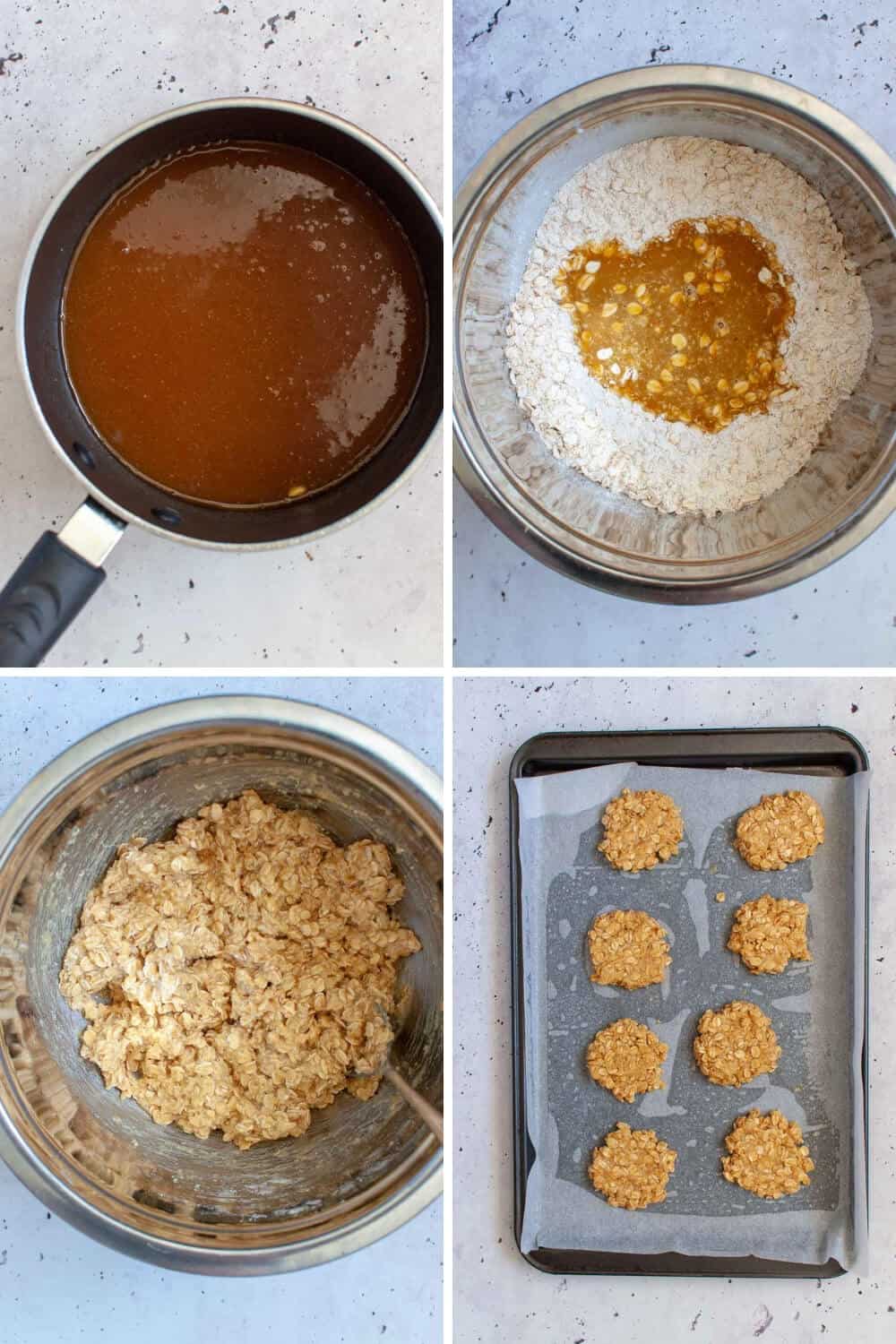 How to Make Healthy Anzac Biscuits
Preheat fan oven to 160 degrees C, or 320 degrees F.
This recipe makes about 18 biscuits, so you'll need a large mixing bowl.
Add the oats, spelt flour, desicated coconut, and coconut sugar to a bowl and mix to combine, then make a well in the centre and set aside.
Heat a pot on medium heat and add the butter and honey. Once melted, add the bicarb and water. Whisk to combine.
Pour the wet ingredients into the well in the dry ingredients and mix together with a wooden spoon.
Line a couple of large baking trays with baking paper (spray a little oil on to make the paper stick)
Use a dessert spoon to scoop out the anzac biscuit mixture, and plop it onto the tray. Dampen your hands, and press down and shape each biscuit into a round about 7cm or 1.5 inches in diameter. (Make sure to

leave a good amount of space between each biscuit

as they will expand during the cooking process)
Depending on your oven/amount of baking trays, you might need to do 1 or 2 bakes. Bake for 20 minutes for a golden firm chewy biscuit.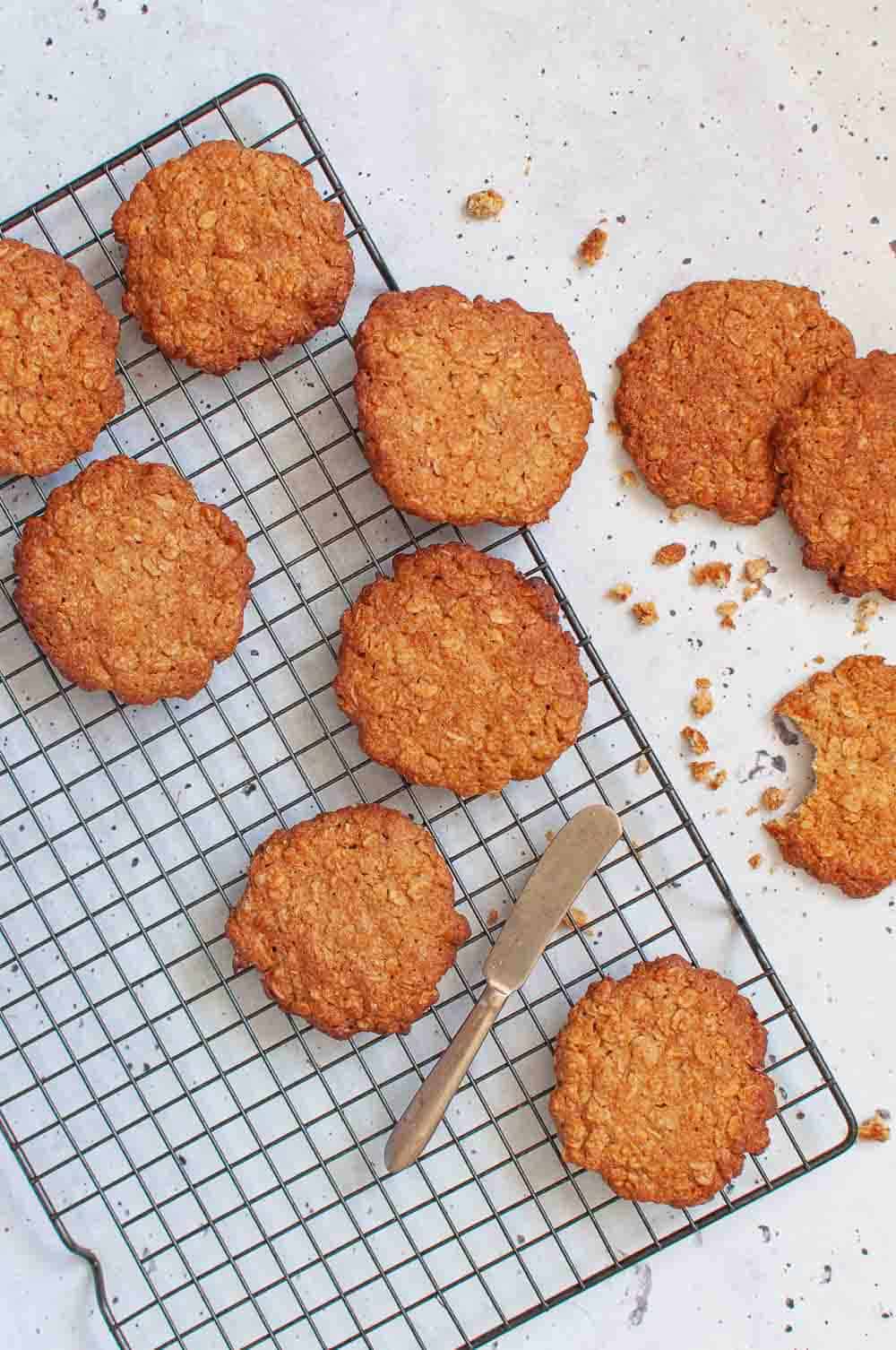 How Long do Homemade Anzac Biscuits Keep
Once they have cooled completely to room temperature, these biscuits can be stored in an air tight container in the fridge for 5 days.
Tips For Making The Perfect Healthy Anzac Biscuit
Large oats work best in anzac biscuits. Try and avoid the instant oats as they are usually smaller and kind of disappear in the biscuit batter.
Some supermarkets stock raw honey alongside the regular honey these days, but if you can't find it, check out your local health food store or farmers market. You won't regret it. It's better for you and it tastes better.
Unrefined coconut sugar is available in supermarkets, normally alongside all the other sugars and sweeteners.
Avoid replacing the coconut sugar with any type of sweetener such as granulated stevia, monkfruit or norbu. I made several batches using these sweeteners and they all ended up with a weird taste at the end. Unrefined coconut sugar is the way to go.
If your hands get to sticky when you're putting the batter onto the baking tray, dampen your hands, bit don't make them too wet. This will keep the mix off your hands and allow you to shape and flatten the biscuits.
Because these biscuits don't contain refined white sugar, if will be difficult to get them to be super crunchy. Although the longer you leave them in the oven, the crisper (and browner) they will get. If you want to do this, I recommend you keep an eye on them to make sure they don't get too overcooked.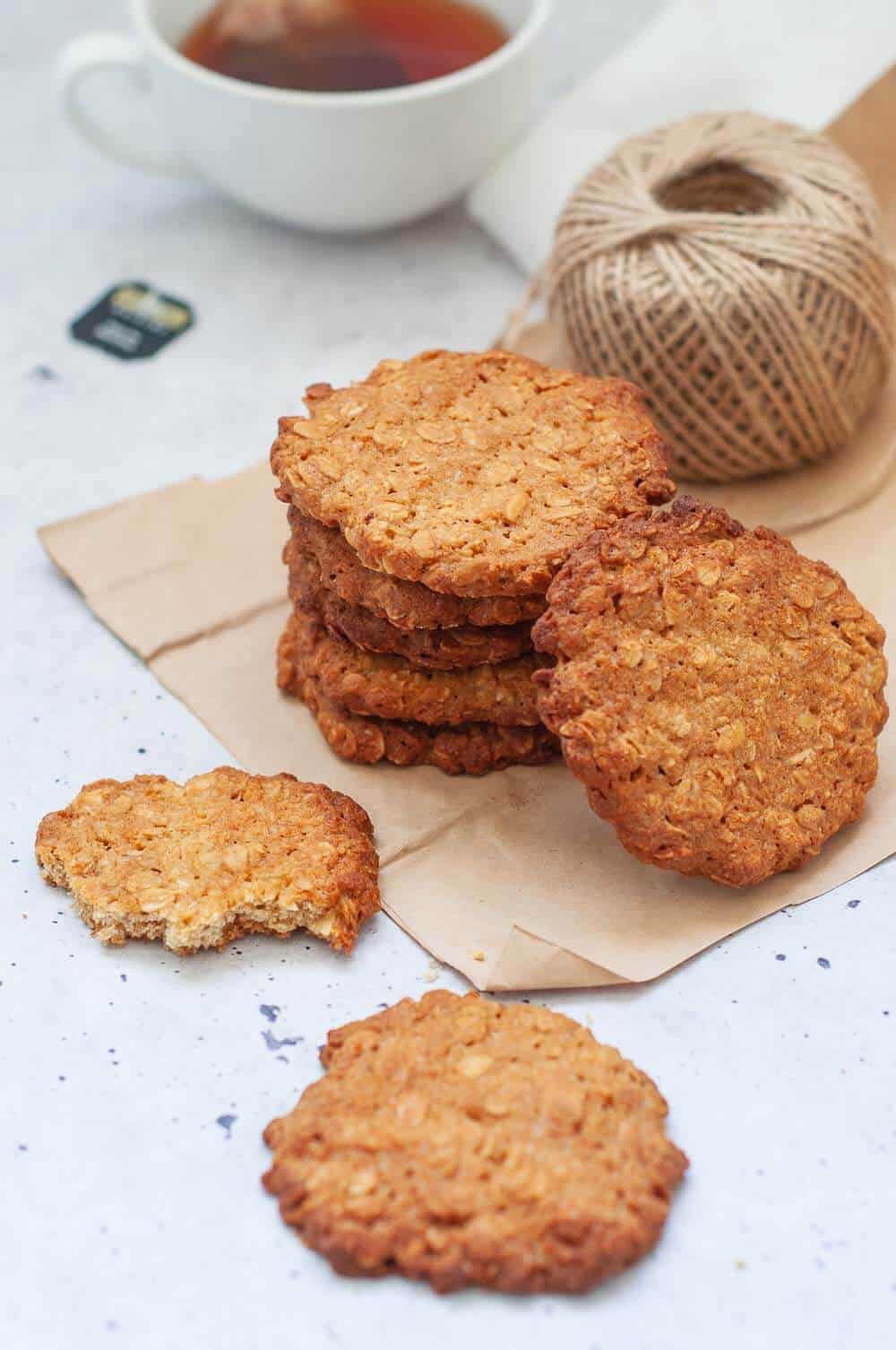 Other Ways to Fancy Up Your Healthy Anzac Biscuits
Add a teaspoon of dried ginger to the dry ingredients for a Ginger Anzac Biscuit. These are delicious.
Add ¼ cup finely chopped macadamia nuts for the ultimate Macadamia Anzac Biscuits.
If fruit is your thing, you could try adding two tablespoons of finely diced dried fruit such as raisins, goji berries, or cranberries. I wouldn't add dates as this would make them way to sweet.
I love making Healthy Anzac Biscuits in March and April every year. I usually make big batches for my family and take batches into the office. They are always a winner. Big, chewy, full of oats and thanks to these healthy substitutions, much more filling which means you'll be satisfied with 1 or 2, you'll feel full, and they'll last longer!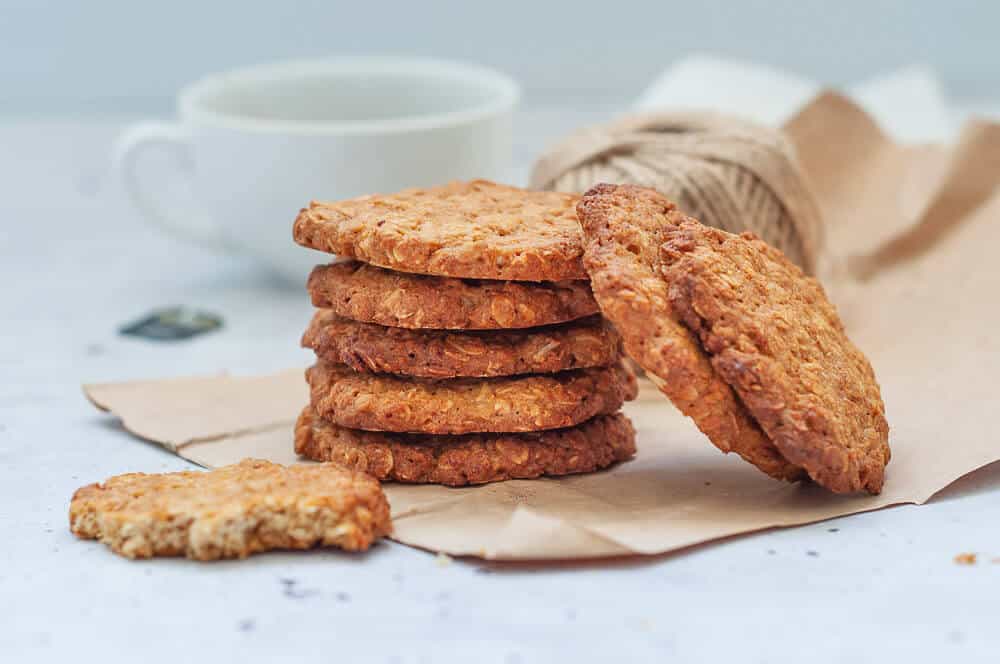 More Sugar Free Baking Recipes: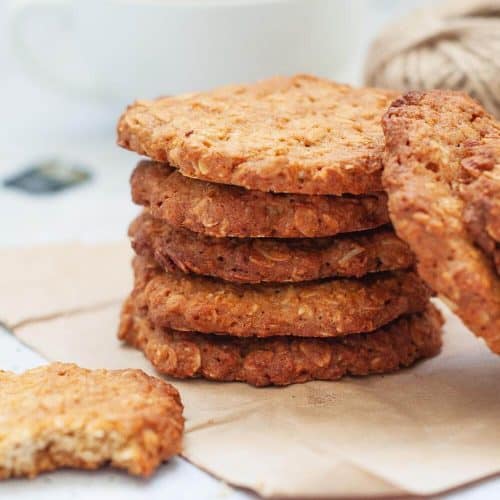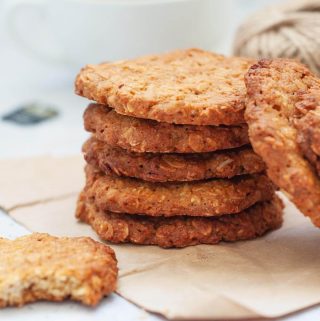 Healthy Anzac Biscuits
These Healthy Anzac Biscuits are refined sugar free, chewy and taste just like the traditional ones you grew up with. They're big, packed with oats, not too sweet, but oh so deliciously moreish.
Ingredients
2

cups

Big Rolled Oats

1

cup

Spelt Flour -

or plain wholemeal flour

⅔

cup

Coconut Sugar

-

(See notes)

¾

cup

Unsweetened shredded coconut

⅓

cup

Raw honey or Maple Syrup -

(See notes)

½

cup

+ 2 tablespoons Butter

-

equivalent to 1 stick of butter

1

teaspoon

Bicarb Soda

2

tablespoons

Hot water
Instructions
Preheat oven to 160°C (325°F). Prepare a large baking tray and line with non stick cooking paper. Use 2 trays if you have them and they will fit into your oven.

Add the oats, flour, coconut sugar and shredded coconut to a large bowl and mix to combine.

Add the butter and honey to a saucepan over low heat and cook, stirring, until just melted, then remove saucepan from heat.

Add the bicarb of soda with the 2 tablespoons of hot water to the butter mixture and stir to combine.

Make a well in the centre of the dry ingredients and pour butter mixture into the oat mixture and mix well with a large spoon until combined.

Use a large dessert spoon to scoop out the mixture and place tablespoonfuls of the mixture onto the baking tray. Gently flatten it out with the back of the spoon or your hand, making sure to space them out allowing room to spread. I find slightly damp hands work to keep the mixture from sticking to your fingers.

Bake biscuits for 20 minutes or until deep golden then remove from oven. (This will produce a firm and chewy biscuit)

Let biscuits cool in the baking trays for around 5 minutes then delicately move them on to wire racks, cover with a tea towel and let cool to room temperature. (See note 3)
Notes
Honey:  I like to use raw honey in place of golden syrup. Raw honey is a natural sweetener and is totally unheated, unpasteurized, unprocessed honey. Raw honey is generally available in supermarkets in Australia where you find the regular honey. Alternatively you can use maple syrup which I've also used and both work equally well in place of golden syrup.
Cooling:  I like to let my anzac biscuits sit on a wire rack covered with a tea towel for 2 to 3 hours so they can firm up. After this I then put them into an air tight container and keep them in the fridge for upto 5 days.
Storage:  Anzac biscuits are best made the day before you want to eat them. Store Anzac biscuits in an air tight container at room temperature for upto 5 days.
Nutrition
Calories:
156
kcal
Carbohydrates:
15
g
Protein:
3
g
Fat:
9
g
Saturated Fat:
7
g
Fiber:
2
g
Sugar:
4
g
Note: Sugars contained in this recipe are from naturally occurring sugars in fruits, vegetables or other natural sweeteners.
Looking To Cut Out Sugar? Get the FREE Healthy Food Swaps Checklist Pack!
Get your FREE Healthy Food Swaps Checklists with over 65 Healthy Food Alternatives to Help you Ditch The Sugar Without Feeling Deprived.