I love Anzac biscuits.  Actually I love them at any time of year, not just in April.  They have been one of my favourite biscuits for as long as I can remember and have been special to me because of my brother.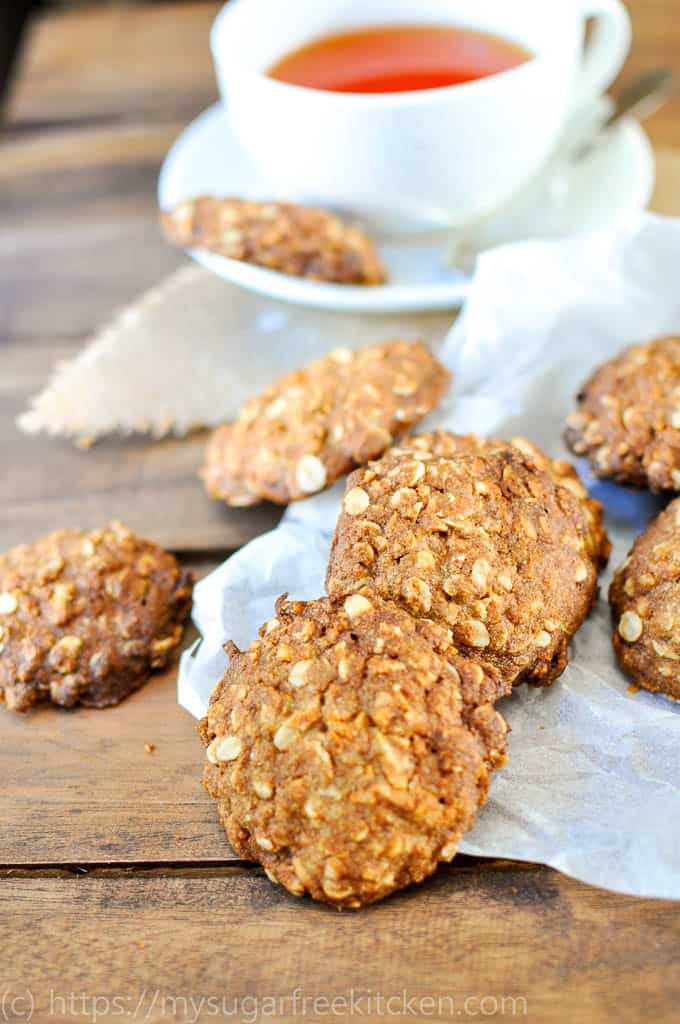 You see because he was in the Airforce for nearly 30 years and when he went overseas, often times, mum would make batches of Anzac biscuits and post to him.  I never really realised at the time what the big deal was about Anzac biscuits, except that they tasted really good.  I know too that I could rarely eat an Anzac biscuit without being reminded of my brother and all that he has done for this country.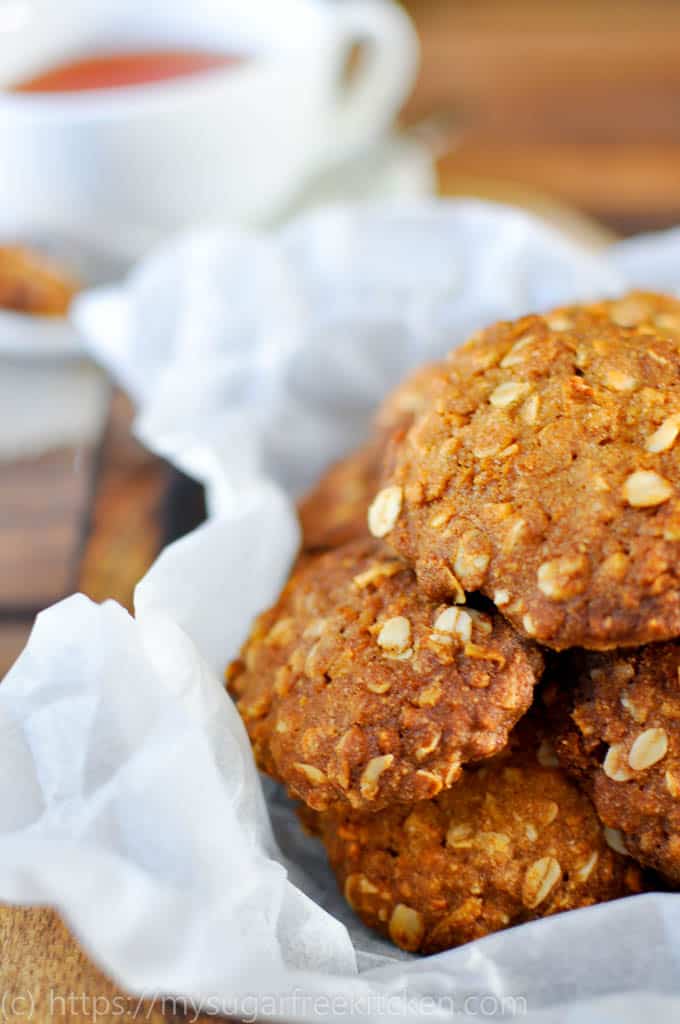 Why I Love Healthy Anzac Biscuits
What was it about sending these biscuits overseas to our loved ones.  What was the meaning behind it?  Well apparently it has something to do with them having a longer than normal shelf life compared to some other biscuits and baked goods like bread.  But I think really that these Anzac biscuits were a symbol of home and the loving family that was waiting.
To me, the Anzac biscuit is probably the only biscuit that has emotion attached to it,  I mean, most biscuits are you bake it, you eat it and you enjoy it.  But Anzacs biscuits to me anyway, have meaning, and will always remind me of what those close to us have sacrificed for the things we enjoy and take for granted everyday.
The anzac biscuit recipe is one that I think most Aussies should try making at least once, as a tribute to those who have served and eaten many of those anzacs posted to them by loving families.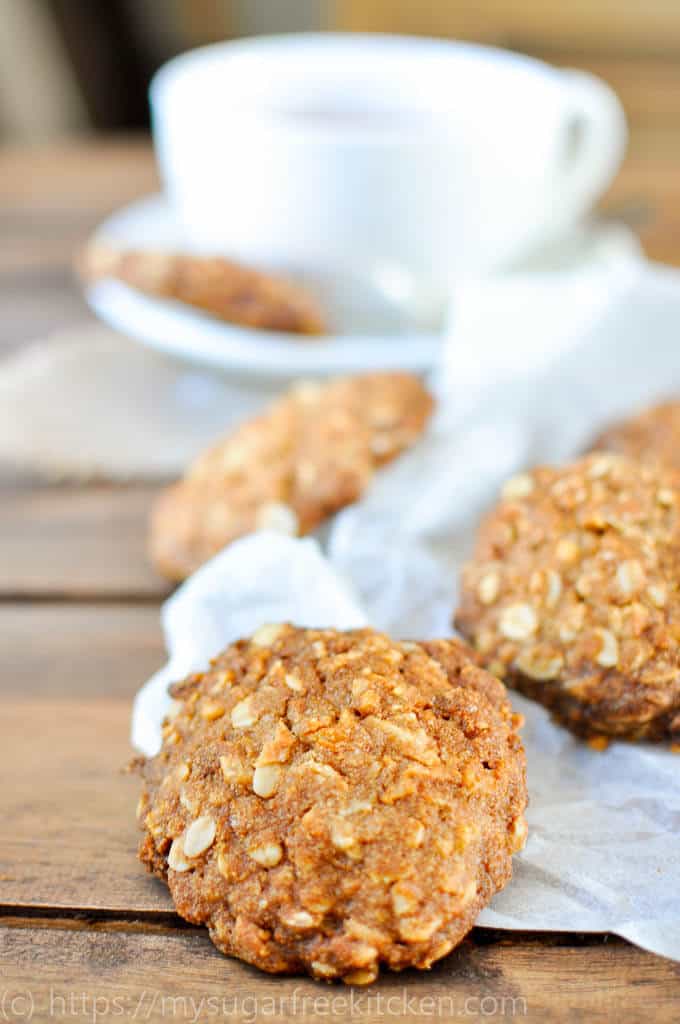 I know traditionally Anzac biscuits are not the most healthy or waistline friendly treat, but today  I wanted to make a version that was free from refined sugars and flours, dairy free, and a little bit healthy!  Hopefully I have come close to re-creating this aussie classic!
Like what you see? Follow me on Facebook or Pinterest! Did you try a recipe? Tag me on Instagram: @mysugarfreekitchen, and leave a comment & star rating!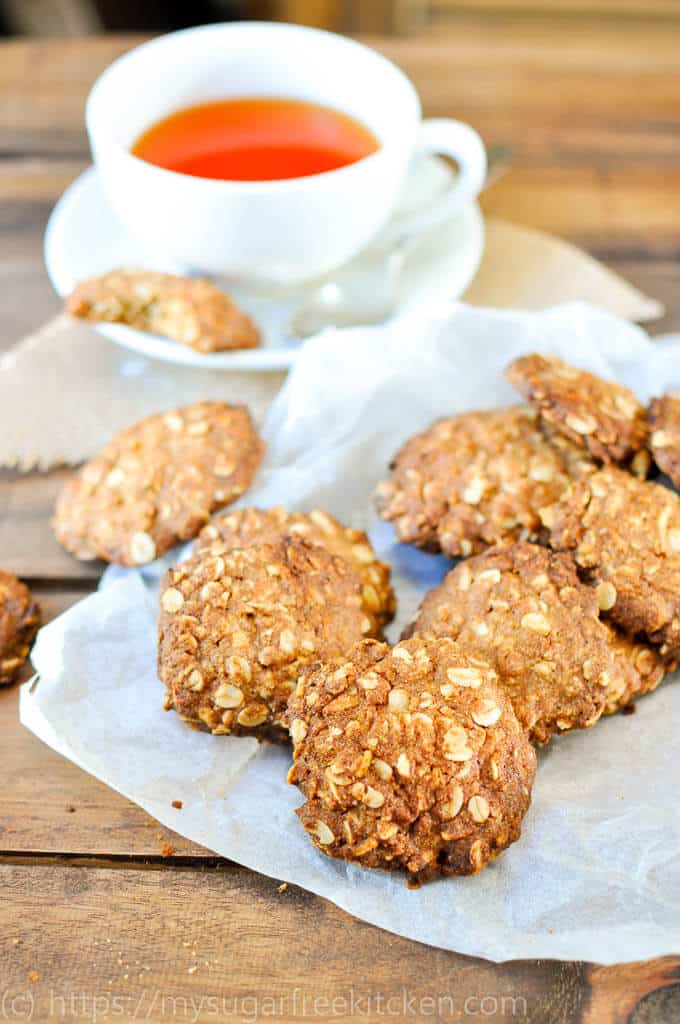 Print
Healthy Refined Sugar Free Anzac Biscuits
A healthy take on the traditional aussie Anzac biscuit that is free from refined sugars and dairy free. So is there any reason to stop at one?
Ingredients
1

cup

Oat Flour

(or Plain Flour)

1

cup

Big rolled oats

(Not quick or instant oats)

¾

cup

Shredded Unsweetened Coconut

1

Cup

Granualted Stevia, that measures like sugar

(Note 1)

1 ½

tablespoon

molasses

½

cup

Coconut Oil

2

tablespoons

of butter

2

tablespoons

Sugar free Maple Syrup

½

teaspoon

Bicarb Soda

1

tablespoon

lemon zest

½

teaspoon

cinnamon

1

egg white

Coconut oil spray
Instructions
Preheat oven to 180 degrees. Prepare 2 large baking trays with a spray of coconut oi

Mix baking stevia and molasses in a bowl until thoroughly combined and it resembles brown sugar!

Combine flour, oats, coconut, cinnamon and lemon zest and sugar in a bowl and mix to combine

In a small saucepan, melt coconut oil, butter and syrup

Once oil, butter and syrup have melted, remove from heat and add bicarb soda. Add egg white and mix to combine

Add wet ingredients to dry ingredients and mix until all is combined and sticky

Divide the mixture in half so you have 2 portions.

With the first portion make six balls and place on baking tray. Slightly press down of top very gently. Ball will expand in the oven so be sure not to put any more than 6 on the tray. Repeat this process for the remaining dough

Bake cookies in oven at 170 degrees C for 15 to 17 minutes. If you like them on the crunchier side, leave them in for 16 minutes.

10. Once done, remove from oven and leave in the baking tray for a few minutes and then put onto a cooling rack to cool to room temperature
Nutrition
Calories:
204
kcal
|
Carbohydrates:
21
g
|
Protein:
3
g
|
Fat:
25
g
|
Saturated Fat:
16
g
|
Fiber:
3
g
|
Sugar:
4
g
★ Did you make this recipe? Don't forget to give it a star rating below!