This Sugar Free Lemon Loaf with lemon syrup is healthy, moist, old fashioned and made from scratch. Just 8 ingredients will have you turning out a Lemon Quick Bread that makes 10 thick slices you can slice up and eat right away or freeze for healthy clean eating on the go snacks.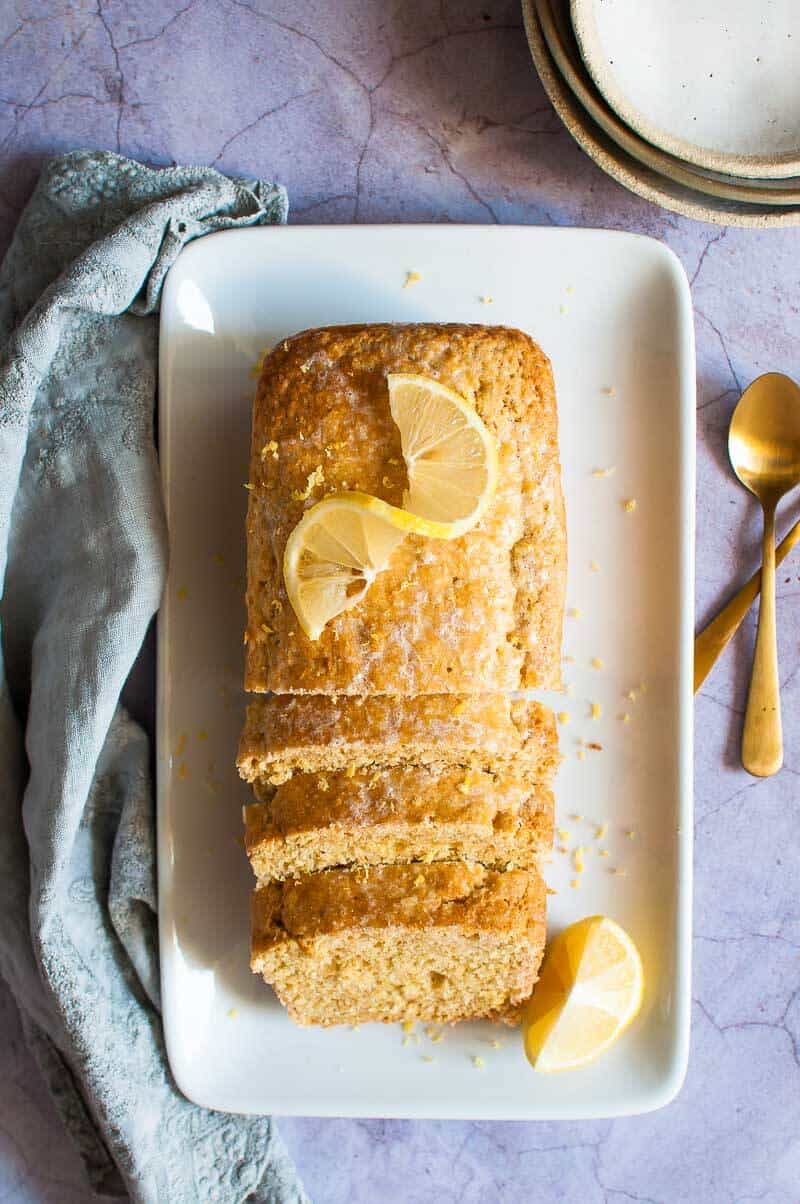 How To Make a simple Clean Eating Sugar Free Lemon Loaf
Add the butter and granulated sweetener (for example stevia) to a bowl and mix with electric beaters until light and fluffy.
Add eggs, one at a time. Use he electric beaters to mix in.
Get rid of the electric beaters and add in flour, cream of tartar and bicarb, followed by the milk. Stir gently with a spoon until all combined.
Spoon batter into a lined and greased loaf tin. (I lightly spray with oil and line with baking paper – the oil helps the paper to stick and stay in place)
BAKE at 160 degrees C for a fan forced oven for 40 minutes. (320 degrees F for fan oven if in U.S.)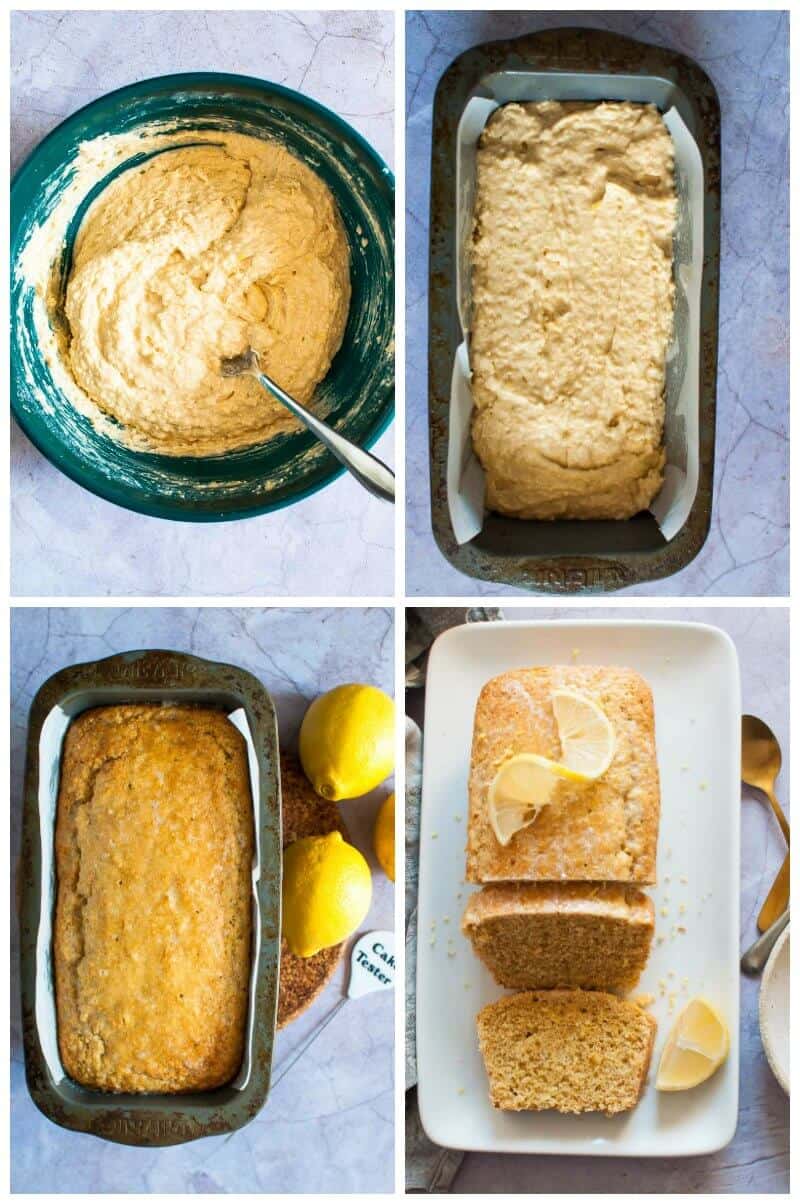 Other Sugar Free Baking Recipes you might like:
Tips For Making a Sugar Free Lemon Drizzle Cake
Don't overmix the batter, or mix to roughly and especially don't mix it all together with the electric beaters. Those are only for the butter and sweetener and the eggs.
Use a big wooden spoon to mix in the dry ingredients to the wet to retain as much air and lightness as possible. Overmixing will make the cake tough.
Even though this is a lemon cake, it is not necessary to put any lemon juice into the actual cake batter as the big lemon flavour of the cake comes from the lemon syrup drizzle.
For this Lemon Quick Bread, make sure to heat the oven beforehand so that you can pop it in as soon as you have it in the lined loaf tin as any delays are not good for the baking soda and cream of tartar.
Related: Traditional Aussie Spinach Cob Loaf
This is a super easy sugar free lemon loaf to make from scratch because there are only 8 ingredients, about 5 minutes of prep and no food processor or blender required. Electric beaters are a nice shortcut if you have them, if not, you can get a similar result with a whisk and lots of huffing and puffing.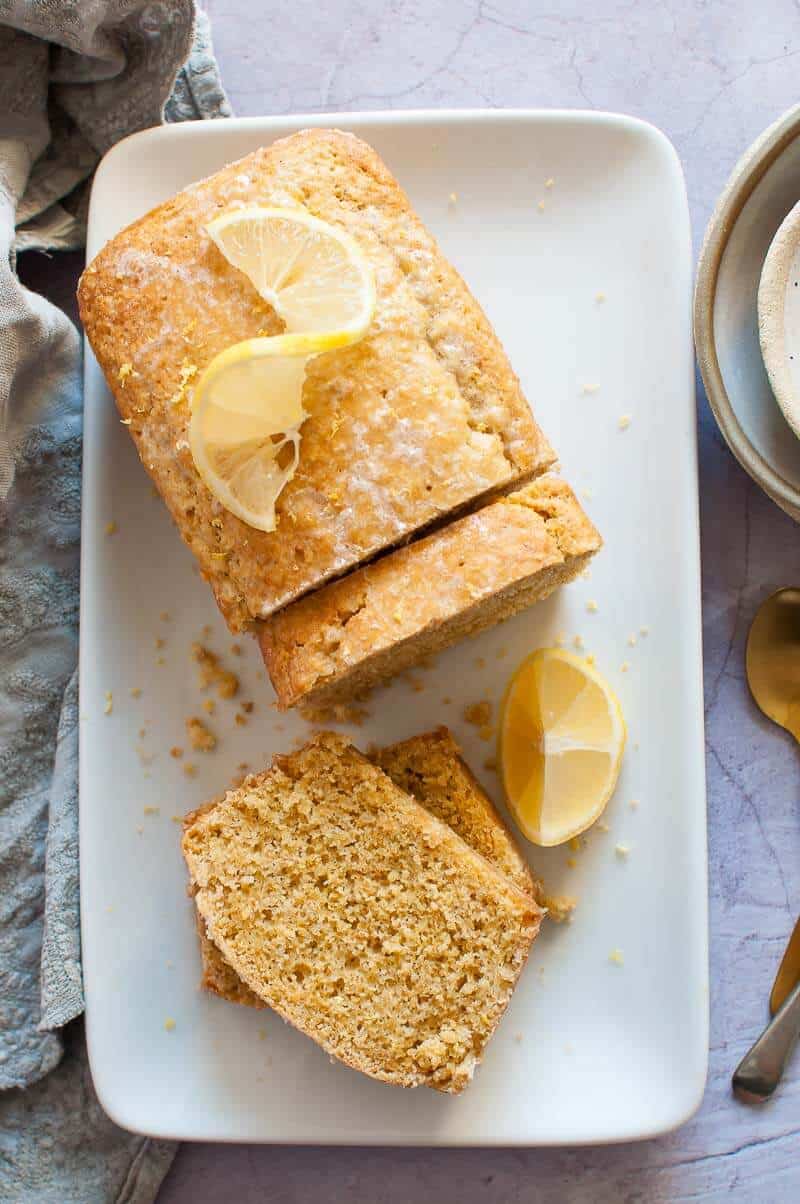 How Do You Make A Sugar Free Lemon Loaf Glaze?
This glaze is also sugar free as it is just two ingredients. The granulated sweetener that measures like sugar (in this case stevia) and lemon juice.
This is heated on the stove on medium heat for about 5 minutes. Note that after 5 minutes it will still be very liquid. This is OK as it means it will easily absorb into the cake.
The glaze is best applied to the cake when it is still warm. To make the liquid sink all the way through, use a cake skewer to poke a dozen holes from top to bottom so it can more easily sink in.
TIP: The sugar free lemon glaze may look like a lot, but the cake can take it, and it will all absorb in to create a strong lemon flavour. If you prefer a milder lemon flavour, just use half or three quarters of the glaze. *HOWEVER* The glaze is also what helps to keep this cake nice and moist for days after its baked so don't be afraid to be liberal with it.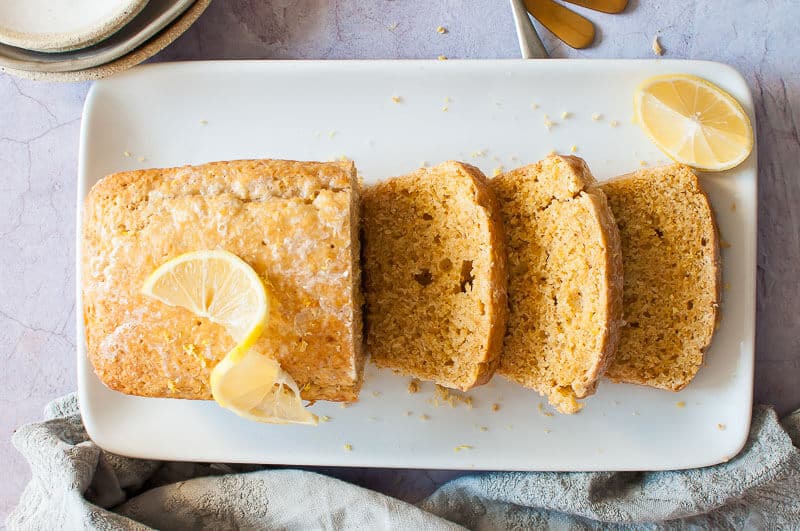 Why Sugar Free Lemon Loaf is the Perfect Diabetic Lemon Cake
This sugar free lemon loaf is the perfect diabetic lemon loaf because it uses a Low GI sweetener that is recommended for Diabetics. The brand I use is Natvia Stevia.
The Low GI nature of Natvia Stevia means diabetics can eat baked goods made with it and it won't raise their blood sugars. This is also great even if you're not diabetic because it has the same effect of not raising your blood sugars and giving you those awful sugar highs and lows.
Many of my baking recipes are diabetic friendly as I use Natvia Baking Stevia as my sweetener of choice which is the perfect ingredient for a Diabetic Lemon Cake since it won't cause sugar spikes, nor will it make you have the urge to eat 6 pieces in a row!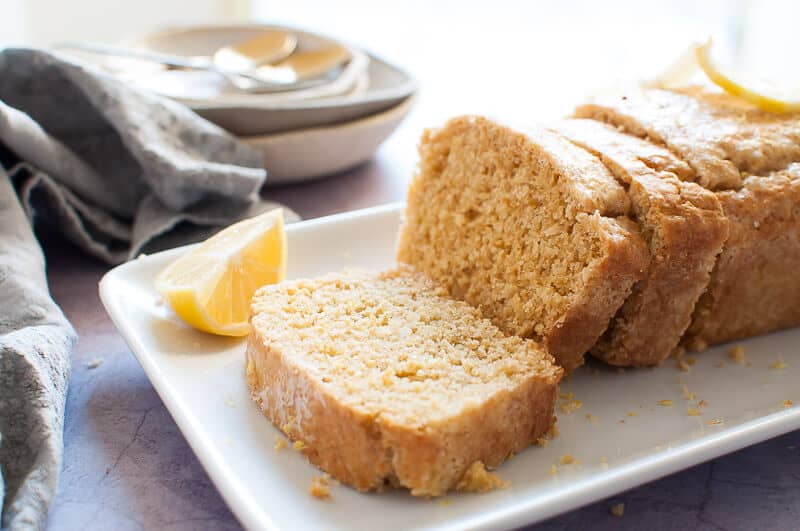 How Do You Store A Sugar Free Lemon Drizzle Cake?
The best method for storage is in an air tight container in the fridge if you live in a really hot climate, or if you're somewhere cooler, leaving the cake in an air tight container on the kitchen bench would be OK. It should keep well for 3 to 4 days.
FREEZER TIP: If you make this sugar free lemon drizzle cake, you will find that it freezes very well and I always make this cake, slice it, pop a couple slices into ziplock bags, date and label them, and keep them in the freezer. This is just a much more reliable way for me to ensure that I don't waste food since I don't eat a lot of sweets, and since I'm often on my own when my husband is away working.
Let's face it. Who wouldn't love a sugarless lemon cake? It's pretty darn special, and an oldie but a goodie. Sometimes the simple things are the ones that are the best, and this is one of them. Not to mention this sugar free lemon loaf cake tastes even more amazing with a little side of Greek yoghurt, or a light spread of butter. Eat up. This is one not to miss.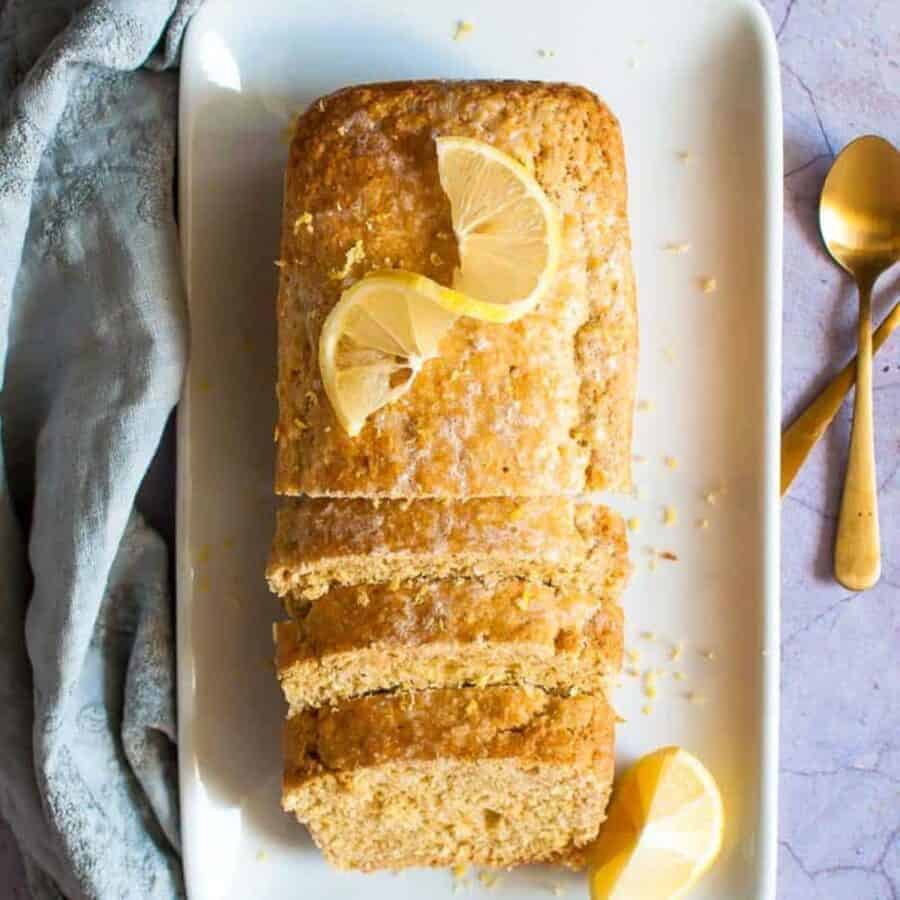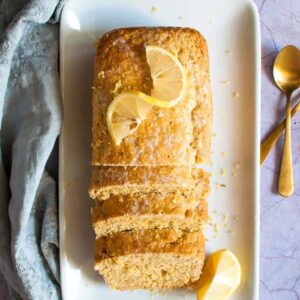 Sugar Free Lemon Loaf
This 40 minute Sugar Free Lemon Loaf with lemon syrup is healthy, moist, old fashioned and made from scratch. Just 8 ingredients will have you turning out a Lemon Quick Bread that makes 10 thick slices and tastes of real lemons.
Instructions
Preheat fanforced oven to 160 degrees c (180 degrees for non fan forced)

The Cake: In a large mixing bowl, add the softened butter and granulated sweetener. Use electric beaters to beat on high until creamy and fluffy.

Add the eggs, 1 at a time, beating each one in with the electric beaters.

Add in the flour, cream of tartar and bicarb, followed by the milk. Use a large spoon to fold in, turning the bowl and you gently stir through. (do not beat or mix roughly as this will make the cake tough)

The Cooking: Spoon cake mixture into a lined loaf tin, running the back of a spoon over the top to smooth out the mixture. (I use a silicone loaf tin, lined with baking paper).

Bake in the oven for 40 minutes.

Once cake is cooked, remove from oven and set aside on a cooling rack.

The Syrup: Combine ½ cup lemon juice and 2 tablespoons granulated sweetener in a saucepan and heat on medium for 2 minutes or until all the sweetener has dissolved. Increase the heat to high and bring to the boil for 4 to 5 minutes or until thickened slightly, then remove from heat.

Using the cake skewer, poke about a dozen holes through the top of the cake, and drizzle the lemon sauce gently over the warm cake.

Let the cake sit to cool to room temperature, then remove it from the cake tin.
Notes
Cream of tartar is a leavener, similar to baking powder and when used in conjunction with bicarb creates a wonderful light and fluffy texture, much more so that baking powder I find.
The granulated sweetener I use is Natvia Stevia Sweetener. Natvia Stevia Sweetener is a 100% natural sweetener and has 97% fewer calories than sugar. Its fructose free, low carb and isn't going to rot your teeth! I wrote a post about it here.
Cut this lemon loaf into slices and store in ziplock bags in the freezer for upton 8 weeks. To defrost, let it come to room temperature and enjoy with a little butter, double cream, or Greek yoghurt.
Nutrition
Calories:
117
kcal
Carbohydrates:
3
g
Fat:
11
g
Saturated Fat:
6
g
Fiber:
1
g
Sugar:
2
g
Note: Sugars contained in this recipe are from naturally occurring sugars in fruits, vegetables or other natural sweeteners.
Looking To Cut Out Sugar? Get the FREE Quick and Easy Food Swaps Checklist Pack!
Get your FREE Quick and Easy Food Swaps Checklists with over 65 Simple Real Food Alternatives to Help you Ditch The Sugar Without Feeling Deprived.