This delicious warm and Crusty Cob Loaf with thick creamy spinach sauce is classic comfort food. Its cheesy, garlicy and filled with iron boosting spinach, and flavoured with basil, sea salt and black pepper.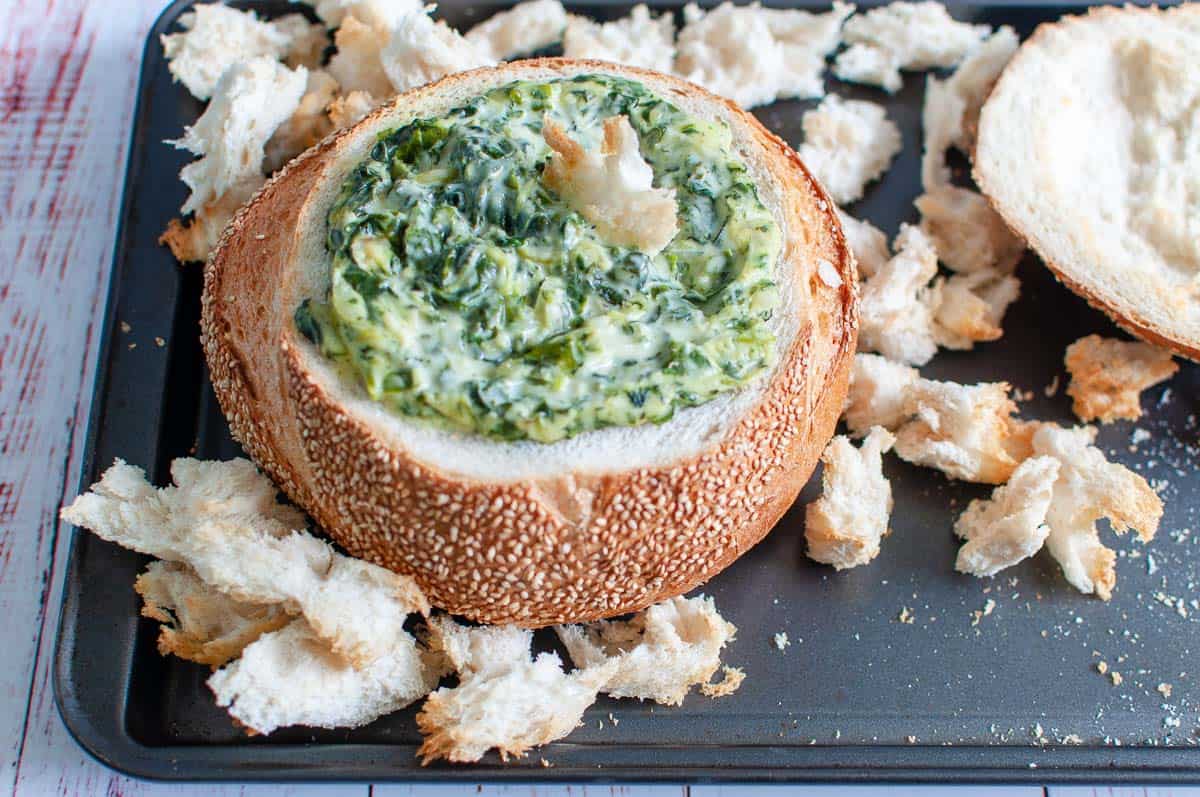 What is a Cob Loaf
Cob Loaf is round bread (shaped much like a large bowl) that has had the top cut off and the inside hollowed out. The white fluffy bread is picked out and layered on a tray, along with the bread bowl, ready for its creamy cheese filling, of which there are many variations.
Really when it comes down to is, cob loaf is essentially a dip in a bread.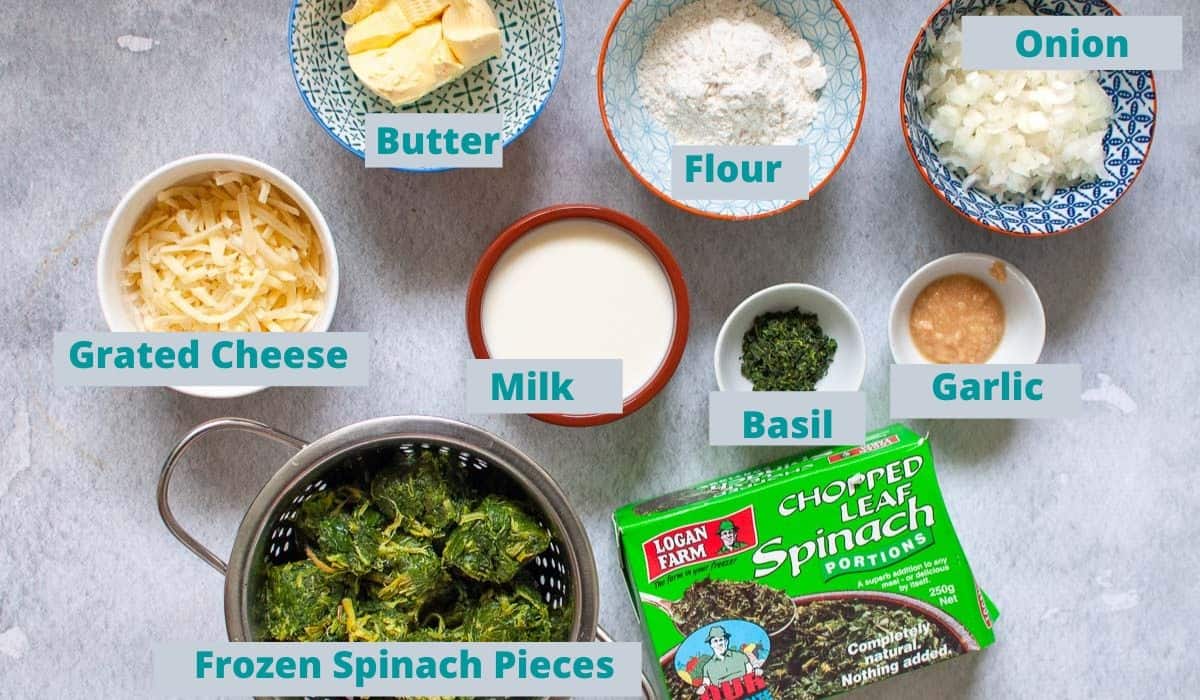 The filling is made on the stove, and whilst still hot, is poured into the hollowed out bread bowl. The bread bowl with filling is then baked, along with the bread chunks and bread lid on a tray for around 12 minutes in a hot oven.
When it comes out of the oven its all warm and crusty on the outside and those bread chunks are just waiting to scoop up that cheesy goodness.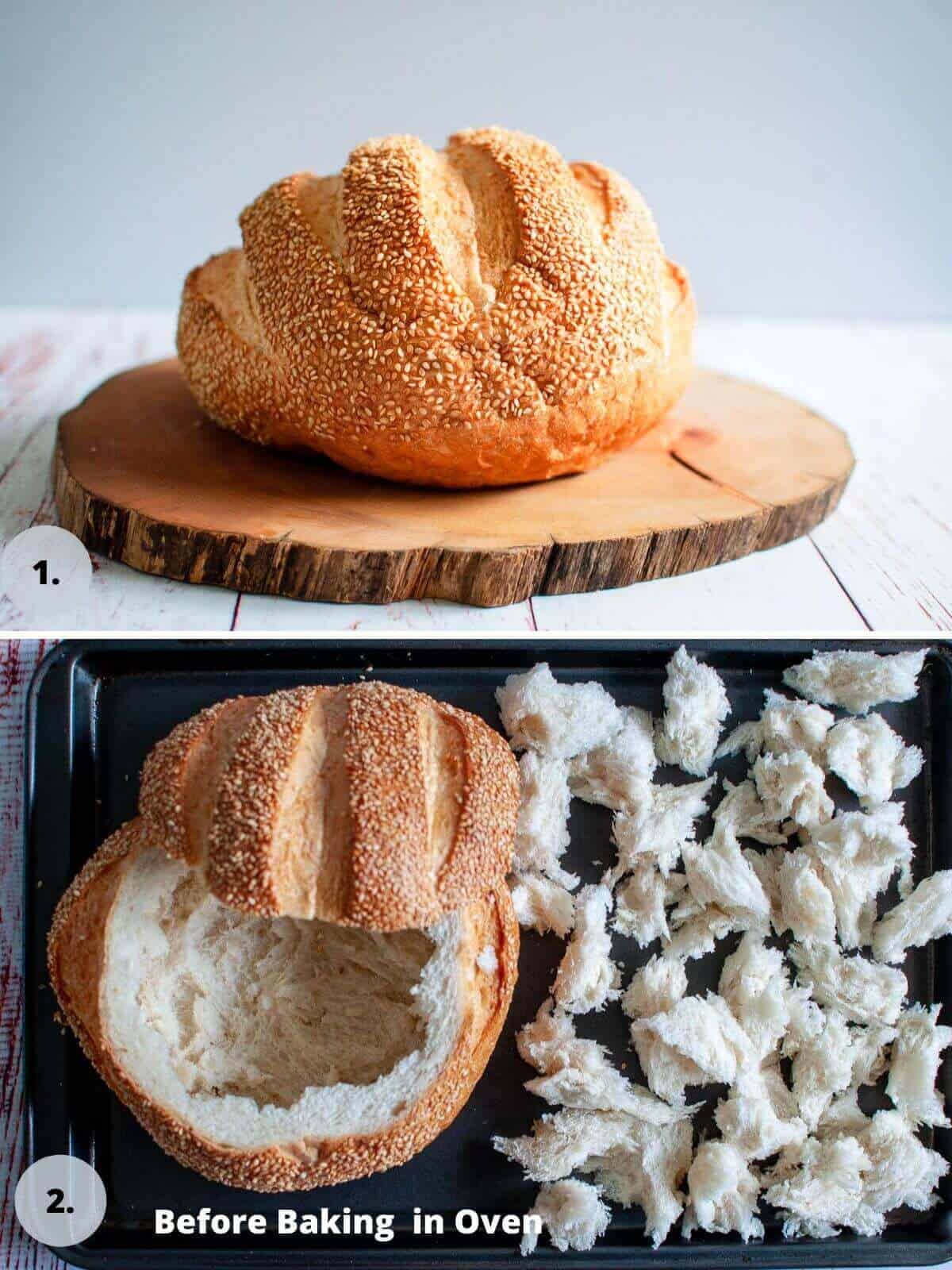 How To Eat Cob Loaf
The best way to eat cob loaf is with your fingers.
This is not fancy or fussy food. It's a dip, so dig into the bread pieces and use them to scoop up the dip into a good old mouthful.
When all the bread pieces have been eaten, eat the bread bowl starting from the top, scooping the dip as you tear off chunks.
Hot or Cold?
Cob loaf is best eaten hot to take advantage of the crusty bread fresh from the oven.
Can You Reheat It?
Yes you can reheat cob loaf on a low temperature in the oven. Don't microwave it as this will make it soggy. If you do put it in the fridge, make sure to cover it completely so the fridge doesn't dry it out.
Flavour Boosters
Often Cob loaf is made using pre made soups to create the base of the dip, however I opted not to use a packet soup base, and instead create a super simple cheesy white sauce base from scratch.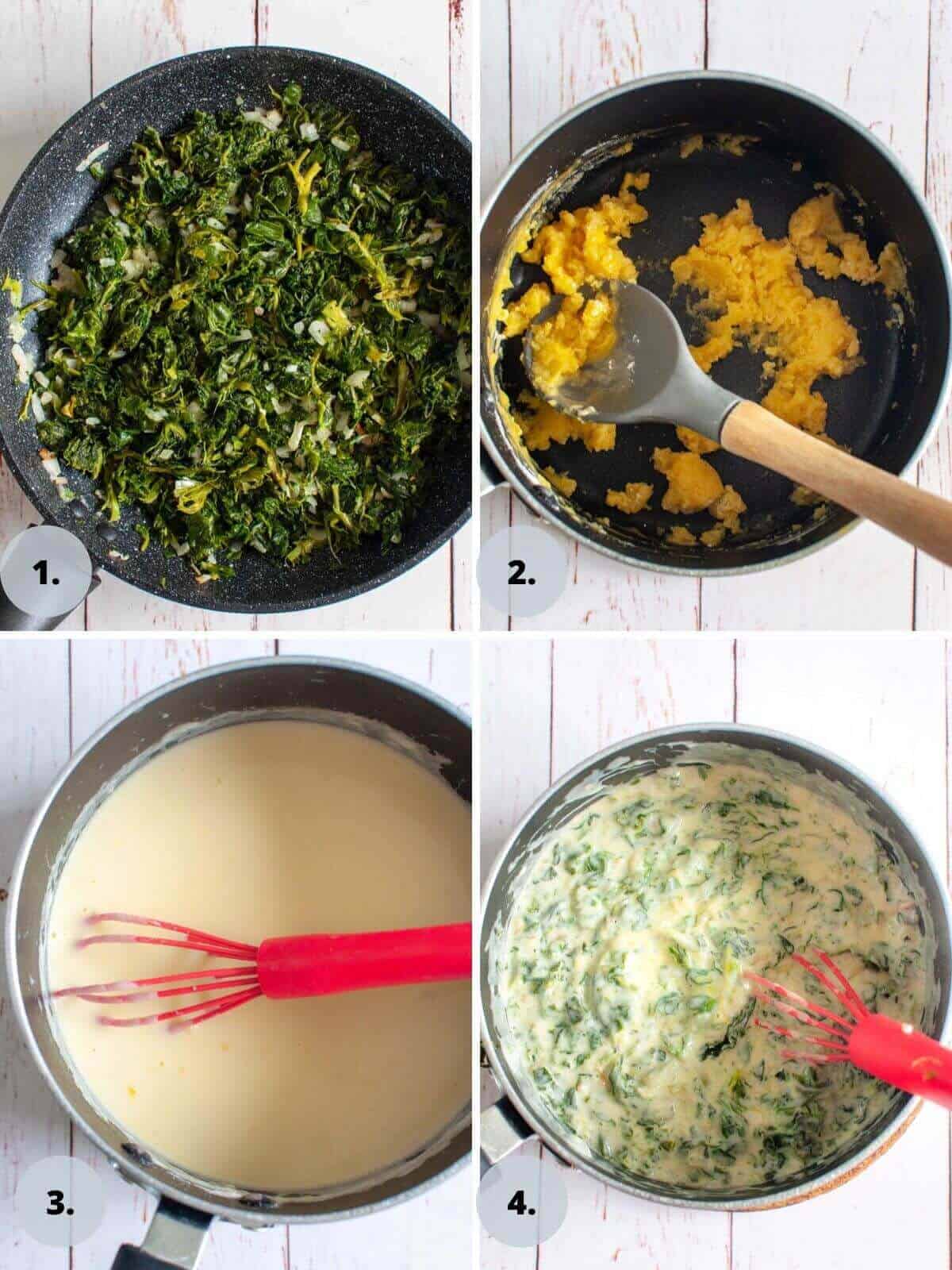 Whilst this Spinach Cob Loaf recipe is full of flavour as is, here are a few extra tips to boost the flavour that you may like to experiment with:
Add a teaspoon of smoked paprika to the dip, stirred through before pouring it into the bread bowl
Add half a teaspoon of your favourite dried curry powder, stirred through just before pouring it into the bread bowl
Frozen Spinach V Fresh Spinach
I used frozen spinach in this recipe. I got it out of the freezer the night before and let it defrost overnight in the fridge. This way I didn't have to deal with the excess ice/water as it naturally disappeared by itself.
I prefer to use frozen spinach as its softer and has a better texture. However you can certainly also use fresh baby spinach. I'd avoid using the big bunches of spinach or silverbeet as that would require much more pre cooking to get it to the right texture.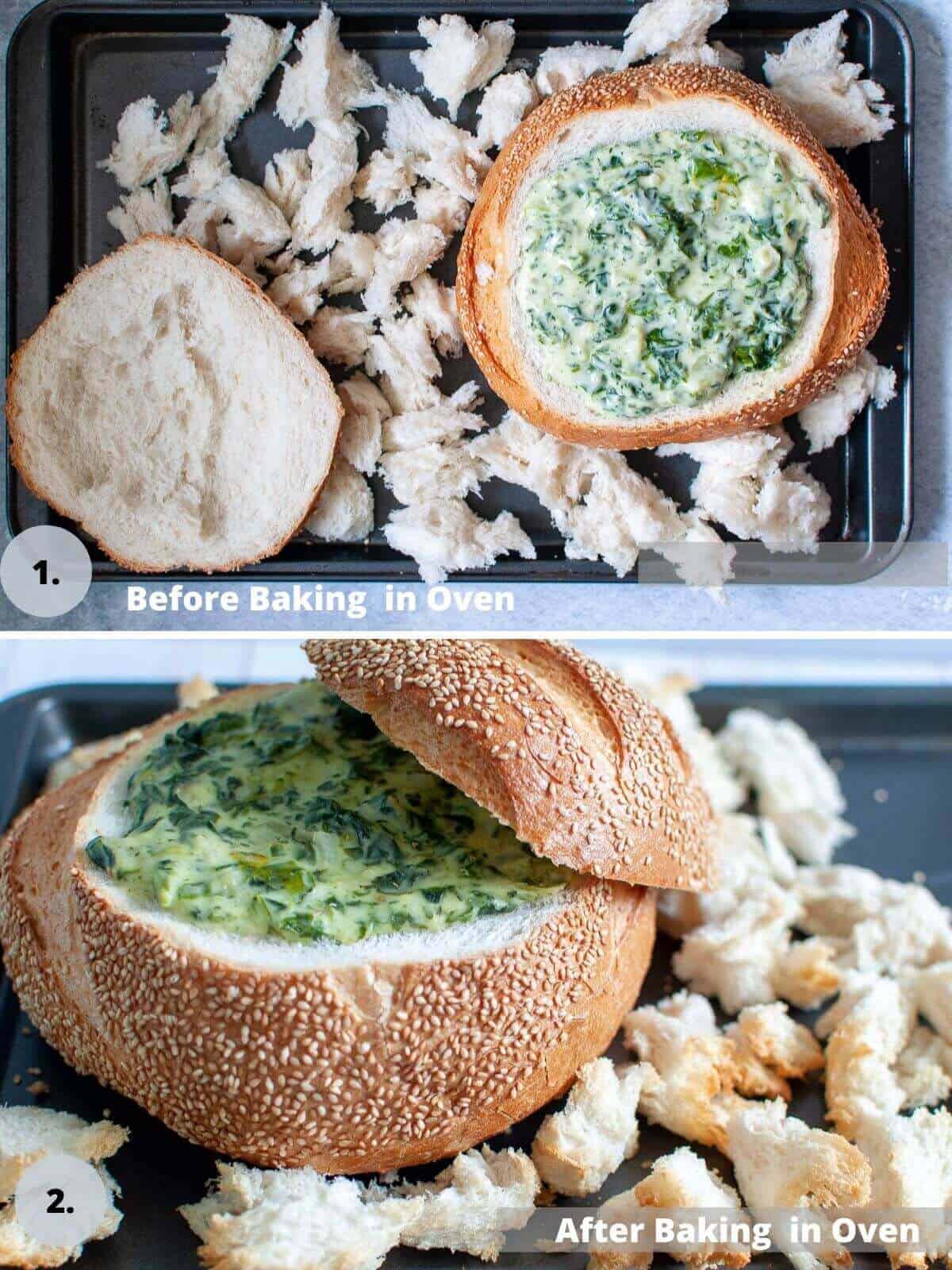 What To Use Instead of Spinach
If spinach isn't your thing, but you like the idea of a cob loaf dip, there are a few things you can use instead. At step 2, stead of adding the spinach to the onion and garlic, substitute you favourite alternative instead.
Bacon is my other favourite way to eat cob loaf.
Corn is also another popular substitute for
Cooked shredded chicken is a great way to up the protein factor
Or if you just want extra cheese, keep just the onion and garlic at step 2, loos the spinach, and add generous helping of soft cheese (eg: camembert) into the cheese sauce
More Aussie Classics
Recipe Tips
Don't overcook the cob loaf. It should be only just golden. If its cooked too long the delicate bread pieces will become hard, and the top of the bread bowl will become to hard also.
A Whisk is essential to make the white sauce base. It helps to create a smooth sauce and to break up the butter and flour which breaks down to thicken the milk. The whisk is also useful for stirring in the cheese and helping it to melt through. I love using a silicone whisk so it doesn't scratch my pots.
Use a low fat cheese/low fat milk if you're looking to keep it lower in calories, however using the full fat versions will result in a richer and creamier dip. And hey, this isn't something you would eat every week, so a little comfort food in these times is OK.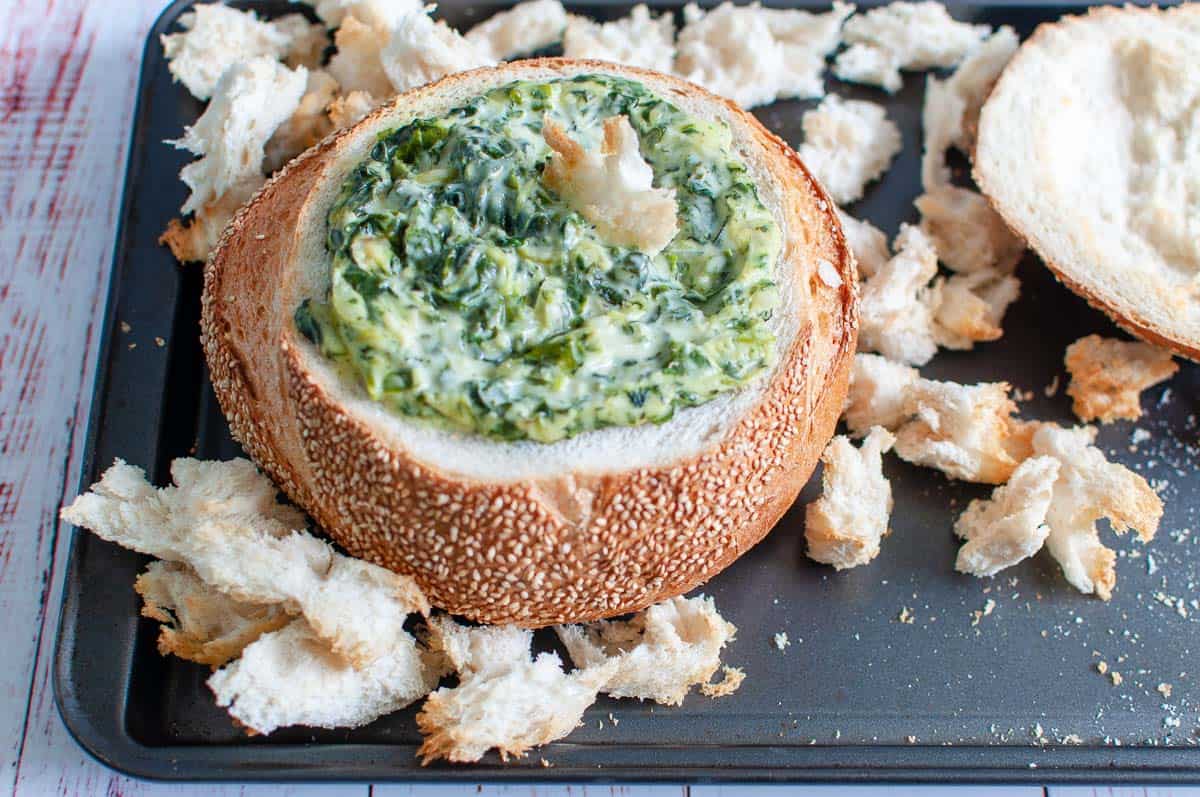 Maybe you've tried Cob Loaf in the past at a party or BBQ you were at, or maybe you've never even heard of it. Either way, it's a classic Australian recipe with many variations and its easy to make at home. Its great to share with family and is total comfort food.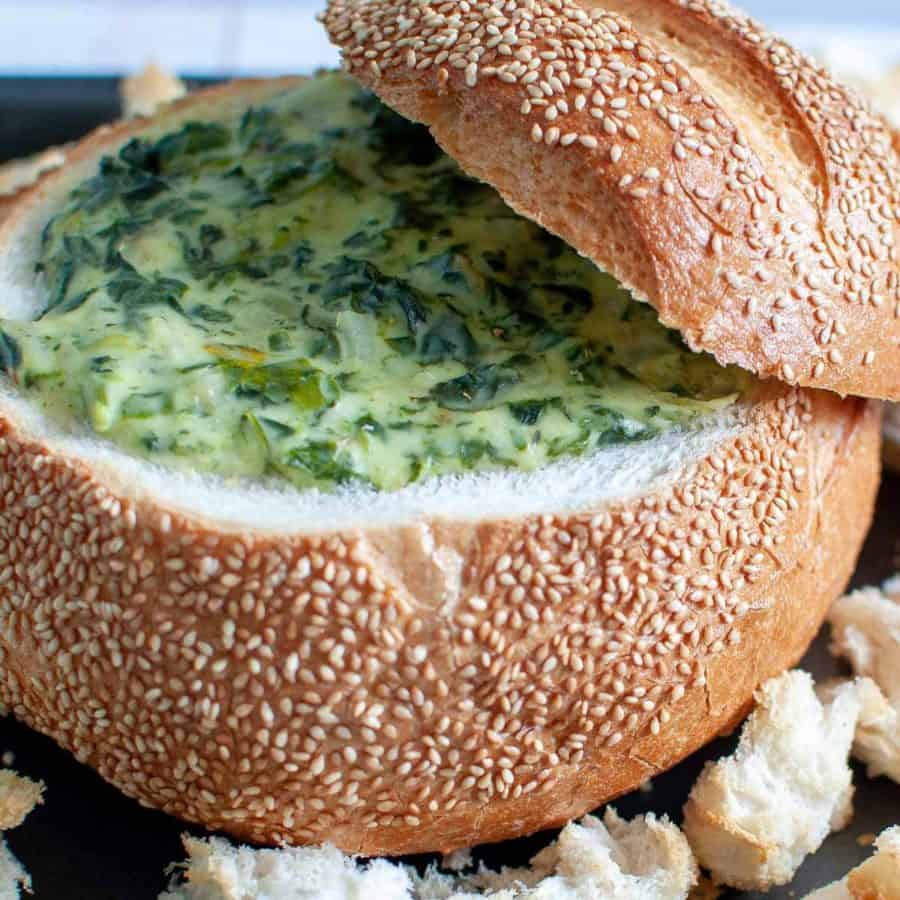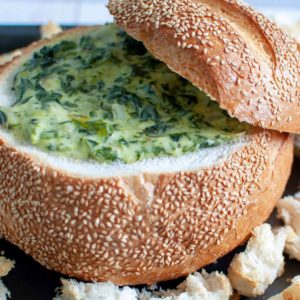 Cob Loaf
This delicious warm and crusty cob loaf with thick creamyspinach sauce is classic comfort food. Its cheesy, garlicy and filled with iron boosting spinach, and flavouredwith basil, sea salt and black pepper. 
Ingredients
1

Cob Bread Loaf

¼

cup

Butter

3

tablespoons

flour

2

cups

Milk

½

cup

grated cheese

1

teaspoons

crushed garlic

1

tablespoon

diced basil

½

teaspoon

salt

½

teaspoon

black pepper

1

packet

Frozen Spinach

-

(250 grams or 1 cup)
Instructions
Bread
Cut the top off the cob loaf. (cut about ¼ down from the top so that ¾ of the loaf remains). Put top of loaf off to one side as it will be needed later.

Hollow out the cob loaf, by picking out the inside of the bread in chunks and place on a baking tray
Filling
Preheat oven to 180 degrees C or 350 degrees F

Heat a pan on medium heat and add the onion and garlic. Cook for a few minutes until onion starts to soften. Add the spinach and gently stir through to heat for a minute, then remove from heat and set aside.

In a separate pot, set on high heat and melt the butter. As the last of the butter melts, remove from heat and add the flour, stirring through with a spoon to make a paste.

Place pot back on stove on high heat and add 1 cup of the milk, whisking continuously and vigorously to break down the paste and to thicken the milk (this make take a few minutes)

As the milk starts to thicken consistency, add the second cup of milk and stir continuously for 2 minutes.

Add in the grated cheese, garlic and diced basil and stir through for a couple minutes. Sauce will continue to thicken.

Add spinach/onion/garlic mixture to the creamy sauce. Add salt and pepper, stirring through. Once combined, remove from heat

Pour the filling into the bread bowl. Arrange the bread chunks and bread lid on the baking tray around the bread bowl

Bake in the oven at 180 degrees C/350 degrees F for 10 minutes

Remove from oven, gently stir the cheese spinach sauce with a spoon and serve immediately.
Notes
Frozen Spinach Substitutes:  In lieu of the spinach, you can substitute bacon bits or canned sweetcorn.  Fresh baby spinach can be substituted with frozen spinach
Additional Flavour enhancers:  add one teaspoon of smoked paprika stirred through sauce before pouring into the bread bowl.  Alternatively, you could also try ½ teaspoon of dried curry powder.  Use one or the other, not both.
A Whisk is essential to making the base dip so that you get a nice smooth consistency before adding in the spinach
This recipe is an ideal size for four or five people to share as a starter, or as part of a larger platter of food.
Nutrition
Calories:
401
kcal
Carbohydrates:
51
g
Protein:
11
g
Fat:
15
g
Saturated Fat:
12
g
Sugar:
5
g
Note: Sugars contained in this recipe are from naturally occurring sugars in fruits, vegetables or other natural sweeteners.
Looking To Cut Out Sugar? Get the FREE Healthy Food Swaps Checklist Pack!
Get your FREE Healthy Food Swaps Checklists with over 65 Healthy Food Alternatives to Help you Ditch The Sugar Without Feeling Deprived.