A healthy creamy Tuna Mornay Pasta Bake without milk or cream! Instead Cream of Mushroom Soup is used to create the creamy flavour for mornay sauce. Cooked pasta is then added with a light sprinkling of grated cheese on top. Comfort food made from pantry staples.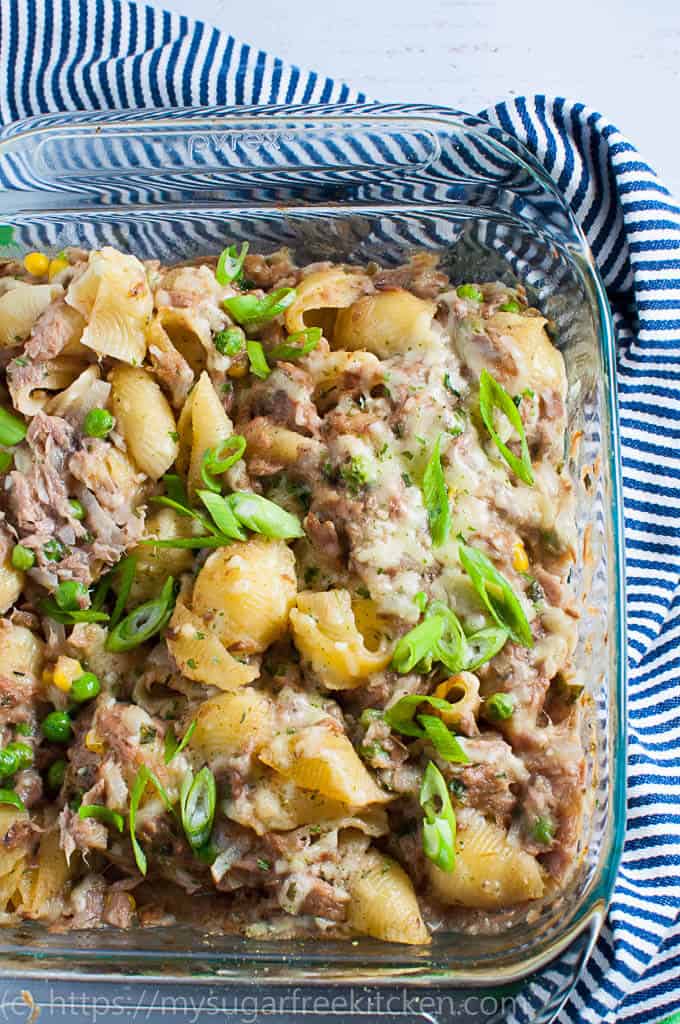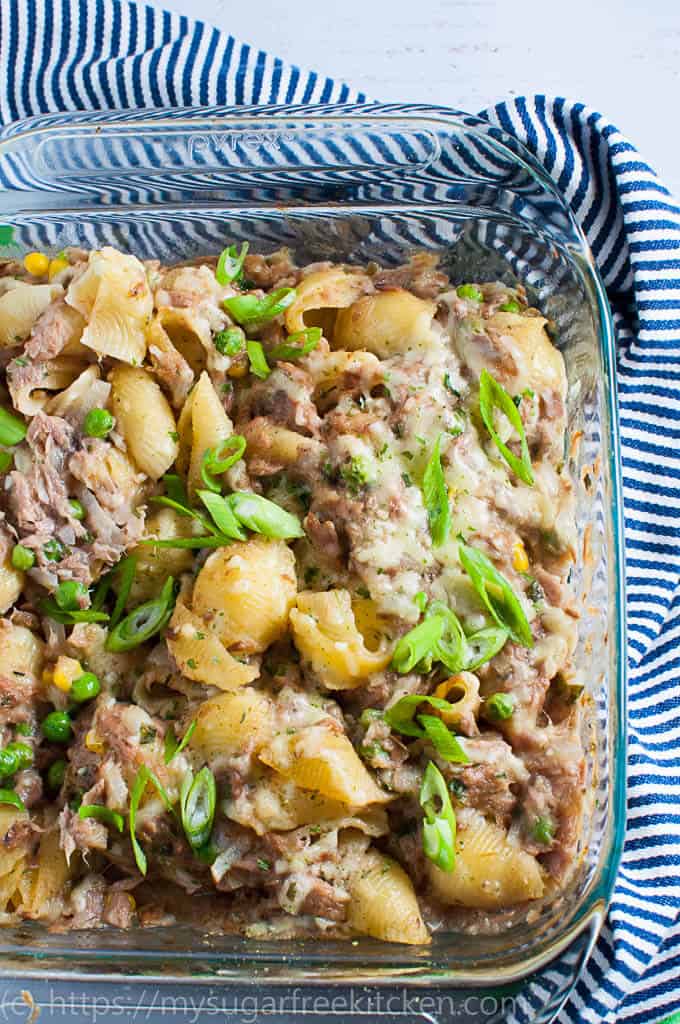 This is a really easy dish to make and you probably have many of the ingredients already in your pantry. Using a dried packet soup makes this versatile in that virtually any one will do, along with whatever pasta and vege you have on hand. Plus a few extra things to add some flavour.
Ingredients
Packet Pasta (shells, or spirals or any other type of dried pasta)
Chunky Tinned Tuna in springwater
Cream of Mushroom Packet soup (or Cream of Chicken packet soup)
Diced onion, crushed garlic, garlic salt, dried chives or other dried spices
Frozen corn and peas, or tinned
Grated cheese
Shallots/spring onions optional
Related Posts: Easy Salmon Fritters, 15 minute Salmon Stirfry, Lemon and Garlic Prawn Pasta (make with frozen prawns!), and Tuna Pasta Bake With Kale and Brocolli.
Flavour Enhancers
Dried Spices: basil, oregano, thyme, smoky paprika, chives and parsley will all work well.
Sauces: add a little bit of wholegrain mustard or dijon mustard to the mornay sauce for a tangy hit.
Olives: particularly bottled green olives you may have stashed in your pantry. These can add an extra layer of texture and some additional saltiness for flavour.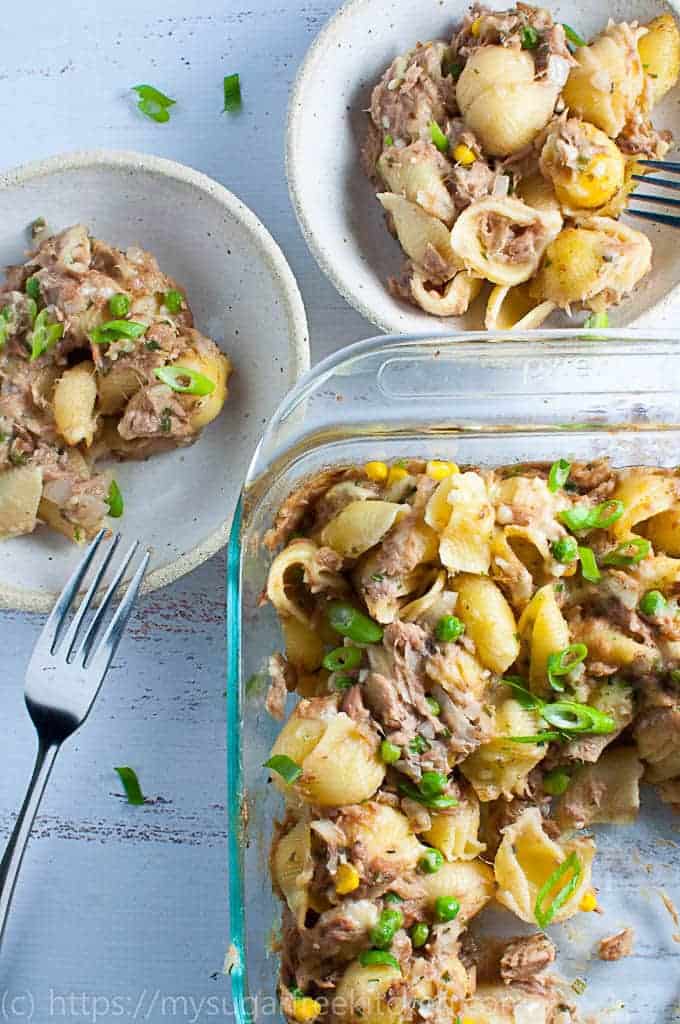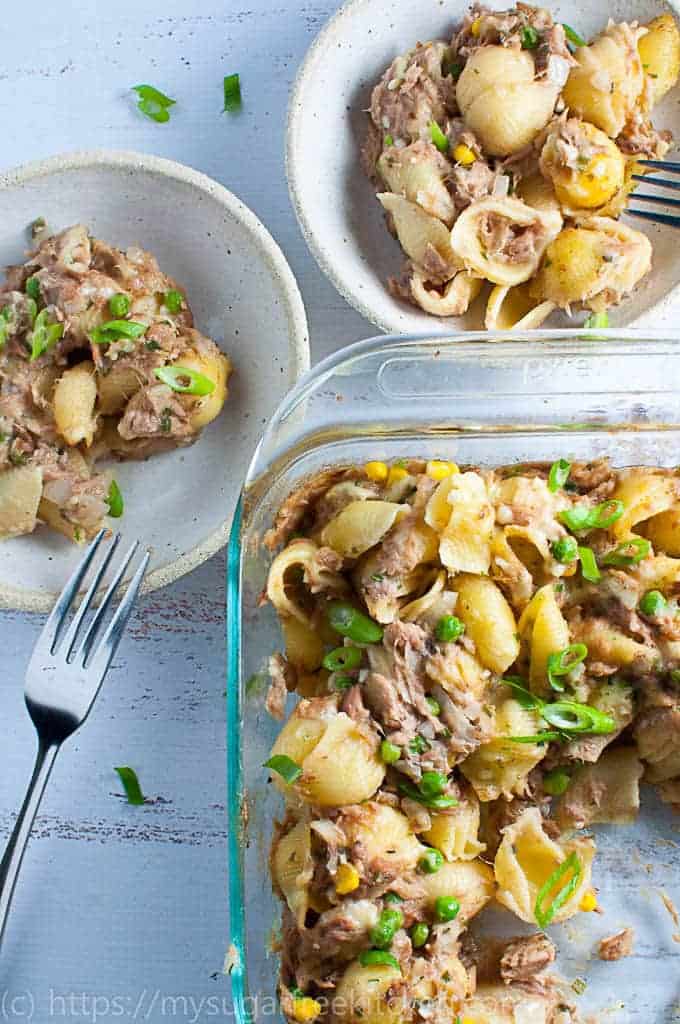 Will it work with Salmon?
Yes this will also work with canned salmon following the same instructions. Just make sure to remove all the bones/skin from the salmon before hand.
Alternatives to Pasta
Want to still make a healthy creamy pasta comfort food dish but without the pasta? It's possible with some of these alternatives:
Cooked white or brown rice
Pearl Cous Cous
Canned Lentils or chickpeas
Cooked sweet potato in chunks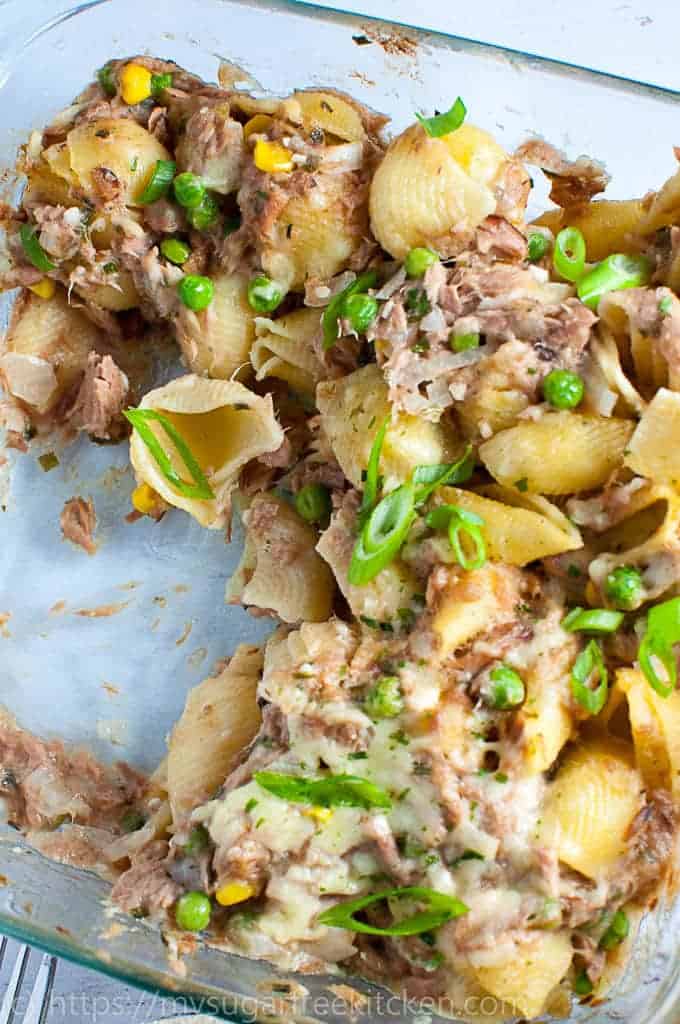 Related: Creamy Spinach Cob Loaf Dip
Recipe Tips
For extra texture on top, add a sprinkling of breadcrumbs over the grated cheese before baking.
For extra creaminess, you can of course add in some cream, or milk to the mornay sauce.
To make it spicy, add some black pepper, along with half a teaspoon of dried chili flakes into the mornay sauce.
For extra cheesy, add a layer of grated cheese on the bottom of the casserole dish, followed by the tuna mornay pasta, then rated cheese on top.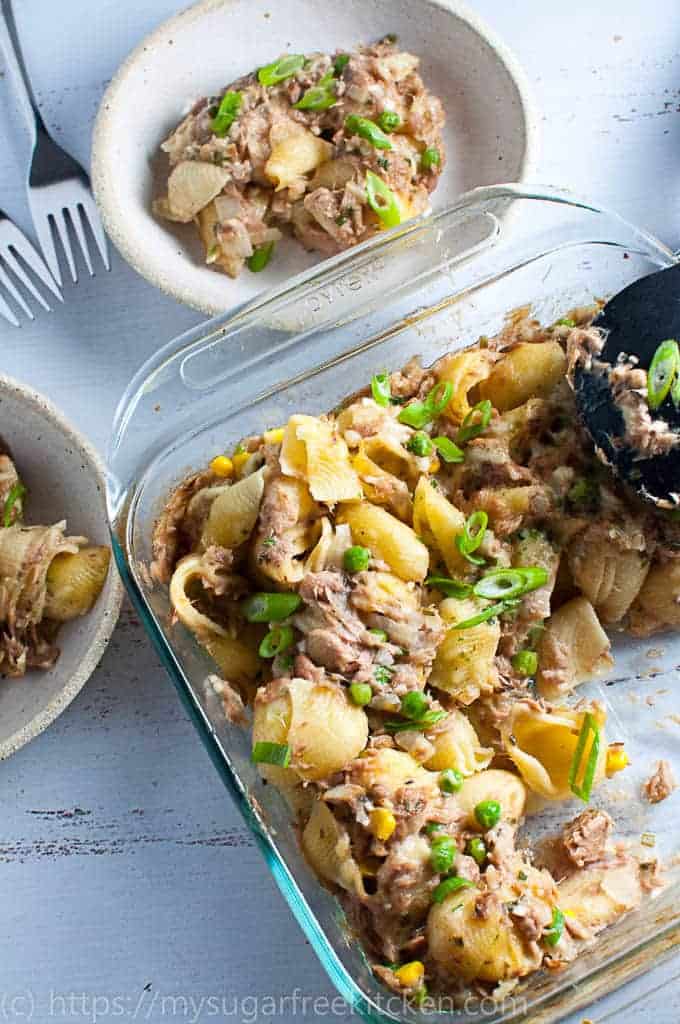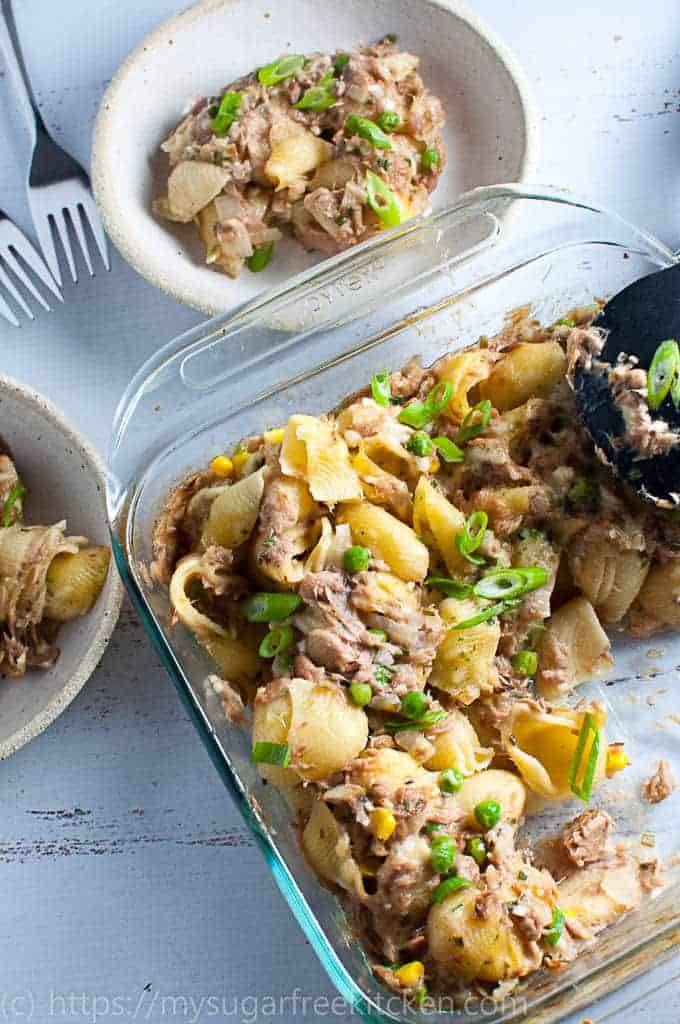 Serving Suggestions
A simple garden salad is great with this dish and keeps it light
Serve on a bed of lettuce for a fresh crunch
Serve with a squeeze of lemon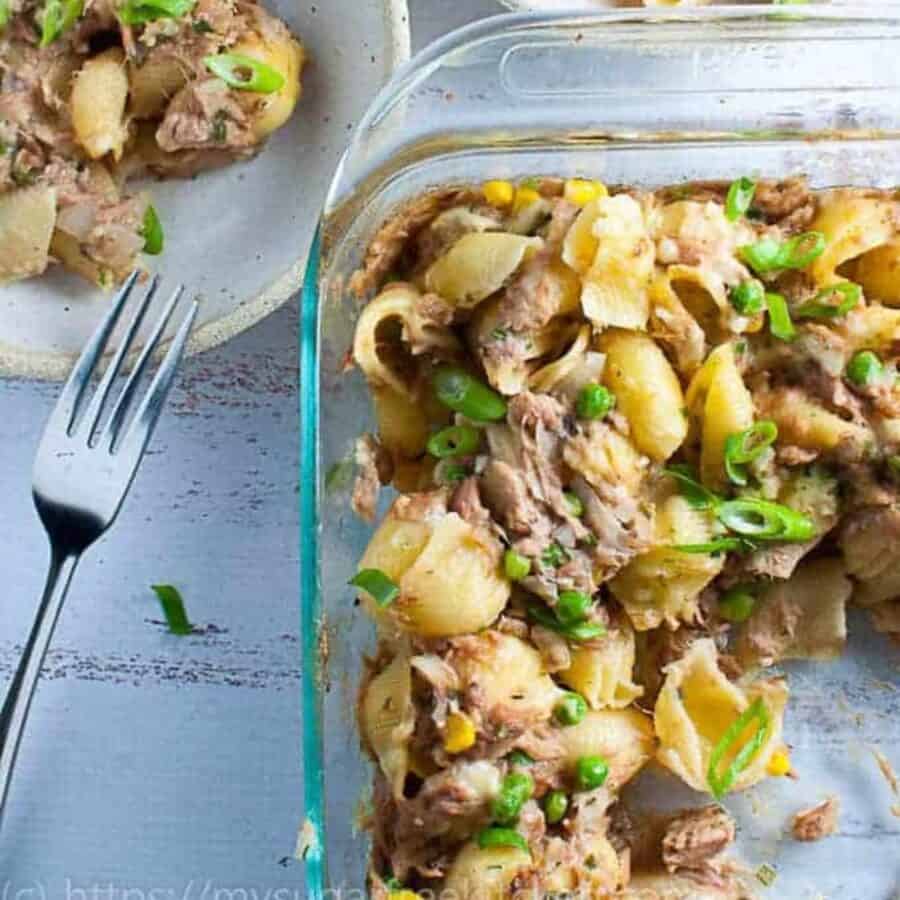 Tuna Mornay Pasta Bake
Easy tuna mornay pasta bake made with cream of mushroom soup. Tastes rich and creamy, but amazingly has no cream or milk! Lots of flavour with few ingredients. Perfect.
Ingredients
250

grams

/ 9 oz. pasta

-

(I use shells)

410

grams

/ 14.5 oz. Chunky Tinned Tuna

2

packets

/ 4 tablespoons Dried Cream of Mushroom Soup

-

(I used the Continential brand)

½

Medium Onion, diced

2

Cloves

Garlic, crushed

½

teaspoon

Garlic Salt

1

tablespoon

Dried Chives

250

ml

Boiling Water

2

tablespoons

Frozen corn and peas

2

tablespoons

of low fat grated cheese

Shallots to garnish
Instructions
In a medium sized saucepan bring a pot of water to the boil and place pasta in. Cook until just soft

Whilst pasta is cooking, in a separate saucepan, heat the butter, onion and garlic until translucent

To the boiling water, add one packet of soup mix and stir thoroughly to combine to create a white sauce. Add to onion mixture and stir to combine

Add to this, the second packet of dry soup mix, no extra water needed. This is to thicken the white sauce. Stir until it becomes thicker and reduce heat.

Drain tuna of liquid from the tin and add to the saucepan of white sauce. Stir to combine. Add in the frozen peas and corn and stir for a further minute. Tuna sauce is done.

Once pasta is cooked, spread it into an ovenproof dish. Pour the tuna sauce mixture over and gently turn over with a spoon to combine.

Sprinkle with cheese and bake in moderate oven at 180 degrees C/350 degrees F for 20 minutes.
Notes
Freezing:  This dish freezes well and can be stored for upto 2 months in the freezer.
Soup Base:  If you can't find cream of mushroom packet soup, you can substitute with cream of chicken or any other type of dry packet soup following the same instructions as above.
Serving Options:  a garden salad, on a bed of lettuce or with a squeeze of lemon
Extra Cheese and Creamy:  Add in some cream or milk to the mornay sauce at step 4 (a little at a time).  Add in an extra cheese layer on the bottom of the dish.
Pasta Alternatives:  Drained and rinsed canned lentils, cooked pearl cous cous, cooked brown or white rice
Veg alternative:  diced broccoli or cauliflower work well
Nutrition
Calories:
422
kcal
Carbohydrates:
54
g
Protein:
23
g
Fat:
12
g
Saturated Fat:
2
g
Fiber:
2
g
Sugar:
9
g
Note: Sugars contained in this recipe are from naturally occurring sugars in fruits, vegetables or other natural sweeteners.
Looking To Cut Out Sugar? Get the FREE Healthy Food Swaps Checklist Pack!
Get your FREE Healthy Food Swaps Checklists with over 65 Healthy Food Alternatives to Help you Ditch The Sugar Without Feeling Deprived.
★ Did you make this recipe? Don't forget to give it a star rating below!