This healthy Tuna Broccoli Pasta Bake is a versatile meal, not to mention its healthy, yummy, and high in protein, even with the pasta, thanks to the high protein penne pasta I chose for the recipe. I mean, seriously I would eat this for lunch, for dinner, and after a gym workout. It nutritious, good for you and easy to make.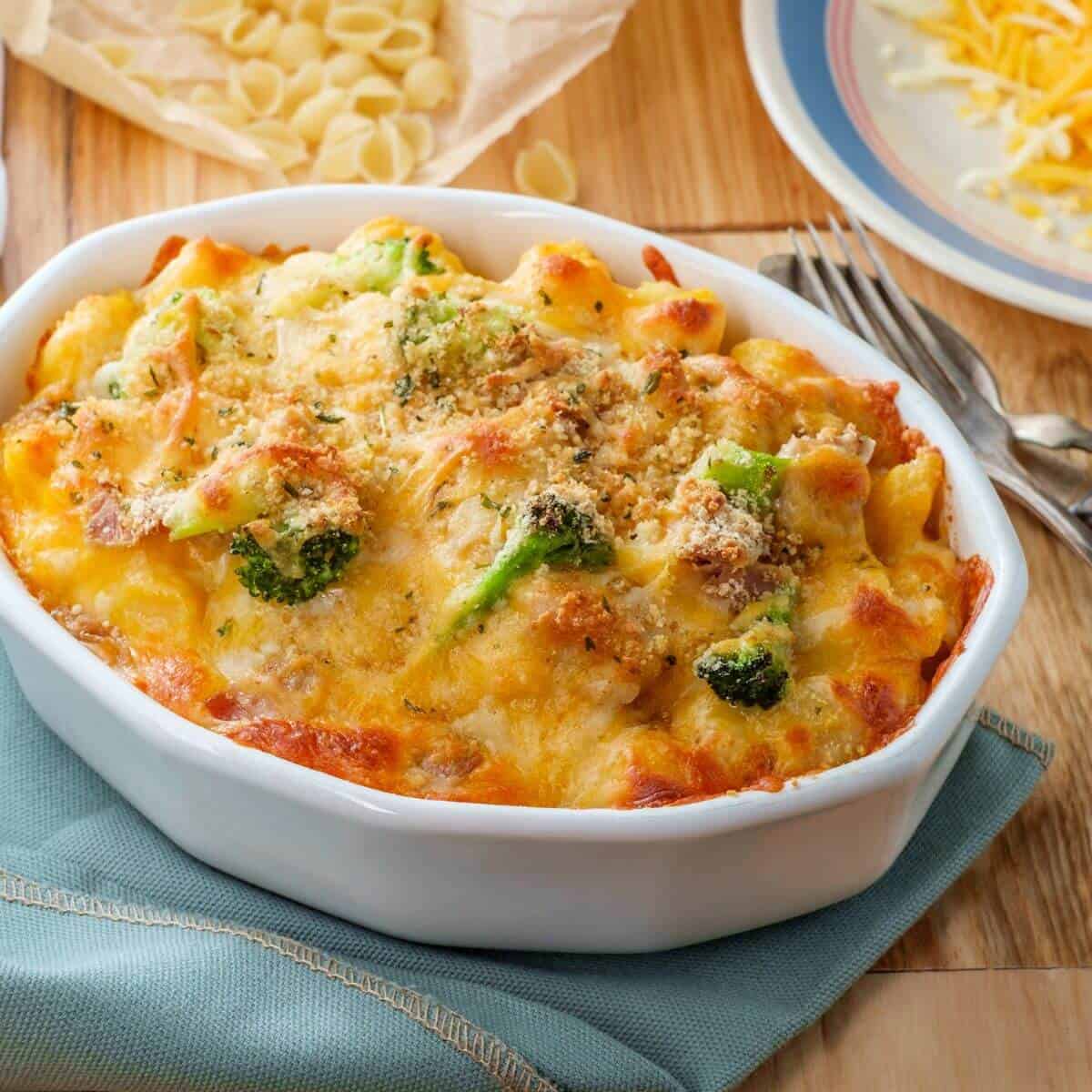 Anything that is baked in the oven with cheese on top and has crunchy bits, and is under 400 calories per serve is a winner in my book!
This is also one of those recipes that is great to make on a Sunday evening, you know, while you're making your other actual Sunday dinner because this tuna bake keeps in the fridge for a few days and it also freezes well. Perfect for pulling out after a long day at work…. Or just when you don't feel like getting saucepans out.
Tuna Pasta Bake Leftover Tips
Leftovers for Lunch. Make on a Sunday night and have the leftovers for weekday lunches. It provides that big protein hit and will leave you feeling fuller for longer without those annoying energy slumps after lunch
Eat it cold or warm. It really is good either way.
Portion it out. Store leftovers in lunch or dinner sized portions that you can eat in one sitting. I find this makes it easier to grab and go when you;re in a hurry.
When you make this dish and eat it straight from the oven, that delicious texture from the breadcrumbs combined with the stringy cheese is oh so good!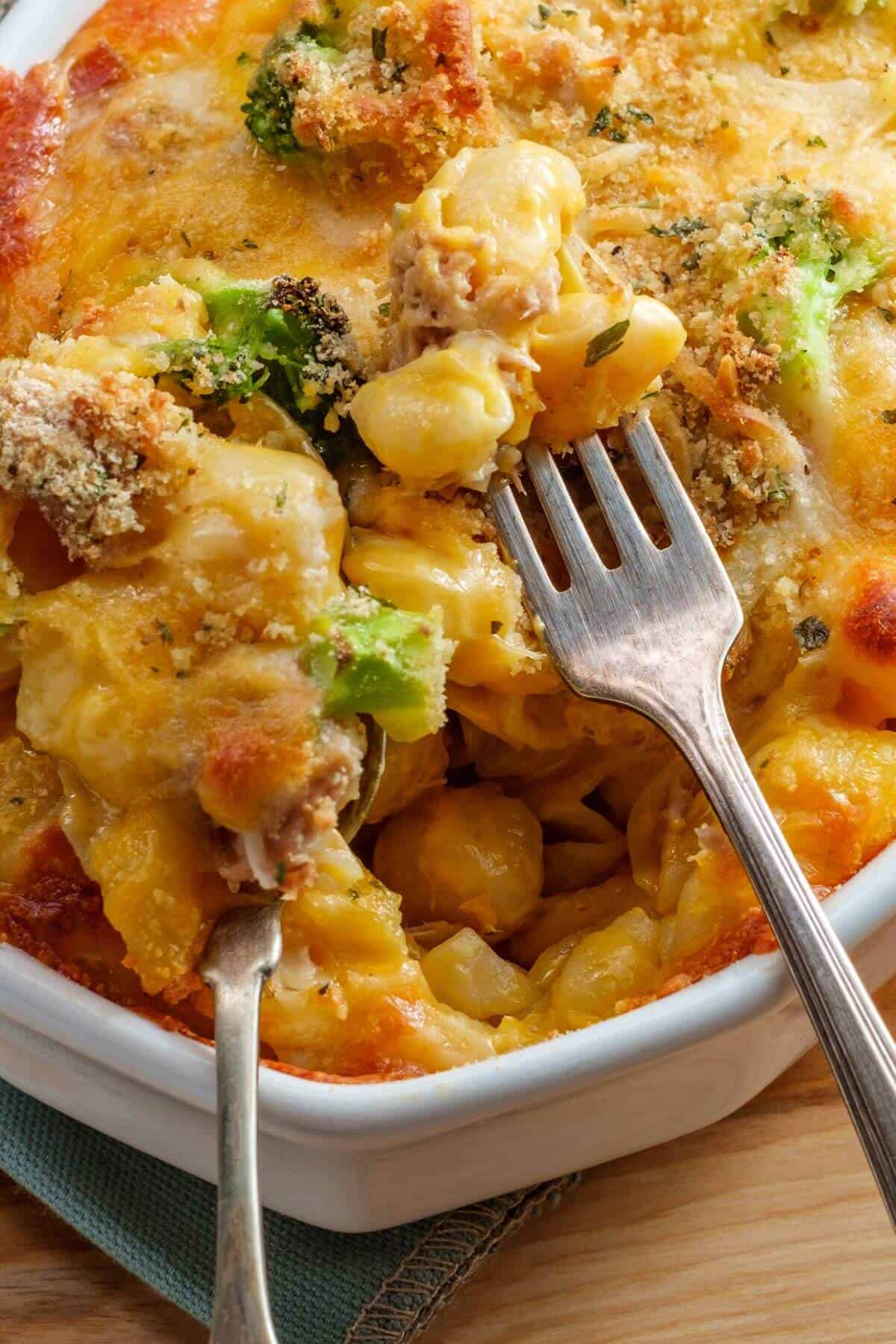 I actually felt good eating it to. You know those dishes where you enjoy preparing them and then there's the anticipation of eating and then the actual eating, and sometimes it just doesn't come together. Well, this does come together.
I felt good preparing it, and I felt good eating it. And afterward, I wasn't hungry. Just happy that I had cooked a good solid healthy nutritionally balanced tuna bake that I really enjoyed!
Love tuna? Then check out my Tuna Mornay Pasta Bake for a slightly more richer tuna dish.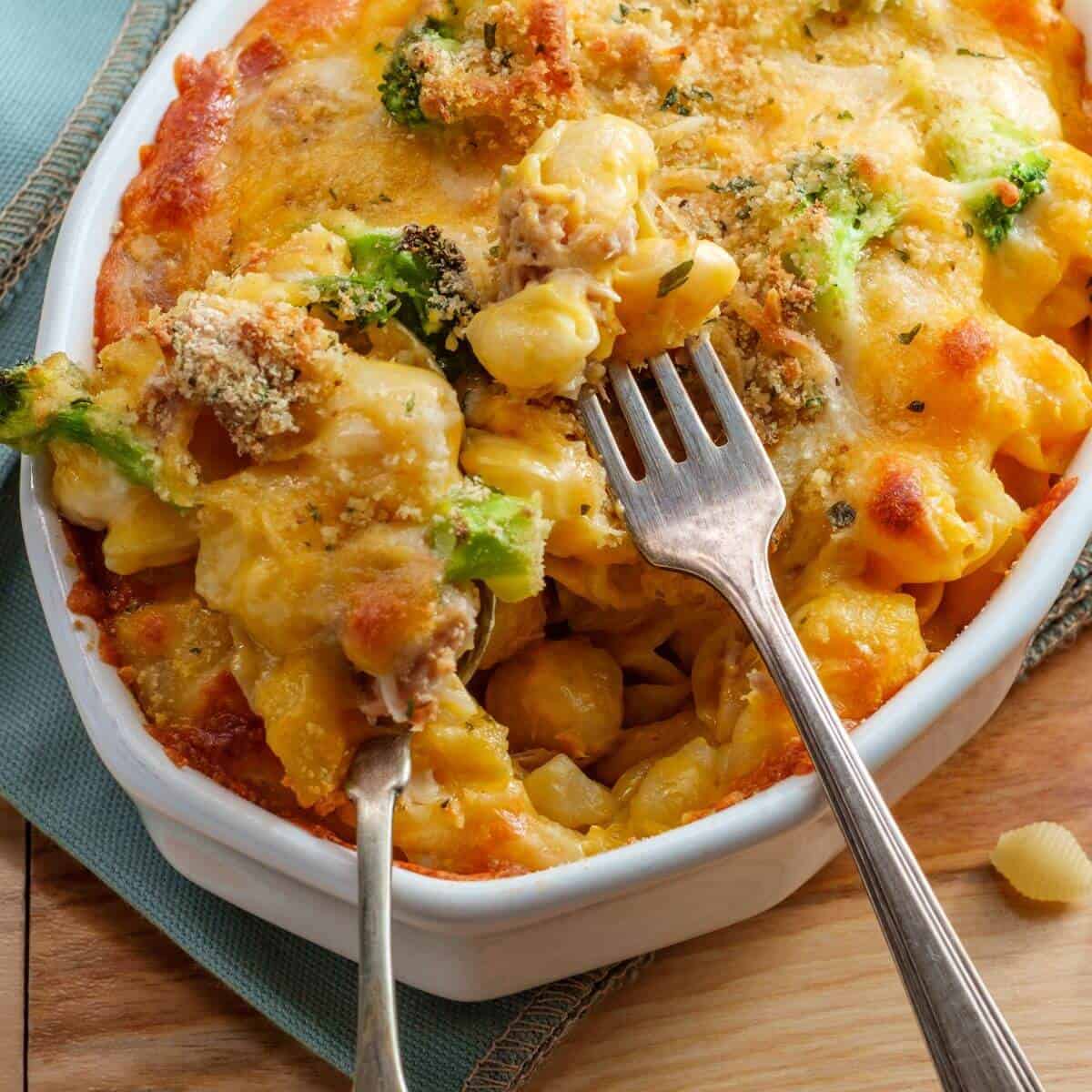 There's nothing like getting all your nutritional requirements in one meal! Fibre from the kale and broccoli, protein from the tuna and carbs (and protein) from the pasta, especially when you choose high protein pasta.
It's hard to go past a tuna pasta bake for all round versatility, and I love it because it's easy to make and stores well in the fridge and freezer. An all round winner for me. If you love your seafood like me, check out my healthy no fat salt and pepper squid or my on the table in 30 minutes one pot moroccan fish stew.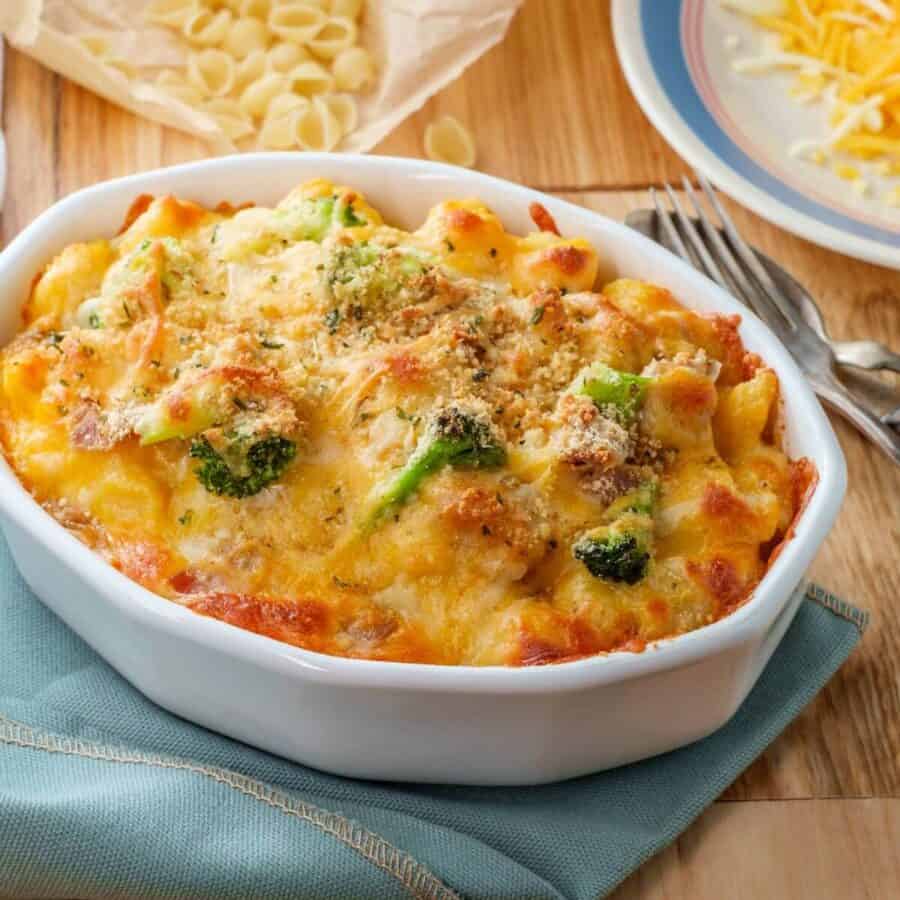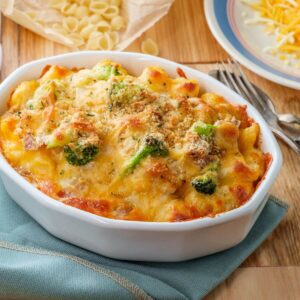 Tuna Broccoli Pasta Bake
This quick and easy Tuna Broccoli Pasta Bake is perfect for making when you want a healthie spin on comfort food. Its creamy and filling yet high in protein and is great for meal prepping.  
Ingredients
425

grams

/ 15 oz. Tinned Chunky Tuna

-

tinned

50

grams

/ 2 oz. broccoli

250

grams

/ 1 cup pasta
White Sauce
2

tablespoons

butter

1 ½

tablespoons

Plain flour

1

cup

Low Fat Milk

1

packet Spring vegetable soup
Topping
1

teaspoon

Multigrain breadcrumbs

⅓

cup

Low fat grated cheese
Instructions
Pasta: In a pot of boiling water, cook pasta to your liking. Once done, drain and set aside

White Sauce: Melt the butter in a saucepan. Just as butter becomes melted, add plain flour to make a paste

2 tablespoons butter,

1 ½ tablespoons Plain flour

Gradually whisk in the milk until everything is combined and all lumps are gone.

Whilst stiring the white sauce, whisk in the powdered soup until it is all combined. This acts as a thickener and will change the consistency of the sauce to be thicker. Take of the heat once all combined.

1 packet Spring vegetable soup

Prepare Veg: Heat a skillet on high heat, add a little spray oil fry off the broccoli for 1 - 2 minutes. Put to one side once done

50 grams / 2 oz. broccoli

Tuna: Drain the tuna until all the liquid is removed. Depending on how you like your tuna, you could add it to the white sauce after you've drained it, or use a fork to mash it up into smaller pieces. Once tuna is added to sauce, stir to combine

425 grams / 15 oz. Tinned Chunky Tuna

Add Broccoli: : Add the broccoli to the tuna and white sauce and gently stir to combine

Putting it all together: finally mix in the drained pasta and stir to combine everything together

In a baking dish, spoon the tuna pasta mixture until evenly spread. Spread the multigrain breadcrumbs and cheese.

⅓ cup Low fat grated cheese,

1 teaspoon Multigrain breadcrumbs

Bake in fan oven at 180 degrees C (320 F) for 20 to 25 minutes.
Notes
Notes: Tuna bake will keep in the fridge in an air tight container for upto 2 days.  Serve with a green salad and a slice of lemon.
Nutrition
Calories:
395
kcal
Protein:
39
g
Fat:
22
g
Saturated Fat:
5
g
Fiber:
5
g
Sugar:
2
g
Note: Sugars contained in this recipe are from naturally occurring sugars in fruits, vegetables or other natural sweeteners.
Looking To Cut Out Sugar? Get the FREE Quick and Easy Food Swaps Checklist Pack!
Get your FREE Quick and Easy Food Swaps Checklists with over 65 Simple Real Food Alternatives to Help you Ditch The Sugar Without Feeling Deprived.
★ Did you make this recipe? Don't forget to give it a star rating below!