Who doesn't love a good Chocolate Date Slice.  This little beauty contains no refined white or brown sugars and is instead sweetened naturally with dates and a little stevia.  Its just 20 minutes in the oven and it has oats, peanut butter, cinnamon and walnuts and of course cocao powder.  It's kind of like a healthy brownie, and just 150 calories.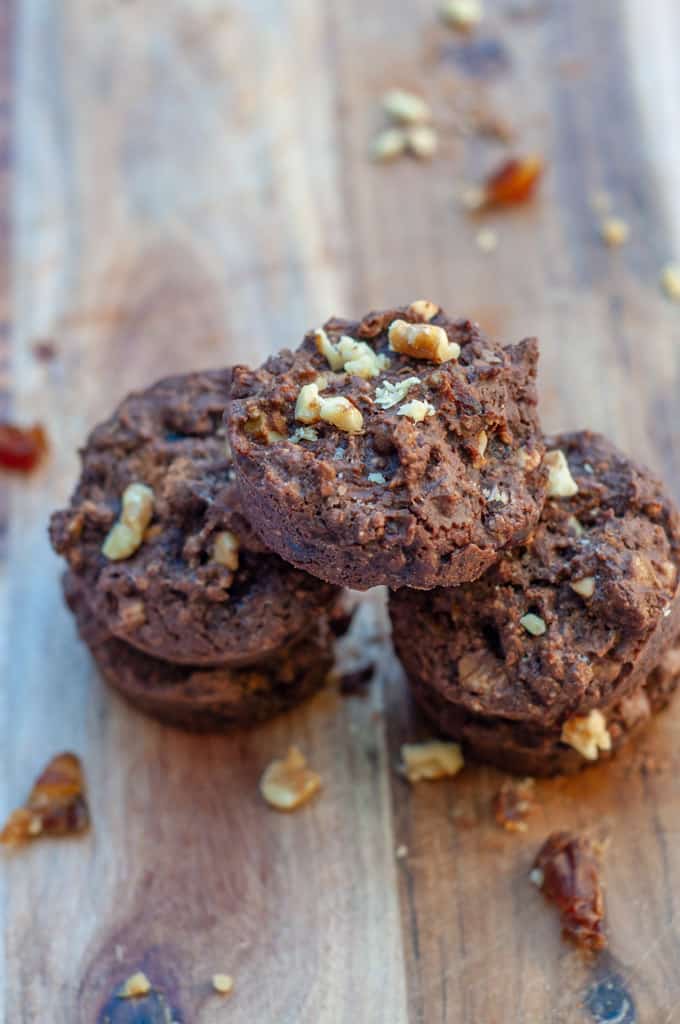 This slice is light, rich and moist thanks to the dates and cocao used in the recipe and it's not overly sweet in taste.  I find I tend to make this recipe when I have people coming over and I'll make it as a dessert and serve it with a little double cream, or I'll make a batch for the office morning tea – and they usually go down a treat.
Chocolate Date Slice as a Snack or Dessert!
I love that these chocolate slice bites are just the right size for a snack or dessert so they are really versatile depending on the occasion.  For a snack, eat it as is.  For a dessert, dress it up with some double cream, sugar free custard, raspberries and blueberries.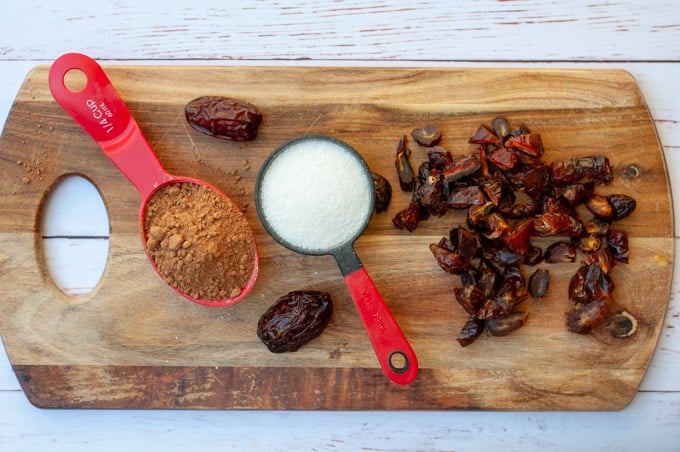 Is It A Brownie, A Slice, A Bite or A Muffin?
What inspired me to make this recipe was that I wanted something kind of like a brownie, but not exactly a brownie as I find them too sweet and generally a little bit gooey.  My version of chocolate date slice is one part brownie, one part slice, one part muffin.  For me, this was the perfect blend of a low calorie snack that wasn't too sweet, to gooey or too big.  It was just right. And it can be either a dessert or a snack.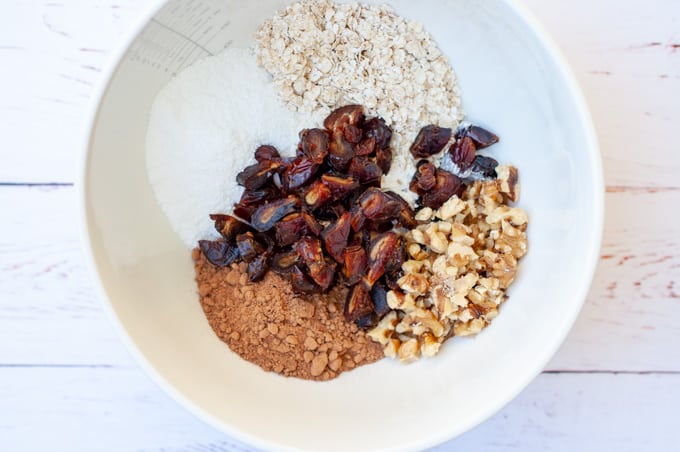 TIP: The other great thing about this recipe is that it freezes really well.  Just divide them into four groups, and pop pieces into a Ziploc bag and freeze for upto 4 weeks.  When you want to eat them, it's best to let them come to room temperature first, or if you're feeling impatient, zap in the microwave for 10 to 15 seconds.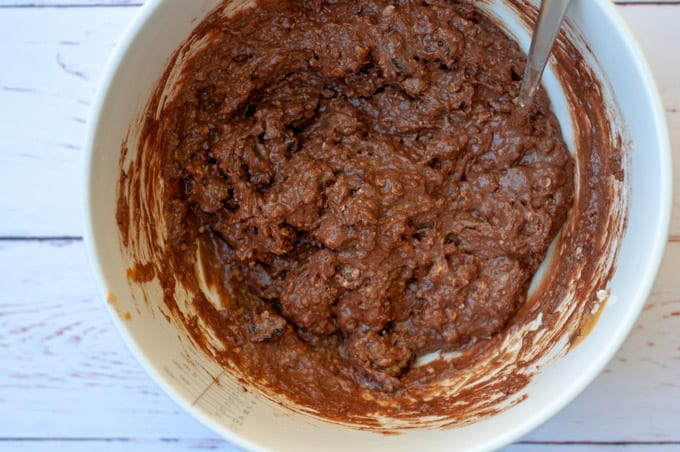 What About The Sugar?
Now it might seem that one piece of this chocolate date slice contains a lot of sugar, but it's the natural fruit sugars from the dates.  Fruit sugars aren't bad for you.  They actually contain lots of fibre and anti oxidents and if you're going to eat a chocolate slice, better to have one sweetened with fruits, than with refined white and brown sugars.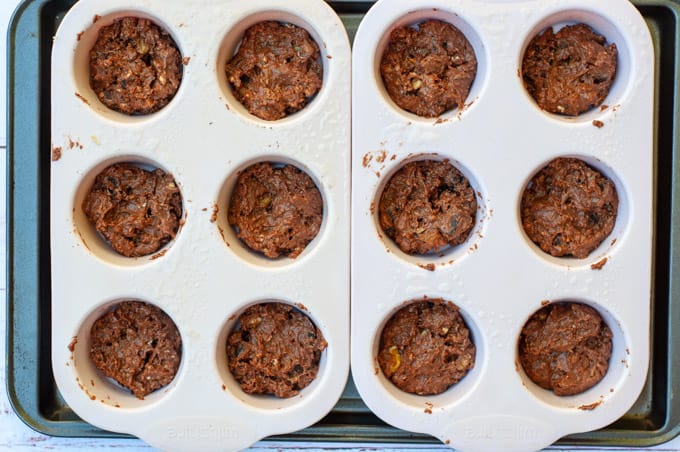 This is a slice best eaten in moderation if you're concerned about the fruit sugars.
Other Easy Snack Recipes —>> Sugar Free Lemon Bars, Low Carb Carrot Cake, Cocao Bliss Balls, and these Sugar Free Apple and Ginger Muffins.
Variations and Substitutions:
Instead of the walnuts, you could use pecans, macadamias or almonds
Instead of the Cocao powder, you could use an unsweetened Chocolate Coco powder
Instead of sugar free or natural peanut butter, why not try another type of nut butter like cashew.

The Best Way To Eat a Chocolate Slice Resembling a Brownie?
The best way to eat this slice in my opinion is as a dessert as part of dinner shared with friends.  Because if you're anything like me, some friends will want a sweet treat after dinner and some won't.  Some might even want two or three.  These chocolate date slice bites are the perfect dessert that can be made ahead.  They won't melt or spoil and any leftovers you can freeze for next time!  A dinner party winner!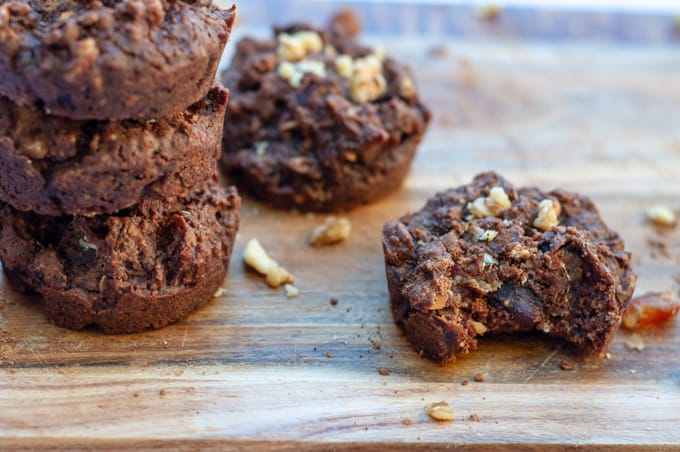 Like what you see? Follow me on Facebook or Pinterest! Did you try a recipe? Tag me on Instagram: @mysugarfreekitchen, and leave a comment & star rating!
★ Did you make this recipe? Don't forget to give it a star rating below!