This Sugar Free Apple Ginger Muffins Recipe is light, fluffy and buttery, and just 109 calories per serve.  Sweetened naturally with Stevia, these are the perfect snack to have with your morning coffee.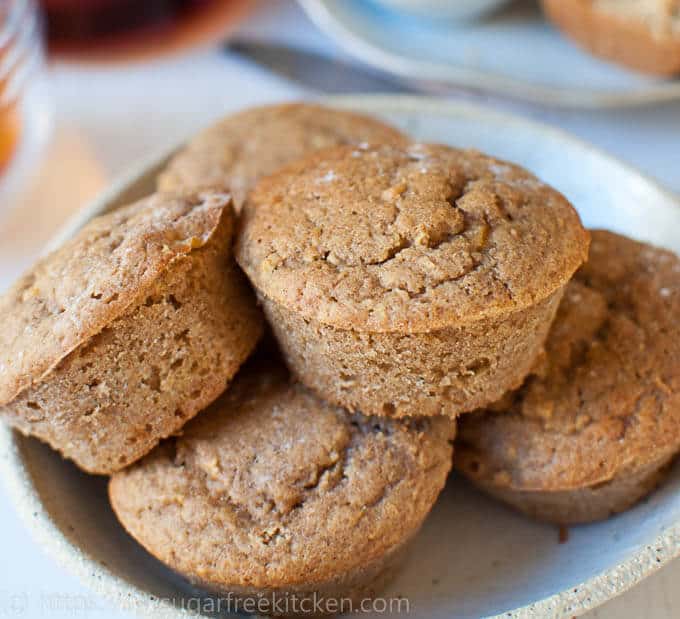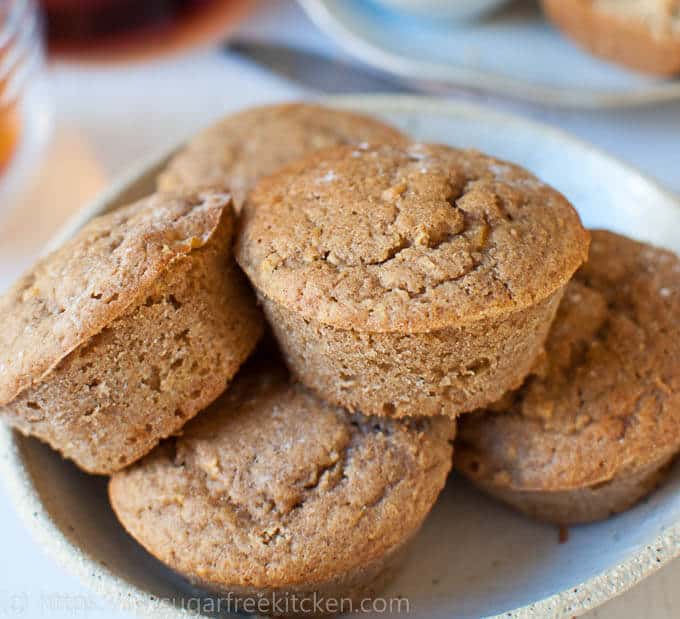 If you have a spare hour on the weekend, whipping up a batch of these healthy sugar free apple muffins and you'll have snacks on the go for the rest of the week.  They freeze beautifully, and 15 seconds in the microwave haves them tasting like they are fresh out of the oven.  I wait until they are completely cooled down, then stick 4 muffins in a medium sized zip lock bag and stack them in the freezer.  It's so easy to grab one of these Apple Ginger Muffins or these Sugar Free Banana Muffins out of the freezer in the morning on the way to work, pop it into my favourite Tupperware container and I'm away an armed with my morning coffee snack!
How To Make These Sugar Free Apple Ginger Muffins  Your Own
Add some chopped cranberries, or organic dried blueberries for an even extra fruity hit. ( I get my dried blueberries from the health food shop because I like tiny ones in my muffins!)
Roast of some pistachios, crumble them up and add them into the mixture, or add them on top just before putting them into the oven
Loose the ginger if you're not into that and double the cinnamon
Recipe Profile
Flavour: Buttery with noticeable cinnamon and ginger
Texture: light and fluffy with tiny pieces of apple
Visually: Perfectly shaped, cinnamon/gingery goodness
Aroma: Cinnamon and Ginger!
Pantry Staples Needed: Flour, Spices (Cinnamon and Ginger), Granulated Stevia
From the Fridge: Butter and Eggs
Unusual Ingredients: Cream of Tartar.  This is available from supermarkets and is a bit of an old fashioned ingredient that probably many of our grandmothers baked with.  And it is my secret ingredient to getting light and fluffy cakes and muffins!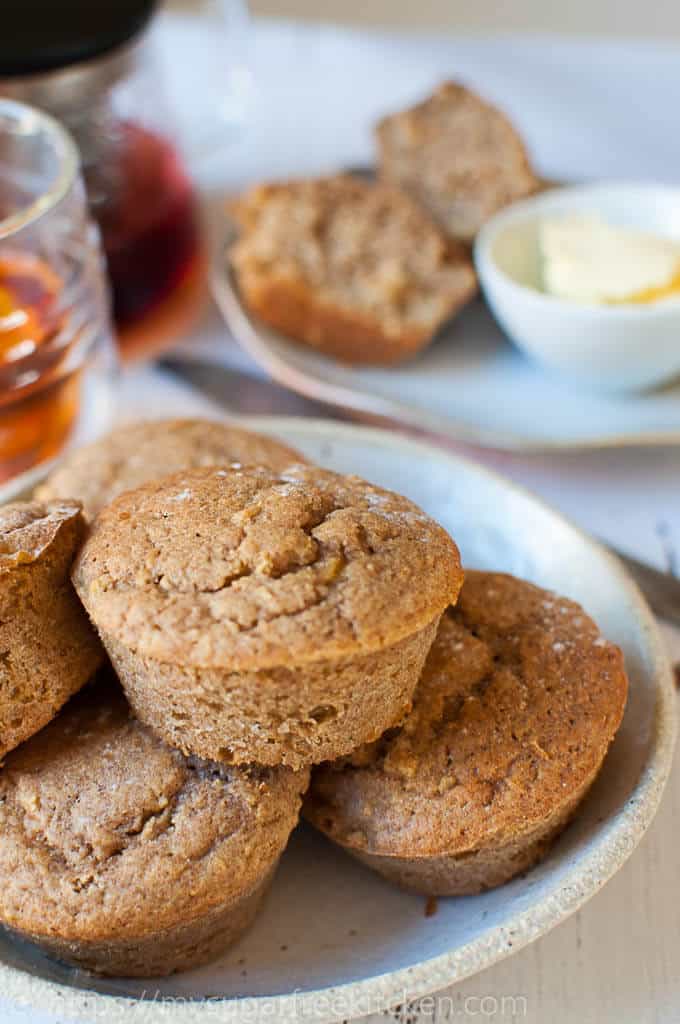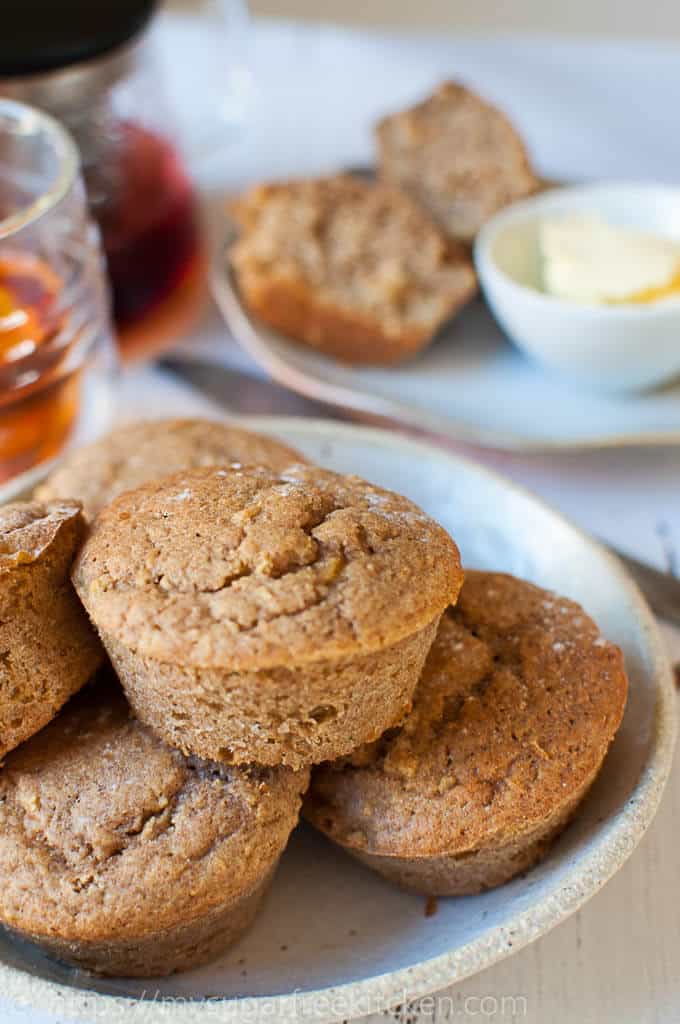 Using granulated stevia instead of white or brown sugars in this recipe helps to keep not only the calories down, but also helps to avoid those awful sugar spikes caused by the fructose in many refined sugar products.  The granulated stevia brand that I use is  fructose free so it's a win win.  No sugar spikes, and no feeling like I need to eat three or four of these little babies to feel satisfied.  One is actually enough!  Like one of these orange and almond cakes and I am so glad now I can enjoy a slice without feeling weighed down and guilty now that I have found an awesome sugar substitute.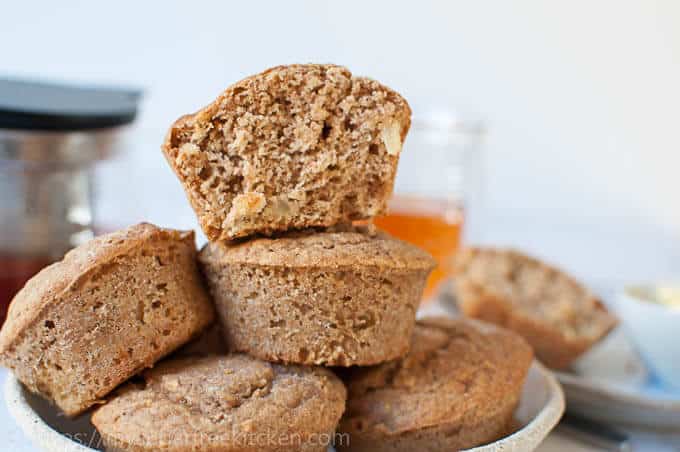 I made this recipe firstly, because I love muffins!  For me, having a muffin with my morning coffee is a relaxing kind of ritual and when I don't have it, I really notice it.  The other reason I made this recipe is because its simple and easy and completely done in less than 45 minutes and I have snacks for an entire week, not to mention sugar free, sweetened naturally with Natvia so no awful sugar highs followed by crappy lows.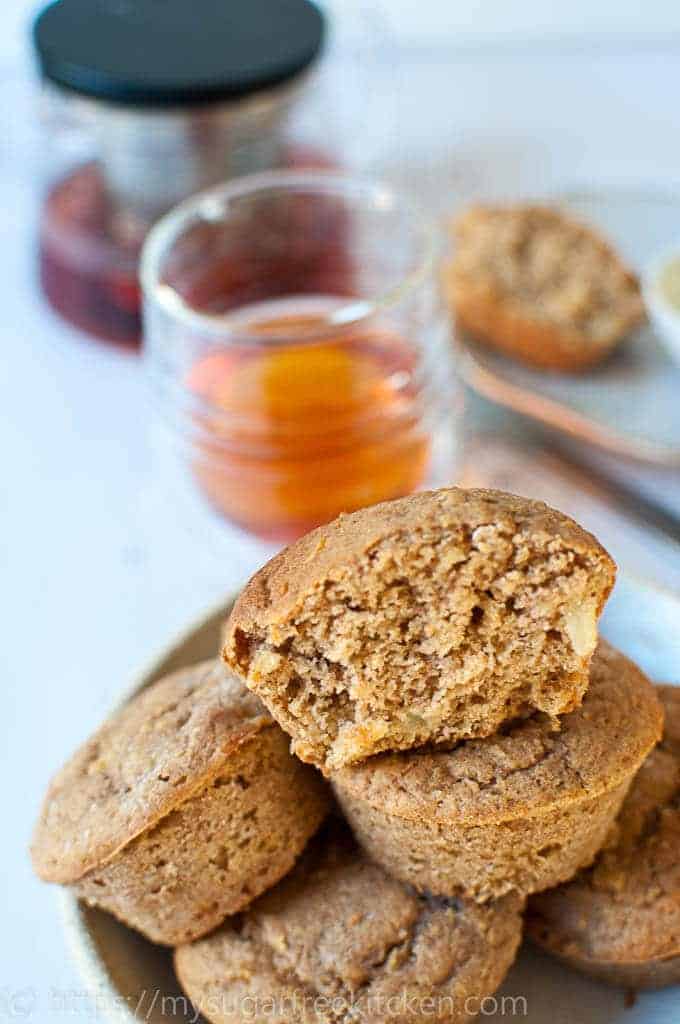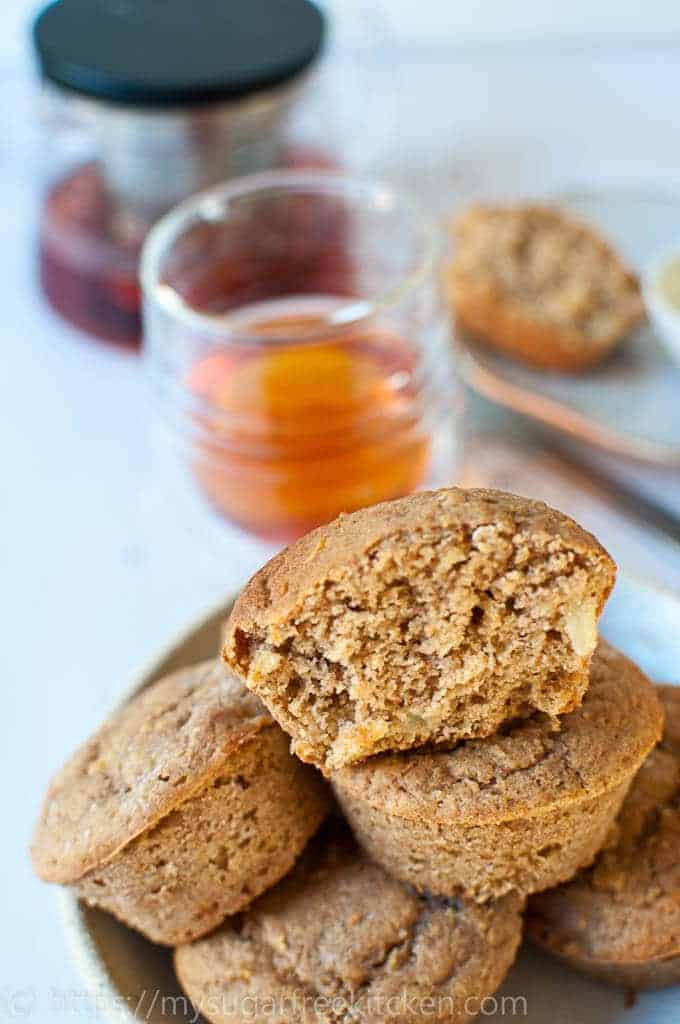 My favourite thing about these apple ginger muffins is that the light buttery taste and texture and that they freeze really well so that they taste really good even on day 5 or 6 when I've conveniently grabbed one out of the freezer and let it sit on my desk for the first couple of hours of my morning until my coffee hit comes calling.  Yep, these muffins are on the keeper list!
Like what you see? Follow me on Facebook or Pinterest! Did you try a recipe? Tag me on Instagram: @mysugarfreekitchen, and leave a comment & star rating!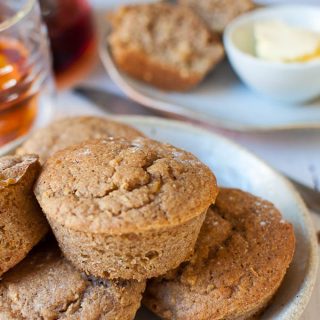 Sugar Free Apple Ginger Muffins
Healthy and light sugar free apple ginger muffins, sweetened naturally with stevia. Just 109 calories per serve, this is the perfect morning stack to have with your coffee!
Ingredients
3/4

cup

Spelt flour (or Wholemeal Plain Flour)

(or wholemeal plain flour)

1/4

cup

Almond meal

1/2

cup

Low fat Butter

1/2

cup

Granualted sweetener that measures like sugar

(See note 1)

2

teaspoons

Cream of Tartar

1

teaspoon

Bicarb Soda

3

teaspoon

Ground Cinnamon

4

teaspoons

Ground Ginger

1

teaspoon

Ginger (minced/finely grated)

2

medium Eggs

2

Green Apples

, peeled and finely chopped

Extra butter for greasing Muffin Trays
Instructions
Preheat oven to 160 degrees C and grease 2 x 6 hole silicone muffin trays

In a food processor, blitz the butter and granulated sweetener until combined

Add the flour, cream of tartar, bicarb, cinnamon, ginger and eggs. Blitz until combined

Finely chop 1 of the green apples and add it to the food processor and blitz until combined. Probably a couple of minutes. It will turn the mixture a bit lumpy but that is OK.

Take the mixture out of the food processor, scraping down the sides and place into a mixing bowl. Add the remaining apple, finely chopped and fold in

Evenly spread the mixture into the 10 muffin cups (greased with extra butter or coconut oil spray so they don't stick)

Bake in oven at 160 degrees C for 23 minutes

Once done, let cool on an oven rack before taking them out of the cases.
Notes
The brand of granulated sweetener that I used is called Natvia Stevia and it is available from Woolworths and Coles supermarkets in Australia (in the baking aisle).  Its also available on Amazon.
Don't forget to grease the muffin cases before pouring the mixture in to avoid them sticking.
Nutrition
Calories:
109
kcal
Carbohydrates:
17
g
Protein:
4
g
Fat:
7
g
Saturated Fat:
2
g
Fiber:
2
g
Sugar:
11
g
Tried this recipe?
Let us know how it was by leaving a comment below!
★ Did you make this recipe? Don't forget to give it a star rating below!