Healthy Honey Chilli Chicken with Cashews is a quick and easy mid week meal you can get on the table in under 20 minutes. It's a little bit sweet and a little bit spicy and a whole lot of flavour. Once you know this basic recipe, you can use it for many different variations of sides, veges and toppings.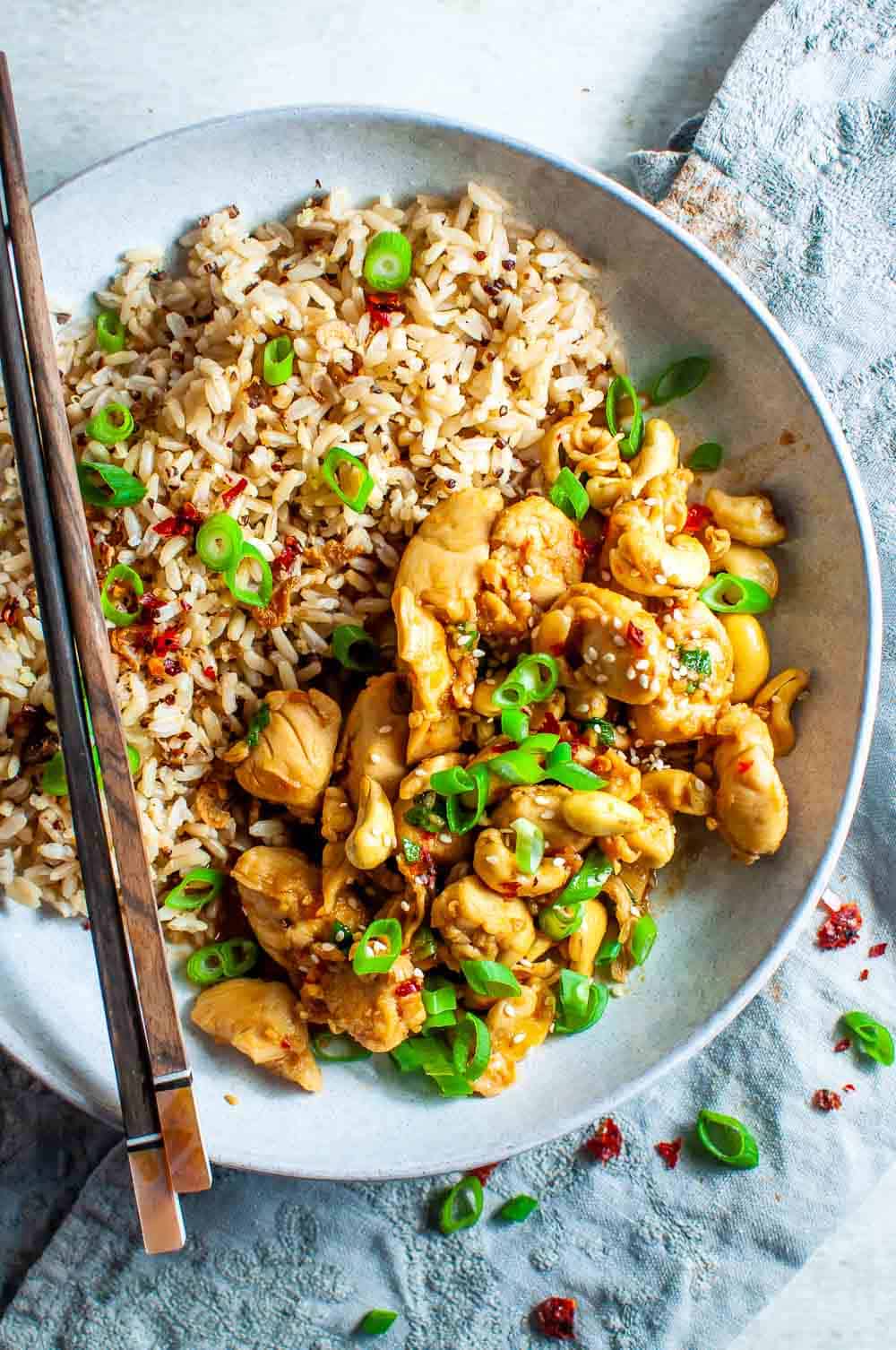 Why This Recipe Works
Its quick and easy to make
You can make it with simple basic ingredients
Easy to make it more or less spicy depending on your preferences
Make with beef, chicken, fish or salmon!
Its healthy and easy to make low carb
What Type Of Chilli To
Use
For this recipe I used a chilli paste in a jar called Sambel Olek. Sambel Olek is often used in Indonesian recipes and a little goes a long way. If you're not familiar with it, it's usually in the Asian food aisle of the supermarket.
I also used sambel olek in this Thai Garlic Chicken with Chilli and as the basis for this Sugar Free Sweet Chilli Sauce.
There are also plenty of other brands of chilli pastes available these days, and if you choose to buy another one, make sure to read the ingredients list to get one that is just chillis.
This dish is lightly stir fried with a little oil, not deep fried. I like to keep my dinners pretty clean, especially during weeknight, and this dish is no exception. Another one of my favorites is this 15 minute Healthy Teriyaki Chicken! Its sticky, sweet, and savory and very mooreish, just like this Healthy Chinese Orange Chicken!
Made from fresh ingredients, you can easily make it low carb if you're taking a break from all things rice. (Instructions and suggestions at bottom of post)
How To Make This Recipe
Get your rice cooking

so that it will be ready. Alternatively if you're super short on time, you might want to consider using those pre-cooked packets of rice you zap in the microwave. I use these sometimes during busy weeknights.

Lightly toast the cashews.

For crunchy, toasty nuts, lightly toasting is a must.

Make the Honey Chilli Sauce.

Add all of the sauce ingredients to a bowl and whisk together, then set aside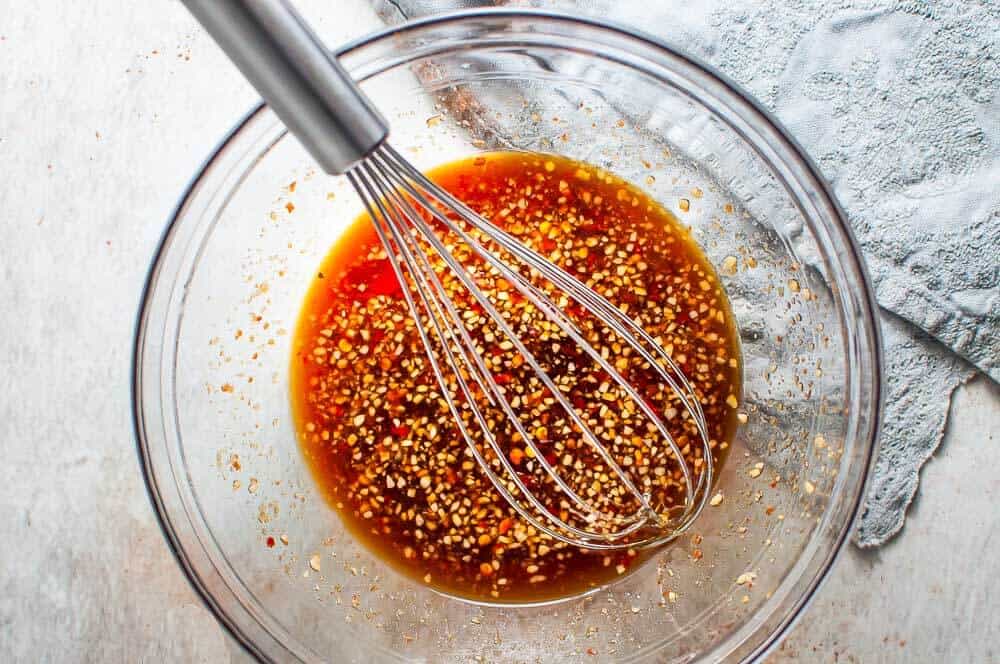 Chop your chicken

into small chunks about 2cm by 2cm, add the coconut oil to the wok on high heat and toss the chicken until cooked and lightly golden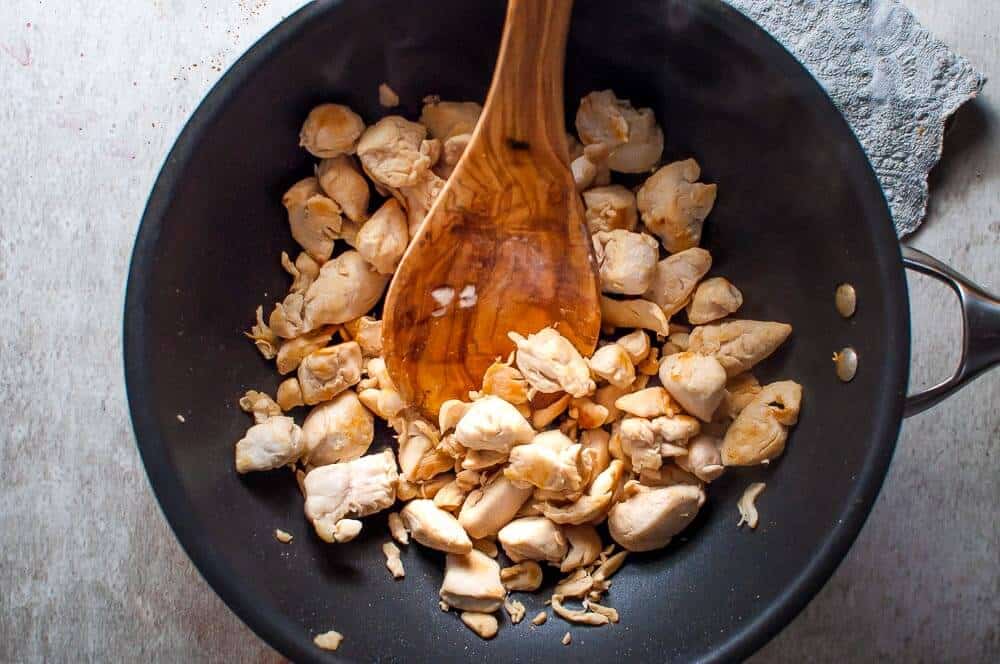 Reduce the heat

on the wok down to medium. Add the sauce and stir through for a couple of minutes.

Add in toasted cashews/spring onions or shallots

and stir through.

Serve with your favourite Rice.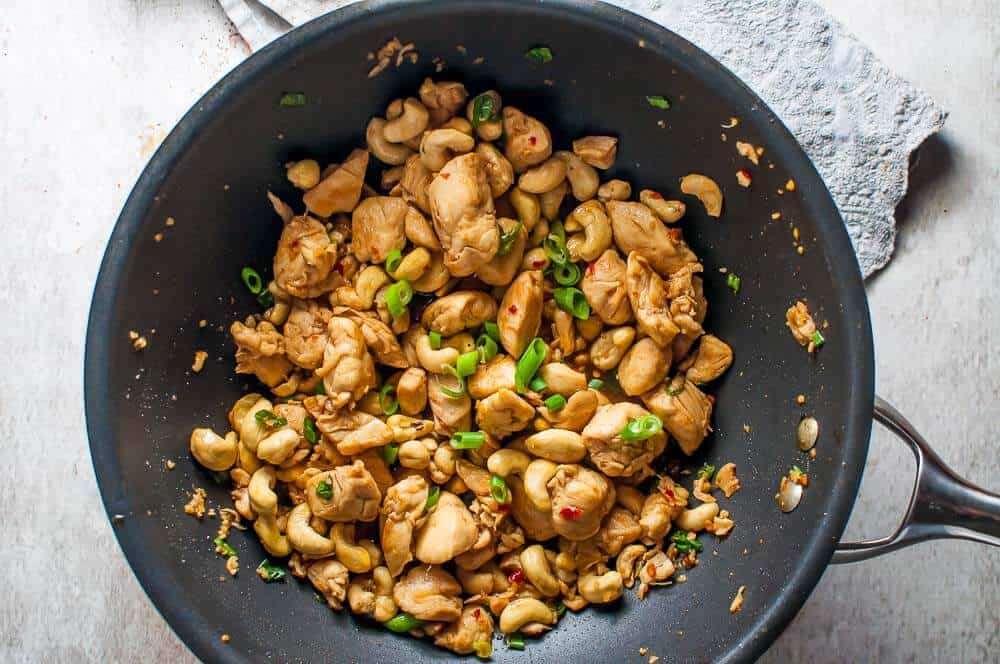 Recipe Tips To Make It Just Right
Cooking:

A wok is ideal for this recipe as it distributes the heat more evenly and you use less oil. It also allows the sauce to coat the chicken better. If you don't have a wok though, just use a normal pan, it will still taste great.

Oil:

My preference is for coconut oil, as it gives the chicken a beautiful golden colour

with out

burning it or it sticking to the wok

Chicken:

Chicken breast is best for this recipe, cut into 2cm cubes. Although you could also use chicken thigh with fat trimmed, chopped small.

Other Meats:

This recipe works with cubed beef and turkey as well

Sauce

: Dip your finger into the sauce once

you;ve

made it. Check to see if the level of spiciness is to your liking or if there are any other ingredients you might like to

add.

Rice:

I used jasmine rice, but I also love making this with brown rice

.

On Top

:

Sesame seeds and fried shallots are my

go to

. Maybe some coriander if that's your thing.
Check out this Honey, Soy Garlic Chicken and rice bowl that's on the table in less than 15 minutes!
Your Questions Answered
How spicy is this dish?
Making the recipe as instructed will result in a medium level of spiciness. 
How To Make This Recipe Less Spicy
If you'd like it a bit milder, go with 1 tablespoon of sambel olek in the sauce, (as opposed to two)  and then you can add additional chilli upon serving if needed. 
H
ow To Make This Dish Low Carb
There are a few ways to make this recipe low carb and its as easy as swapping out the rice. When I'm not in the mood for rice, this is how I eat Honey Chilli Chicken:
With stirfried garlic greens: Literally

greens stirfried in garlic and a little vegetable stock/broth

With steamed greens:

this is my super clean option and for me its green beans and broccoli with a little salt, sesame and flaked almonds.

Healthy Noodles:

spiralized zucchini noodles are perfect for a noodle fix without the carbs.
This easy Honey Chilli Chicken is a healthy twist on Asian takeout and super quick to whip us mid week. With low carb options and lots of ways to vary this dish with different meats and vegetables, this is a recipe that is so versatile that in summer you'll be using it every week.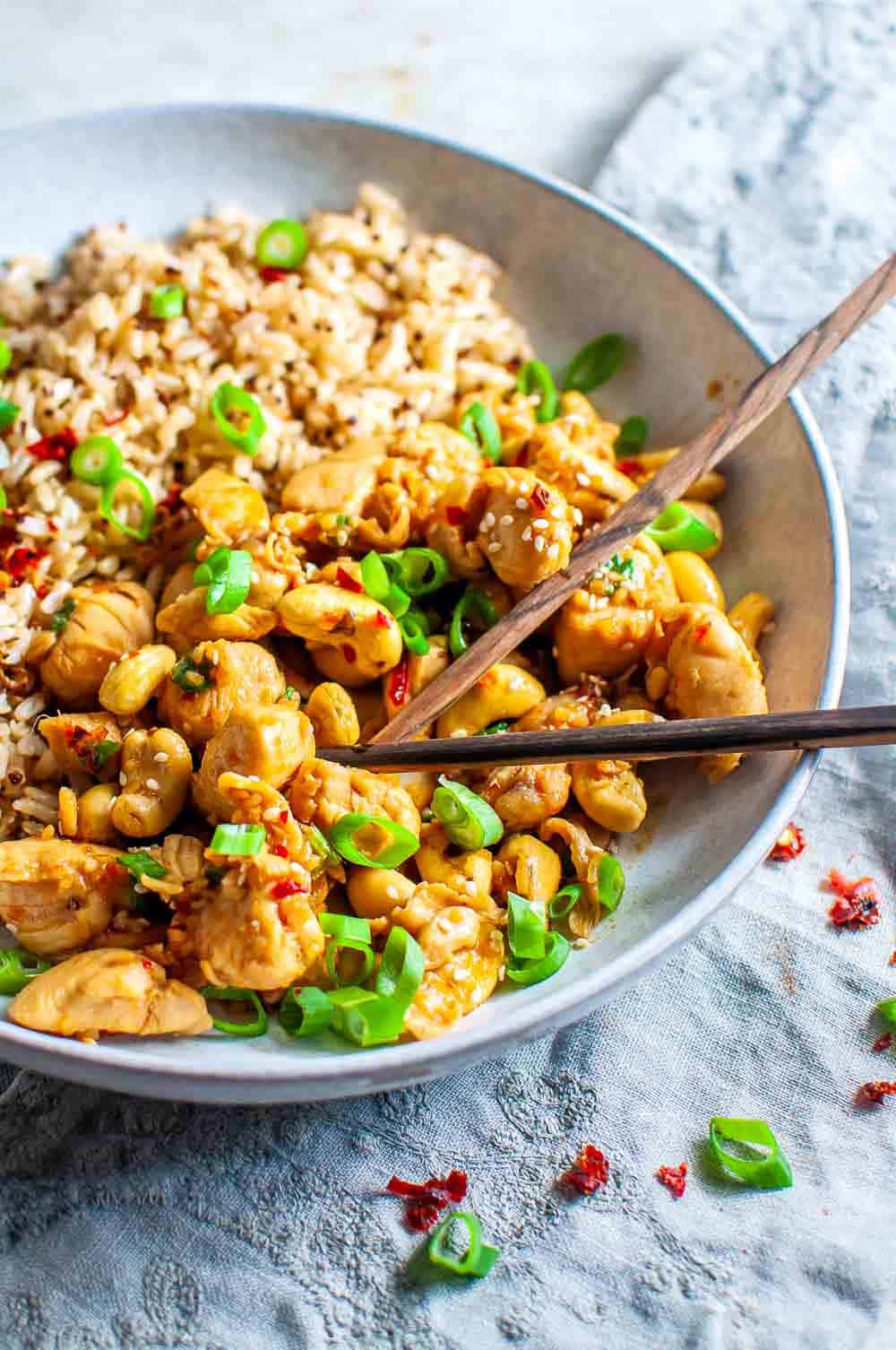 More Quick & Easy Asian Recipes:
Honey Chilli Chicken with Cashews
It's a little bit sweet and a little bit spicy and a whole lot of flavour. Low carb options included!
Ingredients
500

grams/1 pound

Skinless Chicken Breast

-

(diced into 2cm x 2cm chunks)

1

tablespoon

coconut oil
Other
¾

cup

Unsalted cashews

½

cup

chopped green shallots/green onions

1½

cups

Cooked Brown rice
To garnish
2

tablespoons

White sesame seeds

2

tablespoons

Fried Shallots

¼

cup

chopped green shallots/green onions
Instructions
Cook rice according to packet instructions (I love cooking rice in my slow cooker that doubles as a rice cooker – its done is 20 minutes)

Lightly roast the cashews for 4 to 5 minutes at 180 C/360 F

Add all the ingredients for the honey chilli sauce to a bowl and whisk until combined, then set aside.

Heat a wok on high heat, add the coconut oil. Once oil is hot, add the diced chicken. Use a pair of tongs or wooden spoon to cook chicken through until juicy and golden. Make sure to turn frequently so as not to burn the chicken.

Once chicken is cooked, decrease the heat to medium and add the honey chilli sauce. Stir through for a minute or two.

Add the cashews and chopped shallots/green onions, stirring through for another minute.

Remove from the heat.

To Serve: divide rice among bowls, along with honey chilli chicken. On top add, a little more fresh chopped shallots/green onions, white sesame seeds and fried shallots.
Notes
Heat Intensity: 2 tablespoons of sambel olek in the honey chilli sauce creates a "medium heat". If you'd like it a bit milder, go with 1 tablespoon of sambel olek in the sauce, and then you can add additional chilli upon serving if needed.
Sambel Olek: this is an Indonesian chilli paste available from the Asian food aisle of supermarkets. It is basically pulverised chilli with nothing else added.
Sambel Olek Alternative: If you can't find Sambel Olek, or you want to use real chillies, for a medium intensity, use 3 chillies, remove the seeds from 2 of them and leave seeds in on one. Pulse in a food processor or mash with a mortar and pestle to make into a paste.
Raw Honey: Also sometimes referred to as "pure" honey. This is honey that has no other ingredients other than honey. Read the label to check for additives. These days raw honey and pure honey is available from most mainstream supermarkets (Coles and Woolworths in you're in Australia), otherwise you can buy it from your local health food shop or farmers markets.
Veges: if you're looking to add veges, I'd recommend choosing ones that cook quickly, like sliced green beans, spinach, kale, bok choi, red or green capsicum/peppers.
Alternatives to Rice: Aside from brown rice, you could use cauliflour rice or zucchini noodles for a low carb option, or any other type of noodle
Cashews: Make sure to buy unsalted, otherwise this dish will be way to salty.
Alternatives to cashews: Almonds, Walnuts, or hazelnuts, or even a tin of drained water chestnuts will still give you a nice texture and crunch but without the nuts.
Storage: Store in an air tight container in the fridge for upto 2 days.
Is this freezer friendly? No. This dish is best eaten when its cooked or as leftovers within a couple of days
The sugar content in this recipe comes predominantly from the raw honey, which is an unrefined sugar, a less processed alternative to white sugar a regular honey which usually contains many additives and preservatives. Raw honey on the other hand contains more nutrients and antioxidents, and has no additional sugars added.
Nutritional information includes one serving of jasmine rice.
Nutrition
Calories:
570
kcal
Carbohydrates:
66
g
Protein:
46
g
Fat:
17
g
Saturated Fat:
5
g
Sugar:
15
g
Note: Sugars contained in this recipe are from naturally occurring sugars in fruits, vegetables or other natural sweeteners.
Looking To Cut Out Sugar? Get the FREE Healthy Food Swaps Checklist Pack!
Get your FREE Healthy Food Swaps Checklists with over 65 Healthy Food Alternatives to Help you Ditch The Sugar Without Feeling Deprived.