This healthy Chicken Satay Curry with fluffy rice and juicy steamed veges is peanutty and creamy, yet  light, slightly spicy, a little bit zesty and very moreish!  It's on the table in under 30 minutes and once you have mastered making this sauce you will want to put it on e.v.e.r.y.t.h.i.n.g.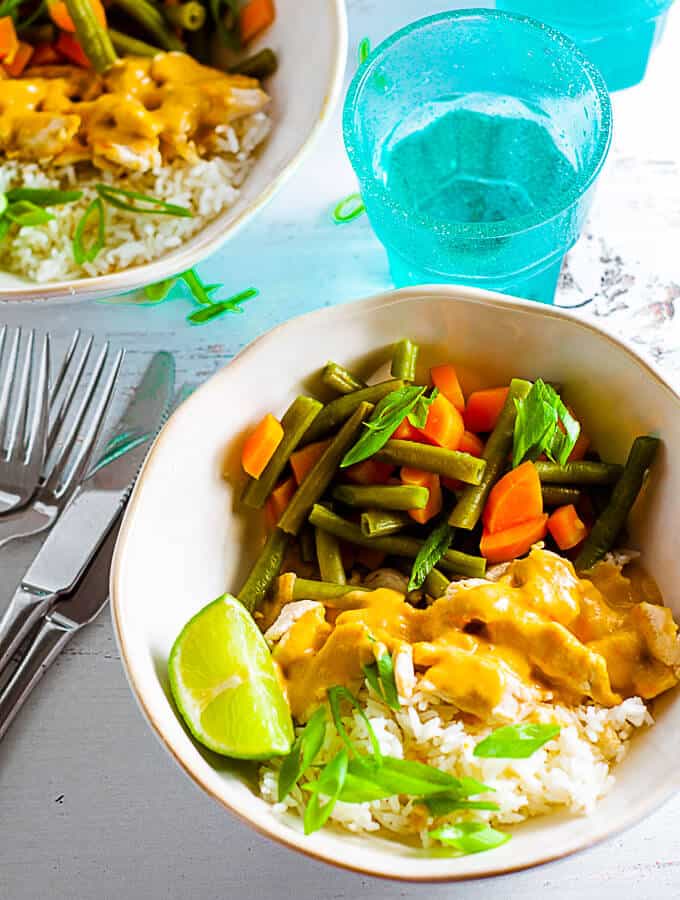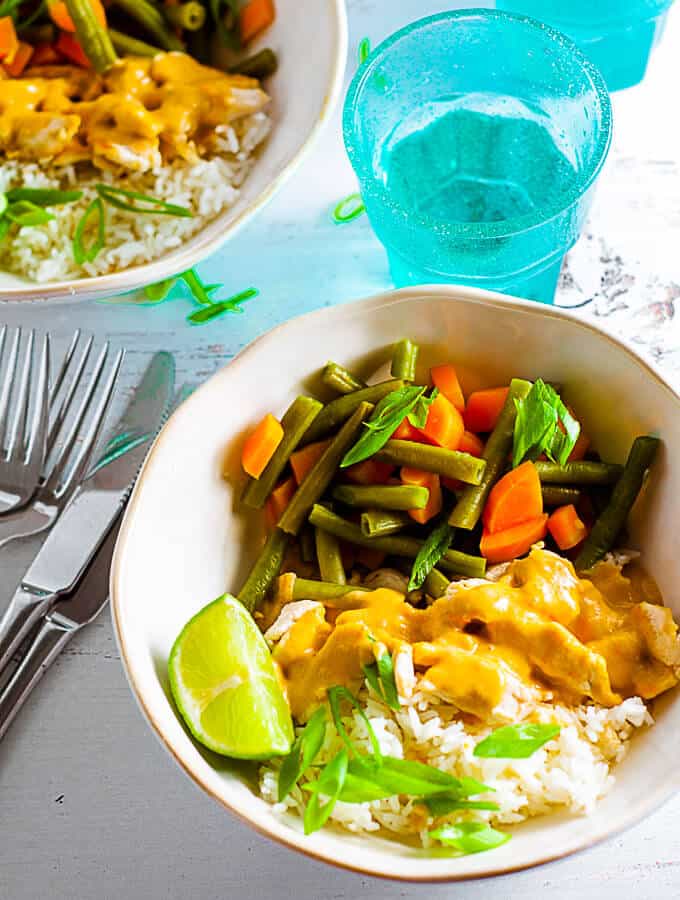 It's quick.  It's homemade.  It's healthier and it's better than any takeaway satay chicken I've ever had.
This is a super versatile sauce to make and goes with lots of different dishes, from chicken, to beef, to turkey, and I'm even going to see if I can make it work with seafood since I love my seafood so much and I definitely love this Satay Curry Sauce.
To keep this dish as low in sugar as possible, I make sure to use a sugar free peanut butter.  There're usually not to difficult to find, and I generally buy the Kraft version that is sugar free and low in salt from the local supermarket (Woolworths).
What is Satay Sauce Made From?
One of the main ingredients is peanuts, or peanut butter, along with garlic, ginger, soy sauce, raw honey, and coconut milk.  IN mine, I also use a little chilli and a good helping of penang curry paste for the ultimate chicken satay curry dish.
What Does Satay Curry Taste Like?
Its a rich and creamy, thick sauce with a tang.  Depending on how you like it you can make it as spicy as you like it by adding more or less of the chilli and curry paste.  Of course you can also leave the chilli out altogether if you don't like it.
The level of heat in this recipe is Mild to Medium.  For a mild curry, skip the chilli.  for a Medium to Hot satay curry, add more chilli and a little extra curry paste.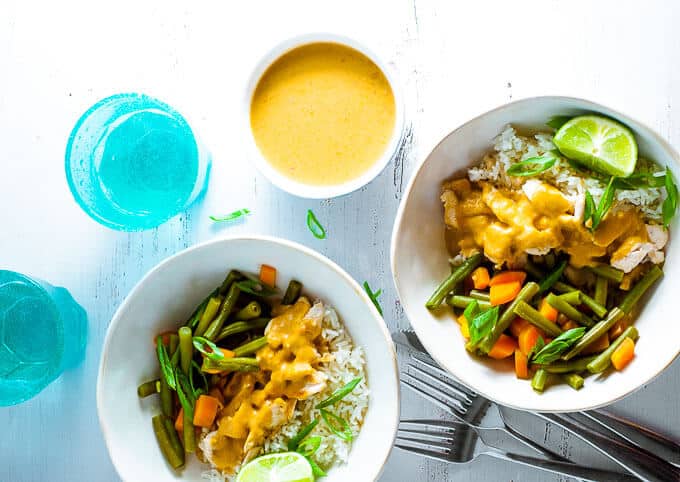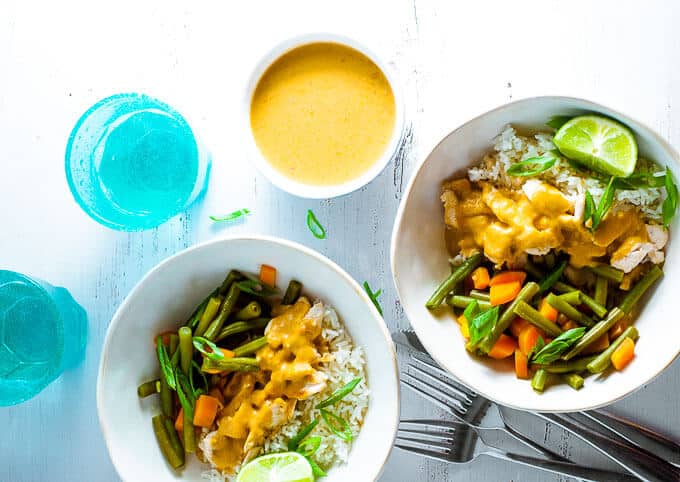 When I have people over, this curry sauce is one I often make.  It's a real crowd pleaser and can be used as either a dipping sauce, drizzle sauce, or cooking sauce.
7 Awesome Ideas for Creative Chicken Satay Curry
Use this sauce on:
Homemade Chicken Meatballs
Chicken Skewers cooked on the BBQ
As the sauce for a quick Chicken and vege stirfry
As a sauce for and easy Chicken and noodle stirfry
As a sauce for a Ground Chicken Stirfry with rice
Drizzled over chicken breast
Dipping sauce for crumbed chicken tenders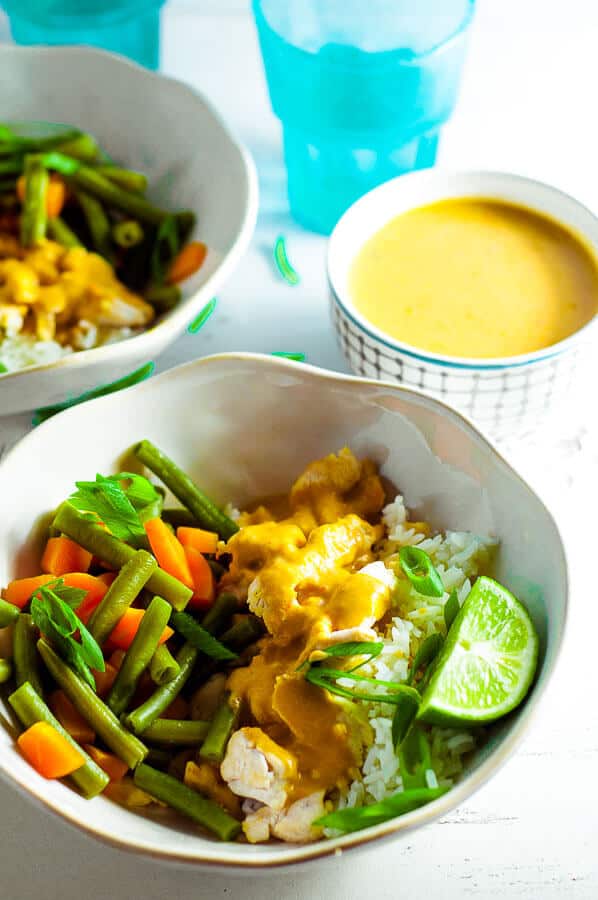 Can you Freeze Chicken Satay Curry?
Yes!  I've made a double batch of this dish a few times and it freezes well.  If you are making ahead, freeze without the rice, and don't forget to date and label your containers.  The other great thing about this recipe is that it makes for excellent leftovers for lunch.
The Best Types of Chicken For Satay Curry
Chicken Breast:  This is my favourite.  I generally slice the chicken breast into thin slivers so they cook really quickly.  If you like chunkier pieces, that'll work too and they might even hold the thick creamy sauce better.
Ground Chicken:  I've recently started using ground chicken in stirfries and am loving it.  It cooks quick, holds the sauce well and tastes good.  Plus you can avoid the chopping up of meat if you;re buying already ground.
Chicken Thigh:  I use chicken thigh for satay curry when I'm doing skewers, especially on the BBQ.  I find that the extra little pieces of fat on the chicken thigh are ideal for adding extra flavour and keep the meat moist when BBQ'ed.
 TIP:  Love this sauce?  I've used it in this easy midweek Beef Satay Curry Noodles, and these better than takeout Thai Chicken Meatballs with Peanut Sauce.
Like what you see? Follow me on Facebook or Pinterest! Did you try a recipe? Tag me on Instagram: @mysugarfreekitchen, and leave a comment & star rating!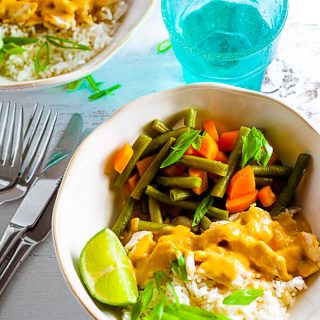 Chicken Satay Curry
This heathy Chicken Satay Curry with fluffy rice and juicy steamed veges is peanutty and creamy, yet light, slightly spicy, a little bit zesty and very moreish!
Ingredients
650

grams

or 1.5 pounds Chicken breast, thinly sliced

1

teaspoon

garlic paste

1

cup

diced Green Beans

1

cup

diced Carrots

1 ½

cups

Jasmine rice

1

tablespoon

Sushi Vinegar -

(Note 1)
Instructions
Preparation: Cook the rice as per packet instructions ( I like to use a rice cooker)

In a bowl add the chicken strips and the teaspoon of garlic paste. Use a spoon to mix together. Let sit for 5 minutes to marinate.

Prepare to steam the carrots and beans. Bring a saucepan of water to the boil with the steamer on top and lid on.

Making the Satay Curry Sauce: in a medium saucepan, add the garlic, chilli paste and ginger. Stir for a minute until fragrant.

Add the coconut milk and stir in for 1 minute

Add the peanut putter and stir in until it melts.

Add the curry paste, granulated stevia, light soy, pinch of salt and lime juice. Stir for a minute to mix it all in and then remove from heat

Cooking the chicken: Heat a wok and add meat. Stirfry until just cooked through and lightly browned

Add the chopped veges to the preheated steamer and cook for 5 minutes.

Once rice is cooked, fluff it up with a fork and add the sushi vinegar. Let it sit for a minute and fluff up again with a fork.

Putting it together: I like to use a wide bowl. Lay out the veges in a line, the rice in a second line in the middle and the chicken in the 3rd line on the outside.

Drizzle the curry sauce over the chicken, evenly across all four plates/dishes.

Serve with diced shallots and a wedge of lime.
Notes
Sushi vinegar is usually found in the asian food aisle at the supermarket.  If you're in Australia, I buy mine from Woolworths.
Tamari is a form of soy sauce that is a better option generally as it contains lower levels of added sugar than Light Soy.  It is usually found in the health food aisle of most supermarkets.
Nutrition
Calories:
481
kcal
Carbohydrates:
32
g
Protein:
43
g
Fat:
20
g
Saturated Fat:
8
g
Fiber:
2
g
Sugar:
9
g
Pin This Recipe for Later!
★ Did you make this recipe? Don't forget to give it a star rating below!