This healthy Chicken Satay Curry with fluffy rice and juicy steamed veges is peanutty and creamy, yet  light, slightly spicy, a little bit zesty and very moreish!  It's on the table in under 30 minutes and once you have mastered making this sauce you will want to put it on e.v.e.r.y.t.h.i.n.g.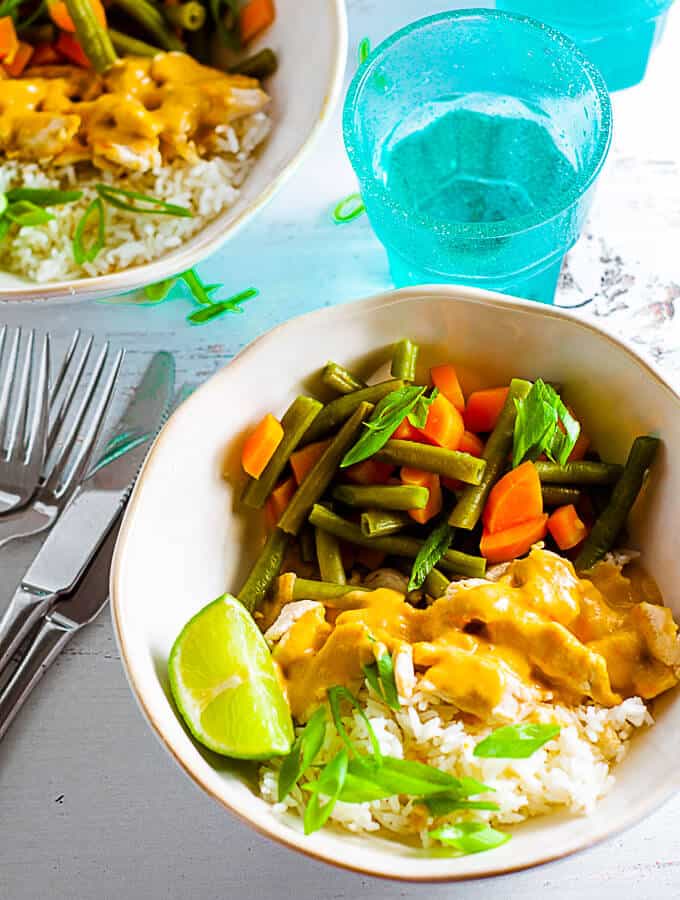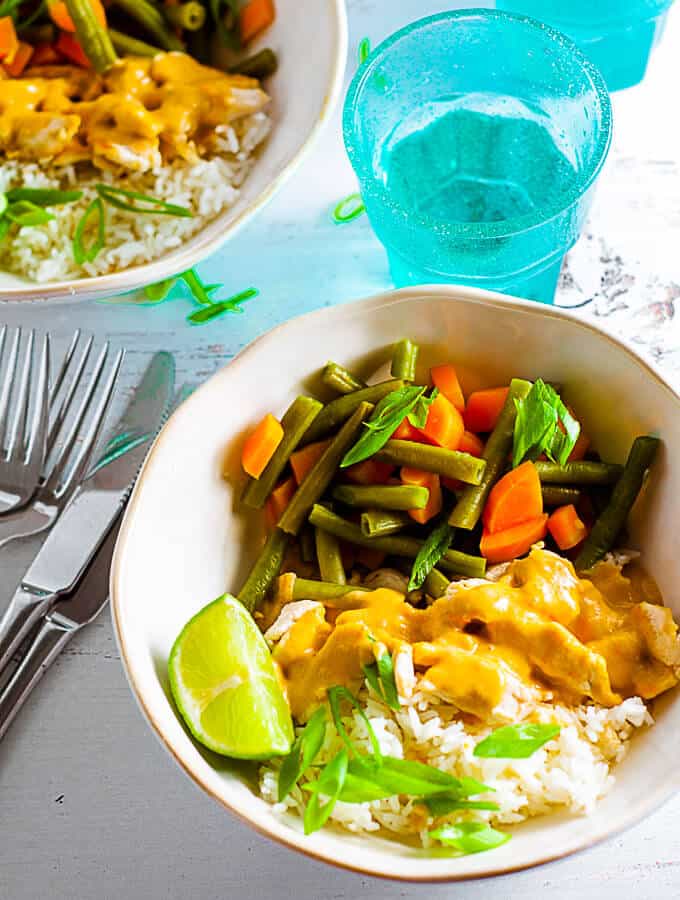 It's quick.  It's homemade.  It's healthier and it's better than any takeaway satay chicken I've ever had.
This is a super versatile sauce to make and goes with lots of different dishes, from chicken, to beef, to turkey, and I'm even going to see if I can make it work with seafood since I love my seafood so much and I definitely love this Satay Curry Sauce.
To keep this dish as low in sugar as possible, I make sure to use a sugar free peanut butter.  There're usually not to difficult to find, and I generally buy the Kraft version that is sugar free and low in salt from the local supermarket (Woolworths).
The Sweetness of Chicken Satay Curry
However I must confess, that I had to add a little sweetness to the satay curry sauce and for this I used granulated stevia, which measures like sugar (but without the calories or sugar high).
As far as satay curry sauces go, I have made a fair few over the last two years.  It's something I have developed a real hankering for, on a somewhat regular basis.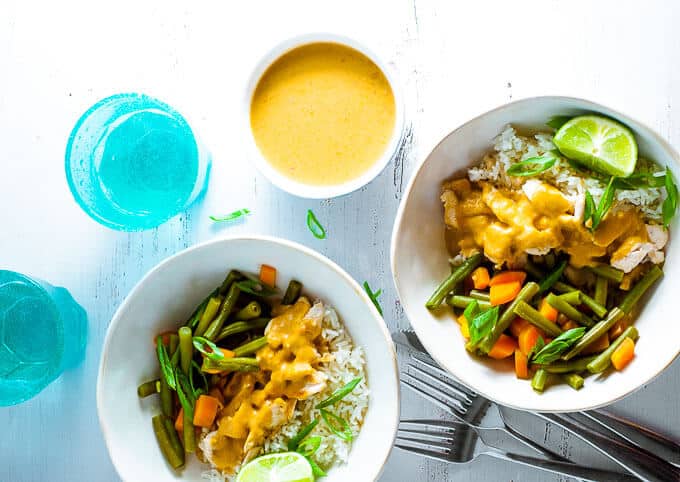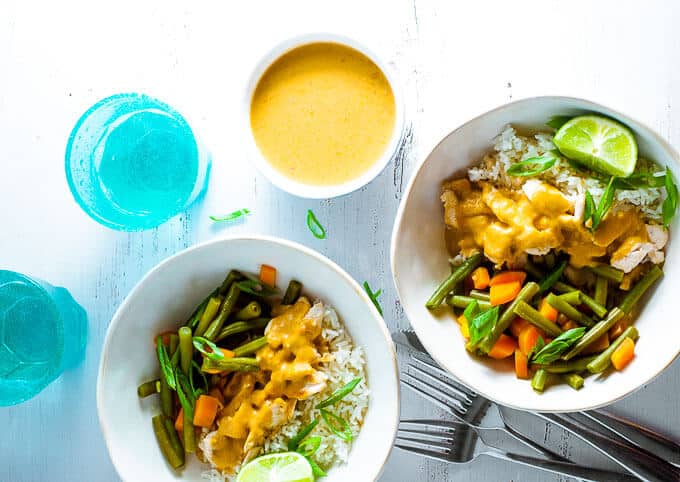 This is partly why I knew I had to come up with my own recipe for it that was quick and easy to make, healthy and could pair with lots of different meats and veg.
It's part of my mission to healthify my favourite comfort foods, many of which are Asian inspired, like  Cashew Nut Chicken, Thai Basil and Chilli Chicken, Thai Beef Salad and Salmon Curry In A Hurry.
Of course there are also my fave comfort foods I love to make on the weekend to stock my freezer  so I have healthy meals on tap during the week when it's just me at home and I'm feeling a little lazy but I still want to make sure I stay on track with my healthy eating habits.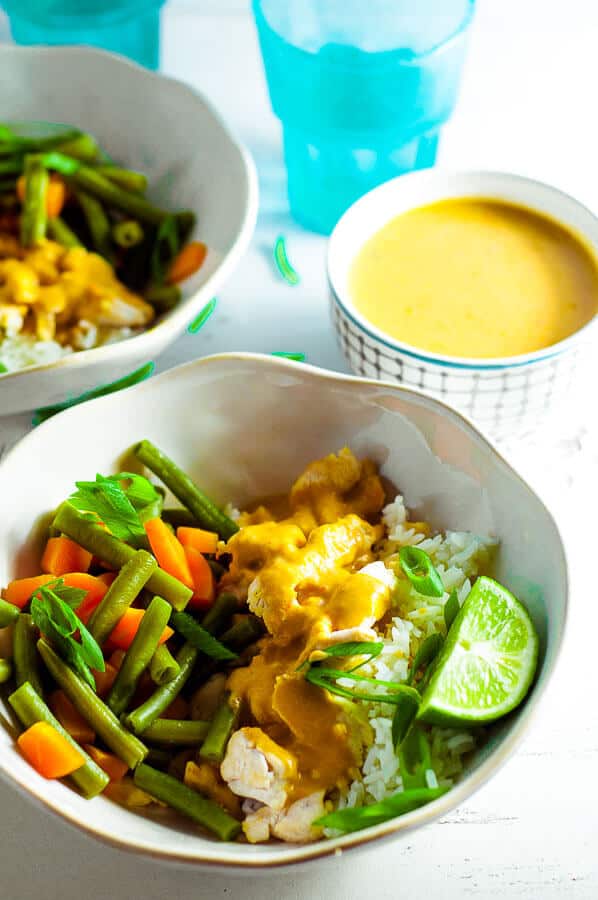 My fave freezer comfort food?
One that I would have made easily over 100 times.
Good old fashioned, but healthy, Lasagne.
Well, it's a beautiful blue sky day here on the Sunshine Coast and my husband is due home any minute.  He was up at the crack of down out on the boat, with dreams of bringing home an esky full of just caught fish.
I'd better make some room in the freezer.  Although come to think of it, last time I did that in anticipation of a big haul coming into the house, I was sadly disappointed and had to make my way down to the local fish place instead.
But, must be positive.  Will make just a small amount of room in freezer.  Surely he will catch at least one.  After all it has been 8 hours since he left to take the boat out. 🙂
 TIP:  Love this sauce?  I've used it in this easy midweek Beef Satay Curry Noodles, and these better than takeout Thai Chicken Meatballs with Peanut Sauce.
Like what you see? Follow me on Facebook or Pinterest! Did you try a recipe? Tag me on Instagram: @mysugarfreekitchen, and leave a comment & star rating!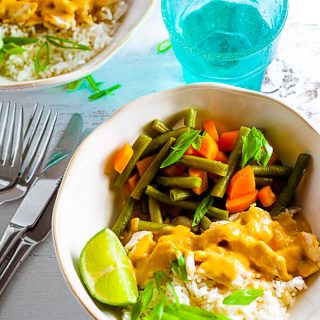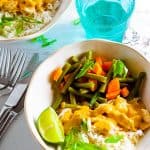 Print
Chicken Satay Curry
This heathy Chicken Satay Curry with fluffy rice and juicy steamed veges is peanutty and creamy, yet light, slightly spicy, a little bit zesty and very moreish!
Ingredients
650

grams

or 1.5 pounds Chicken breast, thinly sliced

1

teaspoon

garlic paste

1

cup

diced Green Beans

1

cup

diced Carrots

1 ½

cups

Jasmine rice

1

tablespoon

Sushi Vinegar

(Note 1)
Satay Curry Sauce
2

garlic cloves, minced

1

teaspoon

Minced ginger paste

1

tablespoon

mild chilli paste

1/3

cup

sugar free crunchy peanut butter

(I use Kraft)

1 1/2

cup

or 350 ml light coconut milk

1

tablespoon

Granulated stevia, that measures like sugar

(Note 2)

1

tablespoon

Light Soy Sauce or Tamari

(Note 3)

1

tablespoons

fresh lime juice

1

tablespoons

Penang Curry Paste
Instructions
Preparation: Cook the rice as per packet instructions ( I like to use a rice cooker)

In a bowl add the chicken strips and the teaspoon of garlic paste. Use a spoon to mix together. Let sit for 5 minutes to marinate.

Prepare to steam the carrots and beans. Bring a saucepan of water to the boil with the steamer on top and lid on.

Making the Satay Curry Sauce: in a medium saucepan, add the garlic, chilli paste and ginger. Stir for a minute until fragrant.

Add the coconut milk and stir in for 1 minute

Add the peanut putter and stir in until it melts.

Add the curry paste, granulated stevia, light soy, pinch of salt and lime juice. Stir for a minute to mix it all in and then remove from heat

Cooking the chicken: Heat a wok and add meat. Stirfry until just cooked through and lightly browned

Add the chopped veges to the preheated steamer and cook for 5 minutes.

Once rice is cooked, fluff it up with a fork and add the sushi vinegar. Let it sit for a minute and fluff up again with a fork.

Putting it together: I like to use a wide bowl. Lay out the veges in a line, the rice in a second line in the middle and the chicken in the 3rd line on the outside.

Drizzle the curry sauce over the chicken, evenly across all four plates/dishes.

Serve with diced shallots and a wedge of lime.
Notes
Sushi vinegar is usually found in the asian food aisle at the supermarket.  If you're in Australia, I buy mine from Woolworths.
The granulated sweetener I use is Natvia Stevia Sweetener.  Natvia Stevia Sweetener is a 100% natural sweetener and has 97% fewer calories than sugar.  Its fructose free, low carb and isn't going to rot your teeth!   I wrote a post about it here.
Tamari is a form of soy sauce that is a better option generally as it contains lower levels of added sugar than Light Soy.  It is usually found in the health food aisle of most supermarkets.
Nutrition
Calories:
481
kcal
|
Carbohydrates:
32
g
(11%)
|
Protein:
43
g
(86%)
|
Fat:
20
g
(31%)
|
Saturated Fat:
8
g
(40%)
|
Fiber:
2
g
(8%)
|
Sugar:
9
g
★ Did you make this recipe? Don't forget to give it a star rating below!