This is a 15 minute super quick fresh, fragrant and creamy Indian Coconut Chicken Curry that you'll want to keep in your back pocket for all those times you need dinner in a hurry!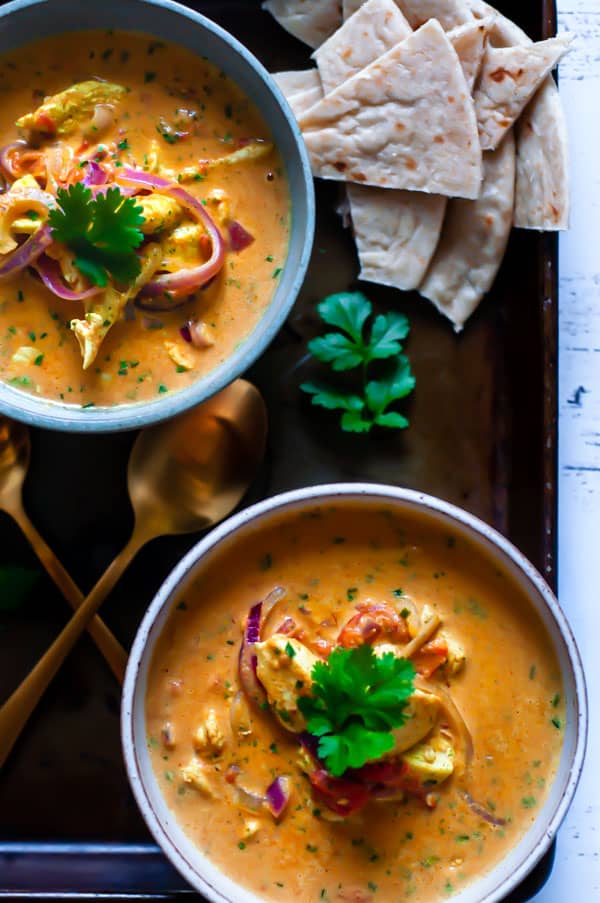 The beautiful thing about this recipe is not only can you make a chicken curry in 15 minutes, but you can make it more or less spicy depending on your tastes, who you're cooking for or even how you're feeling. If you're anything like me, you love your spicy foods, but sometimes, you just want something low key but still packed with flavour. This is it.
Made using coconut cream, this is a rich creamy curry with a good consistency. If you're watching your weight of you just prefer coconut milk you can substitute the cream for the milk to give you a leaner, lower calorie, less rich curry.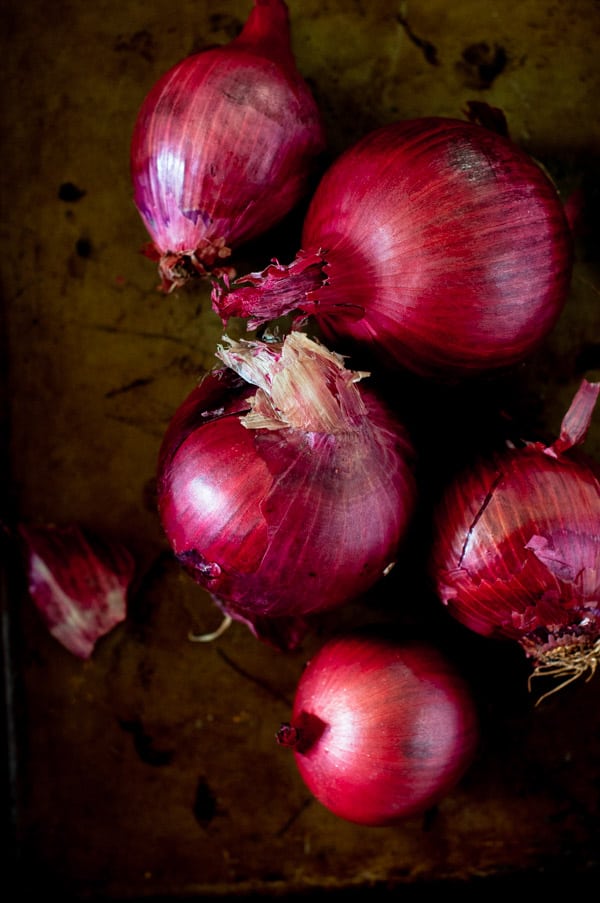 Adjust this Indian Coconut Chicken Curry to your Tastes
All you need to do is vary the amount of dried chilli powder up or down to make it more or less spicier.
In our household we recently upgraded our induction cooktop, and I just love it. It heats so quickly which means dinner is on the table even quicker than before. With the upgrade we also had to get some new pots and pans. For this recipe you need to use a pan with a broad base and sides deep enough to hold the curry sauce. I am a big fan of a deep dish pan as it's just the right size for making most of the recipes I make, many of which tend to be two serving recipes or 4 serving recipes.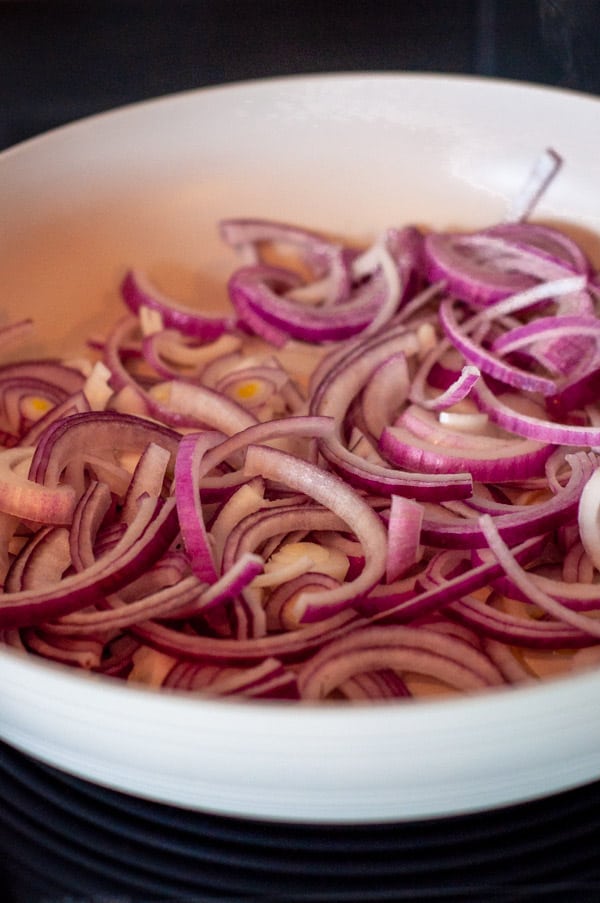 More 15 minute flavour packed not boring dinners ---- >>> Salmon with Lentils and Leeks, Beef Satay Curry Noodles, and this Sticky Chilli Beef and Broccoli.
Now… this curry has a bit of onion…OK a lot of onion. In particular Red Onion.
What is Red Onion?
Red onions are sometimes called "spanish onion" or "salad onion". They have slightly thinner skin than a white or brown onion and red onions are sweeter. You can eat red onion either raw or cooked and it has a mild flavour. Eaten raw, you'll find red onion on sandwiches, burgers and in salads.
PRO TIP: You can substitute the red onion for brown or white onion, or another vegetable altogether if onion isn't your thing. You might like to try sliced red capsicum/peppers, thinly sliced zucchini, or even sliced green beans.
You Might Also Like: Quick and Easy Curried Mince
***Something Different*** If you're going with the red onion, add half a cup of frozen veges to the curry and cook for a few additional minutes just before letting it come down to a simmer. This is a great technique for making the curry go a little bit further, and for amping up with Vege factor.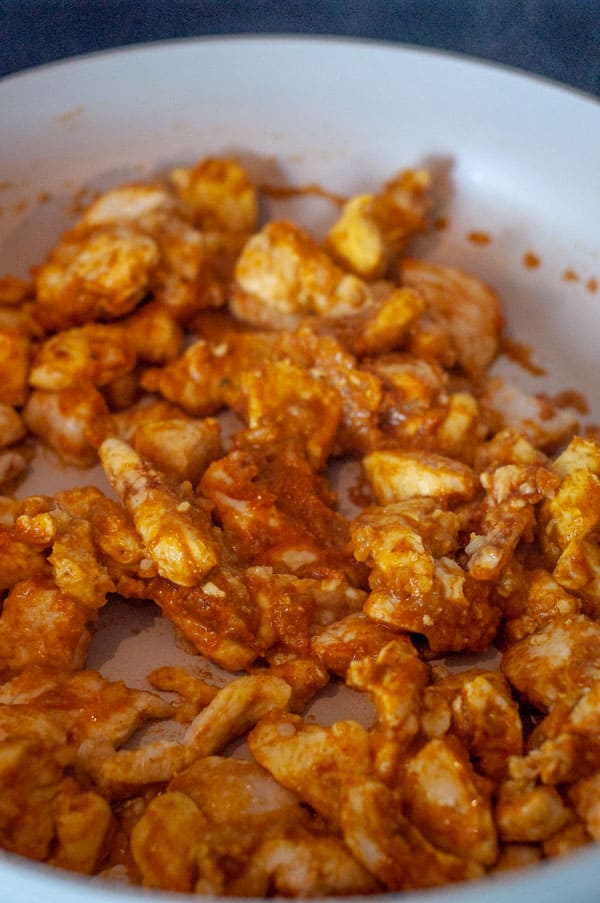 What To Make This Into A Low Carb Curry?
Instead of serving with rice or naan bread, go low carb and get out your spiralizer and serve with zucchini noodles, or grab a can of pre cooked lentils, drain the excess liquid and rinse, and mix into the curry.
PRO TIP: Keeping bottled minced garlic and ginger in the fridge is a good alternative to fresh and it keeps for ages.
*20 Minute Dinner Idea* for Busy Weeknights: Honey Chilli Chicken with Cashews (with 3 low cab options!)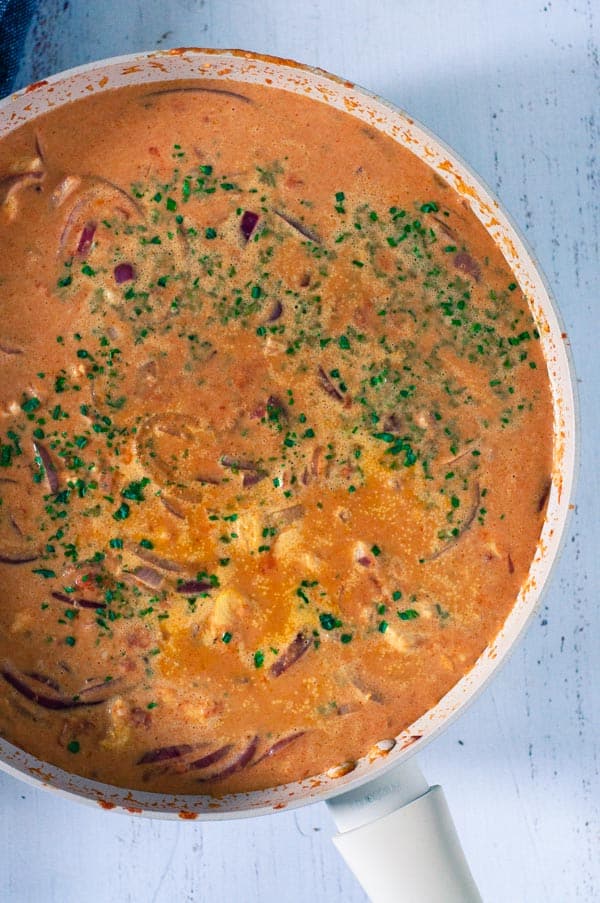 Are You Are Leftovers For Lunch Kinda Person?
I am.  If you're looking to take your leftovers to work the next day, you'll be needing microwave safe containers with an air vent so the lid doesn't pop off when its reheating.  Microwave lunch explosions in the office are generally not pretty.  Trust me, I've been there.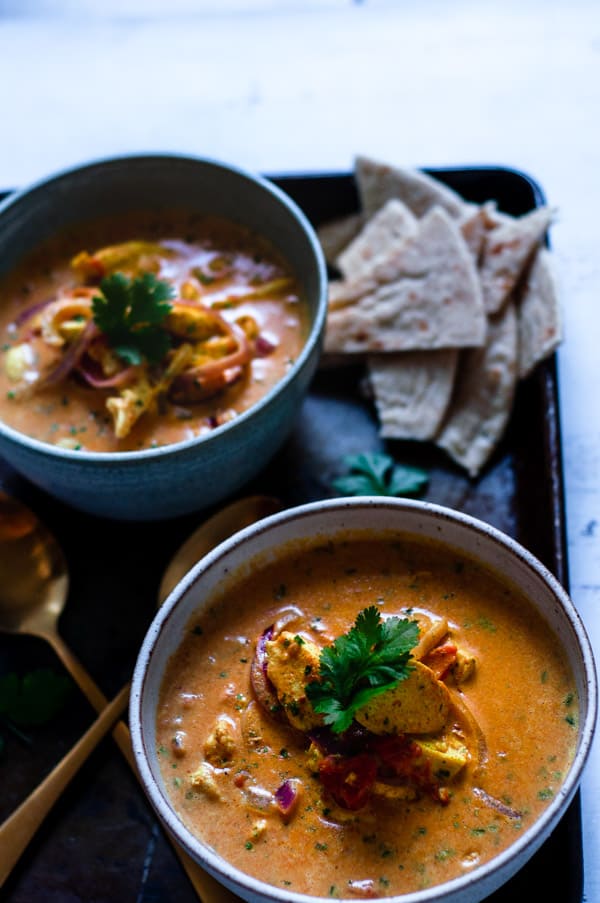 Do You Regularly Have After Work Activities, Hobbies or Sport?
It's a yes to this one for me again. Gym and yoga four nights per week mean I'm not home until 7pm. If you have after work activities that mean you don't get home until late in the evening, this is a great meal to whip up when you want something fresh to eat, instead of freezer food or (don't even think about it) takeout.
You might know by now that my husband and I love our curries and stews. We love a good long slow cooked curry where the flavours have had hours to develop and mature, or Pressure Cooker curry cooked in 30 minutes that tastes like its been cooking for 8 hours.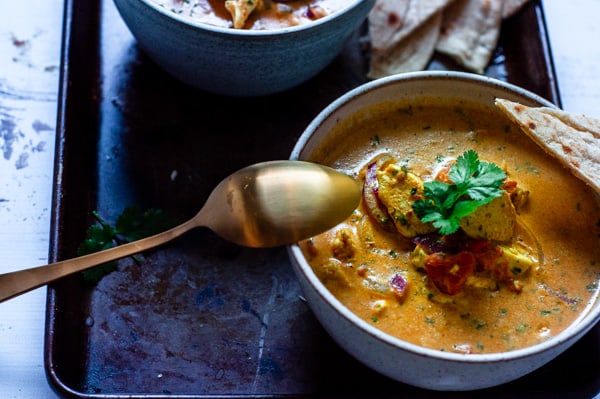 But this is a curry for when you don't have a pressure cooker, slow cooker, multi cooker, or the time to make a curry from scratch.
You need a pan, stovetop, and a few ingredients. And 15 minutes. There. Curry Done.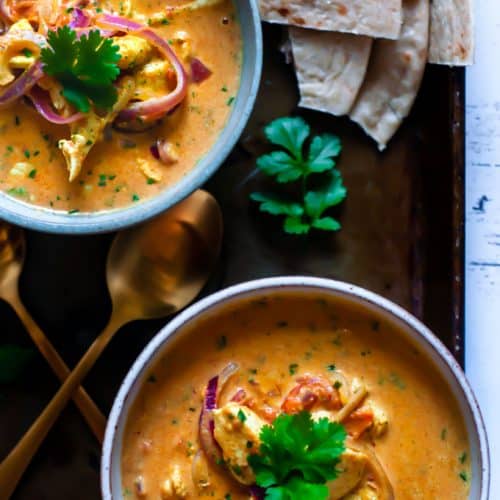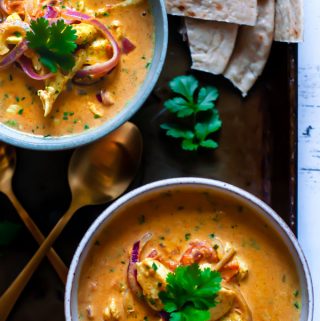 Indian Coconut Chicken Curry
This is a 15 minute super quick fresh and fragrant Indian Coconut Chicken Curry that you'll want to keep in your back pocket for all those times you need dinner in a hurry!
Ingredients
500

grams

/ 1 pound Chicken Brest

-

diced

440

ml

1 tin Coconut Cream (full fat)

2

medium Red/Spanish Onions

-

sliced thinly

1

tablespoon

Garlic

-

minced

1

tablespoon

Ginger

-

finely grated

440

gram/15 oz

-

1 tin diced tomatoes

¼

cup

Tikka Curry Paste

1

teaspoon

Ground Cumin

1

teaspoon

Ground Corriander seeds

½

teaspoon

Tumeric

½

teaspoon

Garlic salt

½

teaspoon

Sea salt

½

teaspoon

Red chilli powder

-

for a mild to medium curry

1

tablespoon

olive oil
Optional
Roti Bread

Steamed Basmati rice
Instructions
Add the oil to a hot pan/skillet and add the sliced onions. Cook for 3 to 4 minutes until soft. Remove from pan.

Add chicken to the pan and cook for 4 to 5 minutes.

To the same pan, add the dried spices, garlic, ginger, Curry paste and stir in. Next add the tomatoes and stir in.

Finally add the coconut milk and stir in and heat through on medium to high heat. If it starts to bubble, reduce heat until it stops bubbling. Simmer on low heat for 5 to 10 minutes and serve with steamed basmati rice or roti bread.
Nutrition
Calories:
454
kcal
Carbohydrates:
17
g
Protein:
26
g
Fat:
33
g
Saturated Fat:
20
g
Fiber:
4
g
Sugar:
8
g
Pin This Recipe for Later!