This Slow Cooker Thai Green Beef Curry is deliciously authentic with all the typical thai mouth popping flavours you'd expect from a store bought thai beef green curry.  With melt in your mouth tender beef, pumpkin, beans and a rich thick aromatic sauce this is the ultimate clean eating comfort food curry you'll come back to time and again.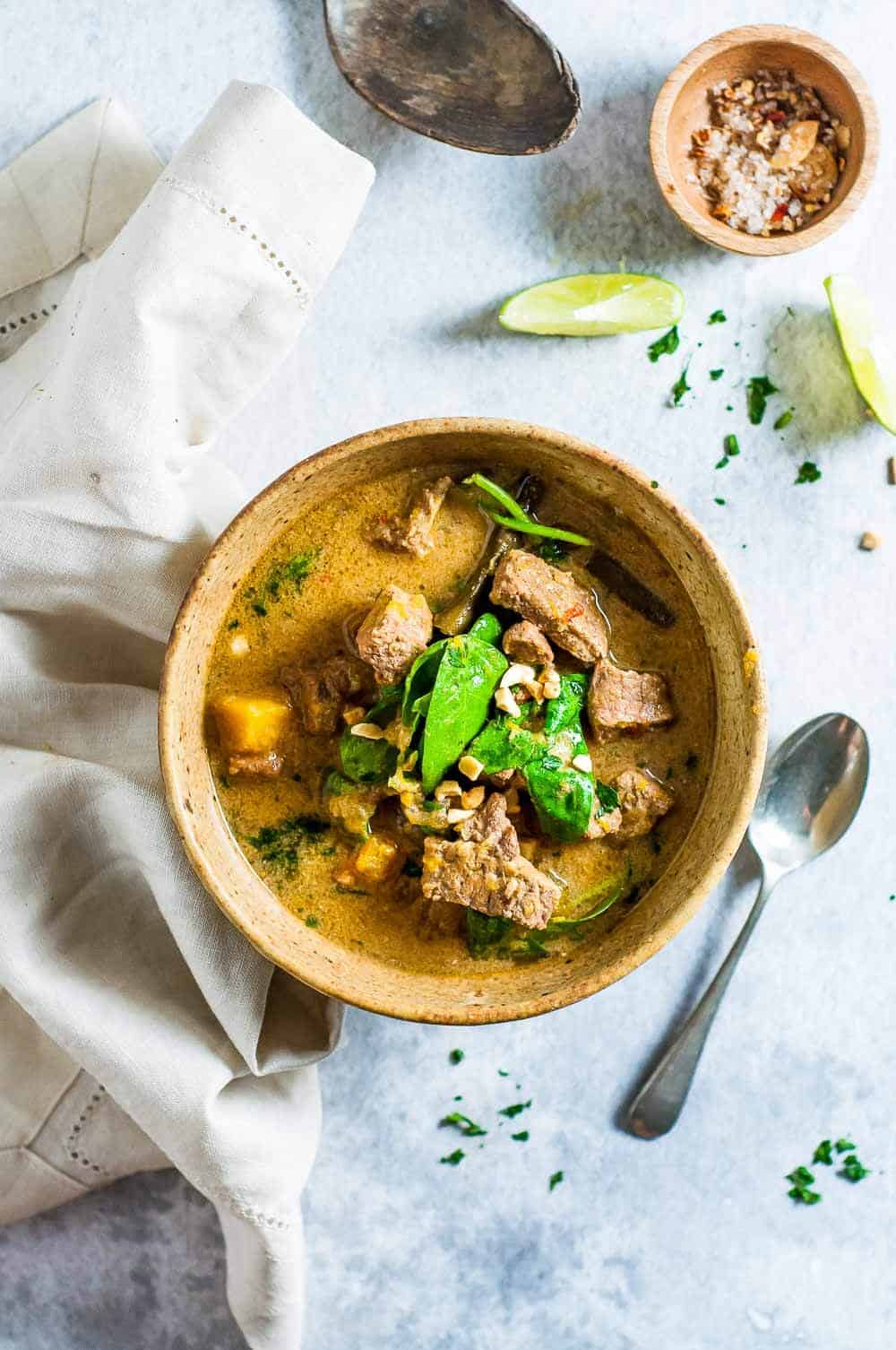 What's the best cut of meat to use in a Slow Cooker Thai Green Beef Curry?
I recommend using a lean cut of meat with little fat.  Even though you're using the slow cooker, I find it best, particularly when making Asian curries to use lean beef chunks.  They cook better and they taste better.  For this recipe I chose to use gravy beef and I trimmed the excess fat from beef, then cut it into 2cm cubes.
How To Get The Authentic Thai Taste At Home
To get a real authentic tasting thai green curry beef, there are definitely some core ingredients that are essential and that really make all the difference.  This the winning combination of ingredients for authentic thai curries at home
Curry Paste
Garlic
Ginger
Lemongrass (I use a paste)
Chilli
Fish Sauce
Raw Honey
Coconut Milk (full fat)
Beef Stock or broth
Kaffir Lime Leave (this is my secret weapon in this dish!)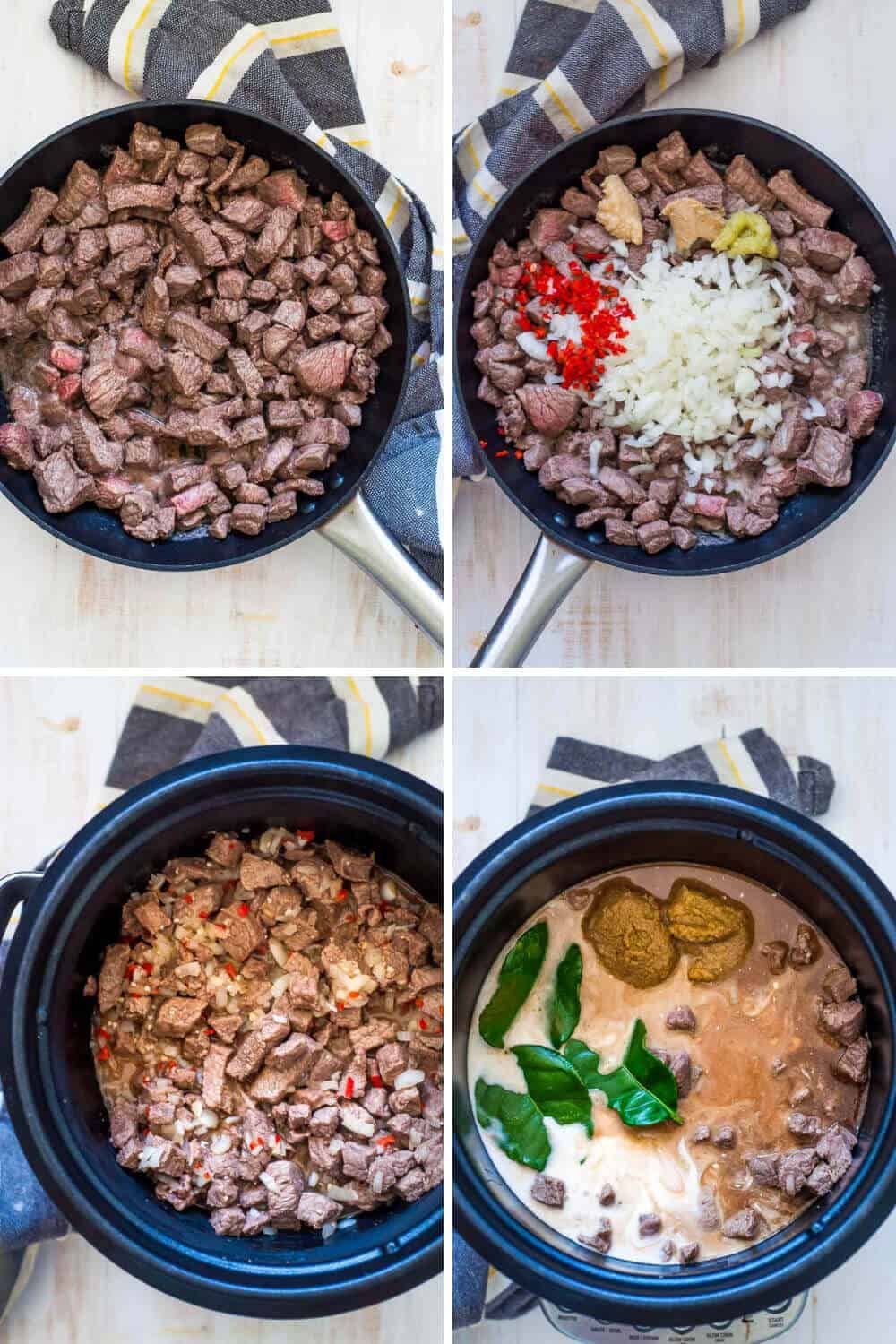 These ingredients, used in just the right quantity will give you the most authentic and delicious tasting thai curry, bursting with flavour and that curry sauce, you'll just want to eat it on it's own.  Or maybe that's just me.
Tips For Making Green Curry Beef
This is a really simple recipe, but there are a couple of things you can do in the preparation that really take this slow cooker than green beef curry to next level.
Browning the beef is essential. This locks in the flavour before the slow cooking process begins and keep the meat tender throughout.  You can either do this in your slow cooker pot using a saute function or in a separate pan on the stove.  I tend to do mine in a separate pan on the stove as it end up being quicker, even though it dirties an extra dish.
Saute the onion, garlic, ginger, lemongrass and chilli. These will get your tastebuds watering for sure.  Its that quintessential scent of the beginnings of something spicy, something Asian and something that 's going to be bursting with flavour.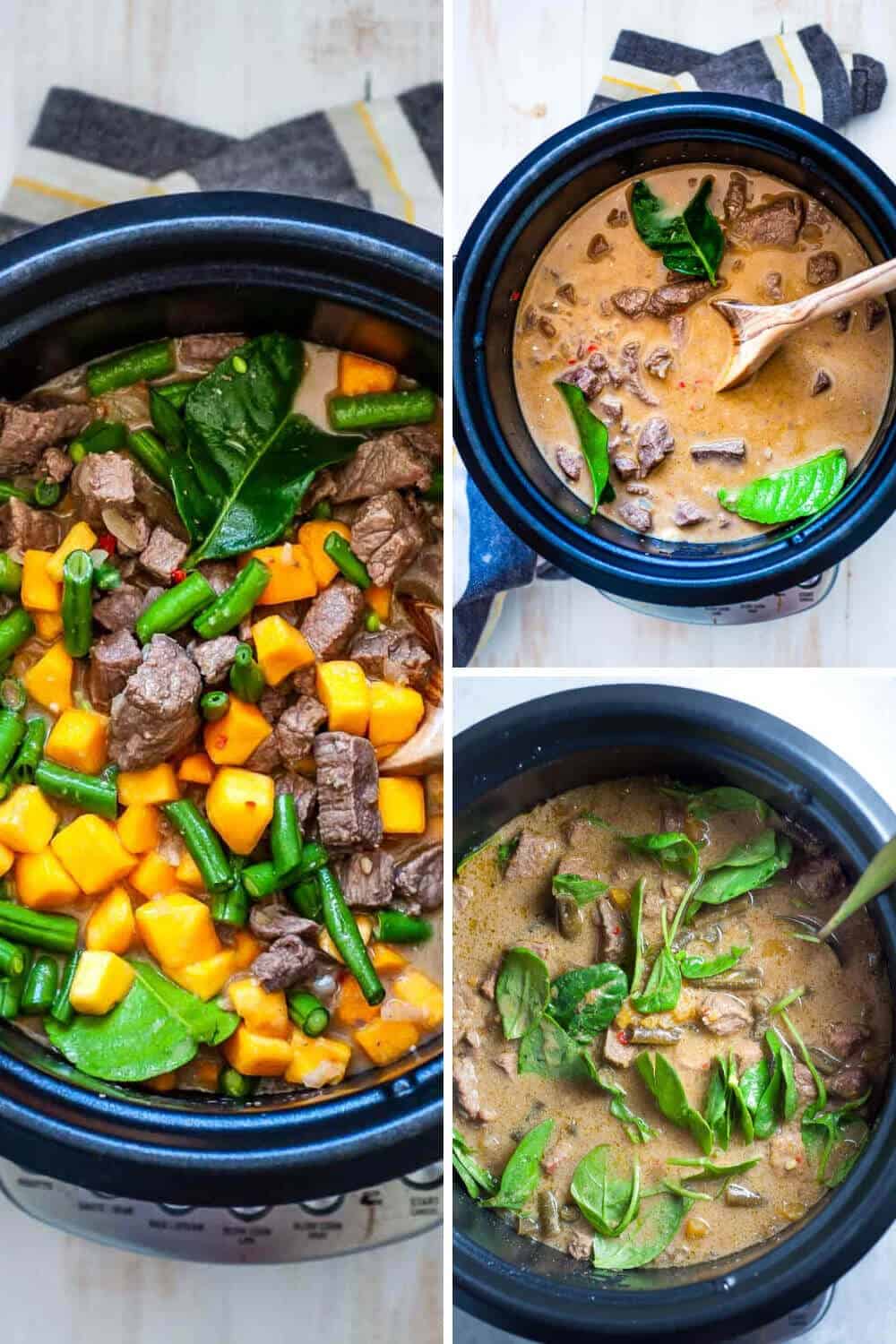 Is Thai green Curry Hot?
Thai green curry is a medium curry.  Not as hot as a red curry, but hotter than a yellow or panang curry.  I generally tend to find thai green curries in the mild to medium range, and if you're not keen on spicy foods but still love a good curry, just reduce the amount of curry paste by a quarter.
Which Curry Paste to Use?
I am a fan of the Volcom brand of thai curry pastes and this is the brand of curry paste I use most often.  They are available in supermarkets in the Asian food aisle.  I find that compared to some of the other ones I have used that the Volcom brand are a little less oily and have more flavour.  But by all means experiment with what is available near you, or use your favourite green curry paste you've been using for years.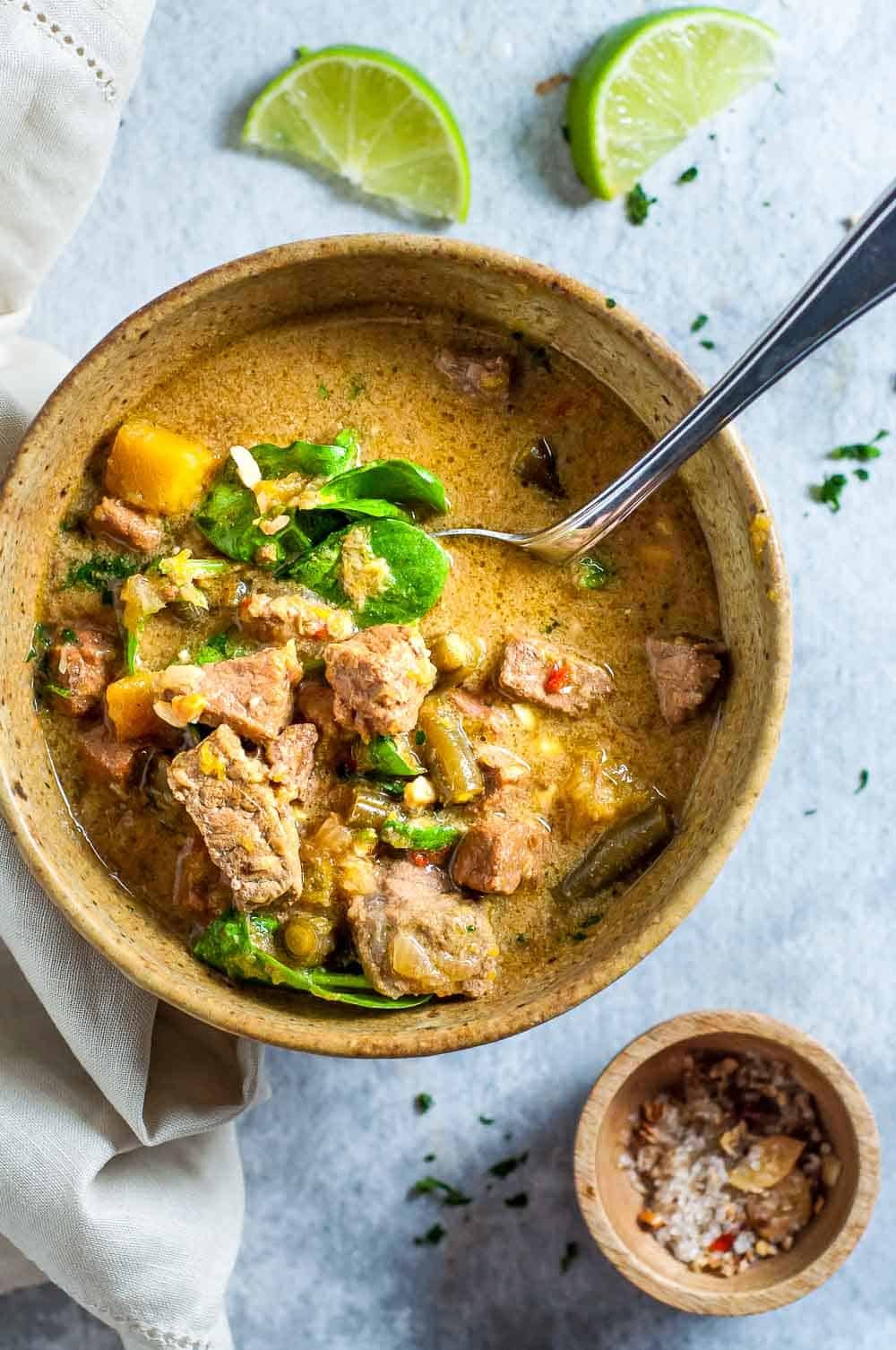 Some of my other favourite curry recipes
TIP:  You could always try making this curry with a red curry paste for a hotter curry, or with a yellow curry paste for a milder curry.  Either way, it's versatile and any store bought curry paste would work.
How Do You Spice Up A Green Curry?
If you want to spice up a green curry, you could add additional curry paste as this will increase the level of heat in the dish, or you could add more chilli.  I would only do this though if you are used to eating hot or very hot curries, as this is already a medium heat curry.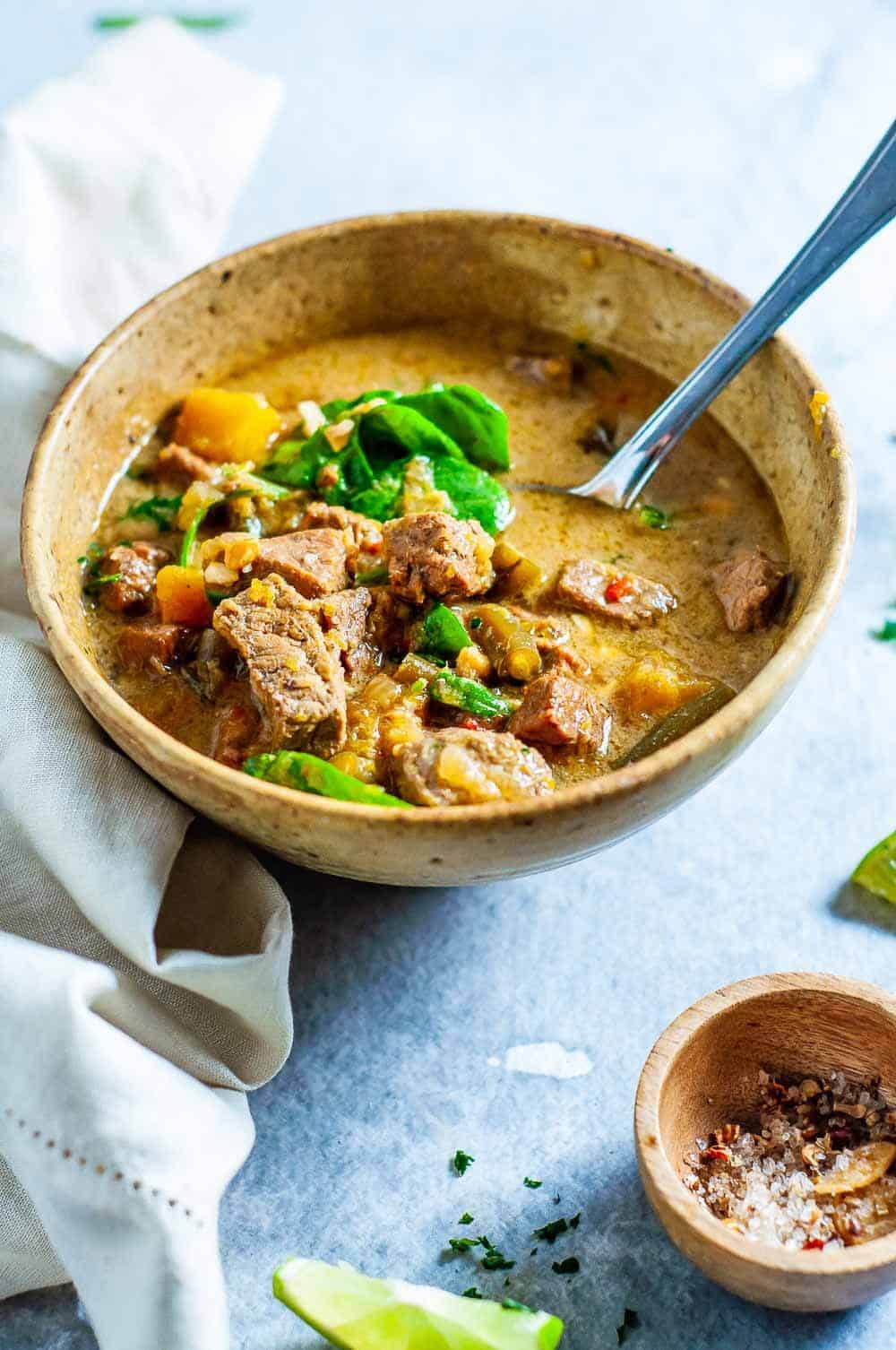 Does Thai Beef Green Curry Freeze Well?
Yes, this curry freezes well and will keep in sealed containers for 6 weeks.  If you're making it to freeze, make sure to portion it out into serving sized containers to make it easier and to avoid wastage.  Also label and date your containers so you know what's in it and when it should be used by, especially if you're containers are no see through.
If you've been following me for a while, you might of realised how much I love Curry dishes!  They're so warm and comforting, and I think that's what makes them a food that I never tire of, regardless of the type of curry, thai, Indian or even Japanese, I love them all.
This slow cooker thai green beef curry is definitely in my top 3 curry dishes that I come back to time and time again.  I love the smell of it wafting through the house on a Sunday, and then the effortless dinner on a Sunday evening with practically no cleaning up (thank goodness for dishwashers).  This humble curry is big on flavour, with that one of a kind meltingly tender beef from 8 hours of long slow delicious cooking.
Like what you see? Follow me on Facebook or Pinterest! Did you try a recipe? Tag me on Instagram: @mysugarfreekitchen, and leave a comment & star rating!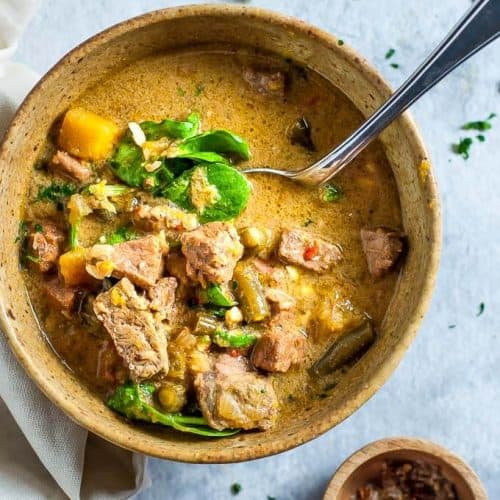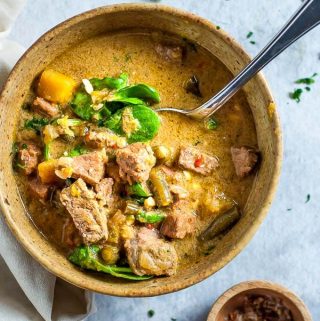 Slow Cooker Thai Green Beef Curry
This Slow Cooker Thai Green Beef Curry is deliciously authentic with all the typical thai mouth popping flavours you'd expect from a store bought thai beef green curry. With melt in your mouth tender beef, pumpkin, beans and a rich thick aromatic sauce this is the ultimate clean eating comfort food curry you'll come back to time and again.
Ingredients
1

kg

/ 2 pounds lean gravy beef cut into 2cm chunks

fat trimmed 1 medium Brown onion, finely diced

2

tablespoons

Thai Green Curry Paste

see note 1

1

tablespoon

Crushed garlic

1

tablespoon

Minced Ginger

1

tablespoon

Lemongrass paste or fresh chopped lemongrass

1

Red chilli

finely diced

1

tablespoon

Fish sauce

1

tablespoon

Raw honey

3/4

cup

Coconut milk

3/4

cup

Beef stock/broth

4

fresh Kaffir Lime Leaves

see note 6

½

teaspoon

salt

1

cup

diced Pumpkin

1cm x1cm

20

long Green beans

chopped

2

cups

baby spinach
Instructions
In a large non stick pan set to high, brown the meat for 2 to 3 minutes.

Add the onion, garlic, ginger and chilli and lemongrass stir through for 2 to 3 minutes until fragrant.

Add the meat to the slow cooker, and add the curry paste, fish sauce, honey, lime leaves, beef stock/broth, and the coconut milk. Stir to combine.

Add the beans and pumpkin and stir to combine.

Set slow cooker to cook on Low for 8 hours, or cook on high for 4 hours.

Once its finished cooking stir in the baby spinach and serve.

Serve steamed jasmine rice.
Notes
1. Curry Paste: 2 tablespoons Thai Green Curry Paste will result in a mild curry. For a medium curry, increase to 3tablespoons of curry paste. I use the Volcom brand.
2. Brown the meat in a pan on the stove if your slow cooker doesn't have a saute function.
3. Kaffir Lime leaves are available from supermarkets in the fresh fruit and veg section. There are also bottled kaffir lime leaves in the Asian section of Woolworths and Coles that you could try if you can't find the fresh ones.
4. Freezing: This recipe is suitable to freeze for upto 8 weeks.
5. Nutritional information does not include rice.
6. Stovetop: To make this recipe on the stovetop, cook in a large saucepan with the lid on low heat for 3 hours, checking every hour. If cooking on the stovetop, you will need more liquid. Generally about ½ to 1 cup extra of either water or coconut milk should do the trick. However do keep an eye on it to ensure it doesn't dry out and burn.
Nutrition
Calories:
390
kcal
Carbohydrates:
10
g
Protein:
34
g
Fat:
22
g
Saturated Fat:
11
g
Fiber:
1
g
Sugar:
5
g
Pin This Recipe for Later!
★ Did you make this recipe? Don't forget to give it a star rating below!