This Pressure Cooker Massaman Curry is a delicious fresh, fragrant and aromatic dish to spice up your weeknight menu.  Its cooked all in one pot, and with ingredients that will keep in your pantry.  Keep some diced beef in the freezer and  you can always have this dish as a backup for when you need a midweek curry fix without having to go to the local takeaway.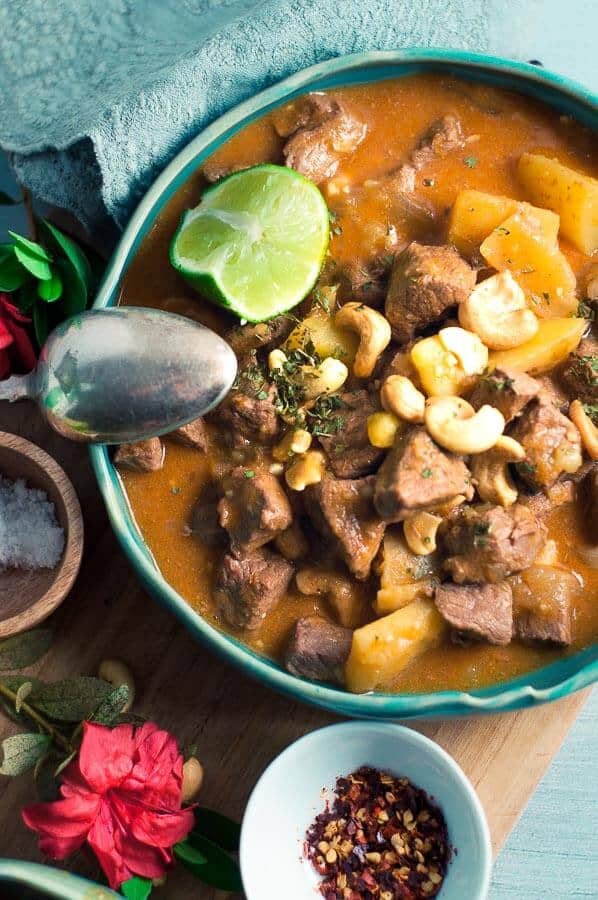 What Is Massaman Curry?
Massaman curry is a mild indian curry and in this recipe I use a store bought Massaman Curry Paste from the local supermarket, which usually lives in the Asian foods aisle.
Generally you'll find most pastes consist of core spice ingredients like cardamom, cinnamon, cloves, ground corriander, cumin, garlic and galangal.  If you're looking for a bit more heat, try adding a very small amount of ground chilli or even sirracha sauce to increase it to more of a medium curry.  You could do this after it has finished cooking, especially if there are others sharing the dish that like it mild.
You might also have noticed that on some Thai takeaway menus they offer Beef Massaman Curry.  In the past (when I used to eat a whole bunch of takeaway) I had the odd Beef Massaman Curry from the thai shop and I never really enjoyed it as it was quite watery, the beef pieces were very thin and there was always alot of oil on top.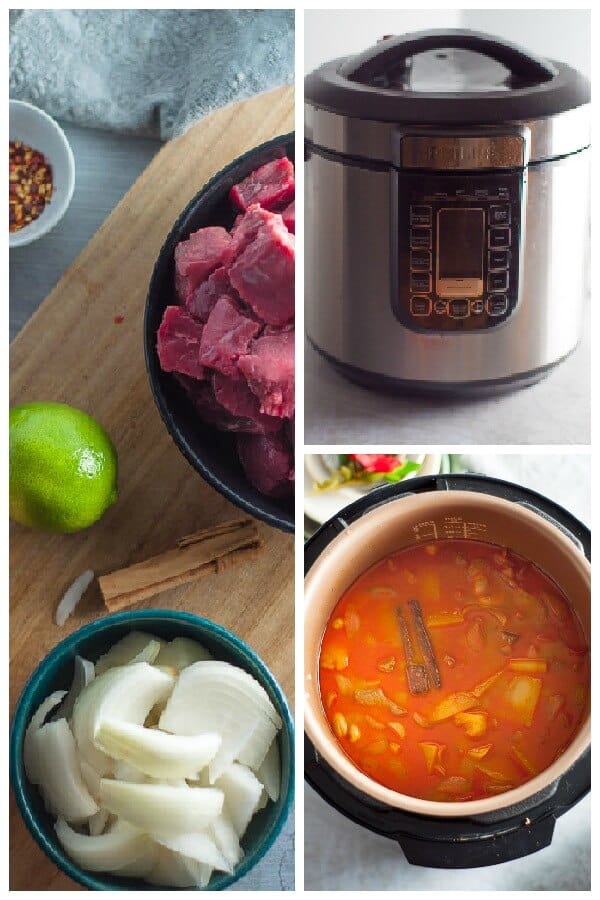 This recipe is different.  It has rich, thick sauce that is slightly sweet, slightly tangy and, chunky melt in your mouth beef pieces. Plus there is no awful oil residue sitting on top when you dish it out because the amount of oil added to the recipe is minimal.  Note that using a good quality store bought massman paste also helps to minimise oil residue on top.
Also one of the best things about this dish is the lack of cleaning up because it's all made in one pot – the pressure cooker.  This is a big plus for me.  The last thing I want is a lot of cleaning up after cooking and a long day at work.
I use a Phillips Electric Pressure Cooker and have made countless dishes in it, including many curries and stews and it can be a really big timesaver in the kitchen, especially if you love meats with lots of juicy rich sauces.
More Pressure Cooking Recipes:  Pressure Cooker Chicken Korma Curry, Pressure Cooker Mexican Shredded Beef
3 Tips For Cooking Massman Curry In The Pressure Cooker
Trim the fat off the beef whilst it is still raw (before browning it off) as the fat will not dissolve as part of the cooking process the way it does in a slow cooker.
Brown the meat before adding the rest of the ingredients. This seals the meat, locks in moisture and flavour and ensures it stays nice and juicy.
The lime, salt and cinnamon might seem a bit weird, but they work. I definitely recommend including them.
The pressure cooker is a really healthy means of cooking and creates great flavour and lovely tender meat that still holds its shape and maintains its texture.
Bonus Tip:  Traditionally you'd find peanuts used in a Massman Curry, but I used cashews for this recipe which worked a treat.  They were very similar to the peanuts, probably just a little bigger.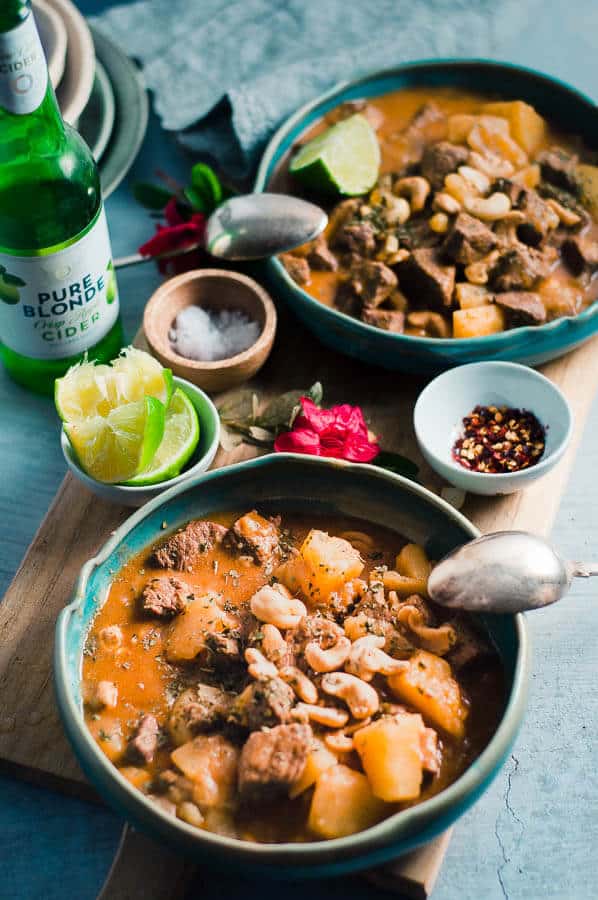 What To Eat With Your Massman Curry
On occasion, I will have my massman curry with rice, but more often than not, I find it sufficiently filling that I don't want the rice.
If you're craving some colour ie: greenery, why not steam up some broccoli or green beans to go with it.  The rich curry sauce would be delicious drizzeled over some greens.
If you have an electric pressure cooker or instant pot and have been thinking about making a curry, give this one a go.  It won't blow your socks off and it's a great starter recipe if you are new to pressure cooking.
Like what you see? Follow me on Facebook or Pinterest! Did you try a recipe? Tag me on Instagram: @mysugarfreekitchen, and leave a comment & star rating!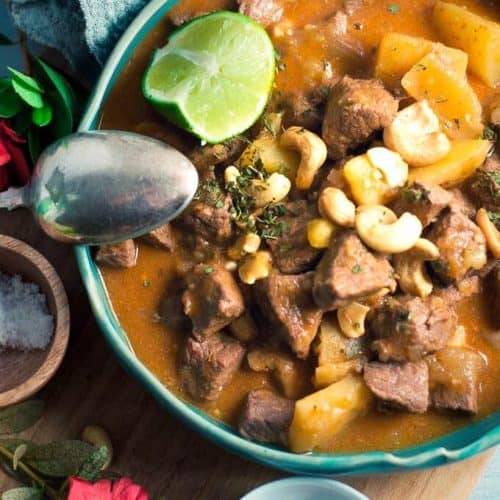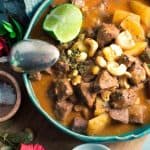 Print
Pressure Cooker Massman Beef Curry
This Pressure Cooker Massman Curry is a delicious fresh, fragrant and aromatic dish to spice up your weeknight menu. Its cooked all in one pot, and with ingredients that will keep in your pantry. Keep some diced beef in the freezer and you can always have this dish as a backup for when you need a midweek curry fix without having to go to the local takeaway.
Ingredients
1

kg/2 pounds Gravy beef

roughly chopped

2

tablespoons

peanut oil

2

large brown onions

cut into wedges

2

tablespoons

Crushed garlic

1

cup

Massman curry paste

1

cup

Coconut Milk

1

cup

Beef Stock/broth

2

Cinnamon Sticks

2

teaspoons

Sea Salt

1

Lime

1

Orange

3

medium potatoes

roughly chopped

½

cup

Cashews

1

tablespoon

Fish Sauce

2

tablespoons

Conflour/cornstarch

2

tablespoons

water
Instructions
Add half the oil and garlic and onions to the inner pot of pressure cooker, and SAUTE/SEAR on HIGH HEAT, cooking for approximately 5 minutes. Once they have turned opaque, remove them and place in a dish off to the side.

Add final half of the oil and add half the meat to the inner pot. On the SAUTE/SEAR HIGH HEAT Setting, cook until it is browned, remove and repeat with the second lot of meat. Once browned, add the first half of the meat back to the pot

Add the massman paste and stir through the meat until fragrant.

Add the Onions back into the inner pot, along with the stock/broth, coconut milk, cinnamon sticks, juice of half a lime, juice of half an orange, salt, cashews and potatoes.

Seal lid and cook on MEAT/POULTRY setting in pressure cooking mode for 40 minutes. (Don't forget to press start after settings are selected).

Once the timer has gone off, release the steam vent and remove the lid and stir. Add in the fish sauce, juice of the lime (second half), juice of orange (second half).

To thicken the sauce, make a cornflour slurry, in a small jug/cup with the cornflour and water. Add to the curry and stir through to thicken.

Serve with chopped coriander, lime wedges and rice/naan bread if desired.
Notes
Store leftovers in an air tight container in the fridge for 2 days, or freeze for upto 6 weeks.
Nutrition
Calories:
483
kcal
(24%)
|
Carbohydrates:
27
g
(9%)
|
Protein:
44
g
(88%)
|
Fat:
23
g
(35%)
|
Saturated Fat:
5
g
(31%)
|
Fiber:
5
g
(21%)
|
Sugar:
3
g
(3%)
★ Did you make this recipe? Don't forget to give it a star rating below!