Tangy, salty, and sweet crunchy Thai Beef Salad is a fresh, fragrant and light weeknight dinner, perfect for warm evenings when you have a hankering for thai takeaway, but want to keep to your healthy eating routine and it's on the table in under 20 minutes, just like this Thai Prawn Salad with homemade Chilli Lime Dressing.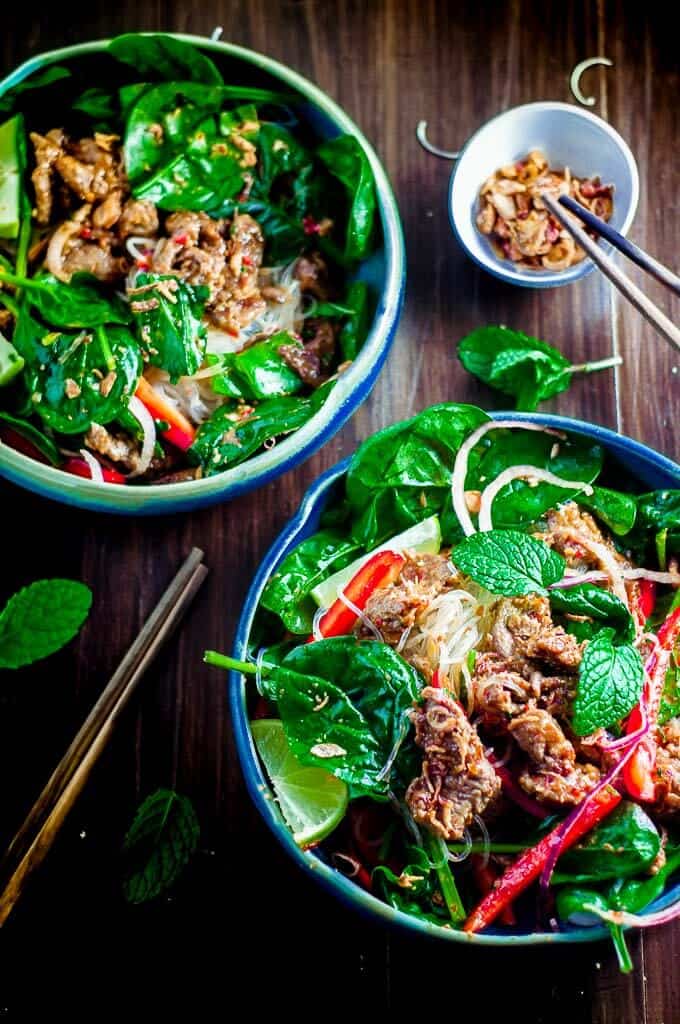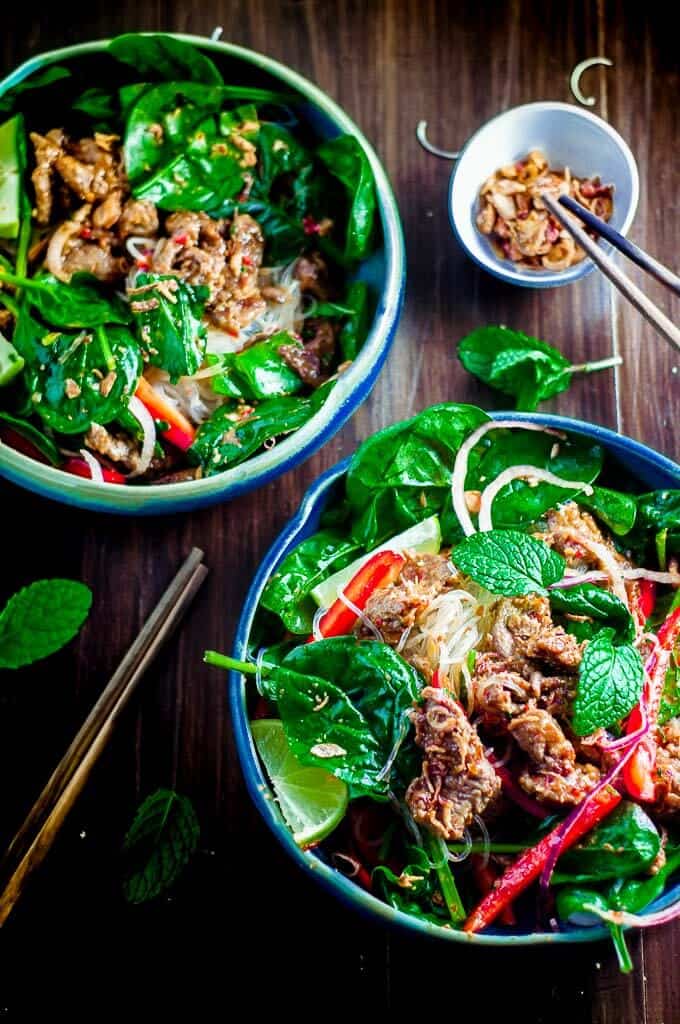 5 Things That Take A Thai Beef Salad From Good To Great
Balance of flavours: tangy, spicy, sweet, salty – these are all the necessary components to create that addictive and oh so moreish dressing that thai beef salads are known for
Salad Crunch and Texture: lots of fresh salad ingredients are a must.  Think just picked baby spinach leaves, crisp carrot, ripe capsicum, firm onion and juicy cucumber.  The fresher the better!  Plus Vermacilli Noodles.  An absolute must.
Melt In Your Mouth Meat: there are just so many ways to cook the beef.  My favourite is crunchy thin strips.  Textured on the outside, soft on the inside.
A Pallete of Colour: aim to eat a rainbow of colour.  Reds, greens, oranges, purples.  The more colour the better.
Easy and Simple to Make: No fuss, fluff free, with ingredients you can get from your local supermarket.  Who wants to hunt around for weird ingredients in places that are too time consuming to get to?  Not me!
This Crunchy Thai Beef Salad is loaded with lively fresh citrus flavours, with hints of mild chilli to give it just a bit of a spicy edge without being hot or overpowering.  And of course coriander and mint, two fresh Asian herbs, that take the dish to a whole nother level.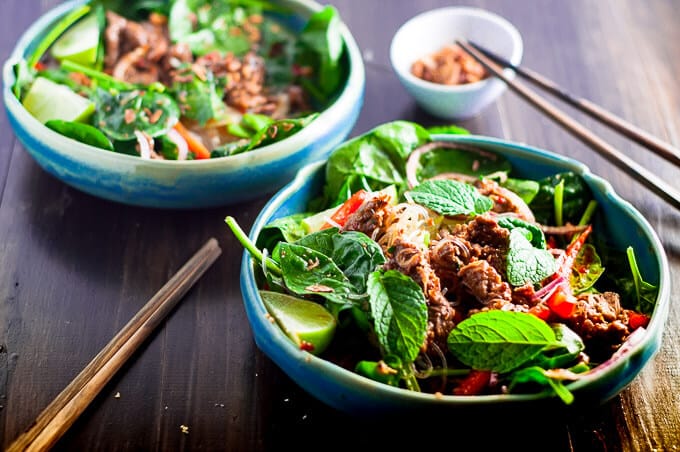 Now, you probably realise or have your suspicions that many of the thai dishes you get from the local takeaway often come with generous amounts of sugar added to the sauces and dressings.
This is why they taste so good, and why they are so addictive… and why we crave them so much.  And the added sugar helps to balance out the flavour profiles they use, yep making them even more addictive
Kind of making you feel like you've just had a somewhat outer body experience, momentarily transported to one of the beaches of Phuket, lying on a beach chair, as smells of dinner waft down from the nearby eateries to tempt your tastebuds.
Yep if you're a fan of thai food, you know it can be addictive!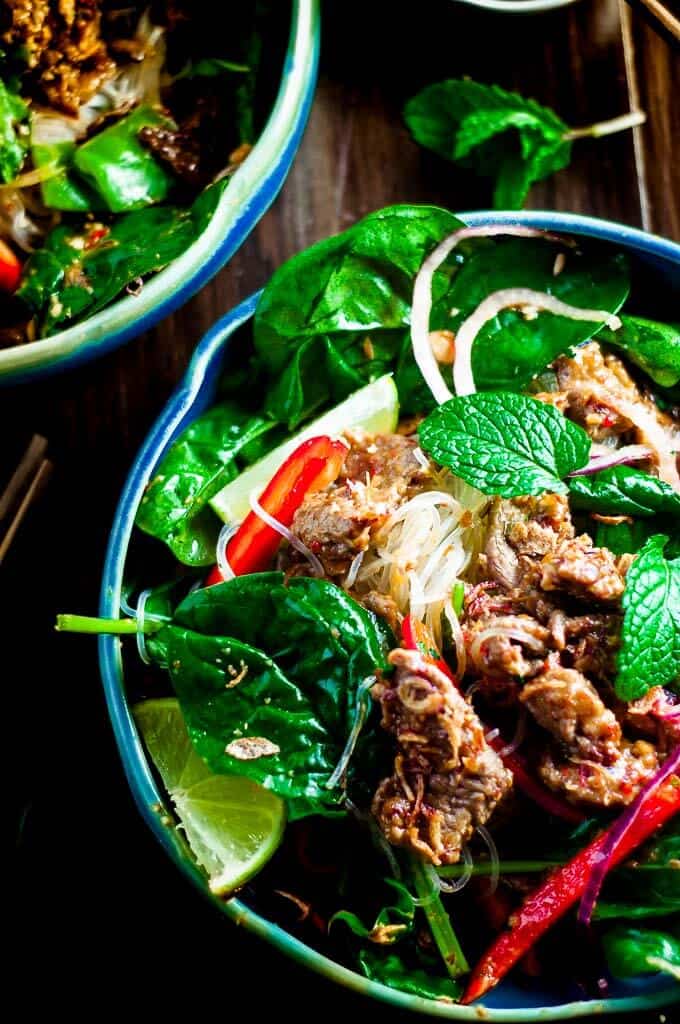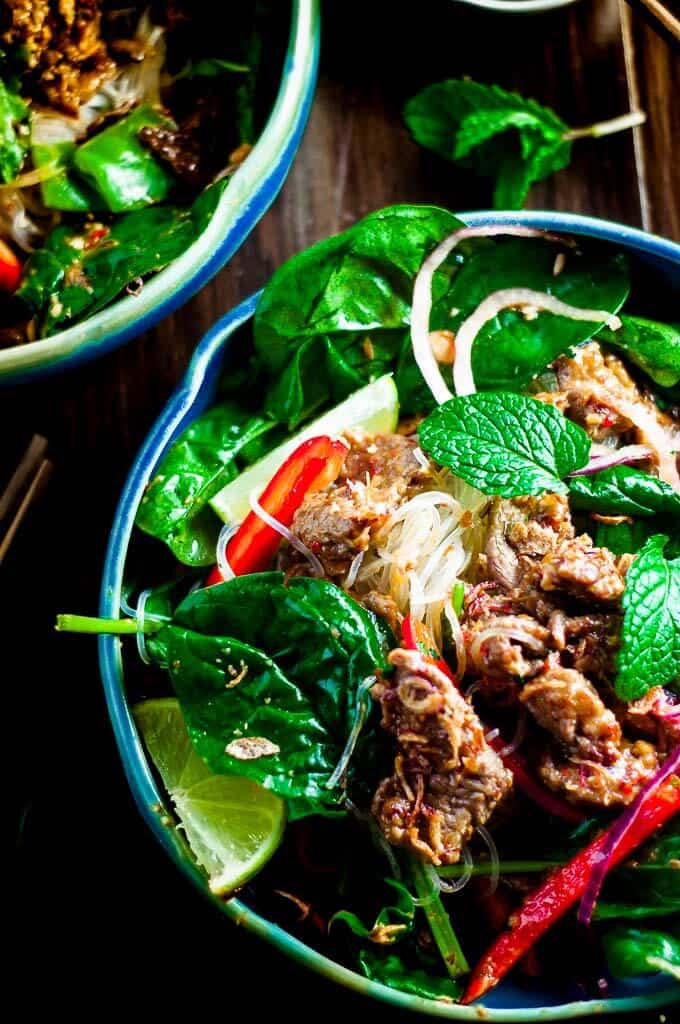 I don't know about you, but my tastebubs loved the Friday nights down at the local thai takeaway.  Sometimes though, my stomach didn't!.
And, while, I'm the first to admit, a good thai curry or a spicy thai stir fry do taste pretty good, eating too much thai takeaway on a regular basis is not going to do your waistline or your health any favours.
Not to mention if you're like me and actively trying to manage sugar intake, store bought thai takeaway can be a bit of a mine field.
So, you might notice this recipe doesn't contain sugars to add additional sweetness or to balance out flavours.
It has been crafted so that it doesn't need it.  I think it has a "just right" balance of tangy, sweet, and spicy and doesn't need added sugars because  the natural sugars come through from the carrots, cucumber, capsicum and the meat.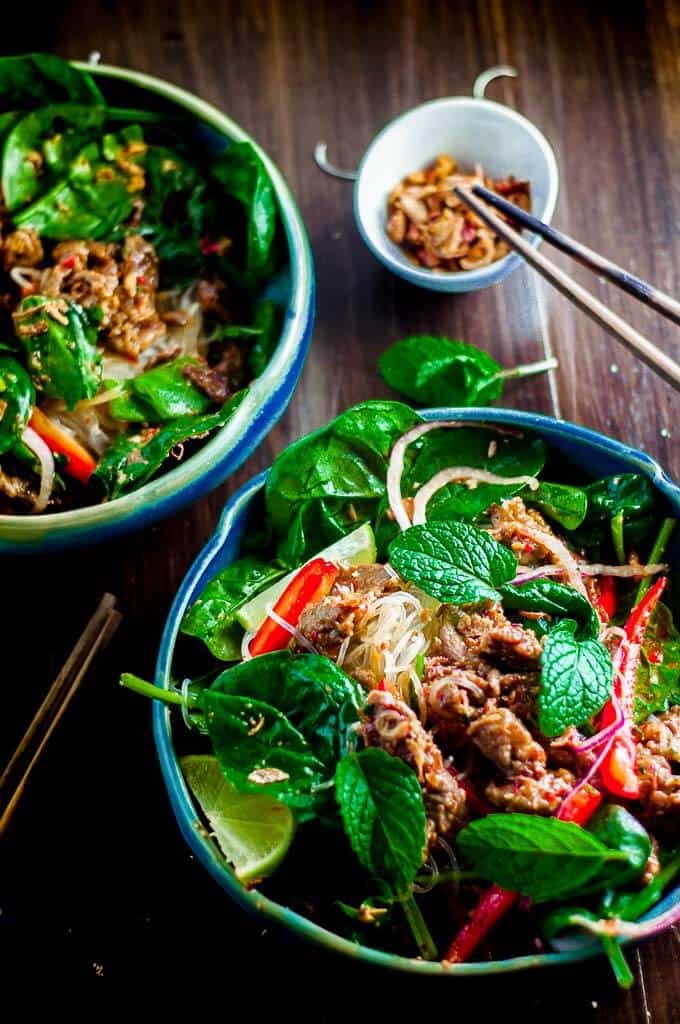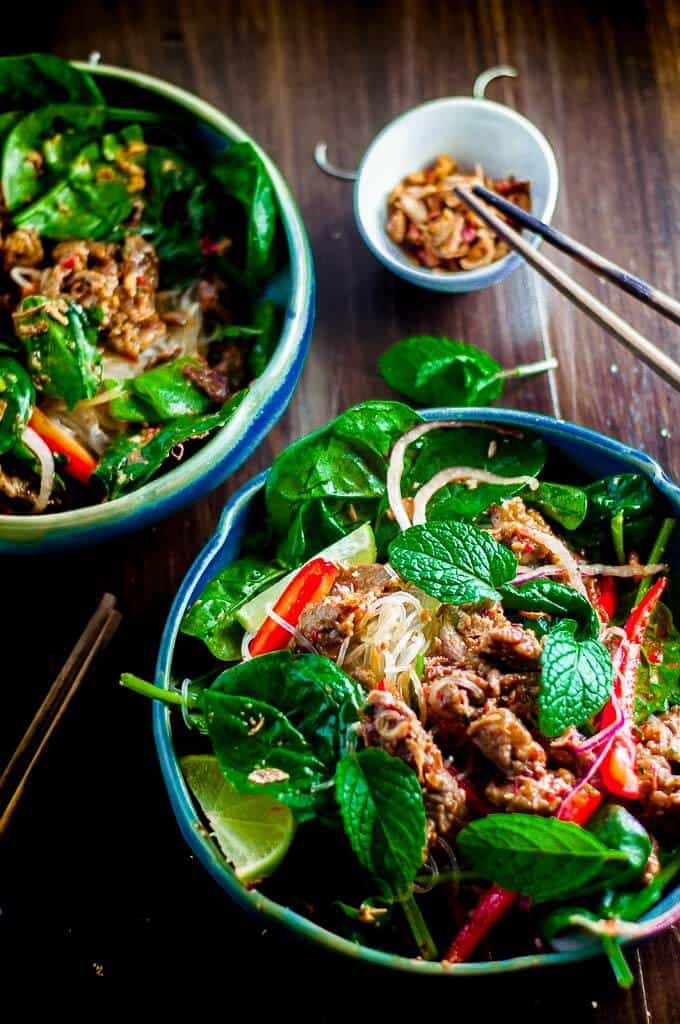 Although if you did need a little hit of something sweet added to your dressing, why not try a pinch of granulated stevia
This is a quick and healthy Asian salad that needs to go into your regular spring summer menu rotation!  As soon as the warmer months come around, I love to bust out the Asian salads.  I can't get enough of them.  Something about the zingy fresh lightness of them, yet they are so filling.
Related:  Crunchy Asian Butter Prawn
Of course this post would not be complete if I didn't introduce you to some more of my other fave thai takeaways I've recreated at home into healthy sugar free versions.
Namely, this wickedly delicious Fish Panang Curry, the ultimate comfort food of Cashew Nut Chicken, and wake me up Chilli Basil Chicken!
Like what you see? Follow me on Facebook or Pinterest! Did you try a recipe? Tag me on Instagram: @mysugarfreekitchen, and leave a comment & star rating!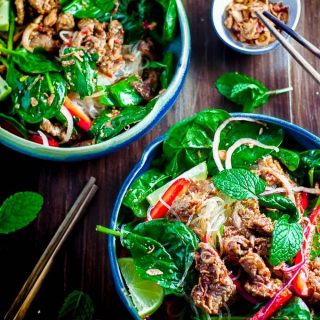 Crunchy Thai Beef Salad
Tangy, salty, and sweet crunchy thai beef salad is a fresh, fragrant and light weeknight dinner, perfect for warm evenings when you have a hankering for thai takeaway, but want to keep to your healthy eating routine!
Ingredients
300

grams

/ 0.66 lb. Rib fillet steak

-

(thinly sliced)

2

cups

spinach leaves

12

Snow peas

½

Red capsicum

½

medium Carrot

½

medium Red onion

½

small Cucumber

Vermacilli Noodles

2

teaspoons

Chilli Paste or Sambal Olek

4

teaspoon

Garlic

-

(crushed)

4

teaspoons

Light Soy

2

teaspoons

Fish sauce

4

teaspoons

Lime Juice

1

tablespoon

Plain flour

Corriander and Mint leaves to garnish

1

tabelspoon canola oil
Optional (See note 1)
Pinch

Granualted Stevia

-

(Note 1)
Instructions
Chop carrot, capsicum and cucumber into matchsticks, and thinly slice red onion

Place vermacilli noodles into a pot of boiled water and let sit for 4 to 5 mins. Then drain and set aside

Par dry beef with paper towel to remove moisture. Lightly coat beef strips in flour and shake off excess. (I put flour in a plastic bag and add the beef and give it a shake then remove the beef from the bag and shake off the excess flour)

Heat oil in wok and cook the beef strips until crispy.

The dressing: in a separate bowl or jug combine the chilli paste, garlic, soy, fish sauce and lime juice. Use a whisk to combine.

Add all the salad ingredients to a large salad bowl along with the vermacilli and pour half the dressing over. Reserve the other half for the meat

Add the crispy beef strips on top on the noodles and salad and pour over remaining dressing. Add coriander and mint leaves with a couple slices of lime to serve.
Notes
The granulated sweetener I use is Natvia Stevia Sweetener.  Natvia Stevia Sweetener is a 100% natural sweetener and has 97% fewer calories than sugar.  Its fructose free, low carb and isn't going to rot your teeth!   I wrote a post about it here.
Nutrition
Calories:
452
kcal
Carbohydrates:
53
g
Protein:
40
g
Fat:
11
g
Saturated Fat:
2
g
Fiber:
10
g
Sugar:
11
g
Note: Sugars contained in this recipe are from naturally occurring sugars in fruits, vegetables or other natural sweeteners.
Looking To Cut Out Sugar? Get the FREE Healthy Food Swaps Checklist Pack!
Get your FREE Healthy Food Swaps Checklists with over 65 Healthy Food Alternatives to Help you Ditch The Sugar Without Feeling Deprived.
★ Did you make this recipe? Don't forget to give it a star rating below!