This thai chicken chilli stir fry with basil is fragrant, light and perfect for a quick weeknight dinner. Its also packed with flavour thanks to the zingy chilli and lemon, punchy soy and delicate basil leaves. A complete meal under 400 calories per serve!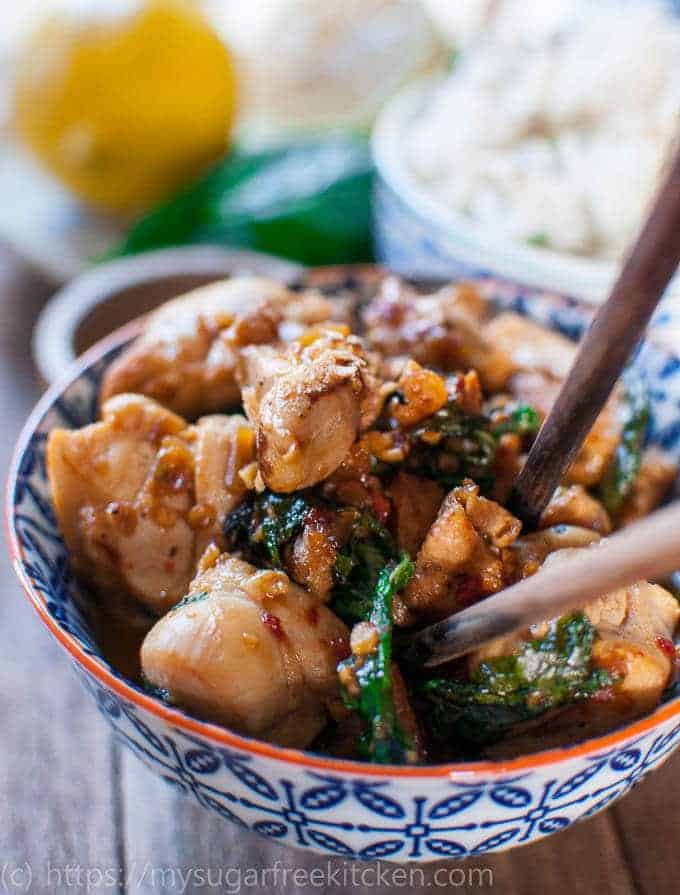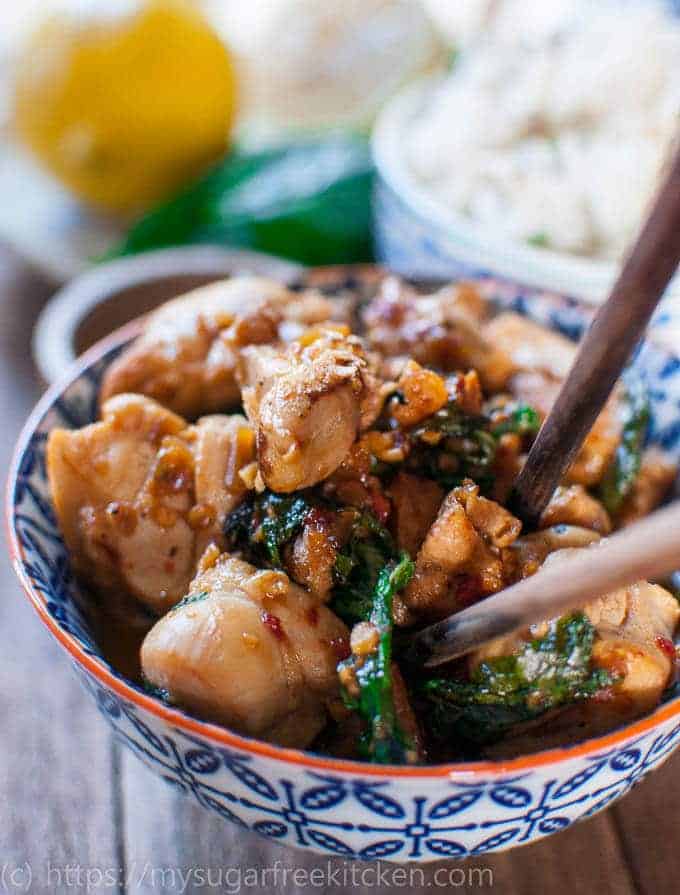 When I made this basil chicken chilli stirfry recipe, I plated it up, sat down and started eating. After a couple of mouthfuls, I put my fork down and just sat there. Staring into space. Absorbing the flavours.
I was almost starstruck at the utter simplicity of this dish that it could so potently remind me of an actual thai basil chicken, you know, like the ones you get from the thai shop on a Friday night where you pay 20 bucks for a Chinese container full of the good stuff to take home with a "complimentary" rice. Yeah, that's the one! I've had my fare share of those and I have enjoyed them. A lot.
My Other Healthy Stir Fry Recipes:
A So So Simple Basil Chicken Chilli Stirfry Recipe
This one was different. I had made it myself. I wasn't even trying to recreate a thai shop favourite. I just wanted to use up a ridiculous amount of basil as my garden was exploding with it and something needed to be done. It must be said then that some of the best things come from not even trying.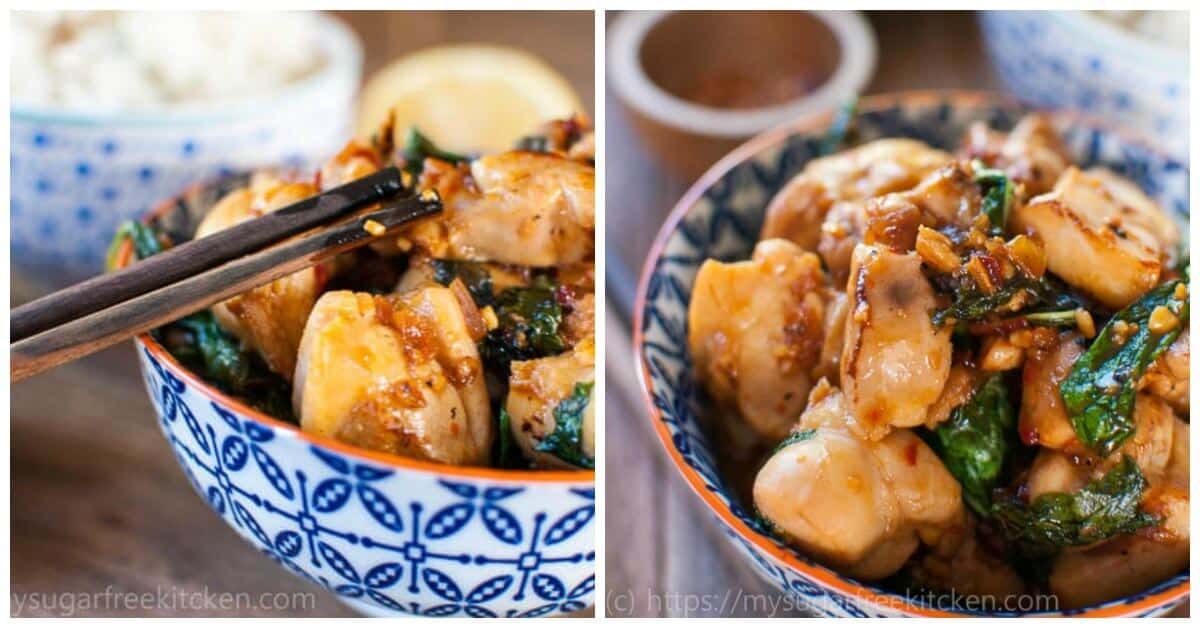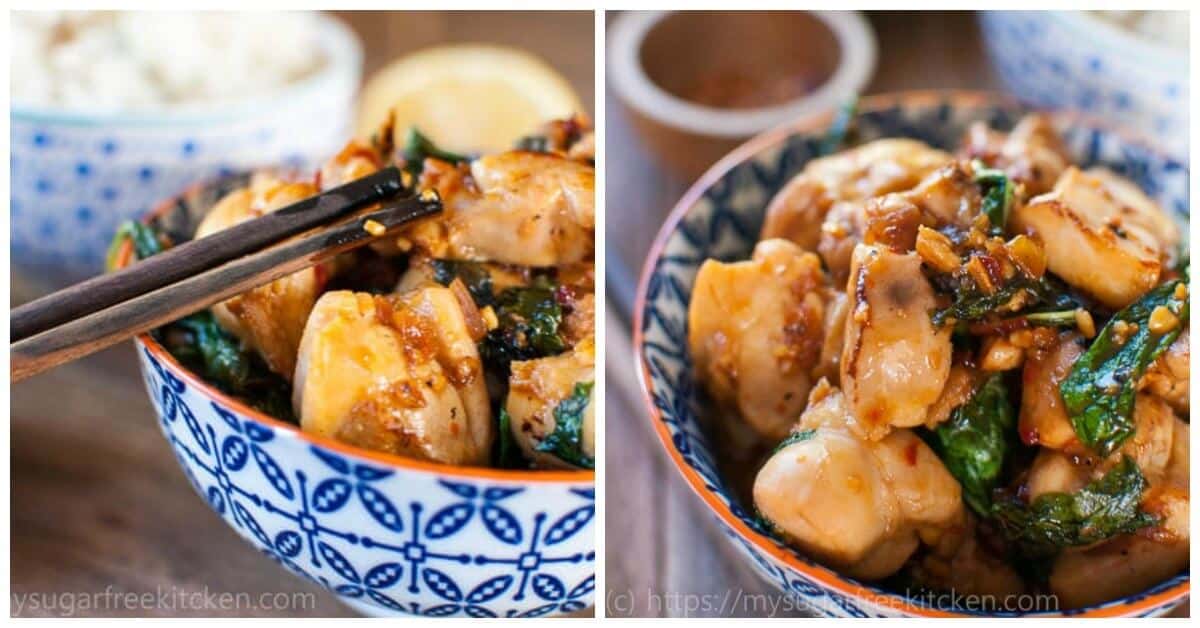 From just doing what you gotta do, even when it is to attend to something else, well, elsewhere. This dish was a delightful surprise, and one which I have made a couple of times since, and will probably make once a week for the foreseeable future. Well, until I run out of basil anyways.
It all began seven weeks ago. I planted some basil seedlings in my herb garden, and since then I have patiently watched them grow, and today was the day they needed pruning because they are BIG. I'm talking basil plants that are almost a meter high, by about half a meter wide x 4 – yes, I have 4 of them.
That's a lot of basil.
Normally the first thing that would have popped into my mind to make, and put this basil to use would have been a salami pizza of some description or spaghetti bolognase. But I was in the mood for something lighter. Something…Asian.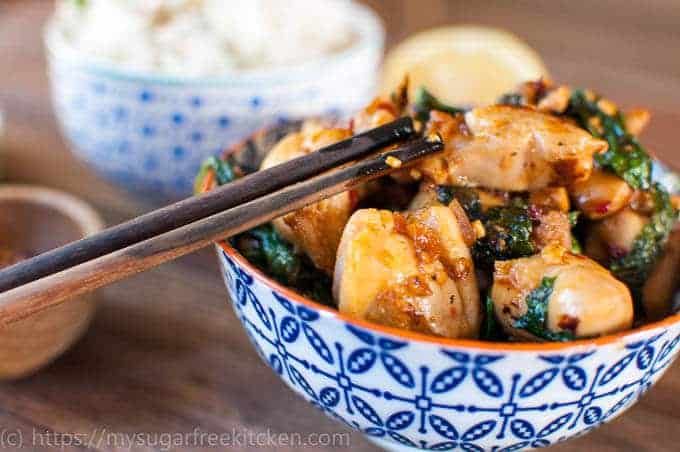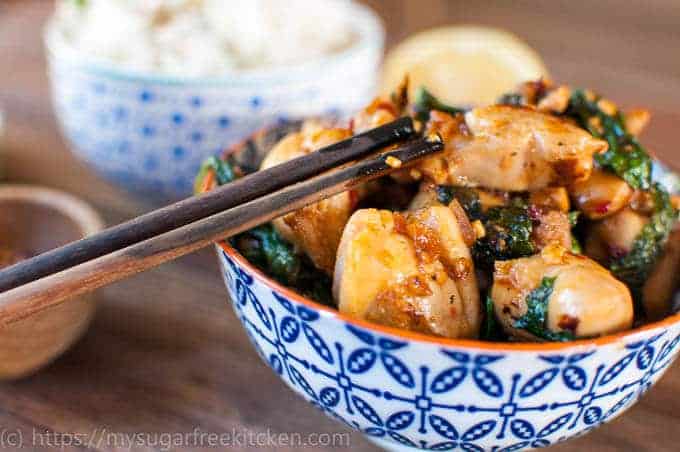 Basil Chicken Chilli Stirfry Recipe – that was it.
I had chicken in the freezer, garlic, lemon, chillies, plus the usual suspects such as soy in the pantry. Excellent. Time to get cooking. I made this thai chilli basil chicken recipe twice in one weekend as the first time I wasn't 100 percent happy with it.
However, the second time, well that was the standout. I put more chilli in, and about 5 times more basil!!! I kid you not. You need a lot of basil because as soon as it hits the heat it shrinks to a fraction of what it was, which means to keep that aromatic basil flavour, a generous amount is required.
I think that is the secret. An enormous amount of basil, thrown in right at the end tossed about for 10 seconds or so. Who would of thought "normal" basil (the big leafy aromatic sweet variety) would have worked so well in an Asian dish – I would have thought this was strictly an Italian herb, for pastas and pizzas, but not anymore.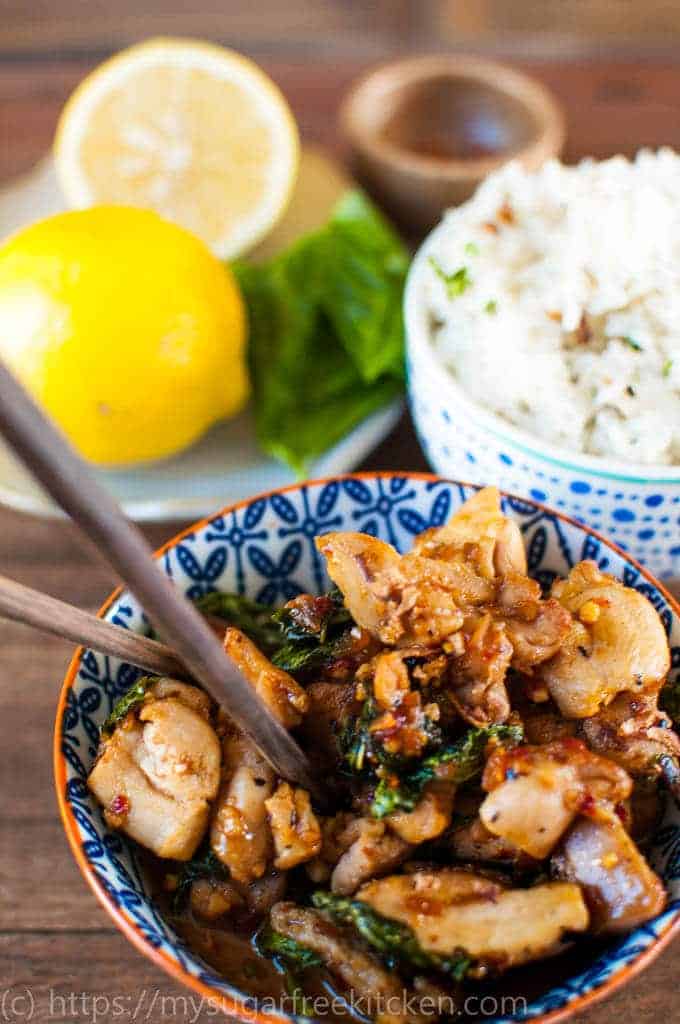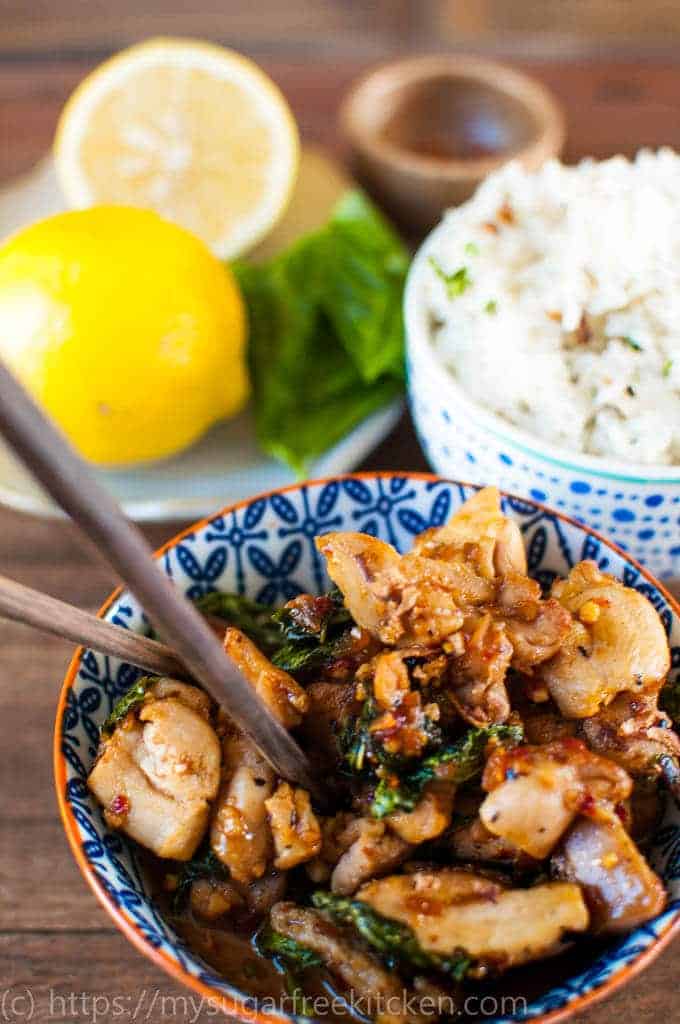 If you're like me and find it very easy to grow basil and have an abundance of it right now, I highly recommend you give this Basil Chicken Chilli stirfry recipe a go. Maybe like this Friday night when you're thinking of ordering a takeaway from your local thai shop!
Like your stirfry's for Dinner?  Check these out >>>>  Spicy Salmon Stirfry, 15 minute Sticky Beef and Broccoli, or my ultimate no fail Beef Satay Curry Noodles.
If you're not feeling in the mood for asian, perhaps you might like my Spicy Paprika Chicken - it is one of my all time favourites - a little bit like a super healthy version of KFC. Or, my Spicy Moroccan Chicken Casserole - perfect for putting in the slow cooker at lunchtime and forgetting about it until dinner time!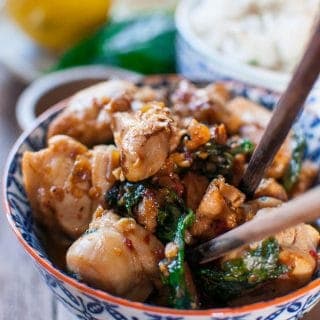 Healthy Basil Chicken Chilli Stirfry
This thai basil chicken recipe is fragrant, light and perfect for a quick weeknight dinner. Its also packed with flavour thanks to the zingy chilli and lemon, punchy soy and delicate basil leaves.
Ingredients
300

grams

/ 10 oz. Chicken

(thinly sliced)

1

tablespoon

Garlic

(crushed)

½

Red onion finely diced

1

tablespoon

Chilli

(diced)

¼

cup

Basil

(roughly torn apart)

1

tablespoon

Vegetable oil

Pinch Salt

1

teaspoon

Granualted Stevia

(See note 1)

¼

cup

Light soy

Juice of ½ medium Lemon

1/2

cup

Jasmine Rice
Instructions
In a medium size bowl, toss chicken in garlic, chilli, onion and toss together

In a hot wok add the vegetable oil and chicken. Stirfry until cooked through and fragrant.

Add the soy, stevia, lemon and salt. Stir through. Add all the basil, roughly torn and stir through for 10 seconds or so, then take it off the heat.

Serve with half a cup of rice and enjoy!
Notes
The granulated sweetener I use is Natvia Stevia Sweetener.  Natvia Stevia Sweetener is a 100% natural sweetener and has 97% fewer calories than sugar.  Its fructose free, low carb and isn't going to rot your teeth!   I wrote a post about it here.
Nutrition
Calories:
385
kcal
Carbohydrates:
37
g
Protein:
36
g
Fat:
13
g
Saturated Fat:
8
g
Fiber:
2
g
Sugar:
2
g
Pin This Recipe for Later!