Fish Panang Curry is a light and fragrant and easy to prepare weeknight meal to satisfy your hankering for Thai Takeout. Have it on the table within 30 minutes.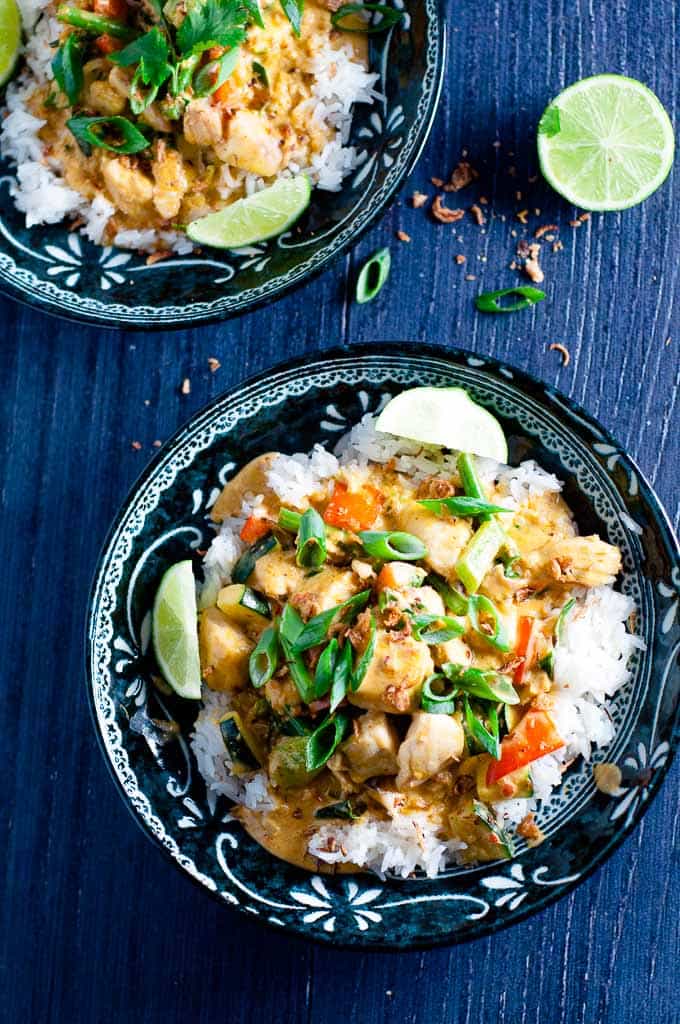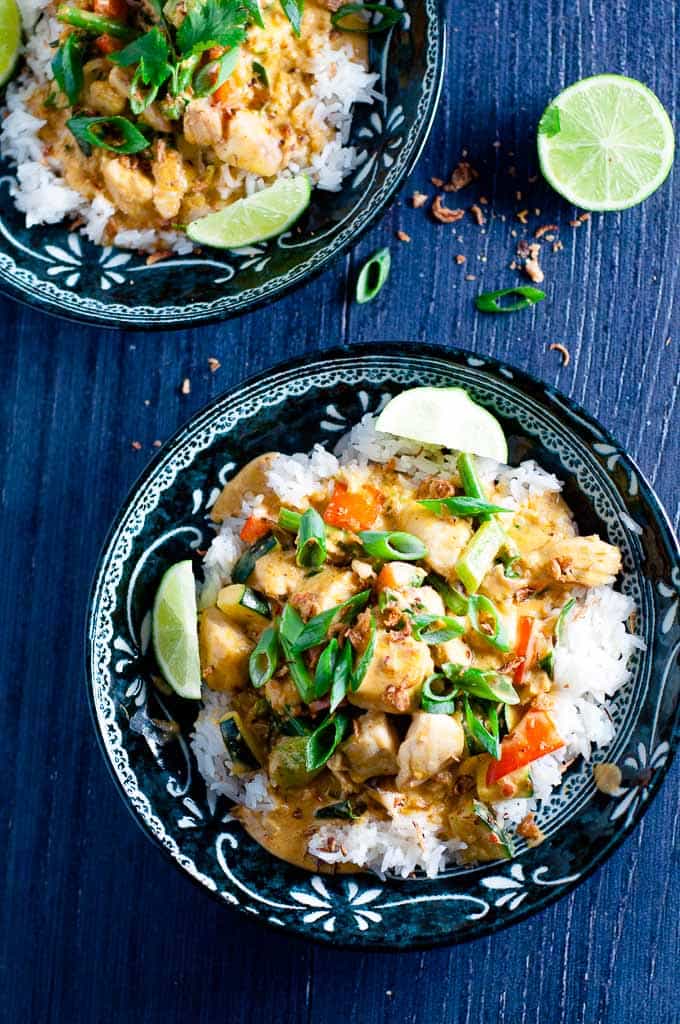 I have been eating panang curry for over 20 years and yes it did mostly come from my local Thai takeaway down the road. Most often though it was chicken panang curry or when I was feeling adventurous I would order the prawn panang from the menu.
In the last few years though as I've seriously tried to cut back on my takeaways I couldn't resist putting this one on the list of must have make at home takeaway favourites! I mean, I have eaten so much of it over the years, how could it not be on my list! 
But, I wanted it to be special.  So when my husband recently returned from a fishing trip with his catch of the day, with fish for dinner on his mind, and something to warm his belly from being out on the water all day, Fish Panang Curry was in order.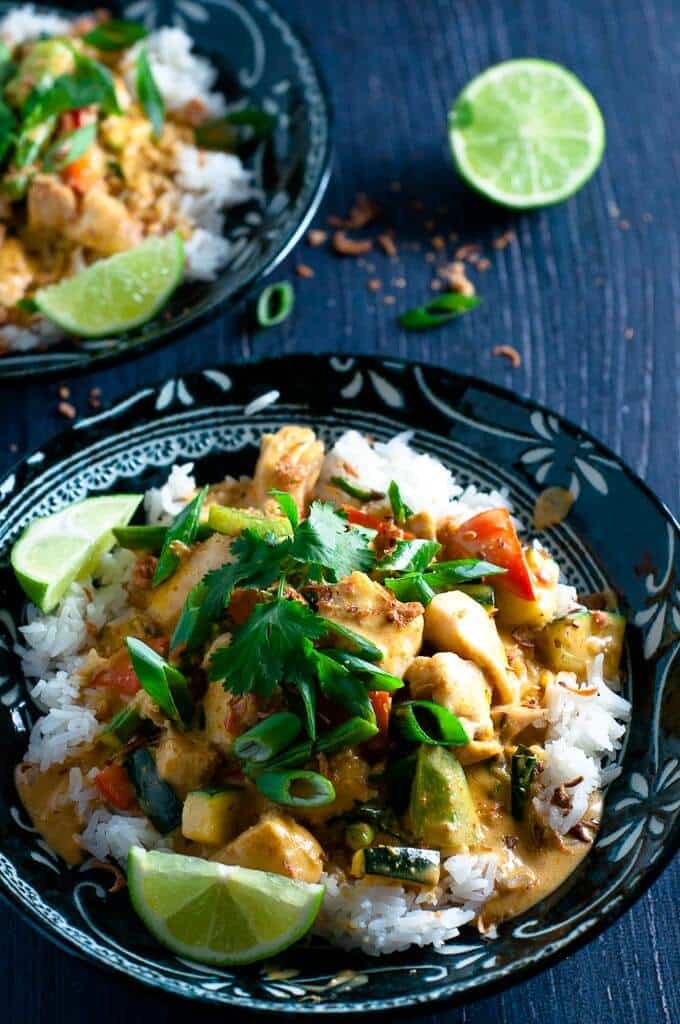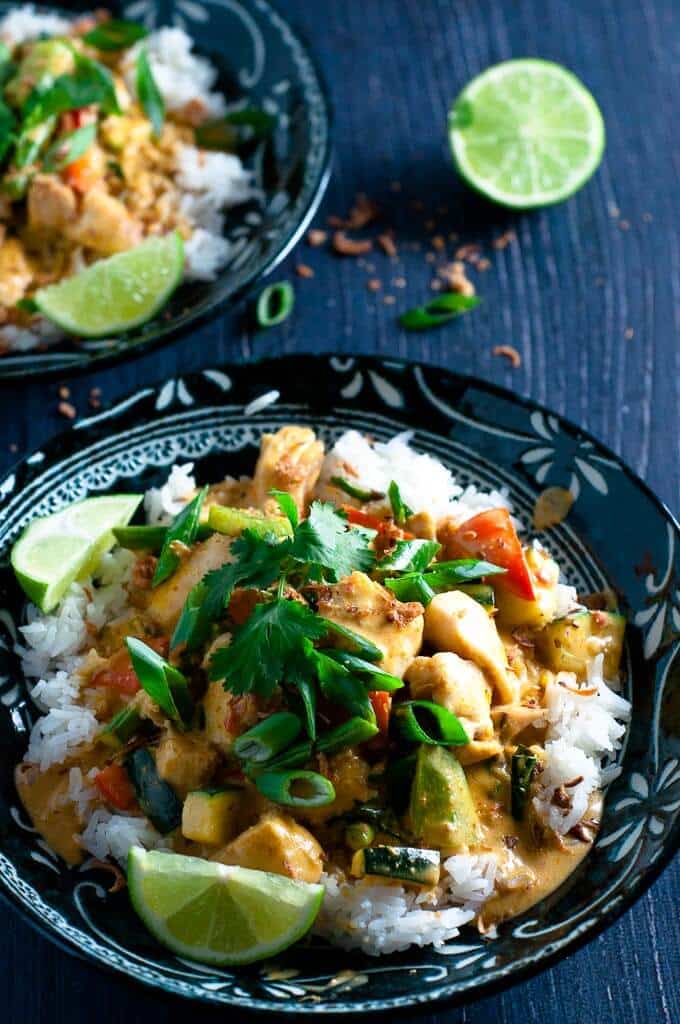 Now if you've never tried one of these delicious curries you absolutely must try one asap!  Panang curry is a red Thai curry that is thick, salty and sweet, with a nutty peanut flavour
Which Curry Paste To Use?
I have made panang curry with both the red panang paste and white panang paste, which I think is more the Malaysian style.  I have found both pastes available at Woolworths Supermarkets, but I have to admit that the red panang paste is probably the easier of the two to come by – probably because it is the more well known one.
My preference?  Both are very good…..but, I prefer the white panang curry paste.  Its just a little bit different and to me seems to have more diversity and complex flavours.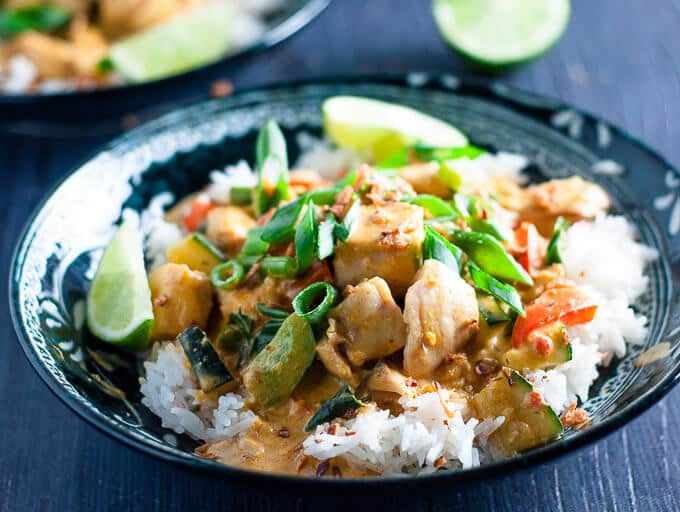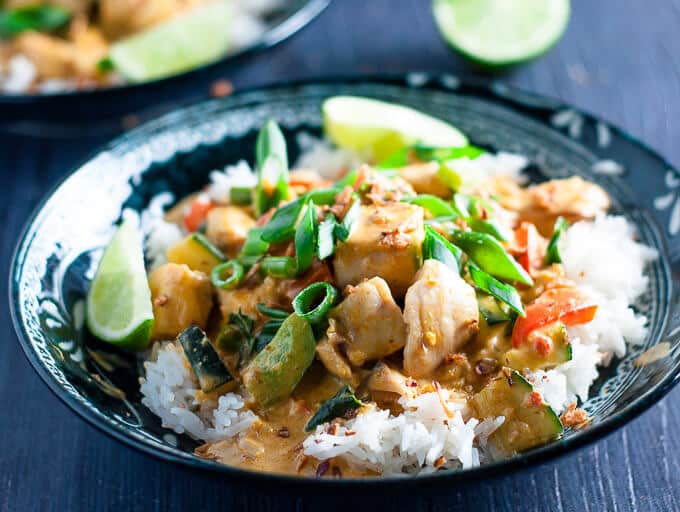 Now if you're not a die hard curry fan, or don't like a lot of spice and heat, this could be a good one to start with as its not typically a curry that is overly spicy or hot like say a Jungle Curry…no thank you. I'm not quite that adventurous just yet.
I actually like my curries mild to medium these days and one of the beauties of making your own curry at home, is you can adjust the heat to your liking.
Also, its pretty easy to make, once you have the fish and veges cut up. Its also perfect to eat year around, even when its hot and really hot, and especially when its cold.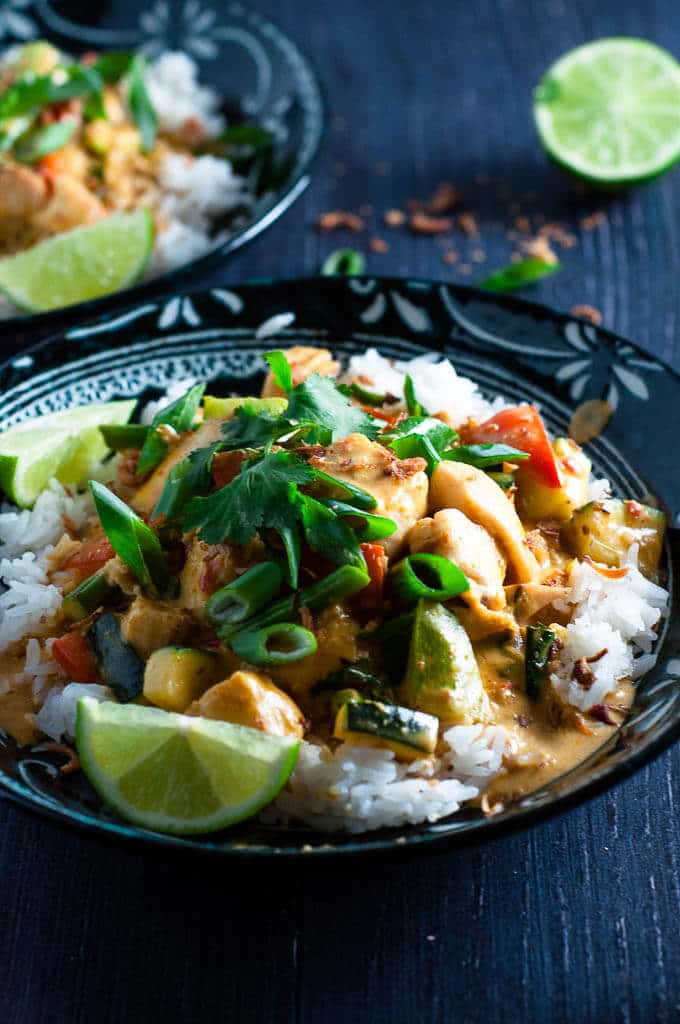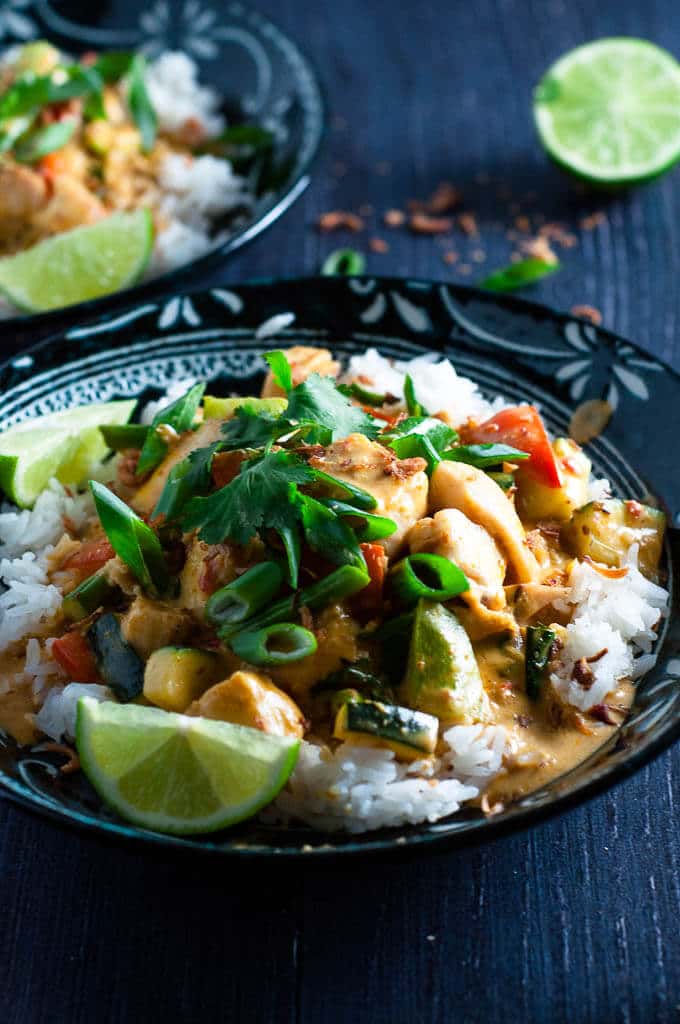 In case you're wondering if my husbands catch lived up to his fish dinner expectations…I think so. I mean it must of. He ate my leftovers.
And he had a second helping later in the night. His "second dinner" he calls it.
This really is a dish that can come across as impressive and like you might have been Thai Chef in a former life, but actually its just about having a few key ingredients and steps in your back pocket and it looks like you've just spent that last three hours in the kitchen slaving over a hot stove, when in reality you're 20 minutes in, not even broken a sweat, cool calm and collected and ready to DIG IN and EAT!
Good Bye Thai Takeaways, Hello Homemade Fish Panang Curry!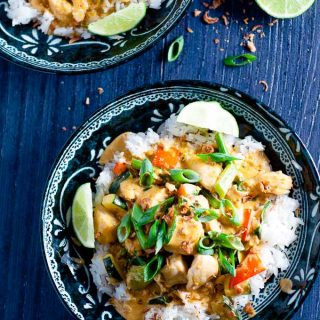 Fish Penang Curry
Fish Panang Curry is a light and fragrant and easy to prepare weeknight meal to satisfy your hankering for Thai Takeout.
Ingredients
400

grams

/ 0.9 lb. Firm white fish

(I used Snapper)

1.75

cups

/ 410 ml Coconut milk

2

tabelspoons of White Panang curry paste

1

teaspoon

Garlic

(crushed)

1

teaspoon

Minced ginger paste

(crushed)

2

teaspoon

Lemongrass paste

1

teaspoon

Lime juice

1

tablespoon

Fish sauce

½

teaspoon

Sea salt

1

Shallot, sliced

½

Red capsicum, chopped roughly

½

Green capsicum, chopped roughly

½

Green Zucchini, chopped roughly

½

red onion, thinly sliced

Corriander to garnish

2

cups

Jasmine rice
Instructions
Prepare the rice according to the packet instructions. I use a rice cooker and follow the rule of thumb, 1 cup of rice to 2 cups of water, and set it to cook with the lid on (about 20 mins)

Cut fish into pieces and set aside.

Prepare a large saucepan or wok on the stovetop, heating it on medium to high heat.

Add the curry paste, garlic, ginger and red onion until fragrant.

Shake the coconut milk tin before opening and add 1/3 of the coconut milk to the pan, and stir in with a wooden spoon. Once combined, add 1/3 more and combine, then the final third.

Heat the curry milk mixture until it starts to bubble slightly and then add the chopped vegetables. Stir them in and let cook for 10 minutes until they start to get a little soft.

Next, add the lemongrass paste (you can omit if you don't have), fish sauce, lime juice, sea salt and stir in.

Add the chopped fish pieces and stir them in. Let them cook for another r5 to 10 minutes, depending on how big they are. As they cook they will turn white.

TIP: Before adding the final ingredient into the curry (chopped shallots), take a piece of fish out and test it with a fork to make sure it is cooked through.

Once curry is cooked to your liking, plate it up over rice and garnish with some coriander lime wedges.
Notes
This dish is best served when it is just cooked and steaming hot! However if you have made more than you need, freeze for upto 1 month.
Nutrition
Calories:
427
kcal
Carbohydrates:
39
g
Protein:
18
g
Fat:
20
g
Saturated Fat:
12
g
Fiber:
2
g
Sugar:
6
g
Pin This Recipe for Later!