I love one pot dinners because they are easy, hardly any mess and this One Pot Fish Stew With Tomatoes can be on your table in under 30 minutes!  This is a recipe that is so packed with flavour from the tomatoes, the fish, the chilli, garlic and onion and it is one of my favourite fish dishes, simply because it packs such a flavour punch!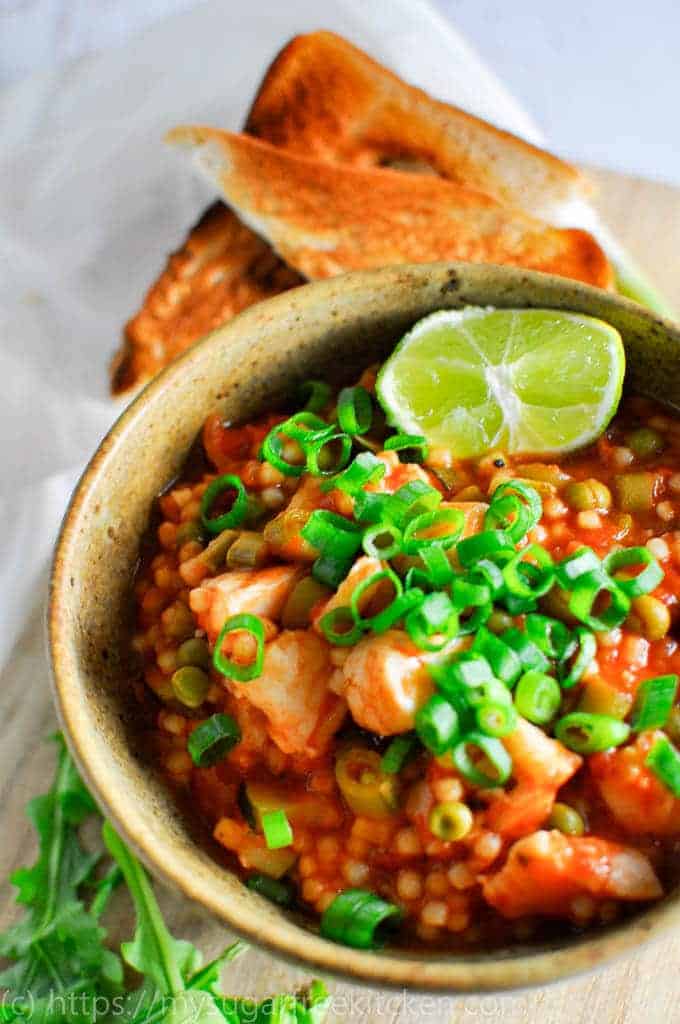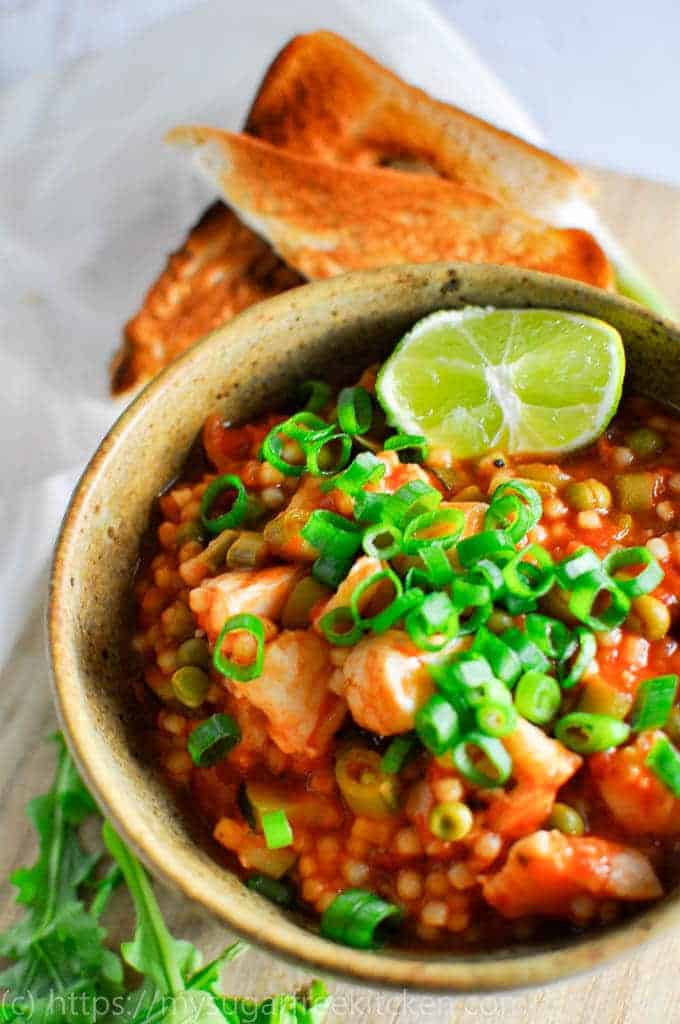 Whilst this dish could be called either a stew or a tagine, I'm calling it both.  Here's why.  Firstly because I cooked it on the stovetop, and secondly, I don't own a tagine as I simply don't have anymore room in my kitchen for things I only use "occasionally", and sadly a tagine would fit into this category.
But in my opinion, you don't need to make a tagine in a tagine to be a tagine.  A saucepan will do.  So this is my moroccan fish stew / fish tagine!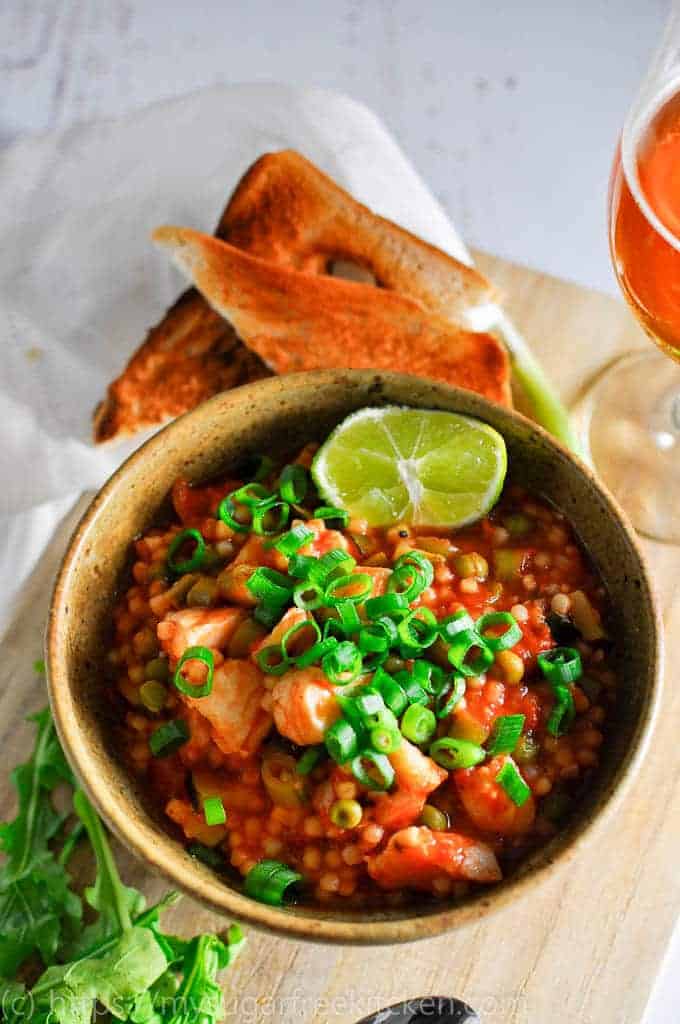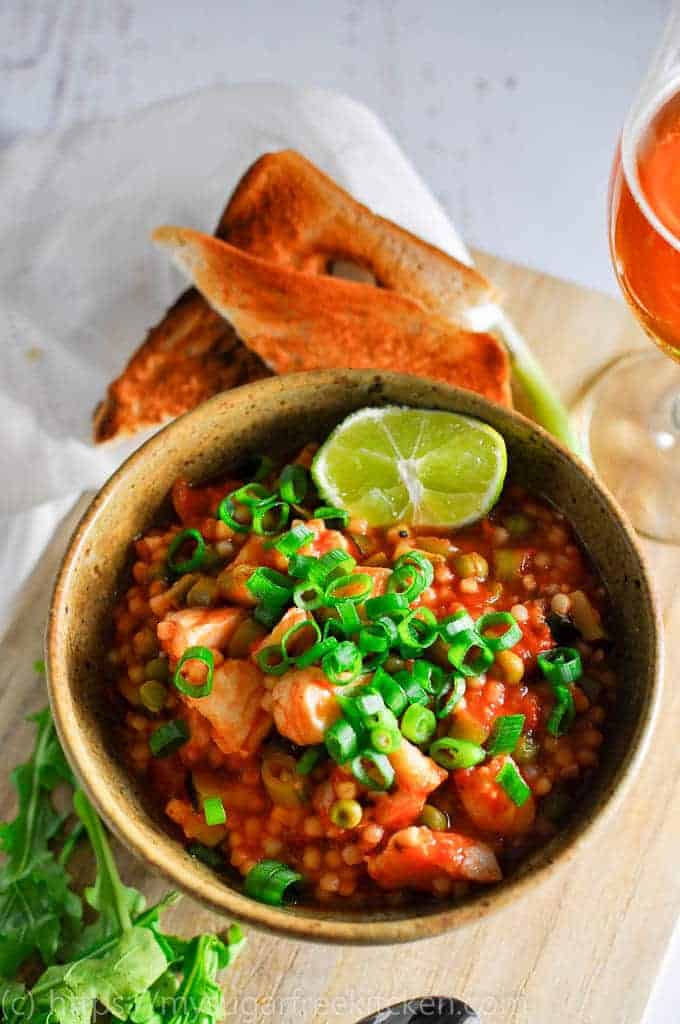 Do You Need Fish Stock For A Fish Stew?
Yes.  I would recommend fish stock for a fish stew as it enhances the flavour a lot more than a vegetable stock.  Cooking the fish in the sauce (in my trusty saucepan) along with the fish stock, made it so juicy and tender allowing all the flavour to sink into the fish.
What type of Fish is Best For A Fish Stew?
Firm white fish is best.  My preference is for Snapper, Cod, Monkfish, and if you're in Australia Barramundi or Sweetlip work beautifully as well.  Buy it fresh if you can on the day that you need it and you;ll know it's fresh by the lack of fishy smell when you take it out of the packet.  Fresh fish should not have a fishy smell.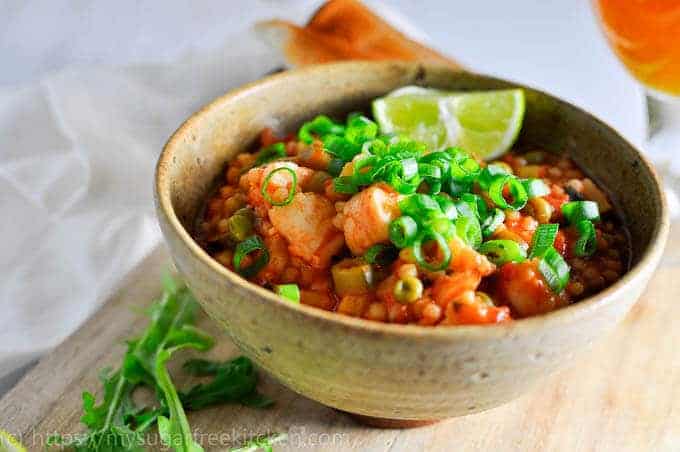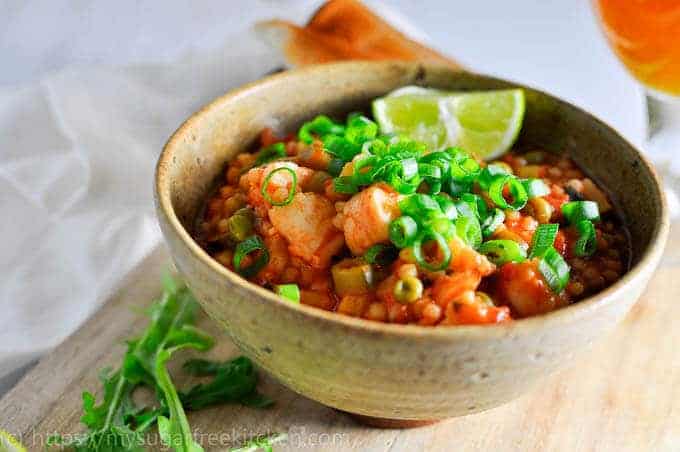 Can you Eat A Fish Stew The Next Day?
In case you're wondering how it was the next day……just as good, if not better.  As with any stew that has rich and bold flavour, time allows the flavour to deepen and further develop and this was no exception.
If you like fish dinners, you have to try this one, and the beauty is, you can make it less or more spicy to suit your taste.
TIP:  If you don't like too much spice, you can omit the chilli flakes all together and add in some Lemon Pepper, chives or even Dill instead.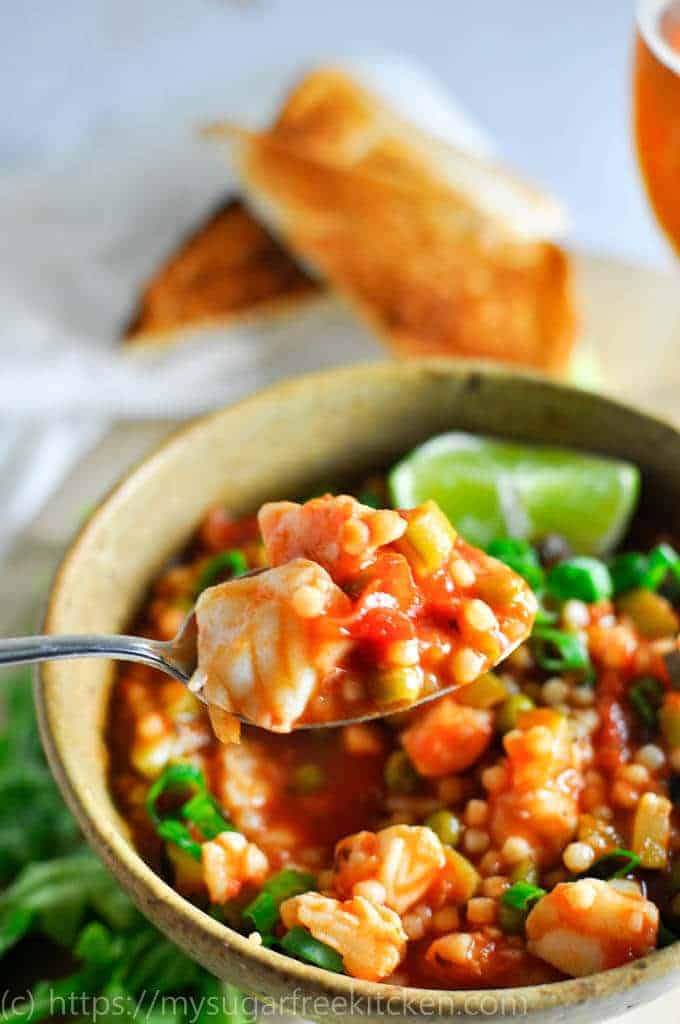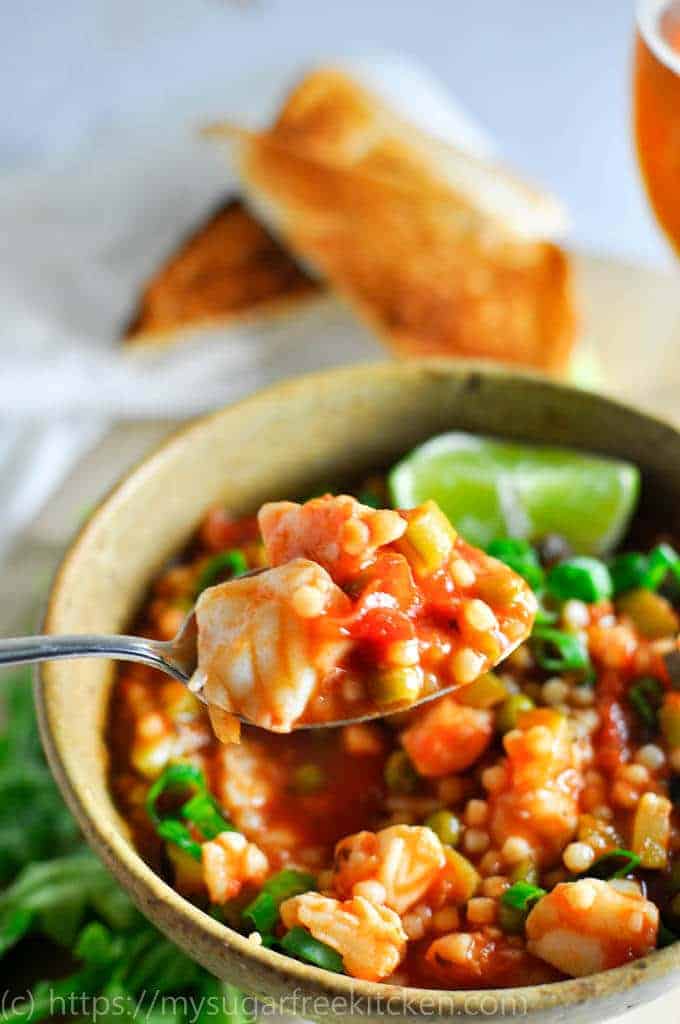 The key is to have all the ingredients prepared before you start cooking so you can add them in as they are required.
TIP:  do make sure you have your fish cut into bite sized pieces before you start making the tomato based stew sauce. It comes together very quickly and once it starts cooking  you don't want the liquid to dry out whilst you are cutting up the fish.
This really is the perfect weeknight recipe  where you can grab that fish you've got in the freezer, some spices, stock and canned tomatoes from the pantry, frozen peas and you can whip up dish that is healthy, packed with flavour and richness and will definitely leave you satisfied!  And it is one the table in 30 minutes.
Like what you see? Follow me on Facebook or Pinterest! Did you try a recipe? Tag me on Instagram: @mysugarfreekitchen, and leave a comment & star rating!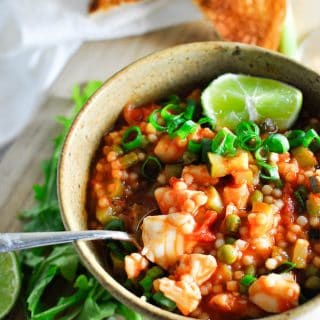 One Pot Spicy Fish Stew With Tomatoes
Easy and mess free this Fish Stew With Tomatoes can be on your table in under 30 minutes! This is a dish packed with flavour, richness and spicy goodness. Perfect for busy weeknights when you want dinner on the table without a lot of fuss or mess!
Ingredients
300

grams

/ 10 oz. White Fish

(eg: snapper, barramundi, sweetlip)

1

teaspoon

olive oil

½

medium Red onion

1

small Zucchini

1

teaspoon

crushed garlic

1

teaspoon

chilli flakes

400

gram

/ 14 oz. Chopped tinned tomatoes

½

cup

/ 60 ml Fish stock

1

cup

/ 250 ml water

1

teaspoon

tomato paste

½

cup

Frozen peas

50

grams

/1.7 oz. Pearl Cous Cous
Instructions
In a medium sized saucepan, heat the oil and add the onion, zucchini, garlic and chilli flakes. Cook for 2 minutes

Add tin tomatoes, fish stock, tomato paste and water and bring to boil

Add cous cous and reduce heat to medium for around 5 to 7 minutes until cous cous is just cooked.

Add peas and cook for 1 minute

Add fish and cook for a few minutes until fish is cooked through

Add salt and pepper to taste
Nutrition
Calories:
395
kcal
Carbohydrates:
42
g
Protein:
37
g
Fat:
7
g
Saturated Fat:
1
g
Fiber:
6
g
Sugar:
13
g
Pin This Recipe for Later!
★ Did you make this recipe? Don't forget to give it a star rating below!
For Dessert you might like to try:  Date Free Bliss Balls, Sugar Free Apple Crumble, or these Sugar Free Apple Crumble