Salmon curry in a hurry is a simple no nonsense dish, perfect for midweek dinners, packed with heart healthy crispy skin salmon, rich creamy curry sauce and crunchy fried shallots, sesame seeds, and sweet juicy green peas.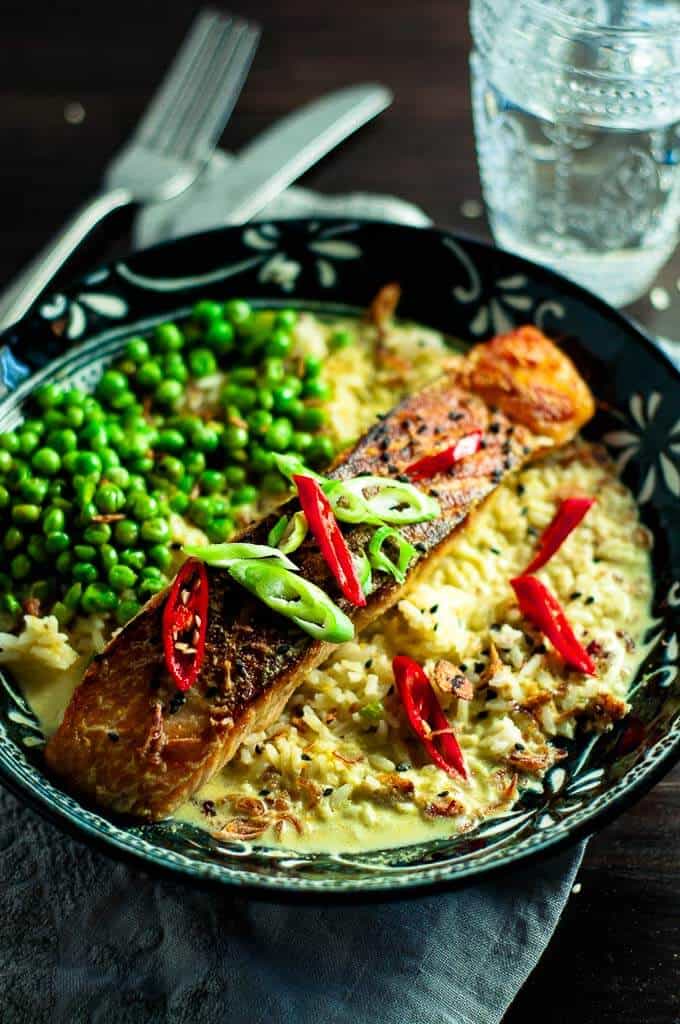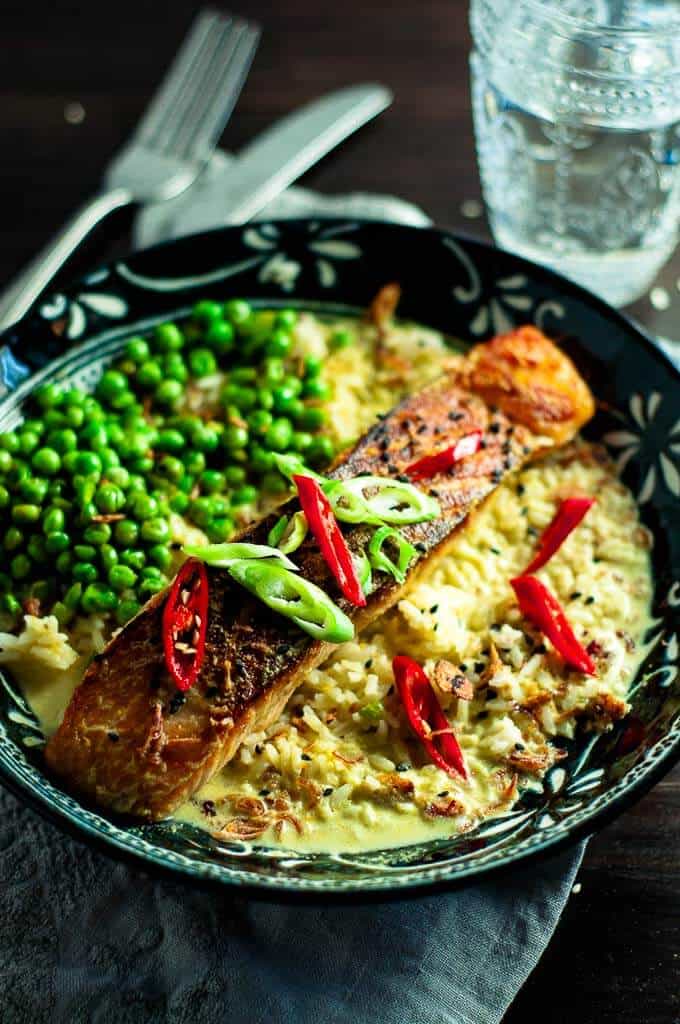 Ok, so I'm gonna say it.  Yes, this is fish and rice with sauce.  But, it's not just any old fish and rice.  It's a super basic recipe, that is super easy and super tasty!  It's a curry for lazy people, busy people, or both, who love a quick and simple curry mid-week without having to go down to the local takeaway.
This curry is light.  It's healthy.  It's Simple.  Its Tasty and Its quick.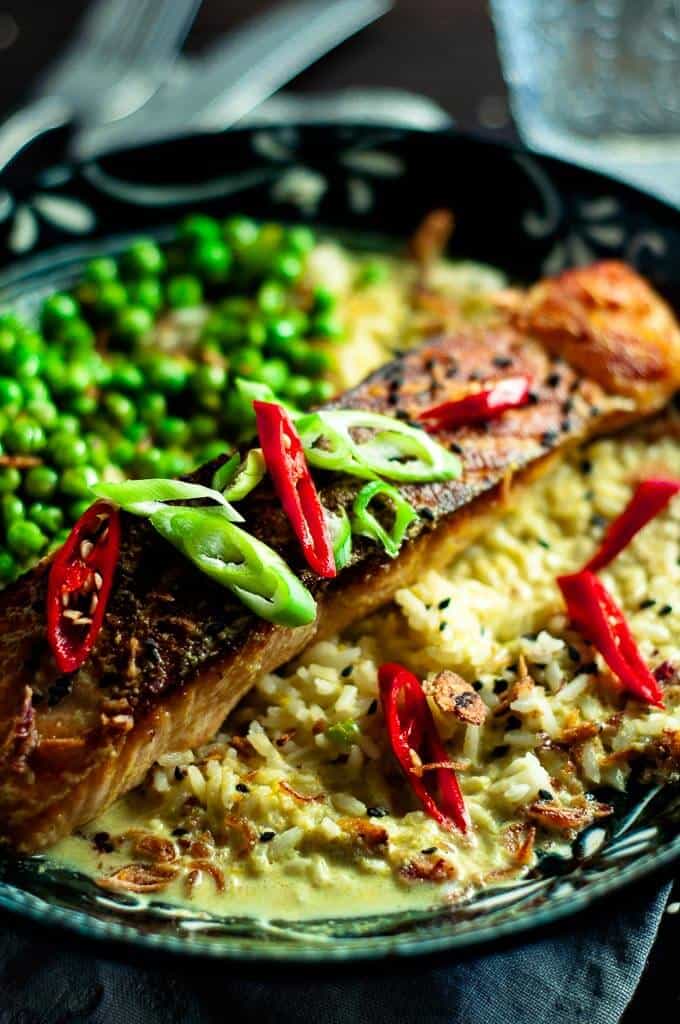 This curry came about when one night when I came home from Gym.  I'd just done a gruelling HIIT class and I had no idea what I was going to eat.  I was sweaty.  I was hungry.  I had been working alllll day.  I needed food!
A quick freezer inspection revealed:  salmon (check), frozen peas (check) dog food (not gonna happen)
A quick pantry inspection revealed:  coconut milk (check), curry paste (check), fish sauce (check)
And all by itself in the fruit bowl was one lone lime.
It was inevitable.  Curry was needed.  And I do love a curry.  Quick curries, slow curries, cheap curries and last minute curries of all kinds!  My Fish Panang Curry is a staple in our household as is my Chicken Tikka Masala Curry.

Salmon Curry In A Hurry With Blackened Crispy Skin
The trick with this curry dish is getting the salmon right – crispy, but not burnt, nicely blackened without the charcoal!  It's actually pretty easy and not that different form how I cooked this Chilli Soy Salmon with Sesame Noodles.  Which was awesomely delicious by the way.  Another quick winner on the after gym easy weeknight dinner list.
The trick?  Remove all wetness and moisture from the fish before you put it into a very hot pan.  Paper towel is the best thing to use to pat the fish dry I find.
Also, don't keep turning it.  Pat it dry, put it into the hot pan, and put a lid on the pan to keep the heat in.  A large saucepan usually is what I use.  Let it go for a few minutes, and repeat the other side.
And this curry sauce…. So easy, my dog could do it.  If I let him eat curry that is.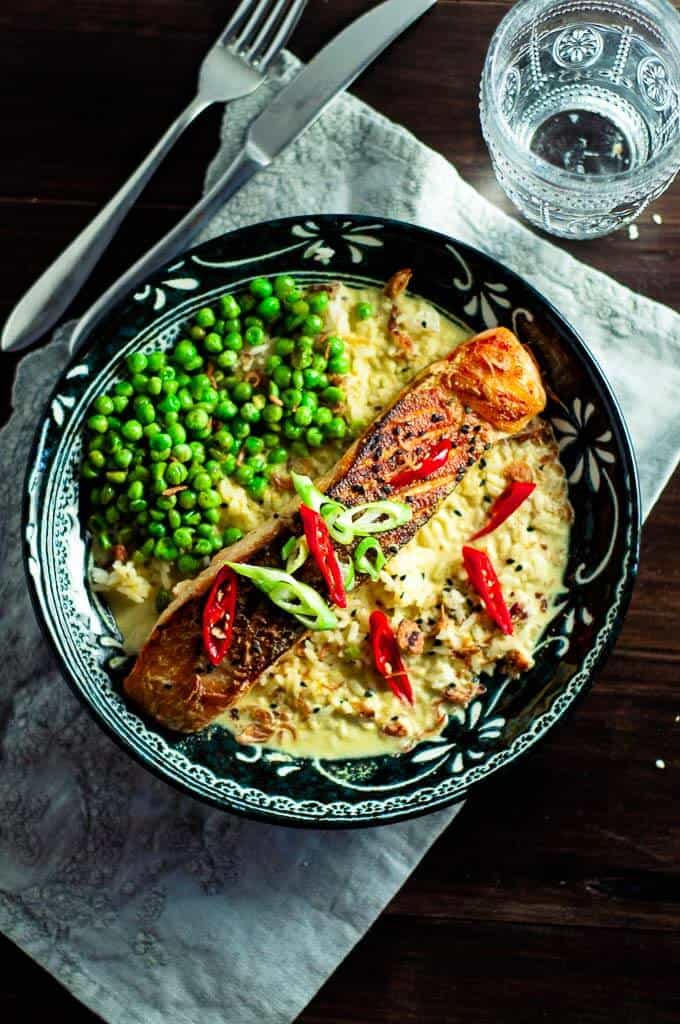 Now, you might have noticed that I have a bit of a thing for salmon.  I love it and eat it usually two or three times per week.  Salmon is packed with omega 3's and is a lean protein full of vitamins and minerals that are good for heart health.  Just another reason to eat it regularly in my book! Not to mention the fact that living on the Queensland's Sunshine Coast provides us so many opportunities to get fresh seafood straight off the boat that I can whip up into lots of yummy seafood dinners.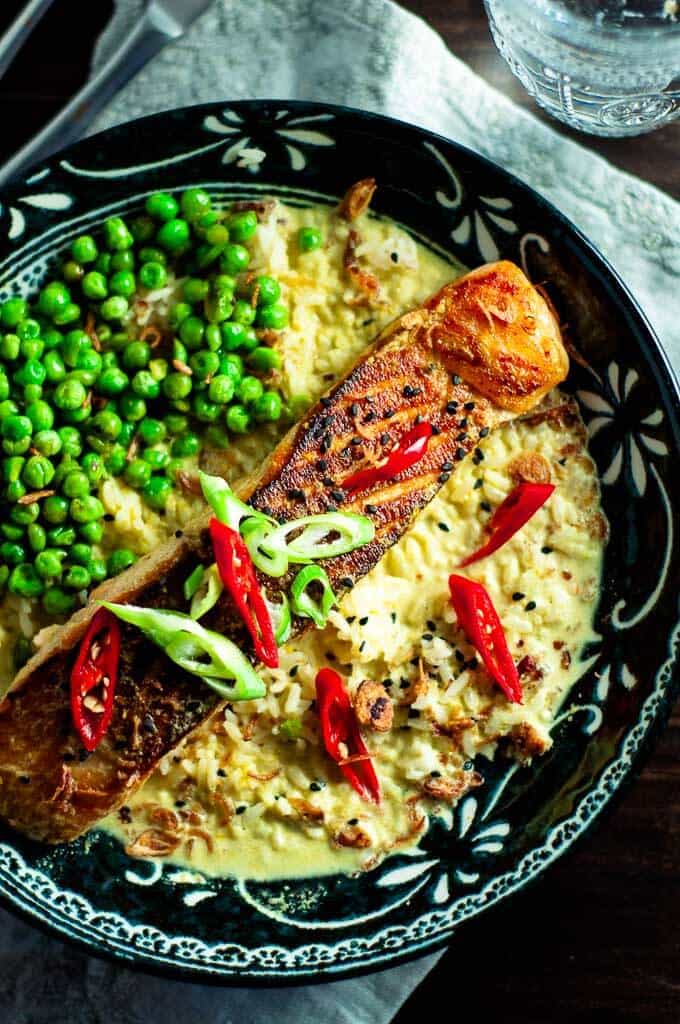 Actually If I'm to be totally honest, I have been on such a salmon binge lately (like for over 6 months), my husband has delicately suggested I cook it when he is away.  Can you believe it?  He must be bonkers!
So I oblige. I make my salmon dishes when he is working away, when I can go wild with salmon and eat as much of it as I want we want – me and the dog that is.  Then when hubby is back in town for his days off, we're back to chicken, beef and pork.  Sometimes, I sneak in some prawns.
As for the salmon.  It's my thing and I'm sticking to it!
More Salmon Recipes >>>>>  This deliciously addictive Salmon Burrito Bowls  recipe, this salmon with leeks and lentils and my Spicy Salmon Stirfry that will get your tastebuds dancing.
Like what you see? Follow me on Facebook or Pinterest! Did you try a recipe? Tag me on Instagram: @mysugarfreekitchen, and leave a comment & star rating!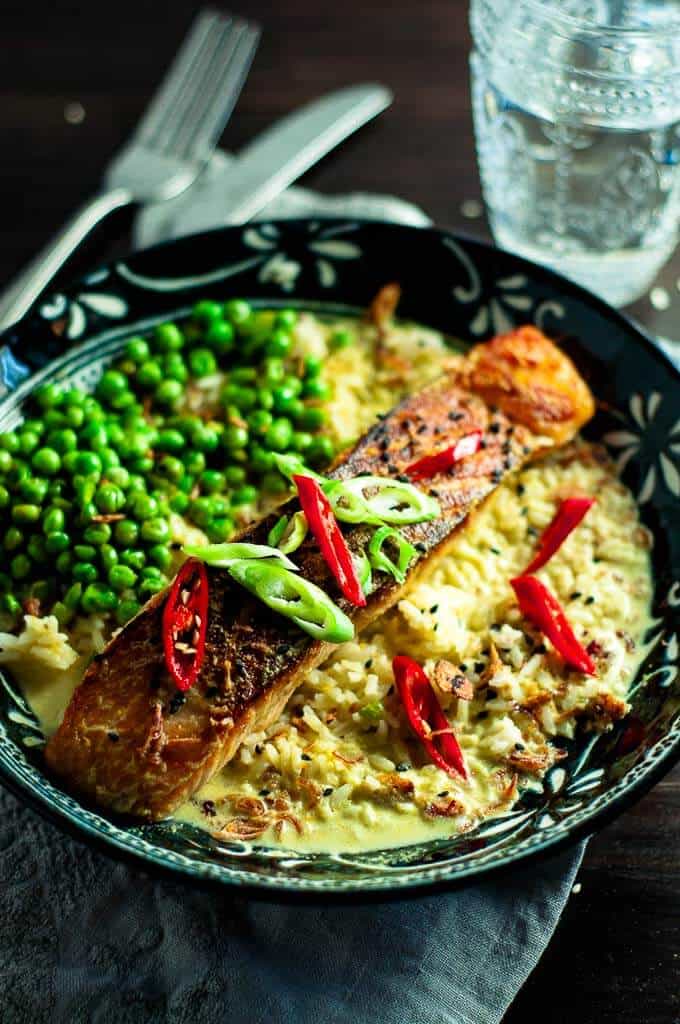 Print
Salmon Curry In A Hurry
Salmon curry in a hurry is a simple no nonsense dish, perfect for midweek dinners, packed with heart healthy crispy skin salmon, rich creamy curry sauce and crunchy fried shallots, sesame seeds, and sweet juicy green peas.

Ingredients
2

x 150 gram

or 2 x 1/3 lb. salmon fillets

1

cup

Jasmine rice

1

cup

or 250 ml coconut milk

2

teaspoon

Thai green curry paste

1

teaspoon

Fish sauce

1

teaspoon

Lime juice

Pinch

of salt
Instructions
Rice: Boil rice to packet instructions. I do mine in the rice cooker – 1 cup to 2 cups of water, and press the cook button which goes for about 20 minutes.

Salmon: Pat dry salmon with a paper towel to remove any dampness or moisture. (This will help to get a nice crisp outside)

Heat a

frypan

on high and place salmon flat side down in the pan.

Put a saucepan lid over the

frypan

and let salmon cook on one side for about 5 to 7 minutes .

After 5 to 7 minutes turn salmon and cook on the other side for another 5 to 7 minutes, covered again with the saucepan lid.

Curry Sauce: Whilst salmon is cooking, heat a non-stick saucepan on medium heat and add the curry sauce. Stir for a minute until it becomes fragrant.

Add in the coconut milk and stir until it is combined with the curry paste.

Add the fish sauce, lime juice and salt and stir to combine.
Notes
1. Start cooking the rice first, if using a rice cooker, or if you're cooking it on the stove. If you're using one of those instant packets of rice that you microwave, obviously you can do that last. 2. Adjust curry paste to taste. Green curry paste is typically one of the milder ones. I use the Volcom brand, available at Woolworths in Australia 3. I like to serve up my Salmon Curry In A Hurry with some sesame seeds, dry fried shallots (available from Woolworths), and fresh chilli for extra bite!
Nutrition
Calories:
324
kcal
|
Carbohydrates:
22
g
|
Protein:
24
g
|
Fat:
15
g
|
Saturated Fat:
5
g
|
Fiber:
1
g
|
Sugar:
4
g
★ Did you make this recipe? Don't forget to give it a star rating below!