Salmon curry in a hurry is a simple and easy Thai salmon curry recipe made with coconut milk green thai curry paste. It's perfect for midweek dinners, packed with heart healthy crispy skin salmon, rich creamy curry sauce and crunchy fried shallots, sesame seeds, and sweet juicy green peas.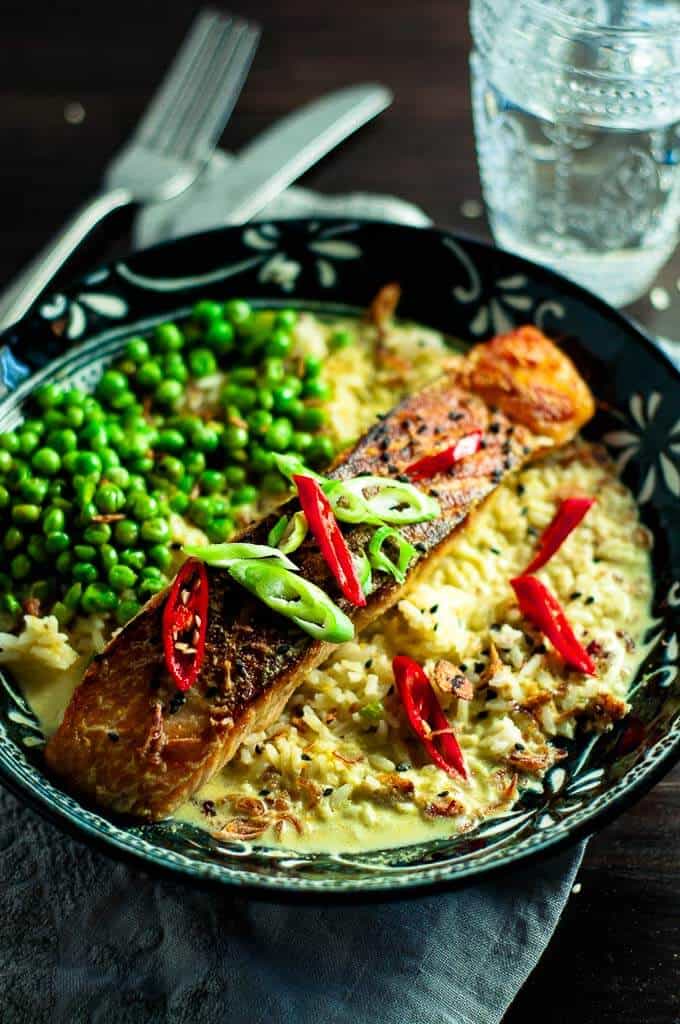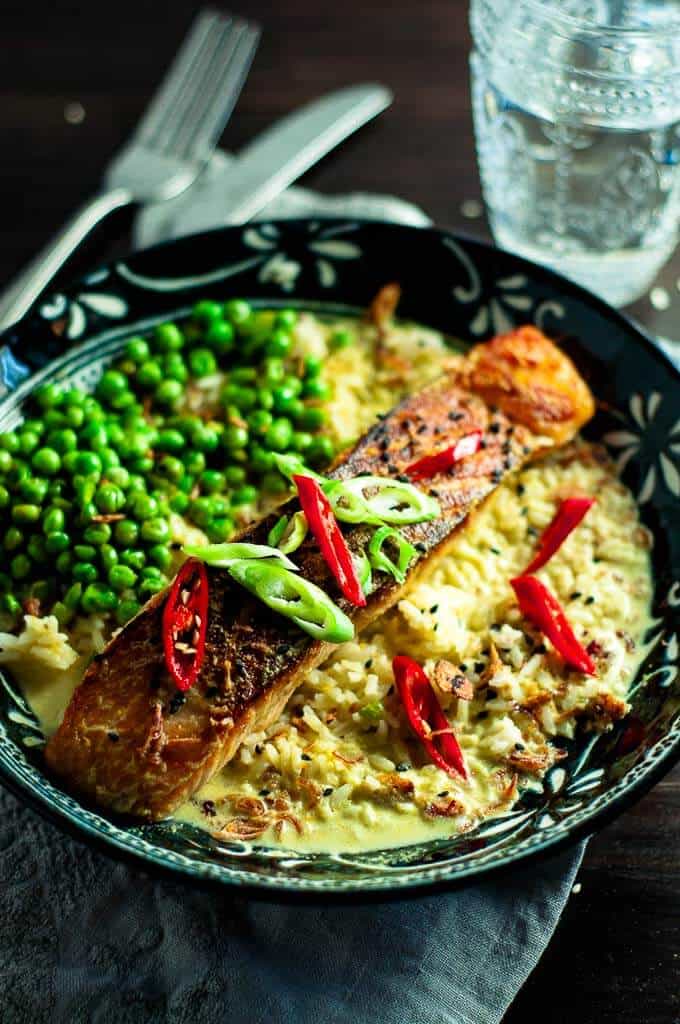 Why You Should Make This
It's a super basic spicy salmon curry in a hurry recipe, that is super easy and super tasty!
This curry is light. It's healthy. It's Simple. Its Tasty and Its quick.
This salmon curry in a hurry recipe is made with just 6 ingredients:
Good quality salmon, rice of your choice, coconut milk, green thai curry paste, fish sauce and lime juice.
It's backed with good omega 3 fats, and you can add in your favourite veges for even more added fibre.
Green peas, broccoli, beans, carrots are all great options.
Even frozen diced veges would go beautifully.
If you've never made a curry at home, this is a great 15 minute curry to start with. Or you may like to try this Healthy Salmon Burger you can make at home.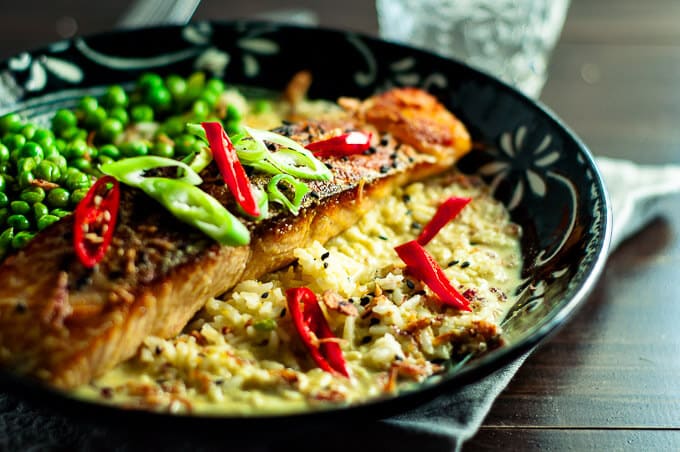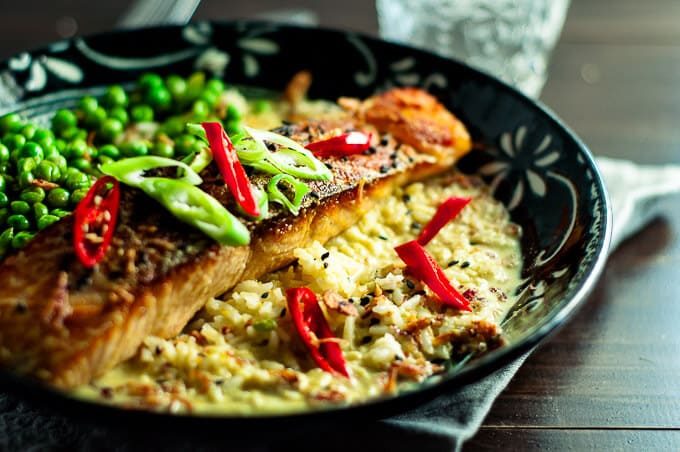 How To Make Salmon With Crispy Skin
The trick with this curry dish is getting the salmon right – crispy, but not burnt, nicely blackened without the charcoal! It's actually pretty easy and not that different form how I cooked this Chilli Soy Salmon with Sesame Noodles.
Pat the salmon dry with paper towel to remove excess moisture.
Add a little salt and pepper
Heat a pan or skillet on medium to high heat and lay the salmon flat side down. Cover with a lid and cook for 3 to 4 minutes.
Turn salmon and cook other side for 2 minutes with the lid on
Salmon should be nice and crispy and golden brown.
Tips for Cooking Thai Salmon Curry
You don't need oil. Its not necessary because the salmon itself is an oily fish
Use foil to cover the salmon if you don't have a lid for your pan. Whatever you use it just needs to keep the heat in to speed up the cooking process
Don't turn the salmon unnecessarily. Turn once onto the side its cooking on and leave it there for the specified duration without turning so it can develop its crispiness and golden colour
This is a 15 minute curry, so its all about working quick and having things at your fingertips before you start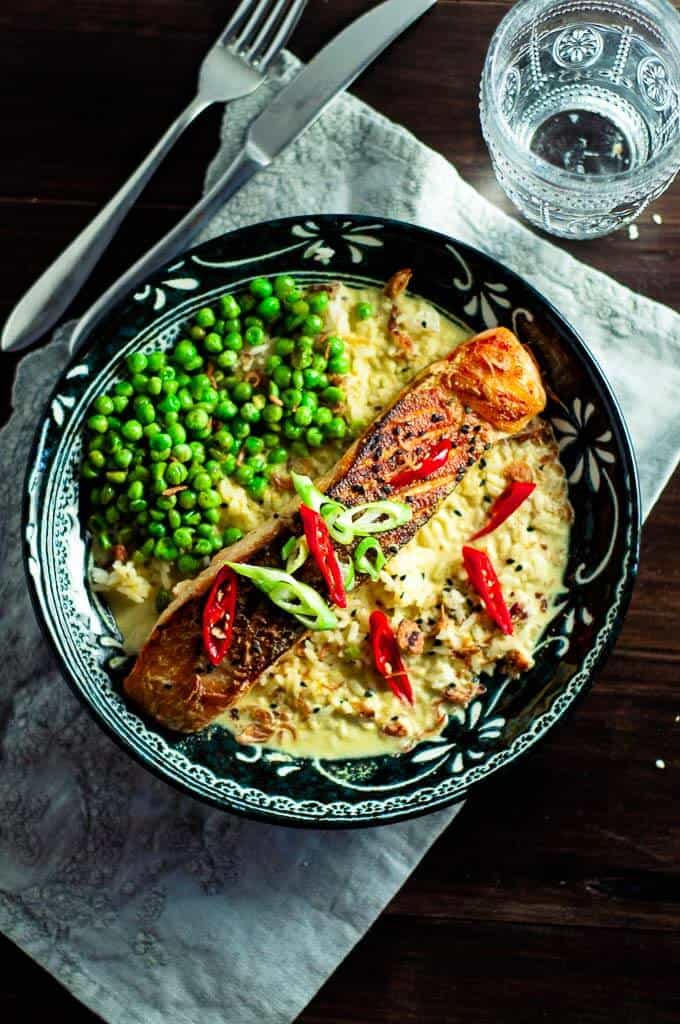 Which Curry Paste Is Best For A Spicy Salmon Curry?
For this salmon curry in a hurry recipe I used the "Volcom" brand of green thai curry paste which I love.
Green curry paste is not super hot, but not super mild. I think it's somewhere in the middle of curry pastes, although depending on the amount you use you could make this either a medium curry or a mild curry.
1 tablespoon of curry paste would result in a mild curry.
2 tablespoons of curry paste would result in a mild to medium curry
3 tablespoons of curry paste would result in a nice spicy medium curry that is not too hot
Equally though you could use red thai curry paste. Volcom also make that version.
Can You Use Coconut Cream in Cream in a Salmon Curry?
I would not use coconut cream as it would make the curry to thick. Using coconut cream allows you too get that luscious, almost velvet curry sauce that's not too thick and not to thin.
What about Light Coconut Milk?
Sure, you could use the light coconut milk, but the curry sauce would be runnier, maybe more soup like as opposed to curry like, unless you used a thickener like cornstarch. A thickener though would start to take away from the intense curry flavour.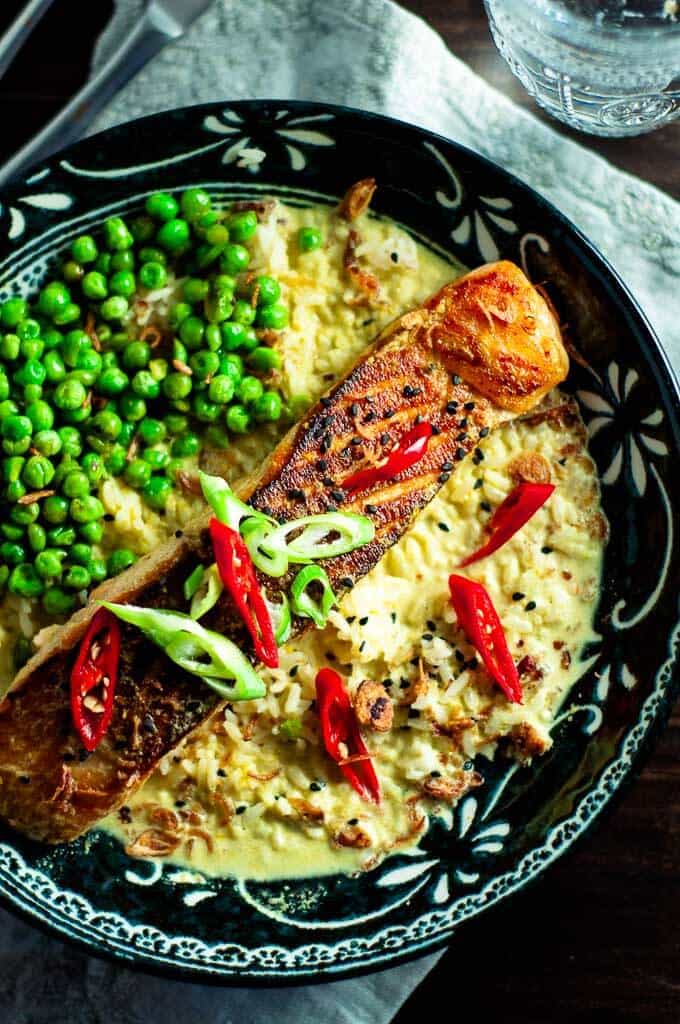 Looking to make something with leftovers you can take to work the next day? This is salmon curry in a hurry recipe makes for great leftovers. I always make an extra portion for work the next day. It's as easy as storing it overnight in an air tight microwave safe container and when you're ready for it the next day, microwave for 2 to 2.5 minutes and lunch is sorted.
This is one of those easy salmon recipes I love because it's just so quick to pull together. I always tend to have salmon portions frozen in the freezer, rice, curry paste, coconut milk, fish sauce and bottled lime juice in the pantry so this is a perfect recipe to have in your back pocket when you've got nothing planned for dinner, or you know you're going to be home late but still want a clean healthy dinner.
More Salmon Recipes >>>>> This deliciously addictive Salmon Burrito Bowls recipe, this salmon with leeks and lentils and my Spicy Salmon Stirfry that will get your tastebuds dancing.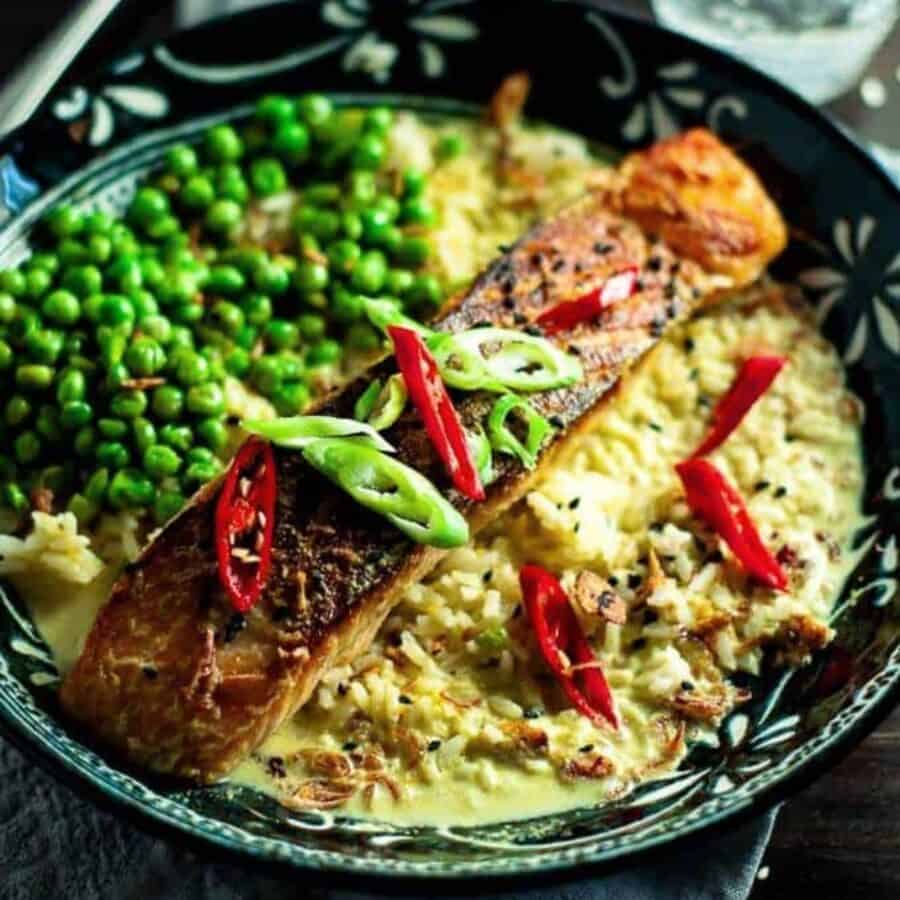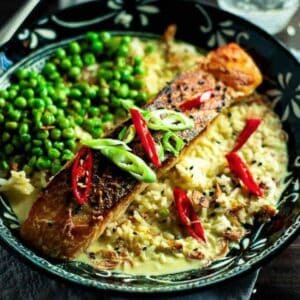 Salmon Curry In A Hurry
Salmon curry in a hurry is a simple no nonsense dish, perfect for midweek dinners, packed with heart healthy crispy skin salmon, rich creamy curry sauce and crunchy fried shallots, sesame seeds, and sweet juicy green peas.

Ingredients
2

x 150 gram

or 2 x ⅓ lb. salmon fillets

1

cup

Jasmine rice

1

cup

or 250 ml coconut milk

2

teaspoon

Thai green curry paste

1

teaspoon

Fish sauce

1

teaspoon

Lime juice

Pinch

of salt
Instructions
Rice: Boil rice to packet instructions. I do mine in the rice cooker – 1 cup to 2 cups of water, and press the cook button which goes for about 20 minutes.

Salmon: Pat dry salmon with a paper towel to remove any dampness or moisture. (This will help to get a nice crisp outside)

Heat a frypan on high and place salmon flat side down in the pan.

Put a saucepan lid over the frypan and let salmon cook on one side for about 3 to 4 minutes .

Turn salmon and cook on the other side for another 1 to 2 minutes, covered again with the saucepan lid.

Curry Sauce: Whilst salmon is cooking, heat a non-stick saucepan on medium heat and add the curry sauce. Stir for a minute until it becomes fragrant.

Add in the coconut milk and stir until it is combined with the curry paste.

Add the fish sauce, lime juice and salt and stir to combine.
Notes
1. Start cooking the rice first, if using a rice cooker, or if you're cooking it on the stove. If you're using one of those instant packets of rice that you microwave, obviously you can do that last.
2. Adjust curry paste to taste. Green curry paste is typically one of the milder ones. I use the Volcom brand, available at Woolworths in Australia
3. I like to serve up my Salmon Curry In A Hurry with some sesame seeds, dry fried shallots (available from Woolworths), and fresh chilli for extra bite!
Nutrition
Calories:
324
kcal
Carbohydrates:
22
g
Protein:
24
g
Fat:
15
g
Saturated Fat:
5
g
Fiber:
1
g
Sugar:
4
g
Note: Sugars contained in this recipe are from naturally occurring sugars in fruits, vegetables or other natural sweeteners.
Looking To Cut Out Sugar? Get the FREE Healthy Food Swaps Checklist Pack!
Get your FREE Healthy Food Swaps Checklists with over 65 Healthy Food Alternatives to Help you Ditch The Sugar Without Feeling Deprived.